Pizza Rustica is a classic Italian Easter dish loaded with eggs, cheese, and a variety of meats. This savory pie features an easy homemade crust and is made in a springform pan for an impressive presentation.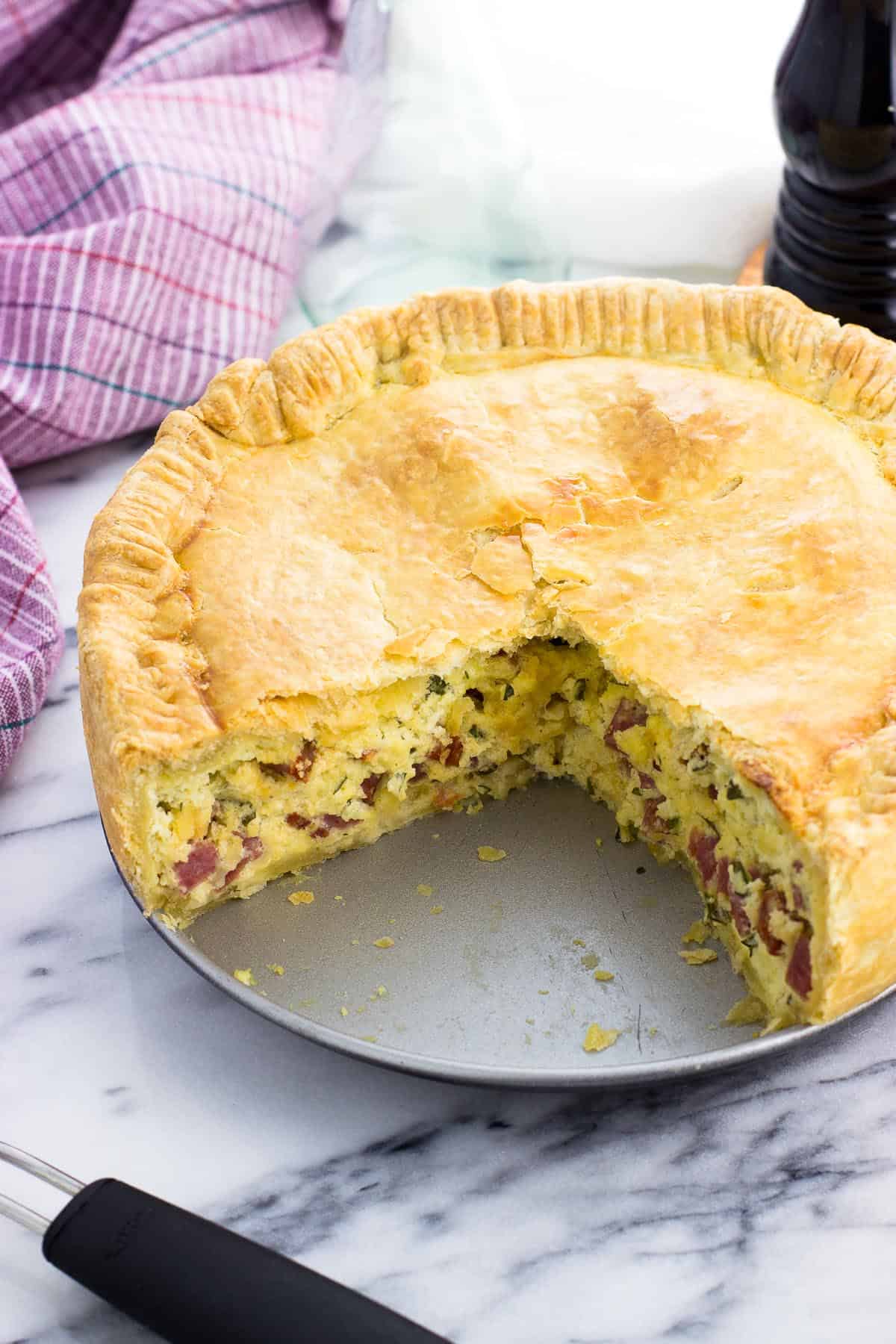 Better late than never, I'm finally getting around to sharing my family recipe for pizza rustica. (See also my family recipe for Italian Easter bread).
Every Easter for as long as I can remember, my mom has made, if you can even believe it, a larger version of this fully-loaded pie. She doubled pie crusts and loaded up on enough ingredients to fill a 9" x 13" dish in order to feel a large (and hungry) crowd. What looked like an obscene amount of food always had a knack for disappearing by the next day.
Nowadays with a much smaller crowd (or, like this year and last, no crowd at all) the "regular size" pizza rustica will do just fine. Actually more than fine given that it certainly doesn't skimp on the servings!
What is pizza rustica?
Pizza Rustica, also known as Torta Pasqualina ("Easter Pie") or Pizza Gain/Pizzagaina, among other names, is a savory meat, cheese, and egg filled crusted pie traditionally served on Easter Sunday. Neapolitan in origin, this holiday dish is similar to a supersized quiche. It's assembled in a 9" springform pan to accommodate the extra height, and bakes up into quite a showstopper.
As with many Italian recipes, this isn't the only way to make pizza rustica. The types of meat and cheeses used can vary, as can the sometimes addition of vegetables such as spinach. Just like in treats such as cucidati, everyone does it a little differently.
It was interesting to research other takes on something I've been eating all my life. No way is wrong -- just don't eat it on Good Friday like a large online food publication suggests if you're abstaining from meat during Lent!
While this recipe is how my family makes it, I've noted below the different areas with wiggle room for you to make it your own.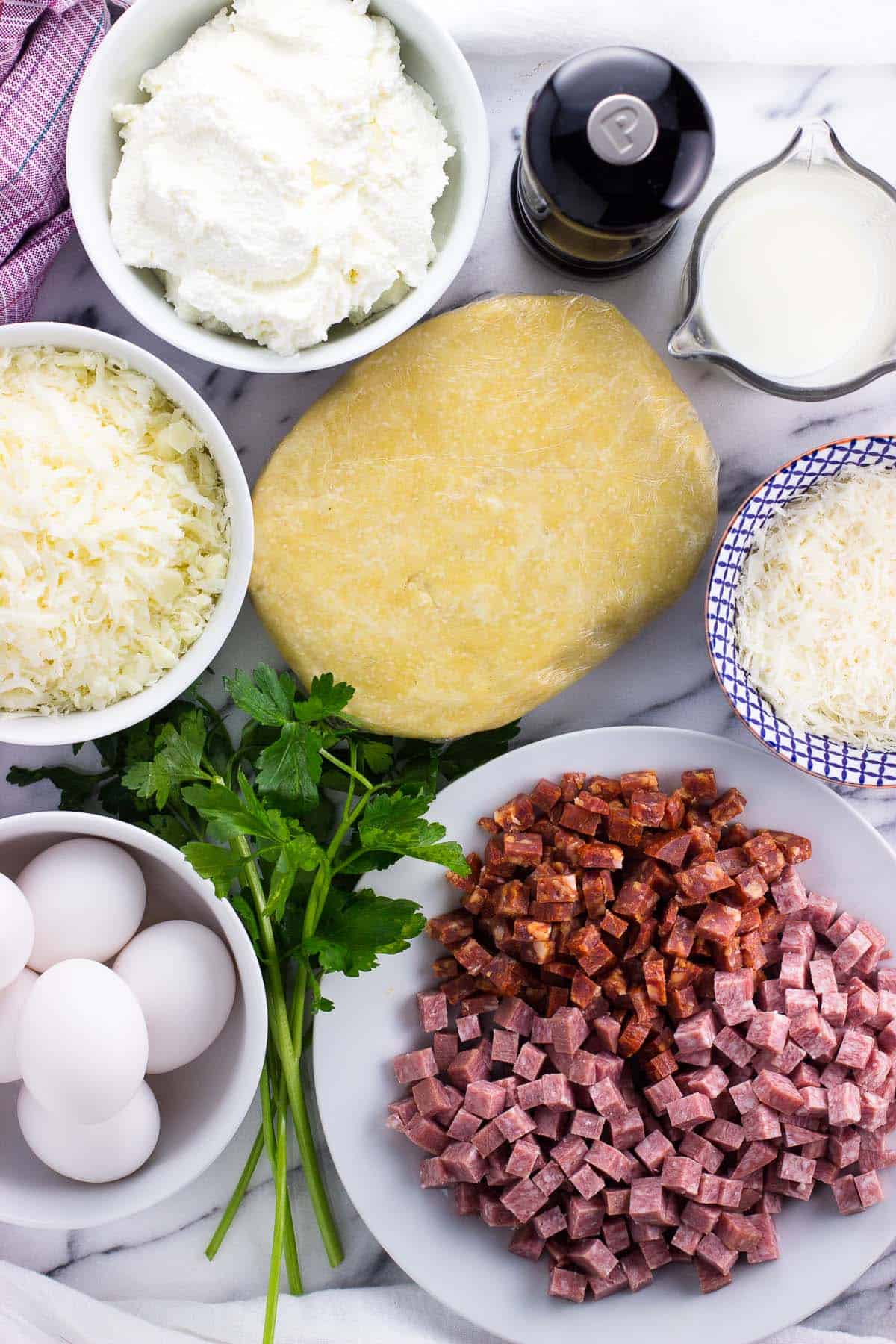 First step: prepare the crust
This crust recipe uses simple ingredients: all-purpose flour, unsalted butter, eggs, salt, and cold water. The butter brings a classic pie crust flakiness, while the eggs help produce a smooth and strong dough that can stand up to the hefty filling.
First whisk together the flour and salt, then cut in the small-cubed butter using a pastry blender or two forks. Aim for the butter pieces to get down to around the size of a pea or a pencil eraser, which is usually referred to as a coarse crumb consistency. That's pictured on the left in the photo below.
Next form a well in the center of the flour mixture. Beat two eggs in a separate bowl and then pour them into the well. Using a fork or a spoon, start to stir and work the eggs into the crust mixture. It won't come together into a ball yet, rather the egg will moisten everything and the crust will form larger pieces and begin to look a little shaggy. That's on the right side of the photo below.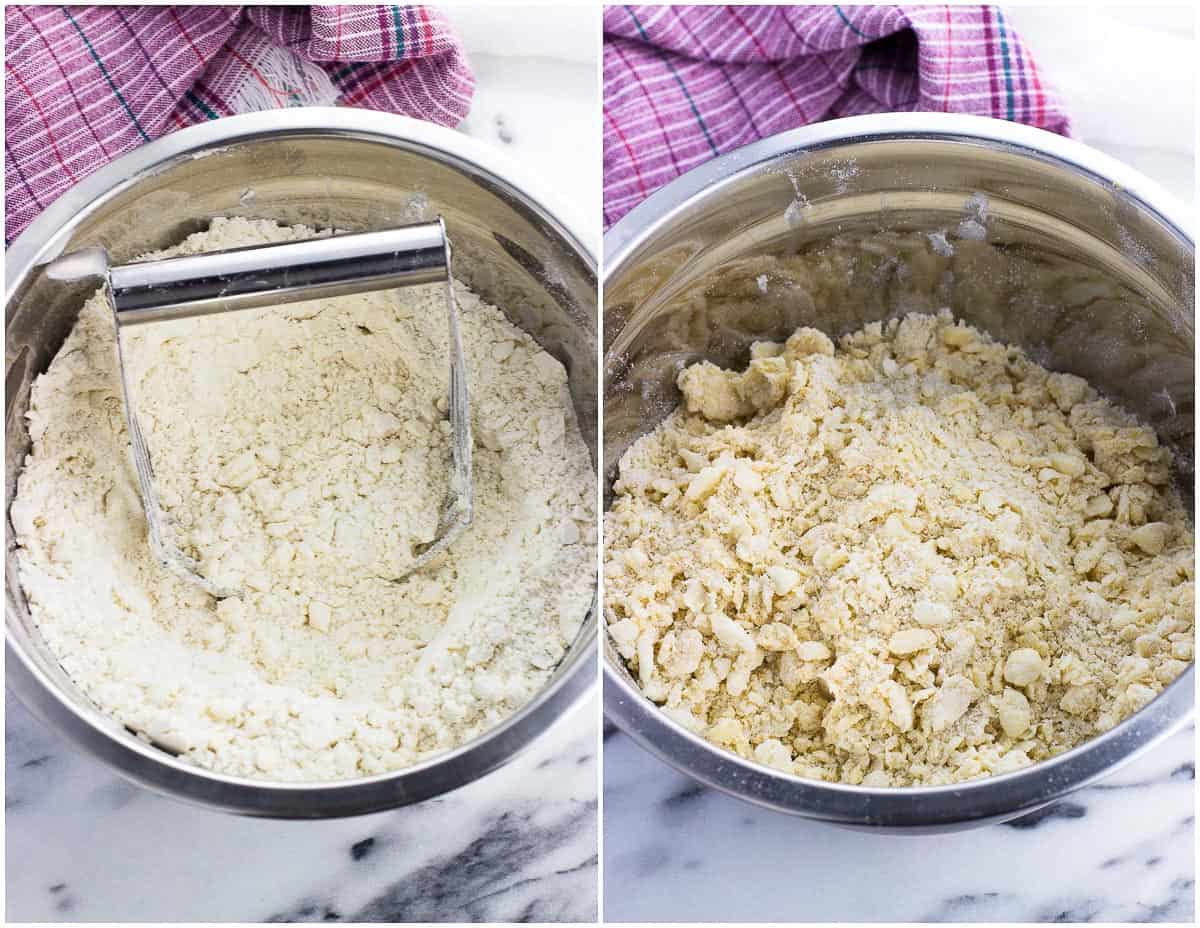 All that's left is to mix in chilled water one tablespoon at a time until the dough can form a cohesive ball. You want to go slow here and add the water a little at a time as everyone's conditions differ and may require less or more. Too little water and the dough will be dry and crumbly, while too much will lead to a sticky dough that's difficult to handle.
I usually end up using somewhere between three and four tablespoons of water during this process.
The dough needs at least one hour to chill in the refrigerator to firm up, so press it into a flattened disc (this shape helps it chill more evenly vs. a big lump), wrap it in plastic wrap, then stick it in the fridge.
Towards the end of the dough chill time is a good time to begin the process of making the filling.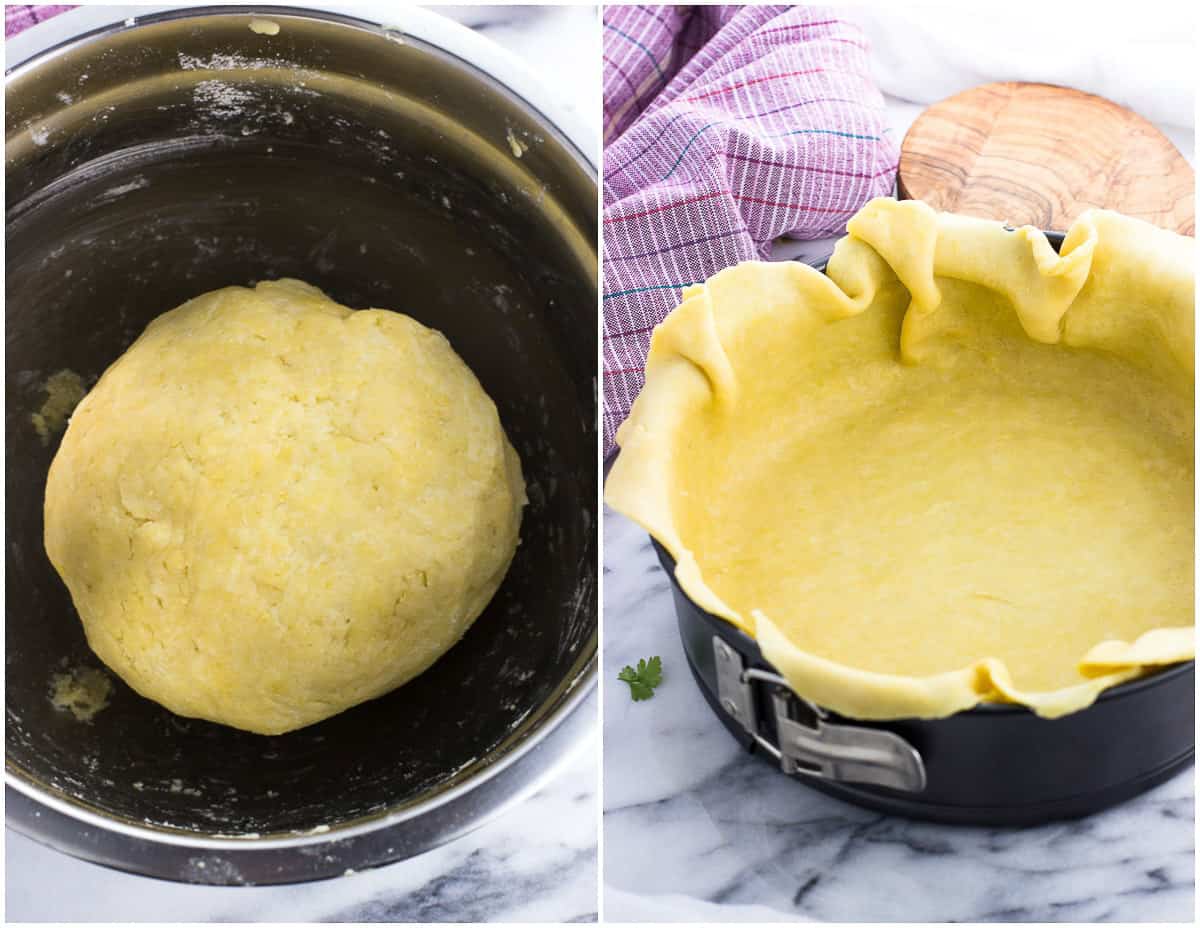 Filling ingredients
This filling is not for the faint of heart and unlike many of my recipes, doesn't really have any room to be lightened up. It strongly leans into that once-a-year holiday comfort food title.
Eggs: You'll need nine large eggs here. Six in the filling, two in the crust, and one for an egg wash. The eggs in the filling are separated, which helps produce a light and fluffy texture that isn't too dense at all. And while I'm not a pie crust wizard by any stretch of the imagination, the eggs in the crust help form a cohesive, not-too-sticky dough that handles beautifully.
Cheeses: We have three! Ricotta, mozzarella, and Parmesan are all added to the pizza rustica filling. I use whole milk ricotta here as it's creamier than part-skim and adds to the semi-luxe, special occasion food vibe. In place of Parmesan you can use Pecorino Romano or your preferred variety of hard Italian cheese you can grate.
Meats: Here is where a lot of variation comes into play. My family always uses salami for pizza rustica, though other versions include other meats. I've taken to including an equal mix of three salami products: hard salami, Genoa salami, and spicy sopressata. Twelve ounces of meat in total is recommended, so feel free to use just one or two salami varieties, or sub in portions of the following:
cooked and crumbled Italian sausage
thickly-sliced prosciutto
diced pepperoni
Everything else: My version of pizza rustica also includes one-half cup of milk to help lighten the texture, chopped fresh parsley, and ground black pepper. Notice that salt is not added here as the meats and cheeses provide enough. Plus there's salt in the crust.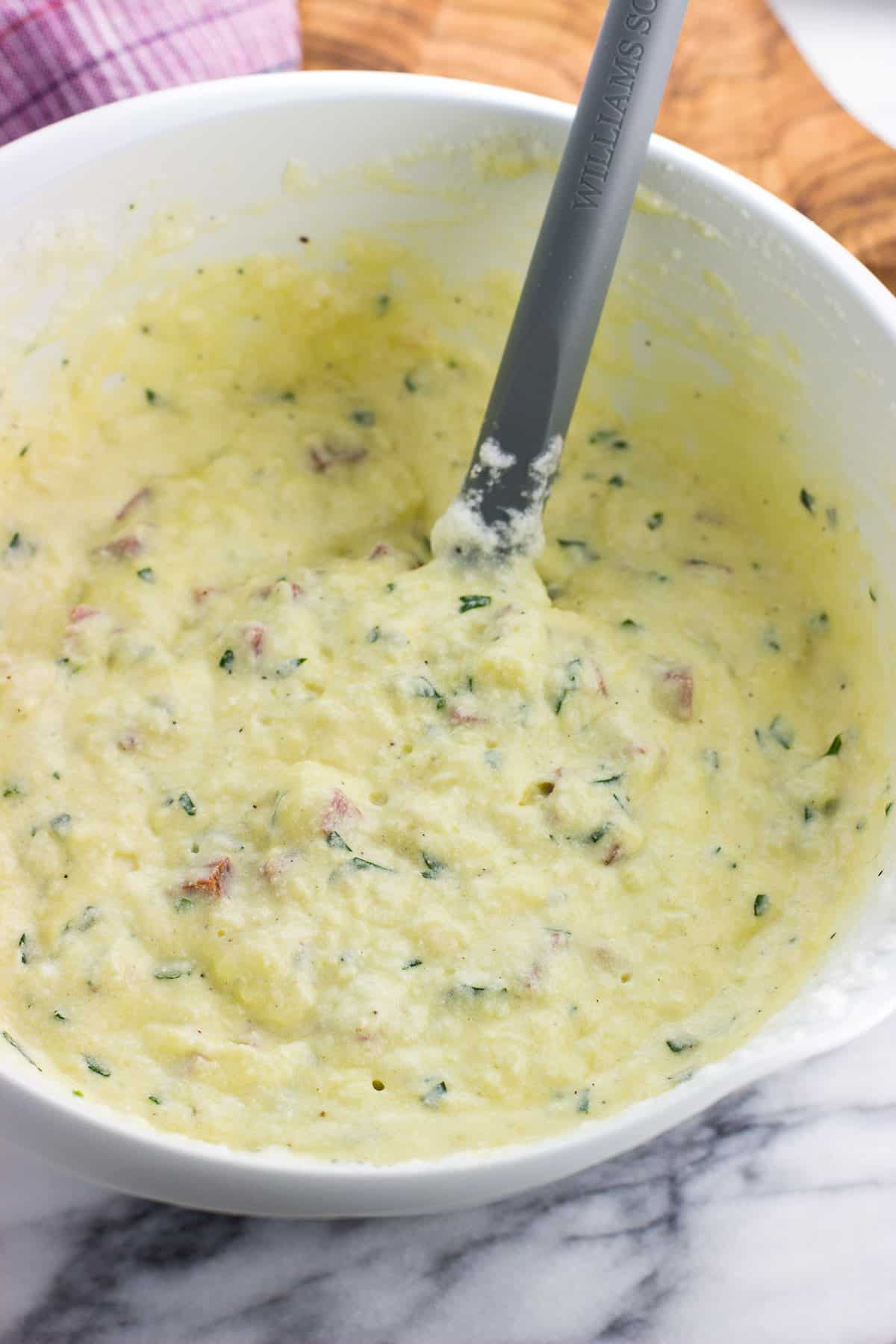 Second step: make the filling
Something that sets this pizza rustica recipe apart from others out there is separating the eggs. You'll mix the yolks with the rest of the ingredients, while the whites are reserved in a separate bowl.
Use a big mixing bowl for the yolks as all of the filling ingredients will end up in there. Add the ricotta, shredded mozzarella, milk, Parmesan, parsley, and pepper and mix everything well. Then stir in the cubed meat.
Now, using a stand mixer (or ideally any kind of electric mixer), whip the egg whites until stiff peaks form. This stage is reached when you lift out the beaters and the egg whites stand up. Fold the whites into the bowl with the rest of the filling ingredients.
While separating the eggs is more work, this step really helps to create a fluffy filling consistency that ends up lighter in texture than you might think possible given these ingredients. I wouldn't skip it.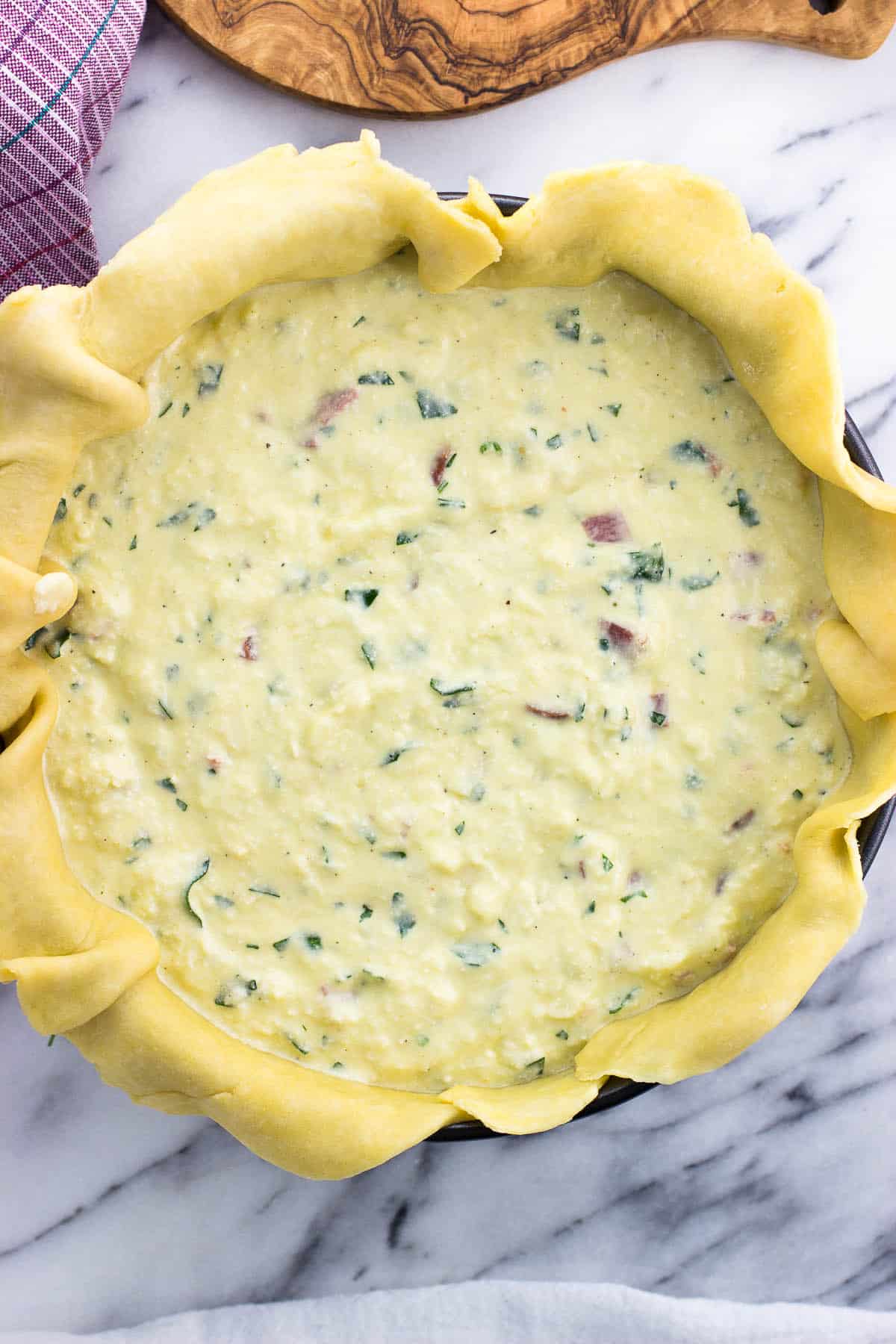 Assembling pizza rustica
Once the dough is chilled, slice it into two portions: a larger one about two-thirds of the total, and a remaining one-third. Working with the larger piece first, roll it out onto a lightly floured work surface until it reaches about between 15 - 16 inches in diameter and one-eighth inch thickness. You shouldn't need too much flour as the dough isn't very sticky at all and the eggs give it a strong stretchiness.
Lay the dough gently over the greased springform pan, trying not to stretch it, and gently press it flat along the bottoms and sides, leaving a few inches of overhang. Pour in the filling, then roll out the second piece of dough into a 9 to 10 inch circle. Lay this on top of the filling, then fold in the overhang dough pieces and press to join the two pieces.
Crimp the crust by pressing the tines of a fork into it, then slice a few slits into the top crust.
If all that isn't enough, we need to use one more egg for the egg wash. Beat it in a bowl with two teaspoons of water, then brush it onto the entire top surface of the pizza rustica. This will help the crust turn nice and golden brown.
And there you have it. Bake it for an hour (or longer) until the pizza rustica is a deep golden to golden brown color.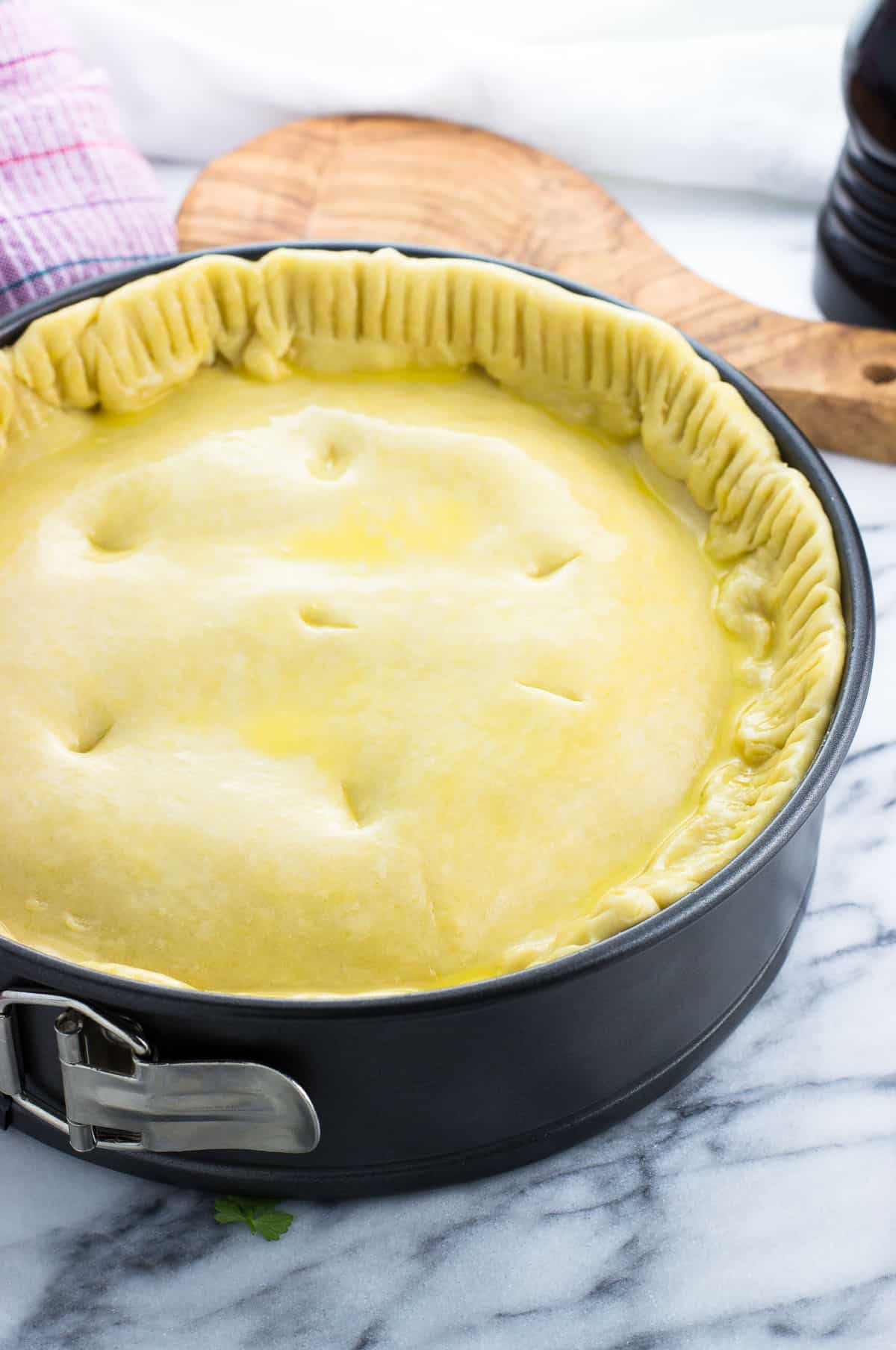 An important tip
After smelling the aroma of the pizza rustica baking for so long, it will likely be hard to resist the temptation to dig into it right away. Please don't do that! Slicing into it when it's too warm will cause the filling, even when fully cooked, to mush out in a sloppy way. It needs a serious cool time in order to solidify and firm up to produce even slices.
I recommend allowing the pizza rustica to cool for at least 45 minutes before slicing into it. The good news about a dish like this is that it's wonderful served warm or at room temperature. You can place it in the refrigerator for a bit to speed up this process without it becoming too cool.
Make ahead instructions
Since this recipe isn't exactly quick and easy to make the morning of a holiday, you can assemble and fully bake this pizza rustica the day before, leaving it whole to solidify fully. On the day of, place it in the oven to heat thoroughly, tenting the top with aluminum foil to prevent it from browning further.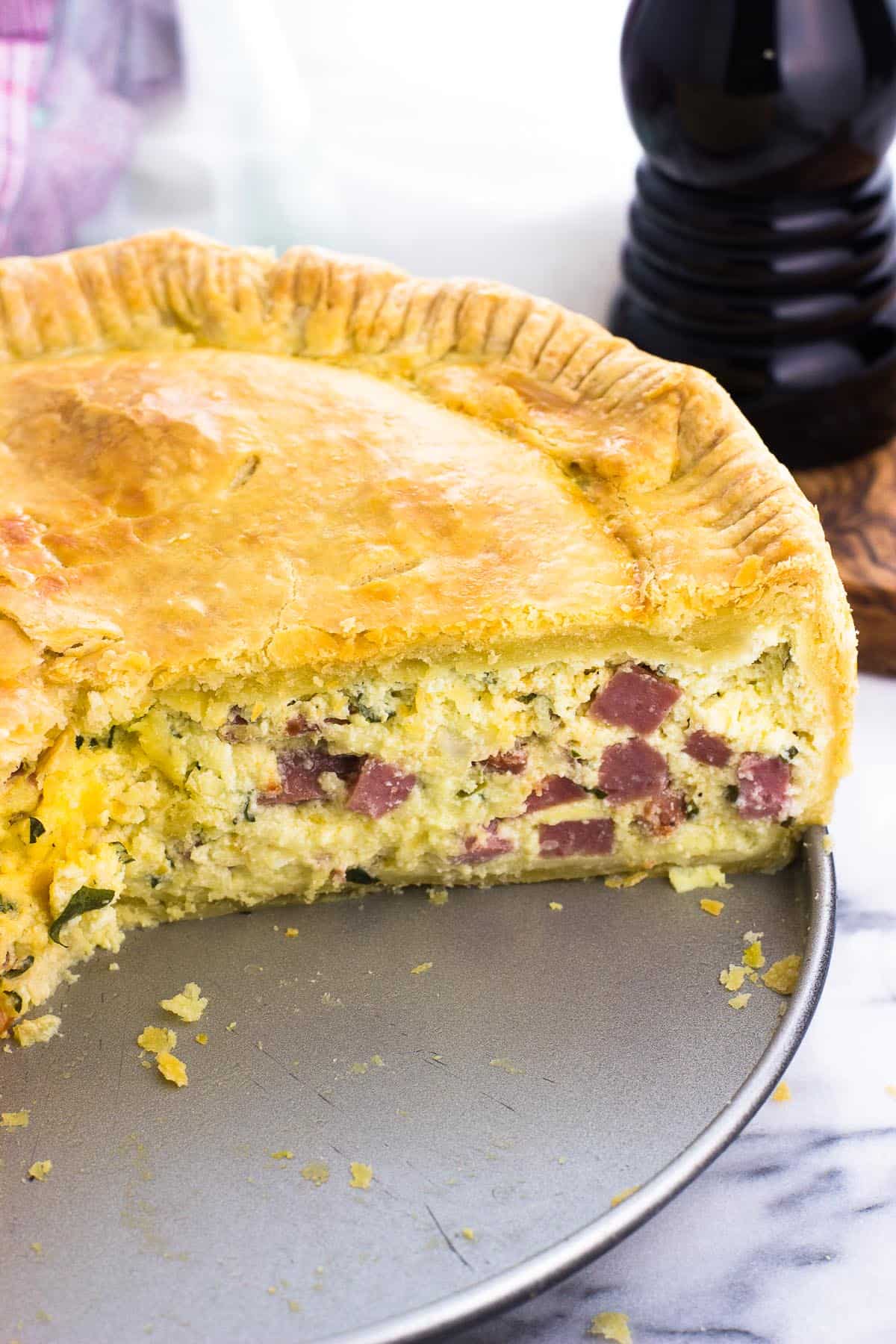 More Italian Easter recipes
While struffoli is a big time Christmas dessert, many families also make a batch to enjoy around Easter. This recipe turns simple ingredients into a honey-kissed treat.
Anise cookies are a classic! This recipe features a present-but-not-overwhelming anise flavor that adds a special touch to a dessert tray.
While they look similar to anise cookies, these ricotta cookies taste completely different. Soft and tender from the ricotta cheese, these cookies feature bright lemon and almond flavors that help usher in springtime in the best way.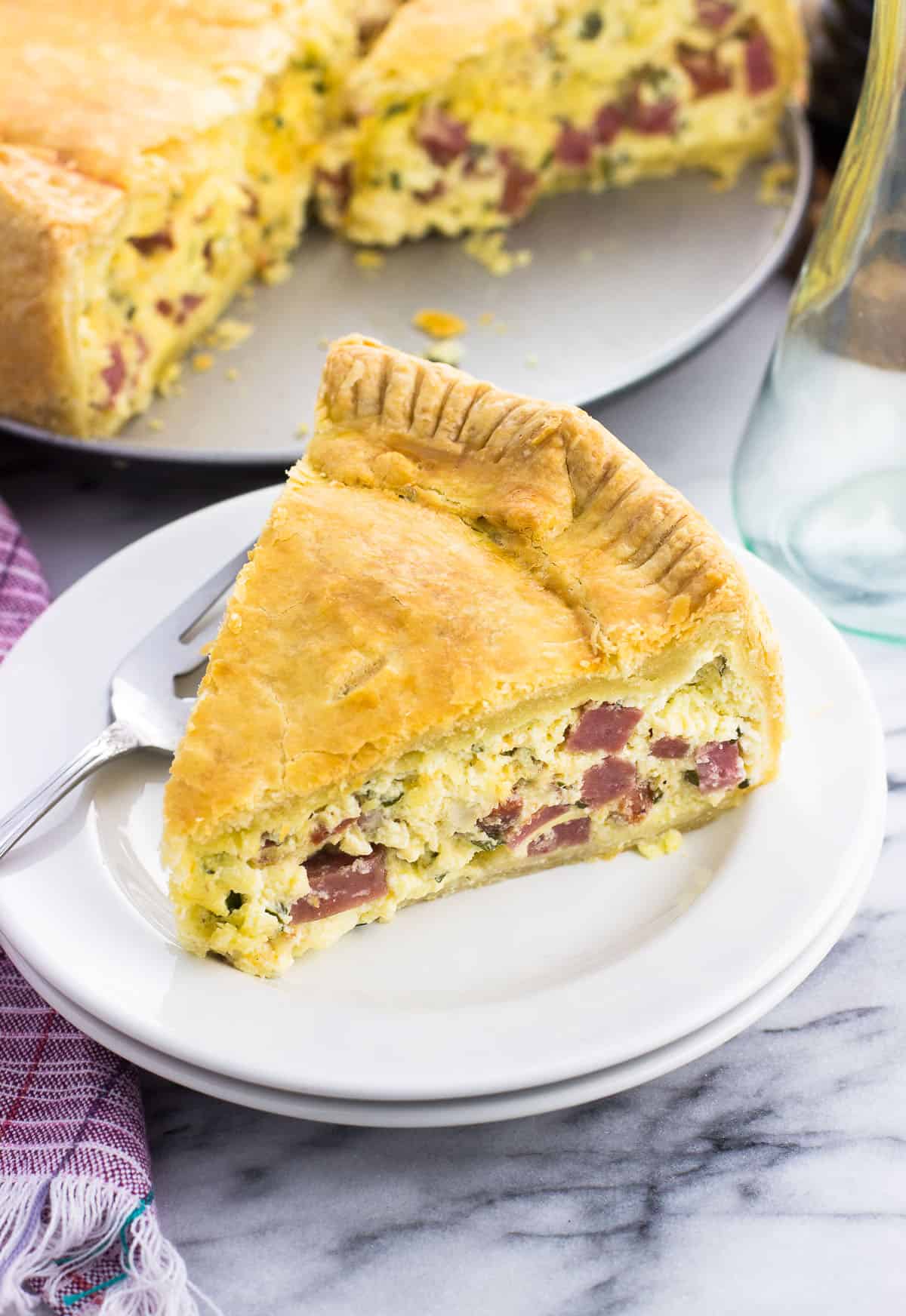 Recipe notes
If buying salami from the supermarket deli counter, ask if they can slice them to "dinner cut" thickness. This is around one-quarter inch and makes cubing the salami really easy.
Pizza rustica freezes very well. Cut into wedges, wrap in plastic wrap, and place in air-tight bags or containers in the freezer. Remove the plastic wrap and reheat in the oven, covering the top with aluminum foil to prevent the crust from browning too much.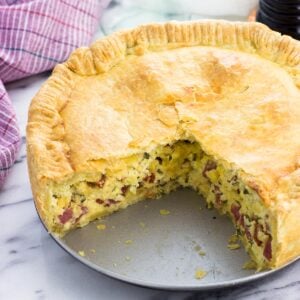 Pizza Rustica (Italian Easter Pie)
Pizza rustica is a classic Italian Easter dish loaded with eggs, cheese, and a variety of meats. This savory pie features an easy homemade crust and is made in a springform pan for an impressive presentation.
Print
Pin
Rate
Ingredients
Crust:
3

cups (368g)

all-purpose flour

1

teaspoon

salt

¾

cup (170g)

unsalted butter

chilled and cut in small cubes

2

large

eggs

beaten

3-4

tablespoon

chilled water
Filling:
6

large

eggs

separated

15

oz

ricotta cheese

8

oz

mozzarella cheese

shredded (about 3 cups)

4

oz

milk

(½ cup) any variety

1.5

oz

Parmesan cheese

shredded (about ¾ cup) or Pecorino Romano

¼

cup

chopped parsley

½

teaspoon

ground black pepper

4

oz

hard salami

cubed (about ¾ cup)

4

oz

Genoa salami

cubed (about ¾ cup)

4

oz

sopressata

cubed (about ¾ cup)
Assembly:
1

large

egg

beaten

2

teaspoon

water
Instructions
Crust:
Add flour and salt to a medium mixing bowl and whisk to combine. Add cubed butter and cut in with a pastry blender or two forks until the mixture resembles coarse crumbs, with pieces of butter around the size of a pea. It will not be a cohesive, even consistency at this point.

Make a well in the center of the flour/butter and pour in the beaten eggs. Using a fork, stir and work the eggs into the mixture until it's as evenly moistened as possible.

Add water, one tablespoon at a time, until a ball of dough can be formed. Work the water in well after each addition. I use between 3 and 4 tablespoons.

Place the ball of dough on a sheet of plastic wrap and press into a flattened disc. Wrap the disc with the plastic wrap and refrigerate for at least one hour.
Filling:
Prepare the filling towards the end of the dough chill time so it will be ready to roll once the filling is assembled. Preheat the oven to 375°F (190°C) and spray the bottom and sides of a 9" round springform pan with cooking spray. Set aside for now.

Separate six eggs, adding the yolks to a large mixing bowl and the whites to the bowl of a stand mixer (or a separate mixing bowl). Set the whites aside for now.

Beat the yolks until light and creamy. To the bowl with the yolks, add the ricotta, mozzarella, milk, Parmesan, parsley, and pepper. Mix until combined evenly, then stir in the cubed meat.

With the whisk attachment fitted to a stand mixer, beat the egg whites for a few minutes until stiff peaks form. Alternately you can do this with an electric hand mixer. Then fold them into the rest of the filling, taking big sweeping passes along the bottom and sides of the bowl to fully and evenly work the whites in without stirring/deflating them too much.
Assembly:
Once the dough is sufficiently chilled, slice off two-thirds of the dough and roll it out onto a lightly floured work surface until it reaches a 15" - 16" circle about ⅛" thick.

Carefully transfer the dough into the prepared springform pan to line it, lightly pressing it along the bottom of the pan and up the sides with excess hanging out the top. Take care to ensure the dough goes right to the bottom edge and then straight up the sides without gaps underneath.

Pour the filling into the bottom crust and even out the top with a spatula or spoon.

Roll out the remaining one-third of the dough into an approximately 9 ½" to 10" circle, then place it on top of the filling to cover it entirely. Gently press it so it lays flat against the filling. Fold in the excess pieces of dough from the bottom layer to pinch together with the top layer. Crimp the edges with a fork.

Whisk together one egg with two teaspoons of water in a small bowl and brush the egg wash onto the pizza rustica. Cut several slits into the top crust.

Once the oven has heated to 375°F (190°C), bake for 1 hour to 1 hour 15 or until the pizza rustica has turned a nice and deep golden brown.

Remove from the oven and let it sit in the pan for 20 minutes. Carefully remove the pan sides, loosening it from the outside of the pizza rustica with a thin spatula or knife if needed. Let the pizza rustica sit for 25 more minutes (or even longer) before slicing into wedges and serving.
Notes
Chill/Rest time: This includes one hour for the dough to chill and 45 minutes for the pizza rustica to cool. It's very important to let the pizza rustica cool for least 45 minutes after coming out of the oven to help firm up the filling and produce clean slices. If you slice it when it's too hot, you're likely to get a fully cooked but loose mess. Meat: You don't have to use all three varieties of salami. You can use one or two, or sub in other meats such as cooked and crumbled Italian sausage, pepperoni, prosciutto, etc. Try and end up with twelve ounces of meat in total.
Nutrition
Nutritional information is provided as an estimate. As it can vary due to many factors (brands used, quantities, etc.), we cannot guarantee its accuracy.
Food Safety and Nutrition Disclaimer