Florentines are caramel-y Italian almond cookies that are crisp enough to "snap". Baked thin in a lacy pattern, florentine cookies are commonly coated, drizzled, or sandwiched with chocolate for a unique holiday treat.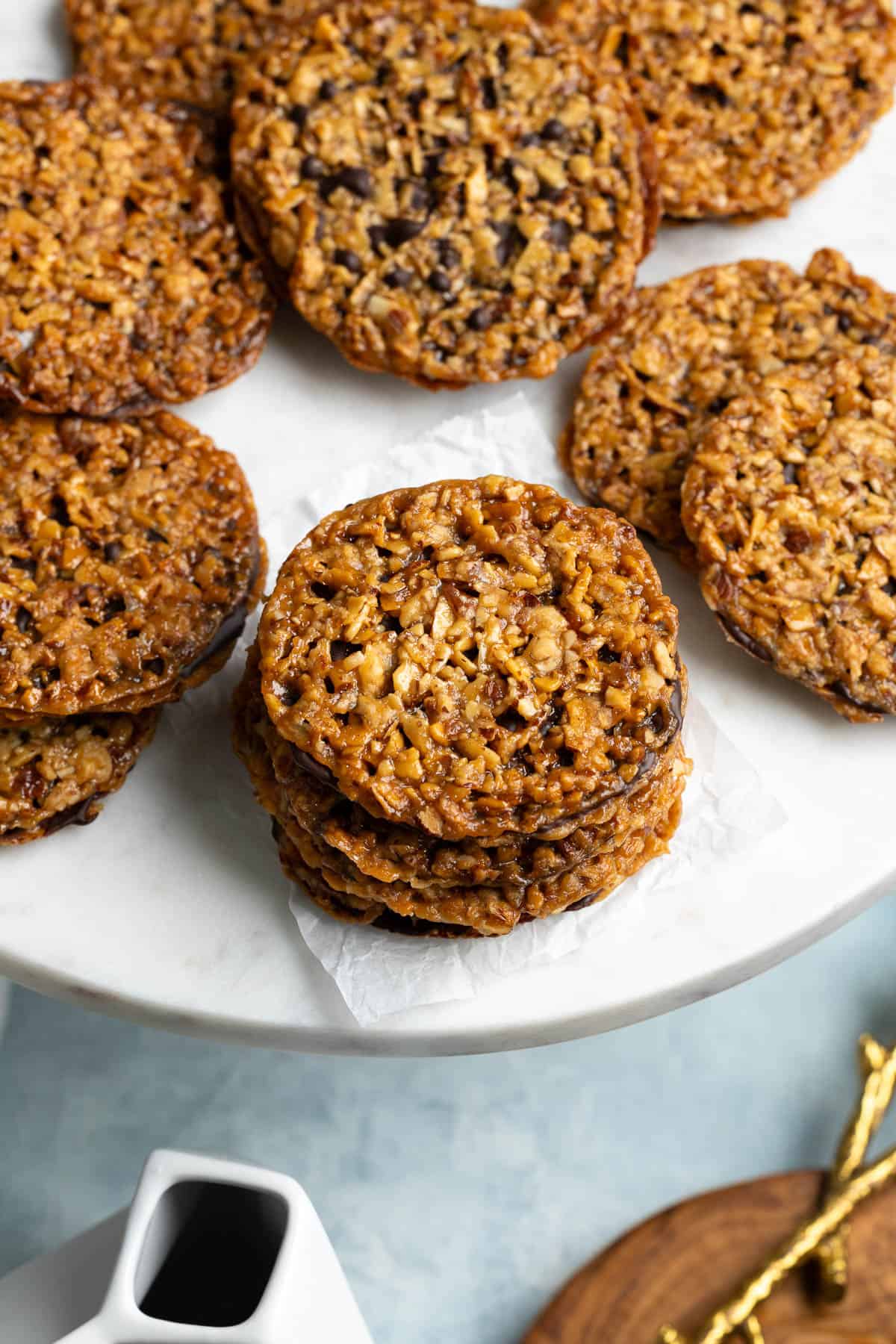 One of my favorite dessert memories as a kid is digging into the classic white cardboard box from the Italian bakery. Sold by the pound, the cookie assortment always included rainbow cookies (♥), butter sprinkle cookies, pignoli cookies, jelly sandwich cookies, jelly sandwich cookies dipped in chocolate(!)...I could go on. It was a good day when florentines were included.
Florentine cookies aren't difficult to make at home, but they're not as intuitive as traditional cream-together-butter-and-sugar kind of recipes. The dough, if you can call it that, features very little flour and no eggs, and is held together by a toffee caramel-like mixture you'll prepare on the stove.
These differences result in a richly-flavored and truly unique style of cookie that brightens up any holiday cookie tray.
Note: Initially posted in 2015, this recipe has since been updated to use sliced almonds. It originally called for a specific brand's flavored whole almonds, however that product is no longer being sold.
Jump to:
Why This Recipe Works
Florentines are so thin, it can be tricky to ensure they crisp just right without burning. I like to bake them at a lower temperature to take the stress off of this process.
It make seem finicky at first, but this recipe becomes super versatile once the dough is scooped into balls. They can be baked fresh, refrigerated for up to two days, or even frozen for no-fuss holiday prep.
If you've never baked florentines before, no worries! This post contains step-by-step pictures and lots of details to set up you for success.
Recipe Ingredients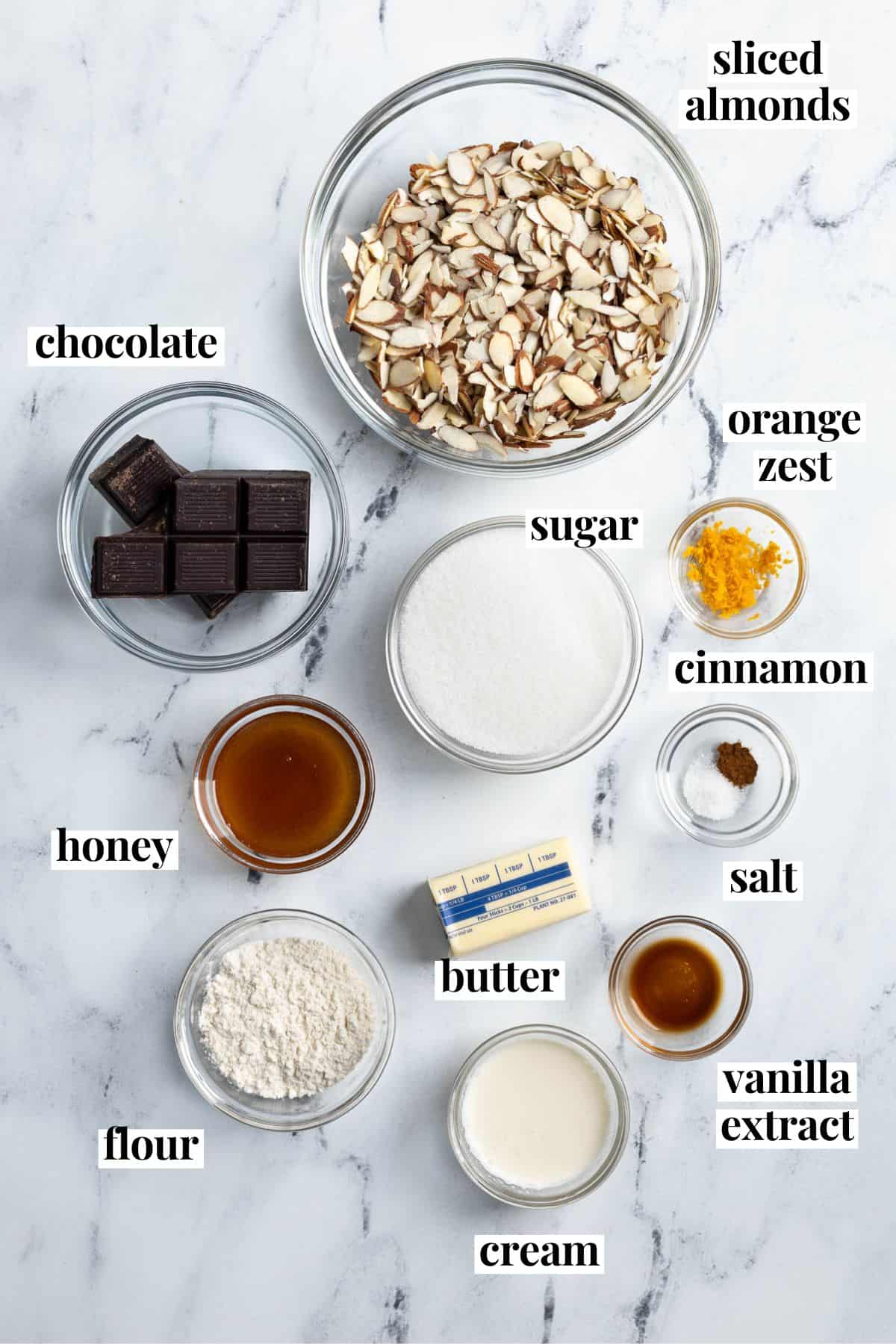 Almonds: The base of a traditional florentine cookie recipe. As we'll need small pieces, sliced almonds are the easiest form to break down in the food processor.
Orange Zest: A small amount to add a hint of complementary flavor. This is optional.
Sugar, Cream, & Butter: These combine to form the toffee portion of the cookie.
Honey: Amplifies the toffee sweetness and provides extra flavor.
Vanilla Extract: Add this off of the heat so the flavor doesn't boil off.
Chocolate: Use your favorite kind, though I'm partial to dark chocolate.
Step-by-Step Instructions
Dry ingredients. Pulse the almonds in the food processor until they're in small bits, then add to a mixing bowl with the flour, orange zest, salt, and cinnamon.
Wet ingredients. Add sugar, butter, cream, and honey to a saucepan and bring to a rolling boil for 1 minute. It will bubble up and become frothy, so use an appropriately-sized pan. Stir in the vanilla once off the heat.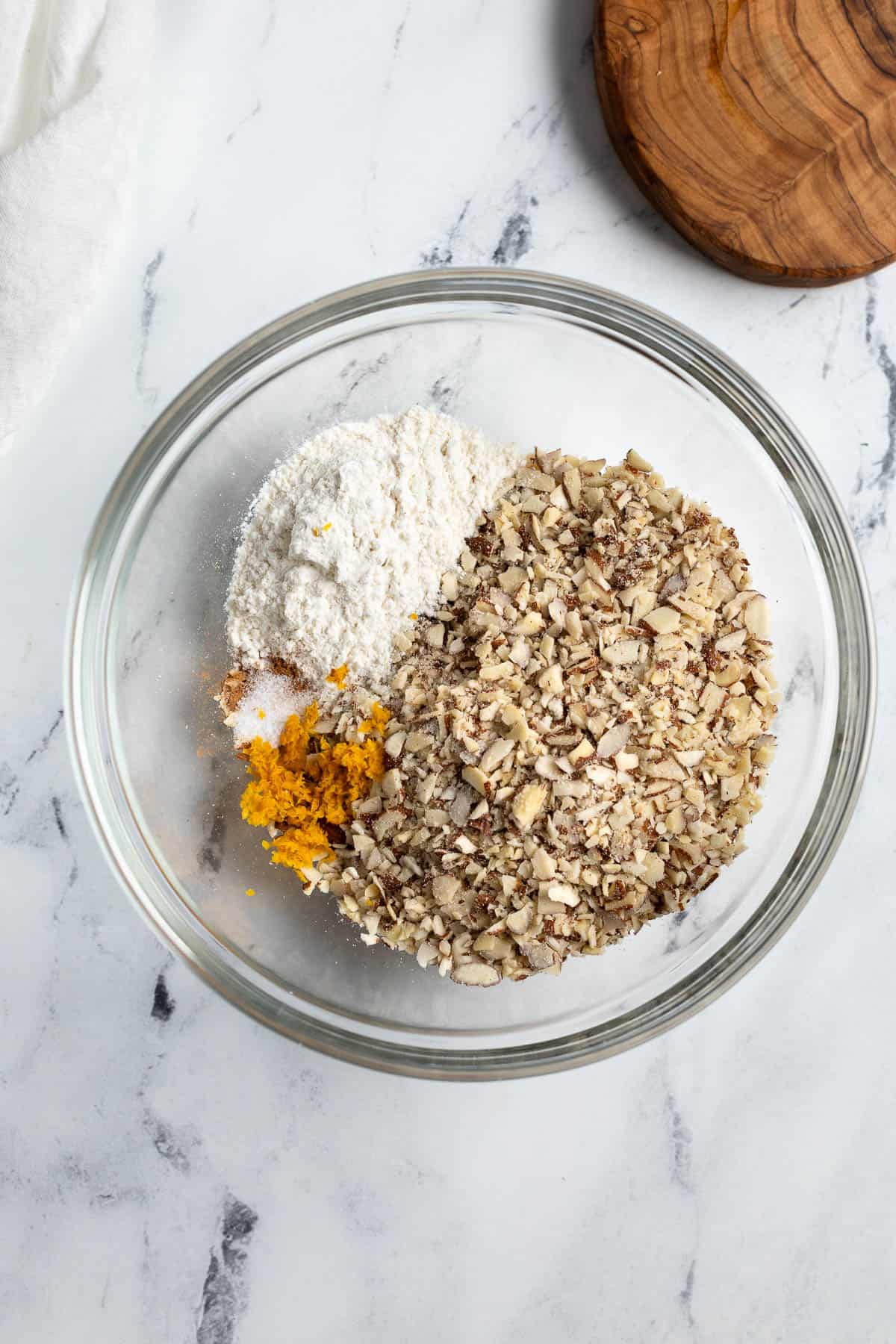 Combine. Pour the toffee mixture in the bowl over the dry ingredients and stir until evenly combined. Be careful as the mixture will be hot! Let it cool down enough to safely handle, which can take several minutes or a smidge longer.
Form Balls. Scoop using a level teaspoon or a mini cookie scoop. Place them at least 2-3 inches apart from one another on a parchment-lined baking sheet.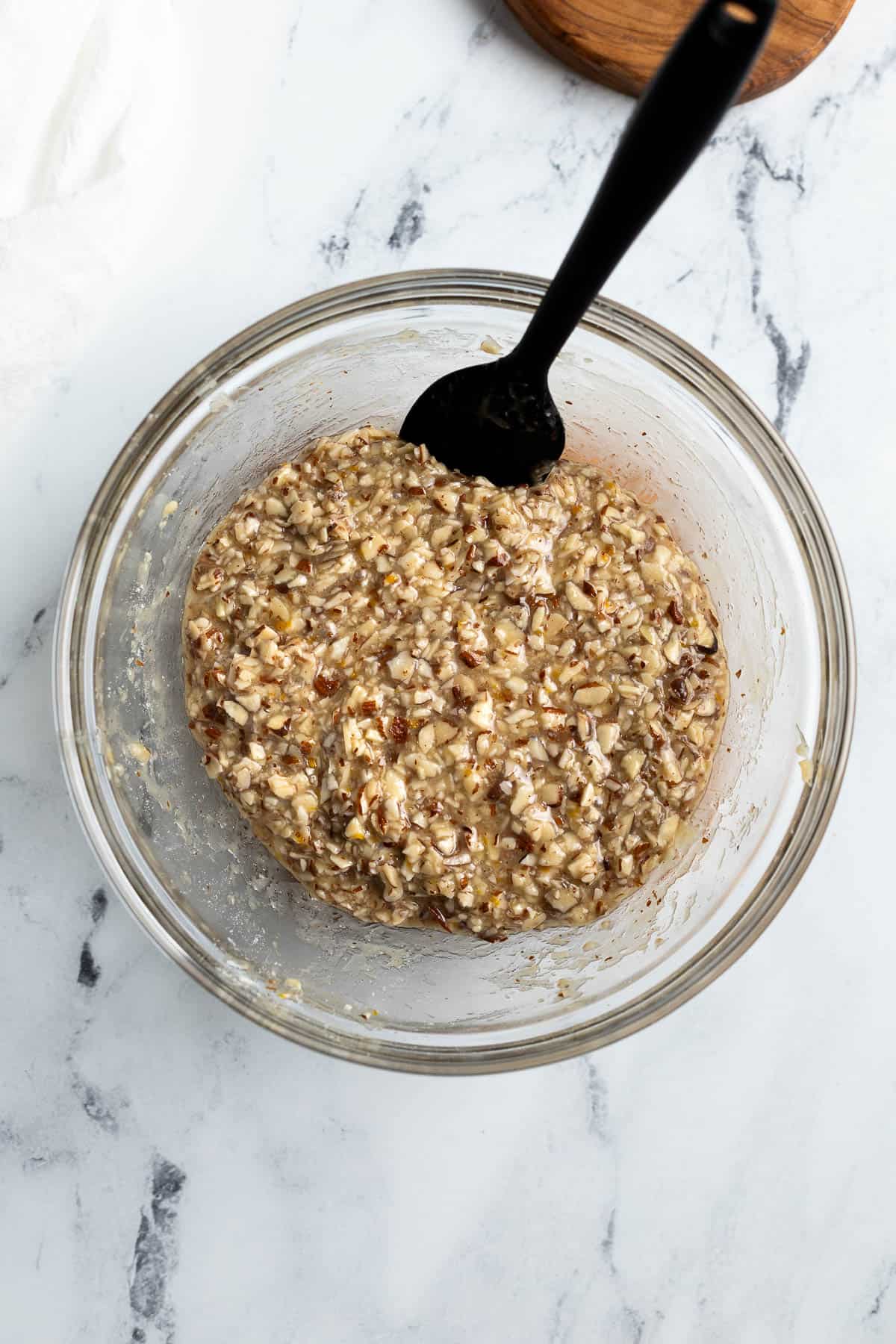 Bake. Bake at 300°F for 20-25 minutes, or until deep golden brown in color but not burnt. It's completely normal (and expected) for them to be totally flat with small holes. This is why they're sometimes called "Italian lace cookies".
Shape. Quickly nudge any angles or uneven edges into a circular shape with the back of a spoon before they harden.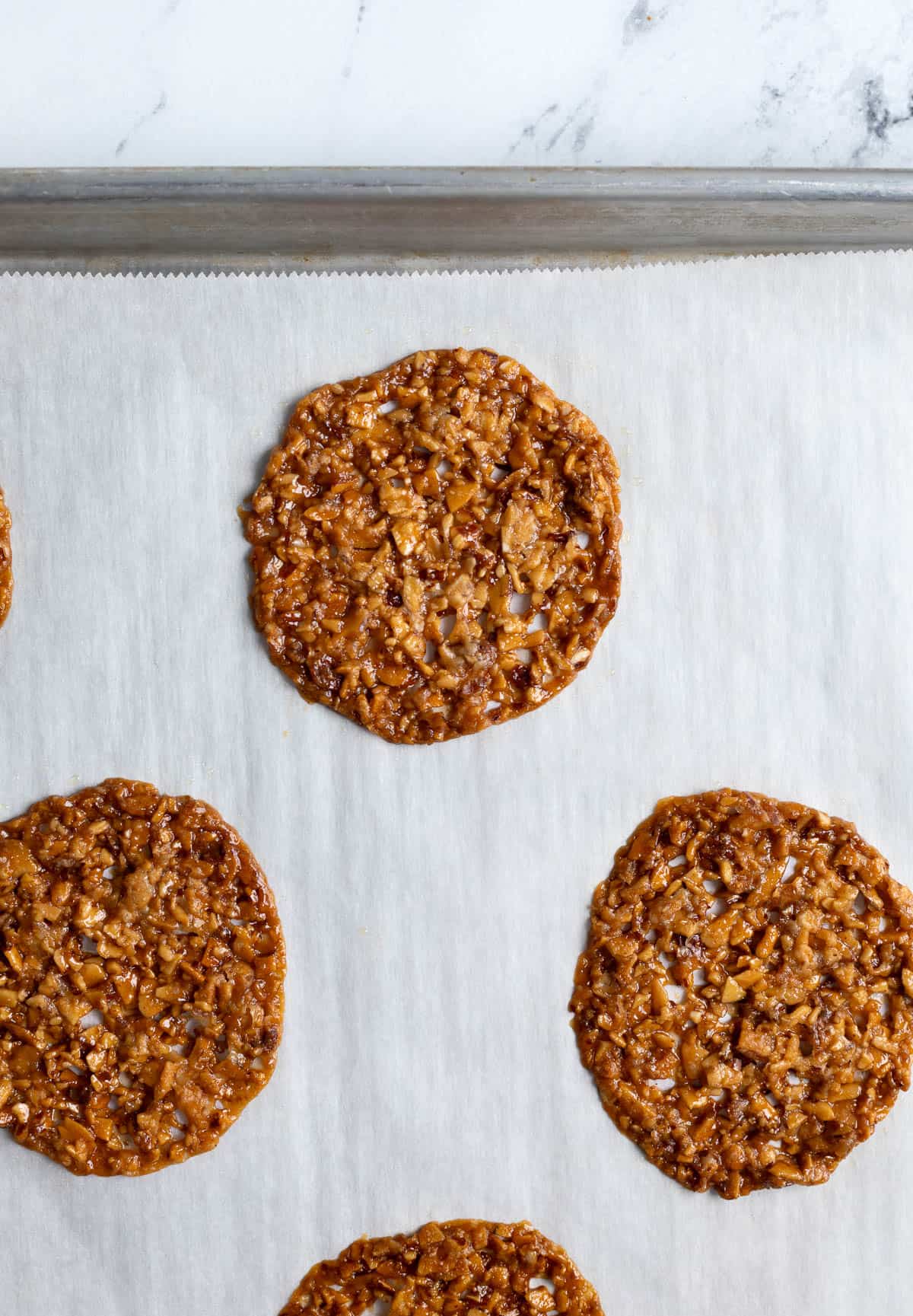 Melt chocolate. Once the florentines have cooled completely, melt chocolate in the microwave or on the stovetop in a double boiler.
Coat or drizzle. Either drizzle chocolate over top (snipping a corner off of a plastic bag is the easiest way) or spread it along the smooth side. Stick another florentine cookie onto the melted chocolate to create a sandwich.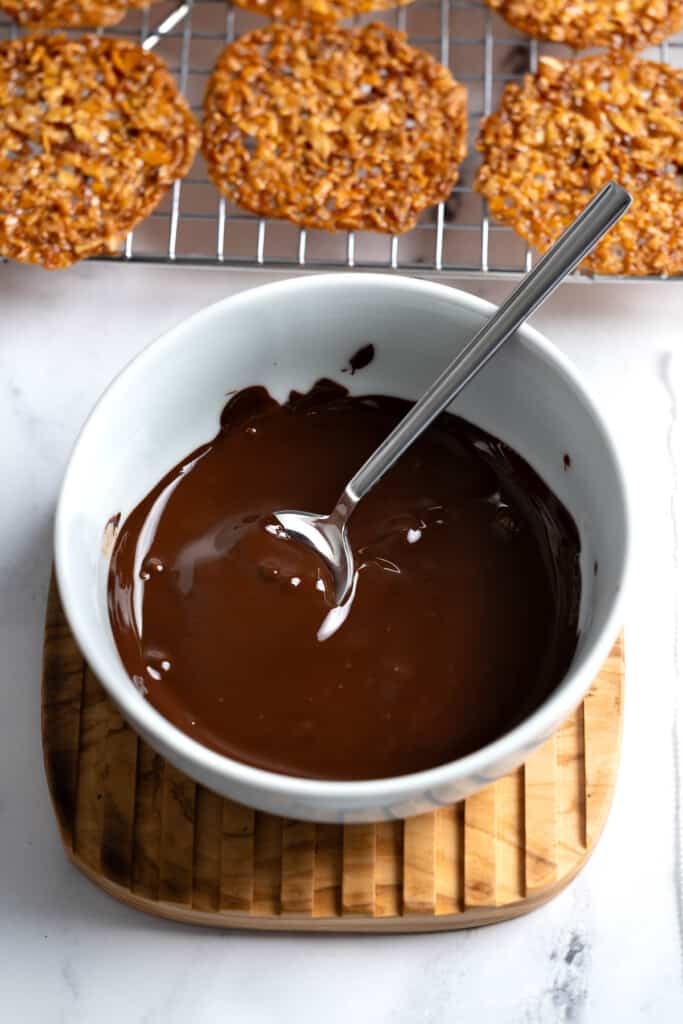 Tips for Perfect Florentine Cookies
Mix dough in a microwave-safe bowl. Rolling balls can be a delicate dance. The dough needs to cool down enough to safely handle with your hands, but it will crumble if it becomes too cool. Using a microwave-safe bowl means you can pop it in the microwave for short bursts (15 seconds or so) until it becomes warmed and manageable again.
Equal scoops. Scooping with a teaspoon measuring spoon and leveling it off ensures the most uniform cookies. Sometimes you can find a mini cookie scoop with a swinging arm, which scoops roughly one teaspoon of dough, to make this process more efficient.
Cut parchment down to size. Ensure the parchment paper lies flat against the pan and doesn't hang over the edges. Florentines are so light and thin they'll follow the shape of a sloped surface.
Know your pans. Dark metal baking sheets absorb and emit heat more efficiently than lighter metal sheets, meaning they can more quickly brown the bottoms of cookies. Since florentines are so thin, batches baked on darker metal pans may have a quicker bake time.
Rotate pans, if needed. Flip your pans from front to back if you know your oven has hot spots to ensure even caramelization.
Don't underbake. Underbaked florentines will be sticky and won't achieve a satisfying crispness. If you find after they've cooled that some of your florentines haven't crisped up enough, simply place them back in the oven and bake a bit longer.
Reshape quickly. Even after rolling precise cookie dough balls it's normal for florentines to not bake perfectly circular. You have a 15-ish second window right as they come out of the oven to nudge them with the back of a spoon into a more round shape.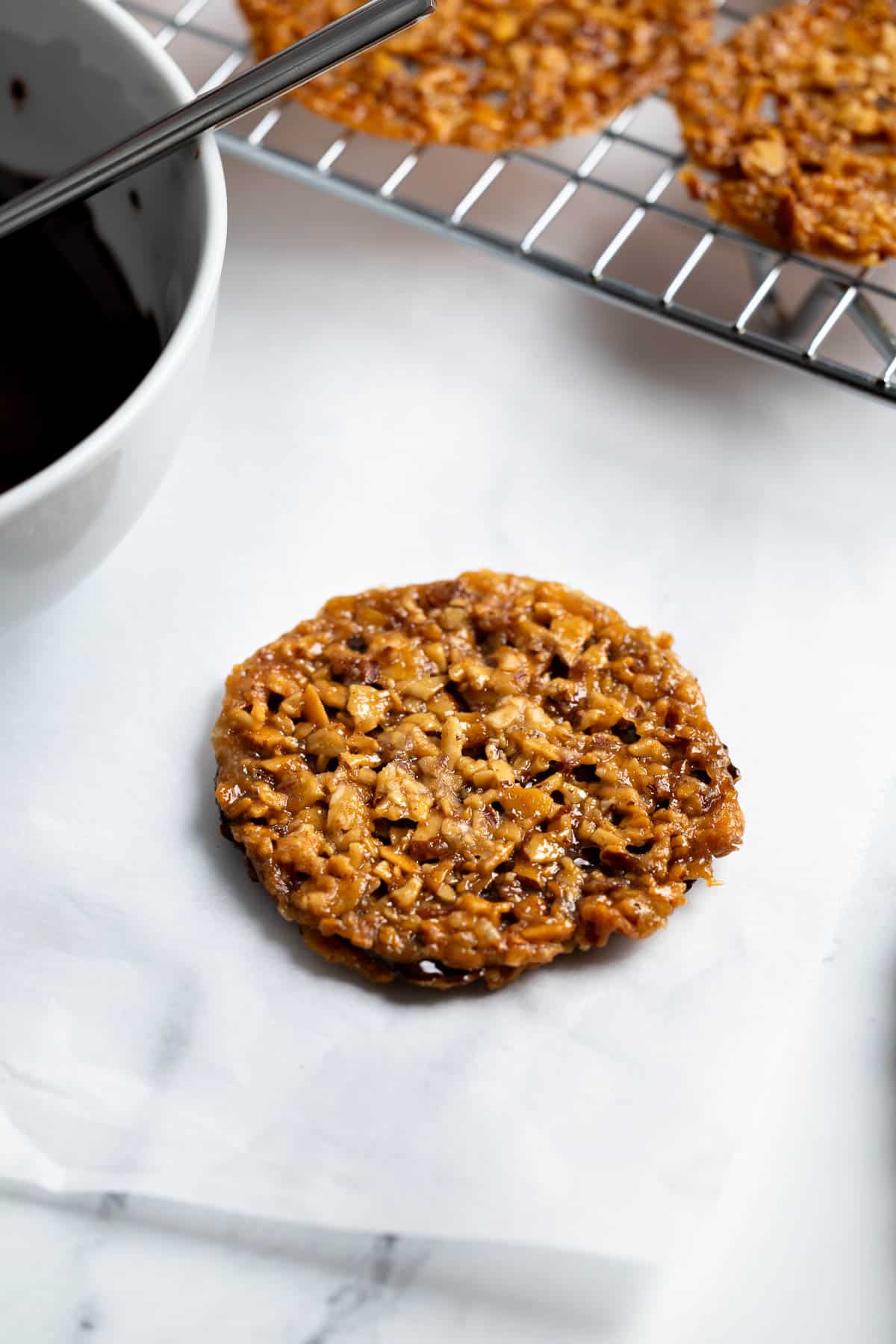 Frequently Asked Questions
What parts of this recipe can you make ahead of time?
Balls of dough can be refrigerated for 1-2 days before baking. They can also be frozen and thawed in the fridge before baking. Do not refrigerate the dough in a big lump in the bowl as it'll harden significantly once chilled and won't be scoopable.
How do you best store florentines?
Florentine cookies can be stored in an air-tight container at room temperature or in the refrigerator. In order to maintain their crispness, store them by themselves, not along with something soft and moist, like ricotta cookies. If your kitchen is warmer and leans humid (not great for maintaining crispness) I would store them in the fridge.
Can you freeze florentines?
Yes! Let the chocolate harden fully, then place in an air-tight container or bag with parchment paper between layers and freeze for several months. They don't take long to defrost, though I find thawed florentines to best be stored in the refrigerator.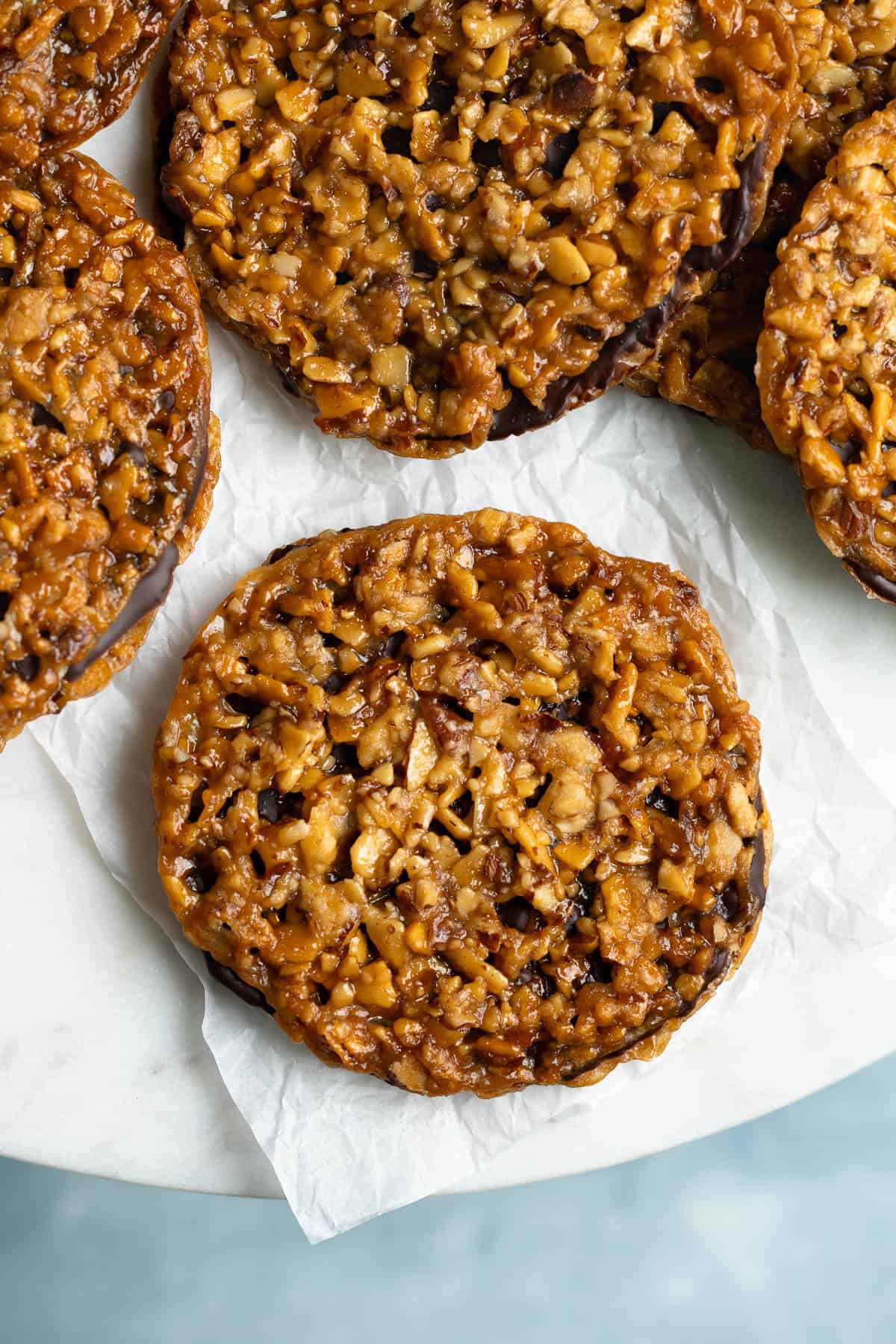 More Italian Cookie Recipes
If you've enjoyed this recipe, I'd love for you to leave a star rating in the recipe card and/or a comment review below!
Almond Florentines
Florentines are caramel-y Italian almond cookies that are crisp enough to "snap". Baked thin in a lacey pattern, florentine cookies are commonly coated, drizzled, or sandwiched with chocolate for a unique holiday treat.
Print
Pin
Rate
Servings:
60
cookies (30 sandwiches)
Ingredients
1 ¾

cups

sliced almonds

3

Tablespoons

all-purpose flour

½

teaspoon

orange zest

optional

¼

teaspoon

fine salt

Pinch of

ground cinnamon

⅔

cup

granulated sugar

4

Tablespoons

unsalted butter

2

Tablespoons

heavy cream

2

Tablespoons

honey

½

teaspoon

vanilla extract

4

ounces

dark chocolate

for melting and drizzling
Instructions
Preheat oven to 300°F. Line a large baking sheet with parchment paper trimmed to lay flat (no overhang along the sides) and set aside.

Add almonds to the bowl of a food processor and pulse until they are in crumbly, small pieces not much larger than the size of a green pea. Add the finely chopped almonds to a mixing bowl and stir together with the flour, orange zest, salt, and cinnamon until evenly combined.

Add granulated sugar, butter, cream, and honey to a medium saucepan and set it on the stove over medium heat. Stir as it heats and the ingredients begin to melt and dissolve. Let the mixture heat and maintain a rolling boil for 1 minute. It will bubble up and become frothy. After 1 minute remove the pan from the heat and stir in the vanilla extract.

Pour the toffee mixture into the bowl with the almonds and other dry ingredients. Stir so that everything is evenly combined and the dough is cohesive, using caution as the toffee mixture is sticky and hot. Allow it to cool for several minutes, or until it has reached an okay temperature for you to safely handle.

Densely pack dough into a teaspoon measuring scoop and level off the top, or use a mini cookie scoop if available. Remove the dough from the teaspoon and gently roll and press dough into a ball with your hands. Place the balls on the lined baking sheet at least 2 ½-3 inches from the edges and each other. Repeat with the remainder of the dough, maintaining the same distance between cookies as they spread considerably as they bake.

Bake on the middle rack for 20-25 minutes, or until the cookies have spread into a thin layer and have turned a deep golden brown color across. Once out of the oven immediately use the back of a spoon to nudge any angles or edges back into a smoother circular shape. Let the cookies cool on the baking sheet for 5 minutes, and then transfer to a wire rack to cool completely.

For the chocolate drizzle, melt chocolate using your preferred method (either in a double boiler or in twenty-second intervals in the microwave, stirring after each interval, until the chocolate is melted and smooth). To drizzle, transfer melted chocolate to a plastic bag, seal, and snip the very corner of the bag. Pipe chocolate in your preferred pattern over top. For sandwiches, spread chocolate along the smooth side of a florentine, then press another florentine into it and let harden before serving or storing.
Notes
Managing the Dough: This mixture will harden as it cools, at which point it will crumble and become harder to work with.

Ideally use a microwave-safe bowl, so you can heat it in there for 20-second or so spurts until the mixture becomes malleable again.
Consider scooping all of the dough balls at once so you don't have to heat the dough several times. The dough balls will harden, but that has no impact on them baking.

Baking Pans: Dark metal pans absorb and emit more heat than lighter metal pans. If using dark pans, keep a closer eye toward the end of the bake time to ensure the florentines aren't burning.
Multiple Batches: Florentines require considerable pan space as they spread, so do not crowd the pan. If baking multiple batches at once, rotate the pans front-to-back halfway through the bake time, as well as alternating their racks for even browning.
Sticky Florentines? They're likely underbaked. If they haven't hardened fully once cool on the wire rack, put them back in the oven to bake for several more minutes.
Storage Instructions: Store in an air-tight container at room temperature or in the refrigerator. Do not store them with other cookies as their moisture will cause them to lose their crispness. These cookies freeze well, and do best if stored once thawed in the refrigerator.
Make-Ahead Prep: Cookie dough balls can be refrigerated for up to 2 days before baking, or frozen for longer. Transfer frozen cookie dough to the fridge to thaw before baking. Do not refrigerate or freeze the whole lump of dough as it will solidify and not become scoopable.
Nutrition
Serving:
1
sandwich cookie
|
Calories:
98
kcal
|
Carbohydrates:
9.9
g
|
Protein:
1.8
g
|
Fat:
6.2
g
|
Saturated Fat:
2.2
g
|
Cholesterol:
6
mg
|
Sodium:
23
mg
|
Potassium:
65
mg
|
Fiber:
0.9
g
|
Sugar:
7.8
g
|
Calcium:
27
mg
Nutritional information is provided as an estimate. As it can vary due to many factors (brands used, quantities, etc.), we cannot guarantee its accuracy.
Food Safety and Nutrition Disclaimer
Recipe adapted from the Food Network.
If you're returning to this post from a saved link (thank you!), you may recognize one of the original photos below.