Struffoli are fried dough balls that are covered in honey and sprinkles, all served in a mound. This golden sweet treat is an Italian Christmas and Easter staple. Struffoli are made from simple ingredients with easy prep, but taste anything but!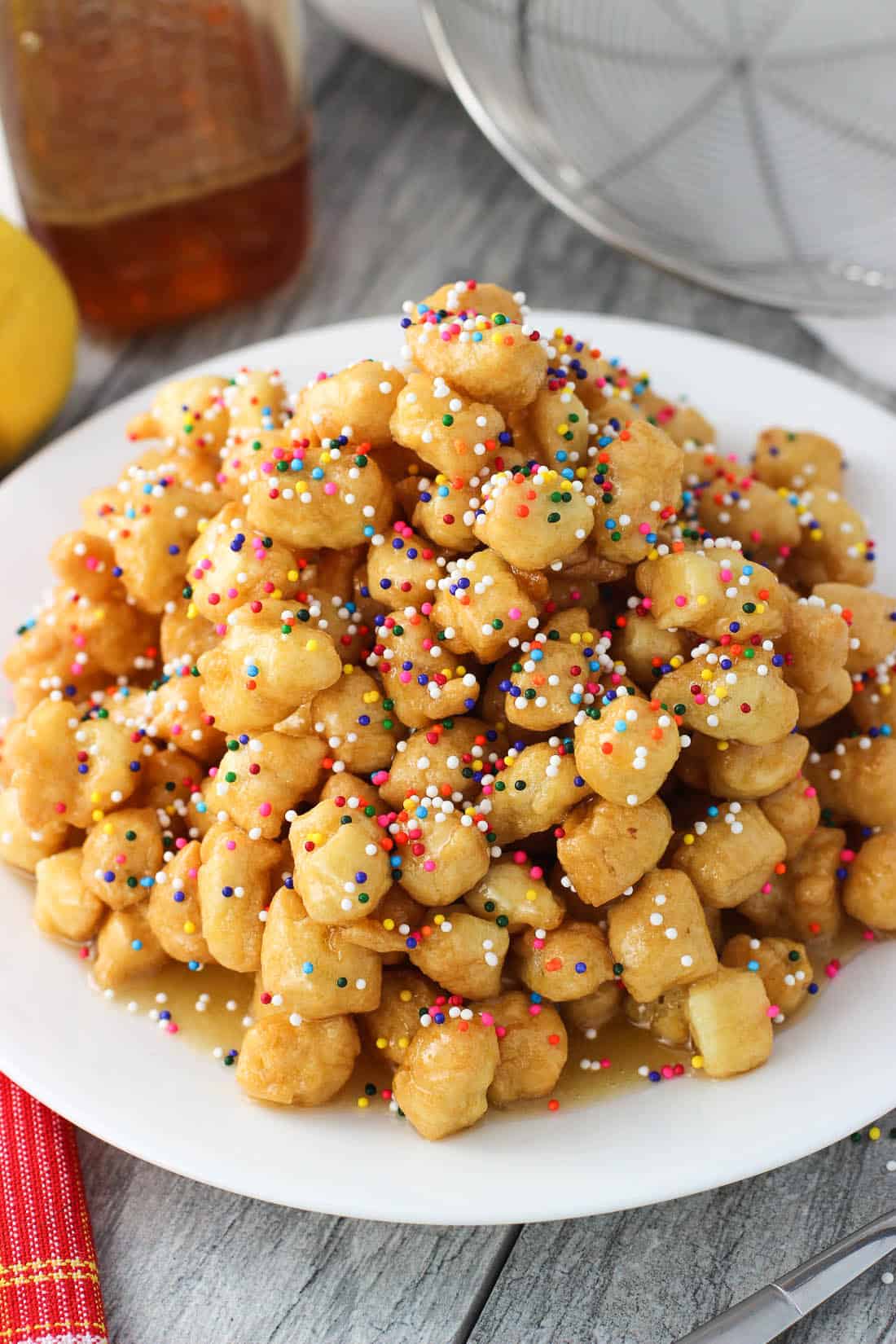 Today is a very special day because we're frying something. And not just anything - we're making struffoli! Also known as honey balls, which is what I grew up calling these sticky, golden balls of goodness.
Each Christmas my mom would make a batch (or, let's be real, several batches) of struffoli and send some to faraway relatives while keeping a fair amount of them at home for visiting guests to scarf down.
And us. Actually mostly us.
After three years of sharing recipes on this blog, this is the very first recipe that involves deep frying. I try to eat healthily most of the time (keyword: most) so deep frying isn't a cooking method that I use often. But sometimes it's necessary, especially when it comes to family traditions and seasonal sweets. Thankfully struffoli falls under both categories.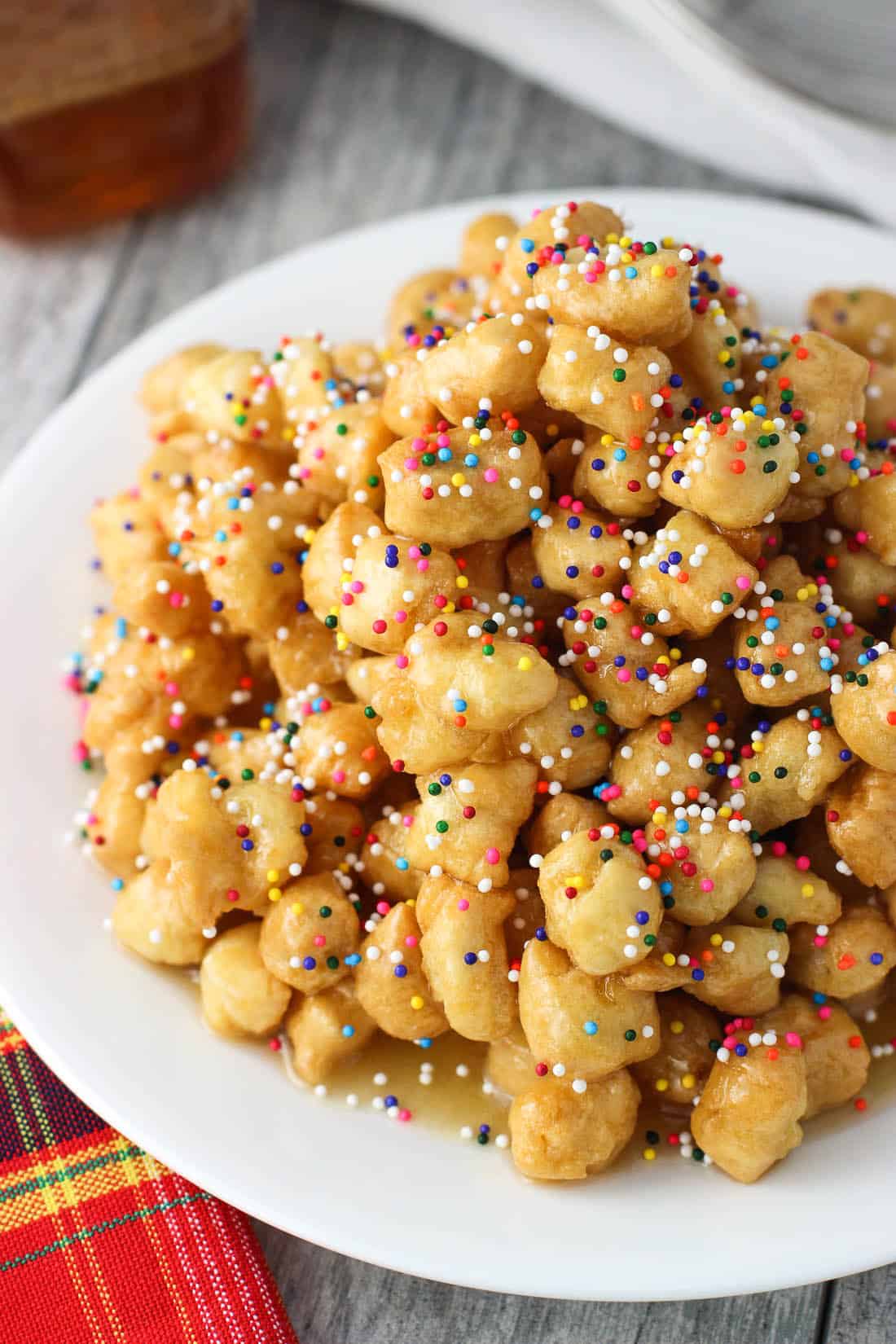 The basics
Struffoli is an Italian dessert from the Naples region, in which small bits of fried dough are covered in honey. The individual pieces of dough are small and light as air, with a crunchy exterior and a soft interior.
There are a variety of different ways struffoli can be garnished and presented once coated in honey. In my family, we serve it in a big mound and shake rainbow nonpareils over top. Another popular way to serve struffoli is by shaping it into a wreath. Or you can portion out individual servings in festive foil muffin cups, if you're looking for a quicker and less-mess way to serve it.
And while honey is a common denominator across the board, powdered sugar, candied cherries, nuts, or some combination thereof are also popular toppings.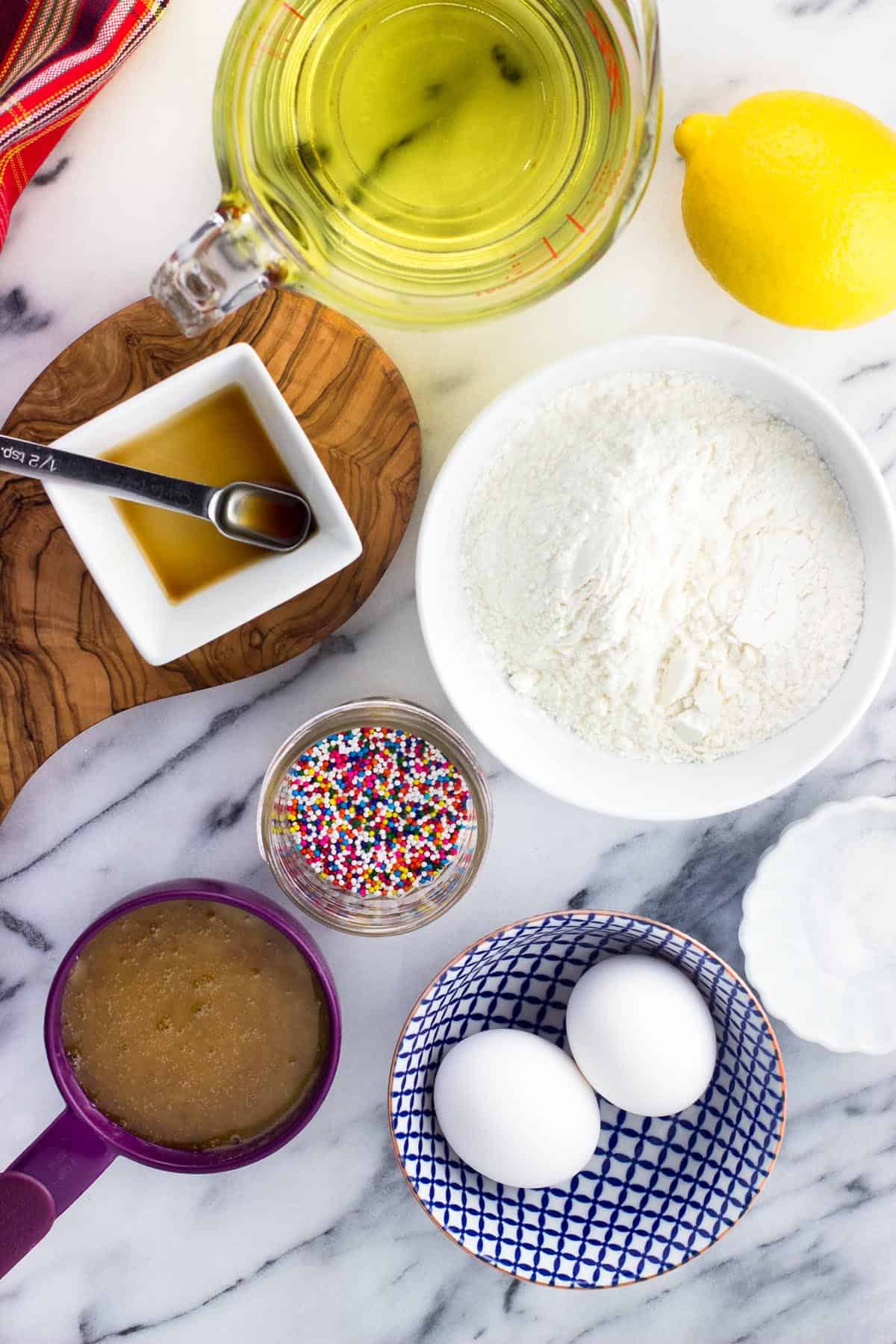 Recipe ingredients
One of the things (among many) that I love about struffoli is the simple ingredient list. Most of the time I have all of the ingredients in my kitchen already.
All-purpose flour and eggs comprise the majority of the dough, and to them you'll add a small amount of granulated sugar, lemon zest, salt, and vanilla extract. These six ingredients combine to form a dense dough recipe that turns wonderfully light and airy once fried. The lemon flavor is very, very mild and more of a background support ingredient than anything.
In addition to the dough ingredients, you'll need oil for frying (more on this later), honey for coating, and rainbow nonpareils for sprinkling.
Dough instructions
While this recipe has simple ingredients and, frankly, pretty simple steps, there are a few tips and tricks to follow that will help you achieve perfectly fried struffoli with less mess and less stress. Because we can always use a little help in those departments around the holidays. 🙂
Start by mixing most of the ingredients in a bowl until combined: eggs, sugar, lemon zest, vanilla extract, salt, and two cups of the flour.
The first sticking point (literally) comes here. The dough will be fairly sticky. To counter this, generously flour your work surface, turn out the dough, then sprinkle a nice amount of flour from the remaining half cup on top. This extra half cup of flour is worked in at this point, resulting in 2 ½ cups of flour in total added to the recipe.
Once this flour is kneaded in, the dough will come together in a not-too-sticky ball. Note: If your struffoli dough is truly not behaving once the initial two cups of flour are mixed in, you can add a bit of the half-cup excess while it's still in the bowl to make it more manageable.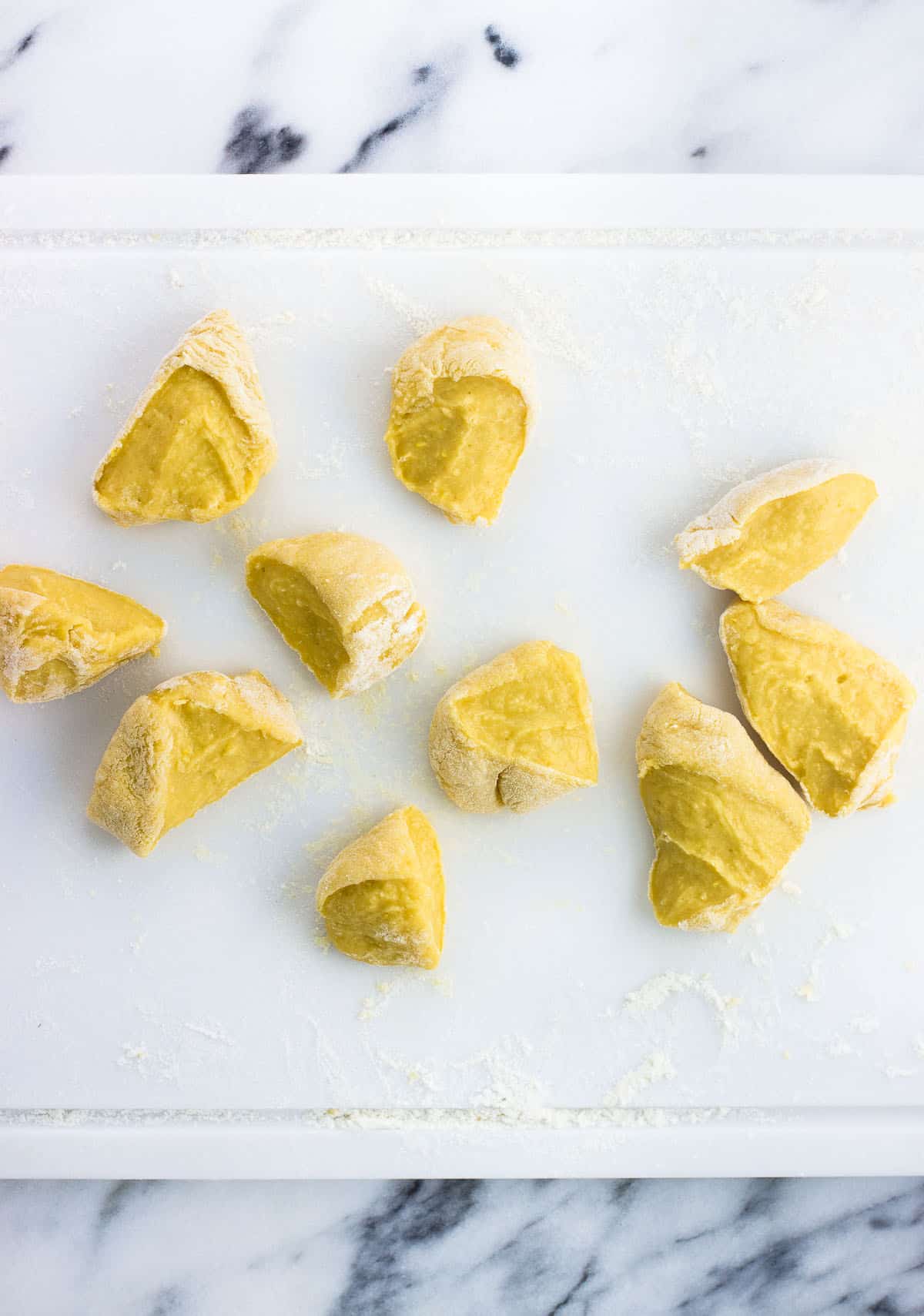 Once the dough is in a ball, cut it into about twenty equally-sized pieces. This part isn't precise, rather you just want to portion out the dough into sections that you can easily roll with your hands into logs. Aim for these logs to end up around half an inch in thickness. Once rolled out, use a paring knife to slice them into small balls, about half an inch all around.
This rolling and slicing is the slightly tedious part of this recipe, and my mom was very happy once I reached an age where I could responsibly yield a paring knife of my own and help out. Fight off the impulse, if it arises, to form larger balls to make this part go faster. Struffoli will expand as they're fried, so you want to keep the dough balls on the small side here, lest we end up with Dunkin' Munchkin-sized globs later on.
To keep the dough balls from sticking to one another, add them to a plate with flour on them and sprinkle or toss them with extra flour to coat.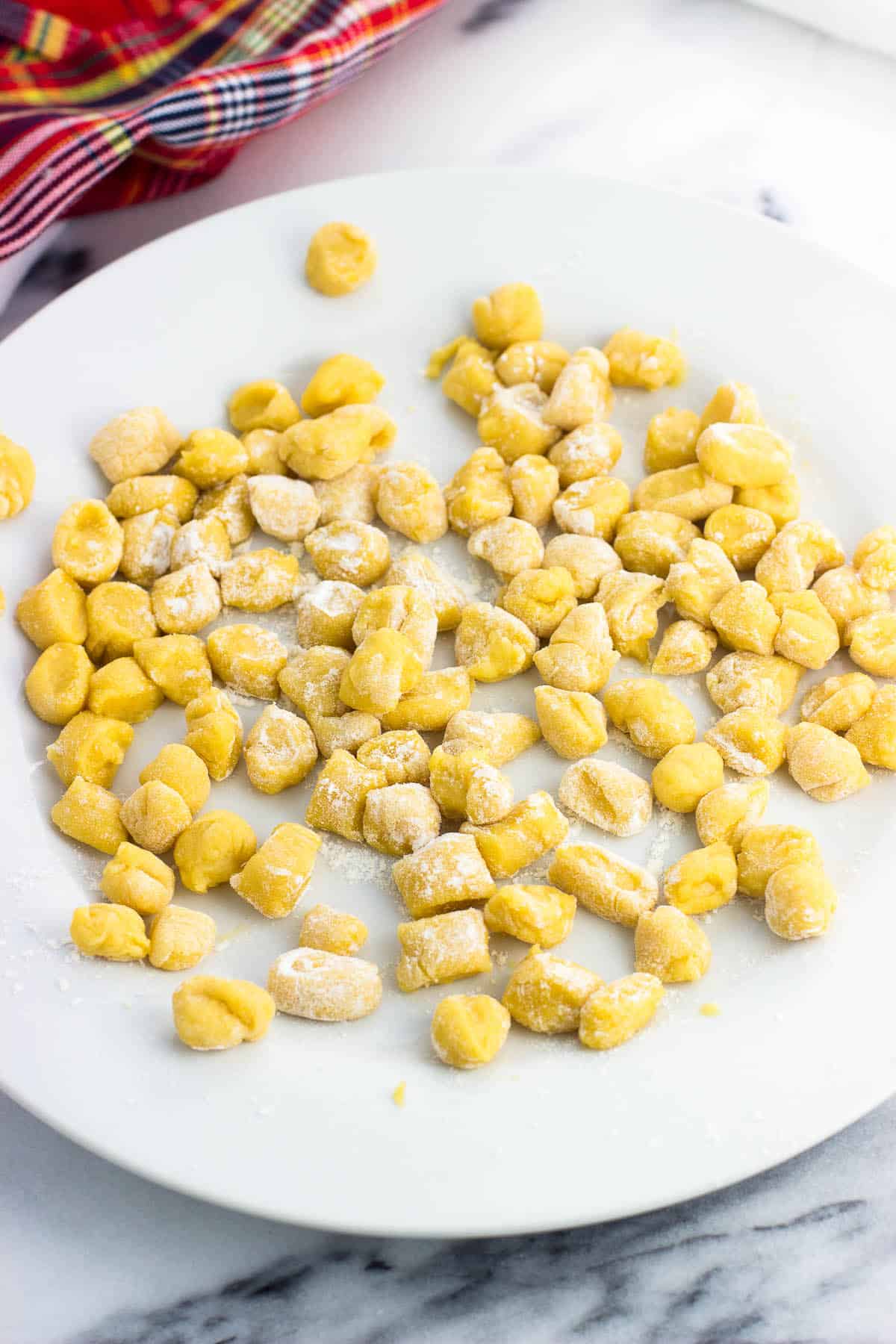 Tips for deep frying
Now it's time to fry. There are two variables at play when it comes to deep frying: what type of oil and what temperature.
You want to use a cooking oil that has both a neutral taste and a high smoke point. My pick to fry struffoli is canola oil, though corn, peanut, or safflower oil also fit the bill.
Once added to a medium saucepan, you want to add your first batch of struffoli once the oil reaches 375°F. Adding the dough once the oil is sufficiently hot helps minimize the amount of oil the dough absorbs while it's frying, producing ultra light and crisp honey balls that aren't greasy at all.
To take all the guesswork as to when the oil is ready, I always use an instant-read candy/meat thermometer to carefully measure the oil's temperature. Highly recommend! I sometimes weigh the cooled oil once all the honey balls have been fried, and have consistently found the whole batch to have only absorbed between two to three ounces of oil.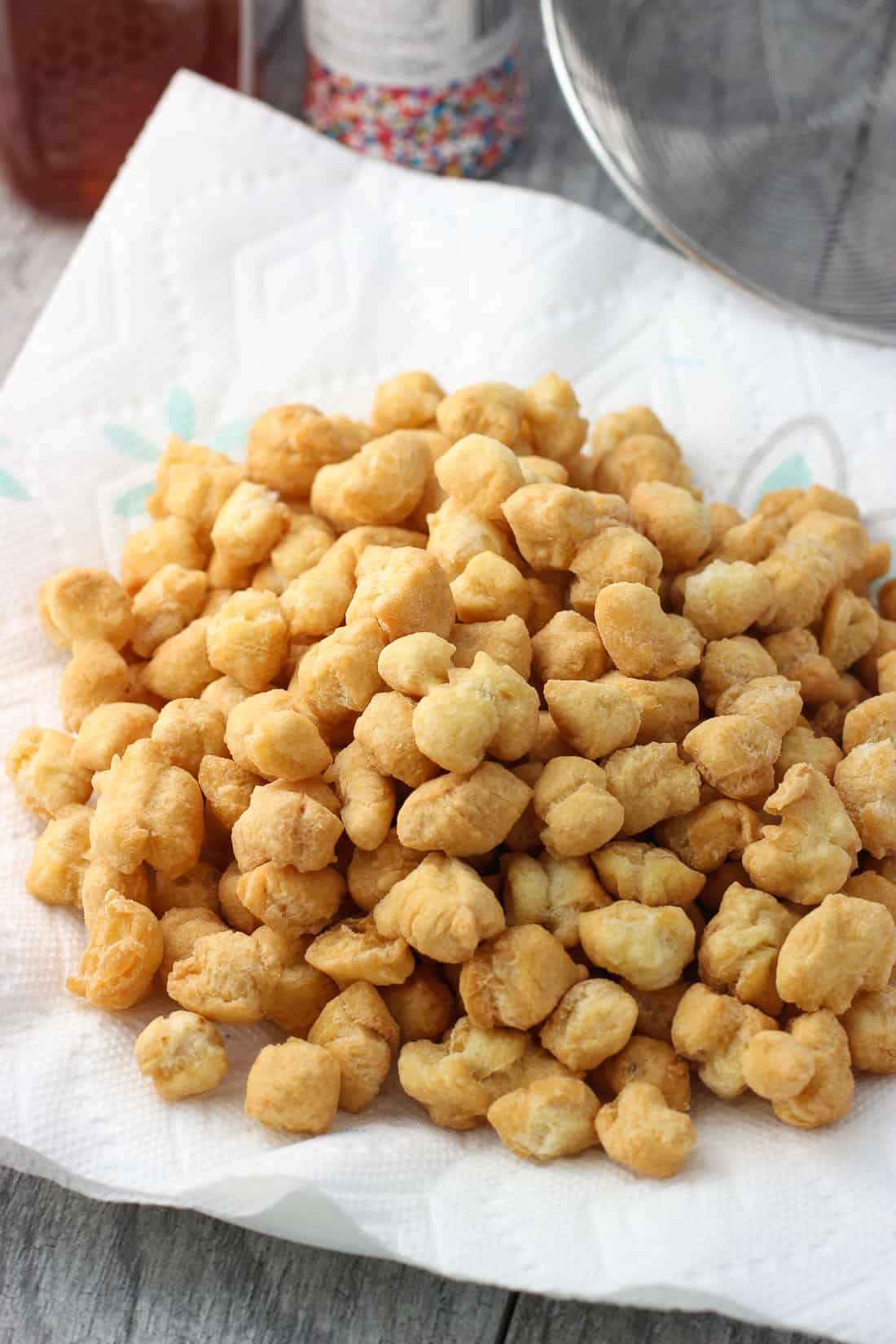 Fry each batch of dough balls for several minutes, or until they're golden to golden-brown. Transfer them to a paper towel-lined plate, placing additional paper towels as needed between batches to absorb any excess oil.
For assembly, heat the honey in a separate saucepan until it's warmed and flows evenly, then remove it from the heat. Pour it over the struffoli (I add them to a bowl that has a lid once cool so I can store them until serving) and gently toss to coat them evenly. Warming the honey to thin it out makes it much easier to coat and spread without big globs. It still cools to that perfect, sticky texture that covers everything just right.
Once covered in honey, arrange the honey balls into a mound onto a serving plate, or fashion into a wreath shape. Garnish with nonpareils (and/or candied cherries, nuts, etc. if you like) and you're all set!
Most of the time I use rainbow nonpareils, but a mix of red, green, and white nonpareils is an extra festive touch we've done on occasion, too.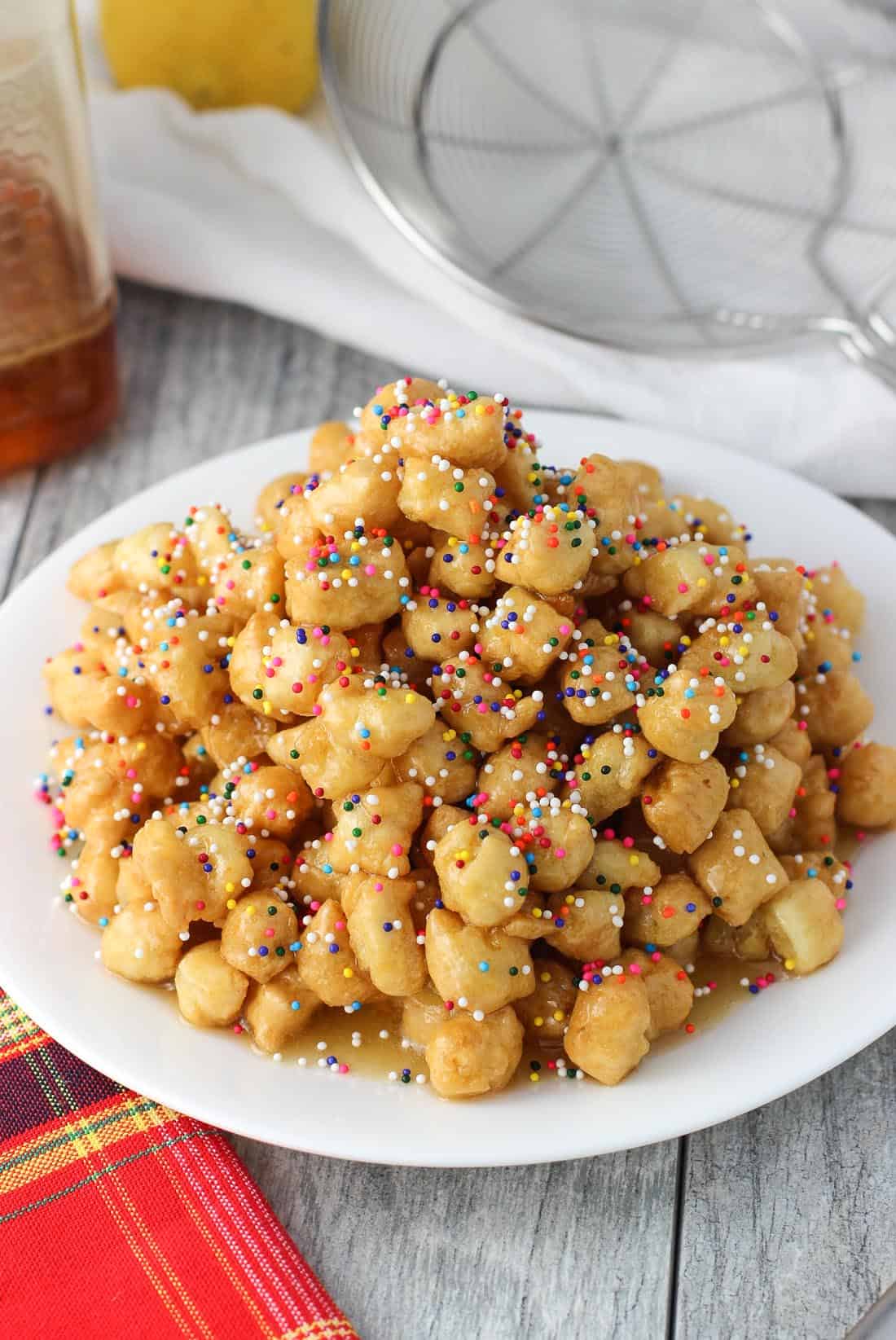 Italian Christmas desserts
Honey balls are just one Italian Christmas dessert to grace our tables around the holidays. While spongier, lemon and almond flavored ricotta cookies and bold Italian anise cookies look very similar, the two feature very different flavors. It's hard to pick a favorite!
Cucidati, or Italian fig cookies, feature a spiced-up and citrusy dried fruit filling all rolled in dough and glazed. Like with struffoli toppings, this Sicilian cookie has many variations depending upon how your family likes them.
And if you want a break from cleaning up nonpareils from every corner of your kitchen, classic pignoli cookies are a special treat. They're also naturally gluten-free in case some of your holiday crowd doesn't eat gluten.
Recipe notes
Be sure the cut dough balls are on a floured surface/tossed in flour as you wait for the oil to heat before frying them. This prevents them from sticking together in one big blob.
Canola oil is recommended for deep frying, but any neutral-tasting, high smoke point oil is fine (such as corn, peanut, or safflower).
Additional recipe photos and detail added July 2020. The recipe itself is the same, though I've converted it from a small-batch version to a regular-sized version. Just a heads up if you've made this recipe in years past.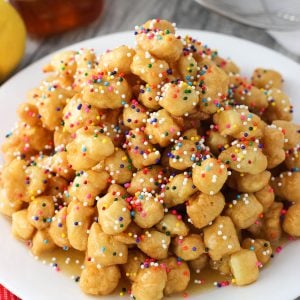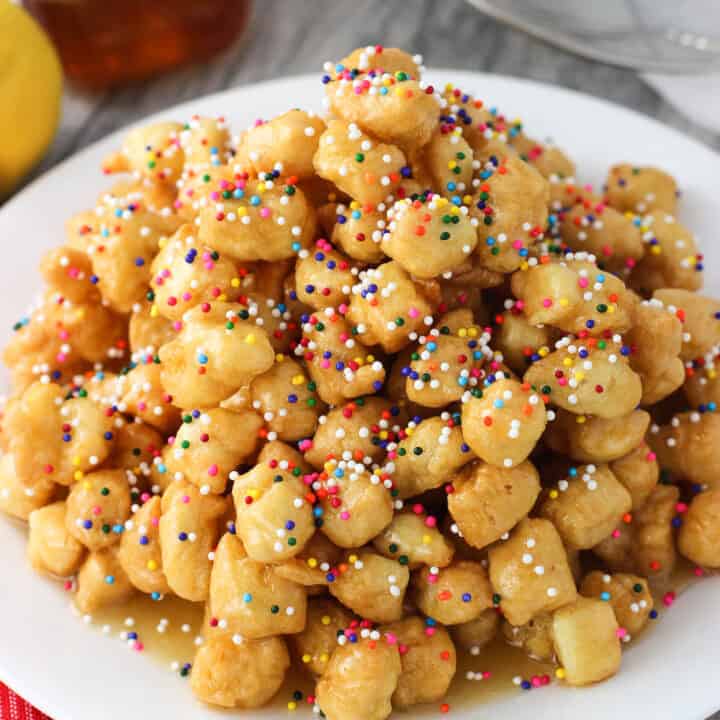 Struffoli (Honey Balls)
Struffoli are fried dough balls that are covered in honey and sprinkles, all served in a mound. This golden sweet treat is an Italian Christmas and Easter staple. Struffoli are made from simple ingredients with easy prep, but taste anything but!
Print
Pin
Rate
Ingredients
4

eggs

1

tablespoon

granulated sugar

1

teaspoon

lemon zest

1

teaspoon

vanilla extract

½

teaspoon

salt

2 ½

cups

all-purpose flour

divided

16

oz

canola oil

for frying (see note on alternatives)

1 ¼

cup

honey

Nonpareils

for sprinkling
Instructions
Beat eggs in a mixing bowl. Add sugar, lemon zest, vanilla extract, salt, and 2 cups of the flour and stir until combined. The dough will be sticky.

Generously flour a work surface and turn out dough onto it. Knead in the remaining ½ cup of flour, until the dough forms a smooth ball and is only very mildly sticky. If it's too sticky to handle, add additional flour 1 tablespoon at a time until it reaches the desired consistency.

Using a sharp paring knife, cut dough into 20 equally-sized sections. Roll each section into a long, thin cylinder about ½"-thick, and slice them into approximately ½"-wide pieces. Add dough balls to a flour-covered plate, sprinkling them with and shaking them in the flour to coat the surface. This is so the dough balls don't stick together.

Add oil to a saucepan with tall sides (with about a 3-quart capacity) and place over medium heat on the stovetop. Once oil reaches 375°F, add about one-sixth of the dough balls and allow them to fry for a few minutes, until they turn golden to lightly golden-brown. Remove the struffoli from the oil and place them on a plate lined with paper towels to absorb excess oil.

Continue with the remaining batches, placing a layer or two of paper towels on the plate between batches. Let struffoli cool then place in a bowl.

Heat honey in a small saucepan until it's warmed and has thinned. Pour the warmed honey over top of the struffoli and stir to evenly coat.

Arrange struffoli on a plate in a big mound and sprinkle nonpareils over top. Allow to cool before serving. Store in an airtight container at room temperature.
Notes
Measuring flour: The spoon-and-level method is used here. Stir up flour in its canister or bag, then spoon it into your dry measuring cup taking care not to pack it in. Use a straight-edge like a knife or the handle of your spoon to level off the top of the measuring cup, allowing the excess to fall back in its container. This prevents excess flour from making its way into the recipe. Small batch: The recipe quantities here are easily halved if you would like to make a smaller batch. Make ahead: You can fry the struffoli, let them cool, then store them without adding honey up to a few days ahead of time. Then several hours ahead of serving, you can warm the honey and "dress" them.
Nutrition
Calories:
368
kcal
|
Carbohydrates:
42
g
|
Protein:
3.5
g
|
Fat:
21.7
g
|
Saturated Fat:
3
g
|
Cholesterol:
41
mg
|
Sodium:
91
mg
|
Potassium:
53
mg
|
Fiber:
0.6
g
|
Sugar:
27
g
|
Calcium:
10
mg
|
Iron:
1.3
mg
Nutritional information is provided as an estimate. As it can vary due to many factors (brands used, quantities, etc.), we cannot guarantee its accuracy.
Food Safety and Nutrition Disclaimer