Struffoli are fried dough balls that are covered in honey and sprinkles, all served in a mound. This golden sweet treat is an Italian Christmas staple. Struffoli are made from simple ingredients with easy prep, but taste anything but!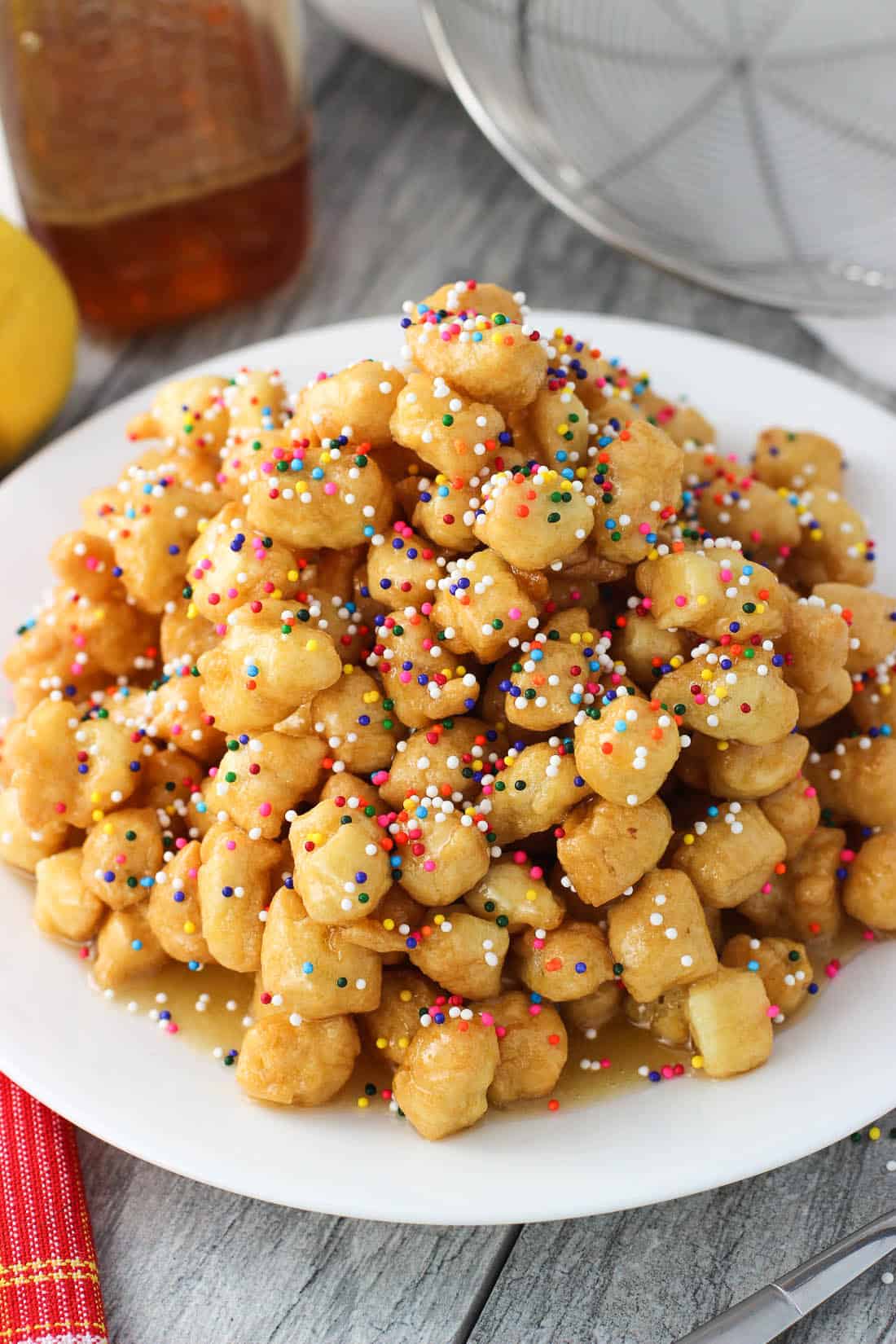 Today is a very special day because we're frying something. And not just anything – struffoli! A.k.a. honey balls, which is what I grew up calling these honey-coated balls of goodness. Each Christmas my mom would make a batch (or, let's be real, several batches) of struffoli and send some to faraway relatives while keeping a fair amount of them at home for visiting guests to scarf down.
And us. Actually mostly us. 🙈
After three years of sharing recipes on this blog, this is the very first recipe that involves deep frying. I try to eat healthily most of the time (keyword: most) so deep frying isn't a cooking method that I use often. But sometimes it's necessary, especially when it comes to family traditions and seasonal sweets. Thankfully struffoli falls under both categories.
How to serve struffoli
Over the years we've either portioned them into muffin cups for individual servings or served them all together on a platter, but I'm partial to serving them in one big ((delicious)) pile. That's how the recipe is written below, but you can always serve them up however you like to. You can even get fancy and shape them into a wreath. 🙂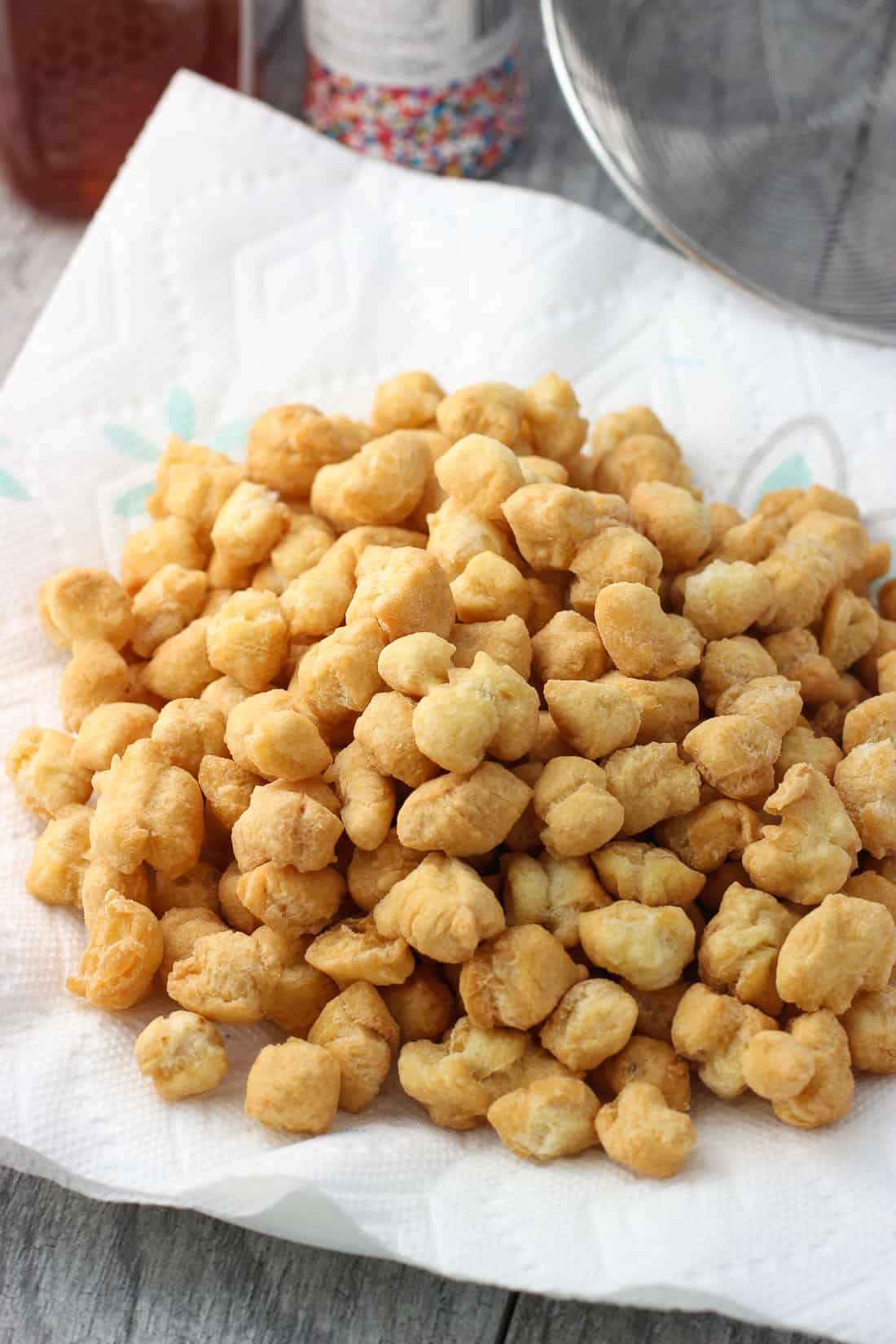 How to make struffoli
This struffoli dough consists of kitchen staples like flour, eggs, vanilla extract, salt, a tiny bit of sugar, and a hint of lemon peel for a subtle citrus flavor. That's it! Everything is combined, rolled into strips, and cut into small pieces. You'll want them to be around the same size so they fry up evenly, but they don't have to be exactly the same size or perfectly rounded. Less work that way, and plus I like the 'rustic' look.
As for decorating – nothing fancy here. My favorite tip is to heat up the honey in a small saucepan until it's warmed and flows evenly, and then pour it over top of the fried dough balls and toss to coat evenly. The warmed honey spreads easily and cools to that perfect, sticky texture that covers everything just right. Last is a heavy shake or two of nonpareil sprinkles, and you are good to go!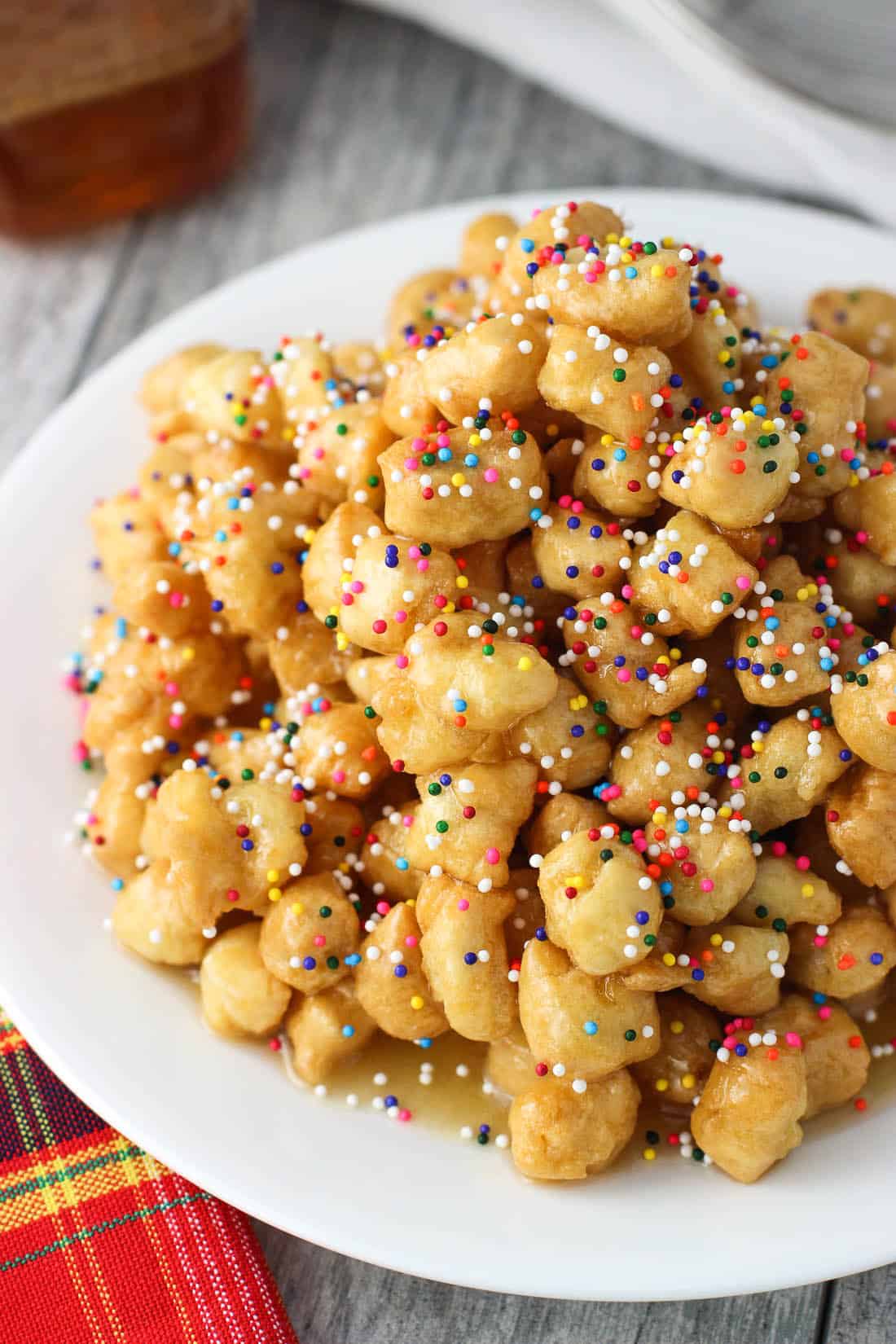 Variations on struffoli
I did a little struffoli research as I was preparing this post because I was curious if there were other variations on struffoli toppings, and turns out there are! Honey is a common denominator across all the recipes, but I noticed powdered sugar, candied cherries, nuts, etc. in addition to or in place of the sprinkles.
My family has always kept it simple with sprinkles, but feel free to jazz things up as you like with any of the above. For the photos here I used rainbow sprinkles, but a mix of red/green/white sprinkles is an extra festive touch we've done on occasion.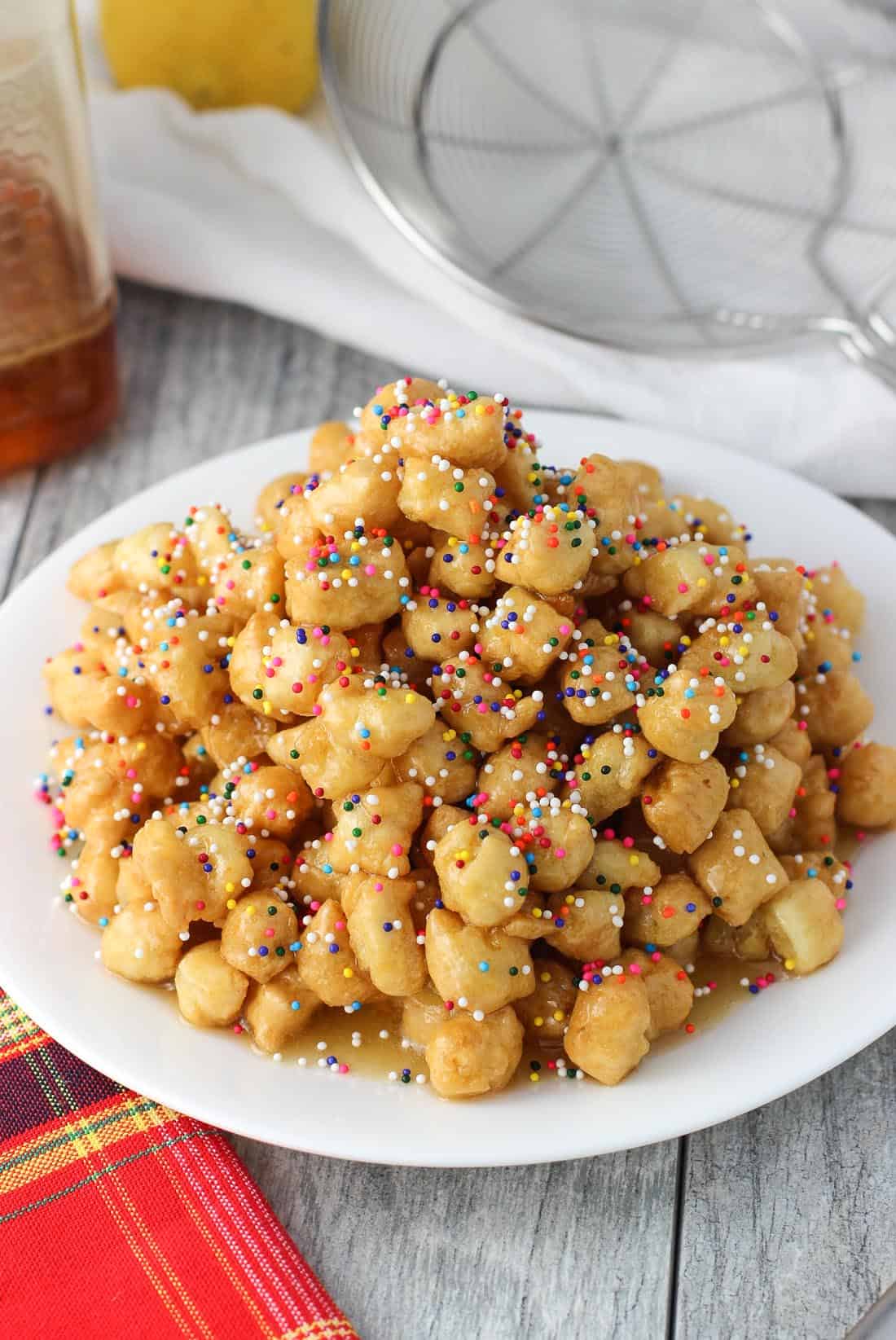 Tools used in making struffoli:
A candy thermometer for ensuring the oil reaches 375°F. Having the oil reach the appropriate temperature yields struffoli that are perfectly crisp but not greasy.
A slotted skimmer for removing batches of struffoli from the oil.
Nonpareil sprinkles for decoration (essential).
Recipe notes: struffoli
Use an oil that has a neutral taste and a high smoke point, like corn, peanut, canola, etc.
Be sure the cut struffoli is still on a floured surface as you wait for the oil to heat before frying them. This prevents them from sticking together in one big glob.
Struffoli (Honey Balls)
Struffoli are fried dough balls that are covered in honey and sprinkles, all served in a mound. This golden sweet treat is an Italian Christmas staple. Struffoli are made from simple ingredients with easy prep, but taste anything but!
Ingredients
2

eggs

1 1/2

tsp

granulated sugar

1/2

tsp

grated lemon peel

1/2

tsp

vanilla extract

1/4

tsp

salt

1 1/4

cup

all-purpose flour,

divided

16

oz

oil

for frying*

3/4

cup

honey

Nonpareils

for sprinkling
Instructions
Lightly beat eggs in a mixing bowl. Add sugar, lemon peel, vanilla extract, salt, and 1 cup of the flour and stir until combined.

Flour a work surface and turn out dough onto it. Knead in remaining 1/4 cup of flour. The dough should only be mildly sticky - not too much. If it's too sticky to handle, add additional flour 1 tbsp at a time until it reaches the desired consistency.

Using a paring knife, cut dough into 10 equally-sized sections. Roll each section into a long, thin cylinder about 1/2"-thick, and slice them into approximately 1/2"-wide pieces.

Add oil to a pot with tall sides (about 3-qt. capacity) and place over medium heat on the stovetop. Once oil reaches 375°F, add about one-third of the dough balls and allow them to fry for a few minutes, until they turn golden-brown. Remove the struffoli from the oil and place on a plate lined with paper towels to absorb excess oil.

Continue with the remaining two batches, placing a layer or two of paper towels between batches. Let struffoli cool, and then place them in a bowl.

Heat honey in a small saucepan until it's warmed and easily pourable. Pour warmed honey over top of the struffoli and stir to evenly coat.

Arrange struffoli on a plate in a big mound and sprinkle nonpareils over top. Allow to cool and serve at room temperature. Store in an airtight container at room temperature.
Notes
*Use your preferred oil for frying - corn, peanut, canola, etc. You'll want one with a neutral taste and a high smoke point. Making sure the oil is at the correct temperature minimizes the amount of oil that gets absorbed by the struffoli.
Nutritional info is notoriously difficult to calculate for deep frying recipes because only a portion of the oil is absorbed by the food you're frying. As a very rough estimate, the nutritional info here assumes about a third of the oil was absorbed by the struffoli, though I'd say that's over very conservative overestimate. I've measured the oil remaining after making a batch and have found the struffoli only to have absorbed 2-3 ounces of oil.
Nutrition
Calories:
368
kcal
|
Carbohydrates:
42
g
|
Protein:
3.5
g
|
Fat:
21.7
g
|
Saturated Fat:
3
g
|
Cholesterol:
41
mg
|
Sodium:
91
mg
|
Potassium:
53
mg
|
Fiber:
0.6
g
|
Sugar:
27
g
|
Calcium:
10
mg
|
Iron:
1.3
mg
Nutritional information is provided as an estimate. As it can vary due to many factors (brands used, quantities, etc.), we cannot guarantee its accuracy.
P.S. This recipe was the one I was talking about when I shared an easy way to rid your kitchen of "fry smell".
*this post contains affiliate links