Lemon herb quinoa salad is a hearty side dish that's bursting with bold flavors. Parmesan, onion, and garlic pair well with bright lemon notes and herbs in this healthy flavored quinoa recipe.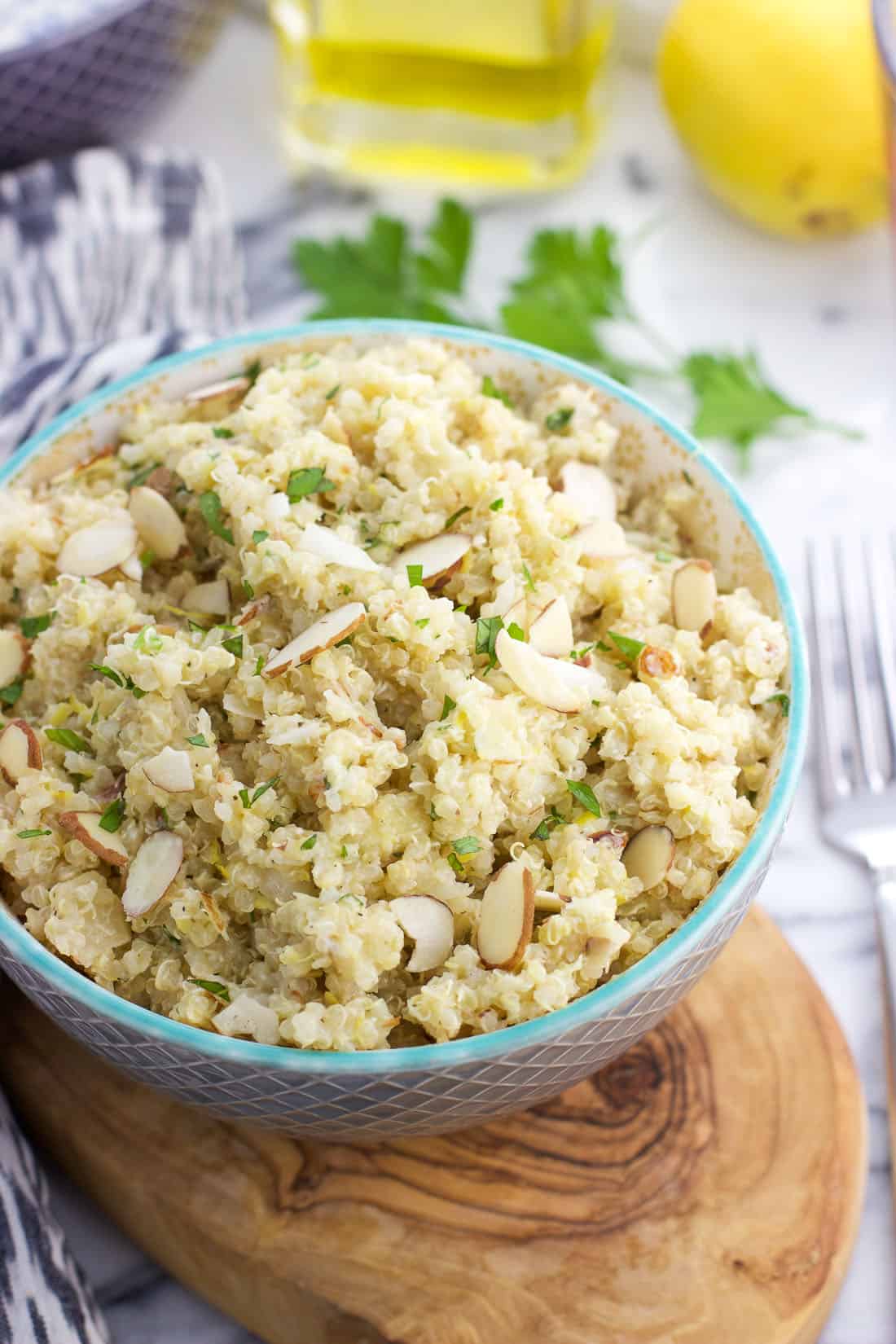 Sometimes people ask me if my blog is all healthy food, and sometimes other people will ask if I get sick of "all the desserts" that must come along with running a food blog.
In all honesty, neither is super applicable. I know I don't have a narrow niche, with the nearly 400 (!) recipe posts ranging from better-for-you main meals to special occasion desserts to nearly everything in-between.
That's not to say I haven't flirted with the idea of having a stronger central theme for my recipes. But rather I chose for the recipes on this blog to mirror how I eat in real life: a fair amount of health-minded recipes that don't feature too many processed ingredients but are still bold and flavorful. And it sounds like a lot of you eat the same way. 🙂
Here's a time when this balance comes into play. After a few weeks of indulgence, including one friend's wedding, another friend's bachelorette weekend, and quite a few rounds of chips and queso, it was time to take a break from all the celebratory foods and lean into something healthier – quinoa.
As we dig into this lemon herb quinoa salad, a fair warning: lemon haters might want to skip this one.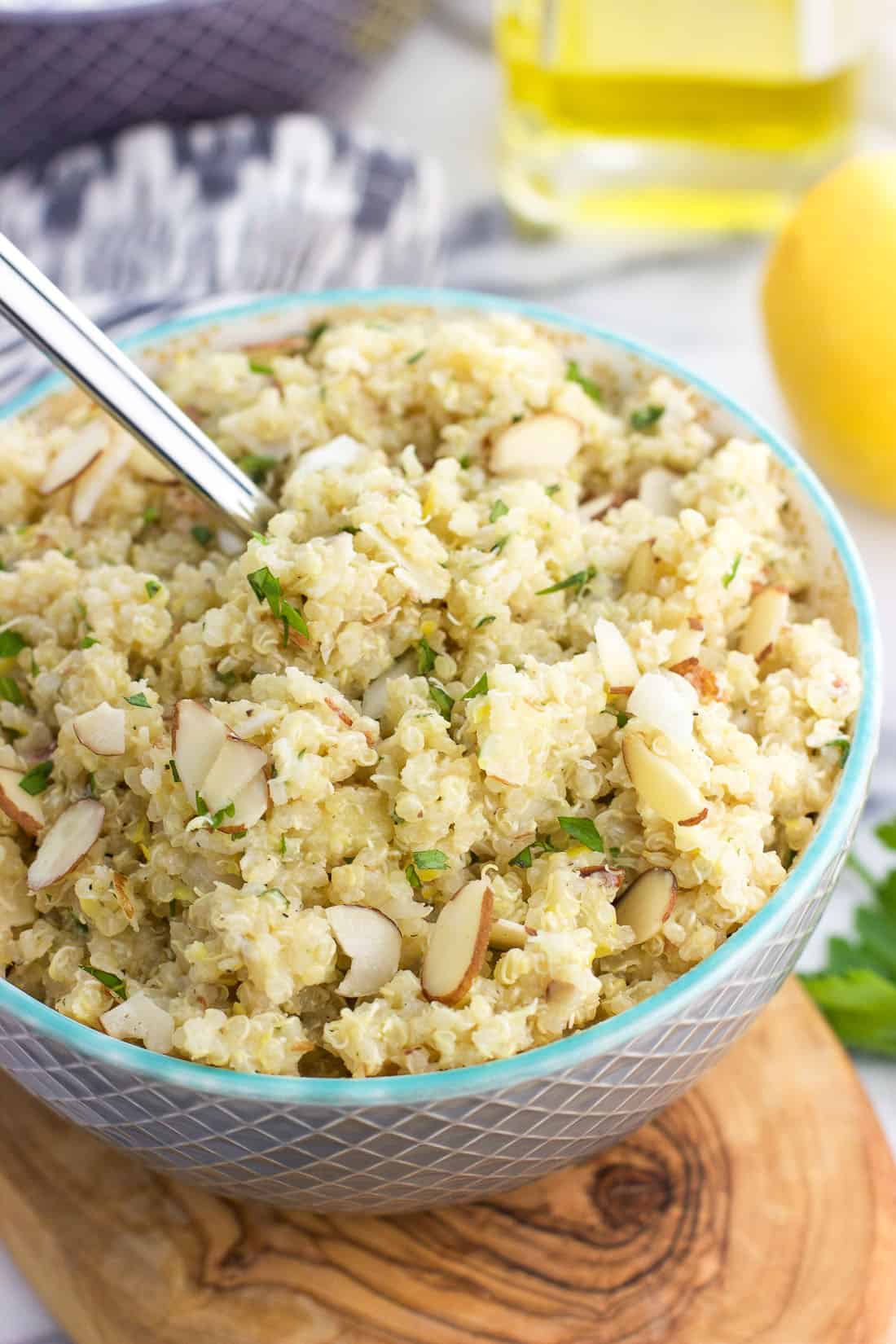 Reason being is that the lemon flavor definitely shines through! I included the juice and zest of two lemons, which brings a bold citrus flavor to the final dish.
Since this recipe is as simple as preparing the quinoa and stirring in all of the other ingredients, you can certainly start with the zest and juice of one lemon and taste at that point to see if you want to add another. The same goes for any of other ingredients, really…more or less Parmesan, herbs, almonds, etc.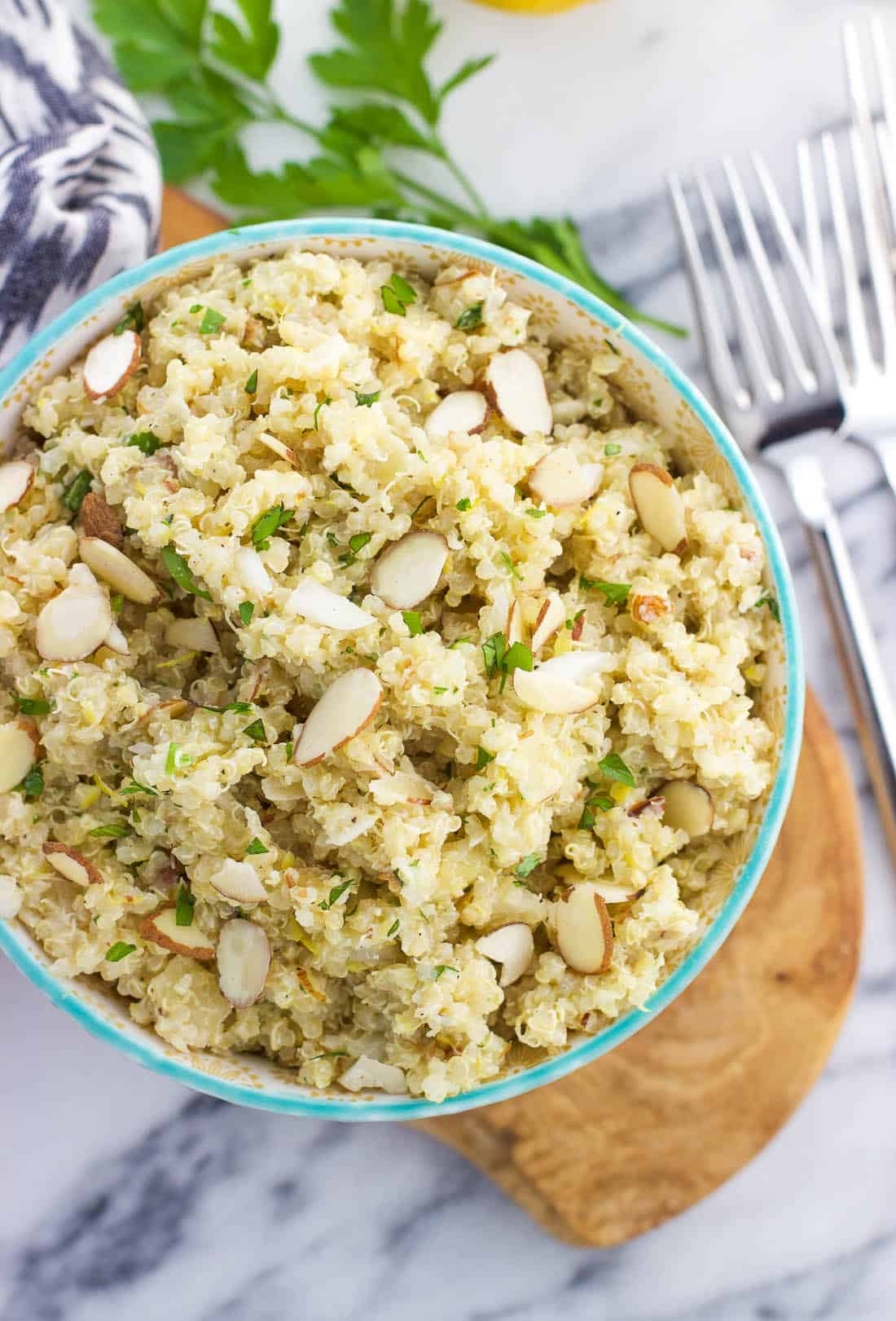 The only place I wouldn't veer off-recipe would be with the quantities of quinoa and broth. Two cups of liquid to one cup of dry quinoa are what you need to result in fluffy cooked quinoa. Since we'll be adding some liquid later on (lemon juice and olive oil), we want our quinoa to be as fluffy and dry as possible once it's done cooking.
I like to use reduced-sodium broth as the cooking liquid because it's a one-stop-shop to add flavor and saltiness to quinoa, but you can also use water if you like. If using water, I'd also add a big pinch of salt.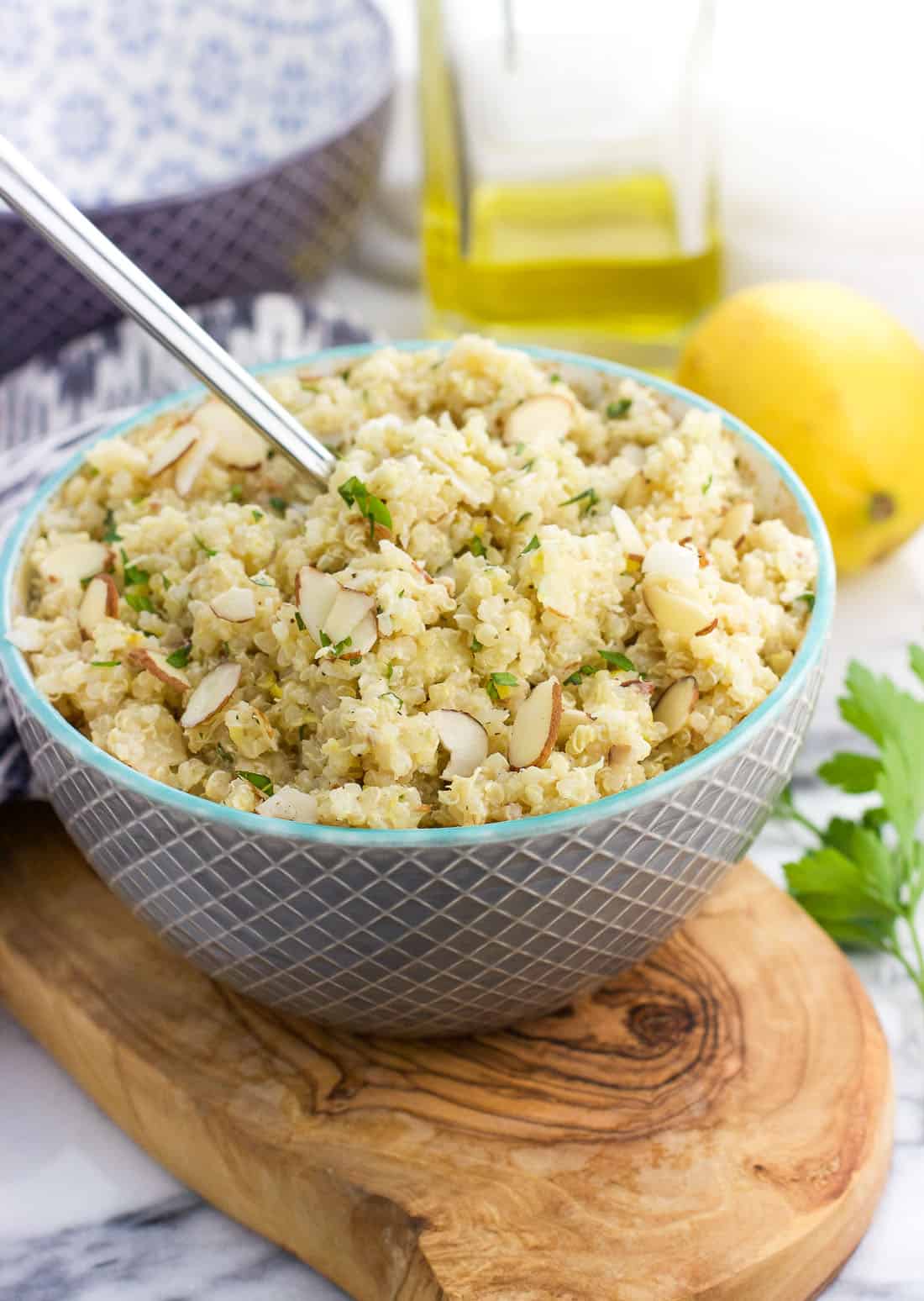 Recipe notes:
Be sure to rinse the dry quinoa before cooking, as this helps remove the quinoa's bitter coating (called saponin) and leads to better tasting cooked quinoa.
Zest the lemons before you juice them as they're easier to hold onto while whole.
You can use any kind of broth or water. Just be sure to follow the one part quinoa to two parts liquid ratio.
After you add the olive oil and lemon juice, the quinoa may appear too wet. The grated Parmesan will soak up some of the excess moisture. If you like you can also put the sauce pan back on the warm burner (turned off) to help speed up the process of reducing the moisture.
If you're not a huge lemon fan, start with using the zest and juice of one lemon and then do a taste-test. Add the other one at that point if you want!
Lemon Herb Quinoa Salad
Lemon herb quinoa salad is a hearty side dish that's bursting with bold flavors. Parmesan, onion, and garlic pair well with bright lemon notes and herbs in this healthy flavored quinoa recipe.
Ingredients
1

cup

quinoa,

uncooked

2

cups

reduced-sodium chicken broth

(or water)

Zest and juice of 2 lemons

(see note)

3

tbsp

olive oil

4

cloves

garlic,

minced

2

tbsp

diced onion

2

tsp

fresh basil leaves,

chopped

2

tsp

fresh parsley,

chopped

1/3

cup

Parmesan cheese,

grated

1/3

cup

sliced almonds,

roughly chopped
Instructions
Rinse uncooked quinoa using a strainer. Add rinsed and drained quinoa and broth to a medium-sized sauce pan and stir.

Let broth come to a boil, then cover and reduce heat to a simmer, letting quinoa cook for about 15 minutes. Stir occasionally.

Once all of the broth has been absorbed by the quinoa, remove from heat and fluff with a fork. Let quinoa sit in the pot for a few additional minutes to cool off a bit and soak up any extra liquid.

After quinoa has cooled slightly, stir in remaining ingredients until quinoa is evenly coated. This lemon herb quinoa salad is great to eat warm, or after being chilled in the refrigerator. Garnish with extra almond slices and herbs for serving.
Notes
The two lemons I used yielded approximately 1 1/2 tablespoons of zest and 1/3 cup of lemon juice.
Nutritional information is provided as an estimate. As it can vary due to many factors (brands used, quantities, etc.), we cannot guarantee its accuracy.
Liking the flavors in this lemon herb quinoa salad?
Then check out another oldie but goodie recipe – lemon chicken quinoa soup with spinach. It's a speedy soup recipe that uses leftover or rotisserie chicken. Healthy, too!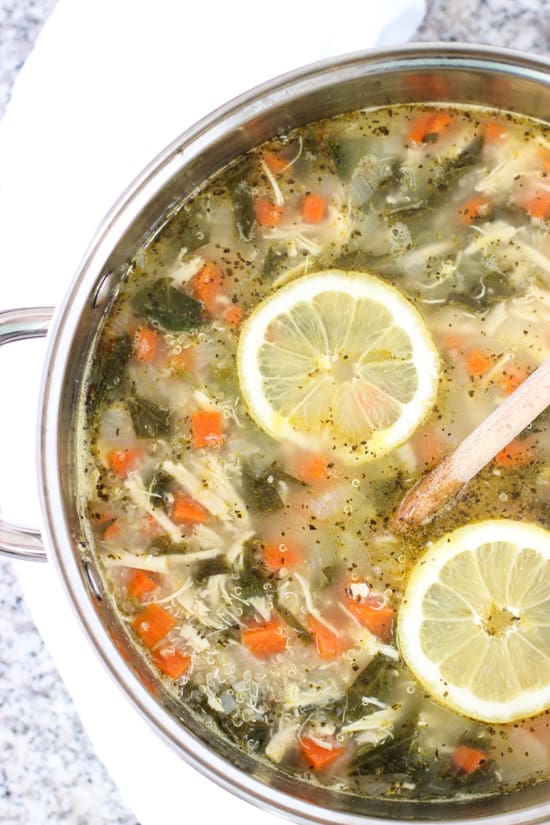 This post was originally published in August 2014. The photos were updated in June 2018.