Easily customize the flavor of these jam bars by picking your favorite jam, jelly, or fruit spread! These bars feature a cinnamon-spiced crumb topping and are perfect for using up small amounts of jam taking up space in the fridge.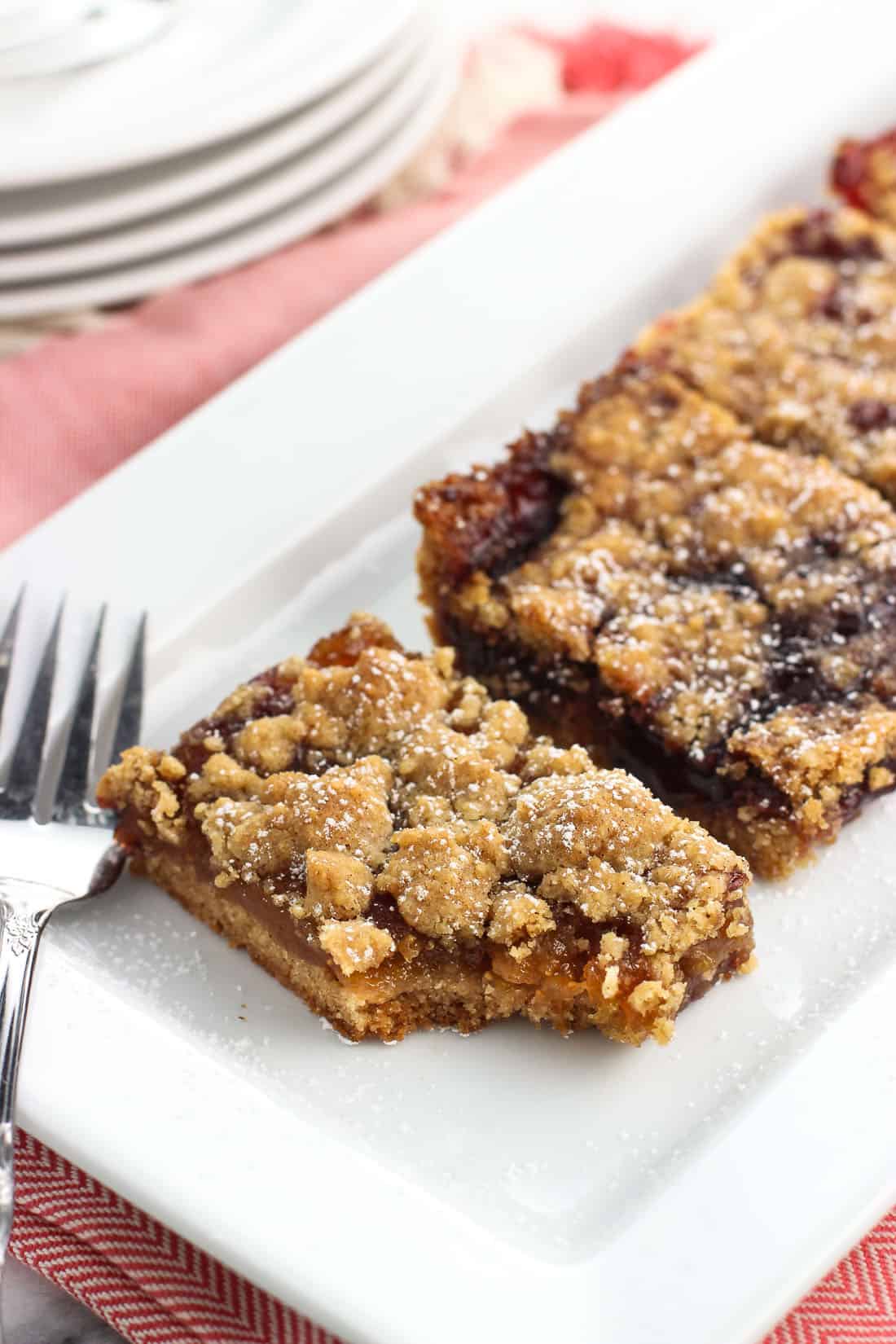 Recently it's been my mission to organize the fridge/freezer. It's hard to tell what's what when the million condiment jars all look the same, and half the packages in the freezer are unmarked and foil-wrapped.
To be honest I also need to hold myself accountable because I'm the queen of stashing leftovers in the freezer and promptly forgetting about them. Such is life.
But! I've been (mostly) enjoying the mystery finds and repurposing them into our meals and snacks. Kind of like grocery shopping in my own house, with the only bummer having to factor in time for whatever it is to thaw. That all works for the freezer, but there's only so much jam on toast a girl can eat before she's burnt out.
Enter, crumb topping jam bars. This easy recipe is just the bar dessert for using up odd amounts of jams, jellies, preserves, and fruit spreads. Use all the same flavor or as many as you like to bake multiple flavors at once.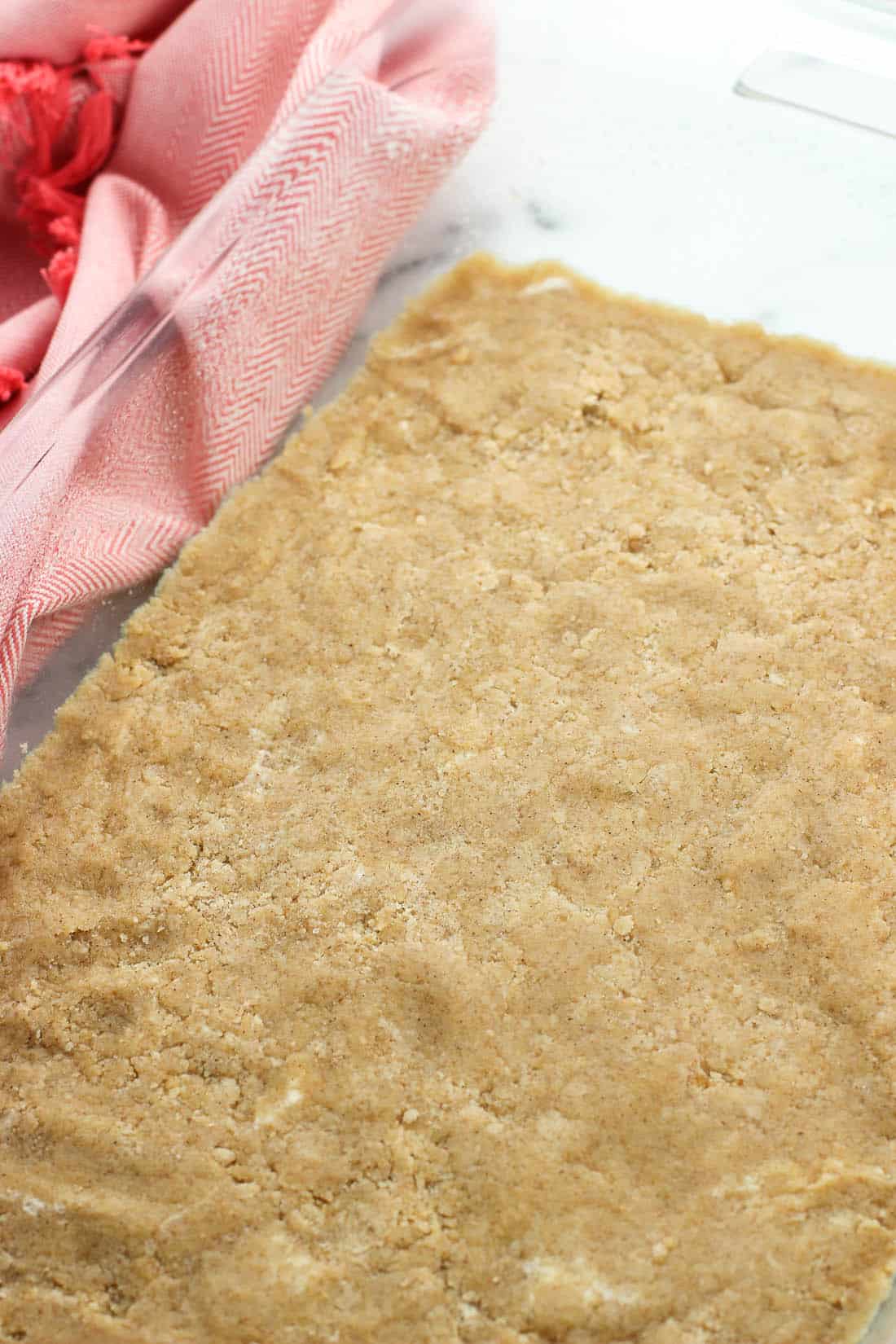 Easy recipe ingredients
One of the great parts of this recipe for jam bars is that the bottom layer and top crumb mixture are the same thing. Just over half of the mixture is densely pressed into the bottom of the pan, with the remainder crumbled over top to form a delicious crumb layer.
And you all know how I feel about crumb topping.
Basic ingredients here! To make these jam bars, you'll need:
all-purpose flour
sugars (granulated and brown)
baking powder
cinnamon
nutmeg
salt
unsalted butter
an egg
jam
I love recipes like this that are pretty forgiving. I've used entirely all-purpose flour here and have also used an even blend of all-purpose and white whole wheat. Both ways were great.
A brown sugar/granulated sugar blends adds to the warm and chewiness without making these bars too sweet, and then there's the matter of the jam.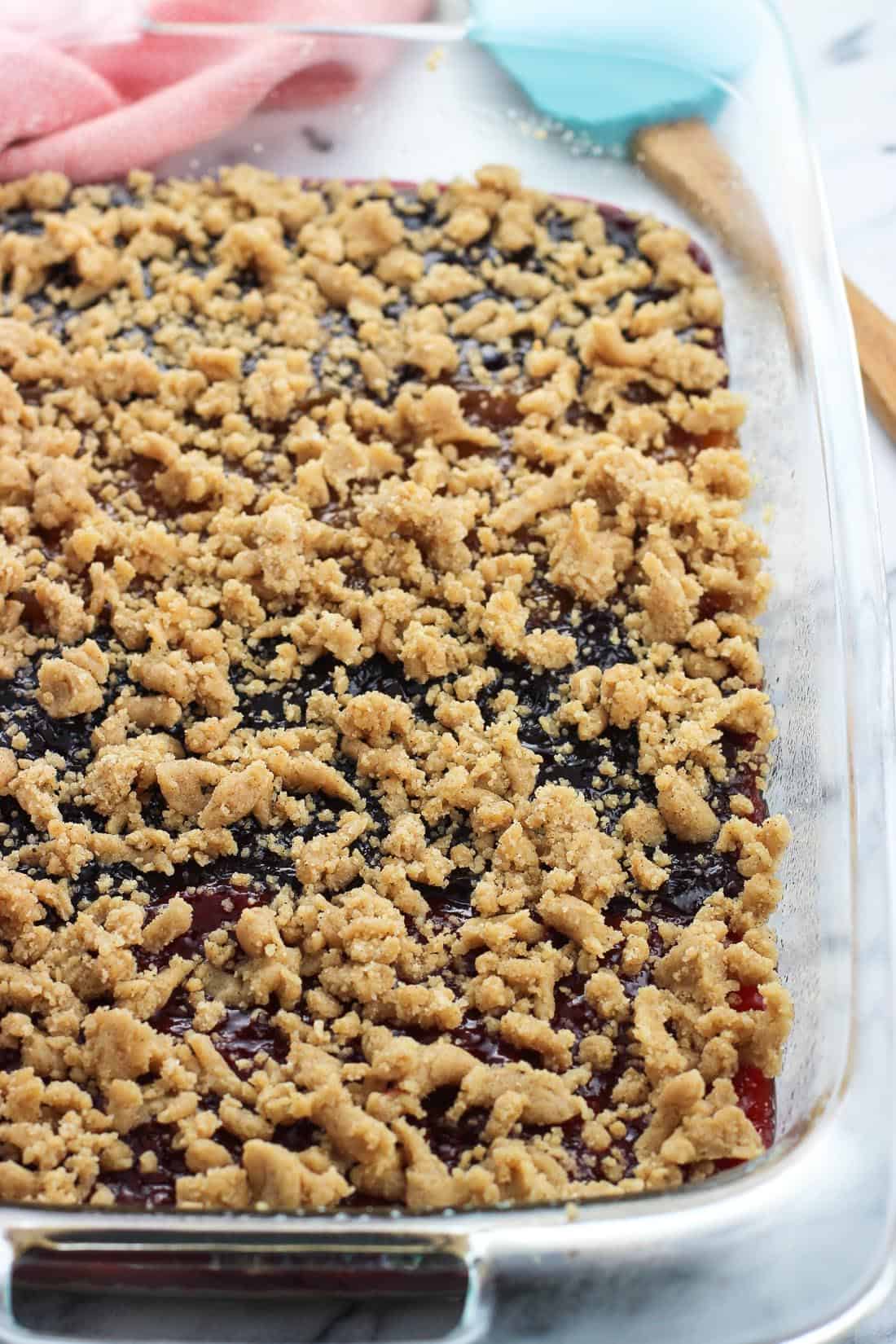 Another thing I love about this recipe is that you can really take it in whichever direction you like by using your favorite jam, jelly, preserve, or fruit spread flavor. While this was a little extra, I used four different flavors of jam in the jam bars you see pictured here. Talk about an easy way to differentiate your dessert offerings. 🙂
More on which jams I used in the post below!
Step-by-step recipe instructions
This recipe begins by whisking together the flour, brown sugar, granulated sugar, baking powder, cinnamon, salt, and nutmeg in a bowl. Then cut in the butter using a pastry blender (or your fingers) until no piece is larger than the size of a pencil eraser. It won't be perfectly smooth.
Stir the beaten egg into the bowl and your double duty base layer and crumb topping is done.
Press just over half of the mixture into the bottom of a greased 9″ x 13″ baking dish. Try and press it as densely and as evenly as you can as this it's the foundation of these jam bars. Then spread your jam over top (around two cups in total).
Once the jam is down, crumble up the remaining mixture and scatter the crumbs evenly over top.
These bars will bake for around forty minutes, or until the crumb layer is golden brown and the jam is bubbling a bit. Let your slab of bars cool completely in the pan before slicing and serving, as they risk mushing and making a sticky mess if cutting while they're warm.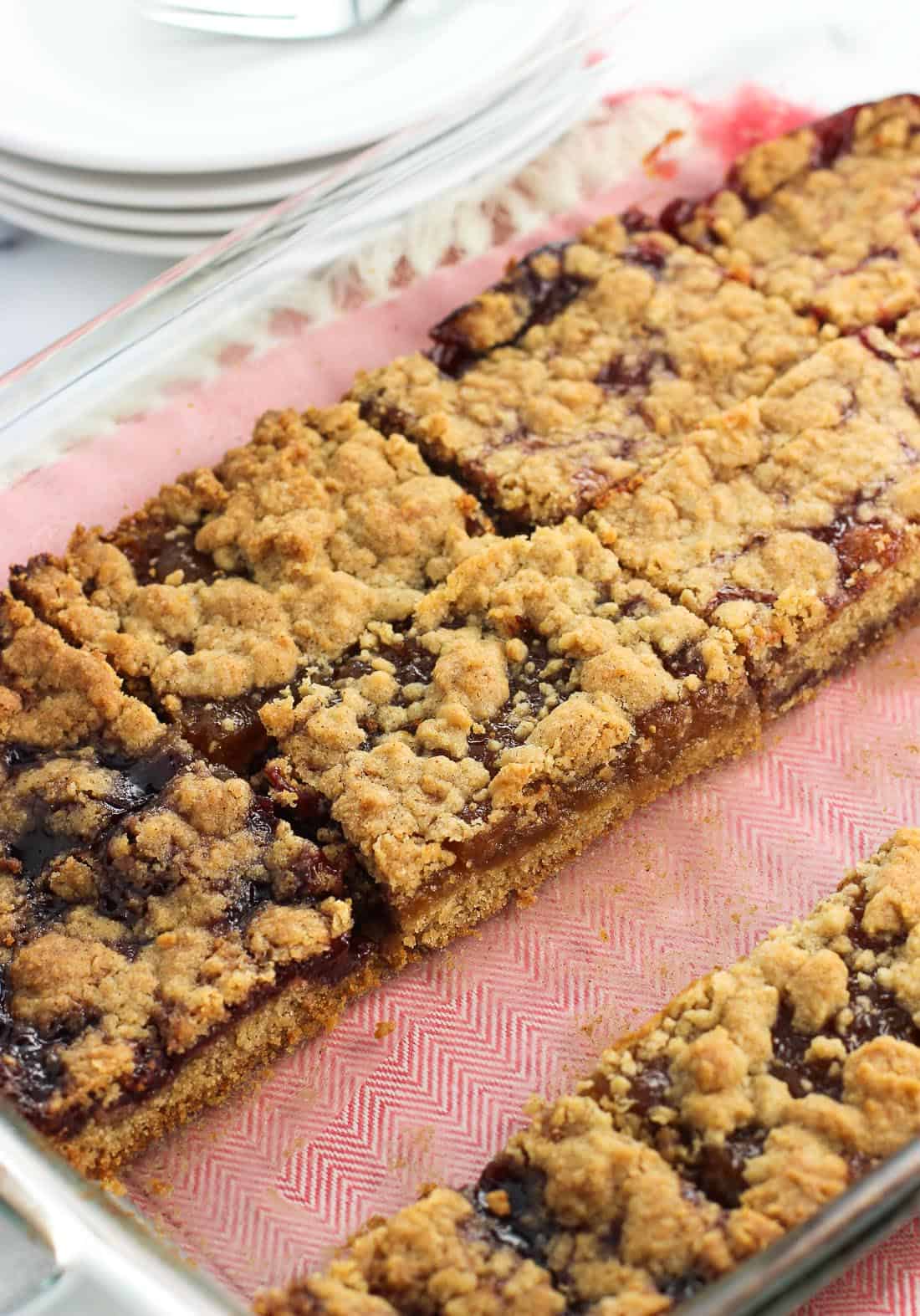 Which jam to use
Obviously you can keep things simple and use one type of jam or jelly here. There's no need to make things more complicated than they need to be.
But with the multitude of quarter- or half-full jam and jelly jars taking up valuable fridge space, I knew I wanted to use up as many as I could. I fit four different types comfortably in these jam bars, including fig, raspberry, strawberry, and grape – and we enjoyed each one!
You'll see each flavor in the photo below, starting with fig on the top left and continuing around clockwise.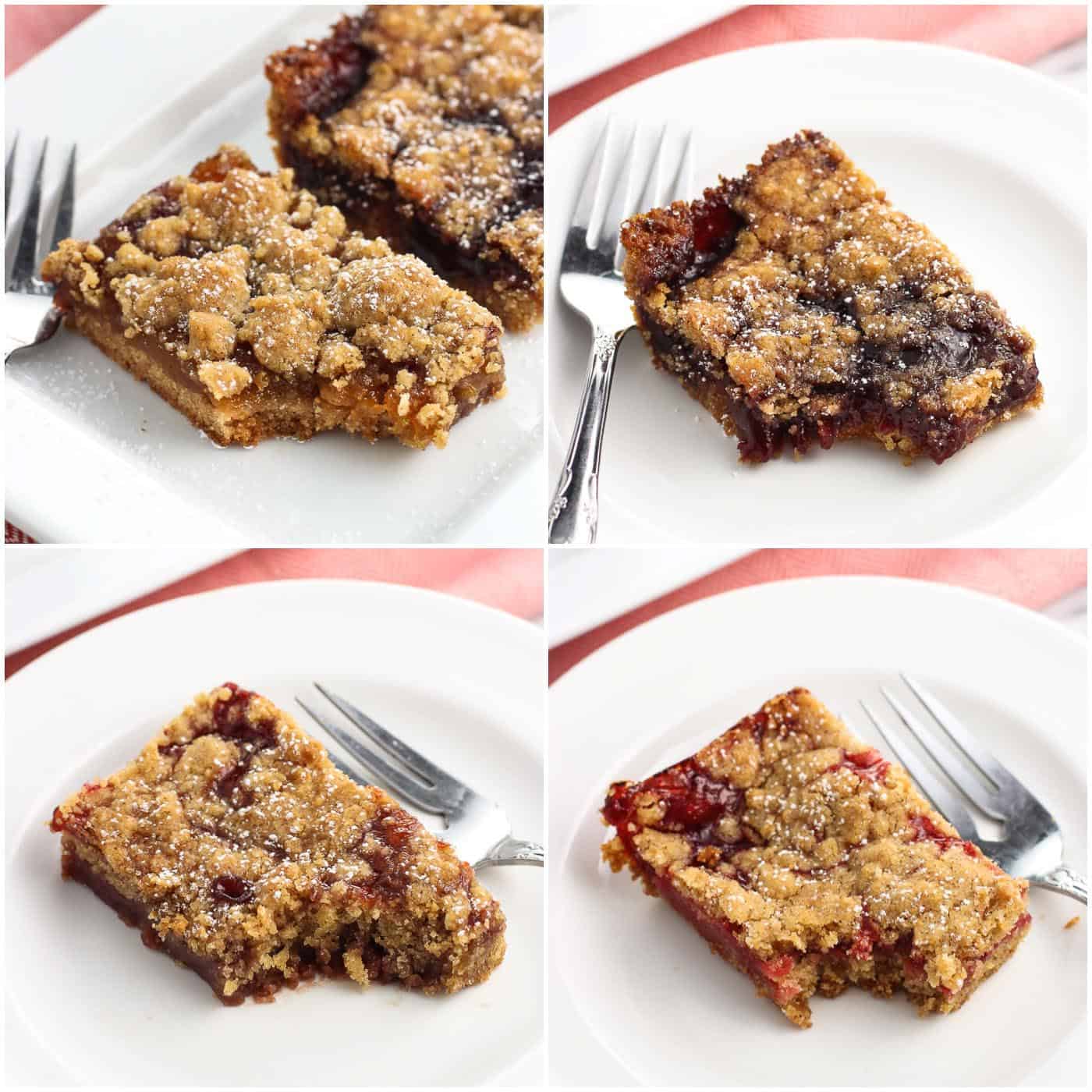 When it comes to the jams, any flavor jam, jelly, preserves, or fruit spread should do, though I recommend not using low- or reduced-sugar varieties. I found the sweetness with the regular varieties rounded these jam bars out to be a satisfying dessert. Reduced-sugar grape jam is something I enjoy on a peanut butter and jelly sandwich, but it was a touch not-sweet-enough for my taste in one version of these bars.
If interested in using multiple jam flavors, I spread about a half-cup of each jam in equally-sized strips on top of the bottom layer, and then made sure I didn't cover up each 'seam' entirely with crumbs. This way I knew exactly where to cut between the flavors to result in four different types of jam bars, yielding four pieces of each kind.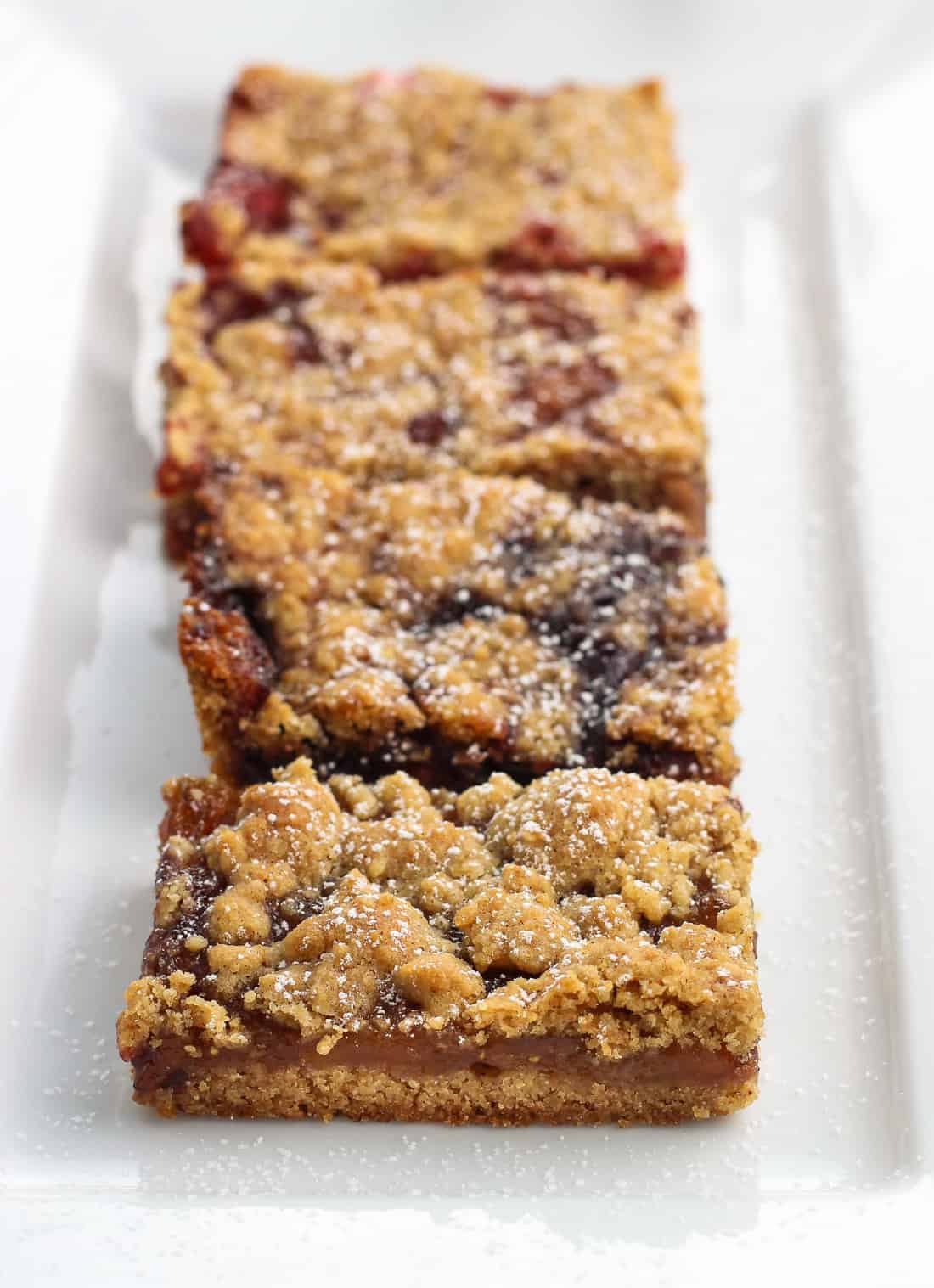 Recipe notes
The cinnamon flavor is subtle here, so if you're a huge cinnamon fan feel free to add a little more. I recommend not increasing the amount of nutmeg though. Nutmeg has a tendency to be a little strong in baked goods and take over the flavor.
These bars are great to make ahead of time, because you'll want them to be COMPLETELY cool before slicing. Make them in the morning and let them sit! This helps with slicing and having the bars hold together without getting jam everywhere.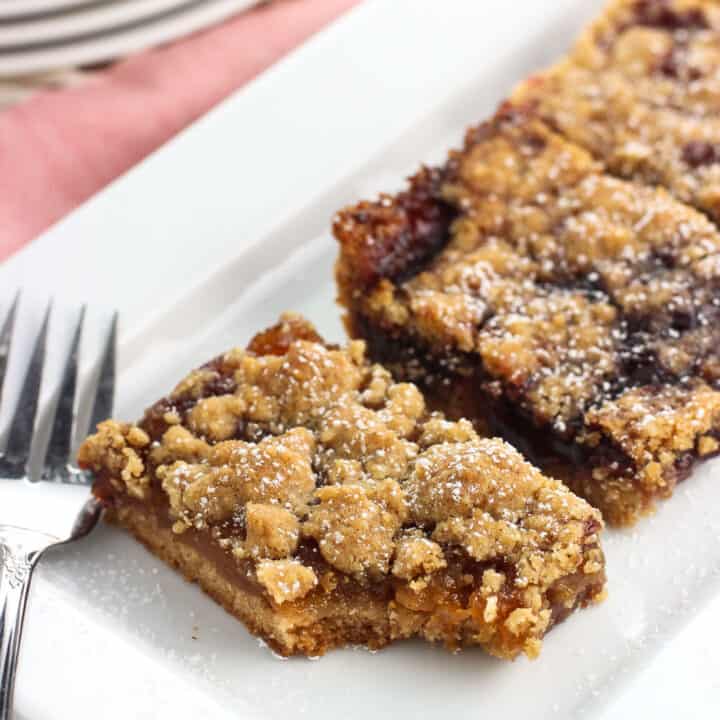 Crumb Topping Jam Bars
Easily customize the flavor of these jam bars by picking your favorite jam, jelly, or fruit spread! These bars feature a cinnamon-spiced crumb topping and are perfect for using up small amounts of jam taking up space in the fridge.
Print
Pin
Rate
Ingredients
2

cups

all-purpose flour

1/2

cup

brown sugar

1/4

cup

granulated sugar

2

tsp

baking powder

1

tsp

ground cinnamon

1/2

tsp

salt

1/4

tsp

ground nutmeg

3/4

cup

unsalted butter

(12 tbsp) chilled and cut into small pieces

1

egg

beaten

2

cups

jam

(in total)
Instructions
Preheat oven to 350°F. Grease a 9"x13" baking dish and set aside.

Add flour, brown sugar, granulated sugar, baking powder, cinnamon, salt, and nutmeg to a mixing bowl. Add chilled butter pieces and cut in using a pastry blender (or your fingers) until the mixture is very crumbly, with crumbs about the size of a pencil eraser or smaller. The mixture will not be perfectly smooth.

Beat egg well in a separate bowl and then stir into the dough until just combined.

Firmly press a little more than half of the dough into the greased baking dish, taking care to form a cohesive, even layer throughout.

Spread jam in an even layer over top.

Break up and crumble remaining dough over top of the jam layer.

Bake for 40-45 minutes, or until the jam is slightly bubbling and the top layer of crumbs is golden-brown.

Let everything cool in the pan until it's completely cool. Dust with confectioners' sugar (optional) and slice into bars. Store in an air-tight container at room temperature.
Notes
Flour: I've used a 50/50 blend of all-purpose and white whole wheat flour and enjoyed that here. Jam: See notes in the post above on the different varieties of jam. Many work, though I suggest not using a low- or reduced-sugar variety as the not-overly-sweet base/crumb layers benefit by the added sweetness.
Nutrition
Serving:
1
bar
|
Calories:
263
kcal
|
Carbohydrates:
44.8
g
|
Protein:
2.5
g
|
Fat:
9.1
g
|
Saturated Fat:
5.6
g
|
Cholesterol:
33
mg
|
Sodium:
140
mg
|
Potassium:
48
mg
|
Fiber:
1
g
|
Sugar:
25.8
g
|
Calcium:
10
mg
|
Iron:
0.5
mg
Nutritional information is provided as an estimate. As it can vary due to many factors (brands used, quantities, etc.), we cannot guarantee its accuracy.
Food Safety and Nutrition Disclaimer
Dough recipe adapted from allrecipes