Cocoa baked banana chips are a healthy, oven-baked snack with a satisfying crunch. Just four ingredients are all you need for this easy recipe!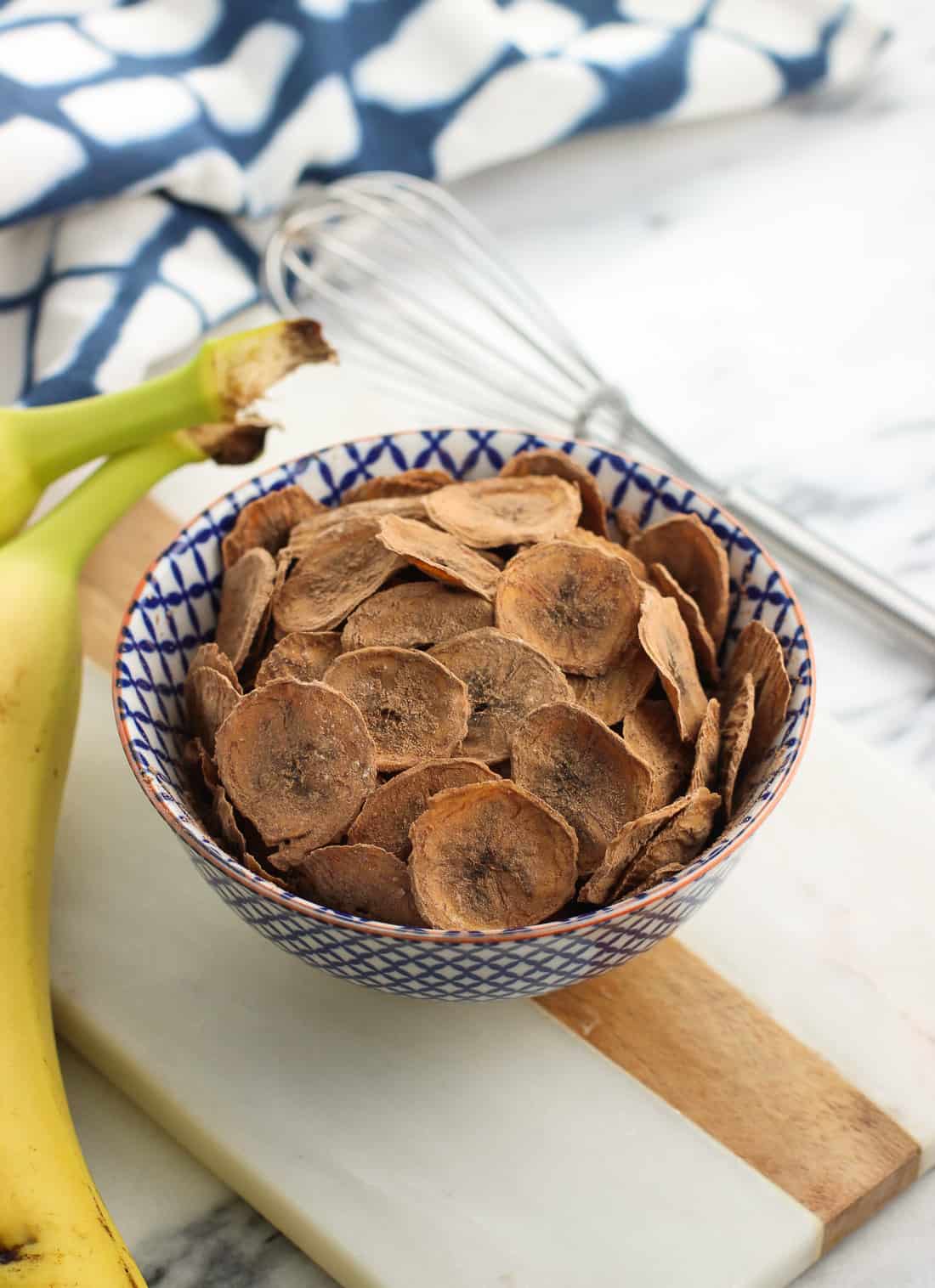 How about a bowl of banana chips to end the work week on a high note? They're certainly not the typical crunchy snacks you might expect to dig into on the weekend like chips or pretzels, but they're a healthier option that's WAY cheaper to make yourself than buy.
Plus, there's chocolate. Can't argue with chocolate.
I'm a big fan of crunchy chip-like snacks such as homemade cinnamon sugar pita chips and spiralized baked apple chips. Those two recipes are great because they're both oven-baked, making them a healthier option than fried chips - of any kind. The apple chips don't even use oil for that matter, just needing a sprinkling of ground cinnamon and sugar. Easy!
Since I've developed a tendency for over-buying bananas while I'm grocery shopping, I've been thinking of new ways to use them up beyond simple snacking.
With those apple chips in mind, I gave bananas a whirl to see if I could bake them as crispy as the ones you'll find in tropical trail mixes (where I was first introduced to them). Turns out - you can.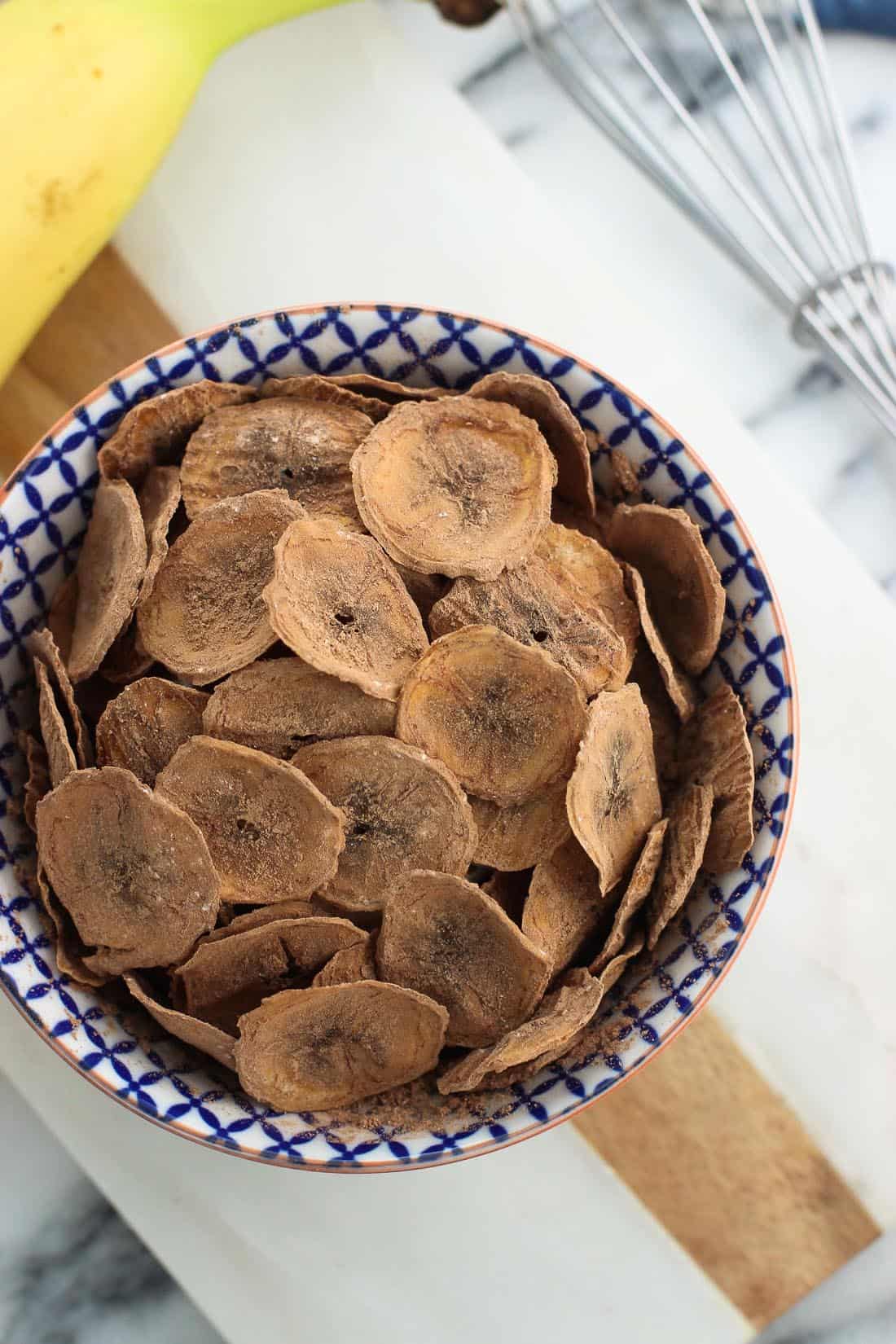 Recipe ingredients
Just four ingredients are all we need for these baked banana chips:
two bananas
lemon juice
unsweetened cocoa powder
confectioners' sugar
Since each banana yields many chips, you can halve this recipe if you just have one or are looking for a smaller yield.
The little bit of lemon juice prevents the banana chips from browning too much while they bake. You won't be able to taste the lemon once the cocoa banana chips are finished baking.
And now for the cocoa-dusted part. I love cocoa-dusted almonds, so I wanted to try something similar with these cocoa banana chips. Since unsweetened cocoa powder is not pleasant to eat on its own, I combined it with an equal amount of confectioners' sugar for sweetness.
Much like with the almonds, this cocoa coating adds a hint of rich chocolate flavor but is much less sweet than a dessert, making it a perfect, sweet-leaning afternoon snack.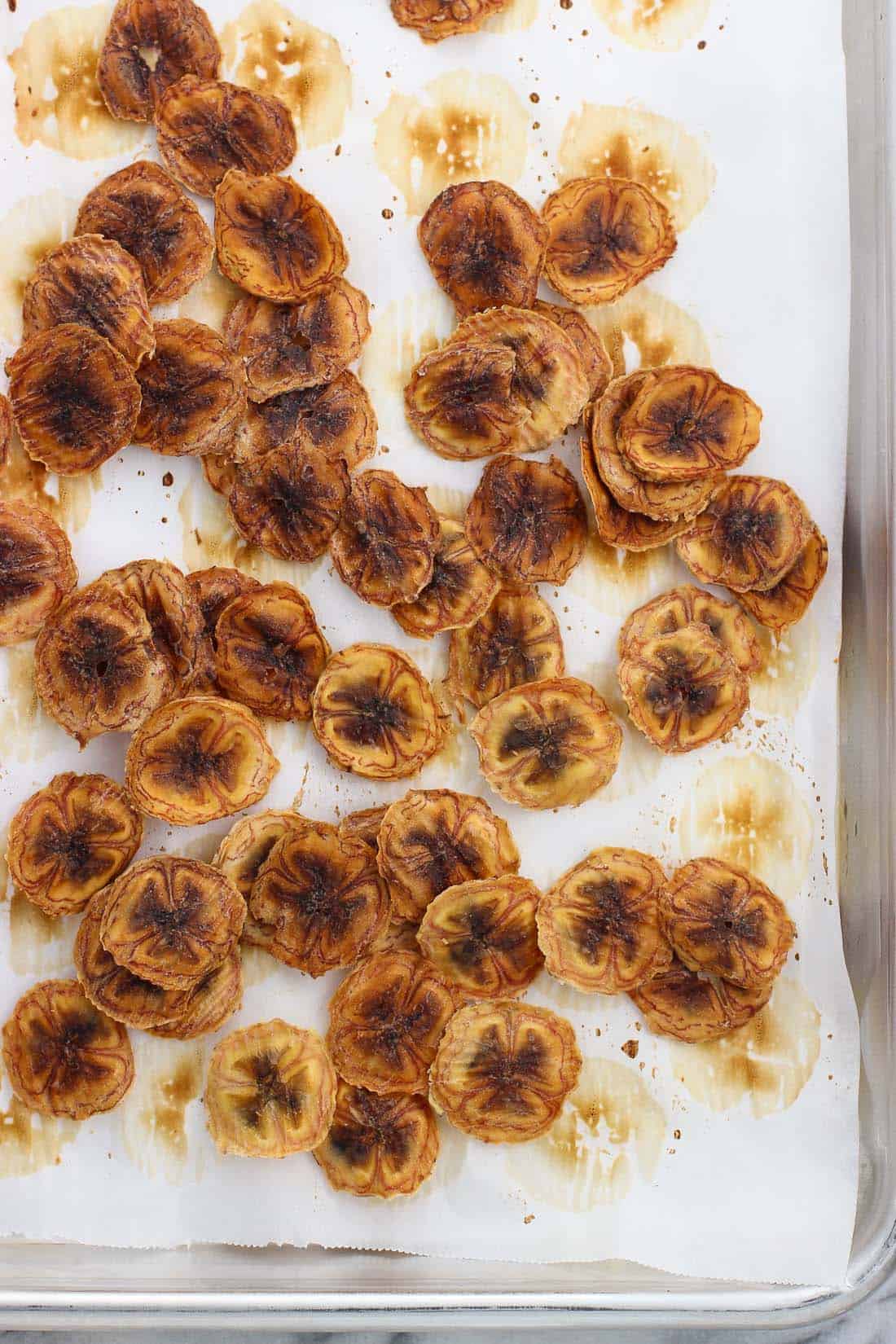 Slicing bananas into chips
An important part of this recipe is taking a little extra care with your slicing.
If the slices are too thick they won't crisp up fully, which is what we don't want. I took out the measuring tape when I was slicing and found that my slices landed somewhere between one-sixteenth and one-eighth of an inch each. They certainly don't have to be exactly the same width down to the millimeter, but I recommend slicing them within that range.
Each banana yields a ton of chips, so you'll want to use your largest baking sheets for this one. You can place the banana chips fairly close together on the parchment paper because there's no rising or anything here. In fact the chips contract a bit as they dehydrate and cling to the parchment. Don't worry though because they'll be pretty easy to pop off.
Low and slow baking
The oven temperature (250°F) listed below isn't a typo. You'll want to bake these banana chips low and slow so they don't burn. Bake them for one hour, then remove the sheet from the oven. Flip each banana chip over, place the sheet back in the oven, and then shut the oven off. Let them stay in their until they're completely cooled!
Cooling in a shut-off oven is an important step that I've found to be crucial in yielding crispy baked banana chips. This obviously adds inactive time to your recipe, but it does the trick to help them firm and crisp up nicely.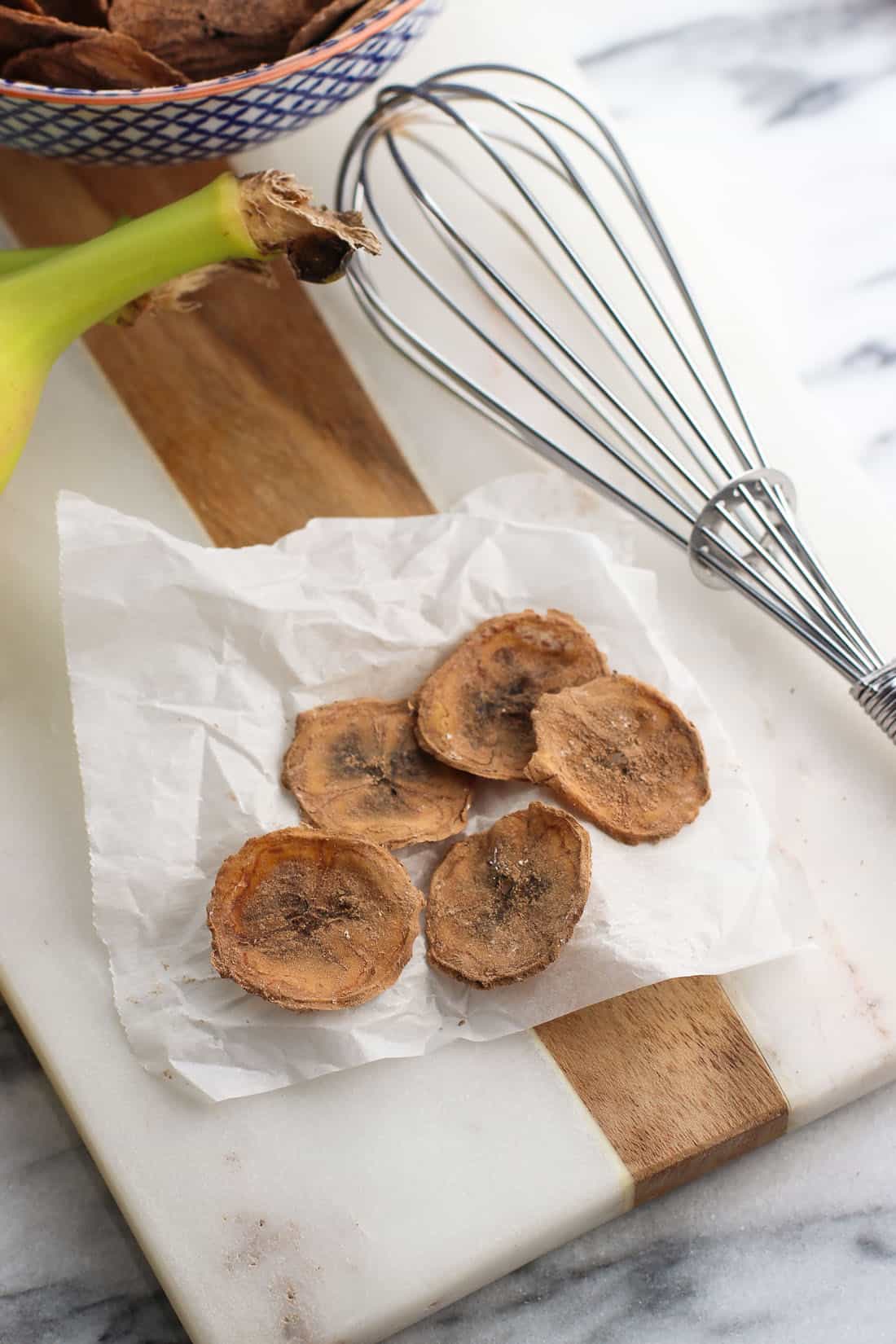 Once cooled, you can simply enjoy the baked banana chips 'bare' or you can do what I did here and toss them in an even mixture of unsweetened cocoa powder and confectioners' sugar. Confectioners' (powdered) sugar matches the consistency of the cocoa powder so it mixes in well without lumps, which is why it was my pick over granulated sugar.
Recipe notes
The brush of lemon juice helps prevent the banana chips from discoloring too much in the oven. It doesn't impart any lemon flavor.
Be sure to let the banana chips cool in the oven after it's been turned off. This helps them crisp up and become crunchy.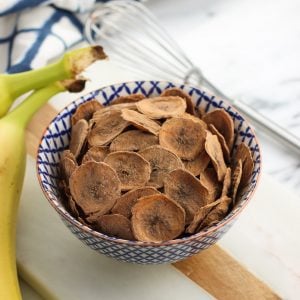 Cocoa Baked Banana Chips
Cocoa baked banana chips are a healthy, oven-baked snack with a satisfying crunch. Just four ingredients are all you need for this easy recipe!
Print
Pin
Rate
Ingredients
2

bananas

ripe

2

teaspoon

lemon juice

(approximate)

1 ½

tablespoon

unsweetened cocoa powder

1 ½

tablespoon

confectioners' sugar
Instructions
Preheat oven to 250°F and line a large baking sheet or two with parchment paper. Set aside.

Slice bananas into very thin slices, between ⅛" - 1/16" thick, trying your best to make them as similar in thickness as you can. Place them in a single layer fairly close together on the lined baking sheet. Repeat for both bananas.

Brush lemon juice on the tops of the banana slices to prevent too much browning. You may not need the full two teaspoons.

Place the baking sheet on a middle rack in the oven and bake for 1 hour. Remove from the oven and flip each banana chips over. They'll be fairly stuck on the parchment paper, but will remove without much effort.

Place the sheet back in the oven and shut the oven off. Let the banana chips remain in the oven until the oven is cooled completely. This helps crisp them up.

Once cooled, whisk together unsweetened cocoa powder and confectioners' sugar very well until no lumps remain. Toss the banana chips in the cocoa mixture and tap off excess. Serve immediately, or store in an airtight container for a day or two.
Notes
You can easily half this recipe if you'd like to just use one banana.
These cocoa banana chips are most crisp the day they're made or the day after.
The cool time is estimated at one hour, but will vary depending on your oven.
Nutrition
Serving:
1
serving
|
Calories:
139
kcal
|
Carbohydrates:
35
g
|
Protein:
2
g
|
Fat:
1
g
|
Saturated Fat:
0.5
g
|
Sodium:
3
mg
|
Potassium:
491
mg
|
Fiber:
4
g
|
Sugar:
21
g
|
Calcium:
10
mg
|
Iron:
0.9
mg
Nutritional information is provided as an estimate. As it can vary due to many factors (brands used, quantities, etc.), we cannot guarantee its accuracy.
Food Safety and Nutrition Disclaimer