Baked apple chips are super easy, crisp, and healthy! A spiralizer makes slicing the apples a breeze and ensures they're of a consistent thinness. A simple shake of cinnamon and sugar are all you need to flavor this snack favorite.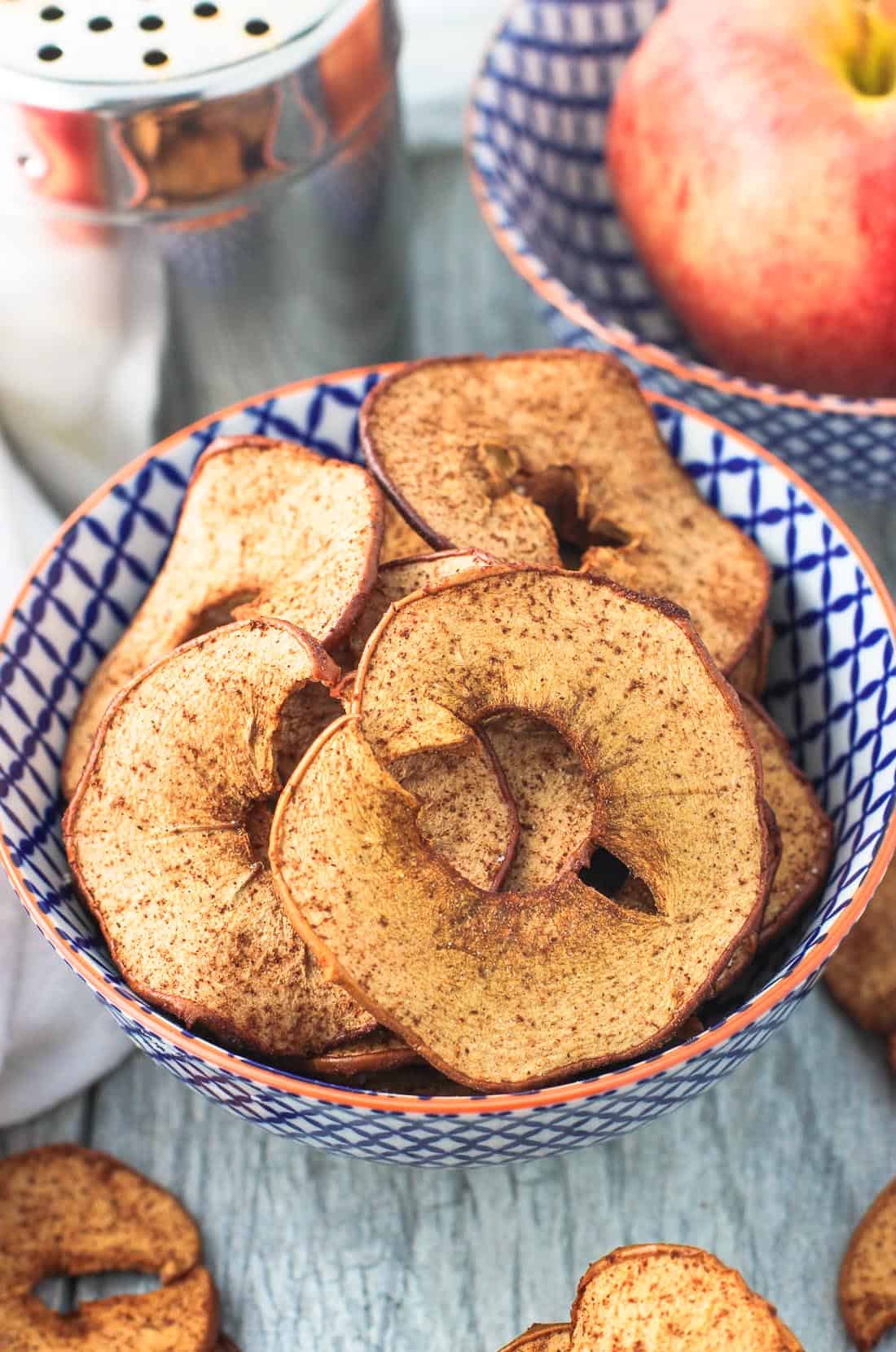 Do you know those bags of packaged apple chips that hang around end caps in the produce department? The ones that are light as air and have approximately two servings per bag? I love those, and most of the time I blow past the suggested serving size altogether. Lalalalalasingleservingbaglalalala, that kind of thing.
Problem is, the fact that each bag costs a couple of bucks does not mesh well with the voracity of my apple chip cravings, ESPECIALLY this time of year when your social media channels are jammed with apple picking pictures and cinnamon is sprinkled on damn near everything. It's peak apple chip craving season.
After plowing through a few bags, I couldn't help but think that my beloved apple chips wouldn't be too tough to make at home. Turns out they're not!
I'm tempted to call this a "recipe but not really" because it only uses THREE ingredients: apples, cinnamon, and sugar, but there are a few tips along the way that are key in turning out CRISP apple chips - without frying or oil of any kind.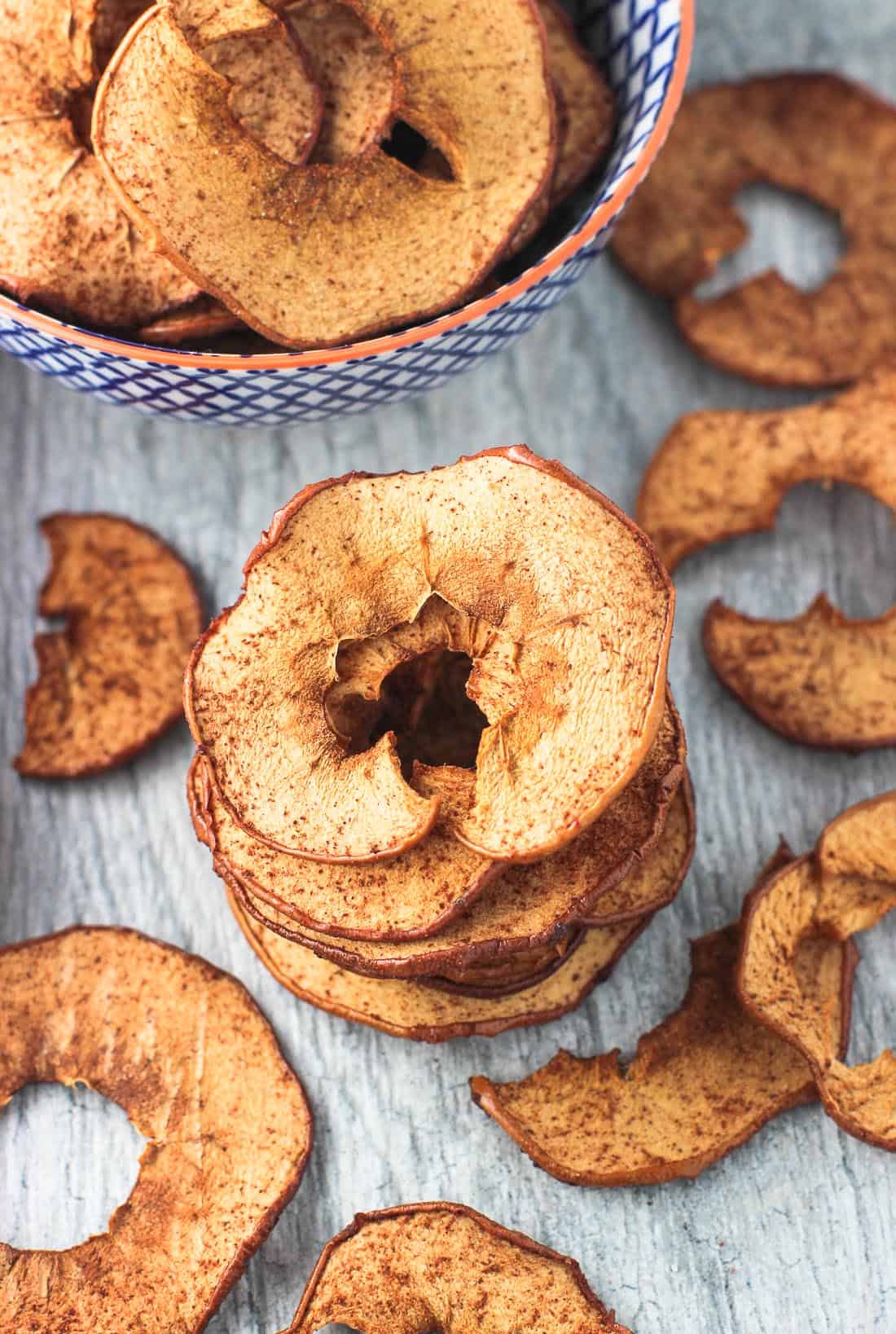 What kind of apples for apple chips
This is an easy recipe, but buying the ingredients to make baked apple chips at home is probably the easiest part. Likely you already have sugar and cinnamon, so you'll just need to get the apples.
I like to use Gala apples here, though you can definitely branch out. Crisp and sweet, I love Gala apples as a stand-alone snack or as part of Instant Pot applesauce (I'll sub them in for one of the sweeter apple varieties, depending on what's on sale).
Other apple varieties that will work here are Fuji, Pink Lady, and Honeycrisp. It seems like every time I go to the store there are new-to-me apple varieties, there are likely plenty of others that would work well, too. Look for apples that are sweet and crisp for this baked apple chips recipe.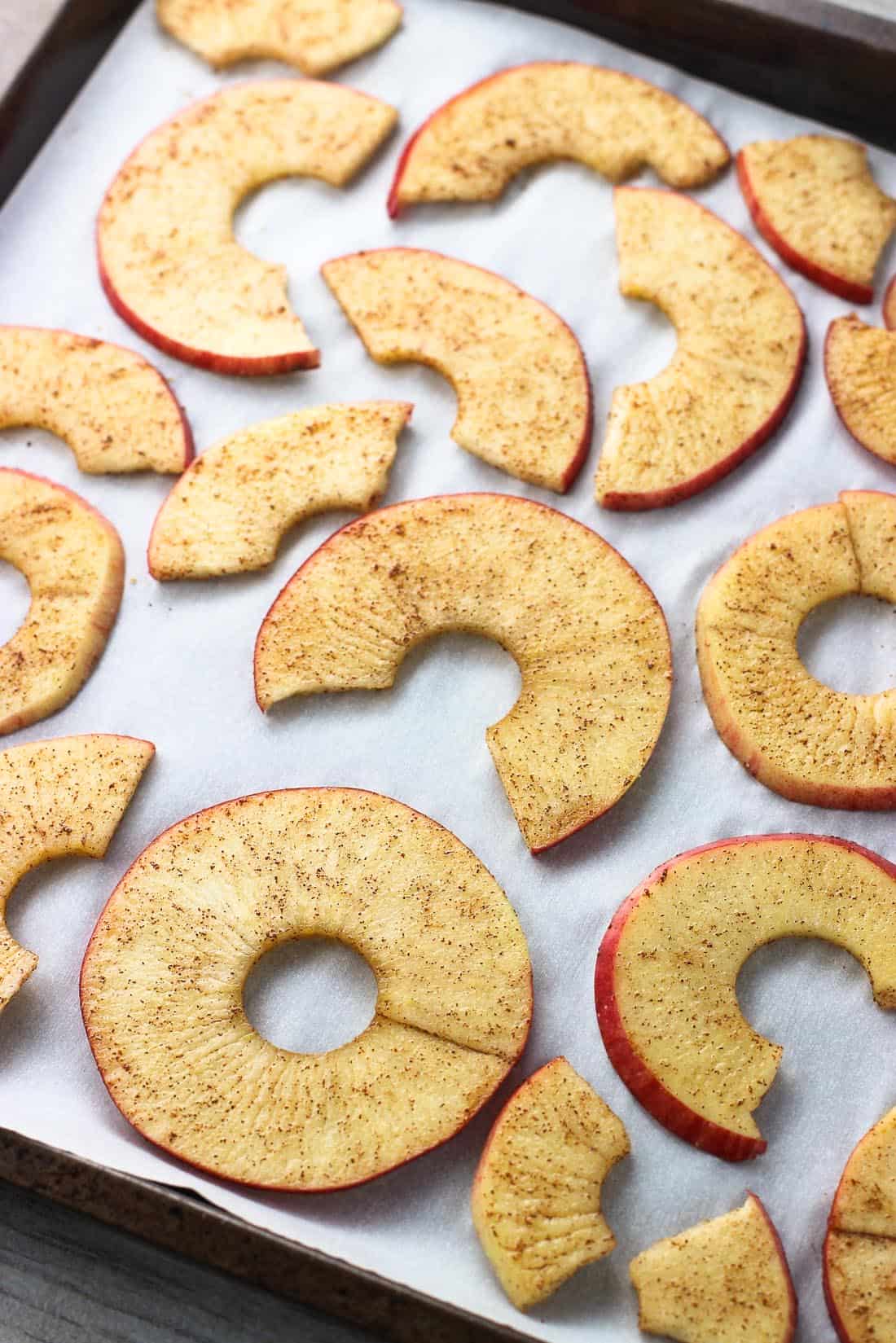 Recipe instructions
The first important part of this recipe is slicing the apples. You want the apples to be thin so they'll dehydrate and crisp in the oven, but you also want them to be uniform in thickness so some don't burn while others are left chewy.
My knife cut skills leave a lot to be desired and I don't own a mandoline, but my spiralizer Kitchenaid attachment (affiliate link) came to the rescue. By using the slicing blade with a large core, each apple was cored and sliced into very thin, perfectly even layers in under ten seconds flat.
Once spiralized, I then used a paring knife to slice down through one side of the ring to separate the spiralized apple into separate slices for "chips". A few half-slices or smaller pieces broke off as I tossed the slices with the cinnamon/sugar mixture, but just pop those onto the baking sheet and proceed as usual.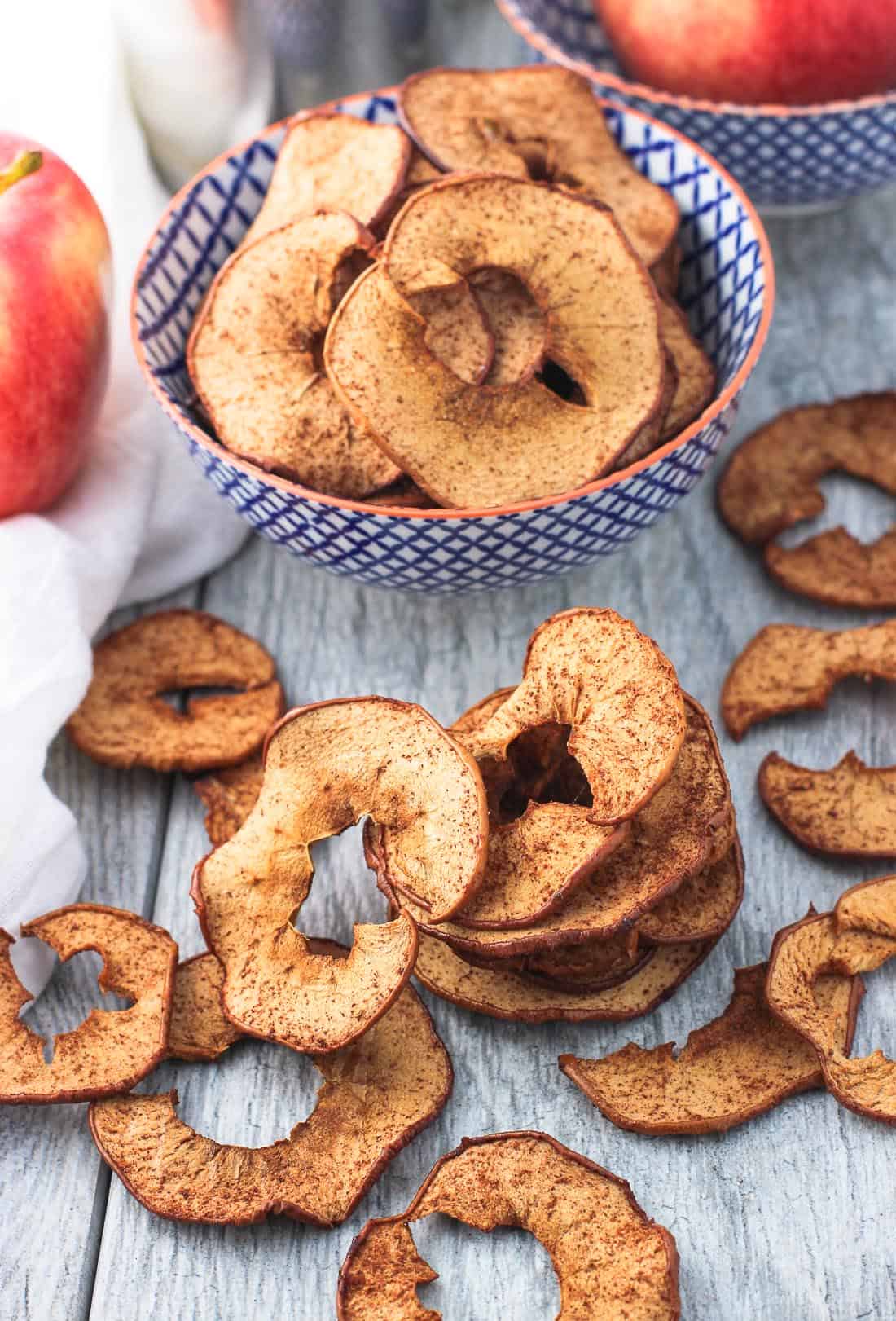 One of my concerns when making oven-baked crispy anything is that, well, whatever it is won't really be crisp.
The first time I tried these spiralized baked apple chips I baked them for quite awhile. However I took them out of the oven right when they were done and while they crisped up a little bit, they didn't have that crisp crunchiness you come to expect of chips. They were more like dried apple slices, which are delicious in their own right, but not what I was hoping for here.
(As an aside, how many times can I say 'crisp' in this post!?)
So when I came across this SELF article with a suggestion to leave apple chips on their baking sheets in the oven even after the oven was turned off to cool completely, I knew that's what I was going to do with round two. It works, and is important point #2 in this recipe. Let them sit!
While this method does add on extra time to the recipe before you can dig in and enjoy, I found it to be the most reliable for getting crunchy chips. I even popped the not-quite-there first round back in the oven for some time and let them cool in there too, and they crisped up perfectly in the end.
How to store apple chips
I'm happy to report that these spiralized apple chips stay crunchy for days if stored in an airtight container. I summoned up extra willpower and let some apple chips last for three days, and they were still as crisp and perfectly enjoyable all that time later. As for longer than that, I couldn't tell you, but I doubt they'll stick around for that long.
Recipe notes
See post above for suggestions for alternative apple varieties to use for these baked apple chips.
Low and slow is the name of the game here. Letting the baked apple chips cool in the (turned off) oven is an important part of helping these chips end up crisp and not chewy.
Other fresh apple recipes you may enjoy are

slow cooker apple pie

and easy

puff pastry apple turnovers

. Though fair warning, they're definitely on the dessert side of things!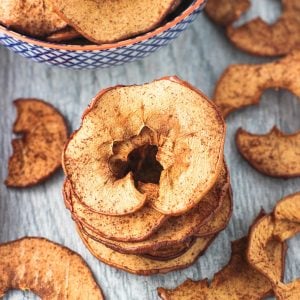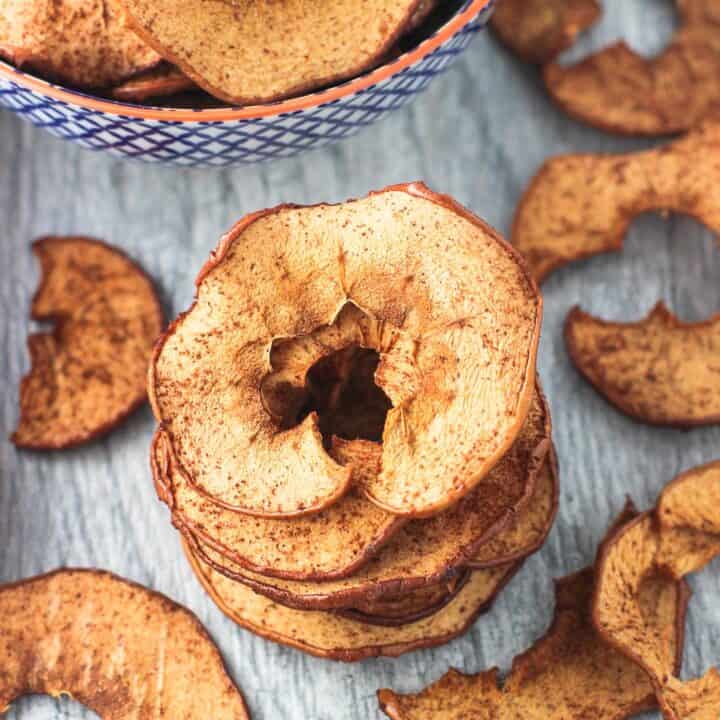 Spiralized Baked Apple Chips
Baked apple chips are super easy, crisp, and healthy! A spiralizer makes slicing the apples a breeze and ensures they're of a consistent thinness. A simple shake of cinnamon and sugar are all you need to flavor this snack favorite!
Print
Pin
Rate
Ingredients
2

apples

(see note on varieties)

2

teaspoon

granulated sugar

1

teaspoon

ground cinnamon
Instructions
Preheat oven to 250°F and line a baking sheet or two with parchment paper. Set aside.

Spiralize apples using the large core slicing blade. Alternatively, you can use a mandoline. The key is that you want the apple slices to be the same thickness.

If using a spiralizer, cut down into one half of the spiralized apple using a paring knife to separate the apple slices into singular rings. Place slices into a bowl.

Mix sugar and cinnamon together in a small bowl. Sprinkle cinnamon/sugar mixture over the spiralized apple slices, tossing them gently in the bowl to ensure they're coated evenly.

Place slices in a single layer with a little bit of space between them on the lined baking sheet.

Bake for one hour, and then flip each apple slice over. You'll notice the apple slices will begin to look curled around the edges. Once flipped, bake for another hour, and then shut the oven off. Let apple chips sit in the (now, off) oven until mostly cooled. This crisps them up!

Store in an airtight container for up to several days.
Notes
Apples: Any sweet and crisp apple variety would work well here, including Gala, Fuji, Pink Lady, and Honeycrisp apples. Scaling yield: This recipe is easily scaleable. One spiralized apple uses one teaspoon of granulated sugar + a half-teaspoon of ground cinnamon. Increase appropriately!
Nutrition
Calories:
65
kcal
|
Carbohydrates:
18
g
|
Potassium:
133
mg
|
Fiber:
4
g
|
Sugar:
14
g
|
Calcium:
10
mg
|
Iron:
0.2
mg
Nutritional information is provided as an estimate. As it can vary due to many factors (brands used, quantities, etc.), we cannot guarantee its accuracy.
Food Safety and Nutrition Disclaimer