This overnight breakfast strata is a savory egg and bread bake filled with Italian sausage crumbles, sautéed asparagus, and Asiago cheese. It's the perfect brunch dish for holidays or for entertaining!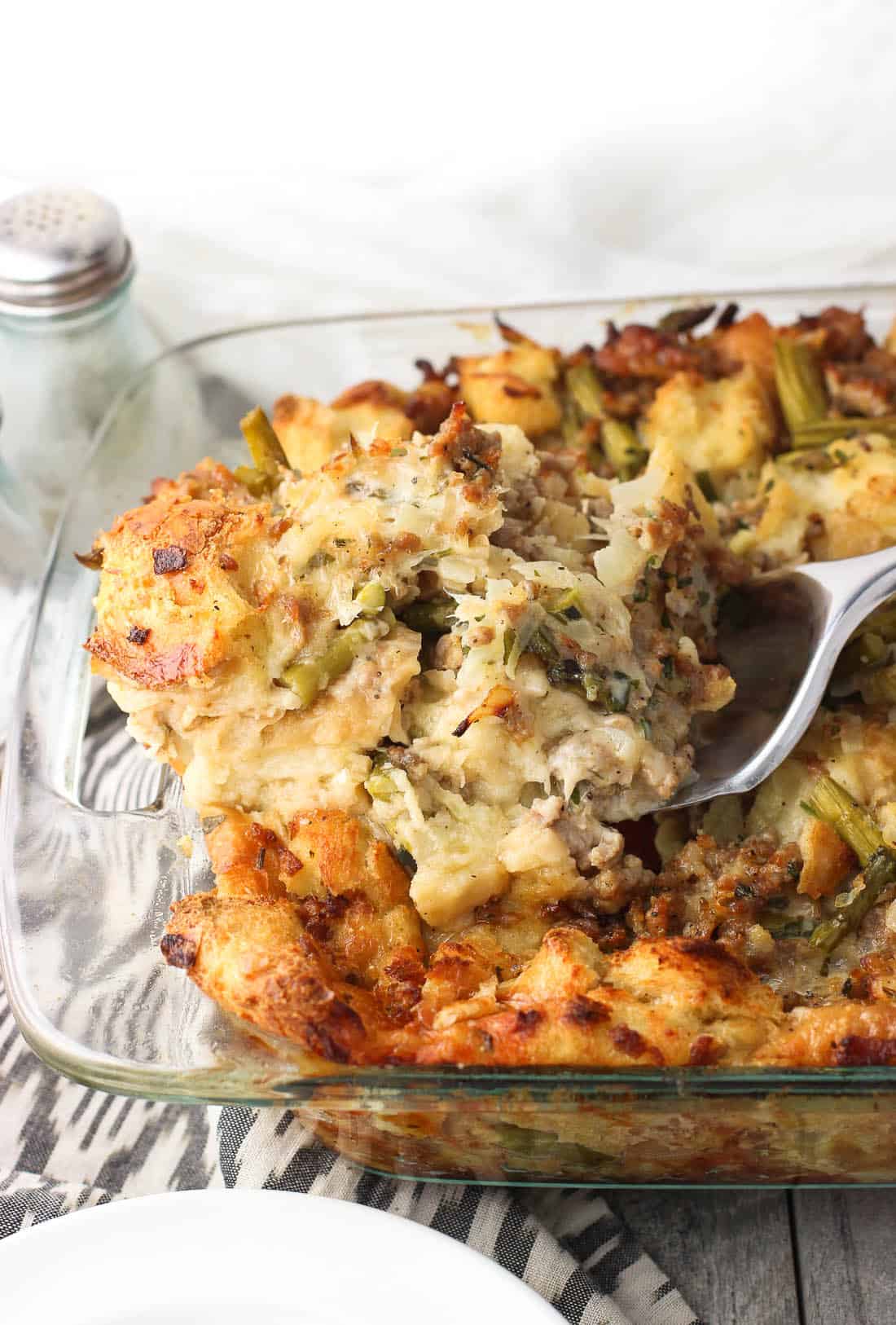 Do you ever get the feeling that you're going to fall so madly in love with a specific food before you even make it? That's the story of me and this overnight breakfast strata.
I'm big into sweet french toast bakes, but all things considered I tend to lean to the savory side when it comes to breakfasts and brunch. This dish combines the two effortlessly! Baguette slices form the base, with Italian sausage, asparagus, and Asiago cheese adding a whole ton of savory flavor.
Even though a breakfast strata tends to be a special occasion breakfast or brunch food (hello, Christmas or Easter brunch!), I was curious to see if I could make one that wasn't quite as rich as some of the ones out there.
Eight, nine, ten eggs...and let's not forget whole milk or cream! Eeeesh. Then I came across this recipe from Food & Wine that utilized chicken stock for a lot of the liquid and only used two eggs, and I knew this was it. While I went with their ratio of bread to liquid as my base, I changed up just about everything else.
And you know what? This just may be my favorite breakfast to date. It's that good.
Reasons to love this recipe
Once baked, this overnight breakfast strata isn't too soggy, soupy, or eggy (one of my worries when it comes to french toast), and features baguette pieces that absorb enough liquid to soften just right, with the tops of the pieces on the edges crisping up from baking.
Each slice doesn't skimp on crumbled sausage, asparagus, or onion, and the cheese works its way into each bite, too. Plus, I really loved the extra bit of flavor the chicken broth adds. I didn't miss all the eggs one bit!
With pre-cooking and assembly happening the night before, this recipe is as easy as preheating the oven and baking on the morning-of.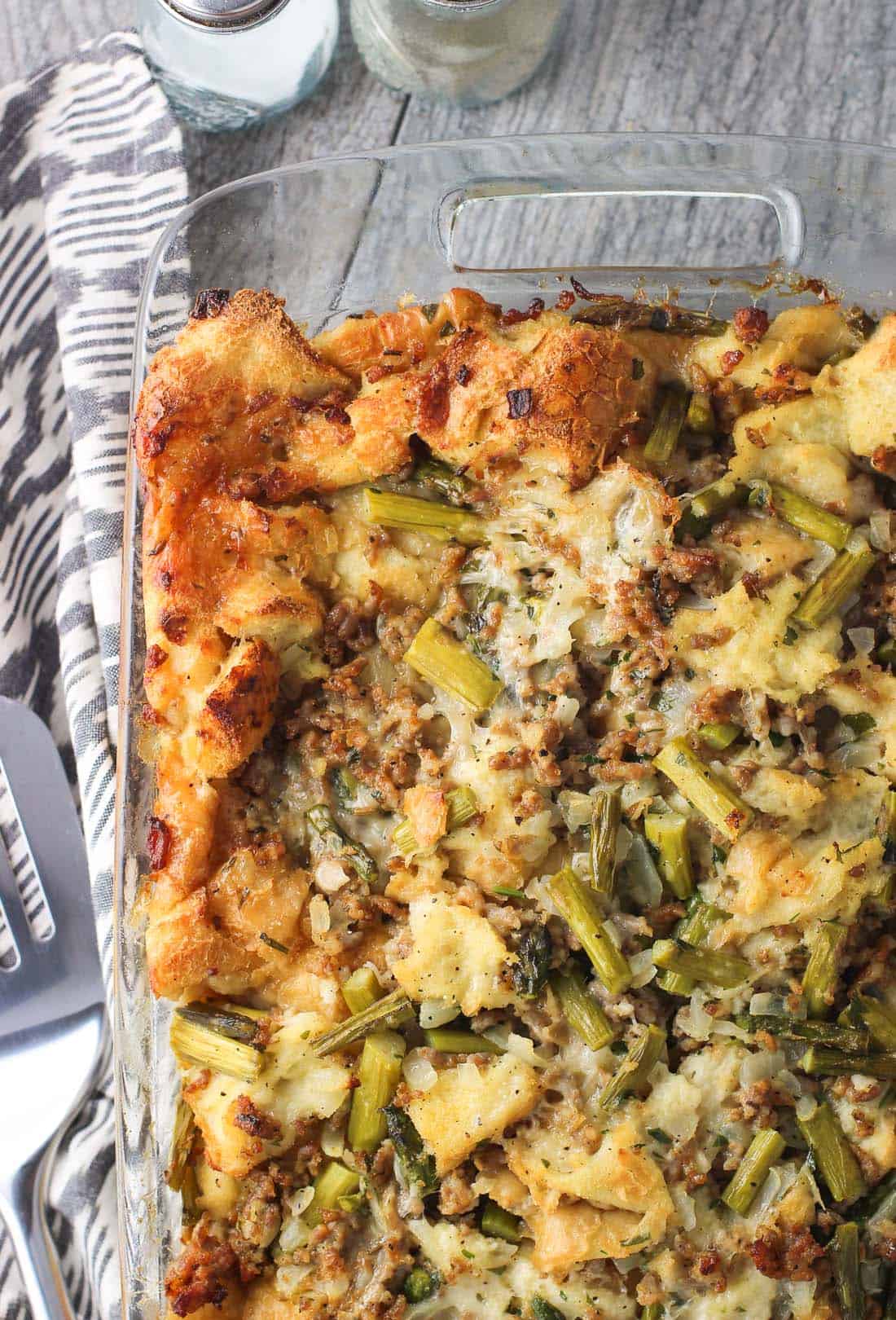 Recipe ingredients
Baguettes are the foundation of this recipe. Bread on the staler side works perfectly here, as it's widely thought that drier bread means more opportunity for it to soak up all the moisture and flavor we add to it. That said it's not the end of the world if your bread isn't stale.
In addition to the bread we have Italian sausage, asparagus, onion, and cheese for a seriously delicious mix of flavors.
As for the cheese, I went back and forth between using a combo of cheeses, all Gruyere, or all aged Asiago. What a problem to have. You'll see a lot of breakfast bake and quiche recipes that use Gruyere which I happen to love, but a half pound wedge of Gruyere at my local supermarket was double the price of a wedge of aged Asiago.
As they're both hard cheeses with a distinct flavor, I opted to save a little money and go with Asiago for this one. You could definitely use Gruyere if you prefer, though I can't find anything lacking in using aged Asiago.
As mentioned, something a little different with the ingredients in this breakfast strata is that the chicken broth does a fair amount of the liquid heavy-lifting, easing up on the number of eggs needed. Besides bolstering the savory-ness here, it helps keep things light...or as light as can be with sausage and cheese and bread. If you've ever been concerned a breakfast bake was a little too 'eggy', this dish is for you.
Step-by-step instructions
For starters I like to prep my ingredients, which in this case means slice up the baguettes, dice the onion, rinse and chop the asparagus, and grate up cheese. I wanted larger pieces than standard grated cheese, so I use the side of my box grater with the long singular blade to thinly slice it and roughly break up some of the bigger pieces.
You can see them in the below photo, which was this breakfast strata pre-bake. It's making me hungry just looking at it.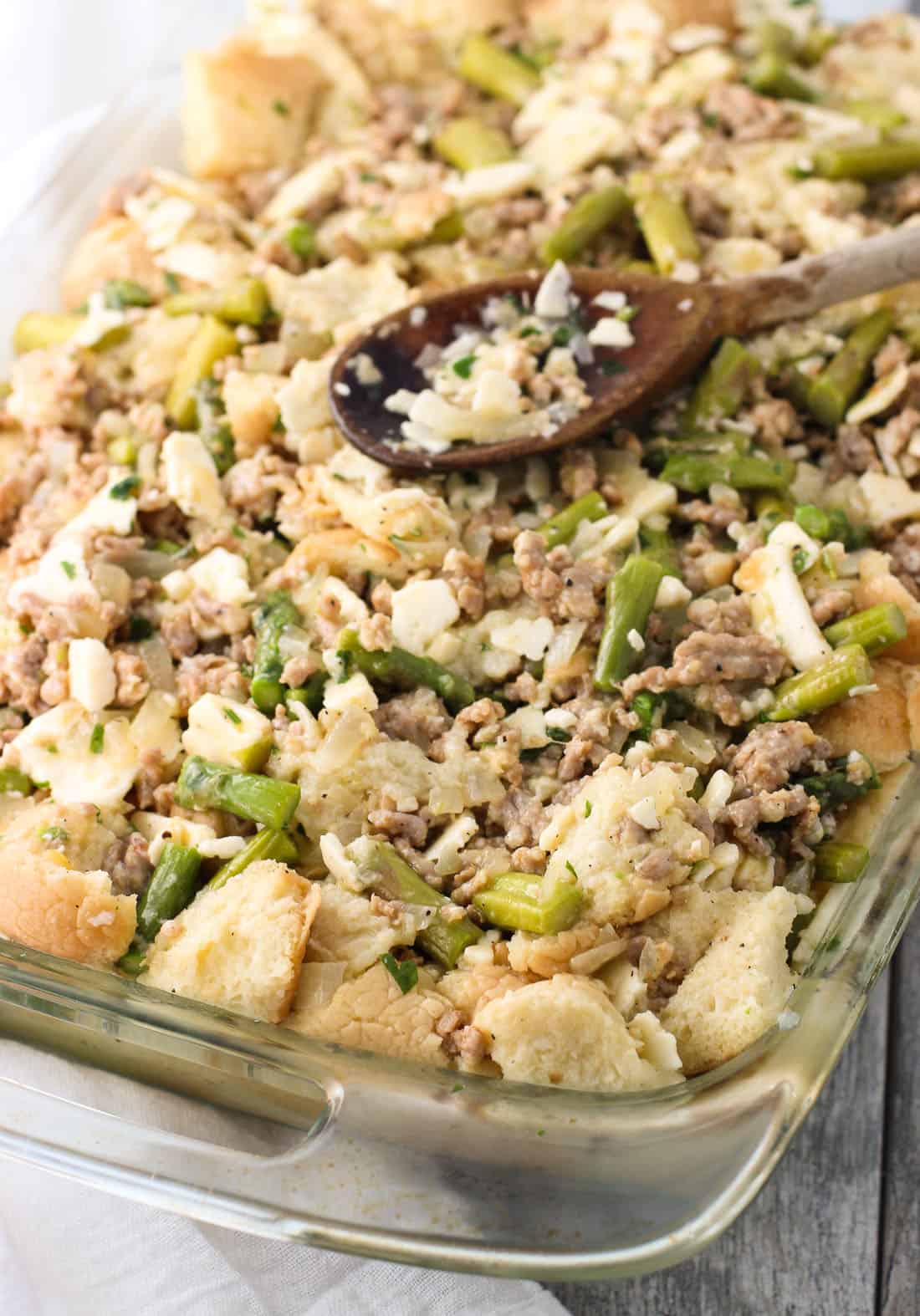 Once you're all prepped, saute the onion and asparagus and brown the ground Italian sausage. Easy enough, right? Those get combined with the bread cubes and cheese along with a few herbs and spices in a large bowl and sit for a sec while you whisk up the liquid ingredients.
Add the liquid ingredients to the bowl with everything and stir it all up - you're almost done. You can either cover the bowl with plastic wrap and refrigerate overnight, transferring the mixture to a greased baking dish in the morning before baking, OR you can press it into your baking dish before refrigerating, simplifying the morning-of prep even more.
All the morning needs is some time to bake, and you have yourself a seriously savory brunch dish fit for a holiday crowd.
Related recipes
Leftover cornbread (and Gruyere, this time) adds a different but equally good twist to a cornbread strata.
And for a decidedly holiday spin, this Panettone french toast bake is a crowd-pleaser. There's so much flavor already packed into that bread!
For a year-round version, blueberry french toast bake uses challah and chai latte concentrate to bump up the warm spices paired with pure maple syrup. This is one of my mom's picks for Mother's Day breakfast.
Recipe notes
If refrigerating the strata overnight in a baking dish, be sure it's one that can handle a fairly quick fluctuation in temperature from the refrigerator to the preheated oven.
Overnight Breakfast Strata with Sausage and Asparagus
This overnight breakfast strata is a savory egg and bread bake filled with Italian sausage crumbles, sautéed asparagus, and Asiago cheese. It's the perfect brunch dish for holidays or for entertaining!
Print
Pin
Rate
Ingredients
2

half pound

baguettes,

cut into approx. 1" cubes

3

tablespoon

olive oil

1

onion,

diced

1

lb

asparagus,

ends trimmed and cut into 1" pieces

1

lb

mild Italian sausage

2

tablespoon

fresh parsley,

chopped

1

teaspoon

salt

¾

teaspoon

ground black pepper

½

lb

aged asiago cheese,

thinly sliced (about 2 cups)

2

eggs

4

cups

reduced-sodium chicken broth

1 ½

cups

milk

(use your preferred)
Instructions
Cut baguettes into approximate 1" cubes and set aside. Dice onion and cut up asparagus and set aside, as well.

Heat olive oil in a skillet set over medium heat. Add onion and asparagus to the skillet and stir frequently while cooking for 6-7 minutes, or until the asparagus has softened slightly and the onions have become a bit golden. Transfer to a large bowl to cool slightly.

Place sausage to the skillet set over medium heat and break up into crumbles. Continue to crumble and stir the sausage as it cooks, until it's no longer pink. Once fully browned, transfer sausage crumbles drained of the fat to bowl with the onion and asparagus.

Add parsley, salt, pepper, and Asiago cheese to the bowl and stir to combine everything.

In a separate bowl, whisk together eggs, chicken broth, and milk. Pour the liquid mixture into the bowl with the other ingredients and stir so that the liquid evenly coats everything.

Cover bowl with plastic wrap and refrigerate for at least 4-5 hours, ideally overnight. See note if you'd rather pour the mixture into the baking dish before refrigerating.

When ready to bake, preheat oven to 350°F. Spray a 10"x14" baking pan* with cooking spray and evenly spread the strata ingredients in the pan. Press down slightly to pack it all in.

Cover pan with aluminum foil and bake for 30 minutes. Take off the foil and bake for another 45 minutes, or until the top baguette pieces are golden brown and the strata is pretty much set and a tester inserted in the middle comes out clean. Let strata rest for about 10 minutes before slicing and serving.
Notes
Baking dish: You can grease your baking dish and pour the strata ingredients into it before you refrigerate overnight if you prefer. If going this route, just be sure your dish can handle a semi-quick temperature fluctuation from the refrigerator to the oven. Dish size: *It's optimal to use a 10" x 14" baking dish or a 4-quart casserole dish for this strata. In a pinch I've also used a 9" x 13" baking dish, though it was filled to the brim. A 9" x 13" dish will work, however I suggest putting a large baking sheet on a rack underneath the strata to catch any splatters or drip overs before they hit the oven floor. Rest time: This is an estimate for overnight, but is flexible.
Nutrition
Calories:
375
kcal
|
Carbohydrates:
25.6
g
|
Protein:
20.5
g
|
Fat:
21.4
g
|
Saturated Fat:
8
g
|
Cholesterol:
77
mg
|
Sodium:
1162
mg
|
Potassium:
376
mg
|
Fiber:
1.9
g
|
Sugar:
3.9
g
|
Calcium:
170
mg
|
Iron:
3.1
mg
Nutritional information is provided as an estimate. As it can vary due to many factors (brands used, quantities, etc.), we cannot guarantee its accuracy.
Food Safety and Nutrition Disclaimer