Artichoke and sun-dried tomato pesto is an easy, five-minute sauce that will revamp pasta in no time. This pesto is vegan and with all of the bold flavors going on, you won't even miss the cheese (though feel free to add some if you prefer)!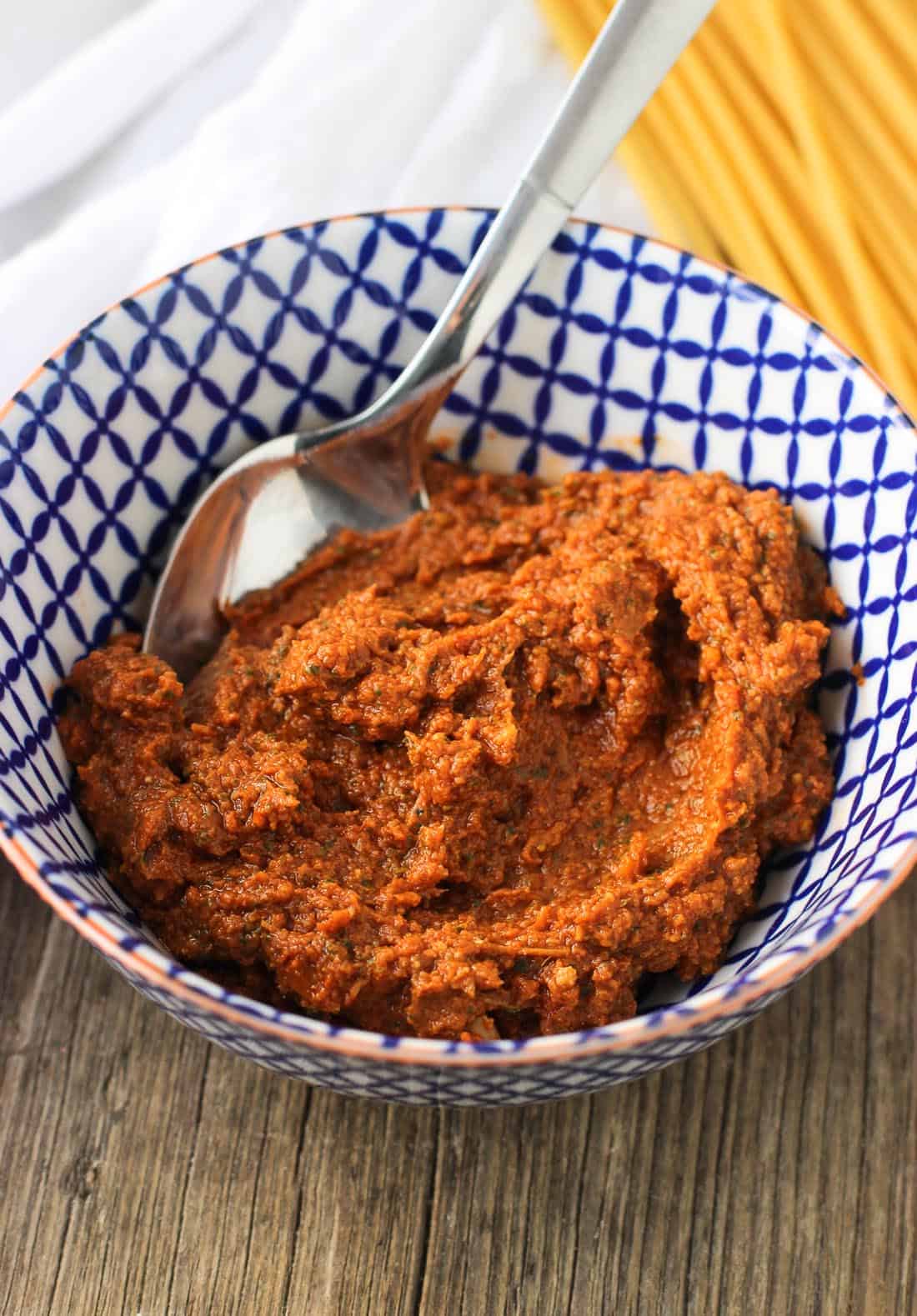 After a ten-year hiatus, I'm deep in the throes of a sun-dried tomato obsession. Why I stopped eating them all those years ago I have no idea, but I'm now making up for precious lost time. I can't seem to eat a salad without them sprinkled on top, and the same goes for quinoa or couscous salads. Can't stop won't stop.
It was only a matter of time before I started working my beloved tomatoes into more of my everyday eats, and thus this artichoke and sun-dried tomato pesto was born. Straight-up basil pesto is an ultimate favorite of mine, but sometimes it's a good idea to try new things, right? Kind of like when I swapped in rosemary in my tomato sauce instead of basil altogether. 👌
While this artichoke and sun-dried tomato pesto does still include a hefty dose of fresh basil, oil-packed sun-dried tomatoes, artichoke hearts, pine nuts, garlic, and olive oil also join the party for a fun take on a classic pasta sauce recipe. See below for some tips on prepping this pesto and some of my favorite variations!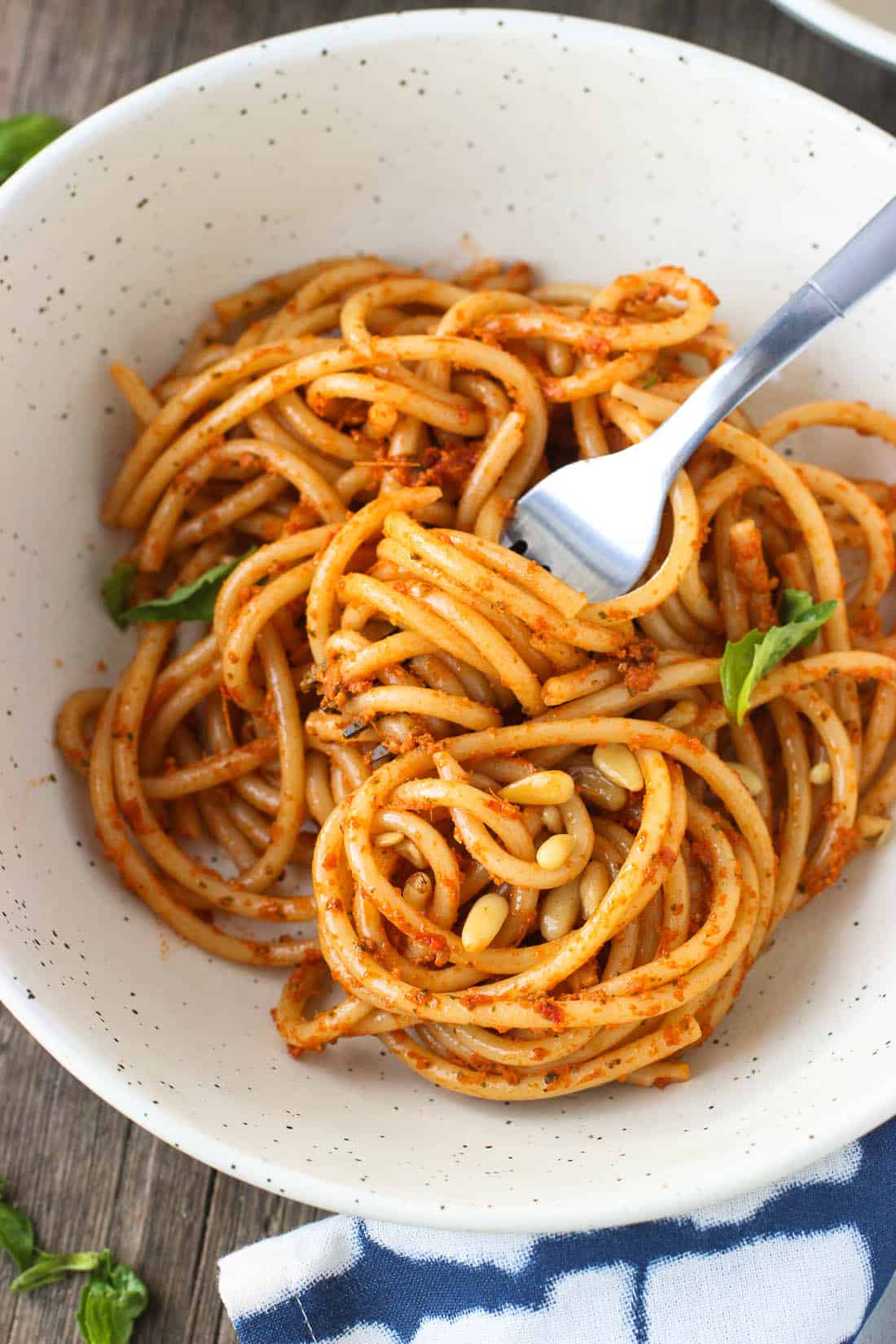 Pesto Tips + Tricks
First things first- the recipe below is customizable. You can def play around with the ingredients to add a little more/a little less to fit your tastes.
If you don't have pine nuts, you can use the same quantity of walnuts no problem.
When preparing this artichoke and sun-dried tomato pesto as a pasta sauce, I like to add a few tablespoons of pasta water to the food processor once the pesto has been prepared and give it another whiz. This thins it out so that it coats a larger batch of pasta.
I used sun-dried tomatoes that have been stored in oil for this recipe. If you're using regular dried tomatoes, steep them in hot water and let them rehydrate before draining and using. You may wish to add additional olive oil if preparing the tomatoes this way to get all that good flavor!
This batch of pesto should coat about one pound of pasta, or less if you like a little pasta with your sauce. 😉
An alternative use that I really enjoy is to keep it thick and use it as a sandwich spread. YUM.
I used my Ninja Master Prep food processor to whiz up this pesto in no time. I've said this time and time again on here, but I'm so impressed with the quality and the blending/ice-crushing ability of this set. Especially when you see how inexpensive it is! The set I linked to is the one I purchased, which features not only a food processor but a multi-blade blender, too!
*this post contains affiliate links
Artichoke and Sun-Dried Tomato Pesto
Ingredients
3/4 cup oil-packed sun-dried tomatoes, drained of oil
1/2 cup quartered artichoke hearts, drained
1/2 cup fresh basil leaves, packed
2 tbsp pine nuts
1 clove garlic, minced
2 tbsp olive oil
1-2 tbsp water, or more (optional to thin pesto)
Instructions
Combine sun-dried tomatoes, artichoke hearts, basil, pine nuts, and minced garlic in the bowl of a food processor and process until everything is roughly combined.
Add oil and process until smooth. If you'd like a thinner sauce, add 1-2 tbsp+ of water or additional oil until the pesto reaches your desired consistency.
Notes
If you don't have or want to use pine nuts, you can use walnuts instead.