This naturally-sweetened strawberry chia jam couldn't be easier! Lightly sweetened with honey and spiced with a touch of cinnamon, this quick jam recipe thickens beautifully for a healthy breakfast spread that's done in under 20 minutes.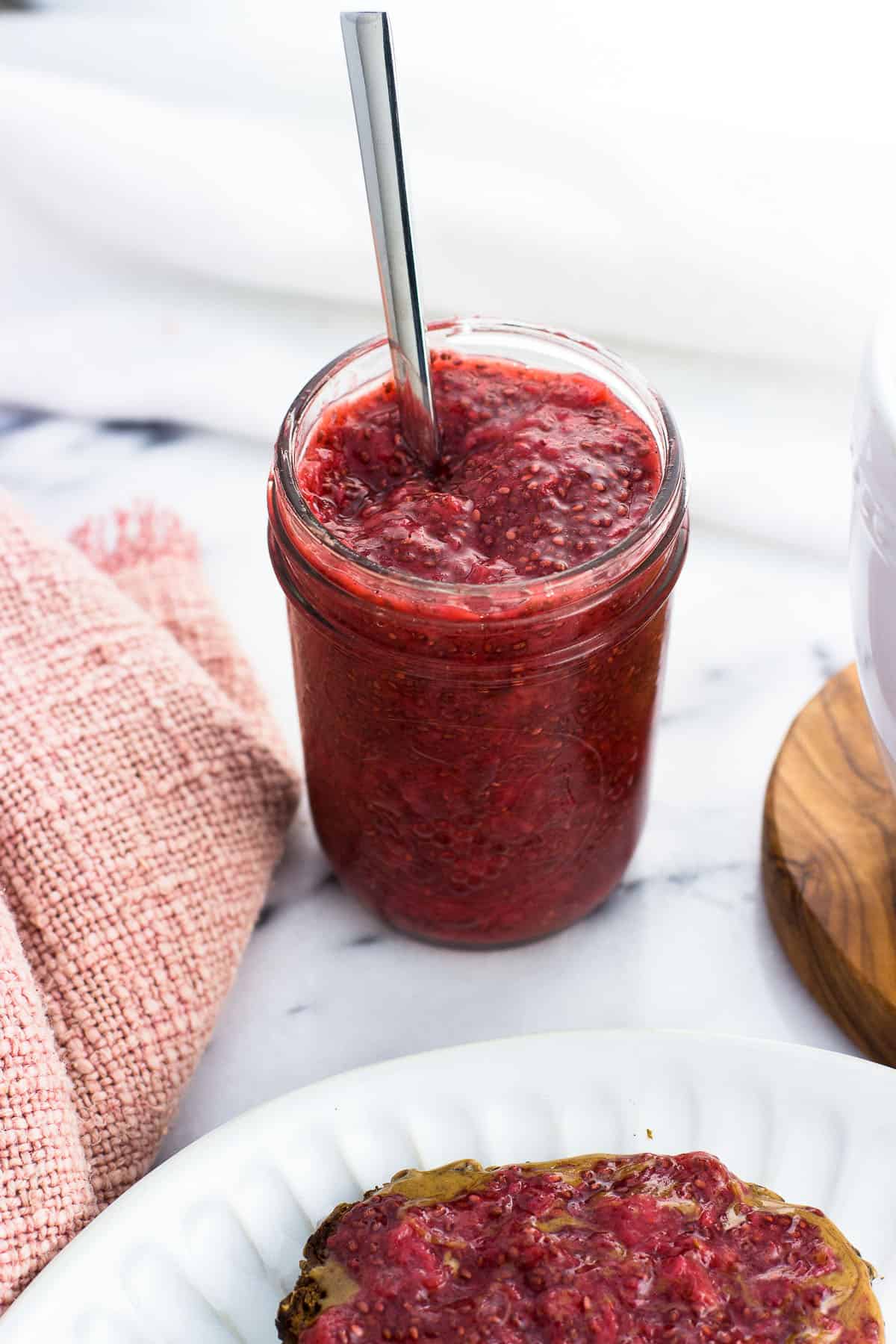 It took me some time to warm up to chia seeds. They sat in my pantry for a month before I worked up the courage to open the bag, probably because I kept hearing how gelatinous they were and, truthfully, that freaked me out.
Strawberry chia jam was one of the first things I made with them and WOW, there was no need to worry. Chia seeds provide a boost of nutrition without impacting flavor, and their gelatinous selves serve an important purpose in achieving a jammy texture without any special ingredients.
While I love making this jam with strawberries, a variety of fruits would work with this recipe framework. Blueberry chia jam is another we're partial to, but raspberries or blackberries would also be great. Even a mix.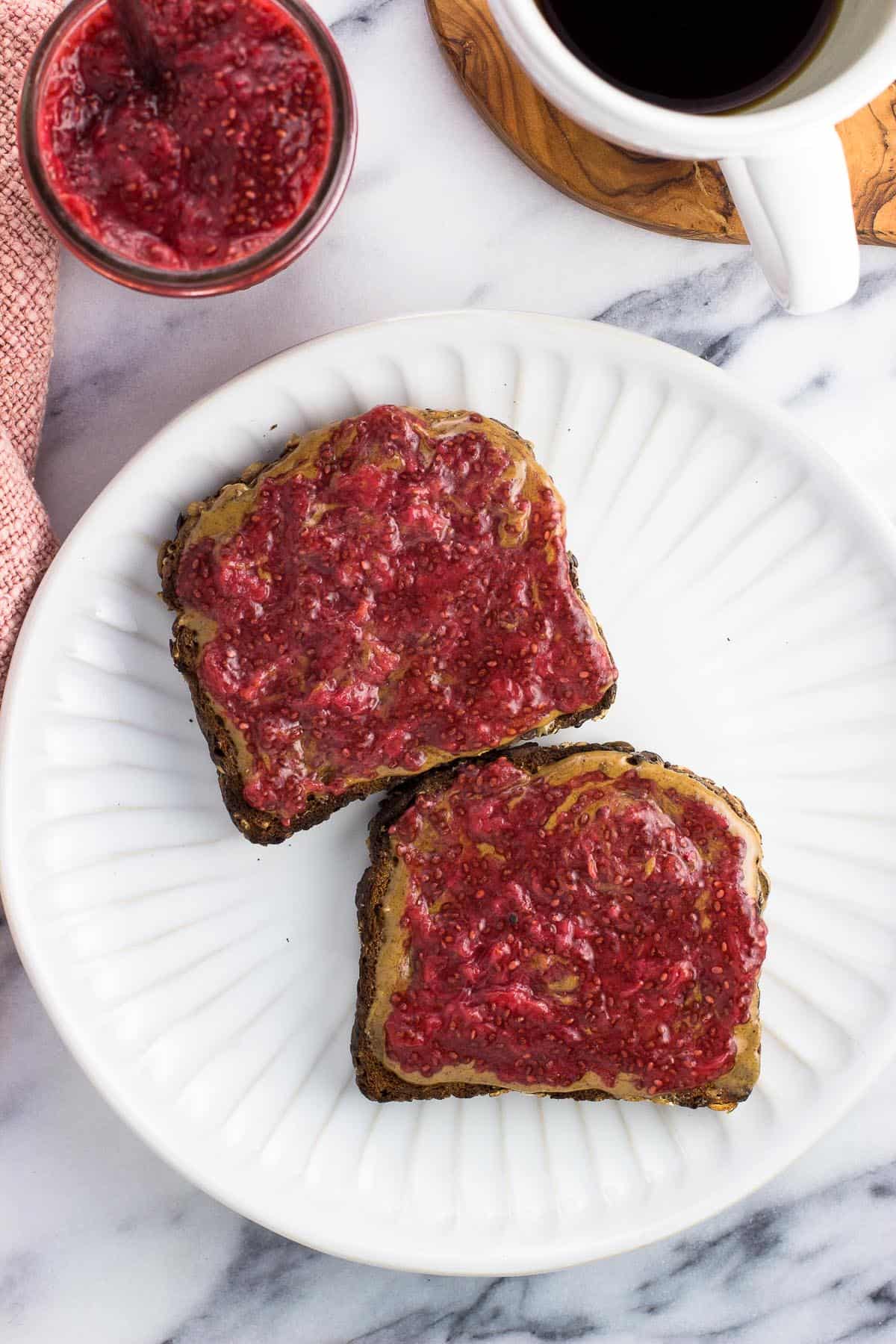 Why This Recipe Works
Chia seeds have big-time absorption abilities and develop a gel-like consistency when combined with liquid. This is why they can produce perfectly thick jams and jellies without tinkering with pectin, sugar, boiling, etc.
While you can make no-cook strawberry chia jam, heating it for a short time helps it thicken even more.
While there are clear benefits to canning jams and jellies, there's no getting around the need for precision, safeguards, and time. Although this recipe is not canning-friendly, it's just right for those wanting to make a fuss-free, quick small-batch jam with a carton of strawberries.
Recipe Ingredients
Chia seeds: These are nutritional super stars. They're packed with fiber, omega-3s, and antioxidants and have a very mild taste so they play well in plenty of recipes (NIH source). While they do become gelatinous once they absorb liquid, they blend in to the texture of jam nicely.
Strawberries: Either fresh or frozen fruit works for strawberry chia jam.
Honey: Adding to the natural sweetness of the strawberries, just one tablespoon of honey brings a hint of flavor, too (though there are substitutions available if you prefer).
Cinnamon: This is totally optional, but I *love* the warm flavor of cinnamon with strawberries. One-quarter teaspoon of ground cinnamon doesn't overwhelm the flavor of the jam, but you can certainly use less or omit entirely if you're not sure.
Step-by-Step Instructions
Start by hulling the strawberries, which is removing the leafy green top and a bit of the white center "core" of each berry. While this is an extra step, the center part isn't as tender and lacks flavor, so removing it boosts the natural strawberry flavor in jam.
Chop up the strawberries into fairly uniform pieces and add them to a small/medium saucepan with the juice from half of a lemon, about two tablespoons. Set the pan on the stove over medium heat.
Wait a few minutes for the strawberries to heat up (a bit more if using frozen berries), then begin to mash everything up with a potato masher.
Continue mashing until the strawberry mixture is mostly smooth without any large pieces, leaving a little texture. Once the mixture begins to bubble around the edges of the pan, cook for one minute more than remove the pan from the heat.
Now with the pan off the heat, add the chia seeds, honey, vanilla extract, and ground cinnamon (if using) and stir to combine well.
Cover the pan and let it sit for 5-10 minutes, or until the strawberry chia jam has begun to thicken. Transfer the jam to the refrigerator to cool completely (it'll thicken up additionally during this dime).
Expert Tips
If you don't have a potato masher, two forks, the top of a meat tenderizer, or even a wooden spoon can work to break down the strawberries.
If you don't have or prefer not to use honey, the liquid sweetener of your choice will work. Some common ones that can be substituted in 1:1 for honey are maple syrup and agave nectar. Either of these would ensure this strawberry chia jam is vegan.
It's important to add the remaining ingredients to the jam when the pan is off the heat as to not dilute their flavors. This is especially important with vanilla extract, as otherwise it would cook out and you'd lose that wonderful flavor. You can see this principle in action with cooked eggnog!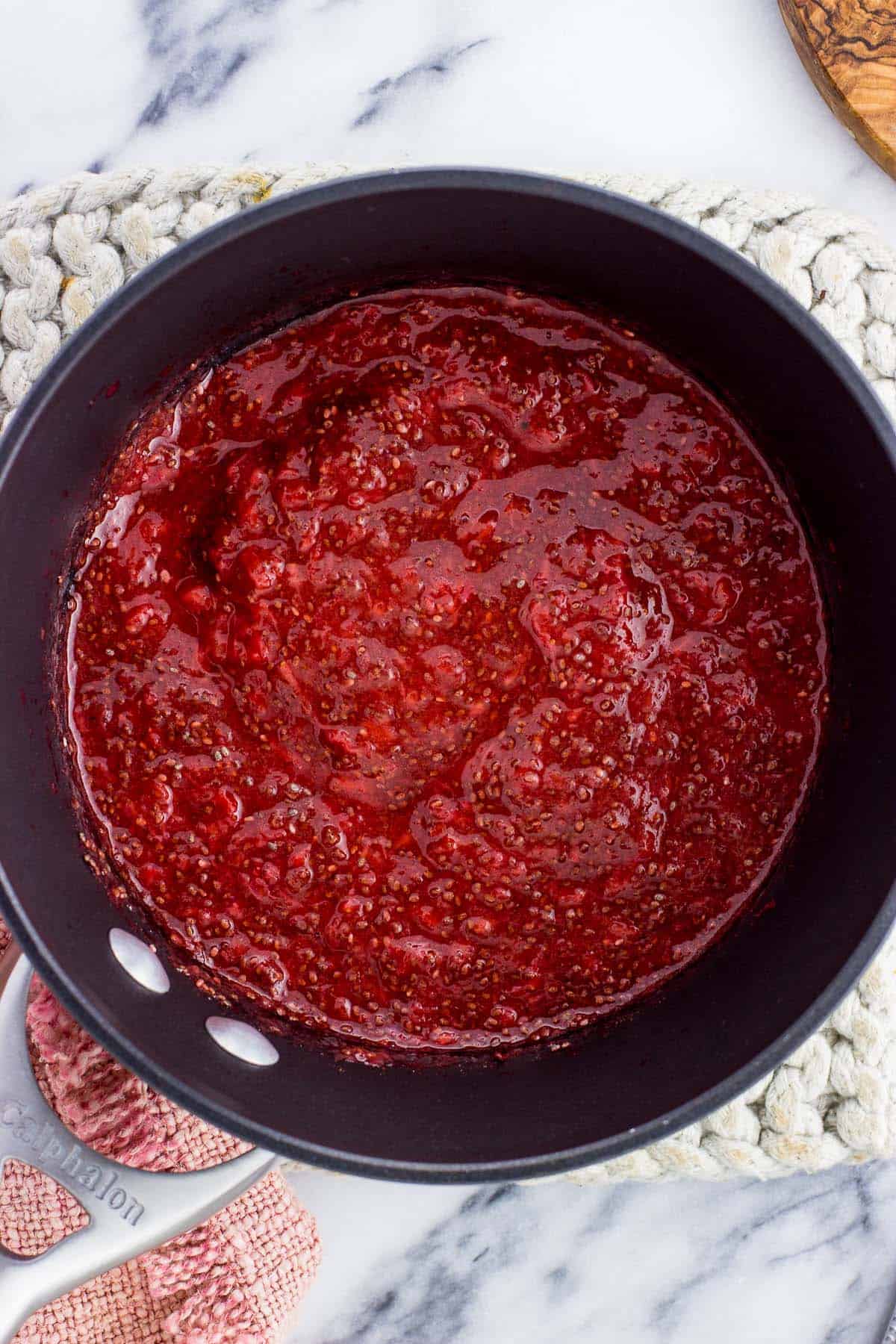 Recipe FAQs
Can I can chia seed jam?
No, do not can this recipe. This is a quick and easy way to make a small batch of jam, and it does not follow any necessary canning protocol. Please keep it refrigerated the entire time.
Do I need to remove the strawberry seeds from jam?
Not from this kind! (Whew.) This strawberry chia jam is already slightly chunky with fruit pieces, and the strawberry seeds blend right in with the chia seeds so the texture isn't off-putting.
What do you eat with chia jam?
Aside from toast, bagels, and other breakfast baked goods, strawberry chia jam works well when stirred into yogurt, blended into a smoothie, or added to baking recipes, such as homemade strawberry pop-tarts or crumb topping jam bars. With whatever you make, just keep in mind that the jam isn't perfectly smooth.
Related Recipes
If you've enjoyed this recipe, I'd love for you to leave a star rating in the recipe card and/or a comment review below!
Easy Strawberry Chia Jam
This naturally-sweetened strawberry chia jam couldn't be easier! Lightly sweetened with honey and spiced with a touch of cinnamon, this quick jam recipe thickens beautifully for a healthy breakfast spread.
Print
Pin
Rate
Servings:
12
(approximately)
Ingredients
1 ½

cups (240g)

strawberries

hulled and chopped

Half of a

lemon,

juice (about 2 tbsp)

2

Tablespoons

chia seeds

1

Tablespoon

honey

¼

teaspoon

vanilla extract

¼

teaspoon

ground cinnamon

optional
Instructions
Place hulled and chopped strawberries and lemon juice in a small saucepan and set over medium heat. Once the berries are heated, mash the fruit (using a potato masher, meat tenderizer, two forks, or wooden spoon) and stir until mixture is begins to bubble around the edges of the pan, around 5-6 minutes. Cook for one minute more.

Remove the saucepan from the heat, then add the chia seeds, honey, vanilla extract, and cinnamon (if using). Stir a few times and then cover the saucepan. Let the jam thicken for 5-10 minutes at room temperature before transferring to the refrigerator to cool/thicken completely. Store leftover jam in an airtight container in the refrigerator for up to two weeks.
Notes
Ingredient Notes
Strawberries: Either fresh or frozen will work for this recipe.
Chia seeds: Black or white chia seeds can be used.
Honey: Maple syrup or agave nectar can be used as a 1:1 substitution for honey.
Recipe Tips
If you don't have a potato masher, a meat tenderizer, a wooden spoon, or two forks can be used to mash and break down the strawberries.
Be sure to add the vanilla extract and other remaining ingredients while the pan is off the heat, as you don't want the vanilla flavor to cook out and diminish.
Safety information: This recipe is not suitable for canning.
Storage: Store this jam in the refrigerator at all times. It will stay for up to two weeks.
Yield: This recipe yields approximately 1 ½ cups of jam in total. Each serving is estimated to be about two tablespoons.
Nutrition
Serving:
2
tablespoon
|
Calories:
24
kcal
|
Carbohydrates:
4.1
g
|
Protein:
0.5
g
|
Fat:
0.8
g
|
Saturated Fat:
0.1
g
|
Sodium:
1
mg
|
Potassium:
43
mg
|
Fiber:
1.3
g
|
Sugar:
2.5
g
|
Calcium:
19
mg
Nutritional information is provided as an estimate. As it can vary due to many factors (brands used, quantities, etc.), we cannot guarantee its accuracy.
Food Safety and Nutrition Disclaimer