Strawberry drinking vinegar with balsamic is a fruity, refreshing way to drink apple cider vinegar without any 'burn'. Fresh strawberries, lime juice, coconut water, and apple cider and balsamic vinegars make up this naturally-sweetened drink.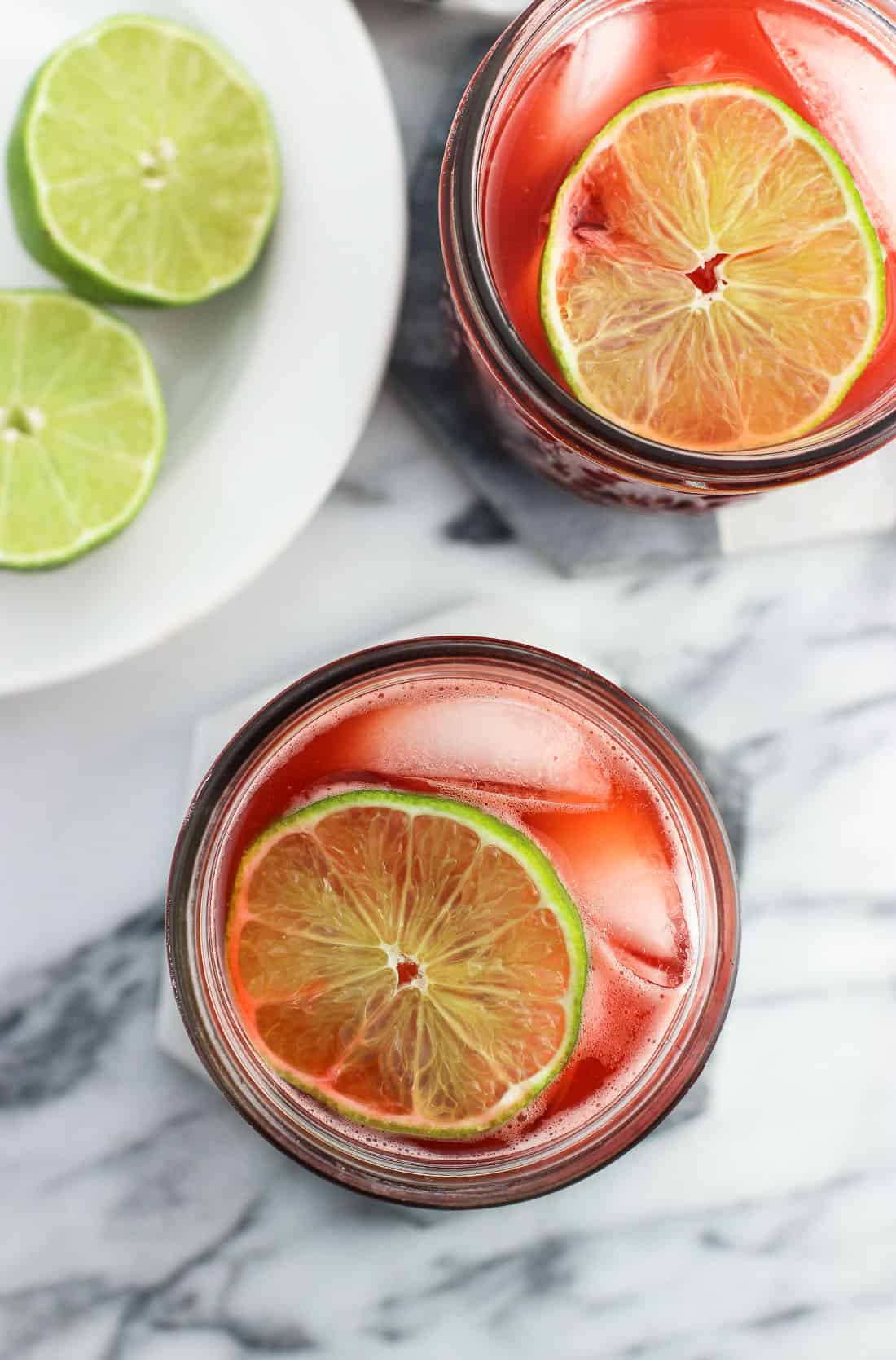 I'm a big fan of mixing a tablespoon of apple cider vinegar ('with the mother') into one of my daily glasses of water, but it's not the most aesthetically pleasing looking beverage out there. Not going to lie, Brian thought something was going wrong with our pipes the first time he peeped my ACV/water drink. But! With the warm weather approaching, I figured it was high time to revamp my daily drink into a company-worthy, fruity sipper. This strawberry drinking vinegar with balsamic is a refreshing, naturally-sweetened drink that features fresh strawberries, coconut water, and freshly squeezed lime juice in addition to two kinds of vinegar – good ol' apple cider vinegar and balsamic vinegar to impart that balsamic flavor I love so much.
Now I didn't get this idea allll by myself. There's a store-bought juice company out there that offers bottled strawberry drinking vinegar with balsamic for a pretty penny. But a glance at the ingredients gave me the confidence that with just a few modifications, this $3 bottle of goodness could pretty easily be made at home.
After doing some research, it looks like the textbook definition of a 'drinking vinegar' or 'shrub' involves a vinegar-based syrup, so this strawberry drinking vinegar recipe isn't super authentic. But what it does have going for it is simplicity, in which all of the ingredients are just stirred together and then ready to be enjoyed over ice. Just consider it a cheater's drinking vinegar. 🙂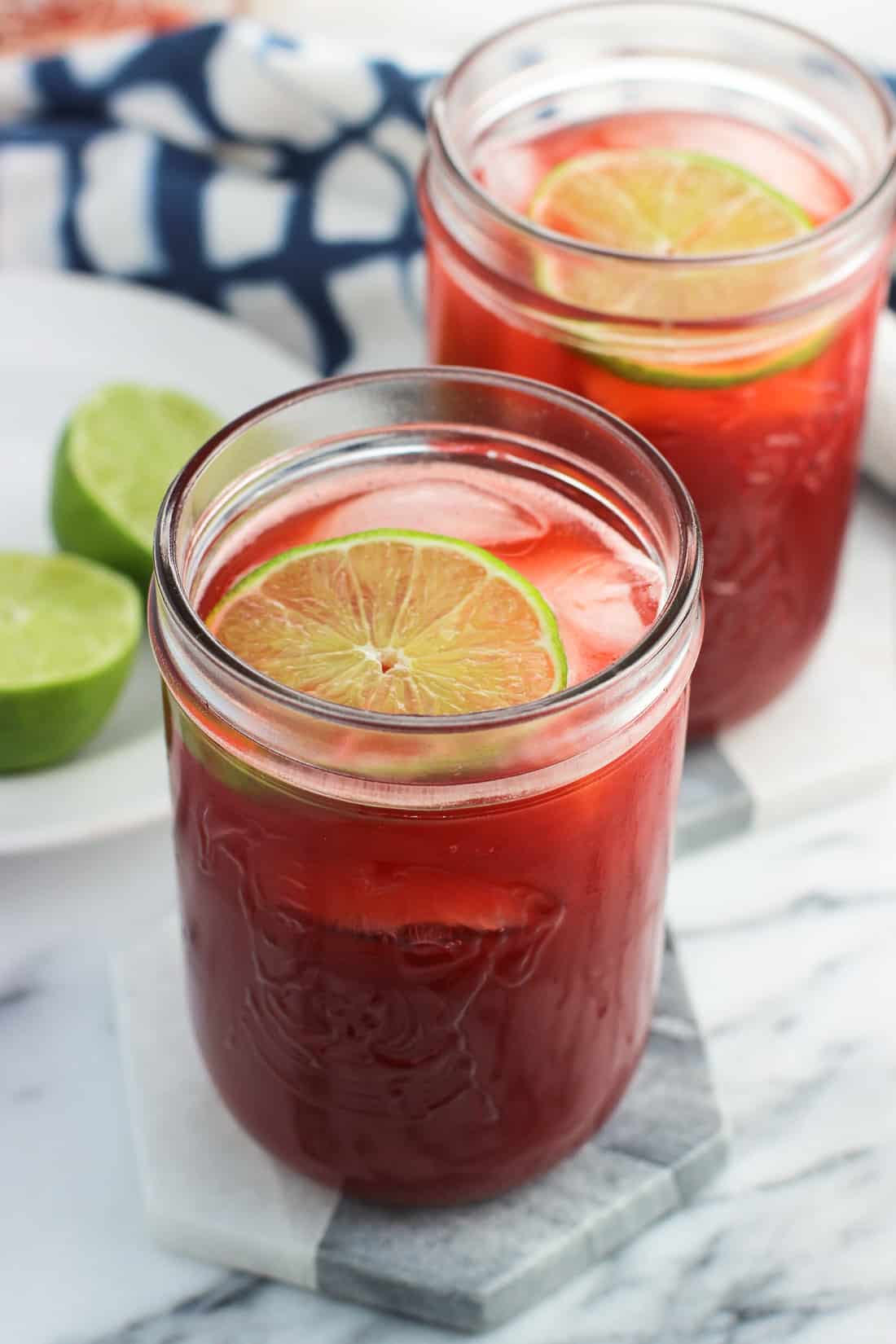 You'll get a big, bold strawberry flavor in this strawberry drinking vinegar, which I found to add all the sweetness you need. Using a juicer would make extremely quick work of pureeing/deseeding the strawberries, but if you don't have one, you can blend the strawberries and then pour/push the strawberry puree through a sieve to remove out the seeds. I've also read that very finely slicing off the exteriors of the strawberries with a paring knife will also do the trick, but I've yet to try that way. Use your preferred method to get a thin but ultra-flavored strawberry juice.
That's the tough part, as all that's left is to stir together the other ingredients and sip away. Different than my store-bought inspiration is the addition of coconut water. I'll be honest and say that I'm not a huge fan of the taste or texture of coconut water by itself. However I've found it's a great mixer into other drink recipes as it provides extra nutrients like potassium and magnesium, and acts as a natural electrolyte replenisher. I used 100% no-sugar-added coconut water in this recipe.
If you're new to adding vinegars to your beverages, including fruit juices such as strawberry and lime is an excellent primer. With the quantities below, you'll taste the vinegars without experiencing much 'burn' at all. I suggest mixing up everything but the vinegars at first, and then added them a little at a time until you reach your preferred flavor.

Strawberry Drinking Vinegar with Balsamic
Ingredients
16 oz carton of strawberries, tops cut off
1 cup coconut water
Juice from half a lime (about 2 tbsp)
2 tbsp apple cider vinegar
1 tbsp plus 2 tsp balsamic vinegar
Instructions
Add strawberries to a blender and puree until very smooth.
Pour strawberry puree through a strainer to separate out the juice. I ended up with about 1 1/4 cups of thin juice.
Stir together juice with coconut water, lime juice, and vinegars and store in the refrigerator.
This strawberry drinking vinegar isn't the first time I've mixed up strawberries and balsamic vinegar. These
strawberry balsamic baked brie bites
 make a fantastic, simple appetizer for entertaining. The fruity sweetness contrasts the tartness of the vinegar for a wholly satisfying recipe. Plus I mean…there's also puff pastry. ♥