Chugga chugga, chugga chugga – I'm taking the "empty your cabinets and throw it all in" theme and rolling with it. These loaded oatmeal cookies are chock full of coconut flakes, raisins, and double the chips – white chocolate and butterscotch. The result is a very chewy, kind of sweet, kind of spiced, perfect specimen of a cookie. And one that sneaks in 50% whole wheat at that.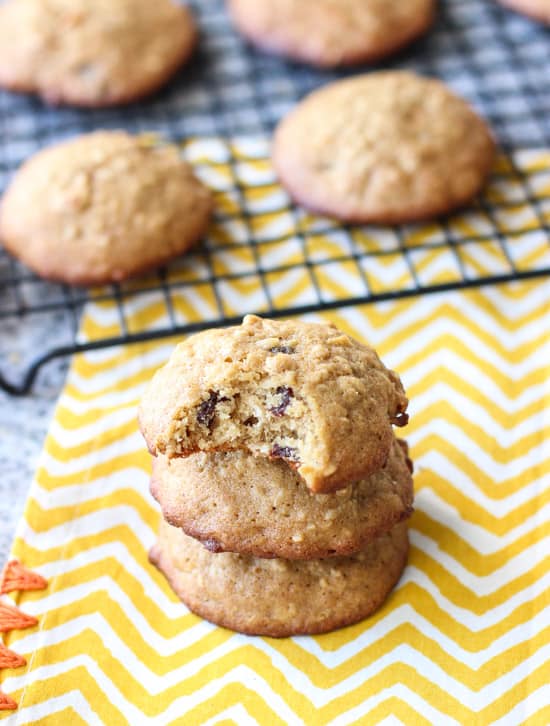 But before we go there, let's talk about ground-breaking kitchen developments. You may have sneaked a peek if you follow me on Instagram, but I bought my very first crockpot! Hooooly smokes – how in the world have I not had one?!!? For the inaugural voyage we kept things simple and threw in boneless skinless chicken breasts and homemade BBQ sauce. Yes yes yes. I know I'm probably preaching to the choir here, but it shredded SO easily and was the juiciest. Blew. our. minds.
I'm a little bummed these cookies can't be made in the crockpot, because I want to use it for everythingggg.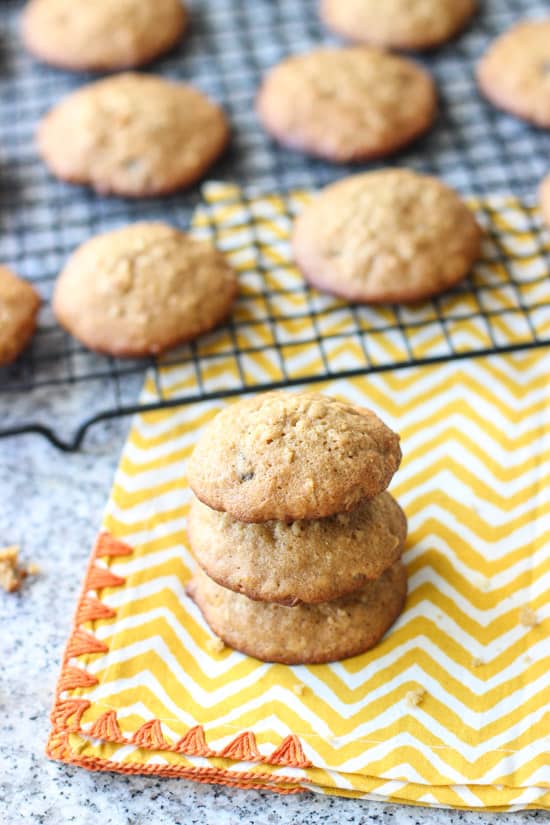 As I type this I have a stupid grin on my face thinking about these cookies (okay, and the massive quantity of shredded chicken sitting in my fridge/freezer). Sometimes I'll be at a gathering and hone in on a tray of decadent, delicious looking cookies. I'll eat half that tray, my stomach says. Then I finish one and realize just how heavy they are – how buttery, how rich, etc. More often than not I tap out after one, feeling like I housed a huge dessert. While tasty, that's not my favorite feeling ever.
Yes, these cookies use butter and sugar, but some tweaks were made along the way to make sure you don't feel like you over-indulged when you really indulged just enough. Responsible indulging. Instead of adding granulated sugar to the mix along with brown sugar, honey and maple syrup are added for a tad extra sweetness and flavor. Then I subbed in half white whole wheat flour (<3) and totally got away with it. These cookies aren't dry in the slightest, and with all of the chewy coconut and mix ins, your sneaky little flour switcheroo flies under the radar.
Way, way under the radar.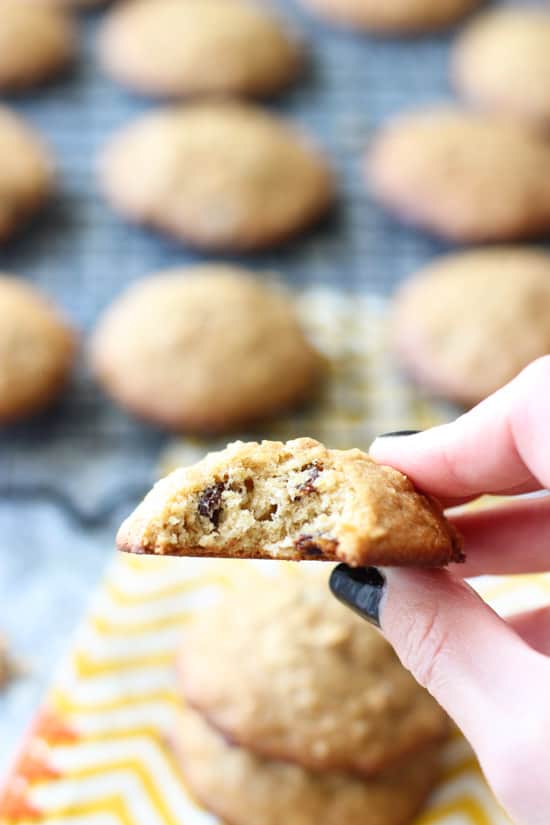 Psst – can I confess something?? Besides the fact that I couldn't wait to take that bite out of that cookie above? As I get more and more interested in food photography, I get really anxious about hand shots. I don't have a tripod, and that's my right hand (withthethankfullynotchippednailpolish). Do you want to know how I took the picture? It involved a combination of resting the swing-out display screen on my chest, bear hugging the camera with my left arm under the lens so that any finger on my left hand could push the button, and praying my pretzel arms stay still so the picture isn't blurry. It's really an attractive pose, if you're wondering.
So why am I being so weird? My left thumb is a little bit…different. Now I'm thankful to have the fully functioning thumb I was born with, but do you remember those horrible, trashy articles a few years back bashing Megan Fox for her thumbs? Laaaaame, I know…but my left thumb looks like her thumbs. Except it's just my left thumb. My right thumb is more "conventional looking" (haha!), so that's the thumb that gets the on-camera time. Crazy poses and all. #foodbloggerproblems
That's enough food blog TMI for this Tuesday, but hope you got a laugh envisioning a twisted up pretzel of a person trying to take a picture of a cookie in front of an open window. I'm sure my neighbors love me. 😀 Check out the "good" thumb's modeling debut with this guacamole with feta, pistachios, and pomegranate seeds!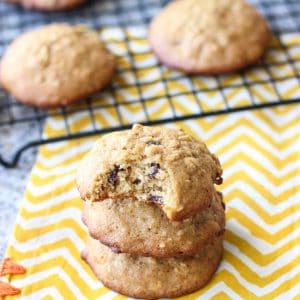 Ingredients
1

stick unsalted butter

softened

1/2

cup

brown sugar

2

tbsp

maple syrup

2

tbsp

honey

2

eggs

1 1/2

tsp

vanilla extract

1/2

cup

all-purpose flour

1/2

cup

white whole wheat flour

1/4

tsp

baking soda

1/4

tsp

baking powder

1/4

tsp

salt

1/4

tsp

ground cinnamon

3/4

cup

old-fashioned oats

1/4

cup

raisins

1/4

cup

unsweetened coconut flakes

1/4

cup

white chocolate chips

1/4

cup

butterscotch chips
Instructions
Preheat oven to 350°F. In a large bowl, beat softened butter, brown sugar, maple syrup, and honey on medium speed. Add eggs and vanilla extract, and continue to beat until all ingredients are well-mixed and batter is creamy.

In a separate bowl, whisk together flours, baking soda, baking powder, salt, and cinnamon. Add dry ingredients into wet at once, and stir until just combined. Stir in oats, raisins, coconut flakes, and chips just until mixed.

Using a cookie scoop or a spoon, scoop dough into approximately 1 1/2-tbsp rounded cookies and place on ungreased cookie sheets, about 2" apart. Bake for 11-13 minutes, or until edges have browned slightly and the tops have turned slightly golden. Let cookies cool completely on wire rack.
Nutritional information is provided as an estimate. As it can vary due to many factors (brands used, quantities, etc.), we cannot guarantee its accuracy.