This turmeric coconut basmati rice is a flavorful rice side dish recipe that's easy to make! Garlic, ginger, and onion are sautéed and cooked with basmati rice and turmeric in a coconut milk/water mixture for a creamy dish, and topped with chopped fresh basil for serving.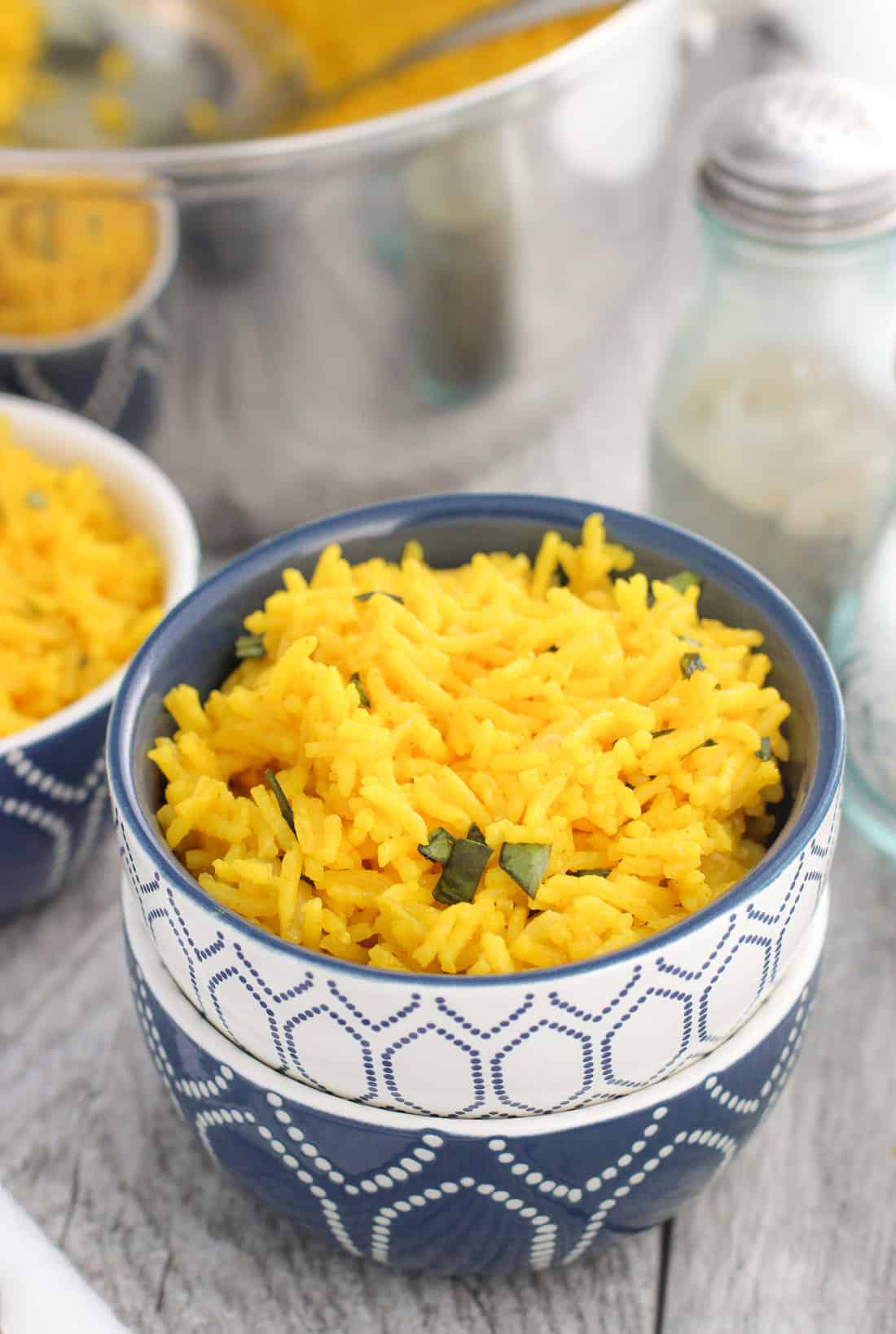 Sometimes I jump right in when it comes to trying new ingredients (well, new to me ingredients at least), and sometimes I get there a bit slower. Take chia seeds, for instance. I worked up the courage to buy a bag last summer, and promptly shoved it in the cabinets for a few weeks. Maybe it was the fact that they get huge when they're in contact with liquid that freaked me out? I envisioned something like that I Love Lucy episode where the expanding bread loaf in the oven pins her against the other side of the kitchen, or the Strega Nona book about Big Anthony and the magic pasta pot taking over the town.
Sometimes my worries get out of hand.
Anyway, my strawberry chia seed jam didn't engulf the kitchen (and actually turned out quite nicely) and all my chia fears went away.
And now we have turmeric. So orange! So many supposed health benefits! But what does it taste like! After a few weeks of sitting idle in my spice cabinet, it got put to work in this turmeric coconut basmati rice and now it's joined the ranks of garlic powder, dried basil, and co. in my spice rotation.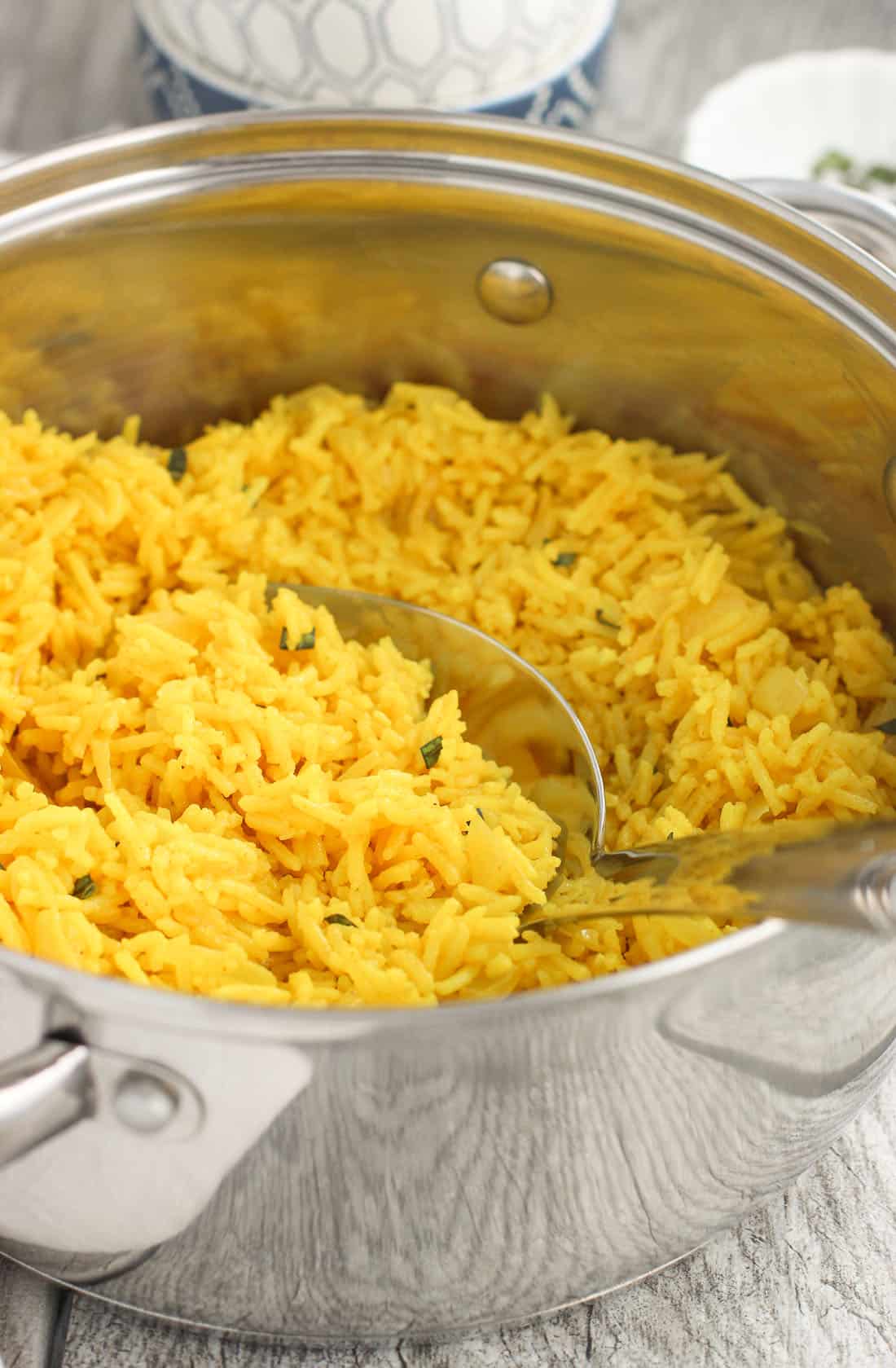 Brian's mom makes a coconut basmati rice that we ate during our visit over the holidays, and ever since I've had a vague coconut/creamy rice craving that I just can't shake. What better way to satisfy that than to call home and ask for the recipe? 🙂 This turmeric coconut basmati rice is a take on its inspiration, and includes onion, freshly grated ginger, minced garlic, and fresh basil leaves along with basmati rice cooked in a lite coconut milk and water combination.
I added ground turmeric to the mix and instantly it turned an unremarkable looking rice dish (as rice tends to be) into a warm and bright YELLOW rice. Very bright. And we loved it! I always have a can or two of coconut milk hanging around, and with this dish not taking that long to make, I'm anticipating this turmeric coconut basmati rice will be gracing our table with regularity from now on.
Now I guess I need to find my next new-to-me ingredient to be suspicious of for a little bit!
**UPDATE** If you're looking for a lower calorie/low-carb version of this rice, check out my Ginger Turmeric Cauliflower Rice!

Turmeric Coconut Basmati Rice
Yield:
6 side dish servings
Ingredients
1 1/2 tbsp olive oil
1/2 onion, diced
3 cloves garlic, minced
1 tbsp fresh grated ginger
1/2 tsp salt
1 cup basmati rice, rinsed and drained
1 1/2 tsp ground turmeric
7 oz lite coconut milk
1 1/4 cup water
Chopped fresh basil leaves, for serving
Instructions
In a medium saucepan, heat olive oil over medium heat. Add diced onion, minced garlic, grated ginger, and salt and stir. Cook for about 5-7 minutes, occasionally stirring, or until onions have become golden and soft, but haven't yet browned.
Add the rice and turmeric to the saucepan and stir until evenly combined. Let rice cook for just a few minutes, stirring frequently, and then add coconut milk and water. Stir to combine, and then raise heat to let liquid come to a boil.
Once boiling, reduce the heat to the lowest setting and cover the saucepan. Let rice cook for about 15-18 minutes, or until all of the liquid has been absorbed. Fluff the rice with a fork and stir in chopped fresh basil for serving.
Notes
Rinsing the basmati rice before cooking it helps it fluff up while cooking.

You can use regular coconut milk and not lite if you prefer.
P.S…
If you're into these flavors, you may also like Coconut Turmeric Quinoa with Cashews!