Achieve tender-crisp sauteed green beans with no blanching required in this easy recipe. Five simple ingredients come together with bold garlic flavor in this family favorite side dish.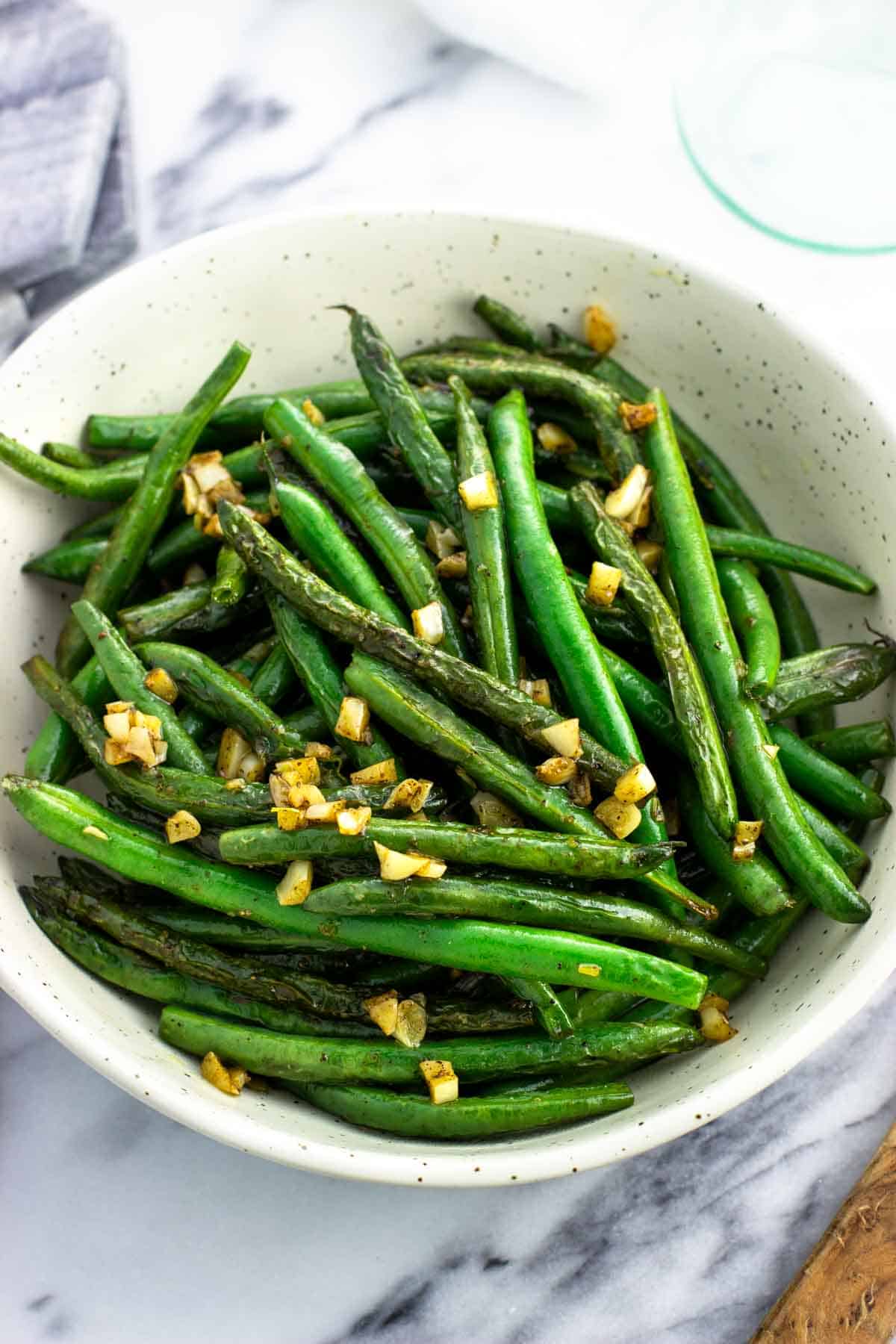 In my opinion there are very few vegetable side dish recipes that couldn't be improved upon by adding (lots of) garlic. Sauteed green beans are no exception.
Essentially a zhush of how my mom has prepared green beans for years, this easy fresh green bean recipe features bold garlic flavor and achieves tender-yet-crisp green beans in little time. It makes a wonderful pairing for a variety of main dish cuisines.
Why This Recipe Works
Using a lower stovetop temperature helps the green beans become roasty on the outside while softening just enough on the inside and retaining a bite. This way (versus higher heat methods) prevents against the green beans burning before becoming fork tender.
And speaking of, allowing an adequate, lower heat saute time with a covered pan means that there's no blanching required.
Chopping the garlic cloves into larger pieces and adding them at the end of the cook time allows them to reach golden sauteed status without the stress of smaller pressed/minced pieces burning quickly.
Recipe Ingredients
Green beans: For a time-saver some bagged fresh green beans come already trimmed. Fresh is recommend but see my tips below if you'd rather use or only have frozen.
Garlic: Five chopped garlic cloves provides a nice hit of garlic flavor, but you can use less (or hey - more!) if you prefer. Be sure to chop the garlic and not mince or press it.
Spices: Kosher salt and pepper keep things simple, but you can add whichever dried seasonings you like here.
Step-by-Step Instructions
This recipe for sauteed green beans benefits by prepping the ingredients before you begin cooking. That way in the heat of the moment you're not trying to speed peel five cloves of garlic with one hand while stirring the beans with the other.
Wash and trim the green beans if they aren't already. Line up a batch of green beans next to one another and slice off the very top bit, where the stem is. Discard that part and you're all set. Nothing needs to be trimmed from the other end.
Next chop the garlic. Do not finely mince or press the garlic cloves for this recipe as the tiny garlic pieces are likely to burn too quickly. We want larger chunks so they're hold up to a little longer cook time. Aim for the pieces to be a little smaller than pea-sized or between one-quarter and one-eighth inch wide, to provide nice bursts of flavor.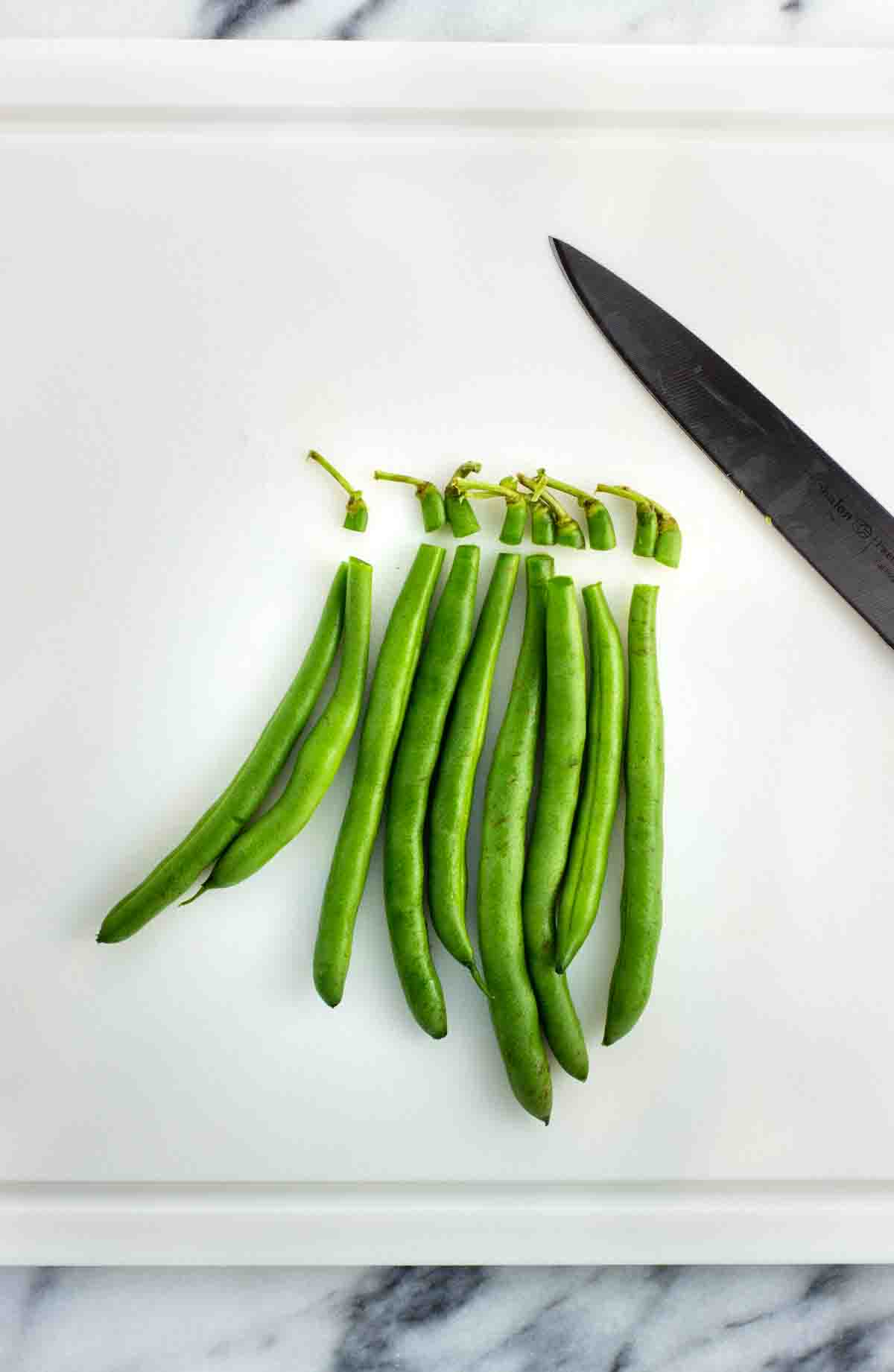 Add one-and-a-half tablespoons of olive oil to a large pan (the one I use has a 12-inch diameter). Set the pan over medium-low heat and wait for the oil to heat up. Then add the trimmed green beans and stir to coat them in the oil. Season with salt and pepper, then arrange them in a single layer as best you can. Cover the pan to retain the steam to help them cook through.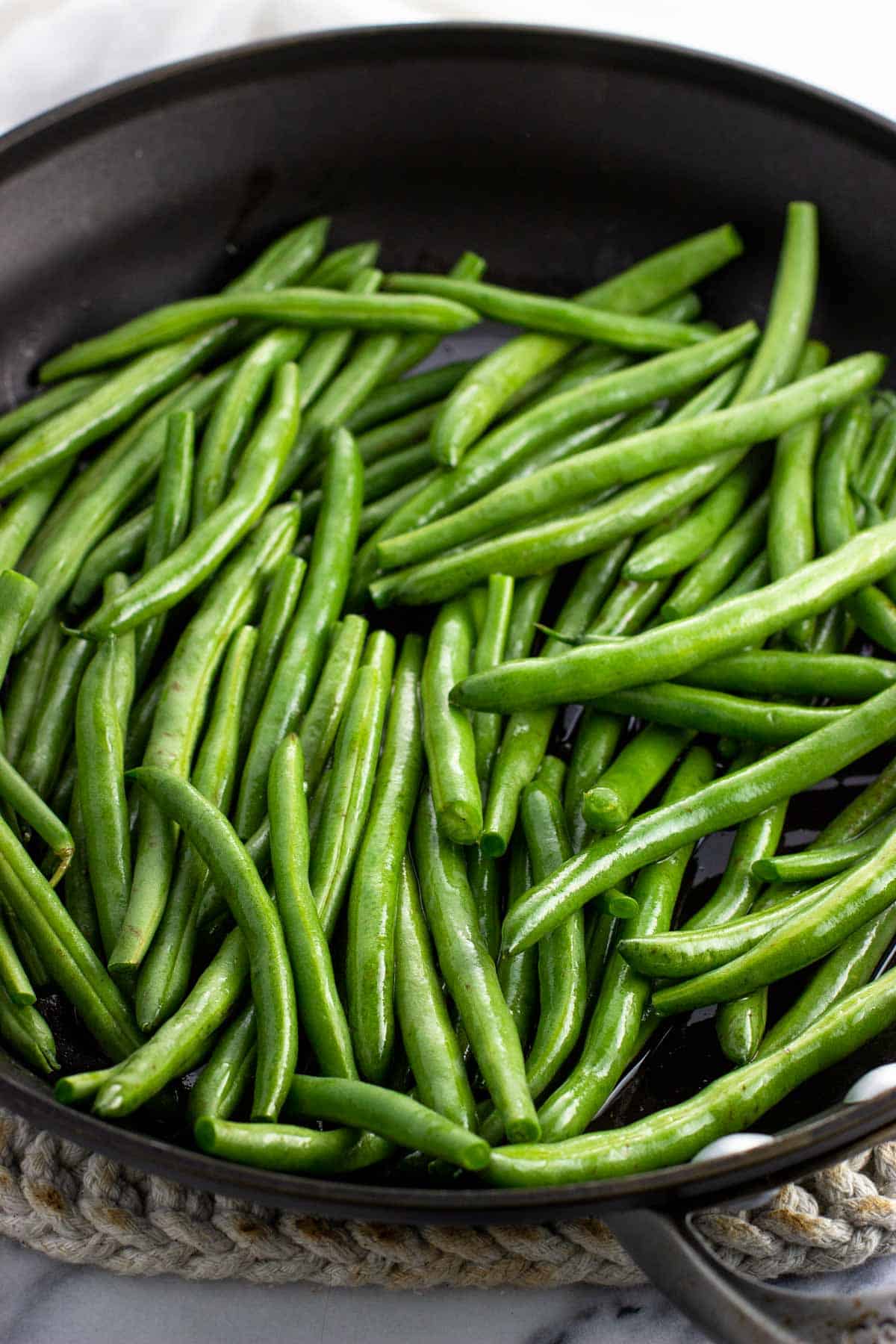 Let the green beans saute for 11-12 minutes, lifting the lid and stirring them up pretty often so all of the green beans get a chance to cook evenly. You'll notice some green beans beginning to turn blistered and a little charred, which is a good thing as that brings lots of flavor.
Once the green beans are just a few minutes from being done, make a small well in the center of the pan and add the chopped garlic. Drizzle the remaining half-tablespoon of olive oil over top of the garlic and let it cook undisturbed for 30 seconds to a minute. Then stir everything together to evenly distribute the garlic throughout the green beans.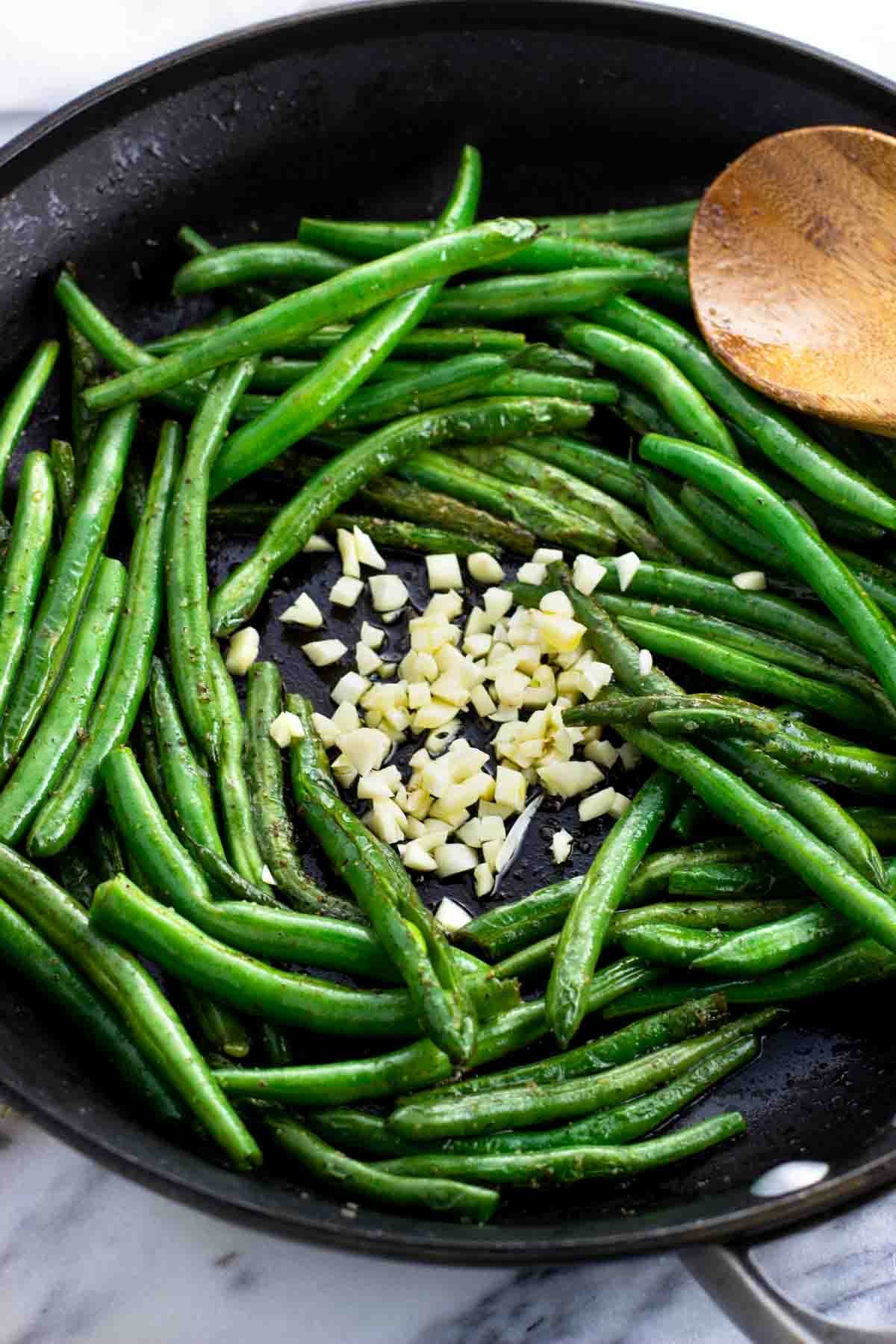 Saute these garlic green beans for another 1 to 2 minutes, or until they're as tender as you like them. Serve right away.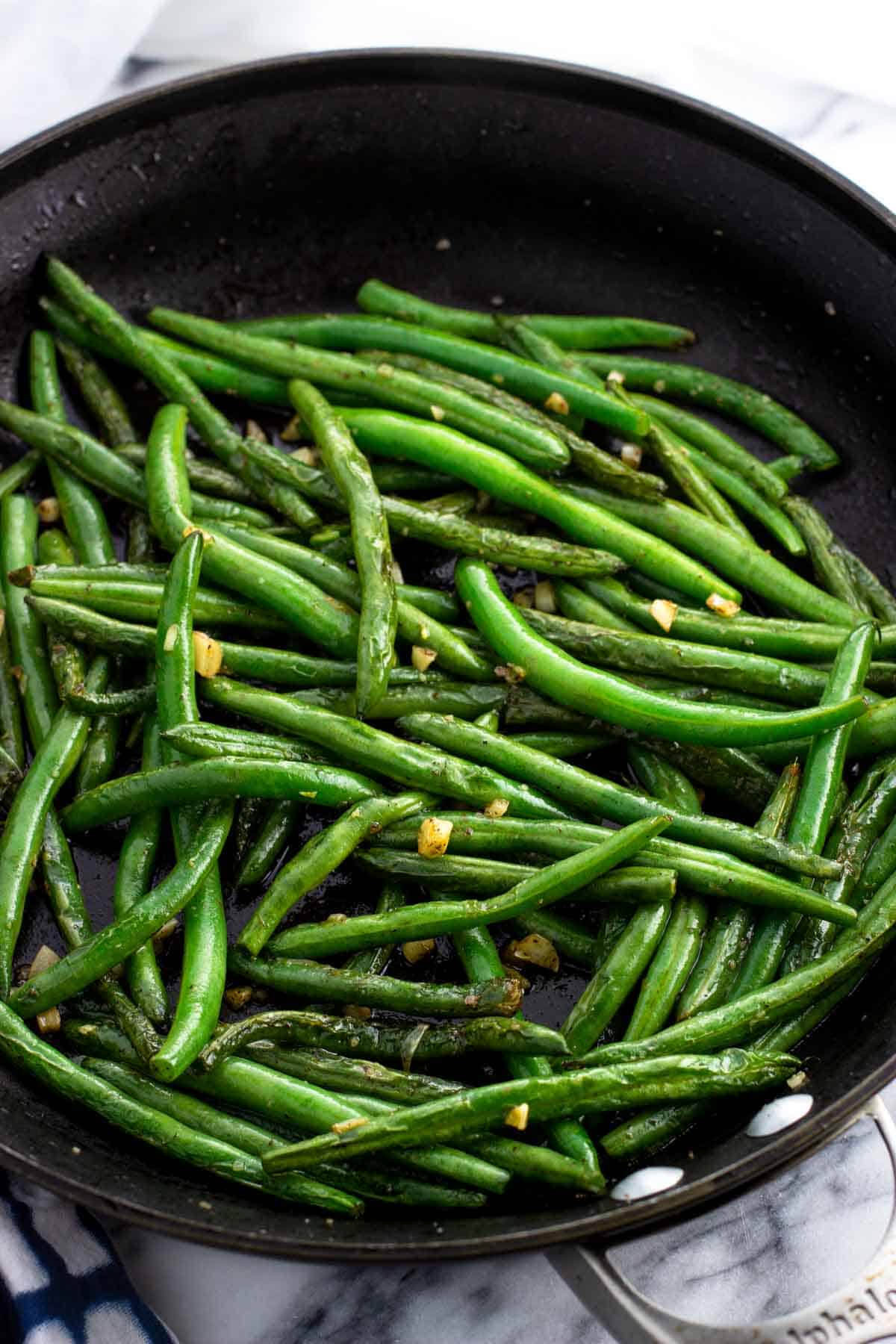 Recipe Tip
If you like very tender green beans with just a little crunch, extend the 11-12 minute saute time until the green beans reach your desired consistency. Once the garlic is added to the pan you only have another minute or two remaining before you should get it off the heat (so the garlic doesn't burn).
Serving Suggestions
Meatloaf is a classic green bean pairing, and these garlic green beans pair so well with the flavors of balsamic meatloaf. This glaze is everything.
Green beans are a mainstay on many barbecue restaurant menus. While these beans have more of a crunch than their slower cooked counterparts, they'd still make a mean side dish to a slow cooker pulled pork sandwich.
Air Fryer chicken tenders are a family favorite (along with these sauteed green beans).
Recipe FAQs
Can you use frozen green beans instead of fresh?
Fresh green beans will provide the most crisp-tender feel, but frozen green beans can also work. I recommend transferring them in the refrigerator or placing them in a colander and running cool water over them to thaw them before using in the recipe. Either way you do it, be sure to blot them very well to remove as much excess moisture as you can. Though even with blotting, be aware previously-frozen beans will be a bit soggier than fresh.
Do you have to blanch fresh green beans before cooking?
While par-boiling green beans is useful for some recipes, the lower temperature, covered pan, and the slightly longer cook time for this garlic sauteed green beans recipe means that it's not necessary here.
What spices go well with green beans?
Beyond salt and pepper, a little heat in the form of ground cayenne or chipotle chili pepper work very well on green beans. Other options are adding onion powder or an Italian seasoning blends.
Related Recipes
If you've enjoyed this recipe, I'd love for you to leave a star rating in the recipe card and/or a comment review below!
Garlic Sauteed Green Beans
Achieve tender-crisp sauteed green beans with no blanching required in this easy recipe. Five simple ingredients come together with bold garlic flavor in this family favorite side dish.
Print
Pin
Rate
Ingredients
2

Tablespoons

olive oil

divided

1

lb

fresh green beans

trimmed

½

teaspoon

kosher salt

or to taste

¼

teaspoon

ground black pepper

or to taste

5

cloves

garlic

larger-chopped (see note)
Instructions
Heat 1 ½ Tablespoons of olive oil in a large pan over low-medium heat. Once heated, add the trimmed green beans and give everything a big stir to coat the green beans evenly. Sprinkle in the salt and pepper and stir, arranging the green beans in as even a single layer as possible.

Cover the pan and saute for 11-12 minutes, stirring frequently to cook the green beans evenly.

After 11-12 minutes, make a space in the center of the green beans and add the chopped garlic. Drizzle the remaining ½-Tablespoon of olive oil over top of the garlic and let it cook undisturbed for 30-45 seconds. Then stir everything up and saute for another 1-2 minutes, or until the green beans are tender to your liking.
Notes
Ingredient Notes
Green beans: To save some time some bags of fresh green beans come already trimmed. Fresh is recommended for the best crisp-tender texture, but if you don't mind softer green beans, frozen can work. Thaw in the refrigerator (or place under a stream of cool water to thaw) before using and blot the beans very well to remove as much extra water and moisture from them as you can.
Garlic: Five cloves provides a serious garlic flavor. If you're not as big of a fan you can certainly add less.
Recipe Tips
Trimming green beans: Lay green beans flat on a cutting board with the ends that have the small stem nub facing the same way. Slice off the very stem end and discard. You don't have to trim the other side.
Chopping garlic: Chop the garlic cloves into small pieces between one-eighth and one-quarter inch wide, or a bit smaller than a pea.
If you like green beans that are on the more tender side, saute them longer than the 11-12 minutes listed in that recipe step. Keep stirring while you cook them until they're just about where you like them. Once you add the garlic your cook time is limited as you don't want the garlic pieces to burn.
Nutrition
Calories:
101
kcal
|
Carbohydrates:
9.3
g
|
Protein:
2.3
g
|
Fat:
7.2
g
|
Saturated Fat:
1
g
|
Sodium:
147
mg
|
Potassium:
252
mg
|
Fiber:
3.9
g
|
Sugar:
1.6
g
|
Calcium:
49
mg
|
Iron:
1
mg
Nutritional information is provided as an estimate. As it can vary due to many factors (brands used, quantities, etc.), we cannot guarantee its accuracy.
Food Safety and Nutrition Disclaimer