Sesame cashew brittle is a fun take on a classic candy and perfect for gifting! Cashews are covered in a crunchy (but not 'break-your-teeth' crunchy) caramelized sugar mixture and topped with toasted sesame seeds for an amazing sweet and savory dessert.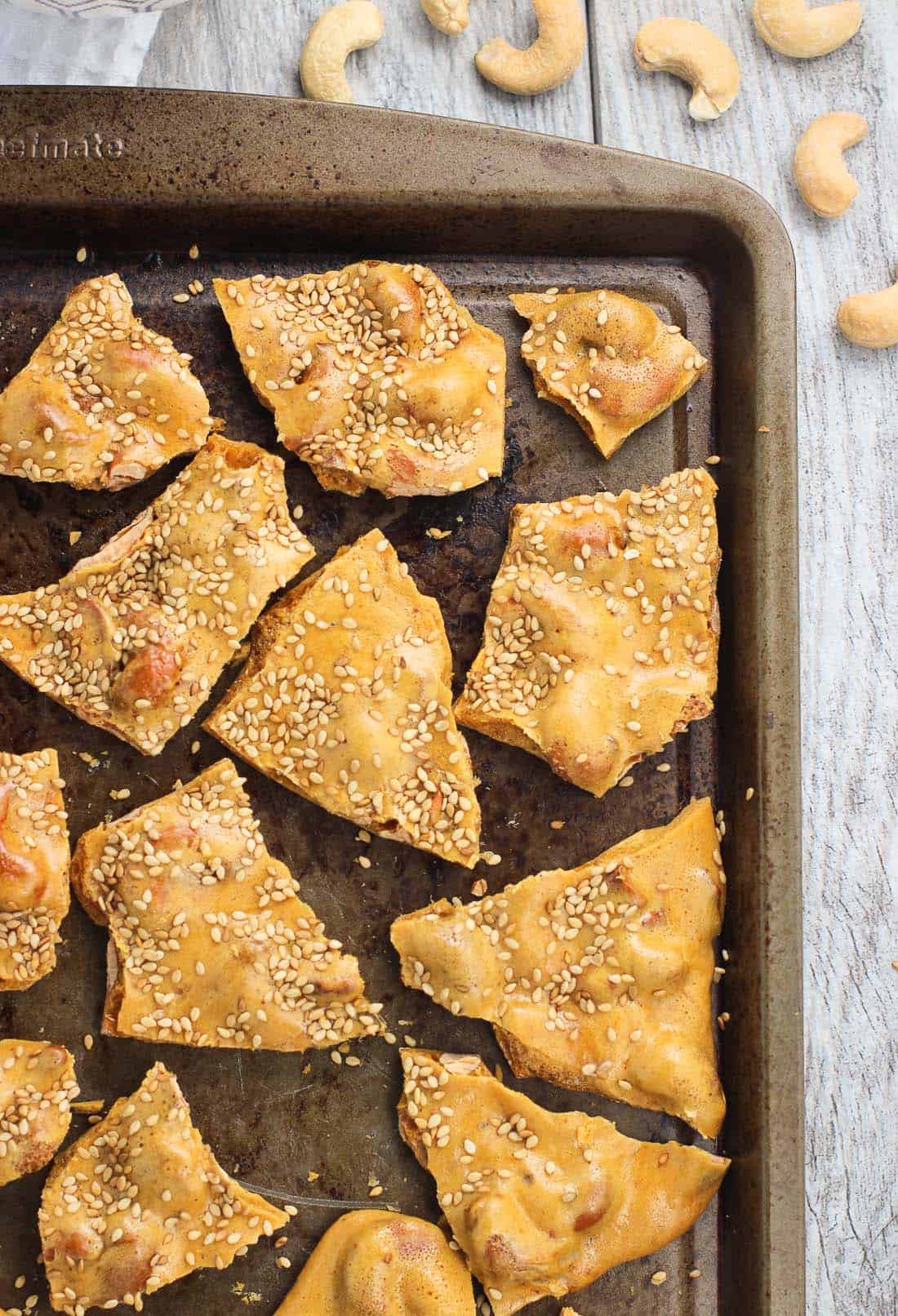 Well, we've made it! Christmas week is heeeeereeeee (I said that in an Oprah voice in my head). I've got my fingers crossed that the few days of work I have this week go by quickly, the weather holds up for our big drive up to the northeast, and that I won't forget something important in the freezer…like I did last year.
The one benefit of last year's mishap was that Brian and I enjoyed slices of Christmas Tree Rainbow Cookie Cake well into 2015. Still, that was a small consolation for snuggling into bed on Christmas Eve and realizing the dessert I was so excited to bring to Christmas was frozen and 750+ miles away. Ooof. This year I'm not taking any chances. This sesame cashew brittle is sitting smack in the middle of my kitchen counter and will be making its way into the car. Barring someone has a secret snack attack in the middle of the night or something equally game-changing.
Of course I eat candy on occasion (especially homemade candy), but I sometimes get a little anxiety when it comes to actually making candy. Not quick stuff like three-ingredient s'mores cups, but the kind that has you breaking out the candy thermometer. The steps moves quickly, so you need to have all of your ingredients portioned out and ready to go from the onset, and precision is key in getting the intended result - taste, consistency, bite, etc. It's definitely a hands-on, full-attention kind of recipe.
I've been dabbling in homemade marshmallows (uhh chocolate irish cream marshmallows? ♥♥) for a little while now, so I figured it was time to branch out with brittle. Especially in time for the holidays. This sesame cashew brittle is packed with nuts and has the best crisp caramelized sugar coating. I have a thing for sesame cashews, so adding toasted sesame seeds to this brittle was a must to get that sweet + savory flavor twist. Hooooooly smokes guys, it's looking like brittle's gonna be a year round treat! Sorry/not sorry about that.
For starters you'll add the sugars, corn syrup, salt, and water together in a saucepan, but I highly recommend having the rest of your ingredients (cashews/softened butter/vanilla extract/baking soda/sesame seeds) portioned out and ready to roll before you even turn the stovetop on. Kind of like a cooking show where everything is prepped beforehand, except narrating the process aloud is optional. 🙂
It'll take a little bit of time for the sugar mixture to heat to 250 degrees F, but once it does it seems to rise much quicker, hitting 300 degrees before you know it. At that point you want to immediately take the pot off the heat and add in the butter, vanilla extract, and baking soda and stir stir stir as quickly as you can. Then all that's left is to (again, quickly) pour the brittle mixture onto the warmed baking sheet (see note about that in the recipe notes below), taking care to pour it in a zig zag manner to form a roughly-rectangular shape. Obviously I took liberties with my 'rectangle'. 😉
The more you spread and manipulate the brittle with a spatula or spoon after it's been poured onto the sheet, the greater the odds that you'll take away from the fabulously airy and crisp texture the baking soda helps form in the mixture. Pouring the brittle in a back-and-forth manner helps to lay the brittle in a mostly even layer in the first place (vs. the hardened sesame cashew lump you might get if you pour it all in the center). While that mostly did the trick, I stretched the brittle by holding the edges of the pan and slightly tilting it in the desired directions to slowly even out the brittle layer without disturbing the texture.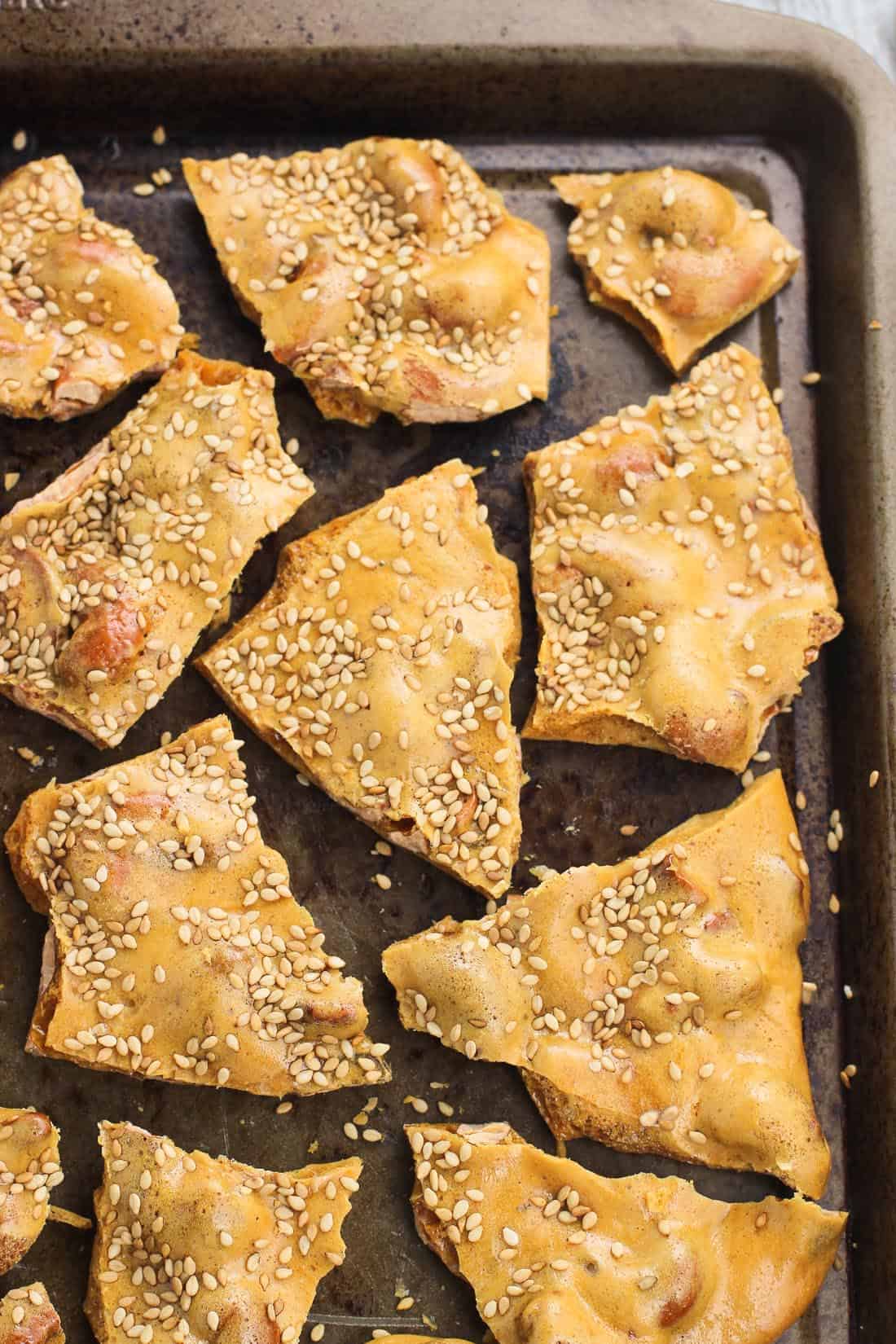 I'll say that letting the sesame cashew brittle cool and harden completely is one of the tougher parts of this whole shebang, because spending time standing over the saucepan and inhaling the aroma as the brittle cooks makes it hard to hold off any longer. But please do! Because the end result is a crunchy, richly-flavored candy chock full of cashews with a savory sesame twist that is well worth the delayed gratification. 🙂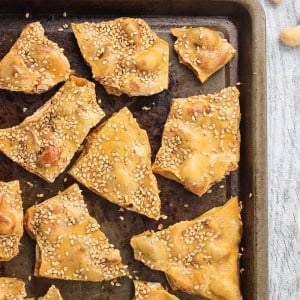 Sesame Cashew Brittle
Sesame cashew brittle is a fun take on a classic candy and perfect for gifting! Cashews are covered in a crunchy (but not 'break-your-teeth' crunchy) caramelized sugar mixture and topped with toasted sesame seeds for an amazing sweet and savory dessert.
Print
Pin
Rate
Ingredients
½

cup

brown sugar

½

cup

granulated sugar

½

cup

light corn syrup

¼

teaspoon

salt

¼

cup

water

1 ½

cups

cashews

2

tablespoon

unsalted butter,

softened

1

teaspoon

vanilla extract

1

teaspoon

baking soda

1 ½

tablespoon

toasted sesame seeds
Instructions
Grease a large baking sheet and set aside in a warm place (*see note).

In a saucepan (about 2 qt.), add brown sugar, granulated sugar, light corn syrup, salt, and water. Stir to combine. Also at this time I recommend portioning out your cashews, butter, vanilla extract, and baking soda into small containers so you can quickly add them later on during time-sensitive parts of the recipe.

Place the saucepan with the sugar mixture over medium heat and stir until the sugars dissolve. Add a candy thermometer to the saucepan and allow mixture to cook as the temperature rises, stirring often to ensure it doesn't burn. Once the mixture reaches 250 degrees F, add the cashews and stir frequently to evenly mix them in. Let cook until mixture just reaches 300 degrees F, stirring frequently so the cashews to do not burn.

Once at 300 degrees F, immediately remove saucepan from the heat and stir in softened butter, vanilla extract, and baking soda. The color of the brittle will lighten and a lighter, airier texture will develop.

Pour mixture in an even layer onto greased baking sheet, slowly 'drizzling' brittle in a zig-zag pattern over sheet to allow it to fall in a mostly even, cohesive layer. Once all brittle has been added, hold the sides of the baking sheet and gradually tilt the sheet so the brittle can slowly spread out and form a roughly rectangular shape. While warm, sprinkle sesame seeds over top of brittle and carefully press to adhere.

Let sesame cashew brittle cool on the baking sheet completely before breaking into pieces.
Notes
To help the brittle maintain a malleable consistency for enough time to be laid in a thin-ish layer, I warmed my greased baking sheet in the oven as I was cooking the brittle on the stovetop. To do this, I heated the oven to 200 degrees F at the very start of the recipe. Once it hit 200 I shut the oven off and placed the baking sheet inside the now-off but still warm oven. I kept it in there until I needed it, and was happy with how warm it was.
The cook time for this recipe may vary depending on your stove, so it's important to follow your thermometer when it hits 250 and 300 for continuing with the next steps. I have an electric stove and I suspect it took my brittle a little longer to cook than others judging by the cook time estimates I've seen on other brittle recipes.
Adapted from allrecipes
Nutrition
Serving:
1
piece
|
Calories:
127
kcal
|
Carbohydrates:
18
g
|
Protein:
1.7
g
|
Fat:
6.3
g
|
Saturated Fat:
1.7
g
|
Cholesterol:
3
mg
|
Sodium:
34
mg
|
Potassium:
66
mg
|
Fiber:
0.4
g
|
Sugar:
11.1
g
|
Calcium:
10
mg
|
Iron:
0.7
mg
Nutritional information is provided as an estimate. As it can vary due to many factors (brands used, quantities, etc.), we cannot guarantee its accuracy.
Food Safety and Nutrition Disclaimer