Baked ricotta is packed with Italian flavor and becomes a unique appetizer for anytime, but especially holidays. This warm spread features simple steps, can be made ahead, and is delicious served with crostini and vegetables.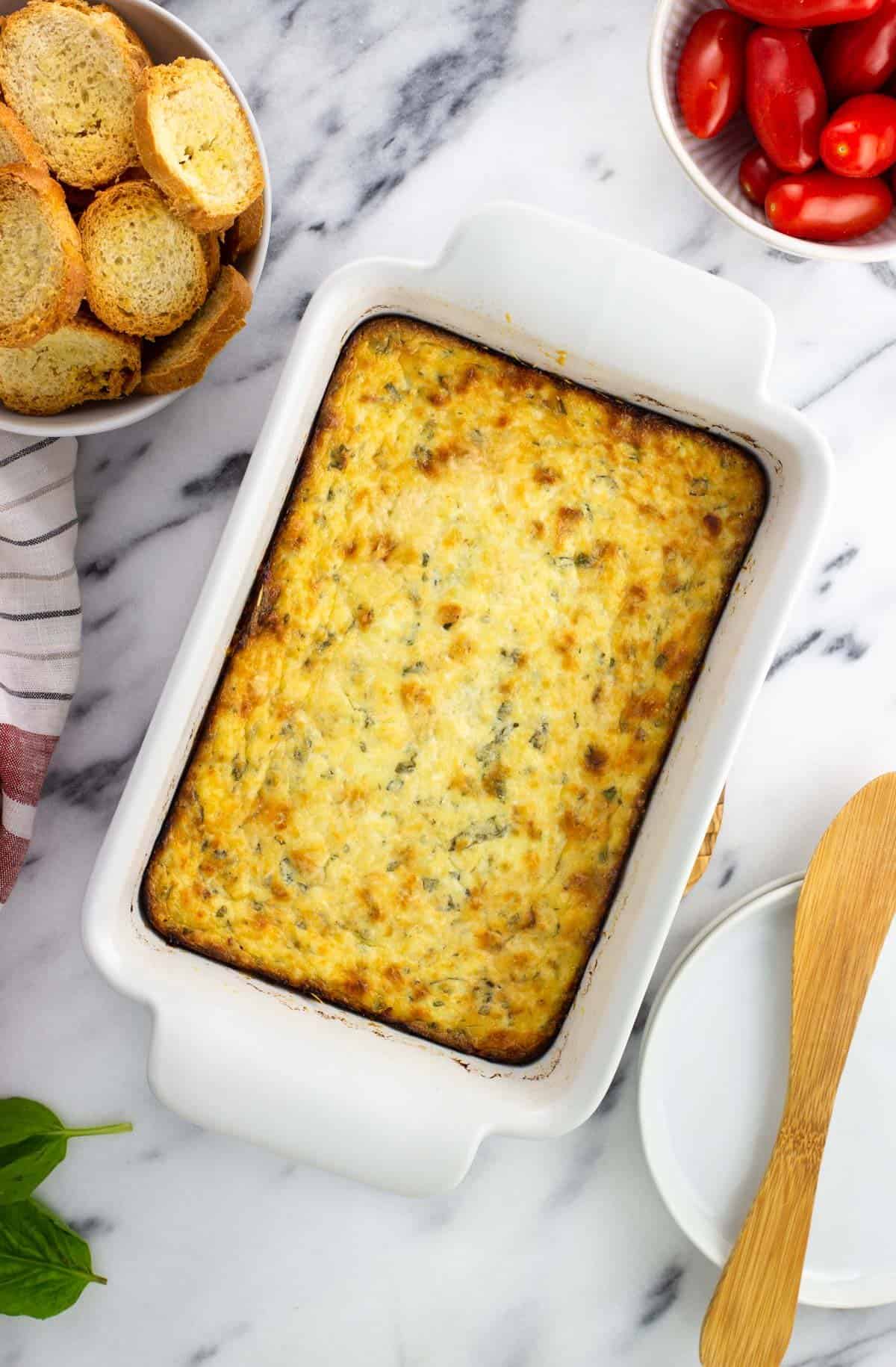 Thick and flavorful baked dips, some of which are so thick they should more aptly be called "spreads", are some of my favorite holiday appetizers to make and eat. Baked clam dip comes to mind, a perennial Christmas Eve favorite.
Faced with a glut of leftover ricotta (the horror), I first made a smaller-scale version of this baked ricotta to, quite honestly, see what would happen. While ricotta is creamy out of the container, it doesn't melt when heated and I was curious to see how ricotta's texture would transform when baked in this manner.
Combined with egg, Parmesan, and a variety of flavorings, what results is a cohesive, scoop-and-spreadable appetizer fitting for everyday or holiday dinner parties alike.
Reasons to Love This Recipe
Not really a dip, ricotta becomes its own delicious thing (spreadable, puffed up and browned) when baked with egg and Parmesan. It's an entirely new way to enjoy ricotta cheese.
Ricotta by itself isn't exactly a flavor powerhouse. With sautéed onion and garlic, Parmesan, fresh herbs, and spices in this recipe, there's no worry that your baked ricotta will be bland.
This is a great choice to prep ahead of a party, simply baking just prior to serving.
It's easy to mix and match herbs, spices, cheeses, and add-ins to use up what you have on hand.
Recipe Ingredients
Ricotta: Use a high-quality whole milk ricotta, though if you're able to find fresh ricotta that would be a great option. Do not use part-skim as it will lack pizzazz.
Parmesan: I highly recommend grating your own wedge of Parmesan, if able. My second choice would be tubs of grated Parmesan or Pecorino Romano found in the deli section of the supermarket. Do not use a a shelf-stable canister of Parmesan as you will miss a lot of flavor.
Egg: This works to bind the ingredients together and helps the baked ricotta puff up when cooked.
Onion, Garlic, and Olive Oil: Is there anything this trio can't do? These are big for flavor.
Herbs: Fresh parsley and basil are best in baked ricotta, though you can sub in a smaller quantity of dried herbs if that's what you have.
Step-by-Step Instructions
Saute the onion in olive oil until golden, then add the garlic and cook for one minute more.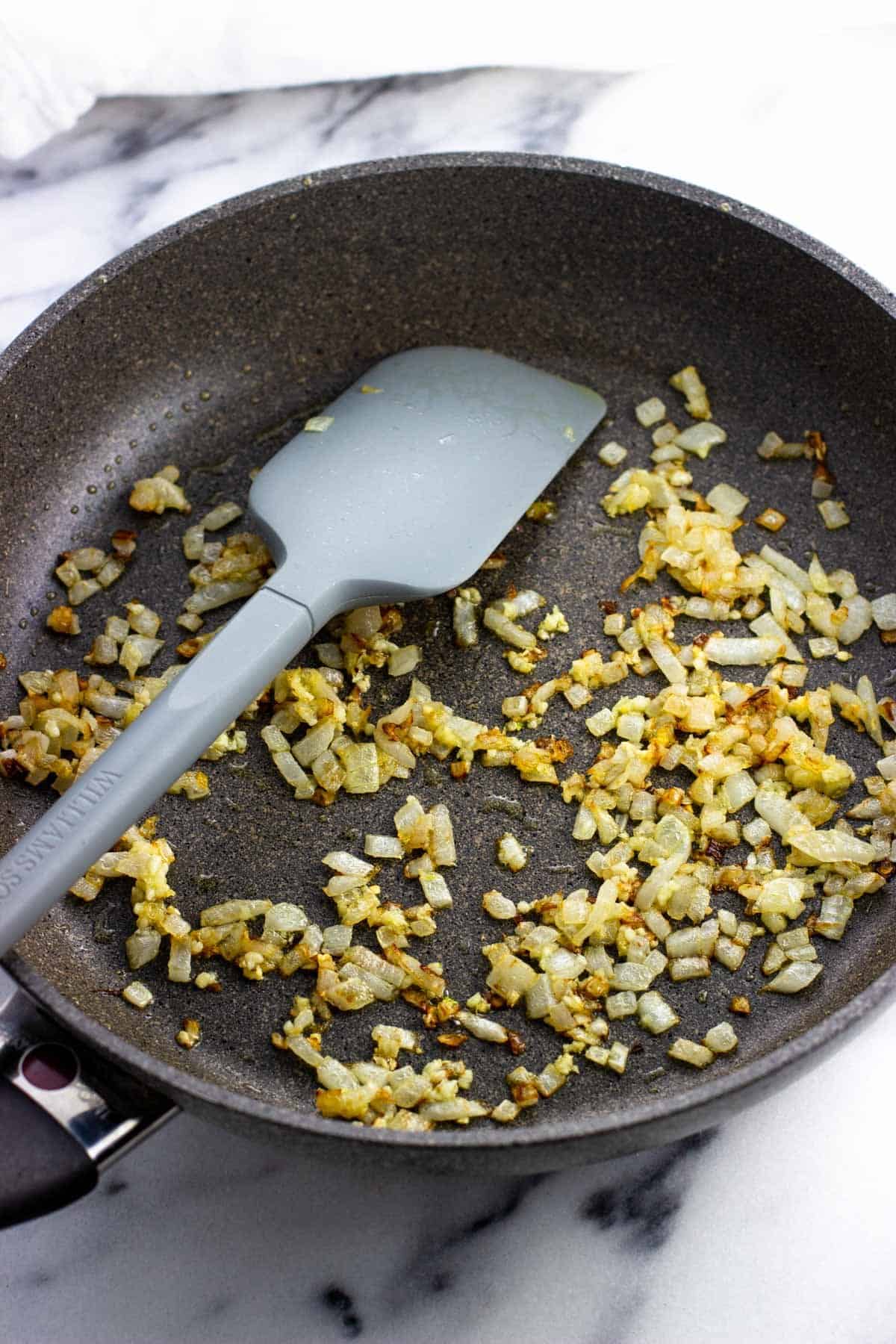 Whisk the egg in a mixing bowl, then add the rest of the ingredients. Stir everything well until evenly combined.
Grease a small/medium baking dish, then pour in the ricotta mixture. Level off the top with a spatula until it's an even layer, then scatter more Parmesan over top if you like.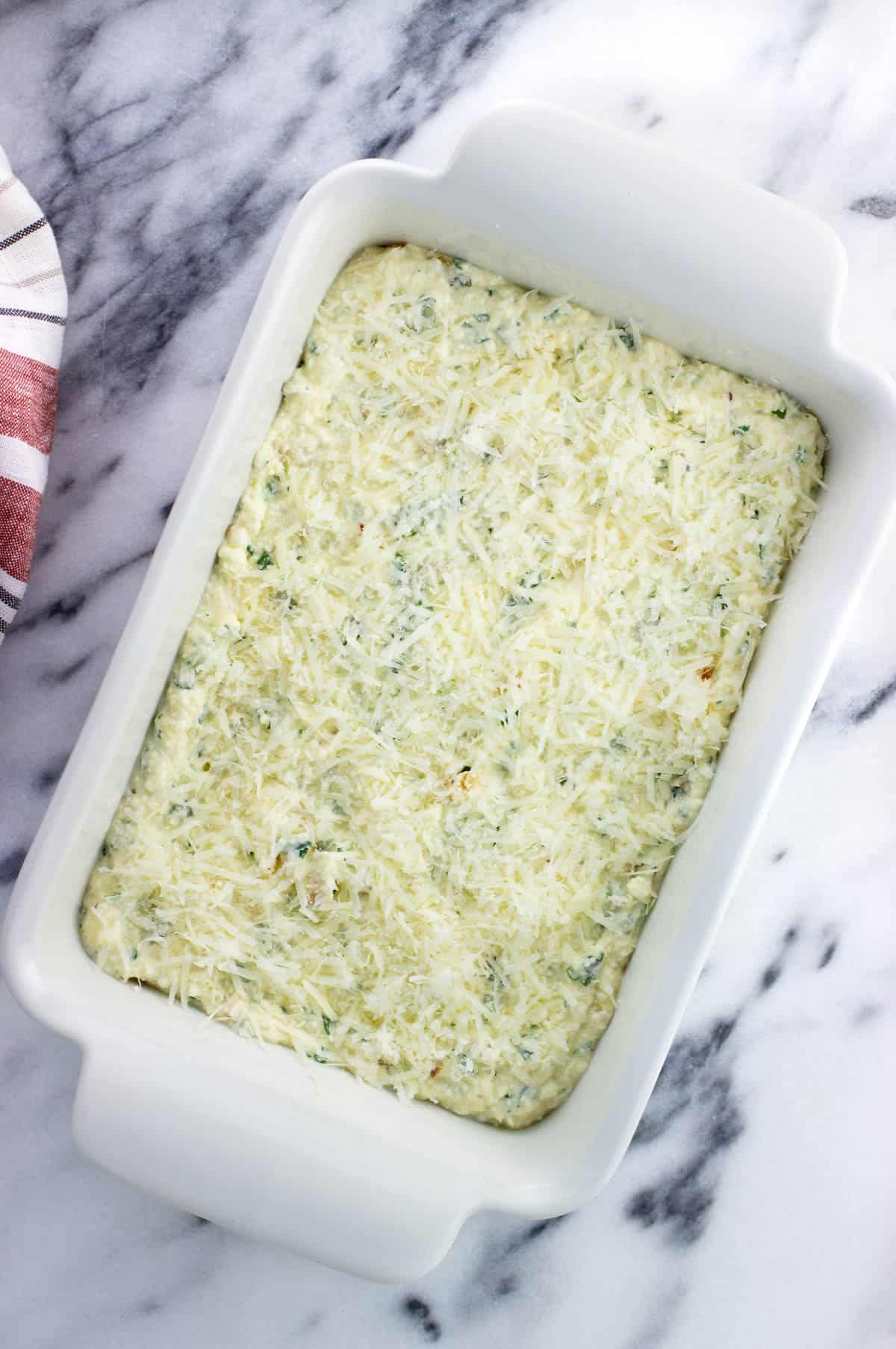 Bake for 25-30 minutes, or until the edges are lightly bubbling, the center has set, and the top surface is beginning to brown. If it's not browning by that time, switch the oven to broil for a minute or two until browned.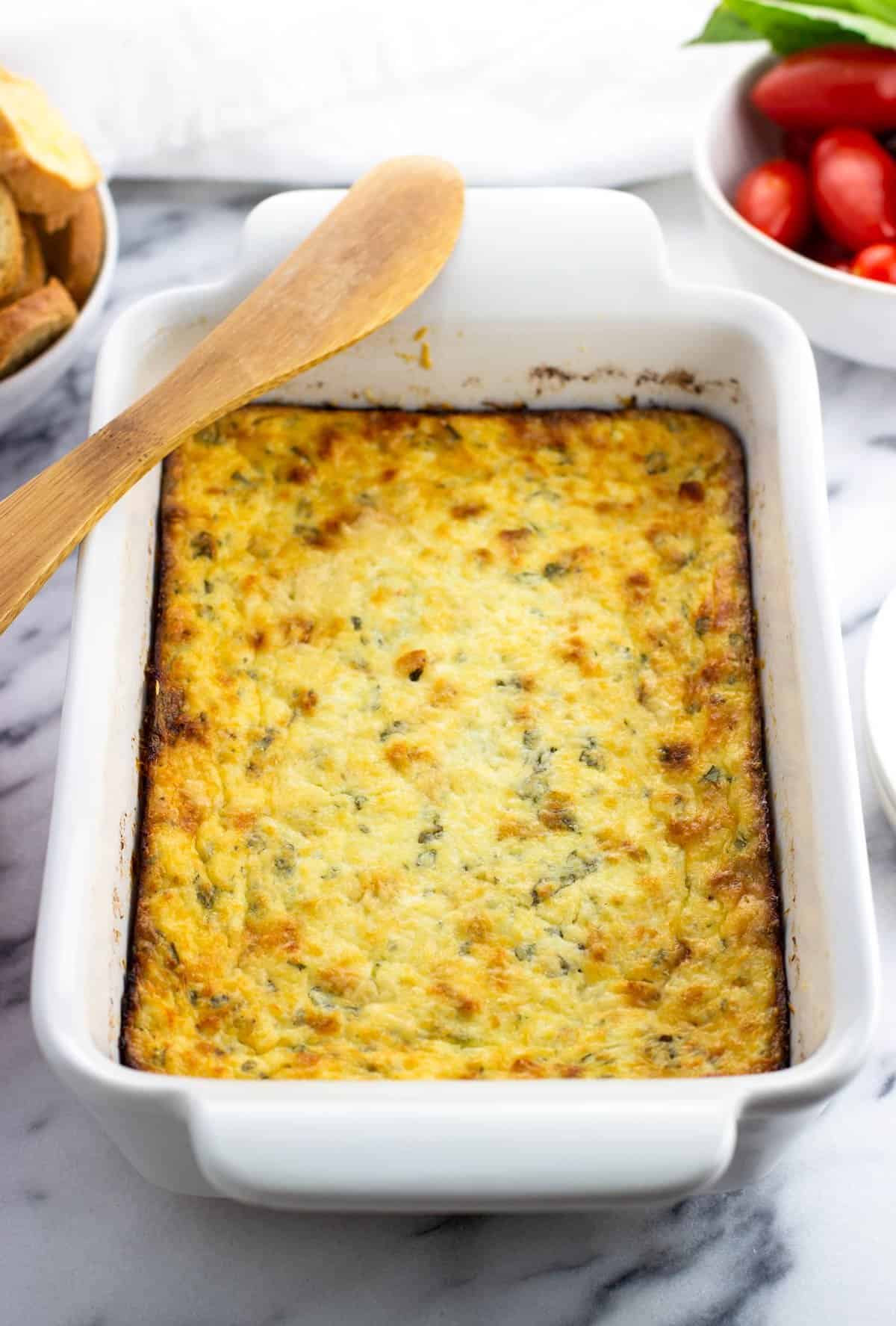 Recipe Tips and Tricks
Baking Dish: This recipe yields about 20 ounces in total and is pictured here in a baking dish with a 1.4-quart capacity (about 5 ½ cups). There's a little extra room in it, but I would not go with a dish that's much smaller. Choose a dish that's shallower with a wider surface area so more areas get a chance to brown.
Use Good Ricotta: Many baked ricotta recipes call for fresh ricotta, which is incredibly tasty but (in my experience) can be hard to find. If you can find it - great! But if not, choose a higher-quality whole milk ricotta from the supermarket, such as BelGioioso "con latte" or Galbani.
Crostini: These are so easy to make! Slice a baguette into thin rounds approximately ¼-inch wide and place on a parchment-lined baking sheet. Brush both sides of the bread slices with olive oil, then bake in a 400°F oven until golden-brown and crisped, somewhere between 5-10 minutes.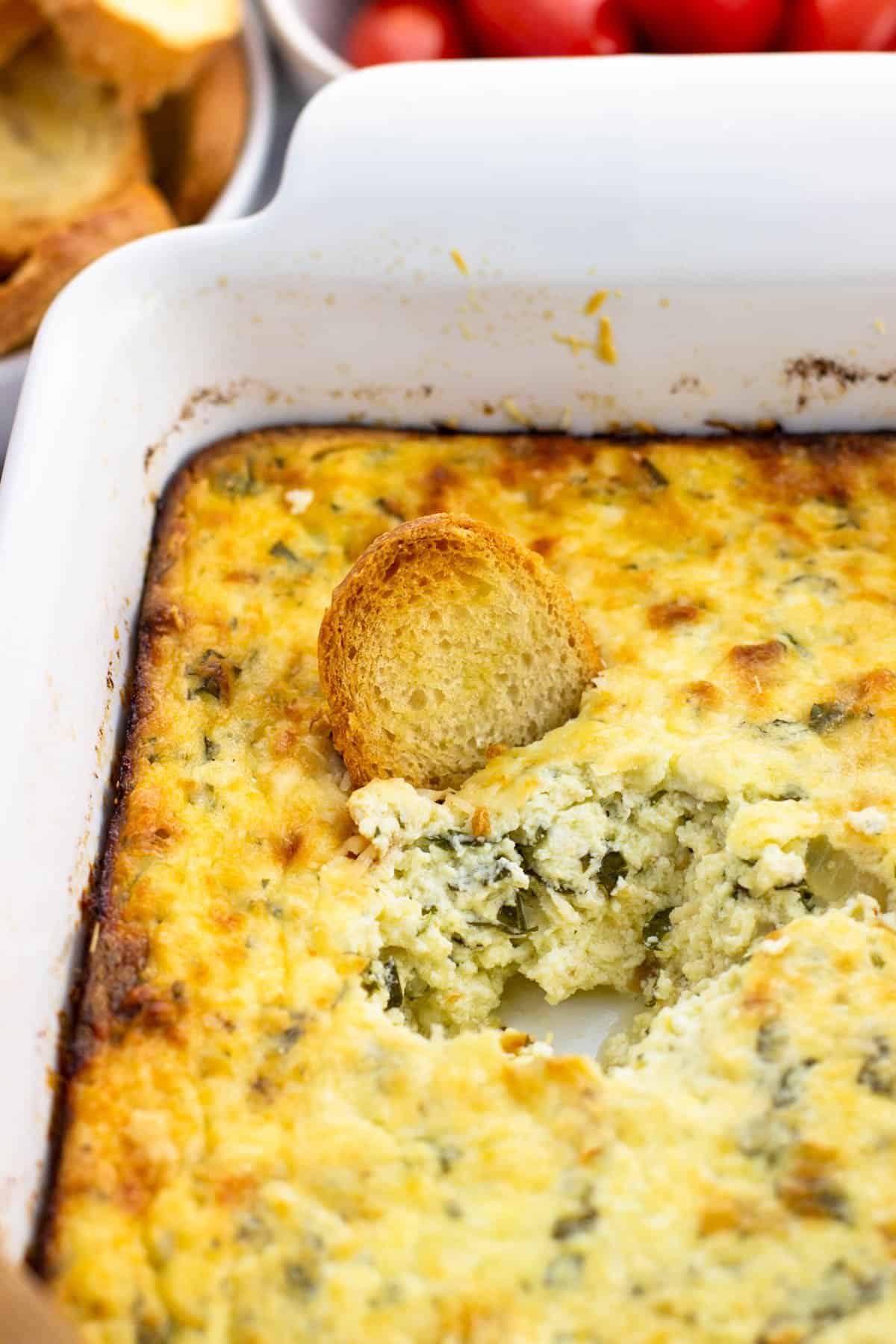 Recipe FAQs
What can you serve baked ricotta with?
Crostini are a perfect pairing for baked ricotta. You can also drizzle olive oil over top once baked, add chopped up oil-packed sun-dried tomatoes, scatter more fresh herbs, etc.
Can you make baked ricotta ahead of time?
Yes, you can prepare and assemble it, cover, then refrigerate for up to one day before baking. Just be sure if going this route that your baking dish can handle the refrigerator-to-oven temperature change. Glass/Pyrex dishes would be unsafe to use in this manner.
How long will leftovers last?
Store leftover portions in an air-tight container and refrigerate for up to 2 or 3 days. Heat it well before serving again.
Can you freeze it?
Dairy typically doesn't do great when frozen as the texture can be negatively impacted, so I wouldn't take the chance and freeze baked ricotta, before baking or after.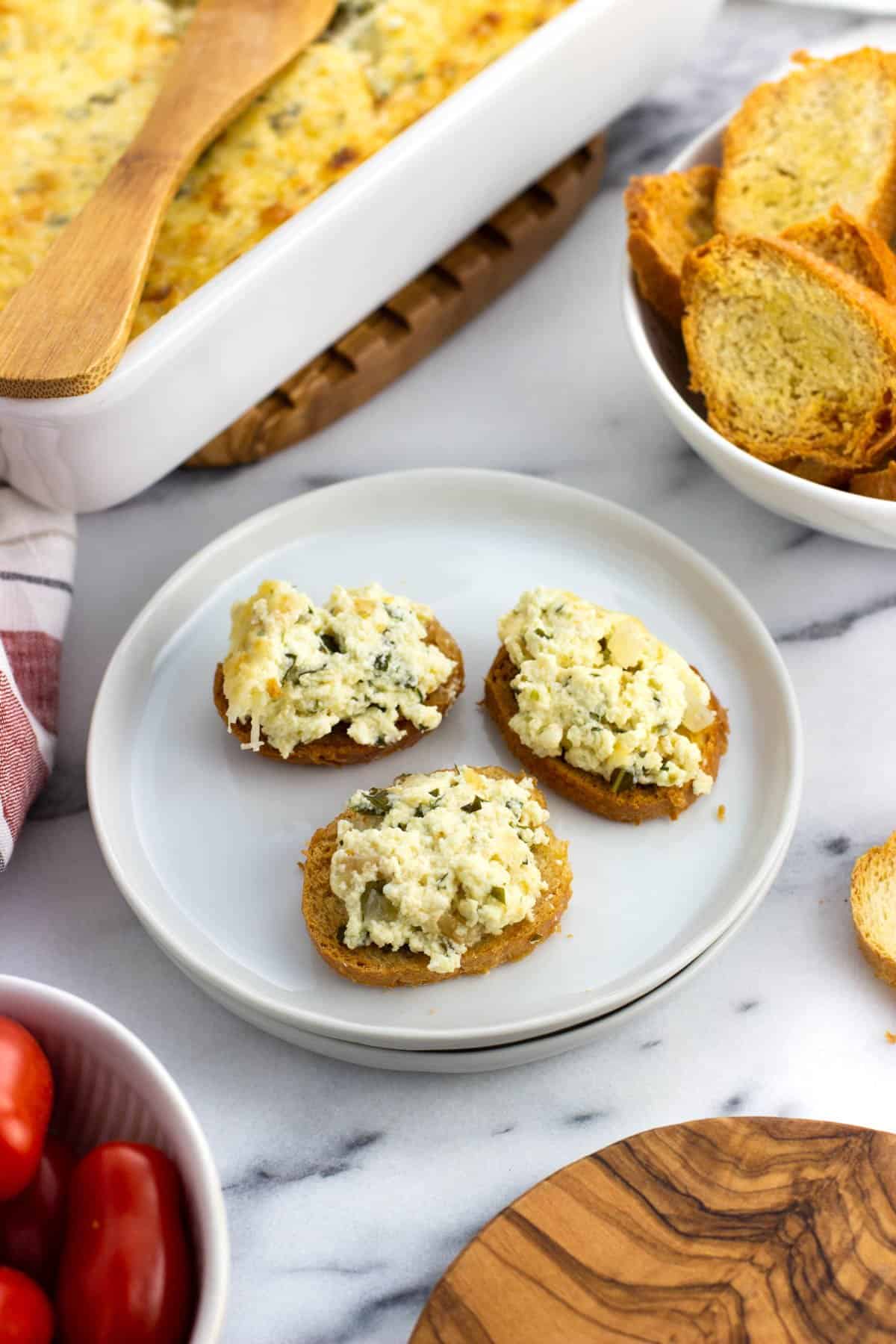 Related Recipes
If you've enjoyed this recipe, I'd love for you to leave a star rating in the recipe card and/or a comment review below!
Baked Ricotta
Baked ricotta is packed with Italian flavor and becomes a unique appetizer for anytime, but especially holidays. This warm spread features simple steps, can be made ahead, and is delicious served with crostini and vegetables.
Print
Pin
Rate
Ingredients
1

Tablespoon (15 ml)

olive oil

Half of a

medium

onion

diced (about 95g)

4

cloves

garlic

minced/pressed

1

large

egg

16

ounces (453g)

whole milk ricotta cheese

(about 1 ¾ cups plus 1 Tablespoon)

½

cup (22g)

finely grated Parmesan

or Pecorino Romano, more for topping

2

Tablespoons (8g)

chopped fresh parsley

1

Tablespoon (4g)

chopped fresh basil

⅛

teaspoon

dried oregano

⅛

teaspoon

crushed red pepper flakes

more if desired

Kosher salt

Ground black pepper
Instructions
Heat oven to 400°F (204°C). Add olive oil to a pan set over medium-low heat. Once heated, add the onion and cook for 5 minutes, or until lightly golden. Add garlic and cook for 1 minute more. Remove the pan from the heat.

Add egg to a mixing bowl and whisk well until smooth. Add the ricotta to the bowl with the beaten egg. Add the Pecorino Romano, parsley, basil, oregano, red pepper flakes, and then salt and pepper to your liking. Add the sautéed onion and garlic, leaving any excess oil and moisture behind in the pan.

Stir well to combine everything evenly.

Spray a baking dish (8" x 5.5" with a 1.4 quart capacity, or equivalent) with cooking spray, then pour in the ricotta mixture. Level off the top into an even layer. Sprinkle with more Parmesan.

Bake on the middle rack of the preheated oven for 25-30 minutes, or until the edges and spots on the top have turned golden-brown and the center has set. If you're not seeing enough browning for your liking, switch to the broil setting for a minute or so until browned (so long as your baking dish is broiler-safe). Serve warm with crostini, vegetables, etc.
Notes
Ingredient Notes
Ricotta: Use a high-quality whole milk ricotta cheese here as it'll be smoother/less grainy and more luxe tasting.
Parmesan/Pecorino: Grating your own will provide the punchiest flavor, though tubs of either found in the refrigerated deli section of the grocery store are a good second option. Shelf-stable canisters of Parmesan are not recommended as they'll lack flavor big time.
Recipe Tips
Dish Size: A variety of baking dishes will work here. You just don't want to fill them up to the very top as the egg causes it to rise a bit in the oven. When choosing a pan, keep in mind that this recipe yields approximately 20 ounces (560 grams) of baked ricotta in total.
Make Ahead: Prepare and assemble baked ricotta, then cover and refrigerate for up to 1 day before baking. Be sure your dish can handle the quick temperature swing from the refrigerator to oven. Do not use glass/Pyrex as they are unsafe for this.
Storage: Refrigerate leftover portions in an air-tight container for 2-3 days. Freezing is not recommended as it can change the texture.
Nutrition
Serving:
2.5
ounces (approximately)
|
Calories:
137
kcal
|
Carbohydrates:
1.9
g
|
Protein:
9.6
g
|
Fat:
9.8
g
|
Saturated Fat:
5.2
g
|
Cholesterol:
47
mg
|
Sodium:
148
mg
|
Potassium:
38
mg
|
Fiber:
0.3
g
|
Sugar:
0.6
g
|
Calcium:
377
mg
Nutritional information is provided as an estimate. As it can vary due to many factors (brands used, quantities, etc.), we cannot guarantee its accuracy.
Food Safety and Nutrition Disclaimer