Honey Roasted Sesame Cashew Clusters are a naturally-sweetened, healthy snack of honey-covered cashews roasted with kosher salt and sesame seeds. Just four ingredients needed for these easy nut clusters!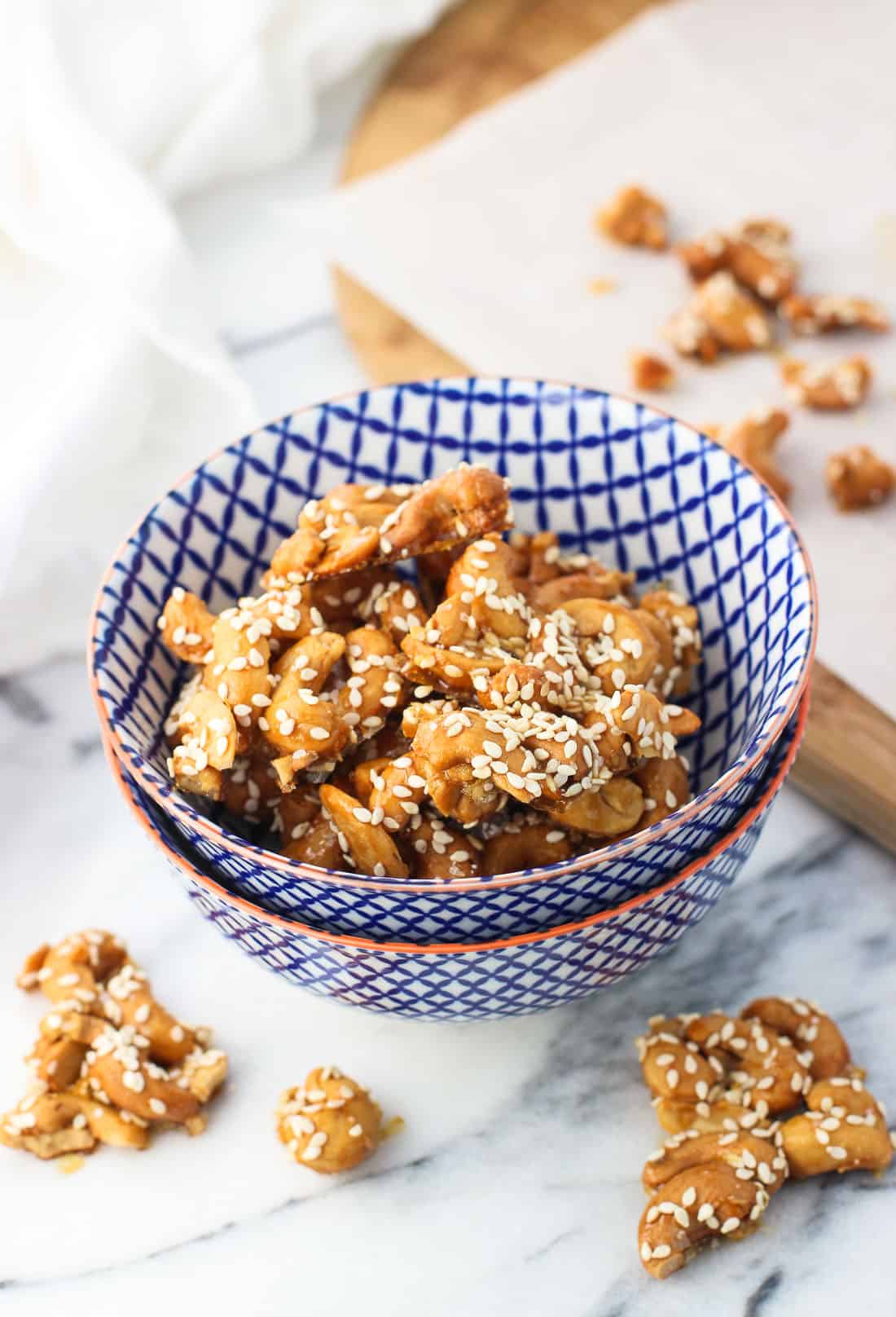 As one does when one receives a fun new coffee gadget for Christmas (LOVE), we proceeded to overly-caffeinate ourselves on a work night and unintentionally forgo sleep for a night. What my mind tends to do when it won't drift off to sleep is to drift to memories of the food I've eaten, and with it being the holidays, a highlight reel of winter treats paraded through my mind. In particular I kept thinking about the sesame cashew brittle I made last year, but couldn't justify making another dessert when we're still getting through this year's Christmas sweets.
So! Since the flavor profile is pretty straightforward, I knew it wouldn't be tough to recreate the slight balance between sweet and savory into a healthy snack recipe you can feel good about eating in January (and, of course, year-round).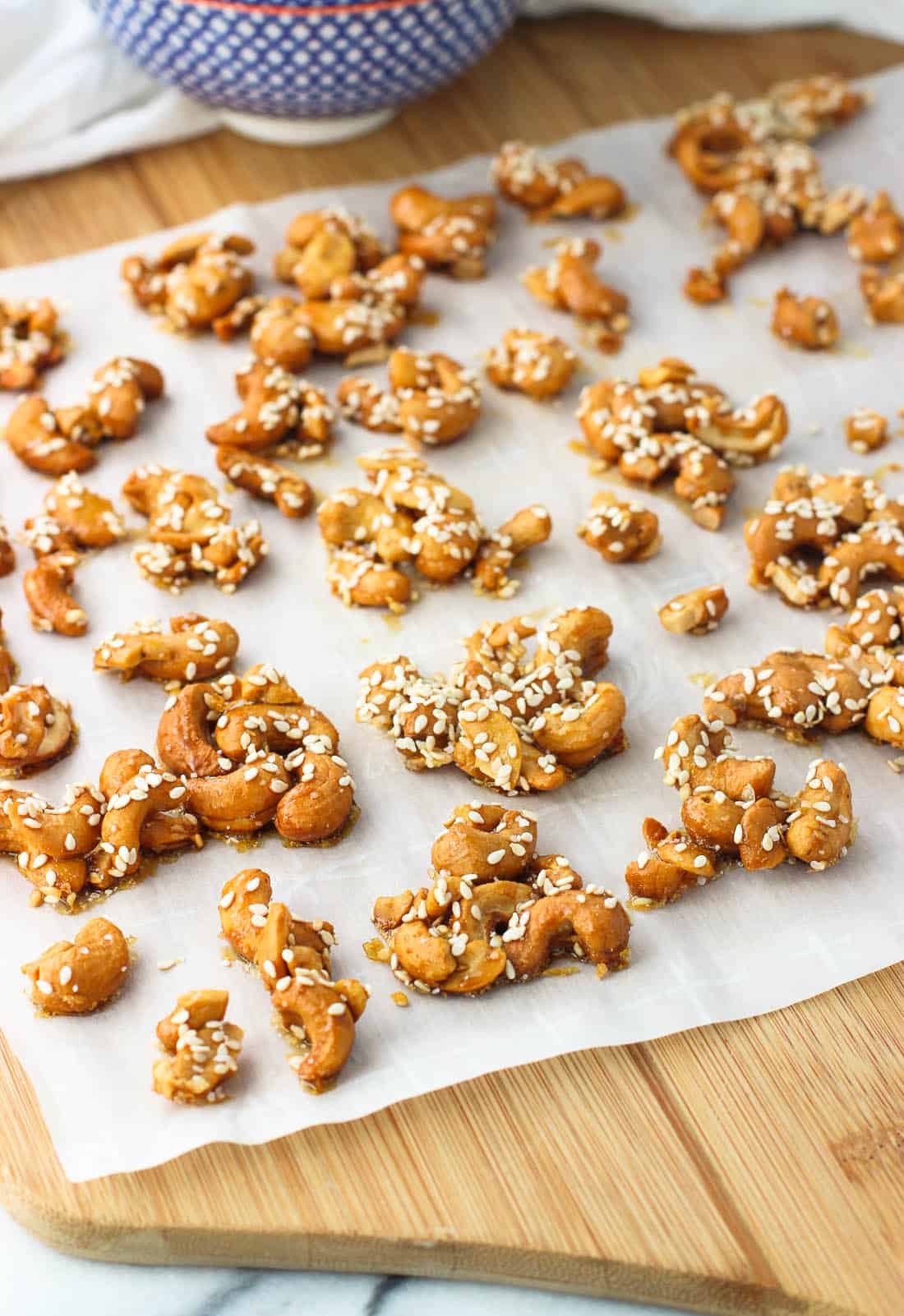 As a semi-pro snack attacker, I cannot get enough of these sesame cashew clusters. The recipe is pretty basic, but there are a few tips and tricks to simplify the process even more. Heating the honey before stirring it into the cashews helps it more easily coat them without leaving globs and ensures they're all covered evenly. You'll also want to press the honey-coated cashews into a single layer as much as you can to help the cashews roast evenly. As the cashews bake, the honey will bubble slightly and then turn a deeper golden color. Once removed from the oven and set out to cool, the honey loses most of its stickiness, leaving behind a slight sweetness and hint of honey flavor.
And we can't talk about recipe tips without mentioning the parchment paper, which is clutch for easy clean-up. The cashew layer lifts right off of the parchment to help you break it into clusters in no time.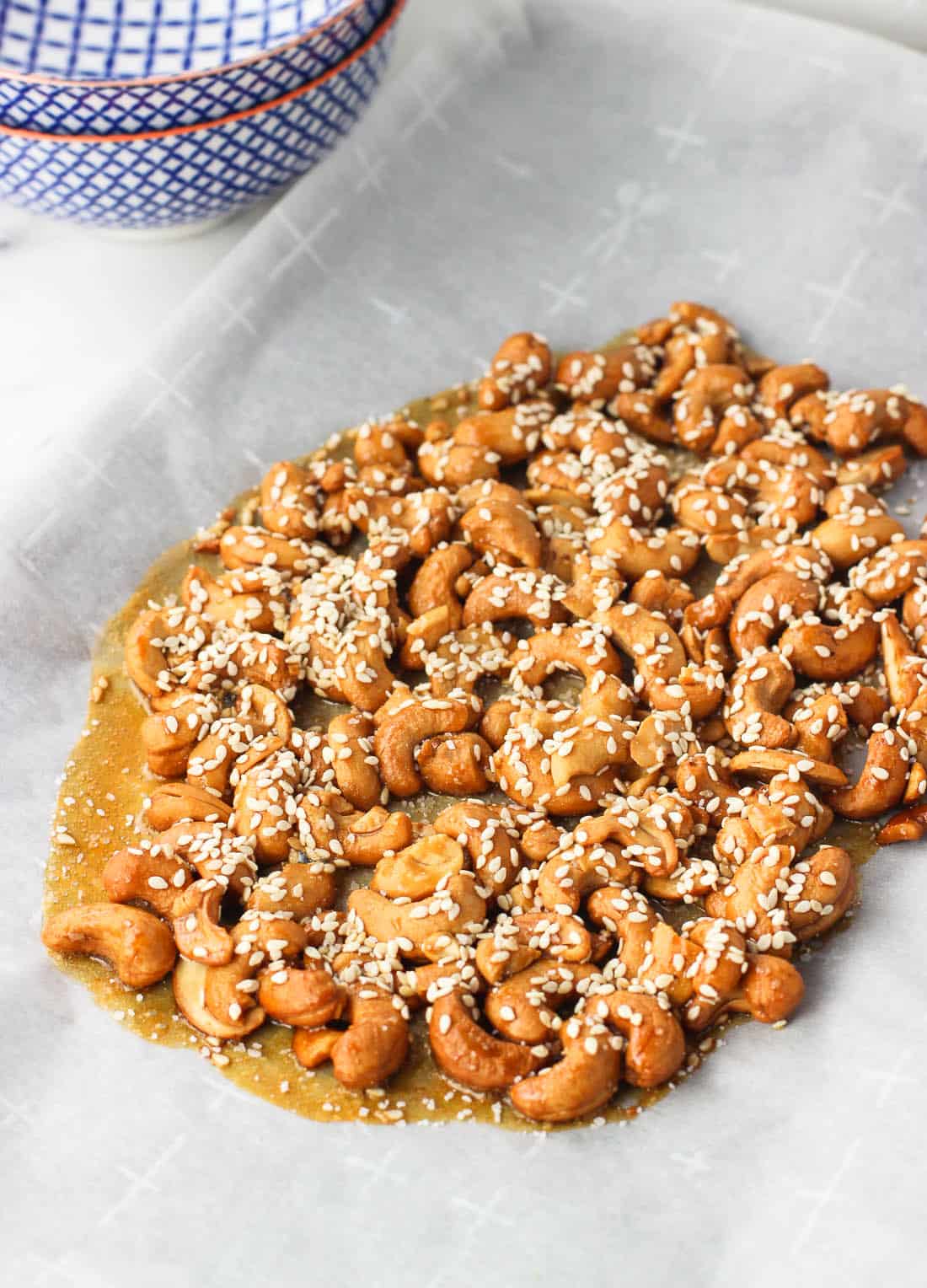 The quantity of ingredients for these honey roasted sesame cashew clusters are customizable to a degree. I wouldn't use more than two tablespoons of honey to one cup of cashews as that could open up the possibility of them being too gloppy. You can add more salt if you like a more pronounced salty flavor…same thing with the sesame seeds.
On the subject of sesame seeds, I've made these cashew clusters with both toasted and untoasted sesame seeds and I suggest using toasted. The sesame flavor is more pronounced, which I love! If you don't have store-bought toasted sesame seeds, you can toast them in the oven beforehand, which might seem like overkill since the cashews get baked. However since the oven temperature is on the lower side, the untoasted seeds in the first batch I made didn't toast up on the cashews as much as I wanted them to. So pre-toasted is the way to go.
The extra bit of work to toast the sesame seeds is worth it in my opinion, but you can totally make these cashew clusters with regular sesame seeds if you'd prefer a less strong sesame flavor. Maybe just sprinkle some extra over top. 🙂
Honey Roasted Sesame Cashew Clusters
Honey Roasted Sesame Cashew Clusters are a naturally-sweetened, healthy snack of honey-covered cashews roasted with kosher salt and sesame seeds. Just four ingredients needed for these easy nut clusters!
Ingredients
1

cup

whole cashews

2

tbsp

honey

1/4

tsp

plus 1/8 tsp kosher salt,

divided

1

tbsp

toasted sesame seeds*
Instructions
Situate an oven rack into the center of the oven and preheat oven to 300°F. Line a baking sheet with parchment paper and set aside.

Add honey to a microwave-safe bowl and heat for 15 seconds, or until the honey flows easily. Add cashews to the bowl with the honey and stir to coat the cashews evenly.

Pour cashews onto parchment-lined baking sheet and press so they're in a single layer.

Sprinkle 1/4 tsp of kosher salt and sesame seeds over top.

Bake for 20 minutes, or until the cashews become more fragrant and the honey mixture becomes a deeper golden color. Remove from oven and immediately sprinkle remaining 1/8 tsp kosher salt over top. Let cool for at least 20 minutes on the sheet.

Once cooled, break cashews into clusters and store at room temperature.
Notes
*If you don't have pre-toasted sesame seeds, preheat your oven to 350°F and place untoasted sesame seeds on a baking sheet. Bake for 8 or so minutes, or until they're becoming golden. Keep a close eye on them as they bake because they can burn easily. Easier still is buying a canister of already-toasted sesame seeds.
Keep in mind this recipe calls for kosher salt, and not table salt. I find the coarser flecks of kosher salt are easier to disperse evenly, and I like the (tiny) burst of saltiness you get in a bite without it being overly salty.
Nutrition
Calories:
225
kcal
|
Carbohydrates:
19.3
g
|
Protein:
6.1
g
|
Fat:
15.7
g
|
Saturated Fat:
3
g
|
Sodium:
282
mg
|
Potassium:
230
mg
|
Fiber:
1.4
g
|
Sugar:
10.9
g
|
Calcium:
20
mg
|
Iron:
2.3
mg
Nutritional information is provided as an estimate. As it can vary due to many factors (brands used, quantities, etc.), we cannot guarantee its accuracy.
*This post contains affiliate links, which means if you click on a link and decide to make a purchase, I will receive a small percentage of the sale price. This comes at NO extra cost to you. None. Thank you for supporting My Sequined Life!