A simple Italian side dish, escarole and beans tastes fancier than the sum of its parts and the effort involved. This easy recipe features a silky Parmesan-enriched broth, lots of garlic, and perfectly tender escarole for a quasi-soup that's hearty, warming, and filling.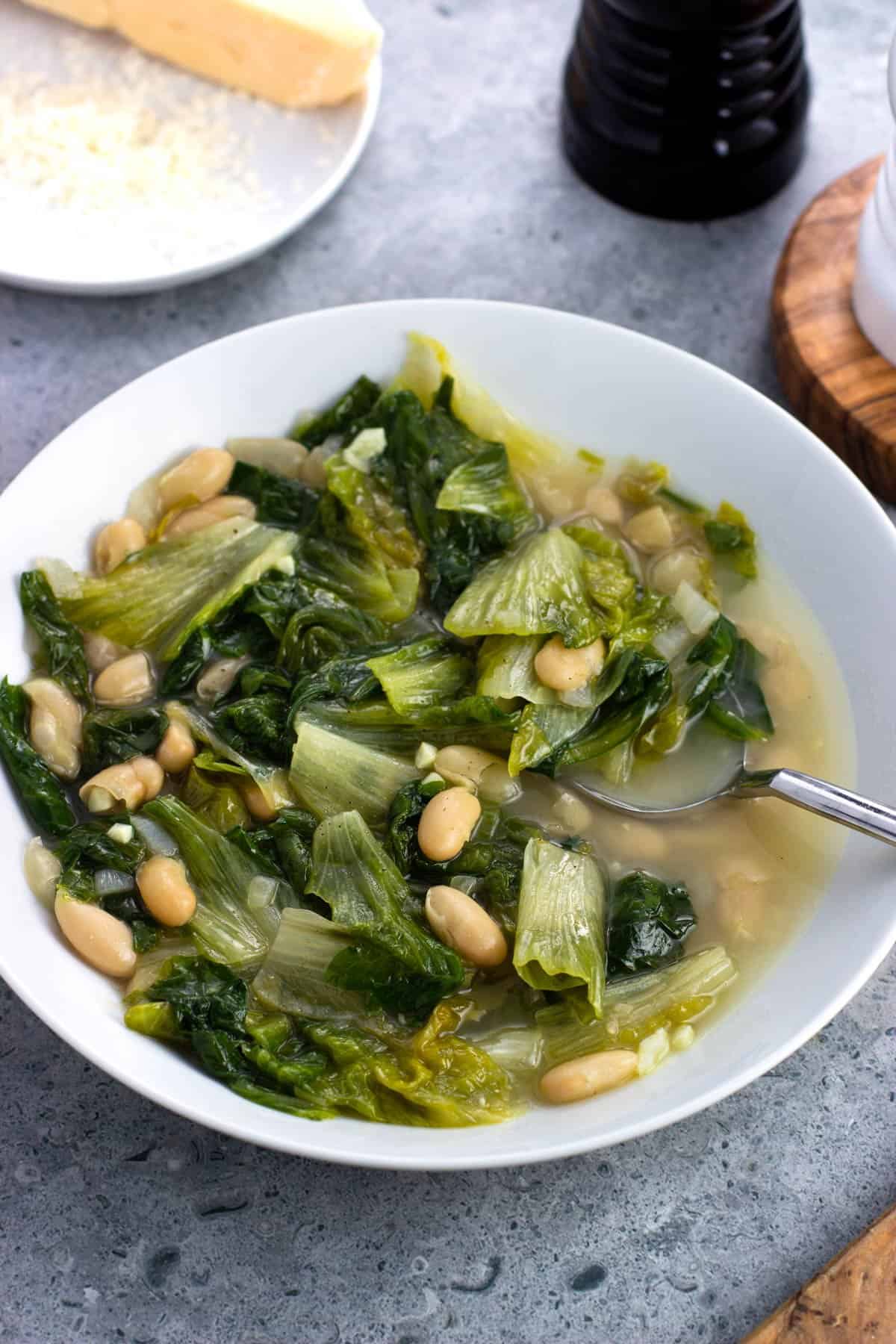 Not quite a soup and not quite greens straight-up, escarole and beans can accurately be described as a side dish MVP. A simple and flavorful Italian dish made with basic ingredients, it goes well with many main proteins as a side, a soup, or hearty bread topping. This is how I like to eat my greens.
The hardest part of this recipe just may be finding the escarole if your stores are as fickle with it as mine are. A staple in recipes like Italian wedding soup, this leafy green is heartier than spinach and has a slightly bitter flavor that holds its own alongside other ingredients beautifully.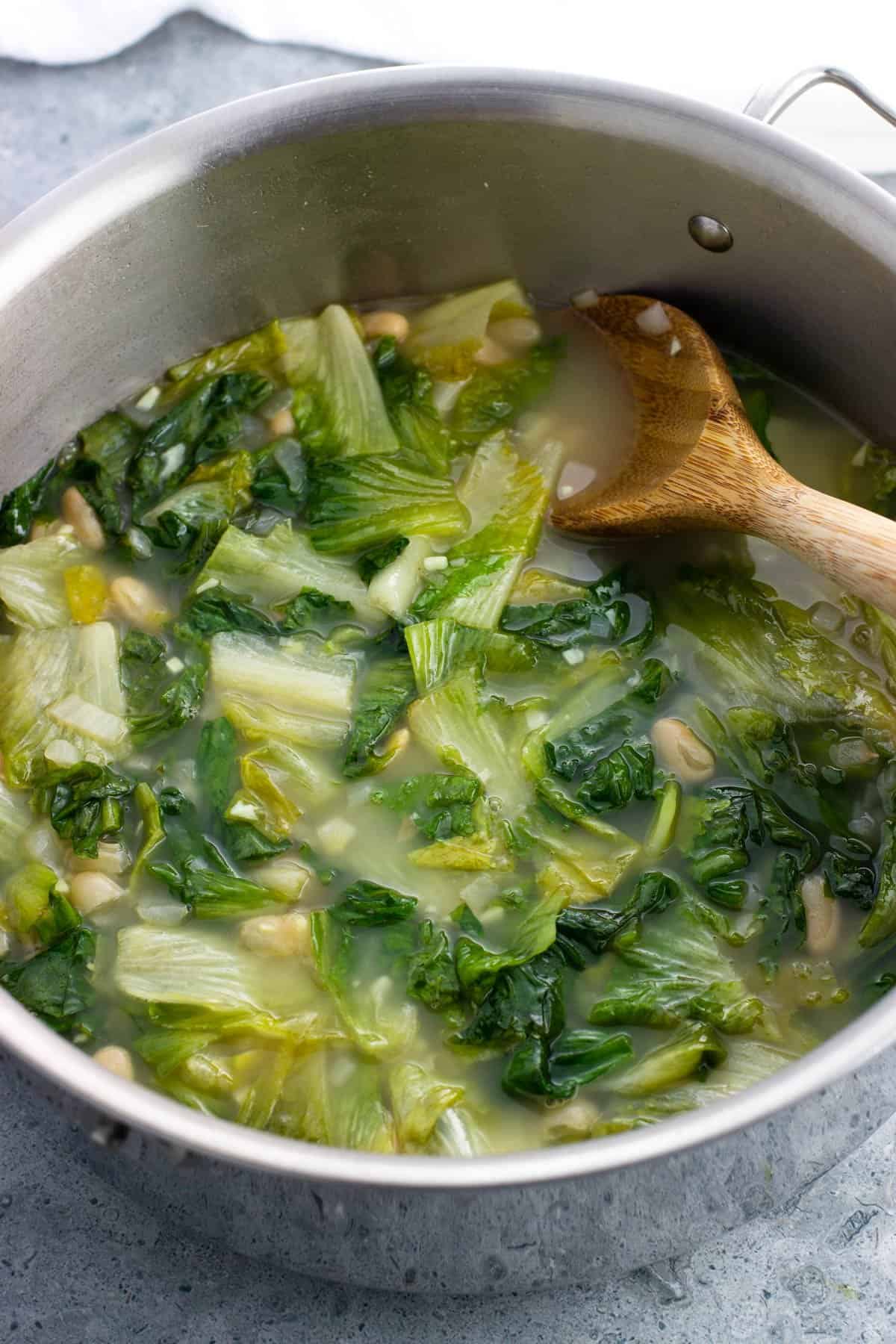 Reasons to Love This Recipe
This dish has a ton of versatility as side dish greens, a soup, or a light meal/heavy snack when served with crusty bread.
It's healthy yet ultra flavorful. Escarole is low-calorie and rich in vitamins A, C, and K and folate (source), while cannellini beans provide fiber and protein.
Adding the escarole right at the end of the cook time means you can simmer the broth and Parmesan for as long as you like without overcooking the escarole and having it wilt into nothing. There's no stressing the timing.
Recipe Ingredients
Escarole: This leafy green is a member of the chicory family (similar to radicchio and endive) and features a bolder, slightly bitter punch in flavor.
Cannellini Beans: Since rinsing canned beans removes much of the sodium I don't specifically search out "low-sodium" varieties. The quick nature of this side dish means we're using cooked (canned) beans and not dried.
Onion: This adds a nice background flavor sautéed in olive oil.
Garlic: The recipe card calls for five cloves, but measure with your heart on this one. Chop it instead of mincing or pressing so the larger pieces don't risk burning.
Chicken Broth: This recipe was written with reduced-sodium in mind.
Parmesan: A solid chunk, from the rind or otherwise, simmers in the broth and adds a rich and silky flavor. Pecorino Romano also works well.
Step-by-Step Instructions
Prepare the escarole. Much like leeks, escarole requires a thorough washing before eating to remove dirt and sand. Rinse each leaf under a stream of cool water, washing away any debris. Pat dry and chop into large bite-sized pieces. I like to use my salad spinner.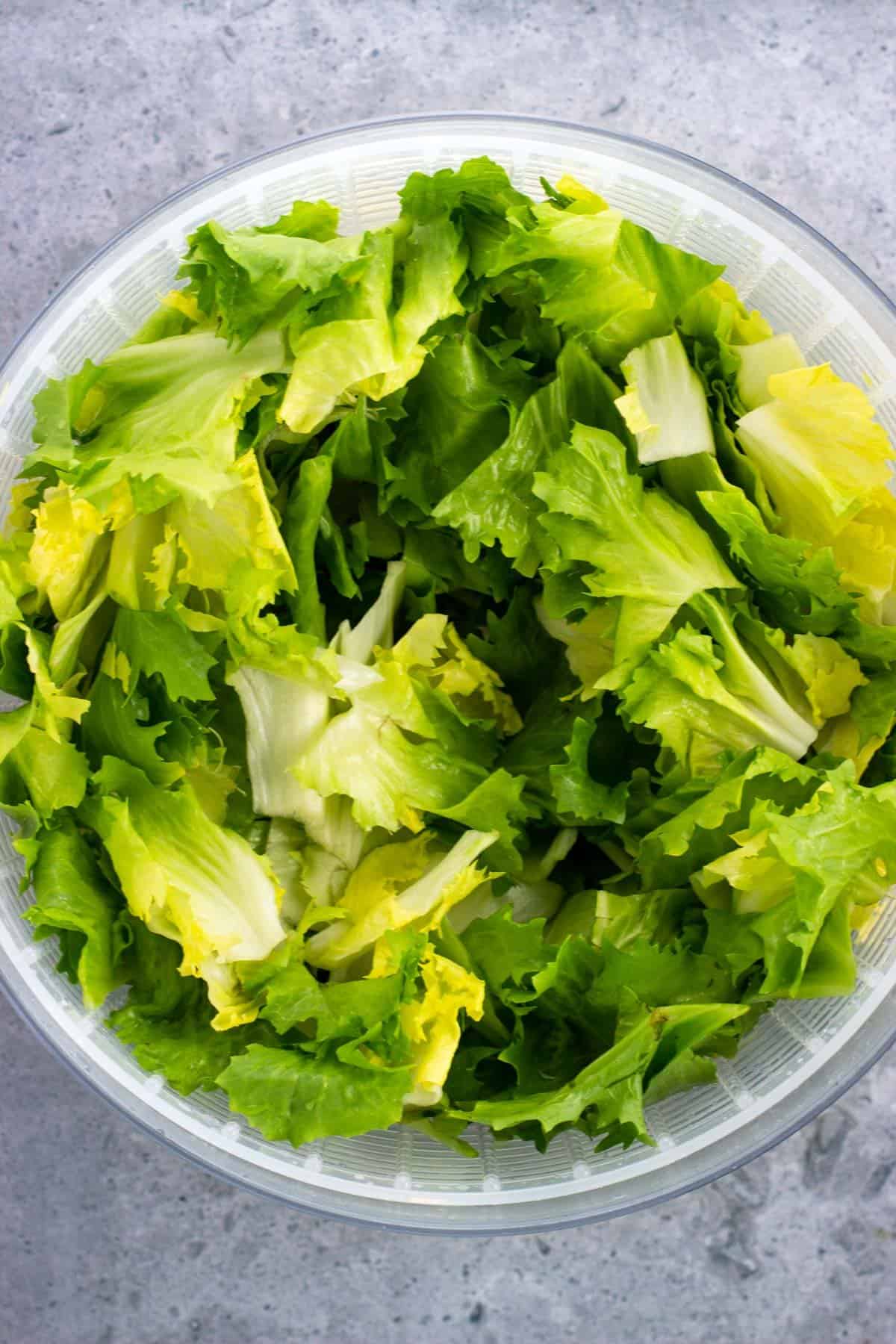 Saute. Heat olive oil in a large pan, then add onion. Cook until turning golden, then add the garlic and cook for a minute or two more. Season with salt and pepper.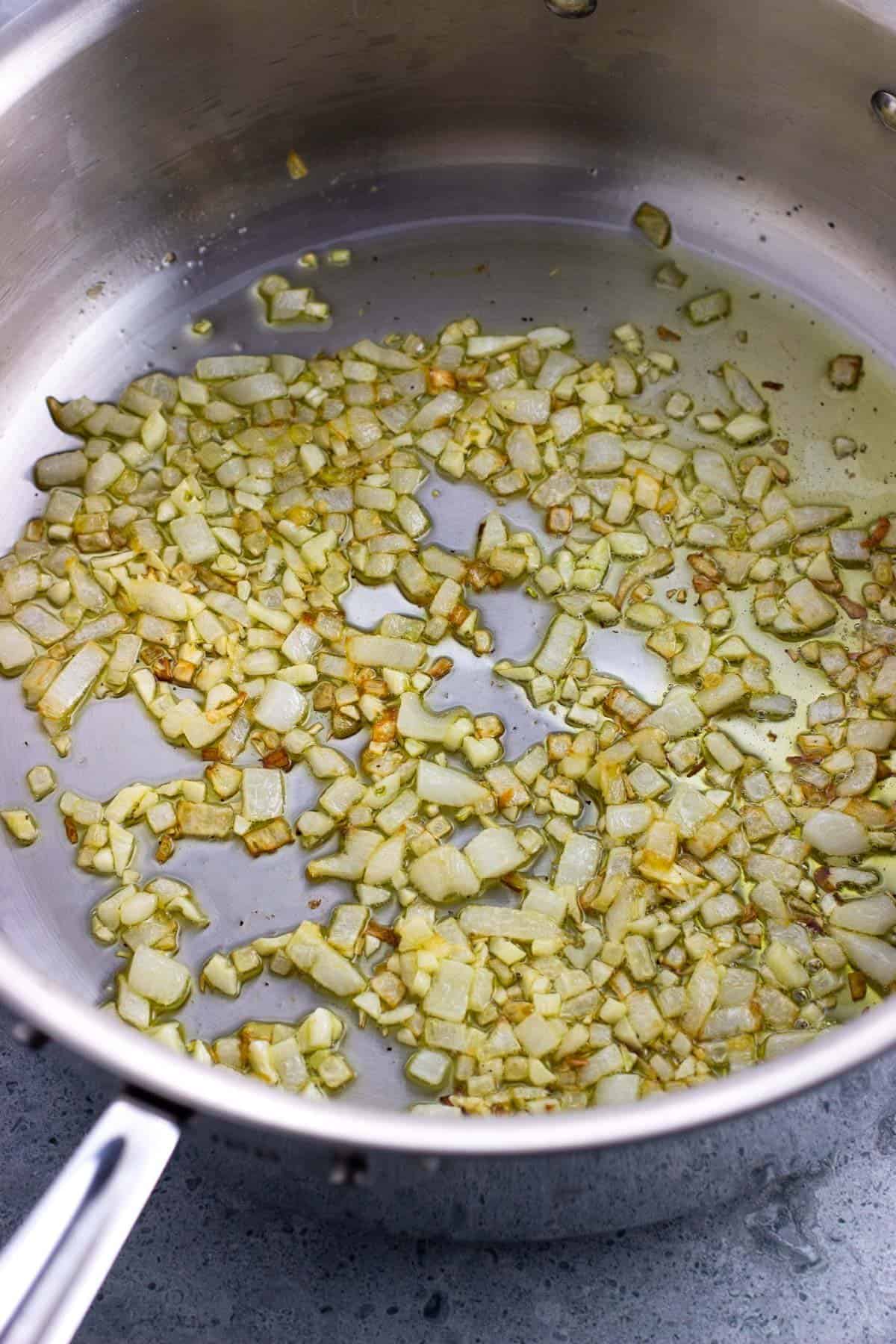 Simmer. Add the broth and piece of Parmesan or Pecorino Romano. Cover and simmer for 20 minutes.
Wilt. Add the beans and chopped escarole to the pot and stir in as the escarole wilts. This will take around 5 minutes, after which this escarole and beans is ready to serve.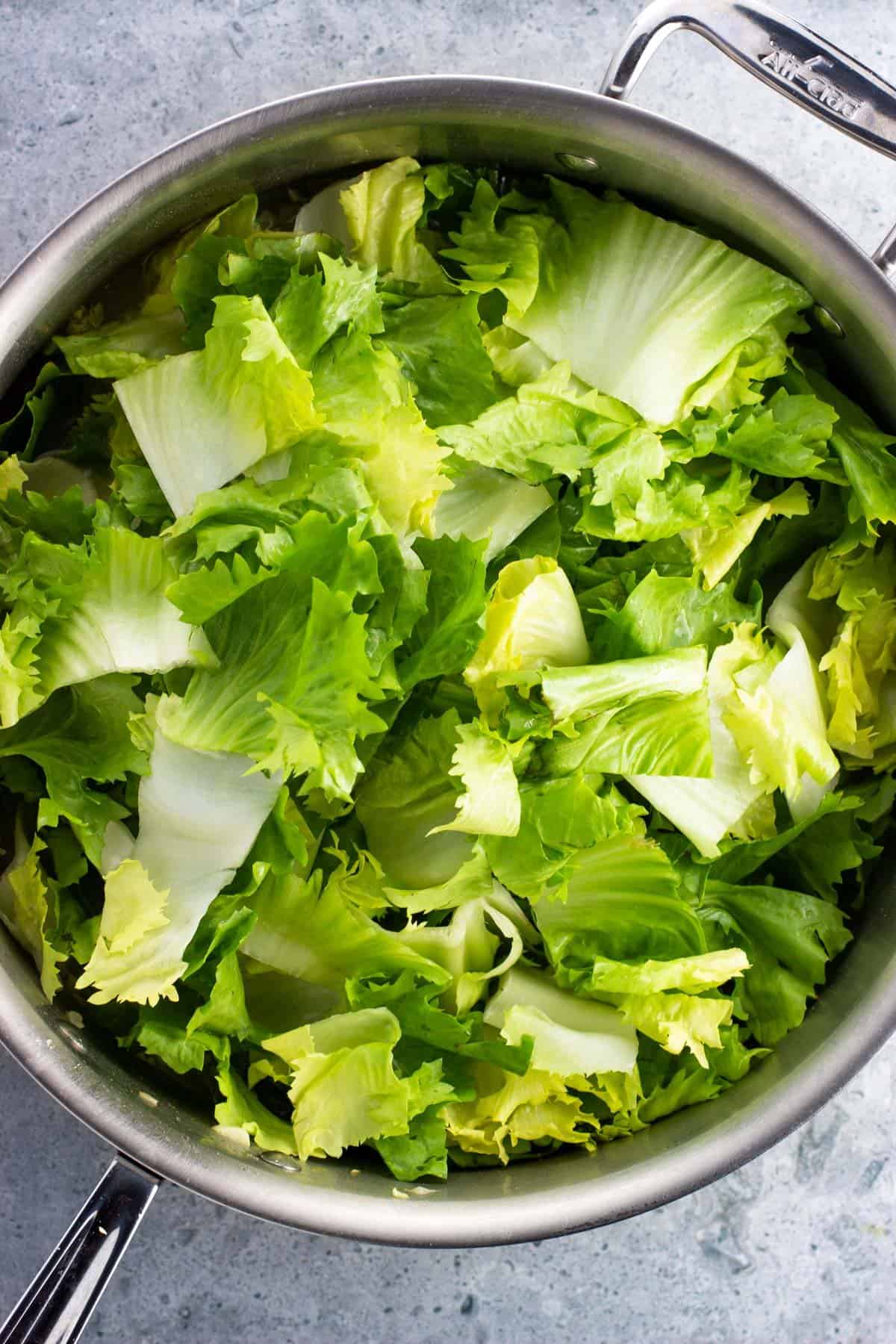 Recipe Tips and Tricks
Cover the pan: Be sure to cover the pan when simmering the broth and Parmesan so the liquid doesn't evaporate.
Pick your cheese: Either Parmesan (from cow's milk) or Pecorino Romano (from sheep's milk) work perfectly in this recipe. Pick the variety you enjoy the most and have on hand. Locatelli Pecorino Romano has been a beloved staple in my life from childhood, but Costco also sells an affordable large wedge of it.
Make it a soup: If you'd like more of an escarole bean soup, add more broth. Taste for seasonings and adjust if needed.
Make it a meal: For a meatier meal, cook pancetta, bacon, or Italian sausage in olive oil in the pan at the beginning and continue on with the recipe.
Serving suggestions: Generously grate additional Parmesan/Pecorino Romano over top and give it a few extra cranks of ground black pepper. Optionally sprinkle in crushed red pepper flakes to taste. Crusty, lightly-toasted Italian bread is perfect for dipping and/or piling escarole and beans over top.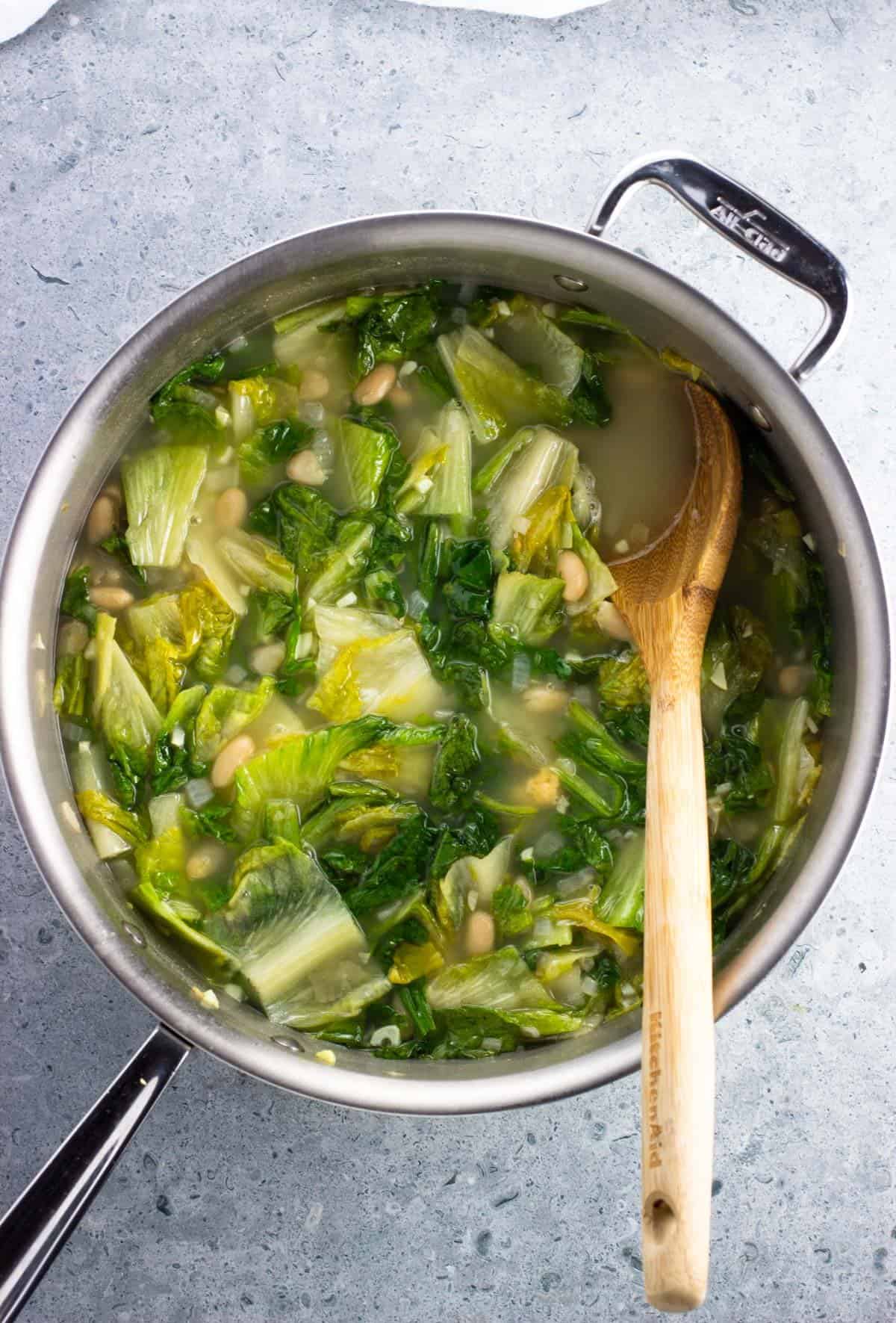 Recipe FAQs
Where can you buy escarole?
If your store has it in stock (it's not a guarantee at my regular grocery store) it'll be hiding among the lettuces on the produce shelves. It looks incredibly similar to green leaf lettuce, so check the label closely so you're buying the right thing.
What happens to the Parmesan in the broth?
The piece of Parmesan won't entirely melt into the broth. Rather it'll soften and pieces will puff up and break off. That's normal. After simmering, you can either remove the pieces from the broth and discard, or you can chop them into small bits. Add them back to the pan of escarole and beans, or simply enjoy as a snack! The pieces will be fairly sticky so use a sharp knife.
Can you freeze escarole and beans?
Cool and add escarole and beans to an air-tight container or zip-top freezer bag (press out excess air). Freeze for several months.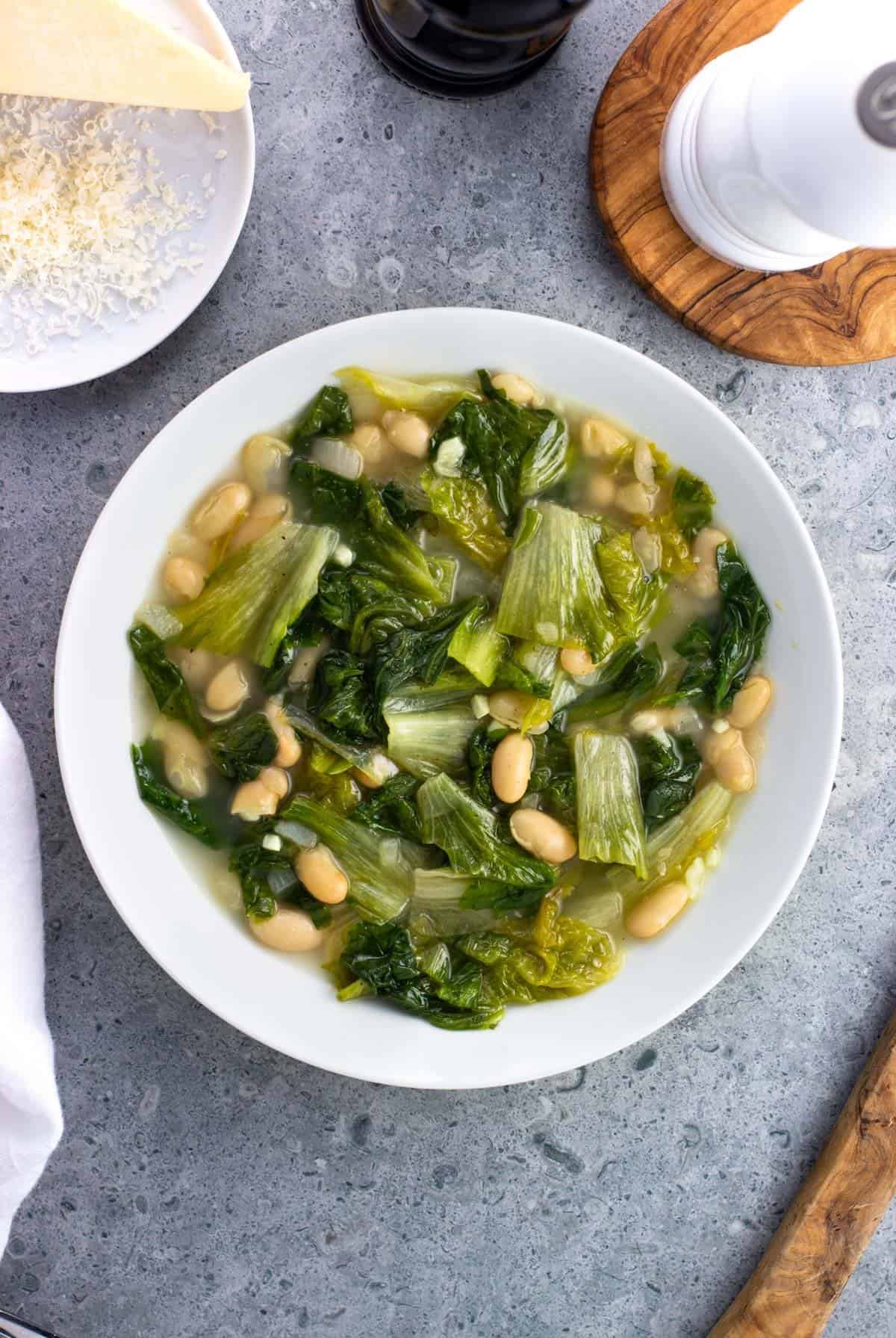 Related Recipes
If you've enjoyed this recipe, I'd love for you to leave a star rating in the recipe card and/or a comment review below!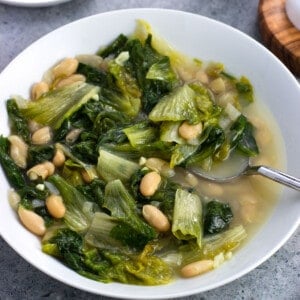 Escarole and Beans
A simple Italian side dish, escarole and beans tastes fancier than the sum of its parts and the effort involved. This classic recipe features a silky Parmesan-enriched broth, lots of garlic, and perfectly tender escarole for a quasi-soup that's hearty, warming, and filling.
Print
Pin
Rate
Ingredients
1

large head of

escarole

chopped into bite-size pieces

3

Tablespoons

olive oil

Half of a

medium

onion

diced

5

cloves

garlic

chopped

Pinch of

kosher salt

or to taste

Pinch of

ground black pepper

or to taste

4

cups

reduced-sodium chicken broth

1-1.5

ounce

piece of Parmesan

or Pecorino Romano

1

15.5-ounce (439g) can

cannellini beans

rinsed and drained
Instructions
Rinse escarole leaves very well with cool water to remove dirt and debris. Pat dry and chop them into large bite-size pieces. Set aside for now.

Add olive oil to a large pot and heat over medium heat. Add the diced onion and cook for 6 minutes, or until starting to turn golden, stirring periodically. Add the chopped garlic and cook for 2 more minutes. Season with kosher salt and pepper.

Pour in the broth and add the piece of Pecorino or Parmesan. Cover the pot and adjust the heat to a simmer. Let everything simmer for 20 minutes. Once the time is up, you can either remove the softened cheese that remains or chop it into smaller pieces and just add it back to the pot.

After the simmer, add the chopped escarole and rinsed beans to the pot and stir as the escarole wilts. Cook, uncovered, for 5 minutes or until the escarole is tender. Serve with grated Pecorino/Parmesan, crushed red pepper flakes, and/or lightly-toasted crusty Italian bread.
Notes
Escarole: You can find this among the lettuces in the produce department. Check the label carefully as they can be easily confused for one another.
Parmesan: Use the a piece of the rind or just a whole piece from the wedge.
Broth: Add more if you'd like more of a soupier dish. If doing so adjust the seasonings as needed.
Recipe Tips
The Parmesan can simmer in the broth for longer than 20 minutes if convenient. Just don't add the escarole/beans until the last 5 minutes of cook time.
To freeze, add to an air-tight container or a zip-top bag with the air pressed out for several months.
Nutrition
Calories:
192
kcal
|
Carbohydrates:
18.2
g
|
Protein:
10.4
g
|
Fat:
8.9
g
|
Saturated Fat:
2.2
g
|
Cholesterol:
5
mg
|
Sodium:
596
mg
|
Potassium:
30
mg
|
Fiber:
8.8
g
|
Sugar:
1.7
g
|
Calcium:
186
mg
|
Iron:
2
mg
Nutritional information is provided as an estimate. As it can vary due to many factors (brands used, quantities, etc.), we cannot guarantee its accuracy.
Food Safety and Nutrition Disclaimer