Savory mashed sweet potatoes are smoky and spiced up with pantry staple seasonings and simple to customize to your liking. These easy mashed sweet potatoes make a great side for a variety of main dishes.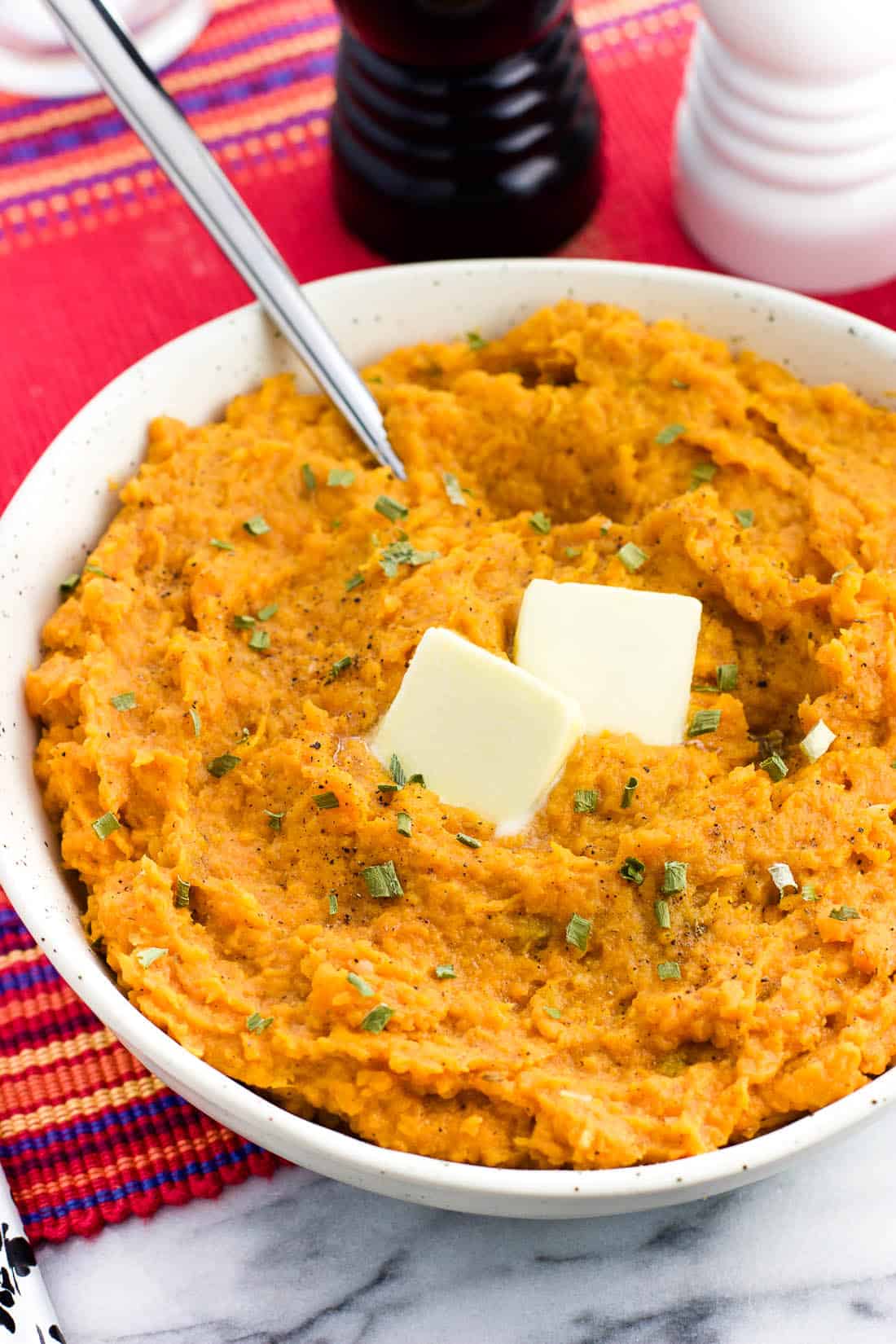 I know I don't do this often, but I'm about to drop a controversial opinion. Sweet sweet potatoes? You know the ones with marshmallows, pecans, maple syrup, brown sugar, etc.?
Not a fan.
I'm all about the savory, and super spiced up at that. Smoked paprika, ancho chile powder, garlic, and cayenne? Yes, please.
Already on the blog we have my go-to favorite spiced oven-roasted sweet potatoes recipe, a slow cooker smoky sweet potato soup, and seriously good crispy baked buffalo sweet potato fries, but you know what was missing? Mashed sweet potatoes. Savory ones. 😉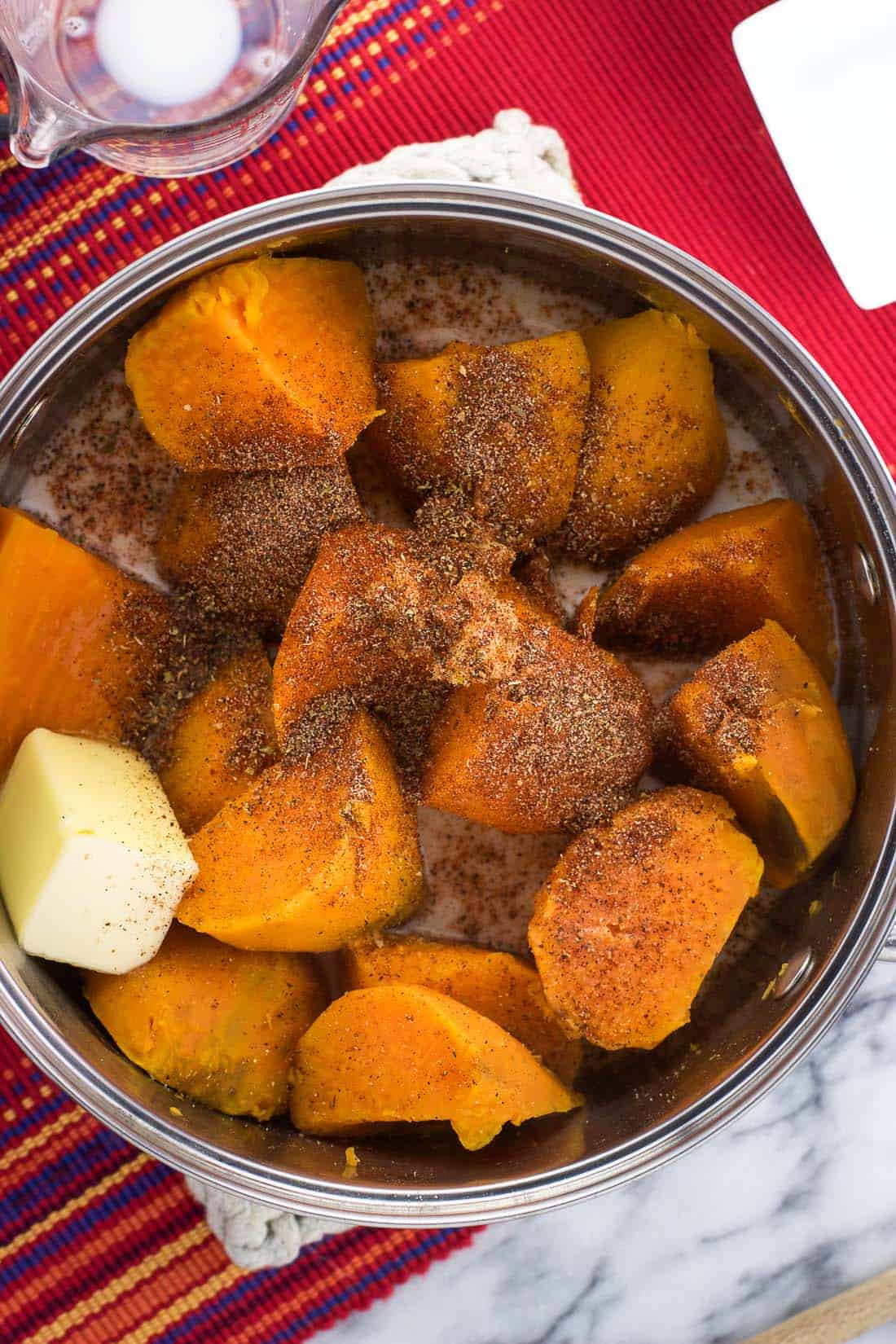 How to make mashed sweet potatoes
You won't deviate too far from the traditional way of making mashed potatoes with these savory mashed potatoes. Potato chunks are boiled until fairly tender, then drained and mashed along with milk, butter, and spices. Simple enough, right?
What will vary though are the spices! No bland sweet potatoes here.
Besides the addition of garlic, I went to town pulling out spices from my pantry and adding a little bit of this and a little bit of that to these savory mashed sweet potatoes. Chili powder, smoked paprika, coriander, and ground chipotle chile pepper bring a deep, smoky flavor, with oregano and onion rounding everything out.
That's all in addition to salt and pepper, of course. I couldn't imagine any kind of mashed potato recipe without those.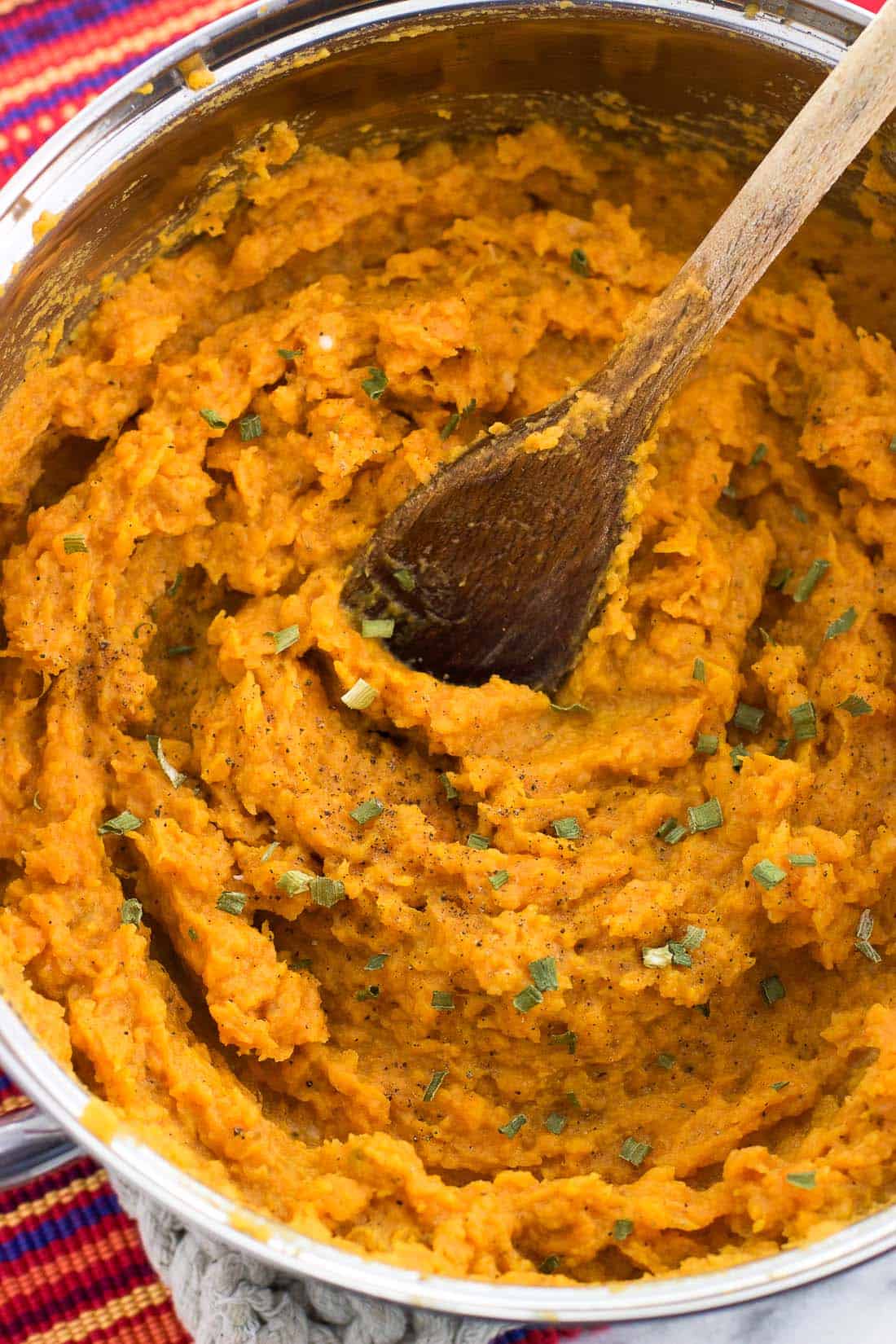 The beauty of a recipe like savory mashed sweet potatoes is that there's a ton of wiggle room for you to make them your own. Keeping this in mind, I broke up the recipe card into staple ingredients and *highly recommended* seasonings. Because if your paprika isn't smoked, you'd rather use cayenne than chipotle, or you're out of coriander, you can still make awesome mashed sweet potatoes.
Oh, and a note on the paprika. I find smoked paprika (nothing fancy at all, the kind I use) to be so much more pungent-in-a-good-way than regular paprika. You don't need much of it at all to really bring a bold smoky flavor to a variety of foods.
Since a little goes a long way, I bet you'll find more ways to sneak smoked paprika into your cooking. It's a must in my homemade taco seasoning, smoky shakshuka, and sweet and smoky hasselback sweet potatoes. <–maybe the only time I've included sugar/sweetness in with sweet potatoes. Worth it.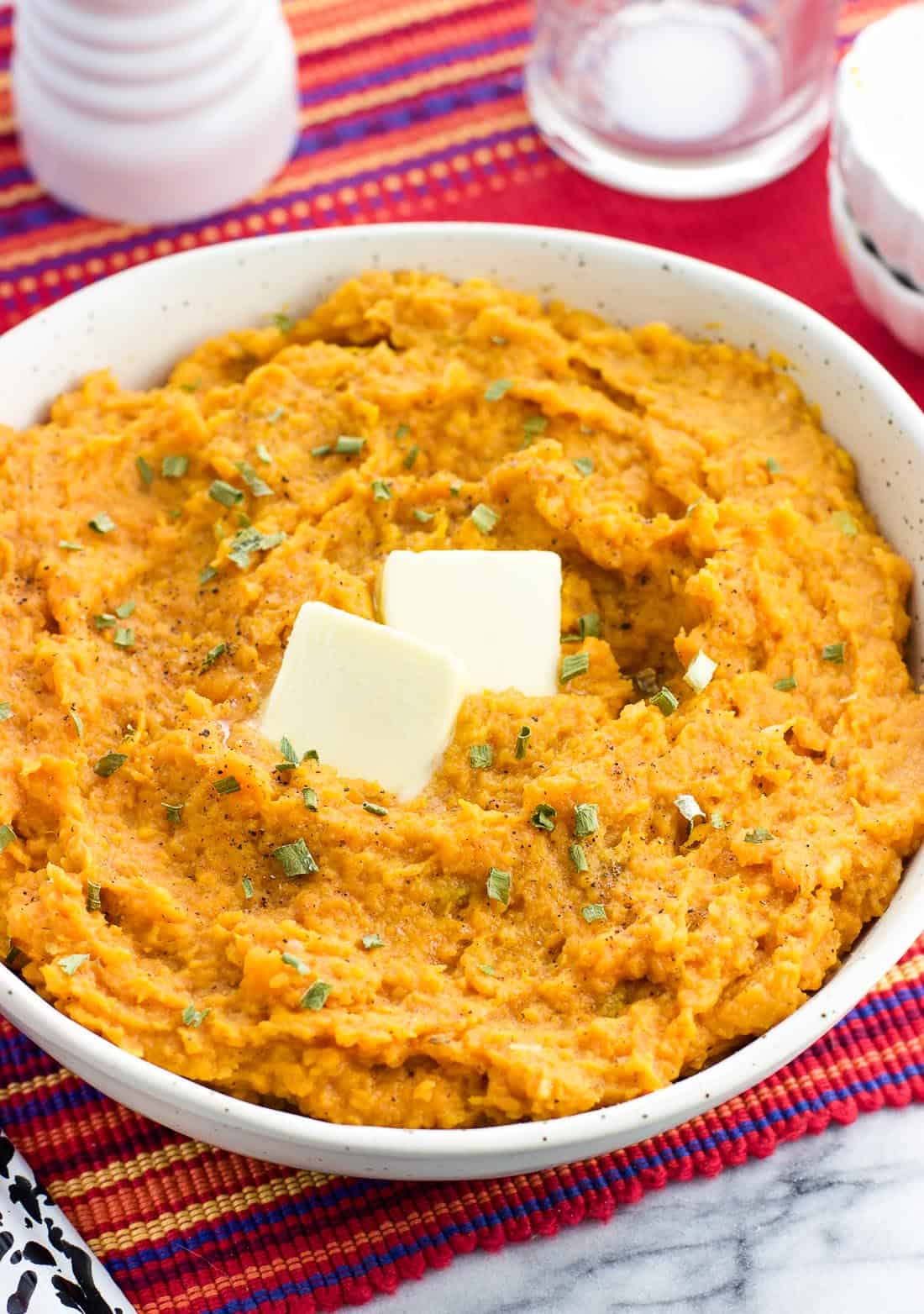 Savory mashed sweet potatoes recipe notes:
Salted butter would totally work here. I usually have unsalted on hand so that's what I used. If using salted butter, omit the 3/4 teaspoon salt in instruction step #3 below and instead just add salt to taste.
Not sure about you, but peeling garlic cloves takes me forever. Forever! And with the number of cloves I go through a week, huffing and puffing about it gets old quickly. These (inexpensive + Amazon Prime)

garlic peelers

seriously work like a charm. Each clove goes into the silicone cannoli shell-esque device and the peel slides right off after you press and roll. I was skeptical but these are really game changers in my kitchen!
Savory Mashed Sweet Potatoes
Savory mashed sweet potatoes are smoky and spiced up with pantry staple seasonings and simple to customize to your liking. These easy mashed sweet potatoes make a great side for a variety of main dishes.

Ingredients
2

lbs

sweet potatoes,

peeled and quartered

1

tbsp

plus 3/4 tsp salt,

divided

3

cloves

garlic,

minced

1/2

cup

milk,

your preferred variety

4

tbsp

unsalted butter

3/4

tsp

ground black pepper
*Highly* recommended seasonings:
1/4

tsp

chili powder

1/4

tsp

onion powder

1/4

tsp

smoked paprika

1/4

tsp

ground coriander

1/4

tsp

ground chipotle chile pepper

1/4

tsp

dried oregano
Instructions
Peel and quarter sweet potatoes and place them in a medium-large saucepan. Add enough water to the pan to cover the potatoes, along with 1 tbsp of the salt.

Place pan over high heat and bring to a boil, then reduce the heat a little bit once boiling. Boil potatoes for 12-15 minutes, or until the potatoes are fork tender. Drain the potatoes and add them back to the pan over low heat for 1-2 minutes, then shut off heat.


Add the remaining 3/4 tsp salt, minced garlic, milk, butter, and pepper to the saucepan and mash until smooth. Add the remaining seasonings and mash in, tasting to adjust the spices to your liking. Serve.
Notes
I used 2% milk here, but any variety (including half-and-half or cream) will do.
You can use 4 tbsp of salted butter if you like. If doing so, omit the remaining 3/4 tsp of salt that gets mashed into the potatoes until you take a taste. Then season according to your liking.
The recommended spices and seasonings are what I like to use, but feel free to vary the quantities and spices as you see fit.
Nutrition
Calories:
163
kcal
|
Carbohydrates:
23
g
|
Protein:
2
g
|
Fat:
7.8
g
|
Saturated Fat:
4.9
g
|
Cholesterol:
22
mg
|
Sodium:
427
mg
|
Potassium:
12
mg
|
Fiber:
2.7
g
|
Sugar:
5.6
g
|
Calcium:
30
mg
|
Iron:
0.2
mg
Nutritional information is provided as an estimate. As it can vary due to many factors (brands used, quantities, etc.), we cannot guarantee its accuracy.
*This post contains affiliate links. See the Disclosure page for more information.