This recipe for shakshuka with chorizo and chickpeas is a quick, one-skillet dinner or anytime meal featuring a smoky spice blend for bold flavor.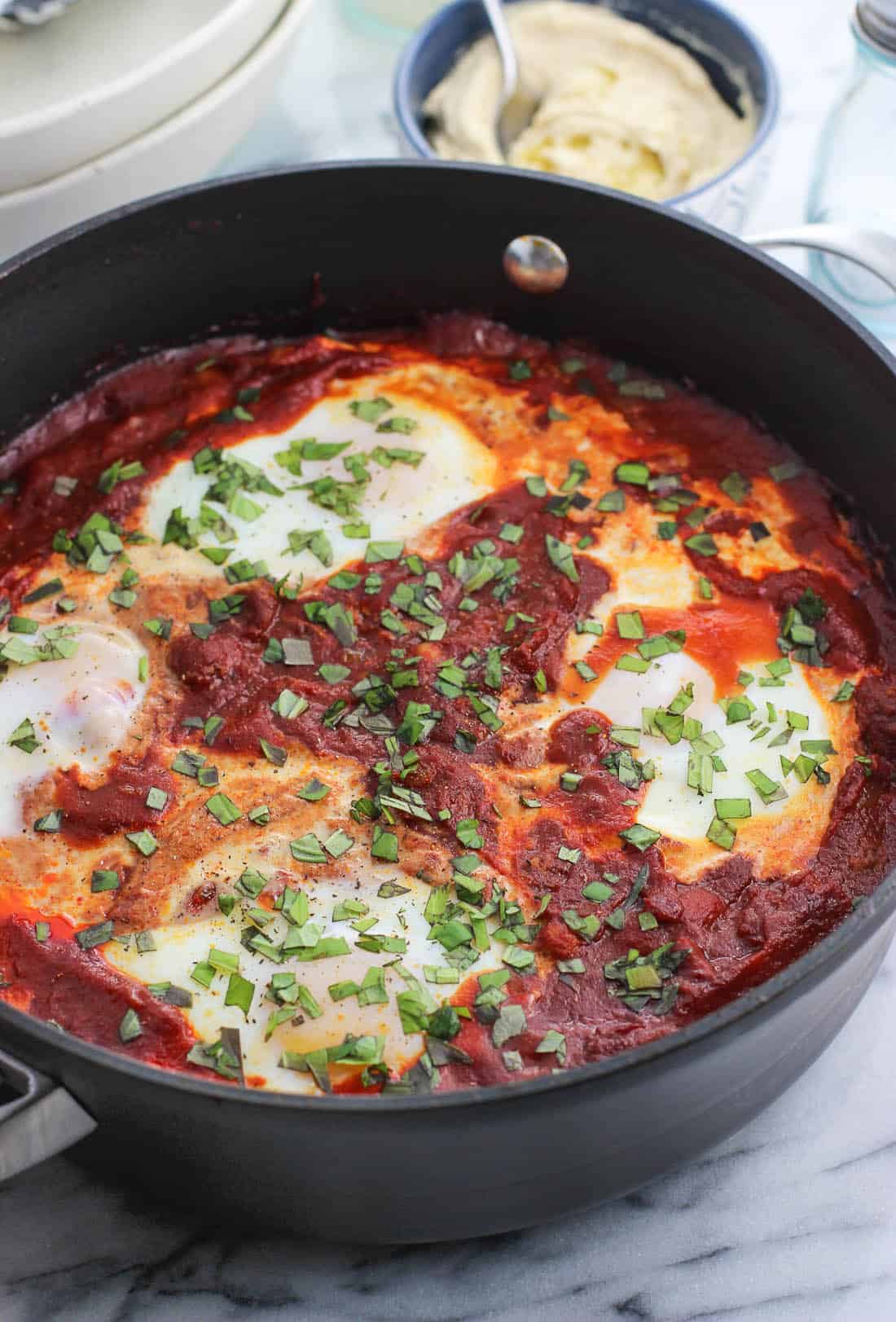 Ever get a word turned around in your brain? Where the wrong pronunciation gets hard-wired up there and it takes forever to break the habit? A notable example for me was the 'Hermione' in Hermione Granger when reading through the Harry Potter books when they first came out. I still have to take a second and think before speaking her name out loud (but it looks like I'm not alone there).
Now it's 'shakshuka'. For whatever reason when I first learned about this glorious egg and tomato dish I could not stop thinking of this dish as "shuk-shaka". ?? Lord knows why. Thankfully I've gotten that all straightened away now. I mean, I better have judging by how often this meal graces our table.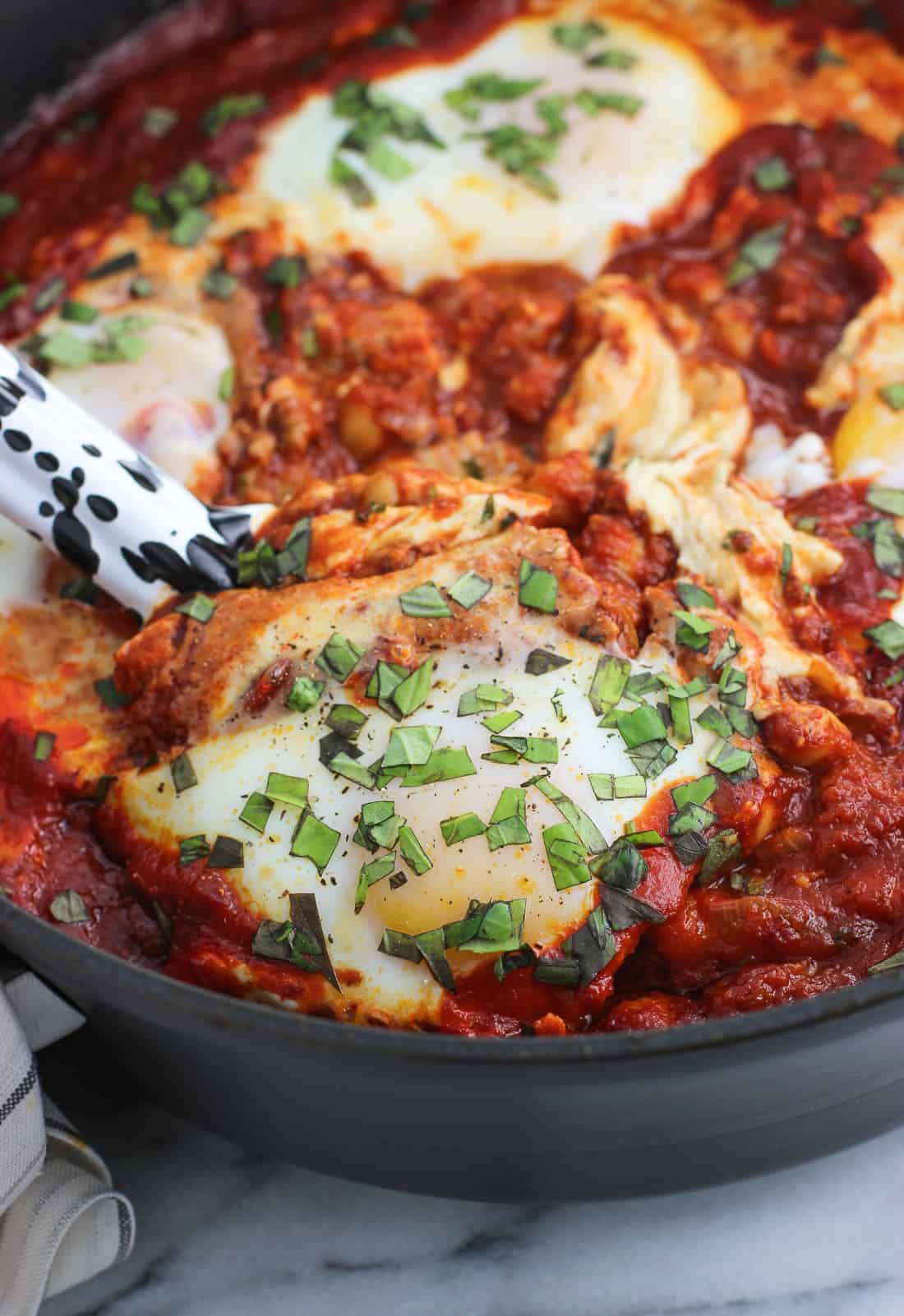 Much like with its pronunciation I'm not going to pretend to be an expert as for shakshuka's origins. A quick Google search shows me it has both North African and Middle Eastern ties, with a range of variations based on region. I don't feel comfortable saying this is an authentic version of anyone's shakshuka as I definitely put my own spin on it, but this smoky shakshuka with chorizo and chickpeas is enjoyable all the same.
One of the things I love about shakshuka is that it's made with just about all kitchen staples, and is done in forty-ish minutes. We always have eggs hanging around, as well as a large can of crushed tomatoes, a can of chickpeas, onion, garlic, etc. I've always added chickpeas to the tomato mixture for extra protein and fiber, but recently I've begun throwing chorizo in the mix to make this shakshuka even heartier.
The chorizo adds another layer of spice to this dish, and plays off the cumin (an essential flavor in shakshuka) and smoked paprika so well. Just brown it up in the skillet as the first step here, then transfer to a plate while you saute the onions and garlic in the now-empty skillet. No need to dirty up another pan!
Once the onion, garlic, chickpeas, browned chorizo, spices, and crushed tomatoes simmer together for a little bit, you'll want to make wells in the mixture in which you'll crack your eggs. It certainly doesn't have to look picture perfect – mine never do – but just try and make a little space for them to sit so the egg whites don't completely cover the surface. Also be gentle so that the yolks remain whole.
I've found four eggs works for the two of us, but feel free to add more (or less) as you like.
Be sure to use an oven-safe skillet as this shakshuka with chorizo finishes off by baking in the oven so the eggs can cook. You can certainly cook the eggs as long as you like, but somewhere in the 9-10 minute range is typically where I like mine. The whites should be set with a little bit of runny yolk action going on, too.
If you're about all toppings for your food, this smoky shakshuka with chorizo and chickpeas is for you. Go to town adding hummus, yogurt, crumbled feta, fresh herbs over top and swirling everything in, and then use warmed pita wedges to scoop up all this goodness.
Oh! And if you have all of the ingredients to make this except for the chorizo and absolutely cannot fathom the thought of running out to the store for one ingredient (hi, me all the time), go ahead and make this smoky shakshuka without it. We love it with just the chickpeas, too!
Smoky Shakshuka with Chorizo and Chickpeas
This recipe for shakshuka with chorizo and chickpeas is a quick, one-skillet dinner or anytime meal featuring a smoky spice blend for bold flavor.
Ingredients
1/2 - 3/4

lb

ground chorizo

2

tbsp

olive oil

1

yellow onion,

diced

4

cloves

garlic,

minced

1

15-oz

can chickpeas,

rinsed and drained

1

tsp

ground cumin

3/4

tsp

smoked paprika

1/2

tsp

salt

1/2

tsp

ground black pepper

1

28-oz

can crushed tomatoes

1/4

cup

water

4

eggs,

more or less if you like

Fresh herbs like parsley, cilantro, mint, etc. for serving

Hummus

for serving

Pita wedges

for serving
Instructions
Add chorizo to a large oven-safe skillet set over medium heat. Cook chorizo until browned, breaking it up into smaller crumbles as it cooks. Once browned, transfer chorizo to a plate and set aside.

Preheat oven to 375°F. Place skillet back on the stovetop set over medium heat. Add olive oil and let heat. Add diced onion and saute for 4-5 minutes, or until golden.

Add minced garlic and and cook for an additional 1-2 minutes.

Add in the browned chorizo, chickpeas, cumin, smoked paprika, salt, and pepper and stir.

Pour in crushed tomatoes and water and stir. Cover and let mixture simmer for 10-15 minutes, periodically stirring.

Make four wells in the tomato mixture and crack an egg in each of them, being careful not to break the yolks.

Place skillet in the oven and bake so that the egg whites set, about 9-10 minutes, or to your preferred doneness.

Top with your favorite herbs and hummus, and serve alongside warmed pita wedges.
Nutrition
Calories:
479
kcal
|
Carbohydrates:
25.5
g
|
Protein:
22.4
g
|
Fat:
29.3
g
|
Saturated Fat:
8.8
g
|
Cholesterol:
203
mg
|
Sodium:
1310
mg
|
Potassium:
605
mg
|
Fiber:
2.4
g
|
Sugar:
8.8
g
|
Calcium:
60
mg
|
Iron:
6.7
mg
Nutritional information is provided as an estimate. As it can vary due to many factors (brands used, quantities, etc.), we cannot guarantee its accuracy.
Recipe adapted from Food Network