Hasselback sweet potatoes make a delicious, healthy side dish that can be spiced up so many different ways. The deep slices yield potato strips similar to thin steak fries with crisper exteriors and soft middles. This recipe makes a great holiday side.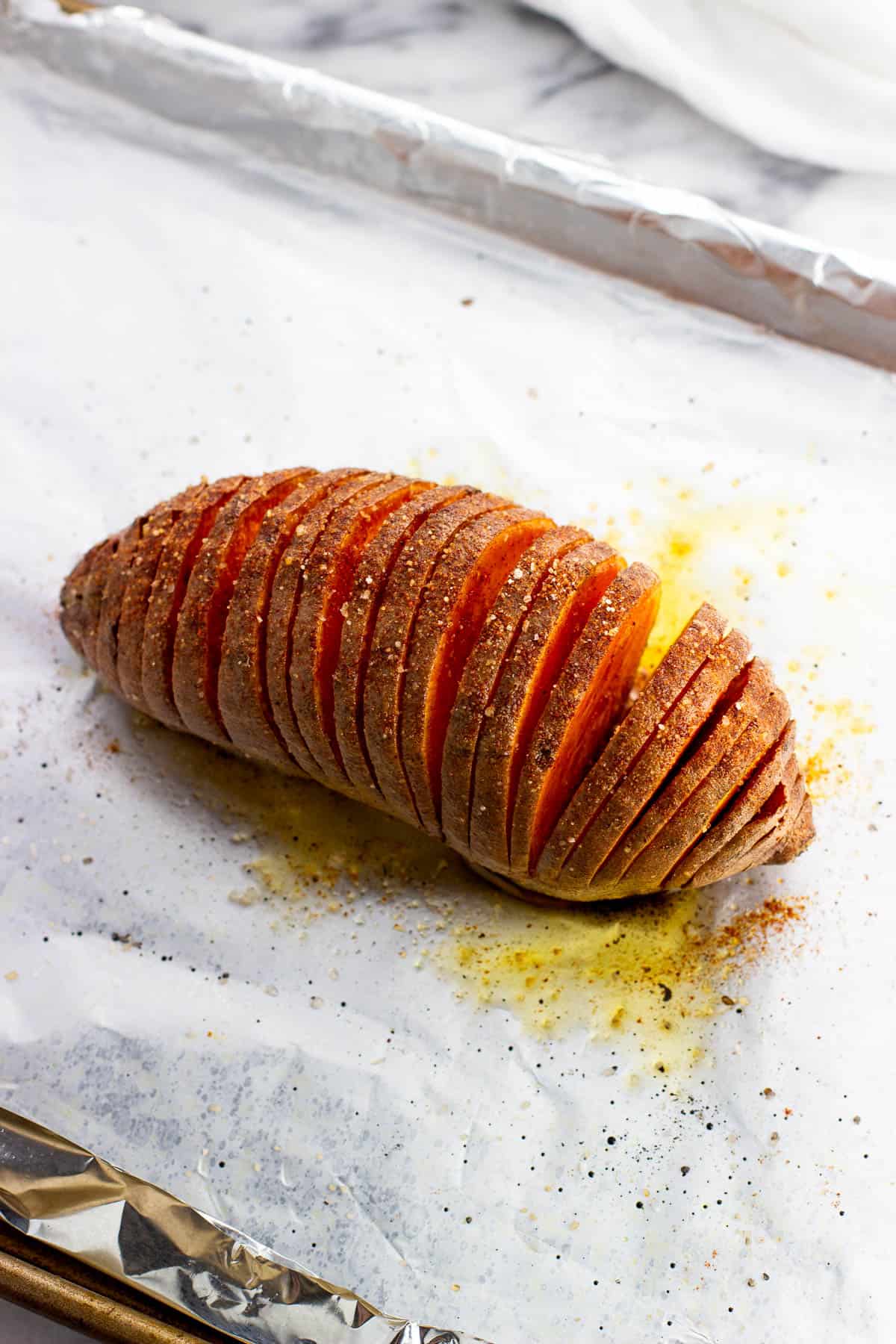 It's hard for me to stray from roasted sweet potatoes if I'm looking for a sweet potato side dish, but every now and again I switch things up and make these fancier-looking hasselback sweet potatoes.
All those little slices provide some benefits over plain baked potatoes (more on that later), but from the jump, if you're worried that your knife skills aren't up to snuff to slice potatoes up this precisely, don't be. There's a big trick to making that part a breeze.
What are Hasselback Sweet Potatoes?
Hasselback sweet potatoes (or regular Russet potatoes, as is more common) are a type of baked potato that feature tiny slices cut crosswise most of the way through the potato. The bottom of the potato remains whole so it holds together while roasting.
The slices will fan out as the potatoes cook, allowing you to brush oil and scatter spices all throughout.
All of those cuts yield crisper edges to satisfy the french fry/smashed potato fans among us, with fluffy soft potato interiors to enjoy, too. They have an impressive appearance and are wonderful candidates for a holiday sweet potato side dish.
Recipe Ingredients
Sweet Potatoes: You can make this recipe with one or several at a time. If cooking several, try and make sure they're of a similar size so they cook with the same timing.
Olive Oil: This gets brushed on the potatoes at the beginning.
Butter: This gets melted and brushed on the potatoes partway through, when the slices have fanned out and you can get down in each slice. You can also just use more olive oil or a different neutral-flavored cooking fat, such as refined coconut oil.
Salt & Spices: There's so much wiggle room here! Kosher salt is added at a minimum, with a variety of dried seasonings. I've noted a sweet and smoky spice blend I sometimes use for hasselback sweet potatoes below.
Step-by-Step Instructions
The hard work is front-loaded here: slicing the potatoes hasselback-style. Do this just before cooking as sweet potatoes will begin to discolor soon after peeling or cutting.
Slice the potatoes. Nestle two wooden utensils of similar height (spoons or chopsticks) on either side of the sweet potato. Make roughly one-eighth inch thick slices crosswise into the potato, stopping when you hit the utensils. They act as a backstop for your knife, preserving the bottom strip and preventing you from accidentally slicing all the way through.
Oil and seasoning. Brush the sliced potato all over with oil and season with half of the salt and whichever other dried seasonings you like. The slices will be tight and compact, but don't worry about trying to pull them apart at this stage.
Roast partway. Bake at 425°F for 35 minutes, then remove from the oven.
Butter and seasoning. Brush the potato with melted butter and sprinkle over top the remaining spices. You should be able to more easily brush in the grooves now. Roast for another 20 minutes, or until they're to your liking.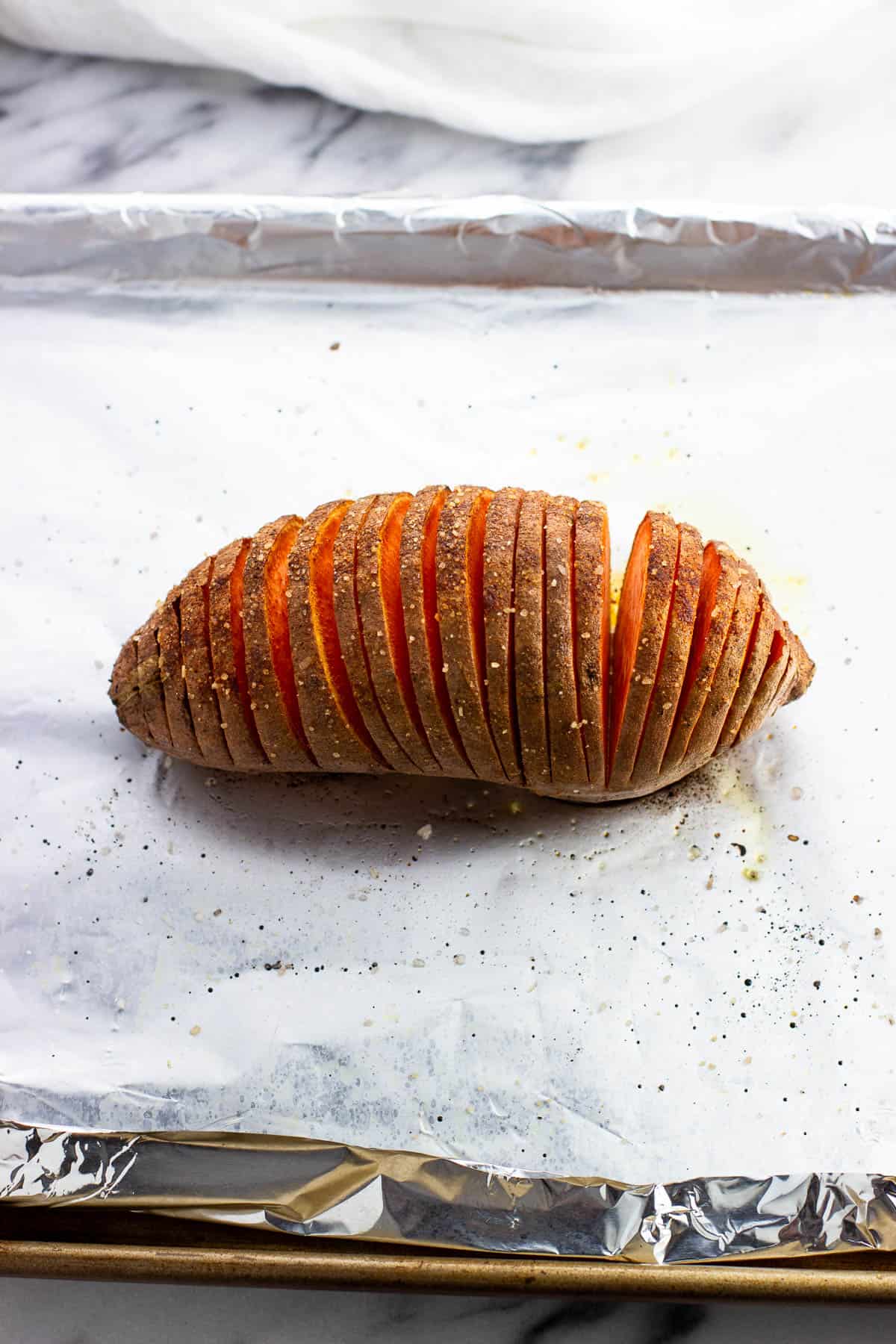 Seasoning for Hasselback Sweet Potatoes
The sky is the limit as for how you flavor these potatoes. Use your favorite all-purpose blend or consider any of the following for inspiration:
Sweet and smoky - Kosher salt, smoked paprika, and a pinch or so each of ground cinnamon and granulated sugar. I'm not a huge fan of sweet sweet potatoes (marshmallow topping and the like) but I like this.
Spicy - We love this buffalo spice blend on homemade sweet potato fries. Cayenne brings the heat (but not too much).
Garlic and herb - I prefer garlic powder over minced garlic so fresh garlic doesn't burn in the 55+ minute roast time. Use a smattering of dried herbs, such as thyme, crushed rosemary sprigs, oregano, and marjoram.
Taco - I absolutely did not expect homemade taco seasoning to taste so good on roasted potato wedges. It doesn't scream "taco!" but rather provides a great balance of flavors.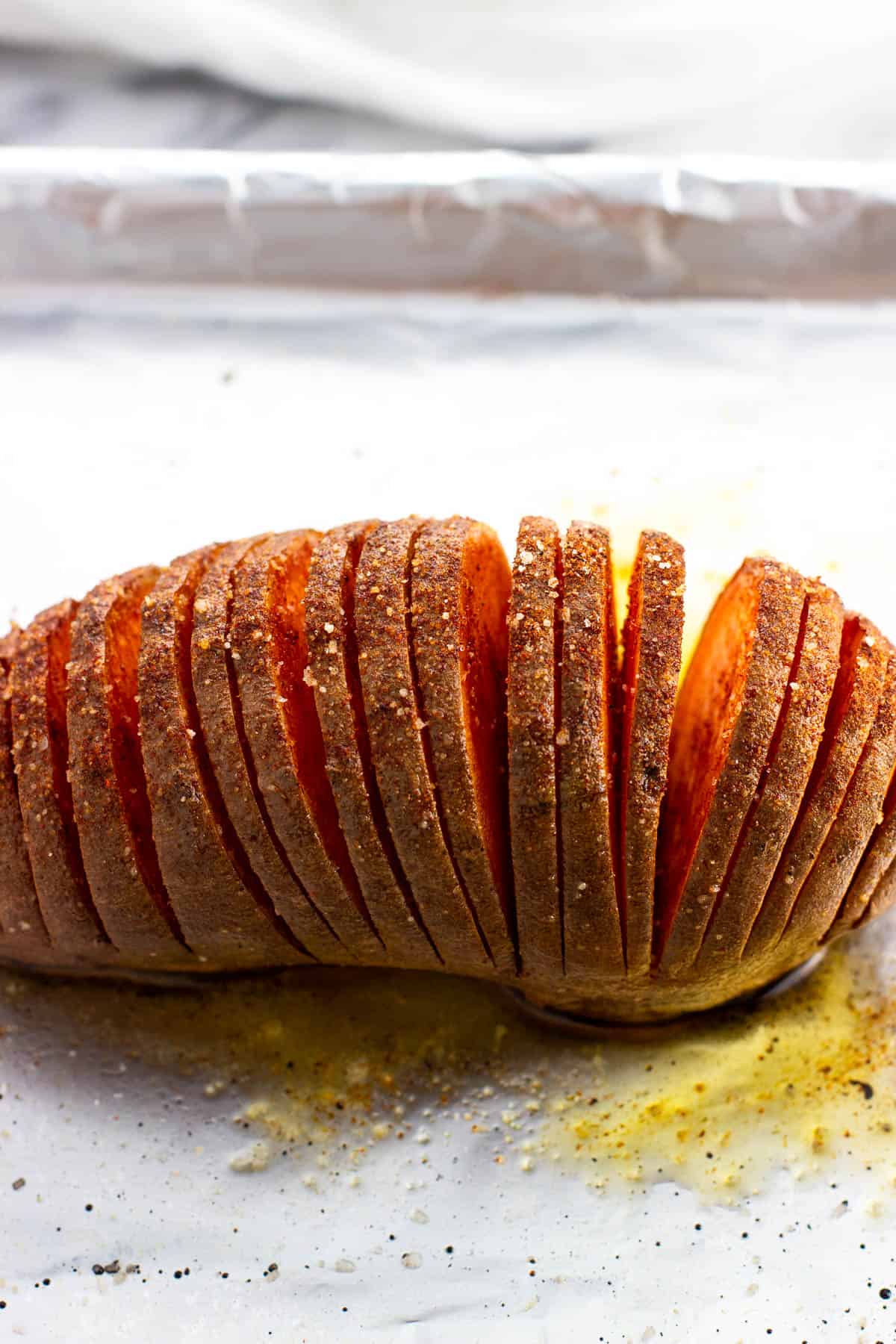 Recipe Tips and Tricks
Air Fryer. Small sweet potatoes can also work in the air fryer. My go-to air fryer baked potato temperature is 375°F, with the cook time roughly 30 minutes, depending on the size of your potatoes and how your air fryer operates.
Sweet potato prep. Rinse well and scrub away any dirt from the surface just prior to cooking. You do not have to peel the sweet potatoes for this recipe.
Check the salt. If using a pre-made spice blend, check to see if it includes salt. If it does, consider reducing or omitting the separately added kosher salt in line with your tastes.
Timing may vary. Because sweet potatoes come in a variety of sizes, your potatoes may need more or less time to roast. Hasselback sweet potatoes are done when the edges have crisped and the inside slices are perfectly fork tender.
Reheating instructions. Heat at 350°F until the skin has crisped and the sweet potatoes are warmed throughout in a traditional oven, toaster oven, or even the air fryer.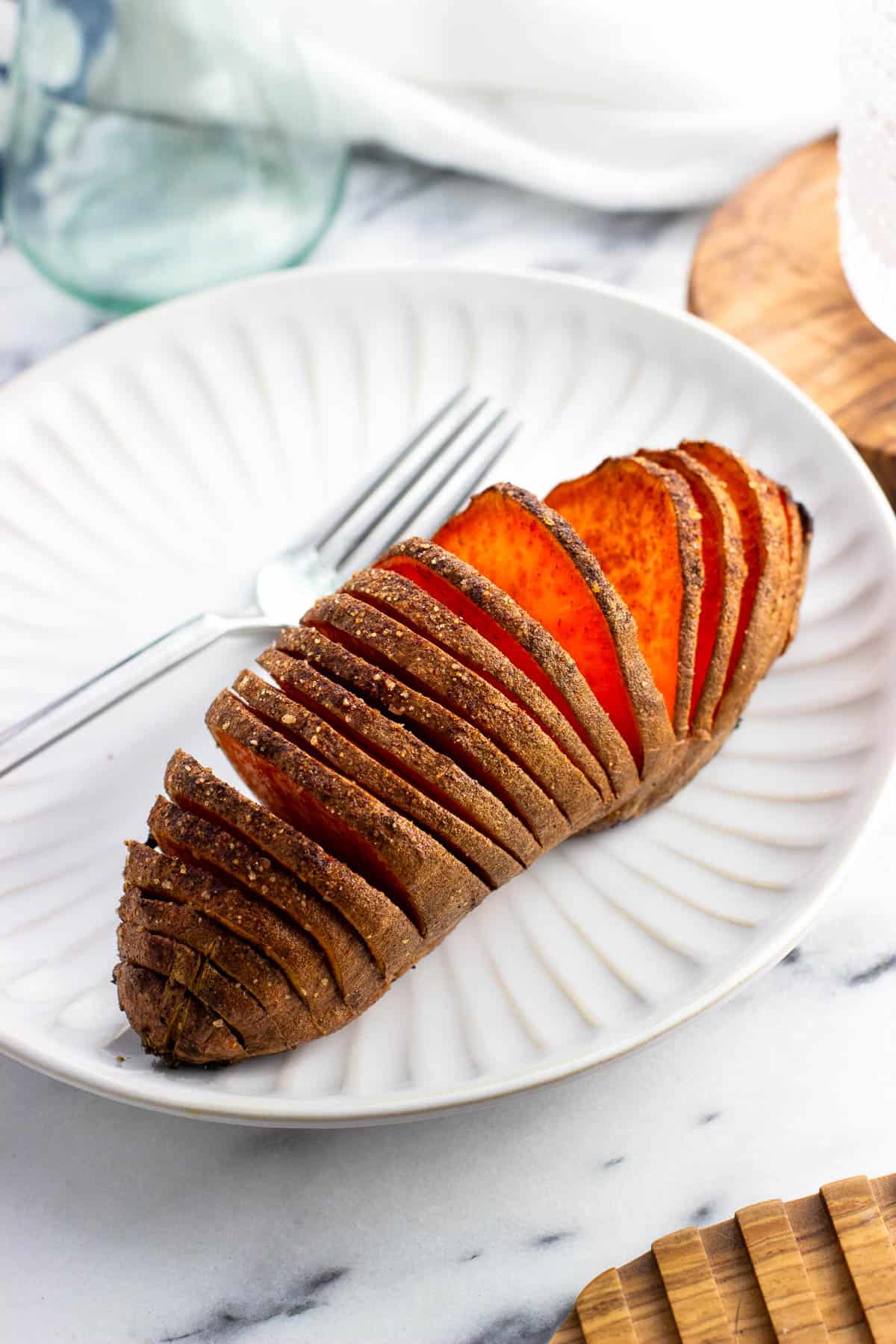 Related Recipes
If you've enjoyed this recipe, I'd love for you to leave a star rating in the recipe card and/or a comment review below!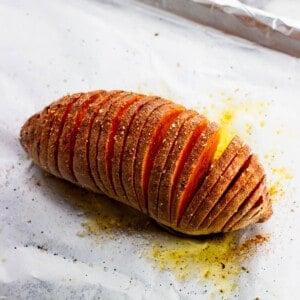 Hasselback Sweet Potatoes
Hasselback sweet potatoes make a delicious, healthy side dish that can be spiced up so many different ways. The deep slices yield potato strips similar to thin steak fries with crisper exteriors and soft middles. This recipe makes a great holiday side.
Print
Pin
Rate
Ingredients
Sweet Potatoes
2

medium

sweet potatoes

scrubbed

1

Tablespoon

olive oil

¼

teaspoon

kosher salt

or to taste

½

Tablespoon

unsalted butter

melted (or oil of your choice)
Sweet and Smoky Spices (optional)
⅛

teaspoon

smoked paprika

Pinch of

ground cinnamon

Pinch of

granulated sugar
Instructions
Preheat oven to 425°F. Line a baking sheet with aluminum foil.

Scrub potatoes and pat dry. Place a wooden utensil (like spoons or chopsticks) on either side of a potato on a cutting board. Cut crosswise slices about ⅛-inch thick throughout each potato, letting the wooden utensils act as a barrier to prevent your knife from slicing all the way through. Repeat for the other potato.

Combine the salt and smoked paprika, cinnamon, and sugar in a small bowl (or salt and whichever over dried herbs and spices you like). Sprinkle/rub the spice blend all over each potato, reserving some as well.

Place both sliced sweet potatoes on the foil-lined baking sheet and brush all over the tops and sides with olive oil. Don't pull apart the potatoes at this time. Sprinkle about half of the salt and seasonings over the potatoes, reserving the other half.

Bake for 35 minutes, then brush the potatoes with the melted butter. The slices will have fanned out during the first half of the cook time, so you can brush deeper between. Season with the remaining seasonings.

Put the potatoes back in the oven and and roast for another 20-35 minutes depending upon size, or until the exteriors have crisped and a fork or tester can easily be inserted into the center of a slice. Serve immediately.
Notes
Seasoning - If not using the optional sweet and smoky blend, choose your favorite all-purpose mix, use garlic powder and dried herbs, etc.
Cook Time - Sweet potatoes really vary in size, so the cook time will differ. Try and get two potatoes of similar size so they'll be done in the same amount of time.
Scale - This recipe can be scaled up as needed.
Nutrition
Serving:
1
potato
|
Calories:
216
kcal
|
Carbohydrates:
33.3
g
|
Protein:
2
g
|
Fat:
9.8
g
|
Saturated Fat:
2.8
g
|
Cholesterol:
8
mg
|
Sodium:
285
mg
|
Fiber:
4.1
g
|
Sugar:
7.2
g
|
Calcium:
20
mg
Nutritional information is provided as an estimate. As it can vary due to many factors (brands used, quantities, etc.), we cannot guarantee its accuracy.
Food Safety and Nutrition Disclaimer