This shop has been compensated by Collective Bias, Inc. and Constellation Brands. All opinions are mine alone. The following content is intended for readers who are 21 or older. #CervezaCelebration #CollectiveBias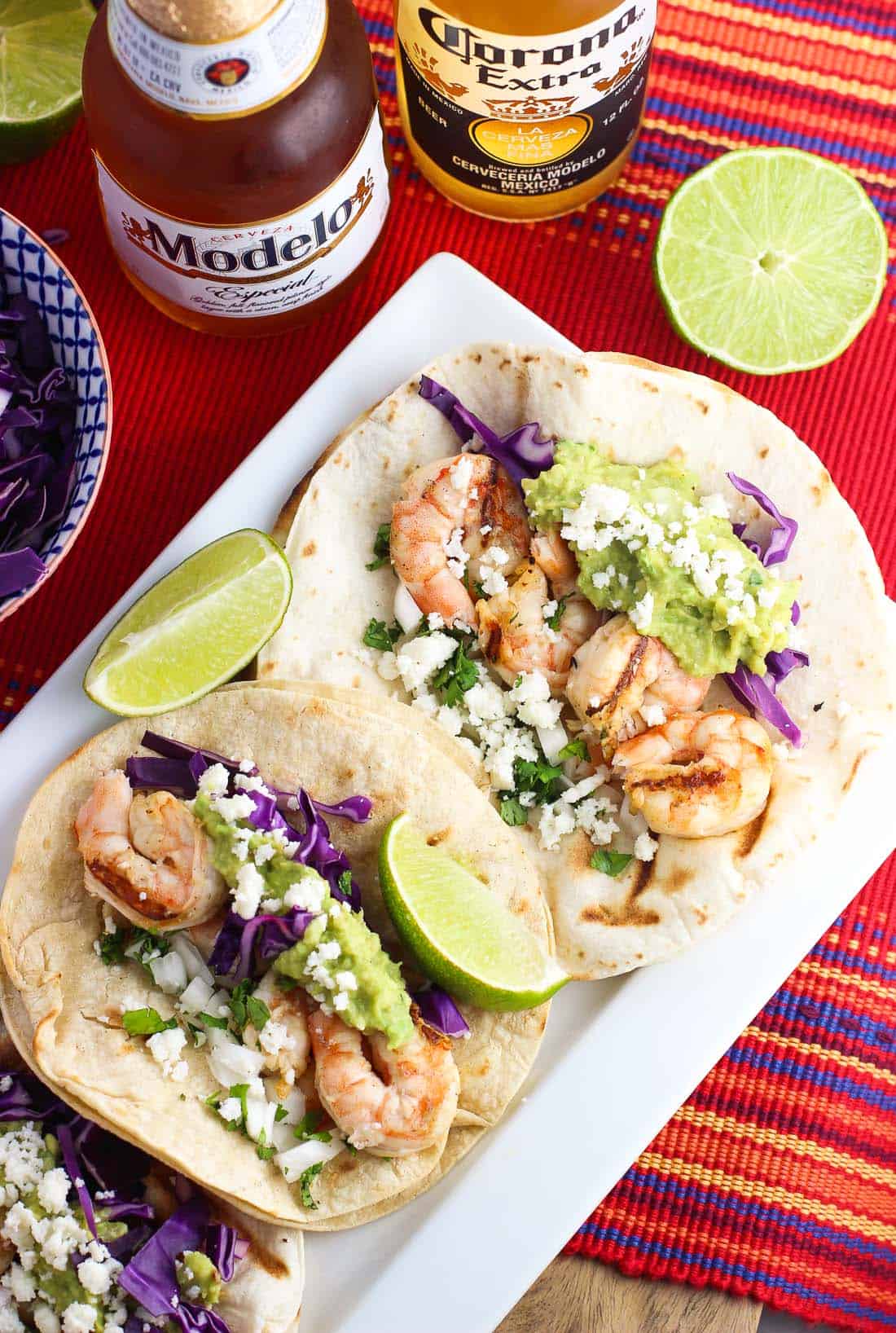 When you have a birthday in your close circle daaaaaangerously close to Cinco de Mayo, can you ever justify celebrating by cooking up something other than Mexican-inspired food and drink? It's been eight years and counting for me (how long Brian and I have been together!!) and we've never done things differently. His birthday is just after Cinco de Mayo so his birthday and Cinco de Mayo celebrations have a tendency to run together. Not that he complains about that because Mexican food is his favorite…and it doesn't hurt that everybody is in a festive fiesta mood.
We'll be keeping that theme rolling this year by firing up the backyard torches, putting on some tunes, inviting friends over, and enjoying blackened shrimp street tacos with cold, refreshing Corona and Modelo. These two beers always make an appearance at our joint Cinco de Mayo/birthday festivities, and are essential parts of our summer BBQs and get-togethers.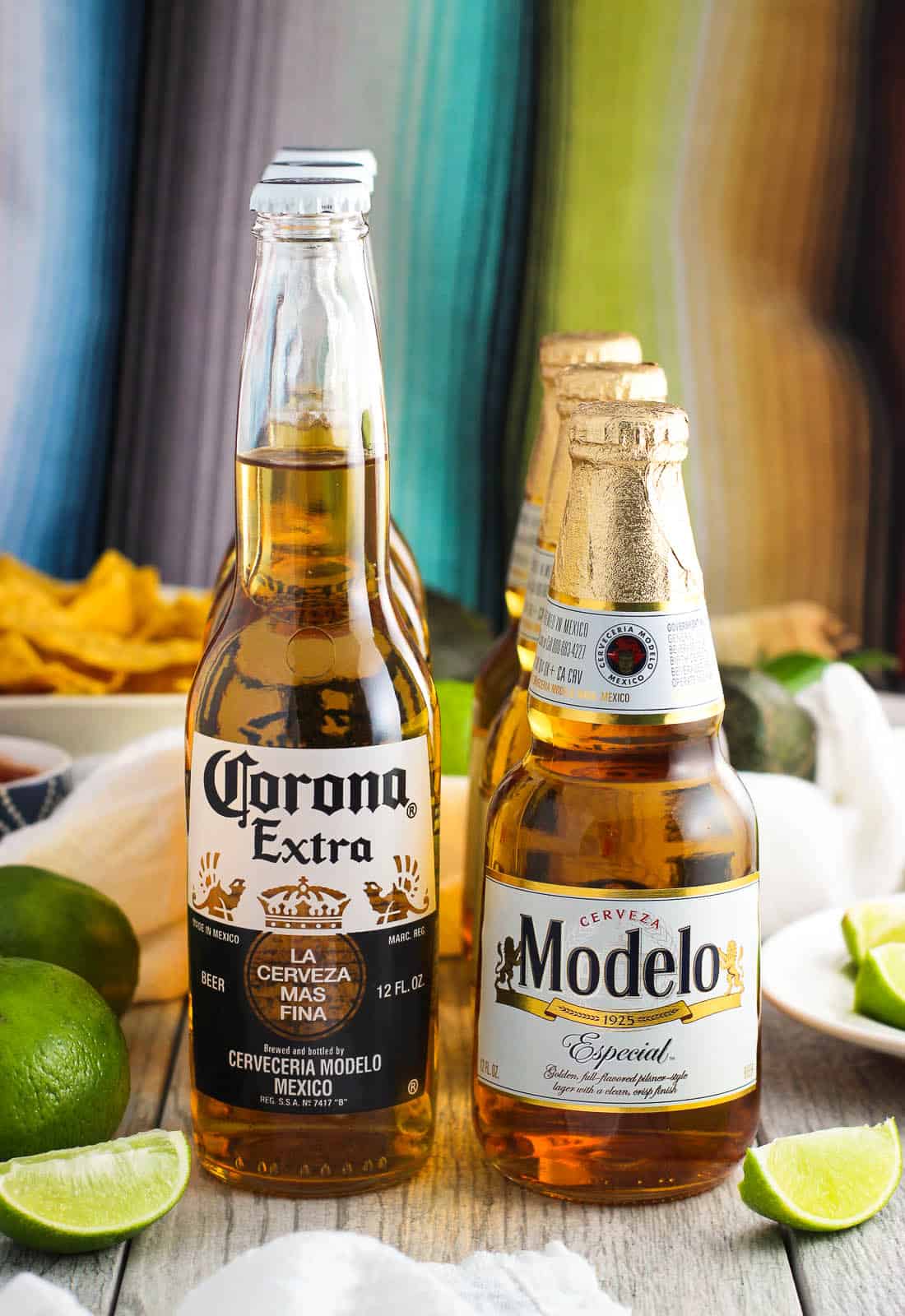 Modelo Especial is brewed with a fighting spirit, making it just the beer to drink, say, during a rousing card game (our group gets competitive). It's a full, richly-flavored Pilsner-style lager that has a crispness to it with a clean taste. Once you take a sip you'll taste a light hoppiness with an orange blossom honey aroma along with a hint of herb. Sounds so refreshing, right? Icy cold Modelo + warm sunbeams on my skin (along with SPF) = spring and summertime perfection.
And as for Corona Extra? It's also refreshing and smooth, and features an even-keeled fruity/honey aroma, all mixed up with a hint of malt. In my opinion you can sub it into the beer/math equation above and you'd get the same outcome. I used to think of Corona as a beer meant to be imbibed on a carefree beach vacation, but really, why can't that light-hearted, fun spirit find its way into normal non-vacation life? I can't think of any reasons why it shouldn't. Corona Extra refreshes the mind and soul, and will help that vacation-like feeling creep into your everyday.
I'd be willing to guess that a large majority of Cinco de Mayo festivities revolve around Mexican food. Our usual crowd appreciates the ubiquitous bowl of chips and salsa, but requires something more substantial (i.e. with protein), too. Enter: blackened shrimp street tacos. These babies include beer in the marinade and are grilled, meaning you've created the perfect opportunity for sipping a Corona or Modelo while supervising your shrimp skewers as they cook.
Have you ever used beer in a marinade before? It mixes up so well here with the olive oil, lime juice, honey, chili garlic sauce, and minced garlic. The flavors mesh together without one ingredient overpowering the rest, and you're left with a zesty and balanced marinade that lends the right amount of flavor to the shrimp. A pilsner-style lager like Modelo Especial and a cerveza such as Corona Extra are great beers to use as their flavors aren't too heavy or light, and their flavor notes complement the citrus and honey.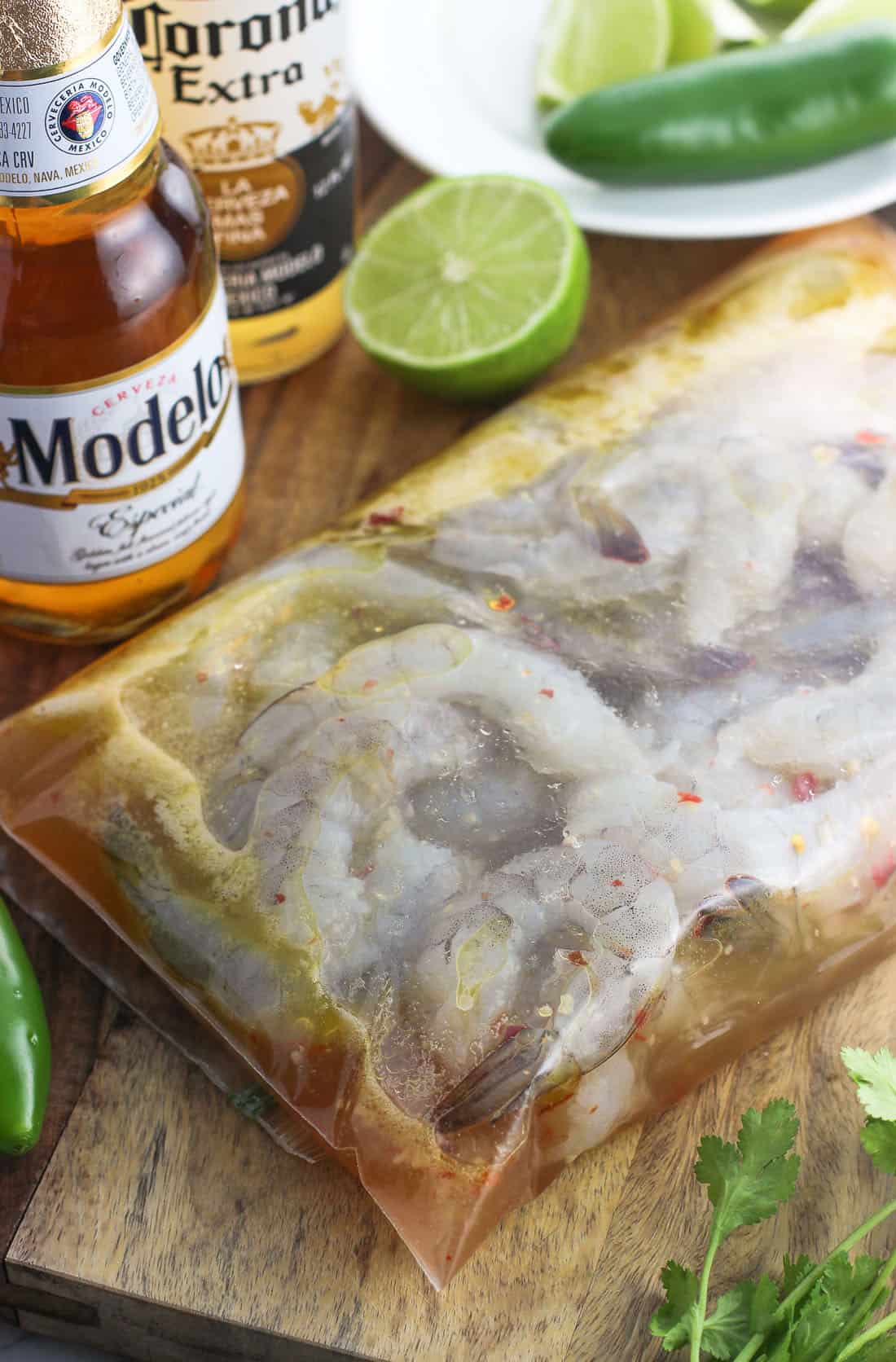 Something great about marinating shrimp is that it doesn't take long - 20-30 minutes will do the trick. Any longer and you risk messing with the texture as the marinade includes a citrusy element, so you won't need to begin the prep for these blackened shrimp street tacos way ahead of time. The one thing you'll want to cross off your list in advance (and I have a feeling that you won't mind) is to pick up your preferred variety of Corona and Modelo products in your local beer aisle, where they're ready to add excitement to your Cinco de Mayo and warm weather entertaining. Cheers, friends!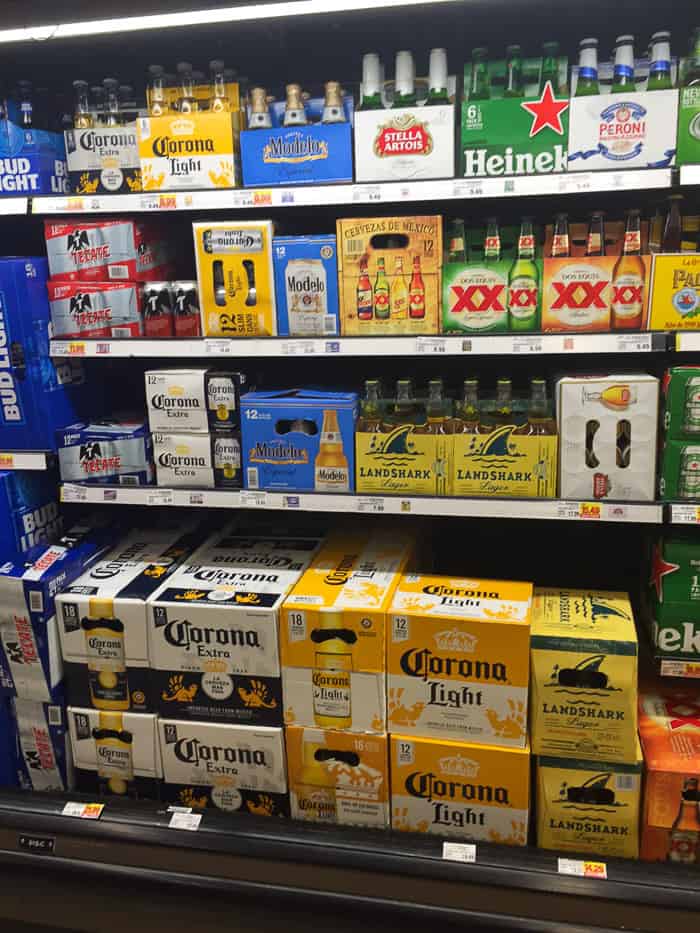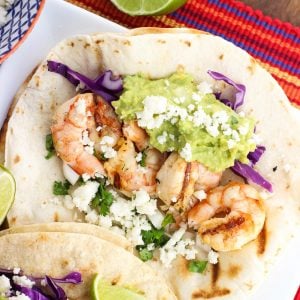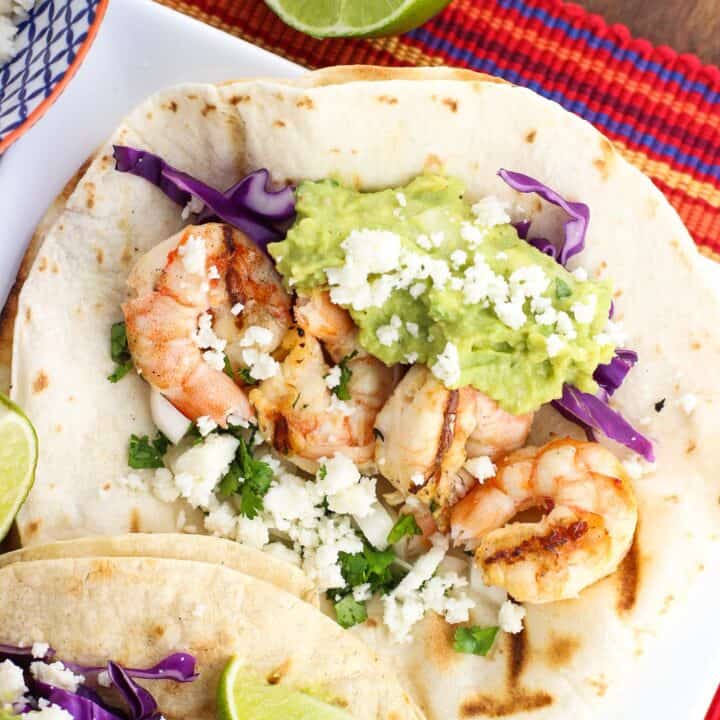 Blackened Shrimp Street Tacos
Blackened shrimp street tacos feature quickly marinated lime, honey, and beer shrimp that are grilled to juicy perfection. Just add your favorite toppings.
Ingredients
24

oz

peeled and deveined jumbo fresh frozen shrimp

(21-30 per lb), thawed
For the marinade:
1

12-oz

bottle or can of Corona Extra or Modelo Especial

¼

cup

olive oil

¼

cup

freshly squeezed lime juice

1

tablespoon

honey

1 ½

teaspoon

chili garlic sauce

2

cloves of garlic,

minced
For serving:
Flour and/or corn tortillas

Guacamole

Cilantro,

chopped

Red cabbage,

sliced thin

Onion,

diced

Queso fresco,

crumbled

Lime wedges
Instructions
In a medium sized bowl, whisk together all marinade ingredients.

Add thawed shrimp to a large plastic bag and pour marinade over top. Seal bag and place in the refrigerator for 20-30 minutes. While the shrimp marinates, pre-heat the grill.

Remove shrimp from the bag and place on grill-safe skewers. Place skewers on grill and cook over medium direct heat for 3-3 ½ minutes per side. Shrimp will curl and become pink as they cook.

Once shrimp are cooked, take skewers off the grill and remove shrimp from the skewers. Remove tails from the shrimp and assemble with your preferred taco ingredients (my suggestions are in the recipe ingredients above, but customize as you see fit). Enjoy with Corona and Modelo for a fun and festive Cinco de Mayo meal!
Notes
Prep time includes 30 minutes for the shrimp to marinate.
You may also prepare the shrimp in a grill pan on the stove.
I prefer buying frozen shrimp and then thawing them just prior to cooking. Most of the supermarket fish department stock has been frozen and then allowed to thaw in the display case. Using frozen shrimp gives you more flexibility, as you can buy a bag and have it on hand to thaw and cook at your convenience and on your schedule. To thaw, you can either stick the bag of shrimp in the refrigerator overnight, or place shrimp in a colander and run cold water over them for 5-6 minutes, or until they're pliable.
The nutritional info of recipes that include a marinade are always difficult to calculate because a good portion of the marinade is discarded. As an estimate I included one tablespoon of olive oil, 1.25 ounces of beer, and half a tablespoon of honey in the nutrition. Also included are two taco-sized soft tacos.