Smoked salmon risotto with feta is an impressive main dish that isn't as hard as you might think. Creamy, flavorful Arborio rice features pockets of melty feta and is topped with smoked salmon slices.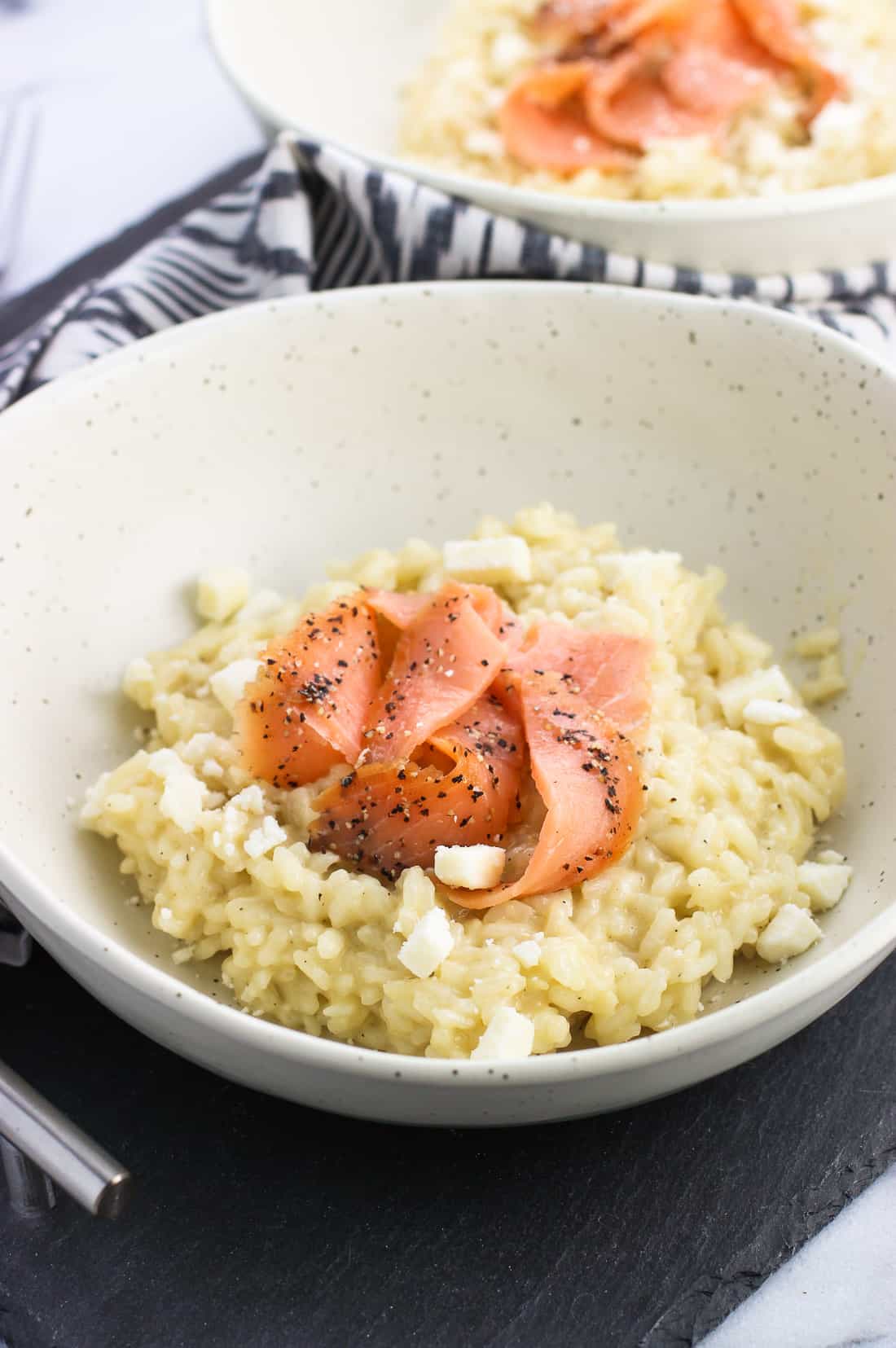 Risotto is one of those dishes that I've always delegated to the special occasion or night out category. Which on the surface — makes sense! It tastes pretty luxe and it has a bad rap for being fussy and time-intensive.
And while yes, there's a fair amount of stirring involved, it really isn't overly complicated or finicky. And I mean…all the while your head is over the pot of olive oil/butter/onion/garlic/white wine/chicken broth/rice. There are worse aromas to have to hang around for a period of time.
I first made this particular smoked salmon risotto on Christmas Eve, when my Italian heritage barely skated by with the feast of seven one fish(es). And it was smoked salmon at that, which isn't exactly legit Italian seafood. In my defense it was just the two of us at home celebrating, so I'm giving myself a pass.
Needless to say we forgot all about traditions once we dug into this dish. Pockets of melty, slightly tangy feta are found throughout the super creamy risotto, all of which plays nicely with simple slices of smoked salmon on top. Sometimes you'll see risotto served as a side dish, but with how hearty and filling it is, I prefer to add some protein and enjoy it as a main dish.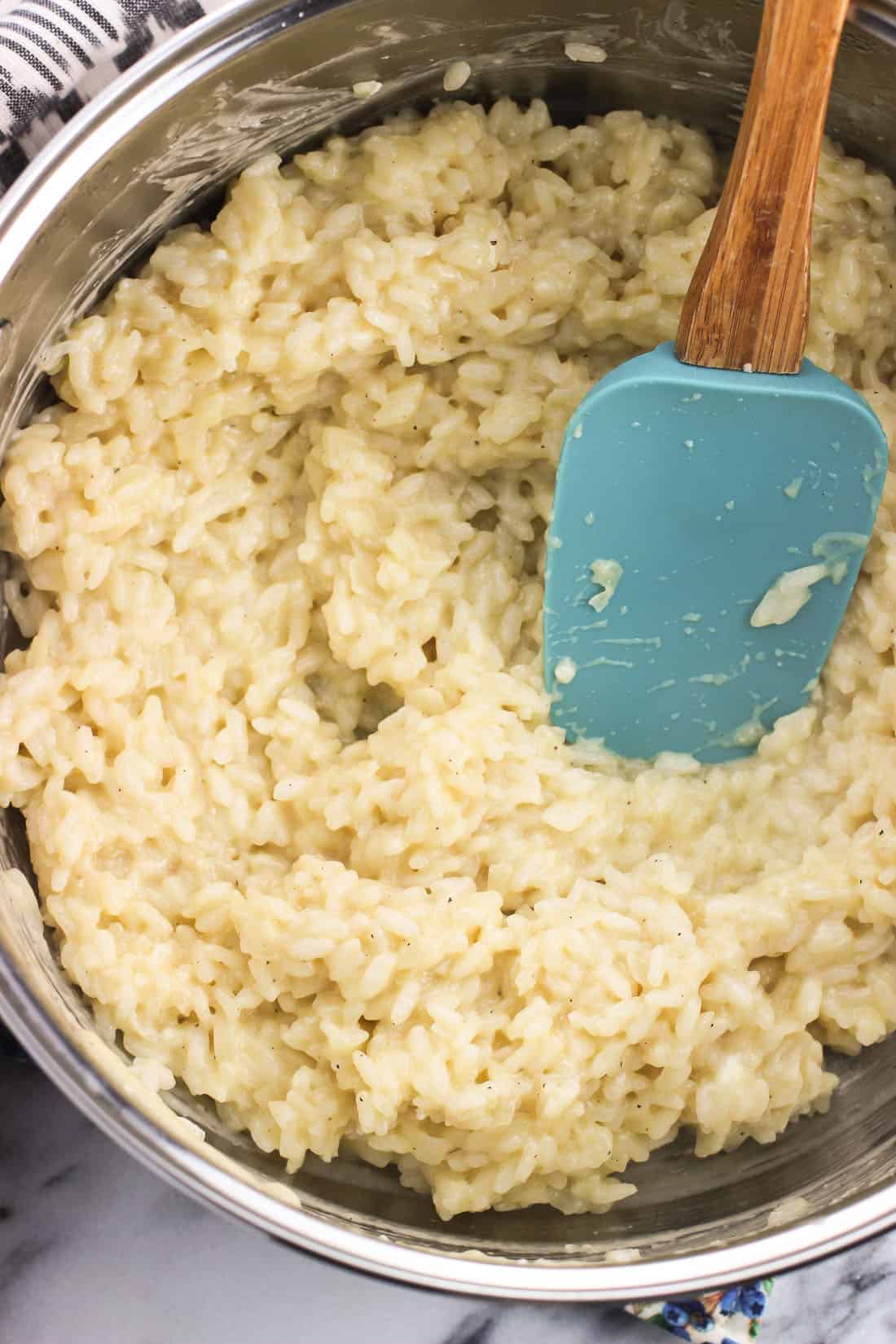 Recipe ingredients
Risotto is made from Arborio rice, which a plump, short-grain rice variety that is very starchy. All this starch is what makes it thick and creamy once cooked, bringing that classic risotto texture.
Then we also have equal parts olive oil and butter, onion, and garlic as the base of this smoked salmon risotto.
As for the white wine, you'll want to go with a drier variety such as Sauvignon Blanc or Pinot Grigio as there's no need for sweetness. And it doesn't have to be a pricey variety at all. Just something you may or may not enjoy sipping on while stirring. 🙂
Reduced-sodium chicken broth is my pick for the cooking liquid here which is standard, but I swerved big time with the addition of feta. Since feta isn't a melting cheese it provides salty/tangy bursts throughout the risotto for an excellent flavor.
Now for the smoked salmon, use your preferred variety. The kind used in these photos featured cracked pepper and garlic, which are two flavors that worked wonderfully with this risotto. Plain smoked salmon works great, too, but since the other flavors (except for maybe the feta) aren't very strong, here is a good place to give things a pop.
Recipe method
Smoked salmon risotto begins by bringing the chicken broth to a simmer in a medium saucepan. You'll keep this going separate from the risotto pot, adding it in at intervals later on.
Combine the olive oil and butter in a large pot set over medium heat, then add the onion and garlic and saute for a few minutes, or until golden. Add the dry Arborio rice and give it a stir. Now stir in the white wine and let everything simmer for a minute or two.
Next you'll want to add the simmering broth to the pot of risotto about one-half cup at a time and stir until the broth has been absorbed. Repeat this process until all of the broth is worked into the recipe.
To make this part easier while still being precise, I measured the capacity of my ladle before beginning so I could easily transfer the warm chicken broth between pans without measuring out 4 ounces exactly. As it turns out, my ladle can hold two-thirds of a cup of liquid up to the brim, so I eyeballed a little less than that to estimate one-half cup. It doesn't need to be ultra precise.
And, oh yeah — you don't have to stir like a maniac! Use a spatula/spoonula and focus on bringing up the rice that's on the bottom of the pot so it doesn't stick, and moving it all around. Basically you want to focus your efforts on the rice not sticking to the pot.
I prefer topping the risotto with smoked salmon rather than mixing it in. That way you can add as much (or as little) as you please, or omit entirely for a serving if someone in your crowd doesn't do seafood. Plus you avoid the whole situation of reheating leftover seafood.
Reheating risotto
While risotto is a culinary superstar, it's not the best when it comes to handling leftover portions. As the risotto sits in the refrigerator, it thickens up (thanks to all that starch) and loses much of the wonderful creaminess it has when it's freshly made. Edible and enjoyable? Of course! But it's just not the same.
You can reheat the salmon risotto in a small pan with a generous glug of chicken broth, orrrrr you can make something else entirely. Leftover risotto cakes is my pick! Extra risotto holds together very well to form a patty, which is then coated in breadcrumbs and pan-fried for a seriously delicious appetizer or small plate. Plus, I mean, there's a cheese-filled center.
Related recipe
If you're as much of a smoked salmon fan as I am you may be into these impossibly easy burrata and smoked salmon crostini. This appetizer features such basic ingredients in the BEST way.
Smoked Salmon Risotto with Feta
Smoked salmon risotto with feta is an impressive main dish that isn't as hard as you might think. Creamy, flavorful Arborio rice features pockets of melty feta and is topped with smoked salmon slices.
Ingredients
4

cups

reduced-sodium chicken broth

1 1/2

tbsp

unsalted butter,

cut into small pieces

1 1/2

tbsp

olive oil

1

large onion or 2 small onions,

finely chopped (to yield a little less than 1 cup)

3

garlic cloves,

minced or pressed

1 1/2

cups

Arborio rice

1/3

cup

dry white wine

1/2

tsp

salt

1/4

tsp

ground black pepper

1/2

cup

crumbled feta,

plus more for serving

4

oz

smoked salmon,

thinly sliced
Instructions
Pour chicken broth into a small-medium saucepan and set over low heat. You'll just want to warm it and bring to a very slight simmer.

To a large pot set over low-medium heat add the butter and olive oil. Once the butter has melted, add the chopped onion, and the minced garlic about 1 minute later. Cook in total for about 3-4 minutes, or until the onion has begun to turn golden and softens.

Add in the (uncooked) Arborio rice and stir to coat.

Pour in the wine and give everything a good stir. Let the mixture simmer for a few minutes until the wine is almost all absorbed by the rice.

Add about 1/2 cup of the warmed chicken broth to the pot with the rice and continuously stir until the rice has just about fully absorbed the broth. This will take a few minutes.

Repeat the above step until all of the broth is incorporated, stirring all the while. Focus on bringing up the rice that's on the bottom of the pot and mixing it into the rest of the rice.

Remove the pot from the heat and stir in the feta, salt, and pepper. Top with smoked salmon slices and extra feta and serve immediately.
Notes
White wine: Use a wine on the drier side here, like Sauvignon Blanc or Pinot Grigio.
Nutrition
Calories:
469
kcal
|
Carbohydrates:
62.2
g
|
Protein:
16.3
g
|
Fat:
15
g
|
Saturated Fat:
6.5
g
|
Cholesterol:
34
mg
|
Sodium:
1629
mg
|
Potassium:
387
mg
|
Fiber:
2.6
g
|
Sugar:
2.6
g
|
Calcium:
100
mg
|
Iron:
2.3
mg
Nutritional information is provided as an estimate. As it can vary due to many factors (brands used, quantities, etc.), we cannot guarantee its accuracy.
Base risotto recipe adapted from Everyday Italian by Giada De Laurentiis (affiliate link). I love this cookbook for when I'm feeling like something Italian-inspired but don't want to put in a lot of fuss or go traipsing off to the speciality Italian store for ingredients.