Smoked salmon risotto with feta is an impressive main dish that isn't as hard as you might think. Creamy, flavorful Arborio rice features pockets of melty feta and is topped with smoked salmon slices.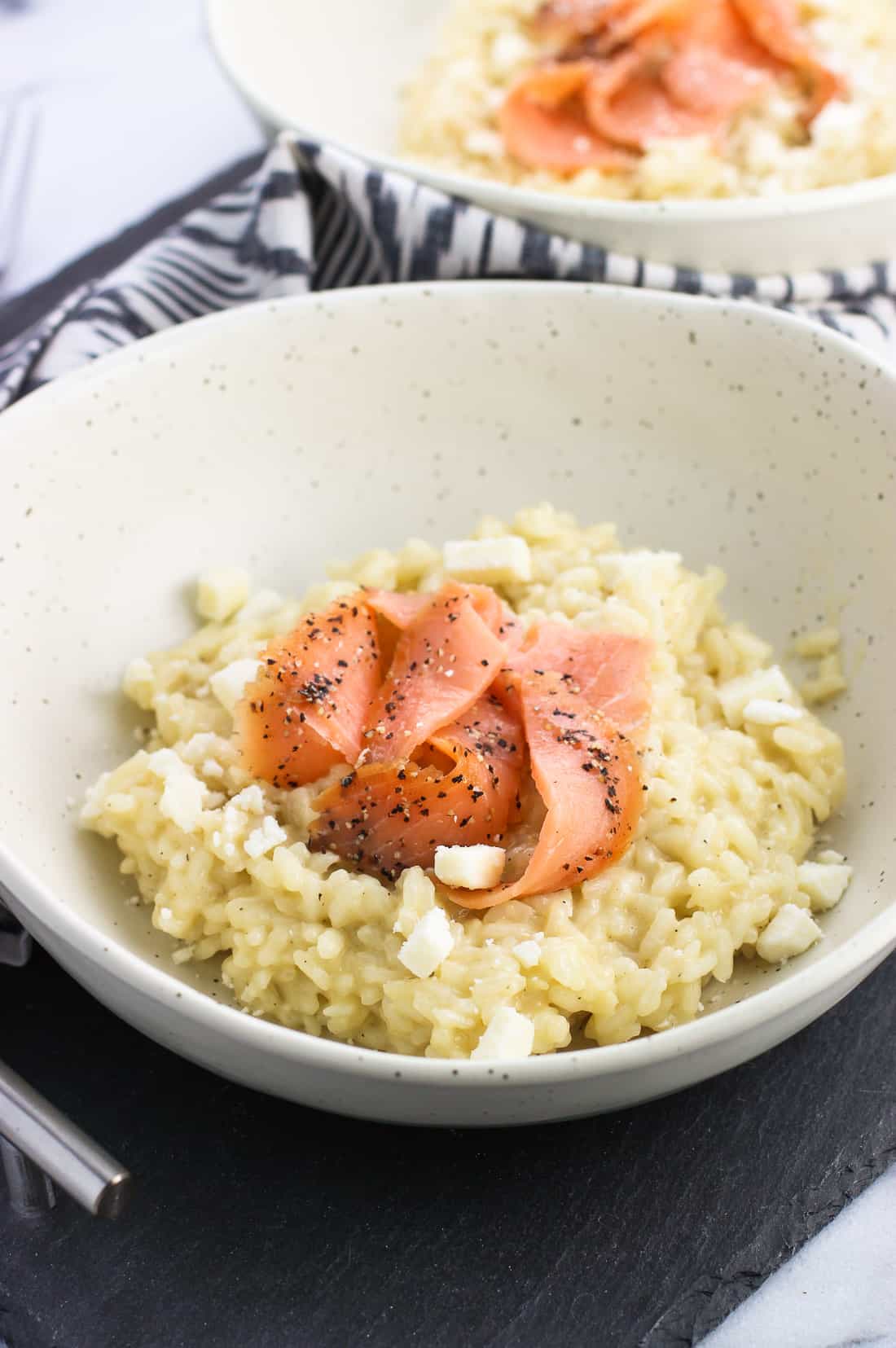 Risotto is one of those dishes that always seems to get relegated to the 'special occasion' or 'night out' category. Which I understand. For one: it tastes pretty sinful (spoiler: it's not really). And two: it has a bad rep for being fussy and time-intensive. While there's a fair amount of stirring involved, it's not overly complicated or finicky. And I mean…all the while your head is over the pot of olive oil/butter/onion/garlic/white wine/chicken broth/rice. There are worse aromas to have to hang around for a period of time.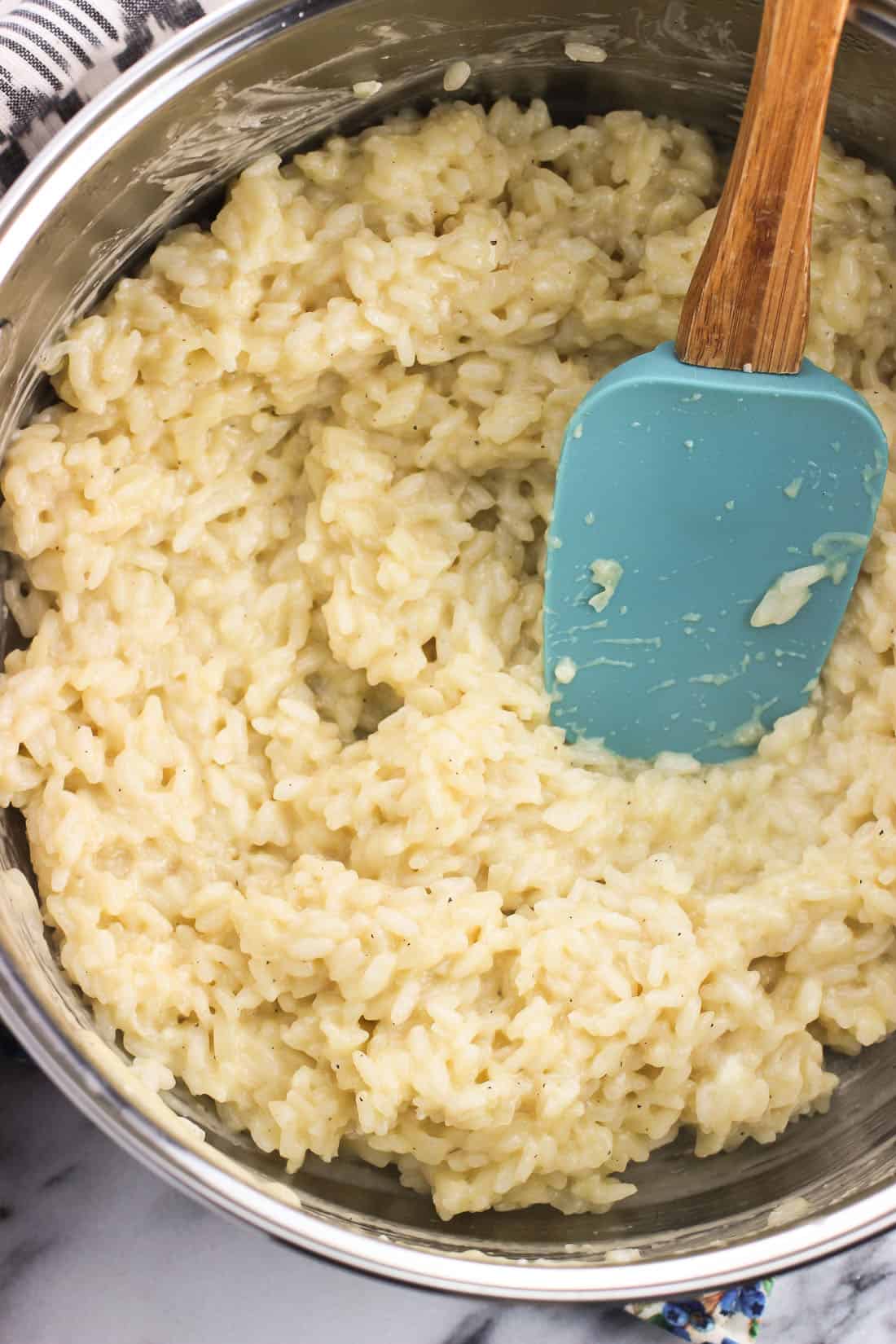 I first made this particular smoked salmon risotto on Christmas Eve, when my Italian heritage barely skated by with the feast of seven one fish(es). And it was smoked salmon at that, which isn't exactly legit Italian seafood. In my defense it was just Brian and I at home celebrating, so I'm giving myself a pass.
Needless to say we forgot all about traditions once we dug into this dish. Pockets of melty, slightly tangy feta are found throughout the super creamy risotto, all of which plays nicely with simple slices of smoked salmon on top. Sometimes you'll see risotto served as a side dish, but with how hearty and filling it is, I prefer to add some protein and enjoy it as a main dish.
Recipe Notes:
I measured the capacity of my ladle before beginning so I could easily transfer the warm chicken broth between pans without measuring out 1/2 cup. As it turns out, my ladle can hold two-thirds of a cup of liquid up to the brim, so I eyeballed a little less than that to estimate 1/2 cup. It doesn't need to be ultra precise.
You don't have to stir like a maniac. I used a spatula and focused on bringing up the rice that's on the bottom of the pot so it doesn't stick, and moving it all around. Basically you want to focus your efforts on the rice not sticking.
I prefer topping the risotto with smoked salmon rather than mixing it in. That way you can add as much (or as little) as you please, or omit entirely for a serving if someone in your crowd doesn't do seafood. Plus you avoid the stigma of reheating leftover seafood with the extra portions.
Use a dry white wine such as Sauvignon Blanc or Pinot Grigio — no need for sweetness. And it doesn't have to be a pricey variety at all. Just something you may or may not enjoy sipping on while stirring. 😉
Smoked Salmon Risotto with Feta
Ingredients
4 cups reduced-sodium chicken broth
1 1/2 tbsp unsalted butter, cut into small pieces
1 1/2 tbsp olive oil
1 large onion or 2 small onions, finely chopped (to yield a little less than 1 cup)
3 garlic cloves, minced
1 1/2 cups Arborio rice
1/3 cup dry white wine, such as Sauvignon Blanc
1/2 tsp salt
1/4 tsp ground black pepper
1/2 cup crumbled feta, plus more for serving
4 oz smoked salmon, thinly sliced
Instructions
Pour chicken broth into a small-medium saucepan and set over low heat. You'll just want to warm it and bring to a very slight simmer.
To a large pot set over low-medium heat add the butter and olive oil. Once the butter has melted, add the chopped onion, and the minced garlic about 1 minute later. Cook in total for about 3-4 minutes, or until the onion has begun to turn golden and softens.
Add in the (uncooked) Arborio rice and stir to coat.
Pour in the wine and give everything a good stir. Let the mixture simmer for a few minutes until the wine is almost all absorbed by the rice.
Add about 1/2 cup of the warmed chicken broth to the pot with the rice and continuously stir until the rice has just about fully absorbed the broth. This will take a few minutes.
Repeat the above step until all of the broth is incorporated, stirring all the while. Focus on bringing up the rice that's on the bottom of the pot and mixing it into the rest of the rice.
Remove the pot from the heat and stir in the feta, salt, and pepper. Top with smoked salmon slices and extra feta and serve immediately.
Notes
Use your preferred variety of smoked salmon. The kind used in these photos featured cracked pepper and garlic -- two flavors that worked wonderfully with this risotto. I've also used plain smoked salmon and that was great, too.
Base risotto recipe adapted from
Everyday Italian by Giada De Laurentiis
. I love this cookbook for when I'm feeling like something Italian-inspired but don't want to put in a lot of fuss or go traipsing off to the speciality Italian store for ingredients.
P.S. If you prefer your smoked salmon to make an appearance as an appetizer instead, check out this burrata and smoked salmon crostini recipe!
*this post contains affiliate links