Spiced beef, hummus, cucumber slices, yogurt sauce, pickled red onion, and feta are served over brown rice for a loaded Mediterranean beef rice bowl recipe that will fill you up. This healthy dinner or lunch is easily customizable and the leftovers make a great lunch!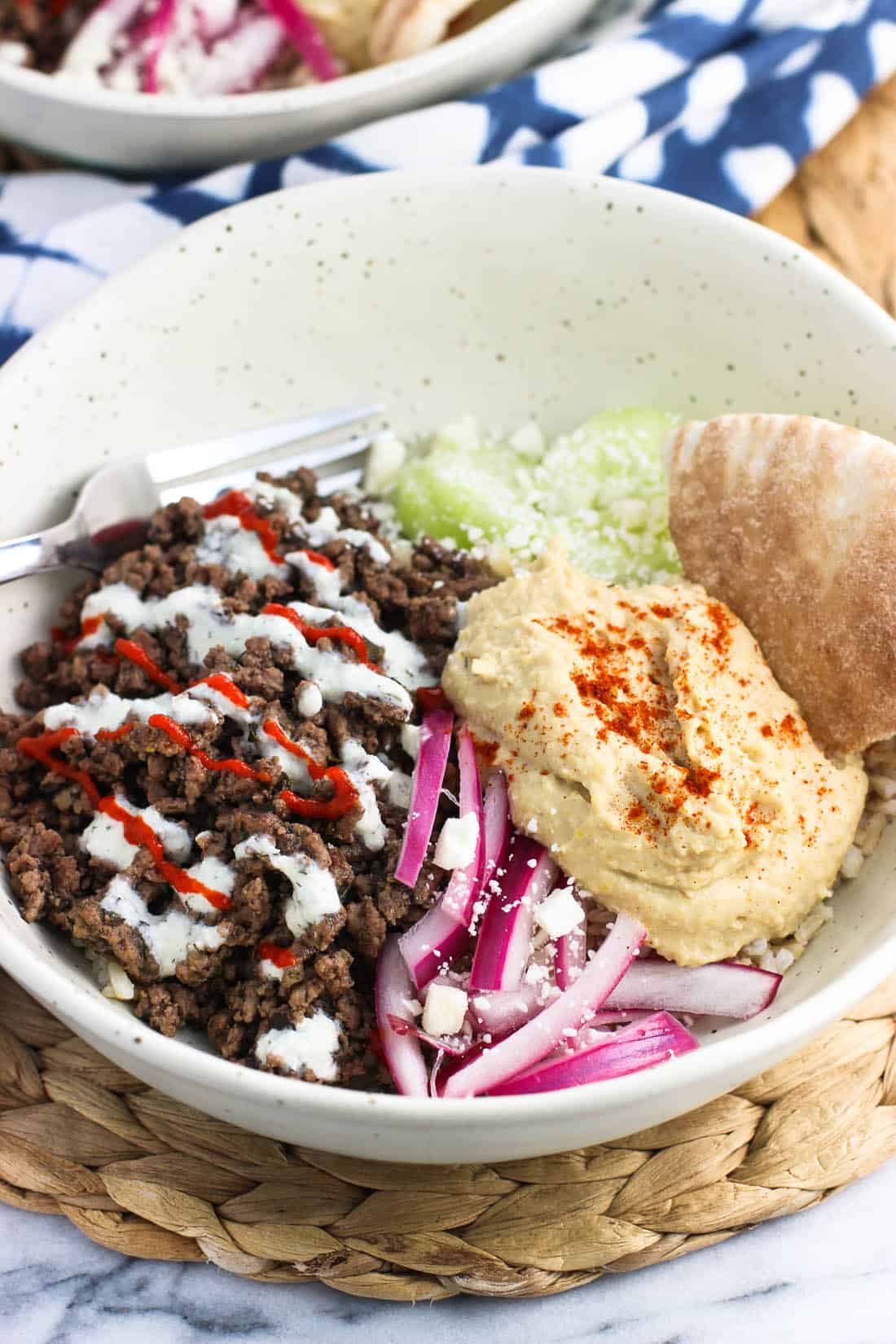 One of my very favorite locally-owned take out spots is a Mediterranean place that can whip up just about anything in under five minutes. Naturally it's our go-to when we come home late or the ground chicken I moved from the freezer to the fridge in the hopes of making buffalo chicken meatballs is still frozen days later. <--all the time.
This sounds terrible but sometimes I'd rather not go there because one of the guys who works there is too happy. I know! What's up with that. But he is beyond. Singing, dancing, joking, moving the pen/your card/your drink cup, etc. all around when you're trying to reach for them. This guy is ON 24/7...and quasi-introvert me gets such second-hand embarrassment that I just can't make eye contact with him.
So usually I send my husband to pick up the food. 🙂 BUT sometimes he can't deal either so I've been improvising with our favorite flavors at home. This Mediterranean beef rice bowl is loaded up with healthy bits for a relatively quick and customizable dinner -- without having to put your cheer face on and force laugh along with take-out shenanigans.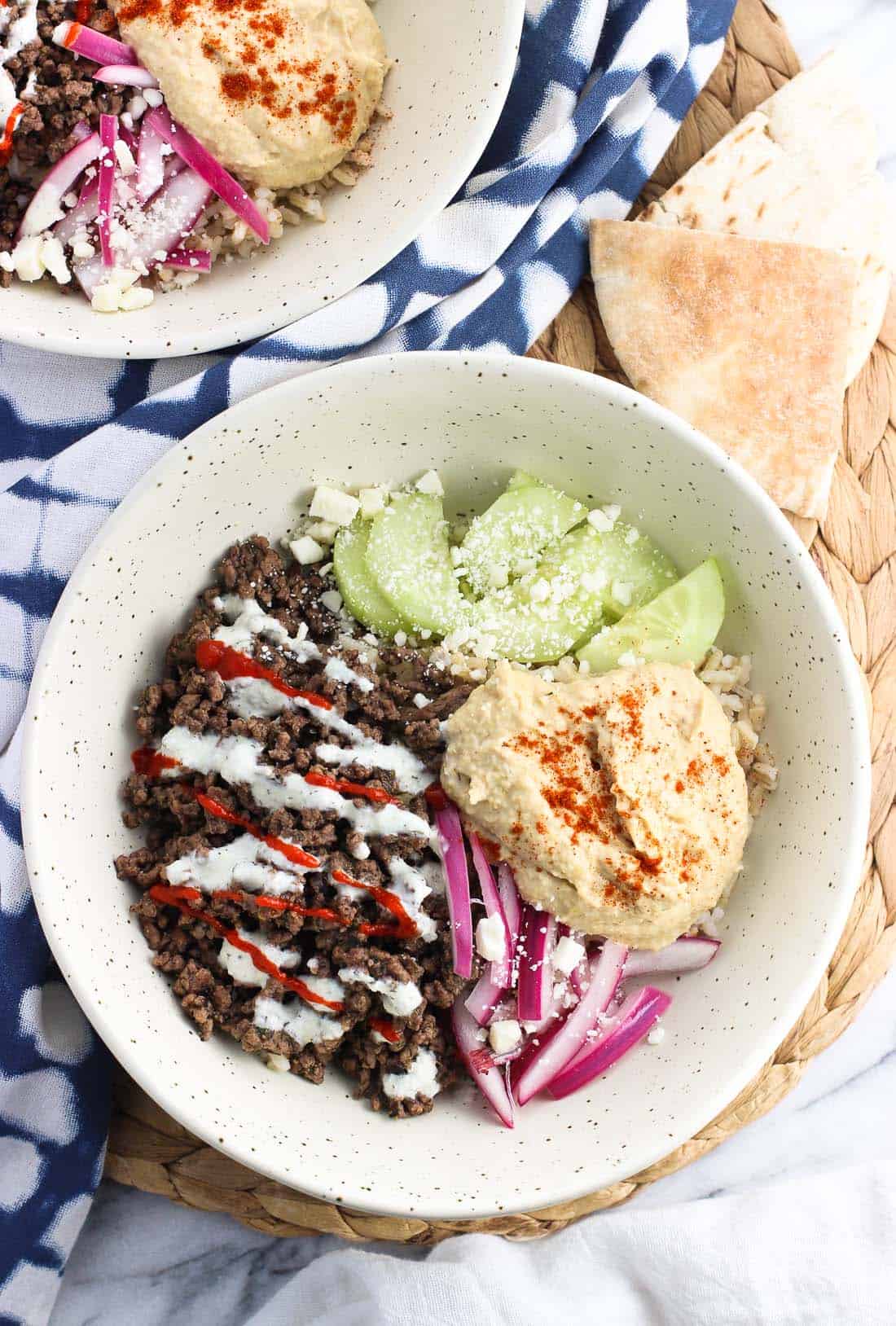 Customizable ingredients
You can obviously change up this Mediterranean beef recipe and make it yours, but we love the mix of flavors and ingredients in this beef rice bowl. You've got healthy brown rice as a base, with lean and spiced up ground beef, juicy cucumbers, tangy feta, garlicky Greek yogurt sauce, creamy hummus, and bold red onion rounding out the meal.
Some things I'm especially in love with: this beef and those onions. After draining the fat from the beef, it's heartily spiced up with dill, oregano, salt, and pepper. Then water is added to the skillet and reduced to yield ultra flavorful, Mediterranean beef.
And the onions! I'm a big fan of onions of all varieties, but red onion that has been marinated in white wine vinegar may be up there on my fave list. Nothing fancy here - just cover the onion slices with the vinegar and let it sit while you brown up the beef. And I highly recommend making extra! Store them in a glass container/jar with the vinegar and they make a bomb addition to leftover beef rice bowls or even salads.
You'll notice sriracha in the recipe card below. Not exactly what you think of when you think of traditional Mediterranean fare, right?. When creating these rice bowls, I couldn't help but think about a kebab shop we used to go to in San Diego that served a spicy red sauce with their dishes. It tastes like a more garlicky sriracha, but in the interest of time and not using every single kitchen utensil/bowl, a drizzle of sriracha did the trick. You can also use chili garlic sauce if you have that on hand and like the heat.
Related recipes
Cooking beef in a pan, draining the fat, and then simmering with water and a hearty dose of seasonings is one of my favorite tricks for juicy flavored ground meat. I love that you can take it in any different direction flavor-wise, too. For a sharp deviation from this Mediterranean beef recipe, this classic homemade taco meat is a family (and reader) favorite.
It's hard to pick a favorite hummus flavor, but homemade roasted garlic hummus just might be it!
Recipe notes
Since the fat is drained off the beef, I don't find that it matters much which lean/fat percentage kind you buy.
You can certainly make your own hummus, but with all of the components going on here, using your favorite store-bought hummus is an easy time saver. Same goes for store-bought tzatziki for the yogurt sauce.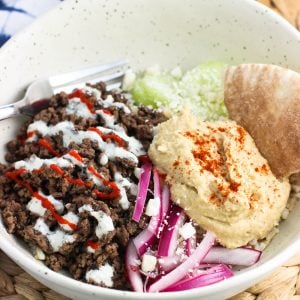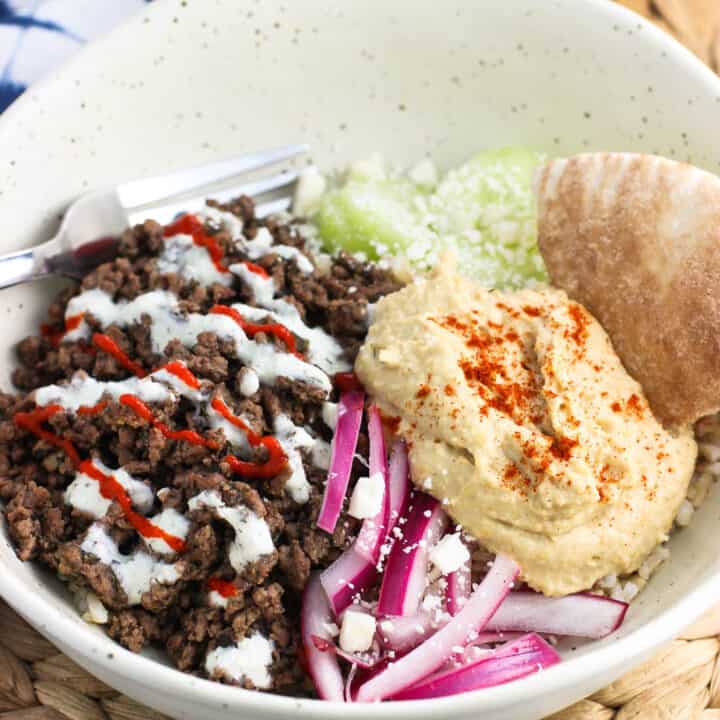 Loaded Mediterranean Beef Rice Bowl
Spiced beef, hummus, cucumber slices, yogurt sauce, pickled red onion, and feta are served over brown rice for a loaded Mediterranean Beef Rice Bowl recipe that will fill you up. This healthy dinner or lunch is easily customizable and the leftovers make a great lunch!
Print
Pin
Rate
Ingredients
For the yogurt sauce:
1

5.3-oz container

full-fat plain Greek yogurt

Half of a cucumber,

peeled, seeded, and roughly chopped

1

tablespoon

extra-virgin olive oil

2

cloves

garlic,

minced or pressed

¼

teaspoon

dried dill

Salt and pepper

to taste
For the pickled red onion:
Red onion,

sliced thinly

White wine vinegar
For the beef:
1

lb

ground beef

any percentage is fine

1

tablespoon

dried dill

1 ½

teaspoon

dried oregano

1

teaspoon

salt

1

teaspoon

ground black pepper

⅔

cup

water
For serving:
2

cups

cooked brown rice

Hummus

Crumbled feta

Cucumber slices

Pita wedges

Sriracha

(optional)
Instructions
For the yogurt sauce:
Combine all ingredients in a bowl of a food processor and pulse until combined. Refrigerate until ready to serve.
For the red onion:
Slice as much red onion as you like and place it in a shallow bowl. Pour enough white wine vinegar over top to cover them, and let them sit as you prep the rest of the recipe.
For the beef:
Add beef to a skillet set over medium-high heat. Brown the beef, breaking it up into smaller pieces and crumbles as it cooks, until no longer pink. Drain the fat, and place the beef back in the skillet.

Once back on the stovetop, even scatter dried dill, salt, dried oregano, and black pepper over top of the beef.

Raise heat to high and pour water over top. Once the water begins to bubble, reduce heat to low and let the beef simmer until the water has reduced.
To serve:
Scoop about half-cup of brown rice into each bowl. Spoon beef over top, along with red onion, hummus, cucumber slices, and feta. Drizzle yogurt sauce and sriracha (if you like) over top. Garnish with pita wedges.
Notes
Serving size: Yield can vary, but the nutritional info estimates the following per serving: ½ cup cooked brown rice, one-fourth of the sauce, a few pickled onion and cucumber slices, one-fourth of the beef, 2 tablespoon hummus, 1 tablespoon crumbled feta, and one-quarter of a pita round.
Nutrition
Calories:
472
kcal
|
Carbohydrates:
35.7
g
|
Protein:
34.4
g
|
Fat:
20.3
g
|
Saturated Fat:
7.5
g
|
Cholesterol:
85
mg
|
Sodium:
398
mg
|
Potassium:
344
mg
|
Fiber:
4.3
g
|
Sugar:
3.9
g
|
Calcium:
100
mg
|
Iron:
5
mg
Nutritional information is provided as an estimate. As it can vary due to many factors (brands used, quantities, etc.), we cannot guarantee its accuracy.
Food Safety and Nutrition Disclaimer
Yogurt sauce adapted from allrecipes, pickled red onion inspired by The Kitchn