This easy sweet potato zucchini pie features sweet potato chunks, onion, and cheese with a crunchy panko topping. It makes its own crust as it bakes for a simple brunch, lunch, or dinner recipe.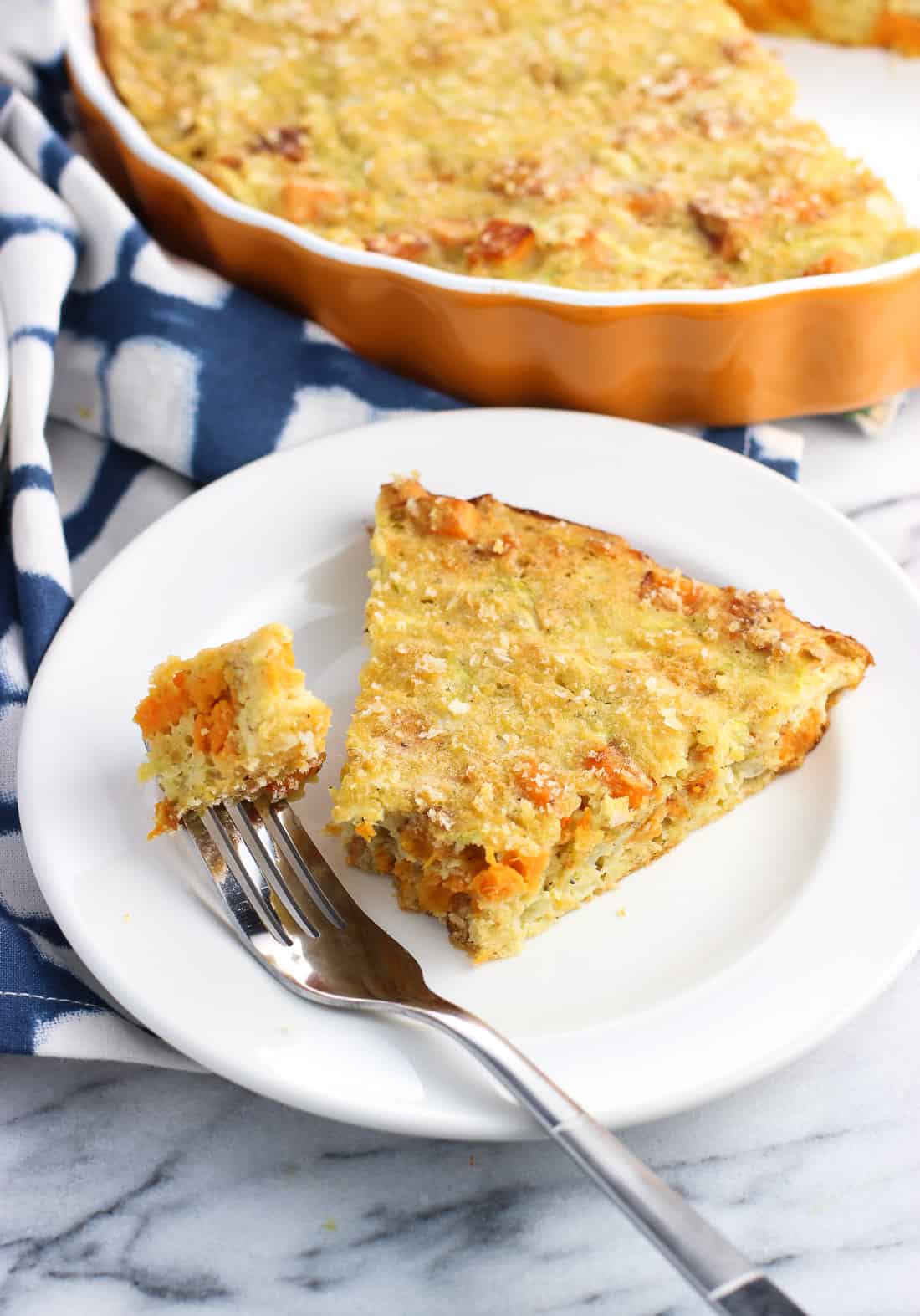 Every few months I find myself in a breakfast rut, where all of my go-to options seem tired and I'm in need of something new. Usually I'll cycle through foods and start craving them again before too long…except if you're a bowl of vanilla Greek yogurt/frozen strawberry chunks/bran cereal. After a solid year+ of breakfasts, I never want to see you again.
This easy sweet potato zucchini pie is my latest morning crush! It satisfies my A.M. savory cravings, makes several servings at once, and is versatile enough that it can act as a light lunch or dinner, too. There's no need for a crust as the Bisquick forms one as it bakes, and really – you can throw in whatever vegetables/cheese/meat you like to make this yours. It's a simple way to use leftover sauteed veggies, that last little bit of cheese, an extra cooked chicken breast, etc.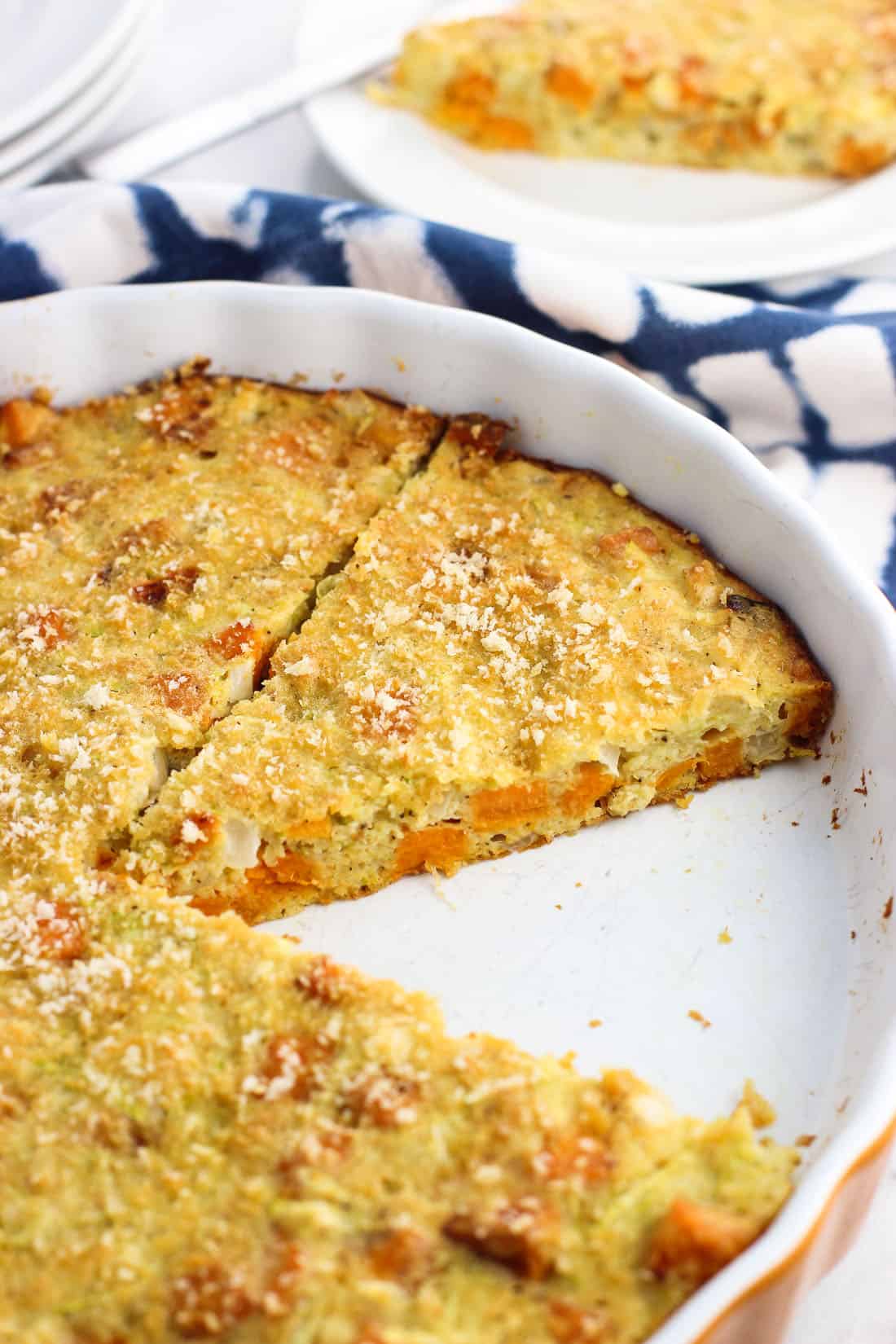 While I wouldn't go as far to say it's quiche-like, it definitely stands in as a healthier alternative. There's no pie crust, for one. Then there are three eggs, with shredded zucchini blending right in and adding super low-calorie heft and moisture. The onions cook and soften perfectly as the zucchini pie bakes, so there's no need to saute them ahead of time. And one-half cup of Parmesan cheese rounds out the cheese portion, but you can use whatever cheese you prefer. This zucchini pie recipe definitely has wiggle room for you to put your own spin on it.
But I have to say: for some reason when I make this zucchini pie, I have a tendency to leave out the Parmesan. Maybe I just get excited about adding all the veggies that I forget to pull the Parm out of the fridge? Not sure…but I can say with certainty that we still love it without!

Easy Sweet Potato Zucchini Pie
Ingredients
4 tbsp unsalted butter, divided
1 tbsp olive oil
1 medium/large sweet potato, peeled and cubed into 1/2" cubes
3 eggs
1 tsp Worcestershire sauce
2 cloves of garlic, minced
3/4 tsp salt
1/2 tsp ground black pepper
1/2 tsp hot sauce, to taste
3/4 cup Bisquick, or similar baking mix
1 medium onion, chopped
1 medium zucchini, peeled and shredded
1/2 cup grated Parmesan cheese, optional
2 tbsp panko breadcrumbs
Instructions
Preheat oven to 350°F and grease a 9" pie plate.
Peel and cube potato.
Add 1 tbsp of butter and 1 tbsp olive oil to a skillet set over medium heat. Once the butter melts, add sweet potato cubes and let cook for 10 or so minutes, stirring them around in the skillet so that all sides begin to brown evenly. Once golden and softened, remove skillet from the heat and cover it. The potato cubes will continue to soften as they cool.
Melt remaining 3 tbsp of butter and set aside.
Beat eggs in a large mixing bowl. Add remaining 3 tbsp of melted butter, Worcestershire sauce, minced garlic, salt, pepper, and hot sauce. Stir.
Stir in Bisquick until just combined.
Stir in onion, zucchini, sweet potatoes, and Parmesan.
Pour egg mixture into the prepared pie plate and even scatter panko breadcrumbs over top. Bake for 40-50 minutes, or until edges are golden brown and the center has set. Let cool for 10 or so minutes before slicing.
Zucchini pie recipe inspired by
Tammy Allgood