A pot of spicy lentil soup with bacon is a warming and healthy meal option fit for chilly nights or anytime. Old Bay seasoning adds a kick, with bacon rounding out the flavor for this satisfying soup recipe.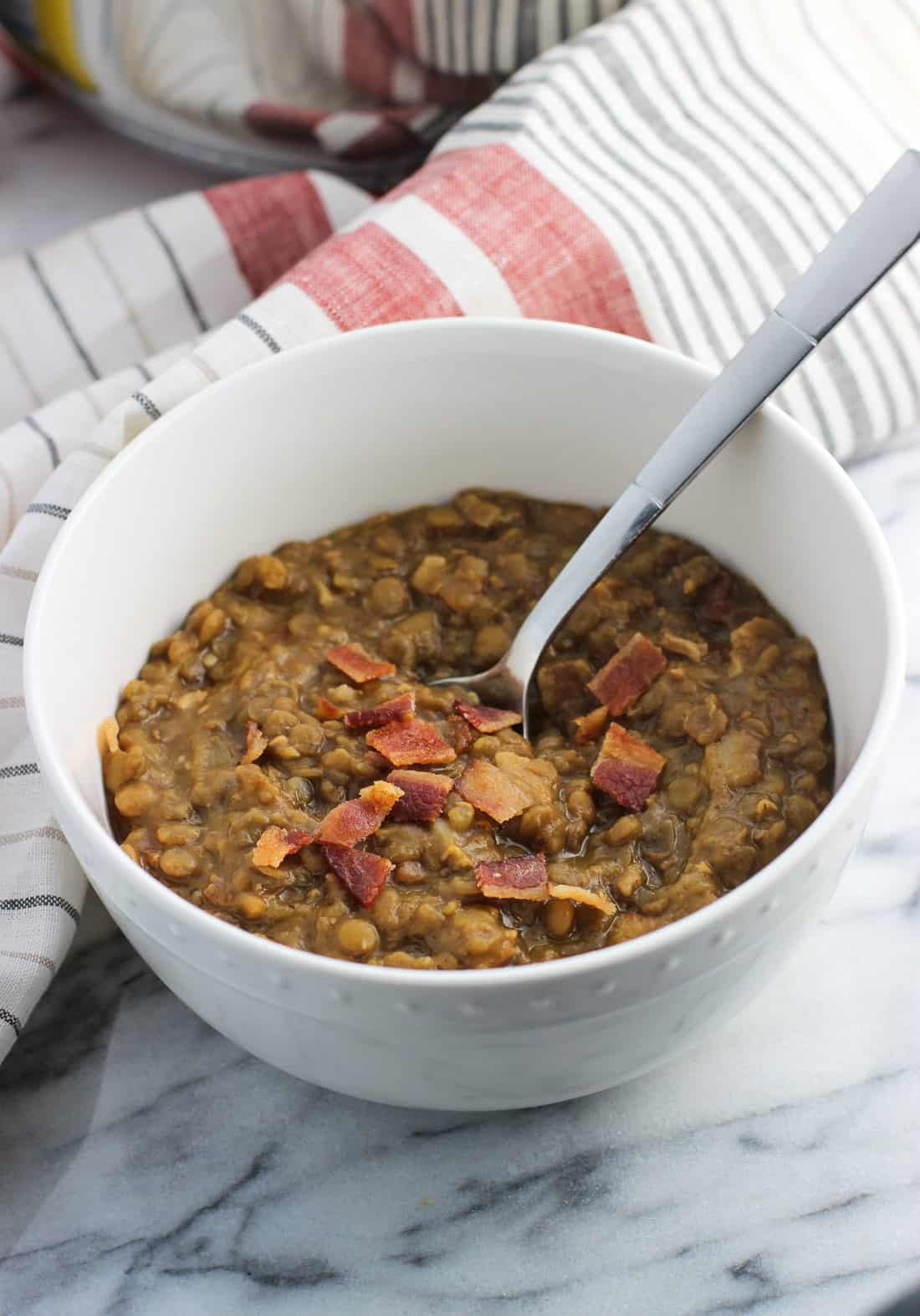 When it comes to soup, let's just say I'm not terribly 'on-season'. Slow cooker coconut curry chicken soup made an appearance on September 1st last year, when I'm sure it was pushing 90°F outside, and here we are approaching spring and I'm talking about warm, comforting lentil soup. To be fair, when soups are this good, I'll gladly enjoy them no matter the season.
…all this to say it's hovering around freezing outside here in the south, and lots of friends + fam in the northeast are dealing with massive snow today. If there was ever a time for lentil soup, I think it's now.
This spicy lentil soup with bacon recipe is an adaptation of the one my mom has always made, so I have a special place in my heart for it. I grew up with very thick lentil soup, but I (very) recently became aware that some varieties are more broth-y. There's a time in the recipe in which a second wave of broth is added, so if you're in the broth-y camp you can add as much broth or broth/water as you like. I'm sticking to this t-h-i-c-k version though.
There are only seven ingredients in this spicy lentil soup, but that's because I kept it simple on the vegetable front. I just added chopped onion, BUT if you'd prefer, you can add some chopped celery and carrot along with the onion. We were having some snow when I made this soup and was in serious need for some produce replenishing, so onion and onion alone it was.
Now for the spice! Brian is from Maryland, so any food in which I can sneak Old Bay is greatly appreciated. It has such a knack for providing a depth of spicy/salty flavor. Plus it keeps things simple by only having to measure out one spice.
Lots of soup recipes yield plenty of servings, but since we're a household of two (and our freezer is perpetually stocked to the brim), this soup has about four servings. Feel free to double it if you'd like a greater yield!

Spicy Lentil Soup with Bacon
Ingredients
8 oz dried lentils, sorted and rinsed
1 tbsp olive oil
1 medium onion, diced
3 cloves of garlic, minced
48 oz reduced-sodium beef broth, divided (see note)
1 tbsp plus 1 tsp Old Bay seasoning
4 slices of cooked bacon, crumbled
Instructions
Sort and rinse lentils.
Heat olive oil in a large pot over medium heat. Add diced onion and garlic and cook for 3-4 minutes, or until onion is golden.
Add 32 oz (4 cups) of beef broth and stir, reserving the remaining 2 cups of broth for later. Add lentils and Old Bay and stir.
Raise heat so that soup comes to a boil. Once boiling, cover and reduce heat to low, letting the soup simmer for about 30 minutes. Stir occasionally.
After 30 minutes or so the broth will have reduced a fair amount, so add in the remaining 16 oz of broth and bacon crumbles. Stir and let simmer for another hour, stirring occasionally. In total the soup should simmer for 1 hour 30 minutes, or until the lentils have softened. Serve.
Notes
One on occasion I only had one 32 oz carton of beef broth, so for the second wave of adding broth to the soup, I used 16 oz of reduced-sodium chicken broth. The flavor was great! No problems at all with mixing beef/chicken.