Hi, my name is Alyssa and I have a strong aversion towards packing. Incredibly strong. To just about every sort of packing there is, whether it's a  one-nighter at a friend's house (where let's be honest – she probably would have any shampoo/toothpaste/hair straighter I could need) to the more extreme cases – like a week-long trip to Italy with just a carry-on. I will gladly do loads of pre-trip laundry, make a comprehensive list of everything I'd like to pack, but when it comes down to actually putting those things into a suitcase? Hate it.
Multiply that feeling x 10 and that's how I feel about packing to move. Ugh. We're in the home stretch now, with most of our big items already packed away and off our hands (for now, anyway). We have the sore muscles to prove it. You'd think that would be the bulk of everything, but we have so. many. small items to sort through still. So many. B and I are looking at each other like, "Where did all these things come from?!" I have no clue.
So I've been keeping busy *not exactly* going through the little things. I willed myself to start, and promptly found college homework underneath my bed. I went to college across the country and have lived in two places since then. Where does this stuff come from?! Sometimes it makes my head hurt.
Soooo, I've been keeping busy with productive tasks that aren't necessarily related to packing. Such as spray painting anything decorative not yet in boxes a fab metallic gold and going through old CDs. Which turns into listening to old CDs. Which turns into Googling whatever happened to the guys in O-Town. O-Town!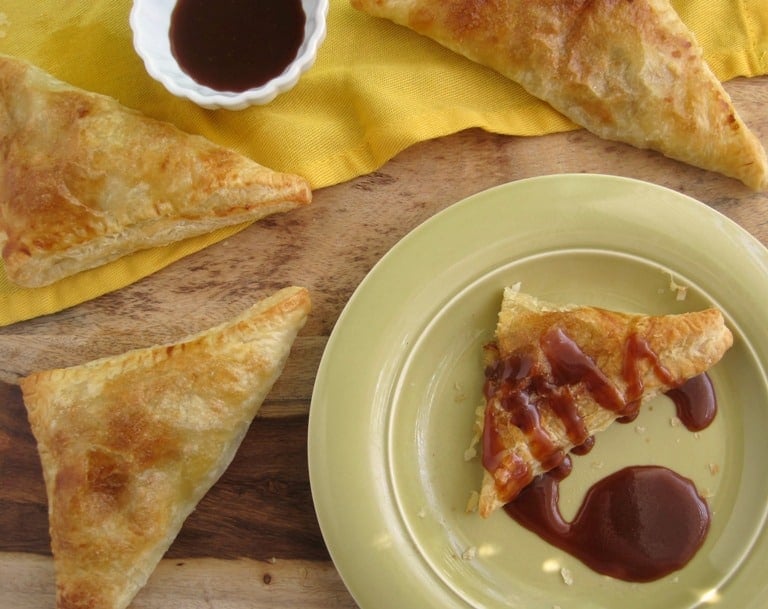 I also made these pineapple turnovers with coconut and caramel sauce. Because who can call out my packing avoidance when the smell of warm caramel sauce drizzled over freshly baked puff pastry is wafting from the kitchen?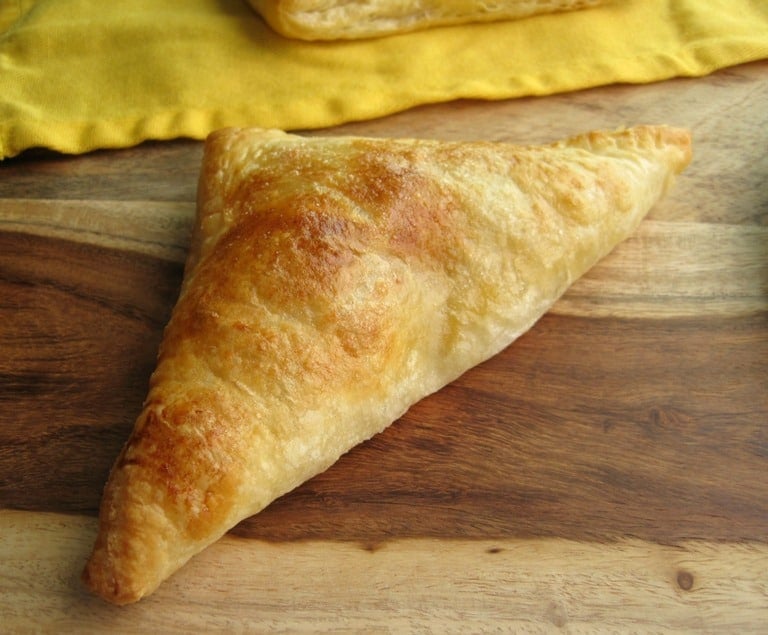 These turnovers are super simple to make (and even easier to eat, trust me.) Store-bought puff pastry, crushed pineapple, coconut flakes, an egg, and caramel sauce. Five ingredients, though if you make the caramel sauce from scratch you'll use five more. It's worth it though! The recipe I used makes a big batch and comes together in a flash, so you'll have plenty of extra for drizzling on ice cream, cookie dipping, or straight spoonfuls. Not that that happened…
I don't know how else to describe these turnovers than to share with you that they taste like warm pockets of summer. How's that for a culinary simile? Pineapple and caramel sauce is a combination I haven't gotten out of my head since my parents and I visited Disney World fifteen years ago. We have a knack for remembering just about every dessert we've ever eaten, and the Polynesian served a dessert of warm grilled pineapple with a caramel dipping sauce. Dear Lord did I think it was heavenly. And judging by how frequently it comes up in conversation with my parents all these years later, I'm willing to bet that they thought the same.
I suppose you don't need to drizzle caramel sauce over these turnovers because they taste more than just okay on their own, but I highly recommend it. Pineapple + caramel (plus coconut) for that matter is a flavor combination everyone needs to experience. Let it be with these turnovers! 🙂
Pineapple Turnovers with Coconut and Caramel Sauce
Ingredients
1 package frozen puff pastry (2 sheets), defrosted
1 20-oz can crushed pineapple in juice, drained with 2 tbsp juice reserved
3/4 cup coconut flakes
1 egg
Granulated sugar, for dusting
Caramel sauce, for drizzling
Instructions
Preheat oven to 400°F. Line one (or two, if necessary) baking sheets with parchment paper and set aside. In a medium-sized bowl, stir together the drained crushed pineapple and coconut flakes and set aside.
Roll out one sheet of puff pastry into a 12"-square onto a greased surface, taking care to grease rolling pin as dough will stick. You may want to refrigerate the remaining puff pastry sheet while you prepare the first one. Cut pastry sheet into four smaller squares but leave on the surface for now.
In a small bowl, mix together the egg and 2 tbsp of pineapple juice. Using a small brush or spoon, lightly wet the perimeter of each smaller square with the egg mixture.
On one "triangle half" of each smaller pastry square, place approx. 1/3 cup of the pineapple and coconut mixture, leaving a 1/2"-3/4" border along either side. Fold each smaller square diagonally to create the turnover and press with your fingers along the edges to adhere. Repeat pressing along the edges with a fork. Transfer these four turnovers to prepared baking sheet.
Repeat steps #2-4 with the second sheet of pastry dough. Now you will have eight turnovers. Brush egg/pineapple juice mixture on top of each turnover, and sprinkle a pinch of granulated sugar on each. Bake for 15-20 minutes, or until turnovers have darkened to a golden brown on the tops and at the edges and dough has cooked through.
Transfer turnovers to a wire rack to cool to your preferred temperature. Turnovers can be served warm or room temperature, with warm caramel sauce drizzled over top for an extra treat!