Instant Pot mac and cheese is so easy! Made with regular milk (not evaporated!), this quick mac and cheese recipe features a blend of cheeses, including cheddar, gouda, and mozzarella, for the ultimate in creamy comfort food.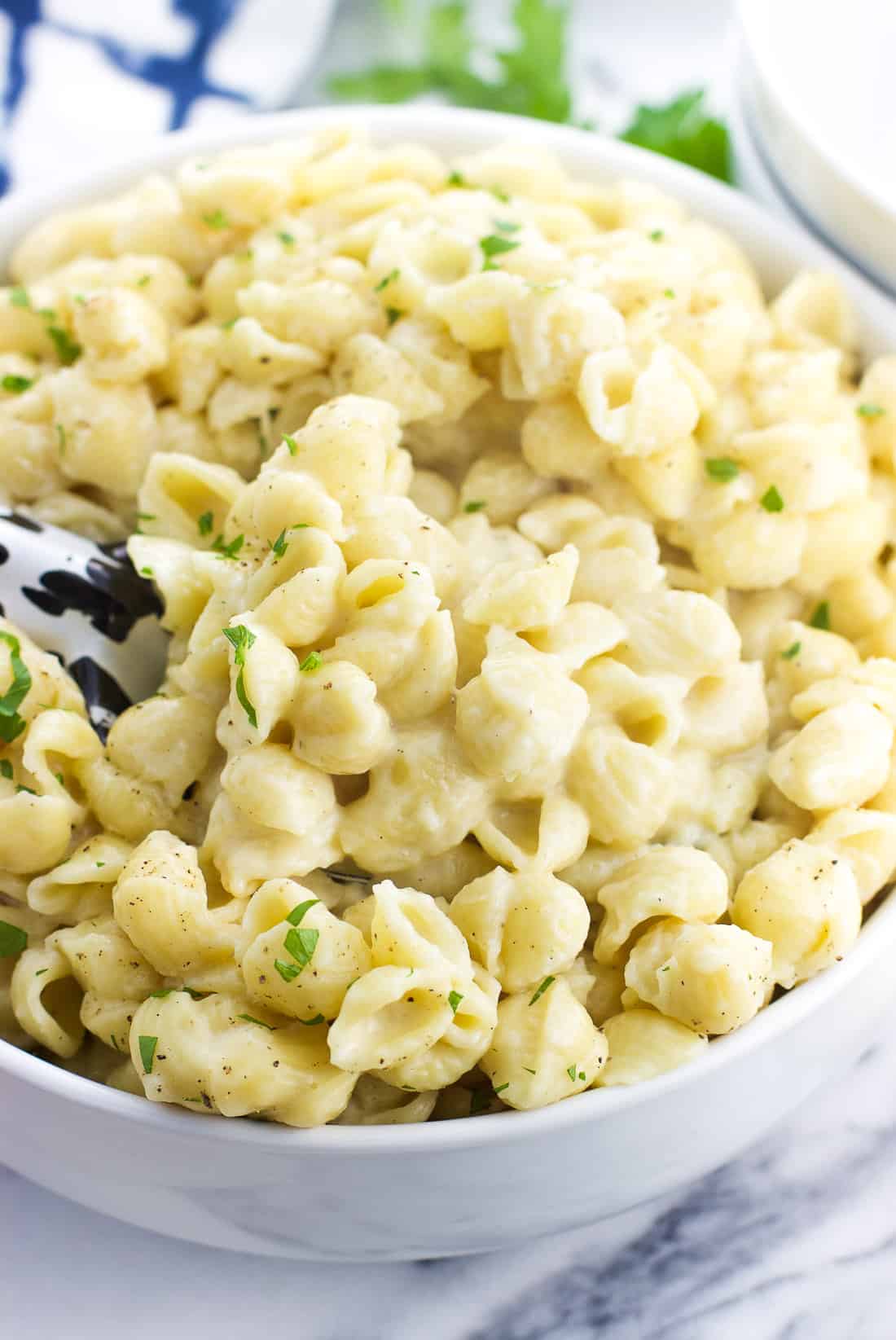 After five years of regularly scheduled programming on this here blog, I bring you this announcement: mac and cheese has landed.
I'm really not sure why I haven't shared anything related to mac and cheese on here given I make a few different versions from time to time, but here we are. Better late than never, right?
And this one is a doozy. Instant Pot mac and cheese is SO easy to make and customize with your favorite pasta shapes and varieties of cheese.
This has become my go-to for the nights before grocery shopping when the fridge is looking a little sparse, and for that I've toiled away experimenting with the best cheese blends. See the notes below for my findings.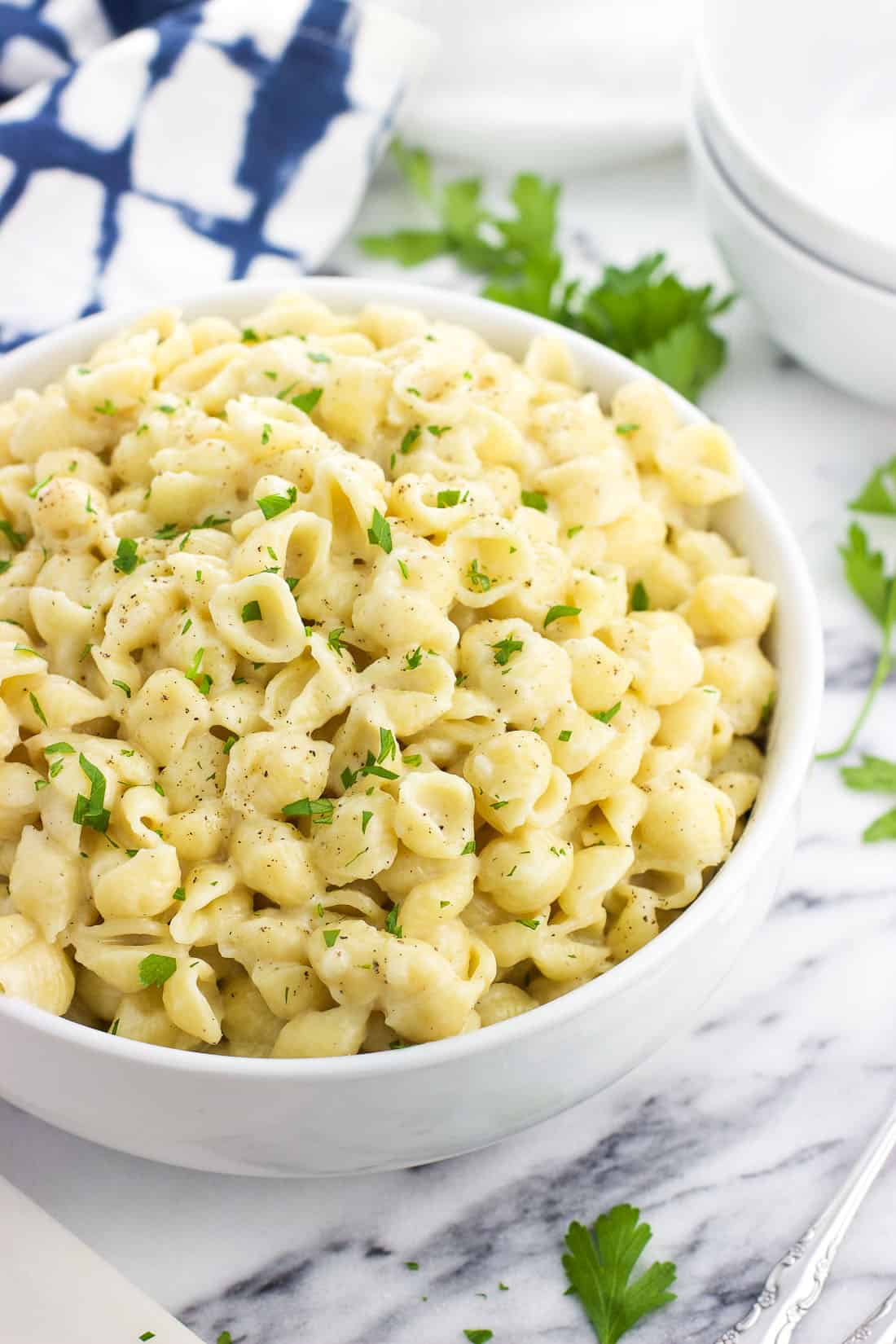 Recipe ingredients
Nothing is obscure here as far as macaroni and cheese recipes go, but some ingredients may be a little unexpected in presentation.
For starters, the onion. I grew up with onion in my mac and cheese so I'm partial to the slight boost it gives the overall dish. But mac and cheese is all about the pasta and its creamy sauce, not getting a forkful of onion pieces.
The preparation is key. Grated onion, sauteed in butter, all but disappears after pressure cooking, leaving behind flavor. Grated onion is also my very favorite tip for healthier Italian baked turkey meatballs. It also disappears there and but brings a ton of moisture.
Next we have the seasonings, which include minced or pressed garlic, salt, pepper, and ground mustard. While not a make-or-break kind of ingredient, ground mustard (a.k.a. mustard powder) adds a tiny zip of flavor that blends in well with the other ingredients. It's a great supporting player in creamy dishes with a heavy milk/cheese component.
If you don't have ground mustard, you can use about 1 ½ teaspoons of prepared mustard in its place here.
Then there's one pound of pasta, which cooks in four cups of water. All that remains is to stir in milk (more on this later) and cheese just prior to serving.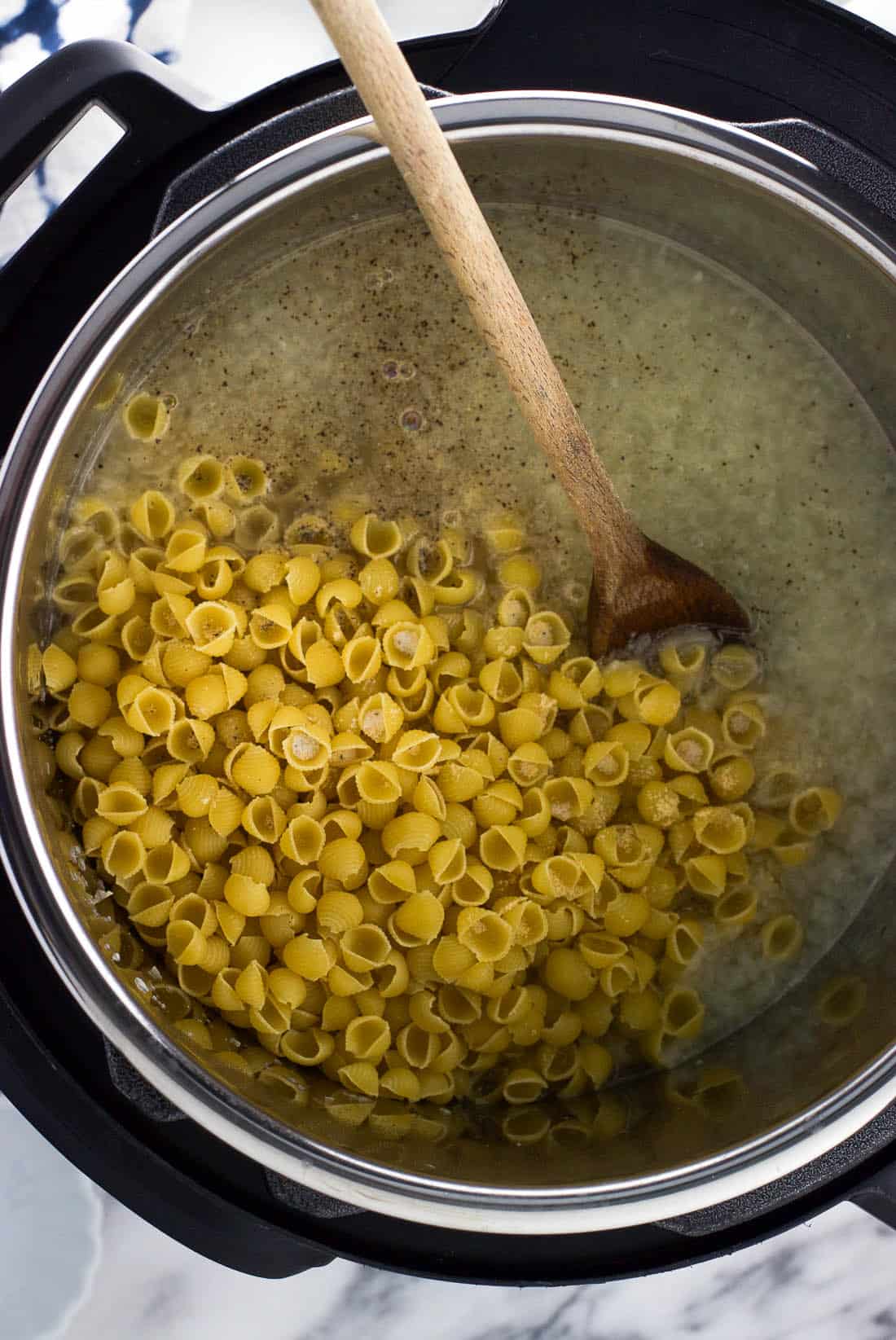 Simple recipe steps
This Instant Pot mac and cheese recipe starts by sauting the grated onion in butter for several minutes. Then add the minced garlic and the dry seasonings.
Now it's time to add the water and pasta. If you'd like a flavor boost you can sub chicken broth in for a cup or two of the water. I like doing this when I have an open box of broth in the fridge. Just remember you want to add four cups of liquid (32 ounces) to pressure cook one pound of pasta (16 ounces).
Give everything a quick stir, then set the Instant Pot for four minutes of manual high pressure cook time. That's really all it needs for the pasta to become perfectly tender.
After a quick pressure release, you're only a few minutes away from digging in. Time to stir in the milk.
One difference you may find with this IP mac and cheese recipe and others is that this one doesn't use evaporated milk. To be honest I can't recall a time I've ever had evaporated milk in the pantry, so I knew it was a no-go if I wanted to stay true to this dish being a reliable standby made with ingredients I just about always have on hand.
The good news is that regular milk does the trick! I use 2% milk and find it provides a creamy and wholly satisfying outcome.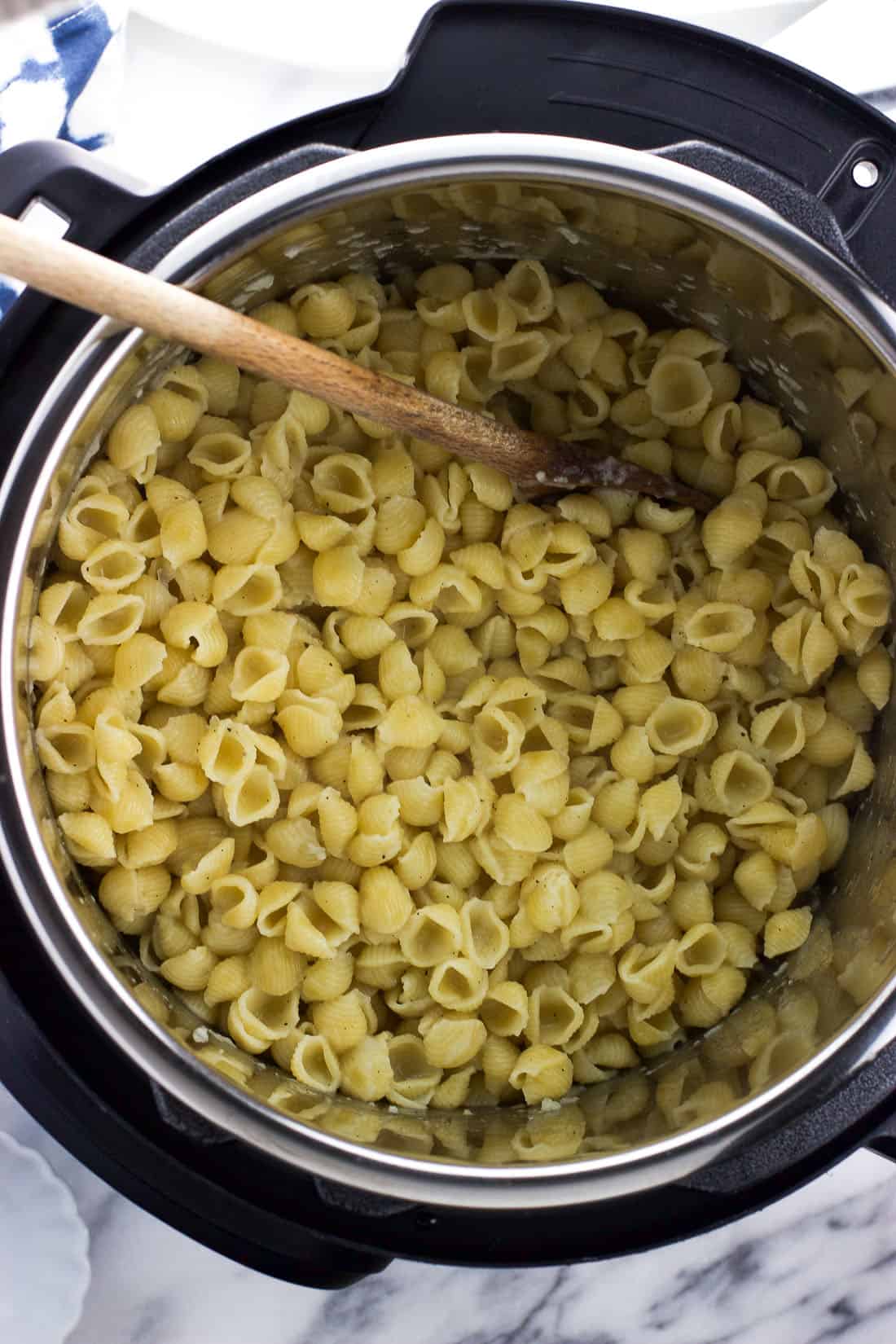 The last step is to stir in the shredded cheese. This dish is ready to serve once the cheese melts and everything becomes creamy.
What pasta to use
I'm partial to using shells in my mac and cheese. I've seen different varieties depending on the brand, but either small or medium shells are my first choice. Large shells would also work in a pinch as they're not that much larger than the medium size, but I wouldn't use jumbo shells, which are the ones you'd use for stuffed shells. Too big.
That's just my preference, though, and other shapes absolutely work, too. Look for small-medium shapes that have pockets to hold onto the cheesy sauce. Some favorites include:
small/medium shells
elbows
cavatappi (corkscrews)
farfalle (bowties)
Tiny pasta (like acini di pepe and my beloved pastina) or long noodles like spaghetti aren't the way to go here.
Oh, and please double check the package weight when buying pasta for this recipe! I've noticed an increasing number of pasta varieties with a total weight of 12 ounces, not a full pound of 16 ounces. This quantity of liquid is for 16 ounces of pasta. Using a smaller pasta amount would likely lead to a soupy result.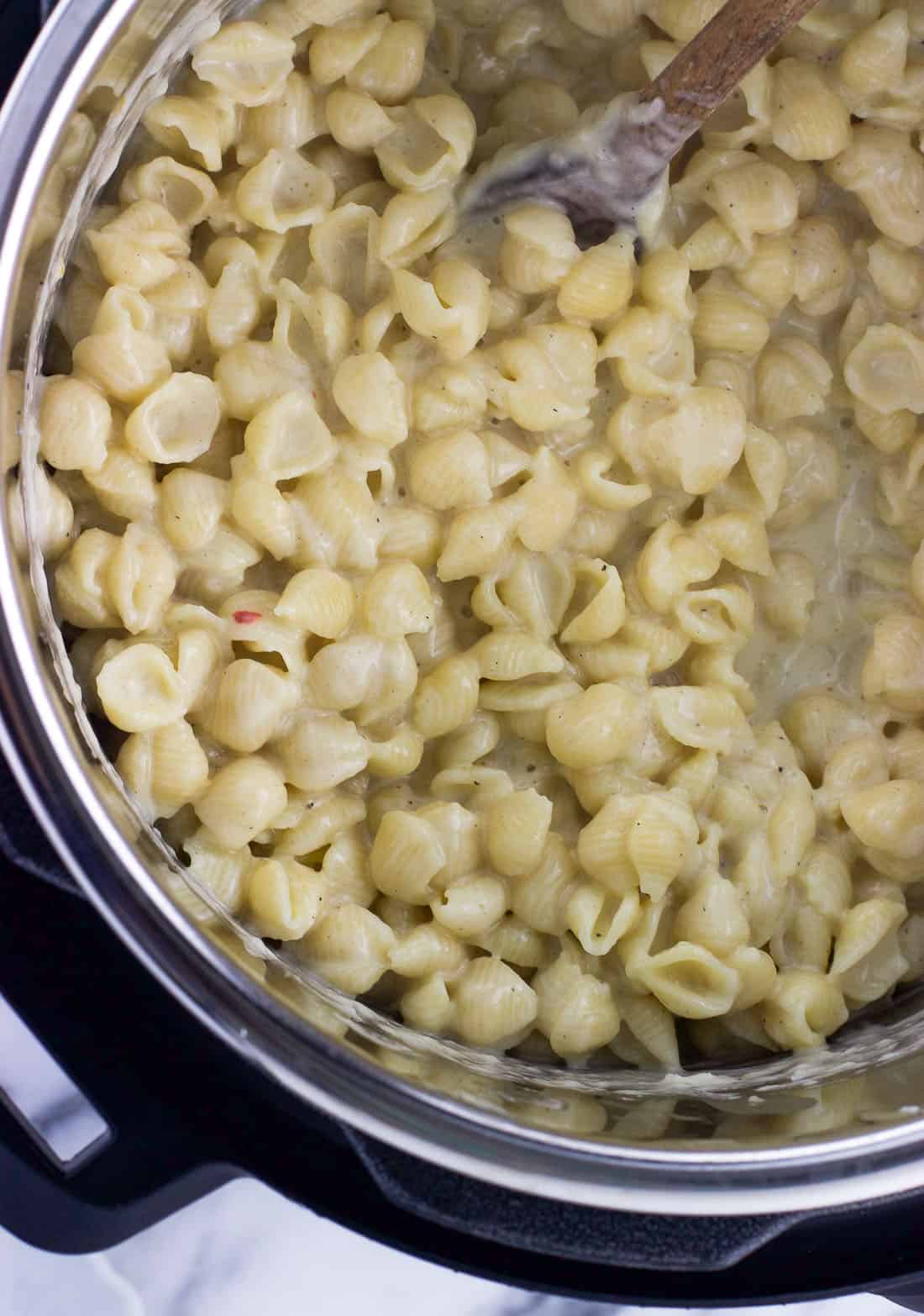 What cheeses to use
Obviously this one is subject to taste, but I like a blend of four cheeses for mac and cheese:
Pepper jack
Cheddar
Smoked gouda
Mozzarella
While some cheeses can be subbed in/out, pepper jack for me is a non-negotiable. I love the hint of flavor it brings without being spicy, and is responsible for those little pepper flecks you might notice in the photos.
I'll never pass up an opportunity to use smoked gouda (hello, hello, smoked gouda dip), and it combines beautifully with sharp-ish cheddar. I'm not picky with the sharpness - use whichever type of you like. Then mozzarella rounds everything out with a mild creaminess to take this IP mac and cheese over the top!
I've written my preferred cheese ratios into the recipe card below, but there is a lot of wiggle room here for you to do your own thing/use up what you have on hand.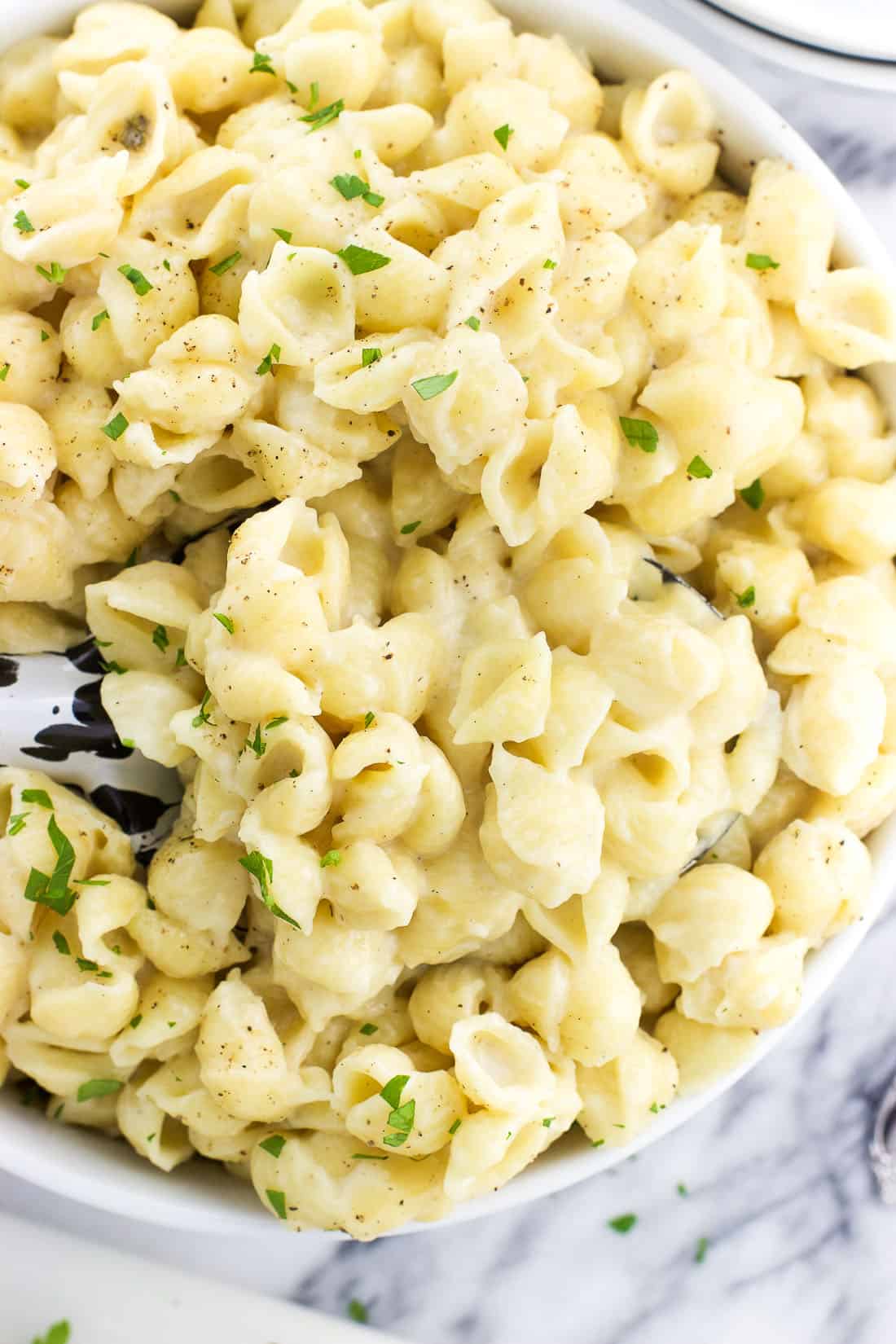 Recipe notes
If you're looking for even more flavor to this mac and cheese (or to use up an open container), you can sub in two cups of chicken broth for two of the cups of water.
Be sure the box of pasta you're using is 16 ounces of pasta and not 12 ounces. Using less pasta with the same quantity of liquid would cause it to be soupy.
Lots of wiggle room of the cheese! Within the three cup total feel free to increase/decrease certain quantities or varieties in line with your tastes.
Smaller shells, elbow macaroni, cavatappi, or even farfalle would work here.
If you don't have ground mustard, you can substitute in 1 ½ teaspoons of prepared mustard, or just leave it out.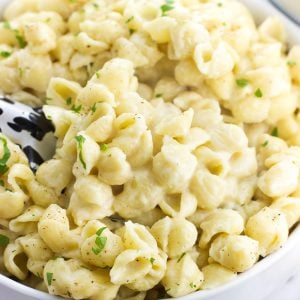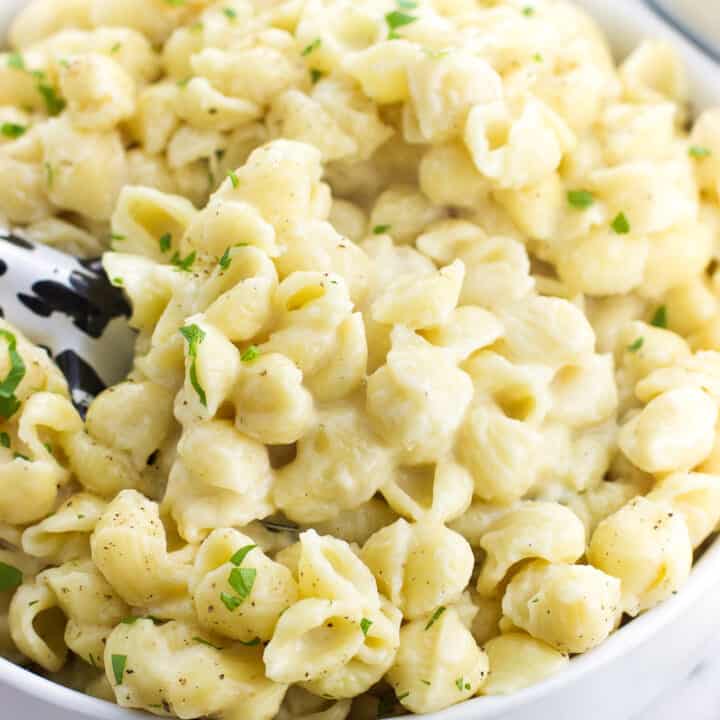 Instant Pot Mac and Cheese
Instant Pot mac and cheese is so easy! Made with regular milk (not evaporated!), this quick mac and cheese recipe features a blend of cheeses, including cheddar, gouda, and mozzarella, for the ultimate in comfort food.
Print
Pin
Rate
Ingredients
1

tablespoon

unsalted butter

½

cup

grated onion

(about 1 medium onion)

2

cloves

garlic,

minced or pressed

1

teaspoon

salt

½

teaspoon

ground pepper

½

teaspoon

ground mustard

1

16-oz box

small or medium shell pasta,

uncooked

4

cups

water

1 ½

cup

milk

(I used 2%)

1

cup

shredded pepper jack cheese

1

cup

shredded mozzarella cheese

½

cup

shredded smoked gouda cheese

½

cup

shredded sharp cheddar cheese
Instructions
Add butter to the Instant Pot and press the "Saute" button. Add grated onion and cook for 3-4 minutes, stirring frequently. Add garlic and cook for another minute or so.

Add salt, pepper, ground mustard, dry shells, and water to the Instant Pot. Stir everything up. Press the "Keep Warm/Cancel" button to shut off the Saute function, then press the "Manual" button (I believe named "Pressure Cook" on newer IP models). Using the "+" or "-" buttons, adjust time to 4 minutes of cook time.

Once the cook time is over, carefully do a quick pressure release (see note) and give everything a stir to combine. Pour in the milk and about half of the shredded cheeses. Press the "Saute" button and cook for a few minutes, stirring frequently, until the cheese is melted and some of the liquid is further absorbed.

Shut off of the Instant Pot and stir in the rest of the cheese. If the mixture is still more liquid-y than you'd prefer, keep stirring until it thickens to your liking.

Notes
Please use an oven mitt or dish towel to carefully perform the quick pressure release as you don't want to burn yourself when the steam is released.
Inactive recipe time includes an estimate of about 15 minutes for the Instant Pot to come up to pressure.
To simplify the ingredients, you can use a full cup of either smoked gouda or sharp cheddar in place of the ½ cup of both.
Nutrition
Calories:
521
kcal
|
Carbohydrates:
61.4
g
|
Protein:
25.5
g
|
Fat:
19.8
g
|
Saturated Fat:
12.3
g
|
Cholesterol:
57
mg
|
Sodium:
950
mg
|
Potassium:
62
mg
|
Fiber:
3.1
g
|
Sugar:
4.9
g
|
Calcium:
340
mg
Nutritional information is provided as an estimate. As it can vary due to many factors (brands used, quantities, etc.), we cannot guarantee its accuracy.
Food Safety and Nutrition Disclaimer