Homemade chai spice is so easy to make! Five kitchen spices are combined for a warmly spiced blend recipe with just the right amount of bite. It's perfect for cookies, quick breads, muffins, and more.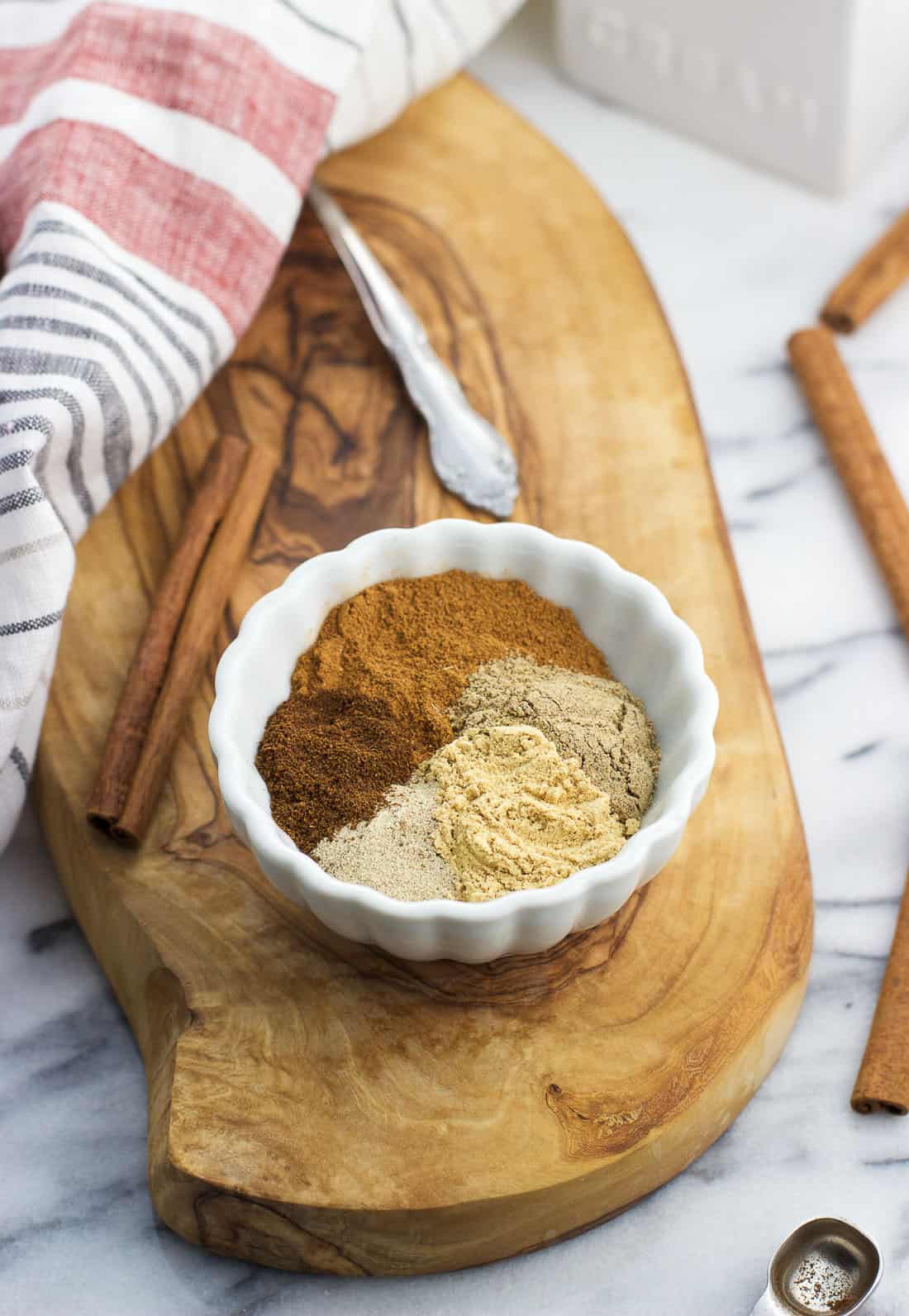 Lately I've fallen down the Youtube hole of watching tiny house tours. It started by searching for a particular one, which autoplayed into one or two more. Now the algorithm has me pegged as a tiny house enthusiast and sprinkles tiny house things all throughout my video suggestions.
Not that I'm proving it wrong! I have zero interest in living in a tiny house myself but can't get enough of learning about them.
One of my favorite tiny house tour areas is seeing how they arrange their kitchen. Some are rudimentary while others are super advanced, but all make me vow to never complain about cabinet or counter space again. 🙂
I've seen some really innovative ways people store their spices and other dry goods, from magnetic canisters and other vertical storage solutions to rigging up under-counter storage areas. It seems like whatever the system, a tiny house affords no room for clutter or haphazard organization.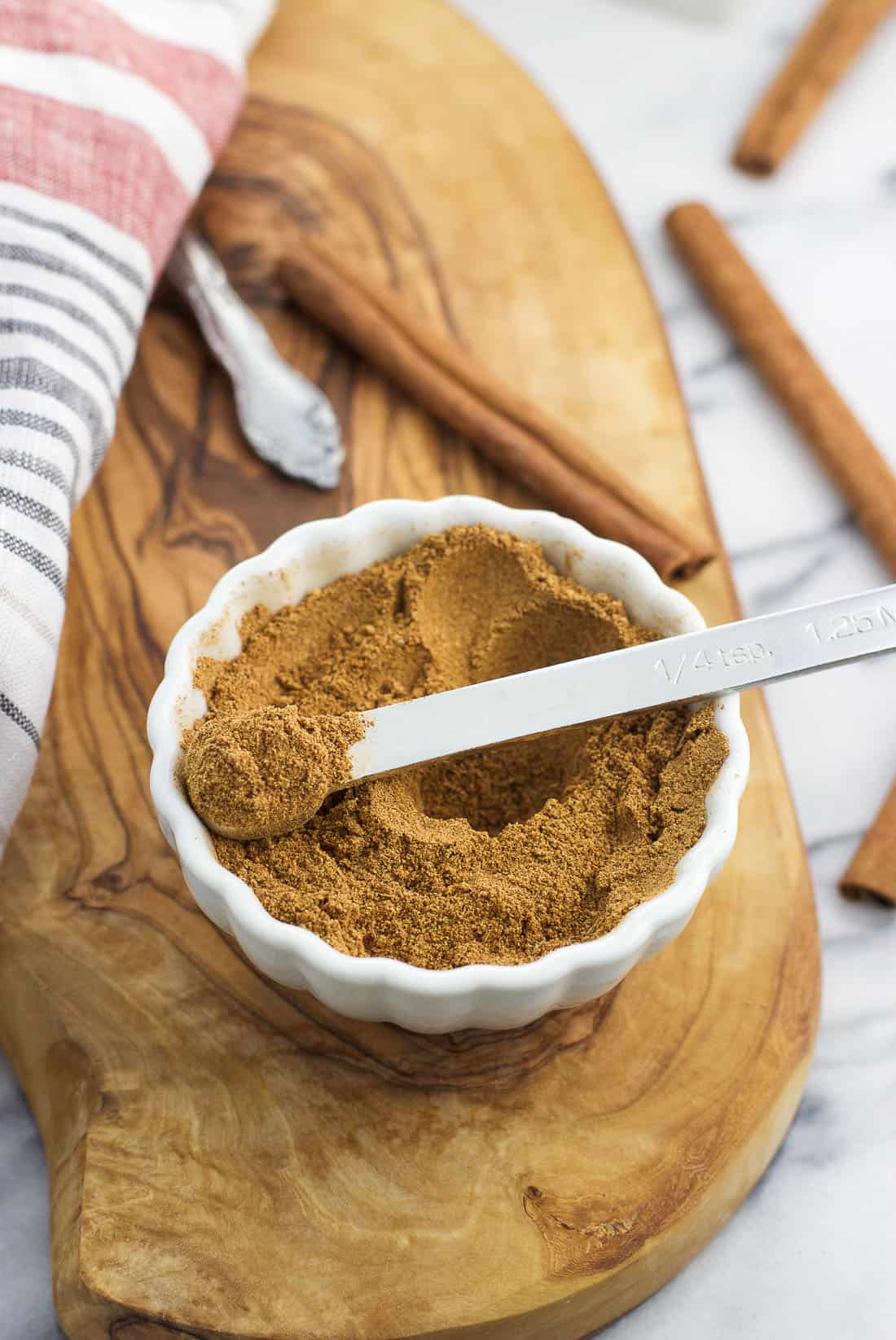 The current state of my own spice cabinet on the other hand...not so good. Containers in a wide range of sizes all seem to have a knack for turning so the labels are hidden, leading to a scramble come dinner time. And relying on color doesn't work because the number of times I've almost mistaken cinnamon for cumin? More than two.
Even if mess comes with the territory, a fairly robust spice cabinet is a gold mine. Beyond single flavors, a little of this and a little of that can create unique blends like this chai spice recipe. There's no need to buy specific blends at the store when you can make them with what you've got.
Spice blend ingredients
While chai spice recipes certainly can vary, this one calls for five spices you may very well have in your kitchen right now.
Ground cinnamon is the most prevalent, followed by ground cardamom and ground ginger. Next is ground white pepper (!) and then ground cloves.
It might sound weird to include pepper in a baking recipe, but white pepper has a mellower, more earthy flavor as compared to black pepper. It's a must in my recipes for pfeffernusse and gingerbread spritz cookies, and is a favorite in this chai spice blend.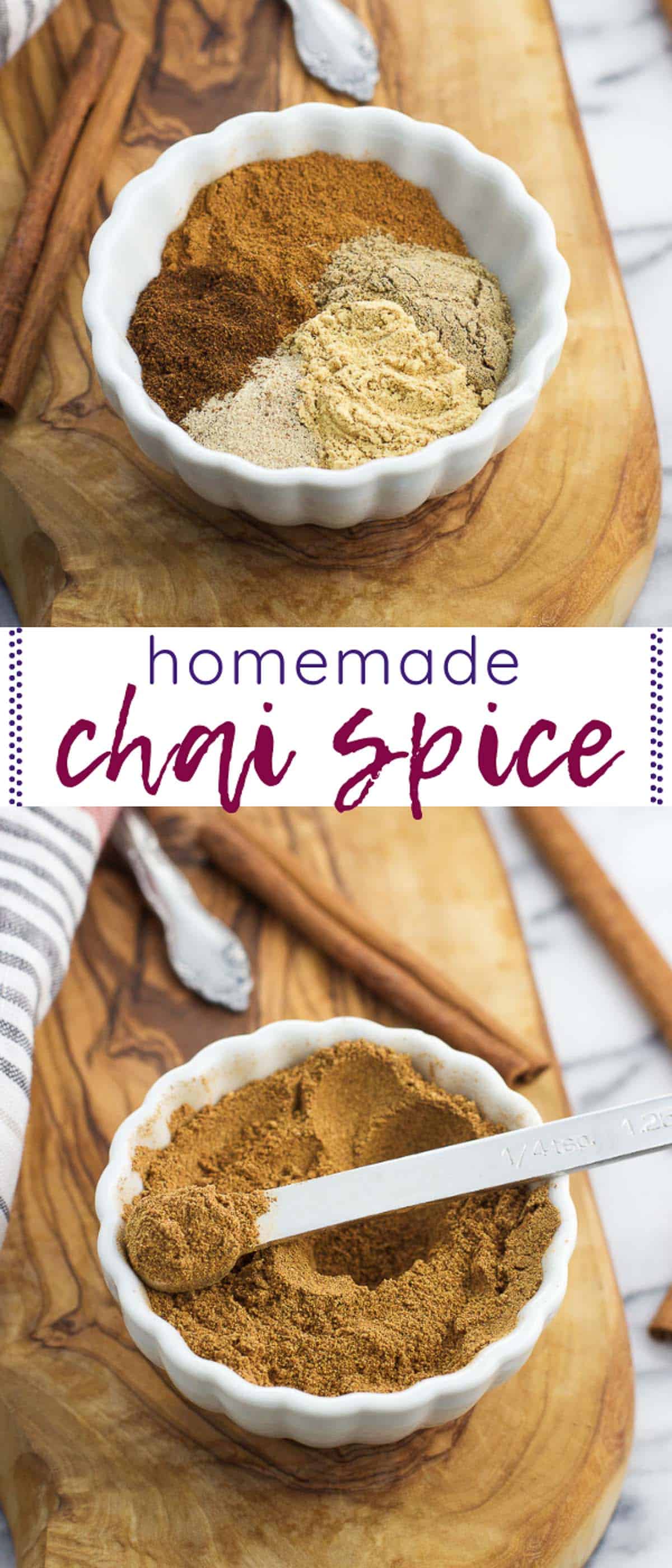 Recipe to use chai spices
I love the warm flavor chai spices add to baked goods. You can see this (scaled-down) homemade chai spice in action in these vanilla chai macaroons, as well as this vanilla chai pound cake.
Other uses for it would be to use it in place of the ground cinnamon called for in whatever you're making - cookies, muffins, waffles, you name it.
Though do play around with the ratio of spices to find your perfect balance. I kept the cloves on the low end as I find them to be pretty overpowering in larger quantities.
Other homemade spice blend recipes
Homemade spice blends make a wonderful holiday gift. Fairly inexpensive, quick, and ultra useful. Several mixed up in small jars with a fun label and a bow? Now that's something I'm hoping Santa would bring me. Check out some of my other homemade spice blends below:
I make the best homemade taco seasoning at least once every two weeks. I usually roll my eyes when a recipe on the Internet deems itself "the BEST" but I use this term very sparingly. Maybe three times in over 450 recipes? It's worth it here. More with the pantry staples!
This homemade ranch seasoning helps you make a whole host of homemade ranch dressings, including healthier versions that use Greek yogurt.
And this post will show you how easy it is to whip up wonderful fall pie spices. Both apple pie spice and pumpkin pie spice recipes are included here.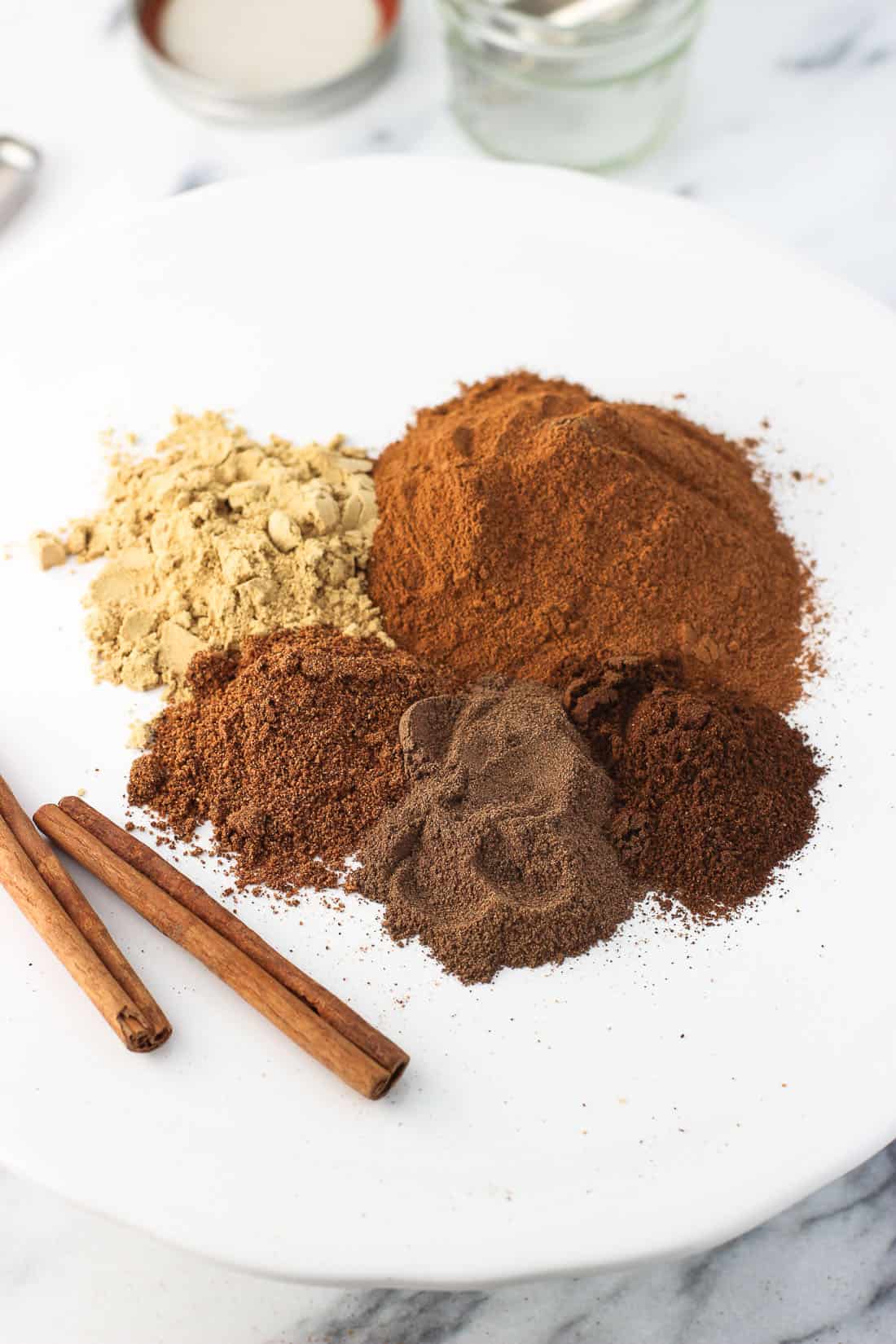 Recipe notes
Please adjust the quantities in line with your preferences! This chai spice recipe is cinnamon-forward.
If you don't have ground white pepper, you can add a much smaller quantity of ground black pepper in its place, though I stick with white pepper. Black pepper is much more bold and in-your-face than white pepper, especially in a spice blend for presumably adding to sweet treats. Use white pepper if at all possible.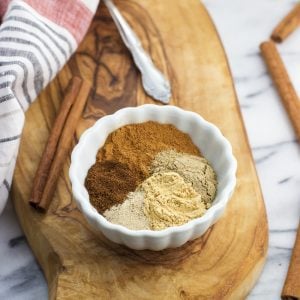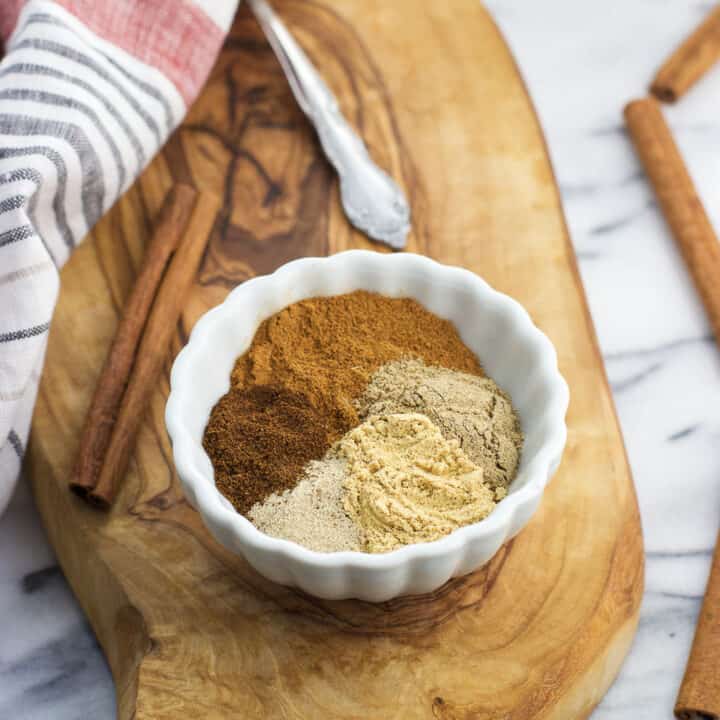 Homemade Chai Spice Recipe
Homemade chai spice is so easy to make! Five kitchen spices are combined for a warmly spiced blend recipe with just the right amount of bite. It's perfect for cookies, quick breads, muffins, and more.
Print
Pin
Rate
Ingredients
1

tablespoon

ground cinnamon

1 ½

teaspoon

ground cardamom

1 ½

teaspoon

ground ginger

¾

teaspoon

ground white pepper

½

teaspoon

ground cloves
Instructions
Stir together all ingredients and store in an air-tight container.
Notes
As written, this recipe yields approximately 2 ½ tablespoons of chai spice blend.
Nutritional information is provided as an estimate. As it can vary due to many factors (brands used, quantities, etc.), we cannot guarantee its accuracy.
Food Safety and Nutrition Disclaimer