This shop has been compensated by Collective Bias, Inc. and its advertiser. All opinions are mine alone. The following content is intended for readers who are 21 or older. #Chardonnation #NotableSummer #CollectiveBias
These crispy Brussels sprouts are roasted at a high heat and covered in a soy and sesame glaze for a crisp exterior and a tender center. Adding puffed rice right before serving adds an unexpected crunch! This recipe makes a great appetizer or tapas dish, especially with a wine pairing.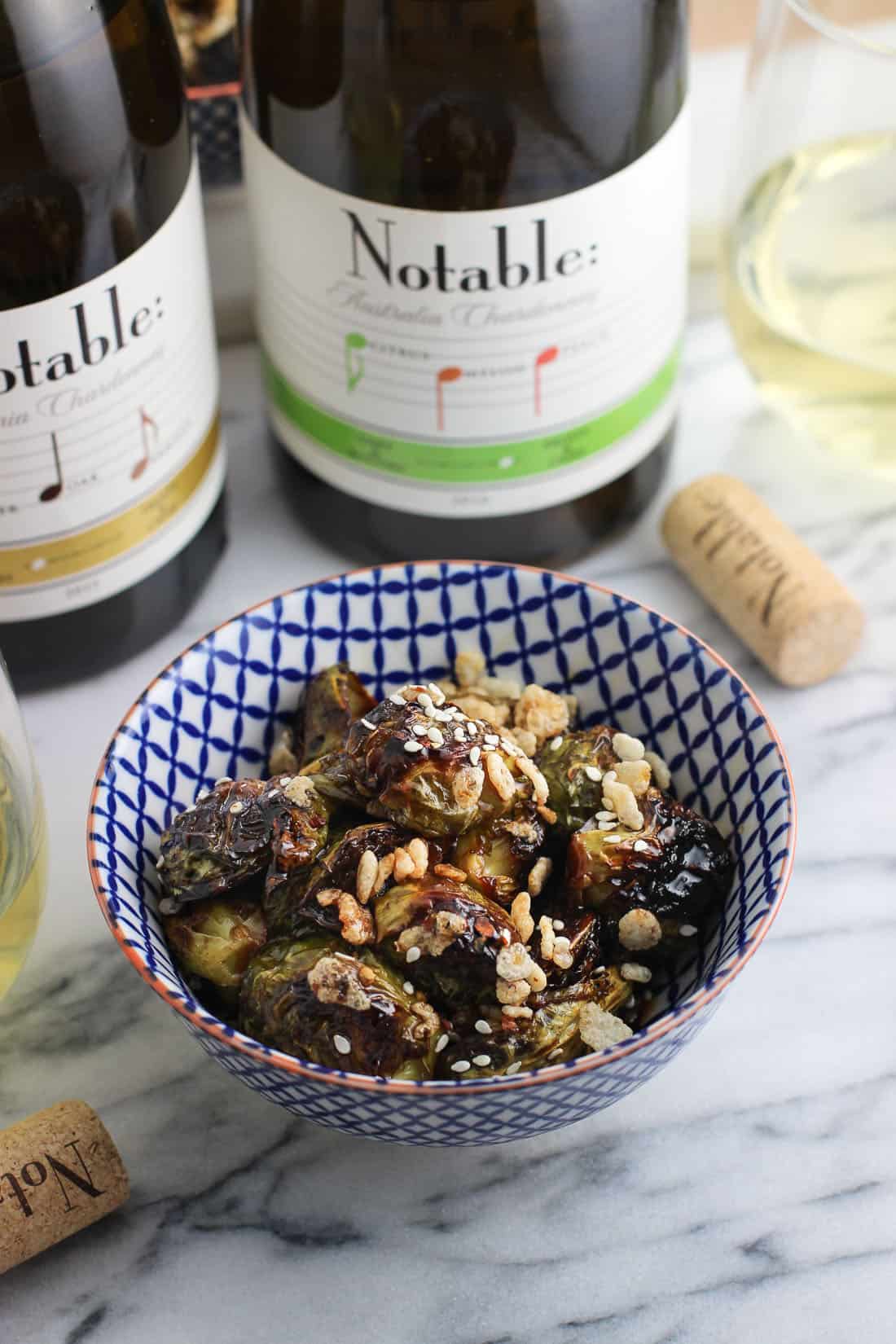 Imagine this: you walk into a hip neighborhood tapas/small plates restaurant that boasts a killer menu and look around to see that every single group of diners is sharing bowls of Brussels sprouts. Brussels sprouts! What in the world.
Obviously you have to see what all the fuss is about and order the Brussels too, and holy smokes, you get why they're a favorite. They're crispy with a bold sesame glaze and feature puffed rice of all things that transforms a sort of ho-hum vegetable that typically gets no love into an ultra flavorful, sought-after appetizer.
That's the story of how I fell head over heels for Brussels sprouts. Now that I've moved away from that restaurant, duplicating those crispy Brussels sprouts as best I can has been on my list ever since.
After a few trial runs I'd say I'm pretty close. <-- Obviously that's cause for celebration, so I had a little fun and served these crispy Brussels sprouts with sesame glaze and puffed rice tapas-style paired alongside two varieties of Notable Wines Chardonnay. Low-key entertaining at its finest.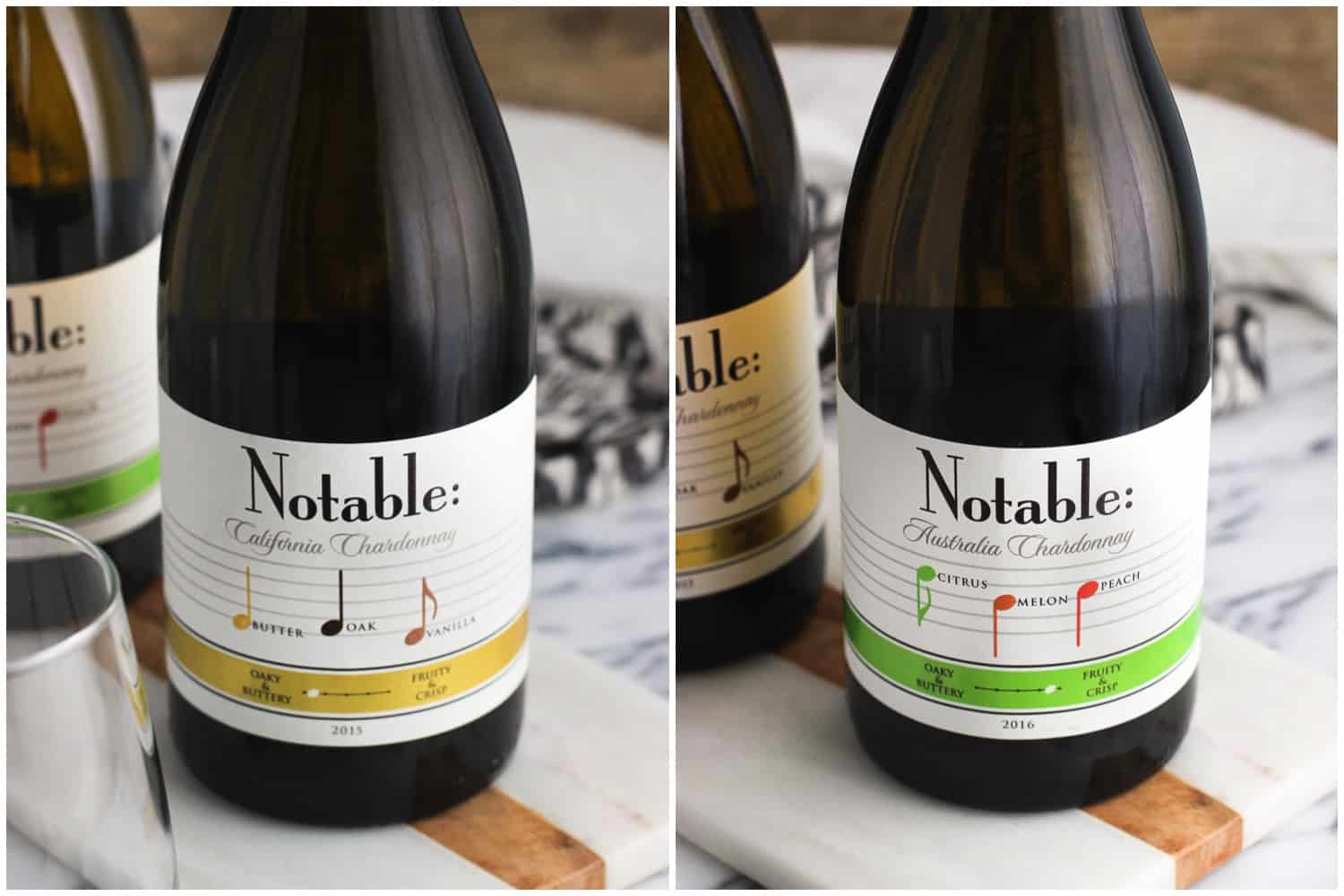 Wine tasting
Notable Wines is the first wine that features the flavor profiles right on the front of the bottle. As someone who appreciates the different types of wine, such as Chardonnay, I'm admittedly less versed in distinguishing between varieties of Chardonnay.
Having the flavor notes (both literally and figuratively!) on the Notable Wines labels is a convenient way to learn about what you'll find inside each bottle. Anything to help make the wine aisle less confusing, right?
When I went shopping for wine, I wasn't entirely sure which variety of Notable Chardonnay I would prefer. Oaky and buttery certainly sounds great, as does fruity and crisp. So I bought both and set up a tasting with a few friends so that we could pair both varieties with those Brussels sprouts (more on that recipe in a second).
I poured us tasters of both kinds and right off the bat noticed that one of the varieties was a deeper golden color than the other. This golden one had a bold aroma and at first sip I could taste a vanilla note, with the finish developing into oaky and buttery notes. Not only does Notable showcase the flavors on the bottle, but we found the descriptions to be spot-on.
After taking a sip of the lighter variety, we tasted notes of citrus, melon, and peach. The finish was definitely brighter than the oaky and buttery Chardonnay. We thought this variety certainly lived up to its fruity and crisp descriptors, which again, were helpfully printed right on the bottles. Notable Wines will effortlessly lead you to the wine you want.
I hadn't given a ton of thought before to how different two varieties within the same type of wine could be, but it's clear that the style, region, and taste can fall within a broad range and greatly impact the flavors. The flavor notes featured on the Notable bottles are a great asset that ensures you'll feel empowered as a virtuoso in selecting a wine that's just your style, and be able to explain the differences to your guests while entertaining.
Oh, and if you're wondering if we chose a favorite of the two...we did not. Both the oaky and buttery and fruity and crisp Chardonnays were flavorful, satisfying, and enjoyable to sip. In my opinion you'll just have to let your occasion guide your decision-making on which variety to purchase.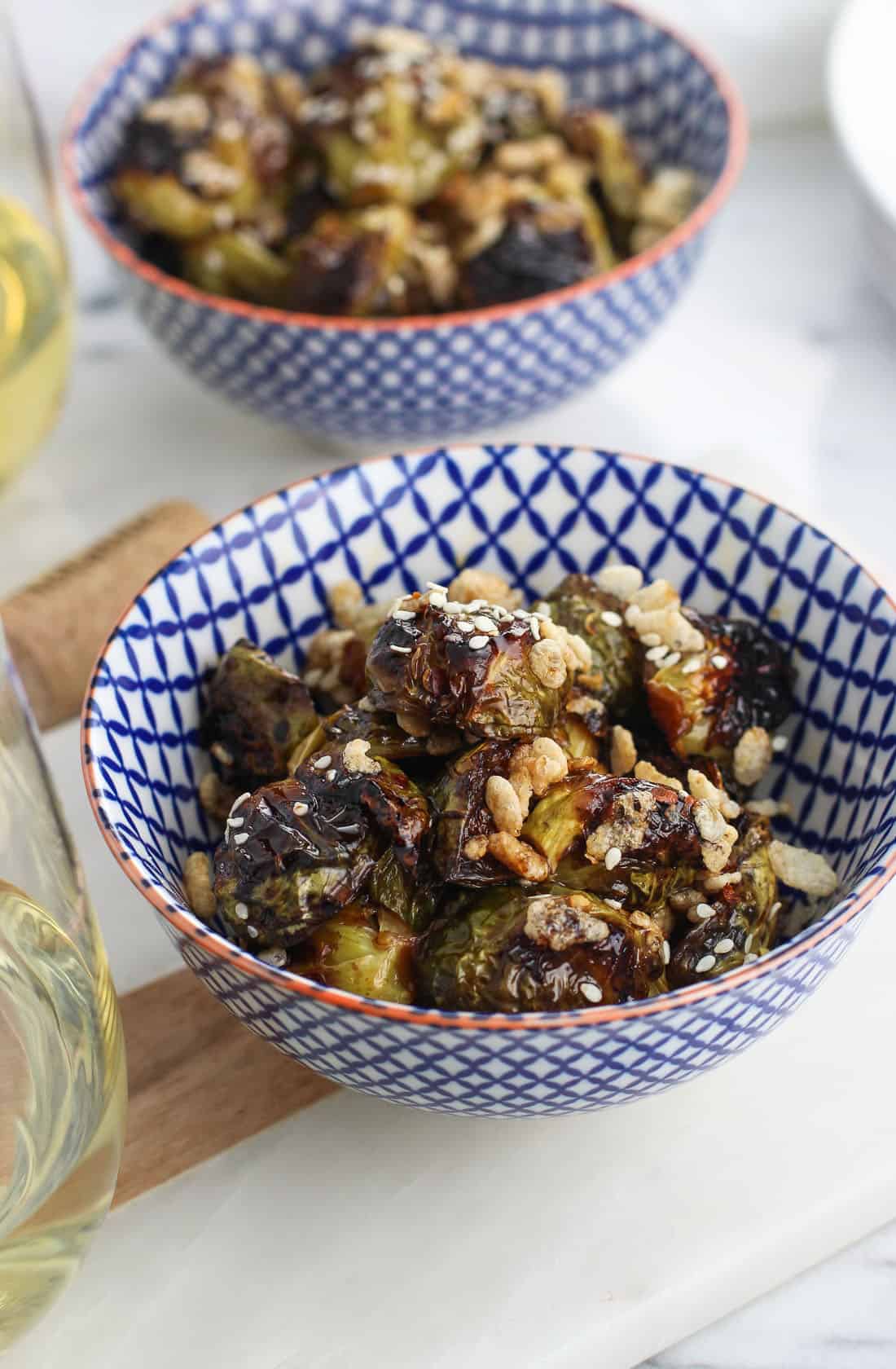 Recipe pairing
And now for the Brussels! I have to say, I wasn't sure if one Chardonnay variety would pair better in a duet with the crispy Brussels sprouts than the other, and after a careful sipping and tasting review, the choice comes down to your preferences.
The oaky and buttery Chardonnay has a harmonious consonance with the bold, savory flavor of the Brussels sprouts glaze, which features soy sauce, sesame oil, honey, and mirin. The flavors are very compatible and complementary, and keeps the food and drink pairing within a similar style. Meanwhile the fruity and crisp Chardonnay operates as a refreshing contrast to the bold, rich flavor of the Brussels sprouts. I liked them both!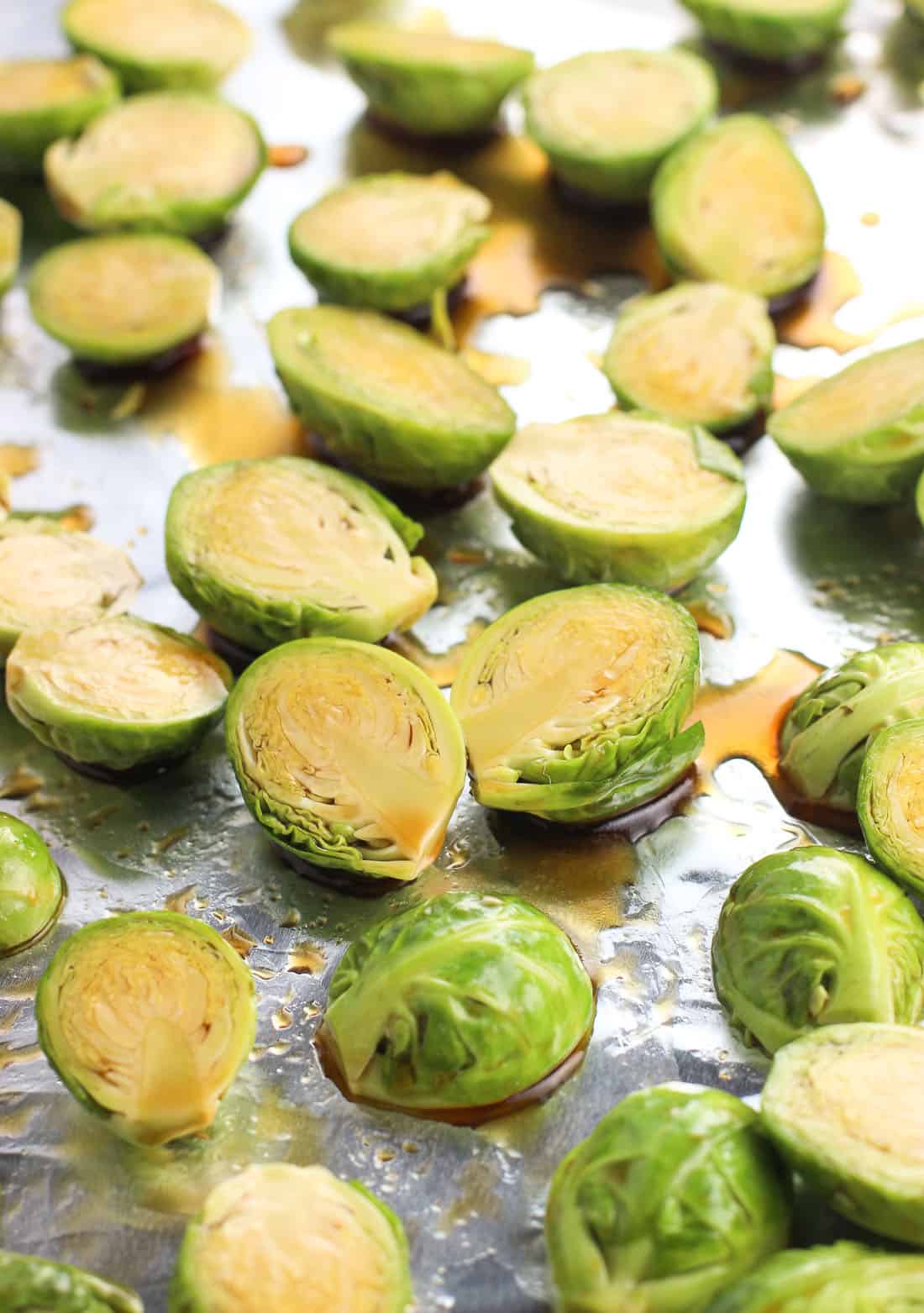 Recipe steps
When it comes to preparing crispy Brussels sprouts, you'll want to roast them at a high heat. We're going with 450°F here. The sesame glaze is only comprised of four ingredients, but provides a ton of flavor. Two of the ingredients (soy sauce and sesame oil) are savory-leaning, while the honey and mirin are sweet, yielding a rich and balanced layer of flavors.
One of my favorite tips when it comes to roasting Brussels sprouts is to reserve about one-third of the glaze, heat it, and pour it over the crispy, almost-caramelized sprouts prior to serving.
This ensures the crisp exteriors are juicy and packed full of flavor. After pouring the glaze, all that's left is to sprinkle puffed rice and sesame seeds and serve. Puffed rice may seem like a strange addition, but it adds an extra crunch that elevates these roasted Brussels sprouts from side dish to fun appetizer.
Just be sure to sprinkle them on right before serving and after you pour the glaze, otherwise they risk becoming soggy.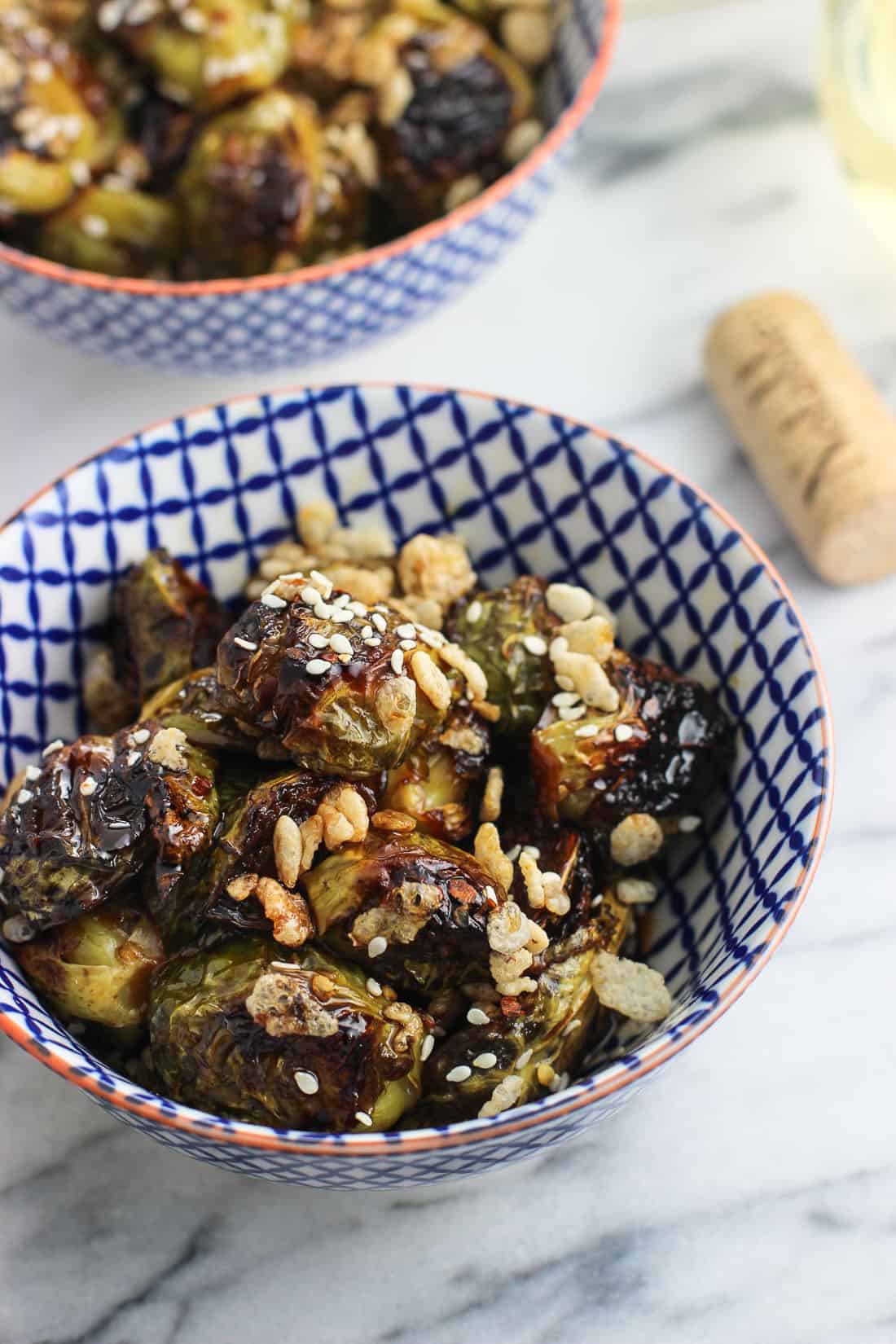 P.S. dessert. To tie in the flavor notes of both varieties, I'm thinking a sweet treat featuring both citrus and vanilla flavors would act as the perfect encore to a Notable tasting. 🙂
You can follow along with Notable Wines on Facebook and Instagram!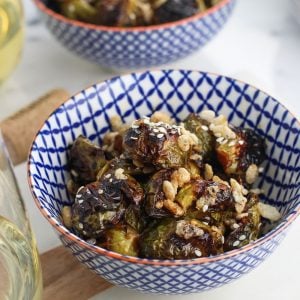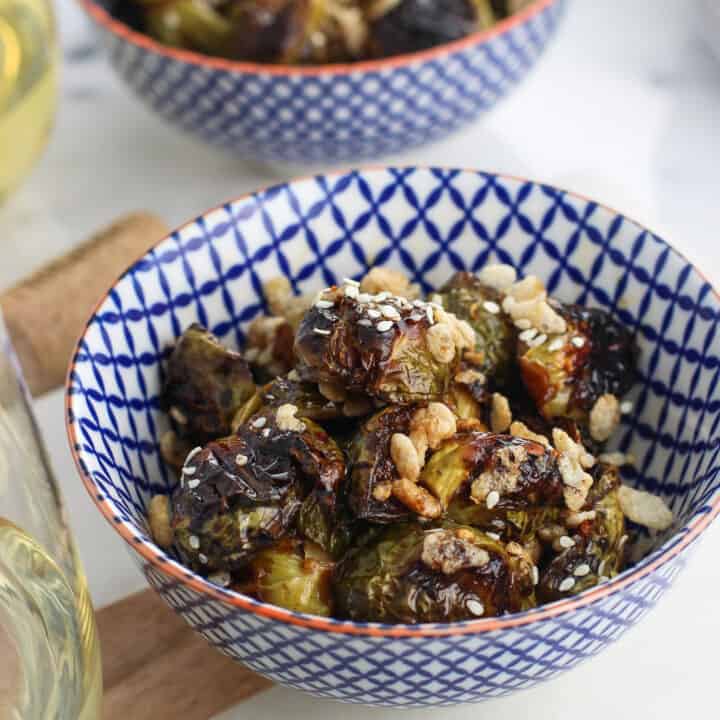 Crispy Brussels Sprouts with Sesame Glaze and Puffed Rice
These crispy Brussels sprouts are roasted at a high heat and covered in a soy and sesame glaze for a crisp exterior and a tender center. Adding puffed rice right before serving adds an unexpected crunch.
Print
Pin
Rate
Ingredients
1

lb

brussels sprouts

3

tablespoon

reduced-sodium soy sauce

2

tablespoon

honey

1

tbsp plus 1 ½ tsp

sesame oil

1

tablespoon

mirin*

3

tablespoon

puffed rice cereal

Sesame seeds

for topping
Instructions
Preheat oven to 450°F. Line a large baking sheet with foil and set aside.

Rinse and remove any yellow outer leaves from the brussels sprouts. Cut off the bottom stems and slice each brussels sprout in half. Add brussels sprouts to a large bowl.

Add soy sauce, honey, sesame oil, and mirin to a small bowl. Whisk to combine.

Pour about two-thirds of soy sesame sauce into bowl with the brussels sprouts, reserving remaining one-third. Toss to evenly coat brussels sprouts.

Pour brussels sprouts out onto prepared baking sheet. Arrange brussels sprouts in a single layer with room between each one.

Roast for 10 minutes, then remove from oven. Flip over each brussels sprouts half using tongs, and then roast again for 7-8 minutes, or until dark and crisp.

Transfer brussels sprouts to serving bowls. Heat remaining one-third of soy sesame sauce for ten seconds in the microwave (or your preferred method), and then pour evenly over brussels sprouts. Scatter puffed rice cereal and sesame seeds over top of brussels sprouts. Serve immediately.
Notes
*Mirin is a sweet cooking rice wine that you'll find in the 'international' foods aisle near the soy sauce.
Double (or triple) the recipe if you're hosting a larger crowd. The four servings listed here using one pound of brussels sprouts factors in a fairly generous appetizer-sized portion for each guest.
Nutrition
Calories:
142
kcal
|
Carbohydrates:
22.4
g
|
Protein:
4.7
g
|
Fat:
5.5
g
|
Saturated Fat:
0.9
g
|
Sodium:
511
mg
|
Potassium:
471
mg
|
Fiber:
4.4
g
|
Sugar:
12.3
g
|
Calcium:
30
mg
|
Iron:
1.8
mg
Nutritional information is provided as an estimate. As it can vary due to many factors (brands used, quantities, etc.), we cannot guarantee its accuracy.
Food Safety and Nutrition Disclaimer