This shop has been compensated by Collective Bias, Inc. and its advertiser. All opinions are mine alone. #SeeHowFreshWorks #CollectiveBias
This southwestern BBQ steak salad is loaded with thinly-sliced steak (made on the grill or stovetop), roasted corn, black beans, smoked gouda, jicama, and more. Topped with an easy BBQ ranch dressing, this meal salad recipe is flavorful and filling.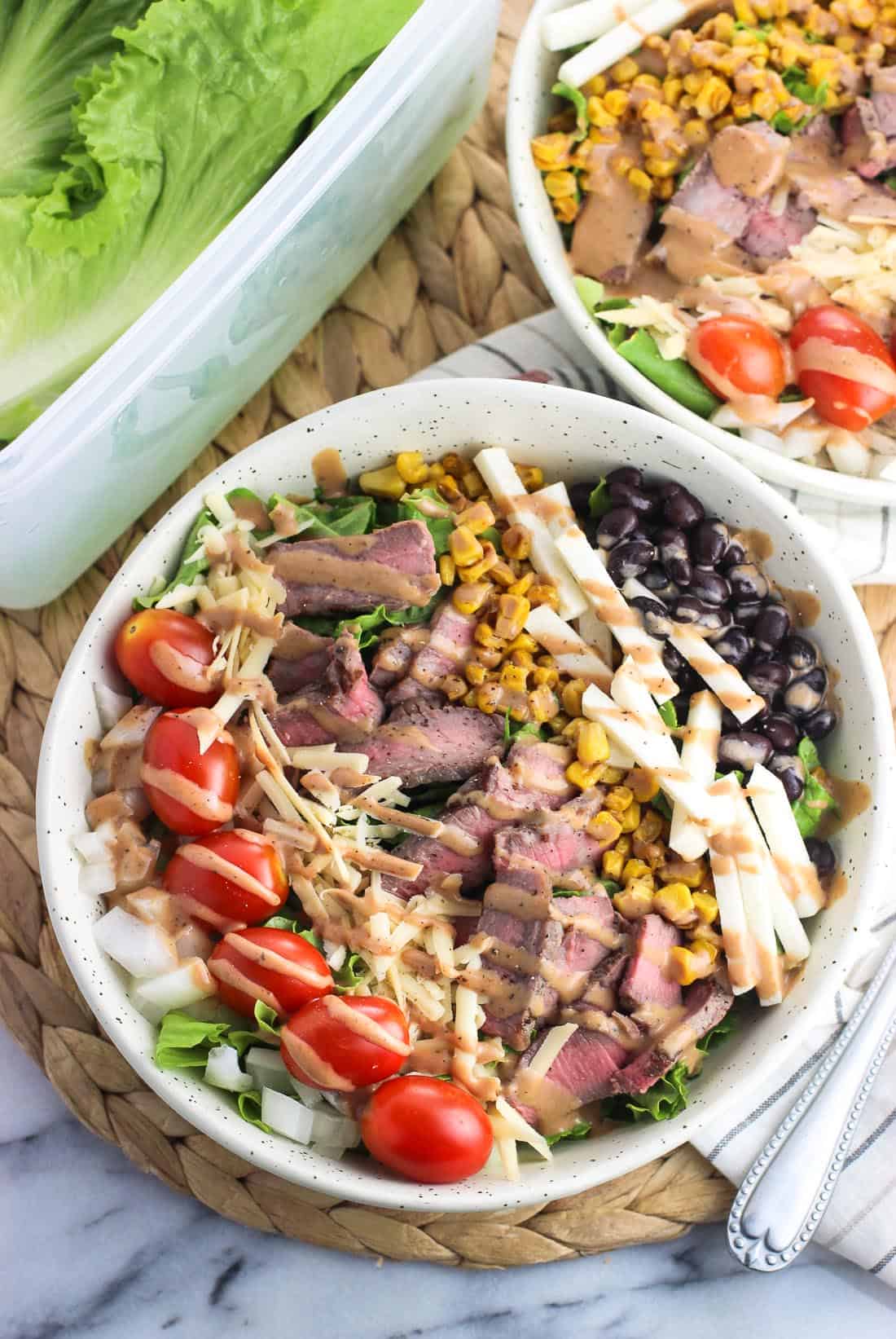 It has been entirely too long since I shared a salad recipe with you, especially since big salads are a summertime meal staple in my house. They're relatively quick to throw together, usually on the healthier side of the spectrum as far as main dishes go, and are an excellent vehicle for using up leftover fridge odds and ends. All good things!
One thing though that can throw a big wrench into your salad plans is realizing that the lettuce you planned to use as the base of your salad has unfortunately turned less than fresh in the fridge. What a bummer, right?
Well, not anymore, thanks to Rubbermaid® FreshWorks™ produce containers. They come in three different sizes for optimal storage of the most commonly purchased produce, and their patented FreshVent™ technology keeps produce fresh longer.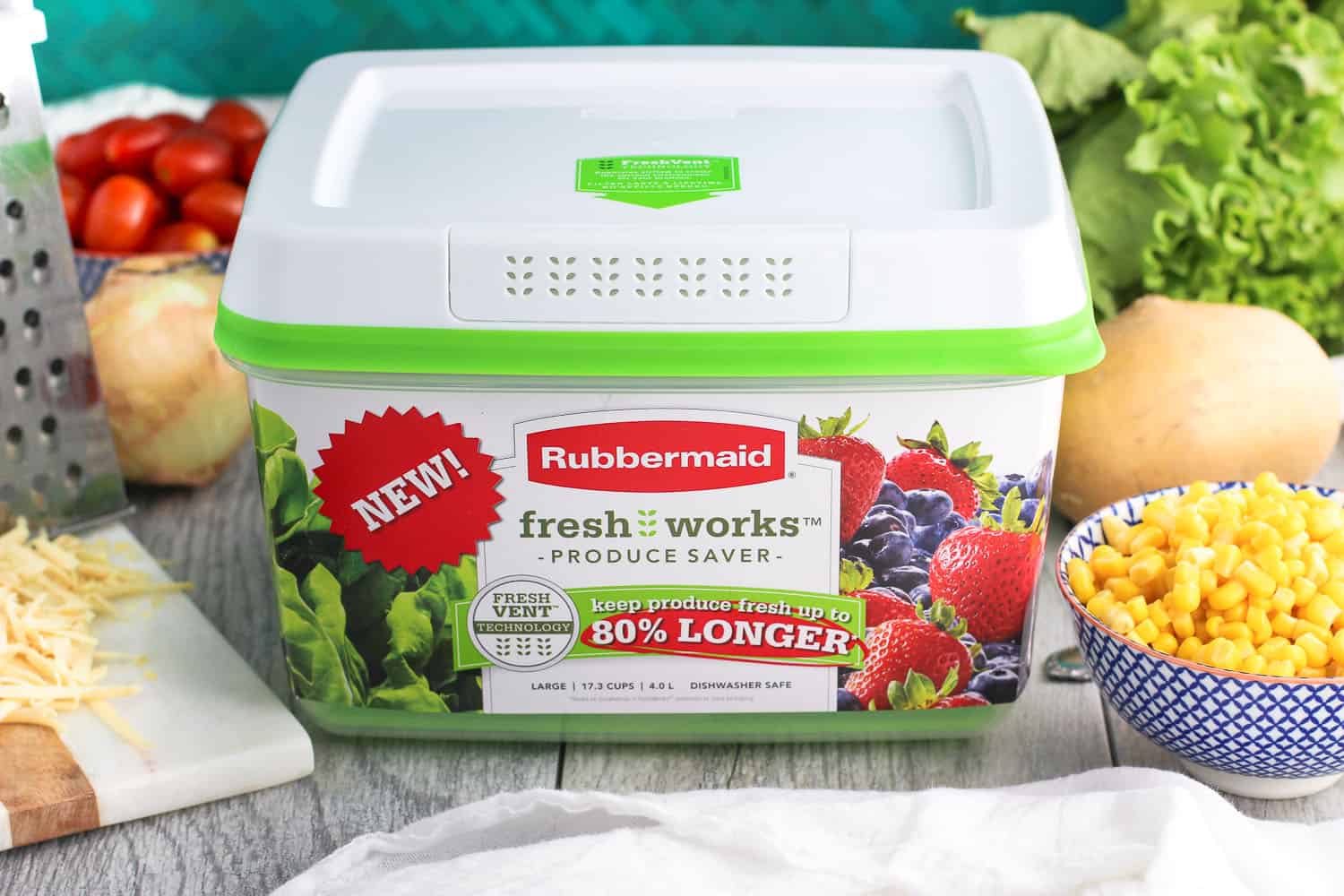 So how does FreshVent™ technology work? The patented membrane allows excess CO2 to escape to delay spoilage and allows additional O2 in to maintain an optimal environment for fresh produce. These containers also feature a Crisp Tray™ in the bottom that elevates your produce above moisture, which also helps your produce stay fresh for longer.
Plus, the containers, lids, and trays are all dishwasher-safe and BPA-free. Food storage VIPs!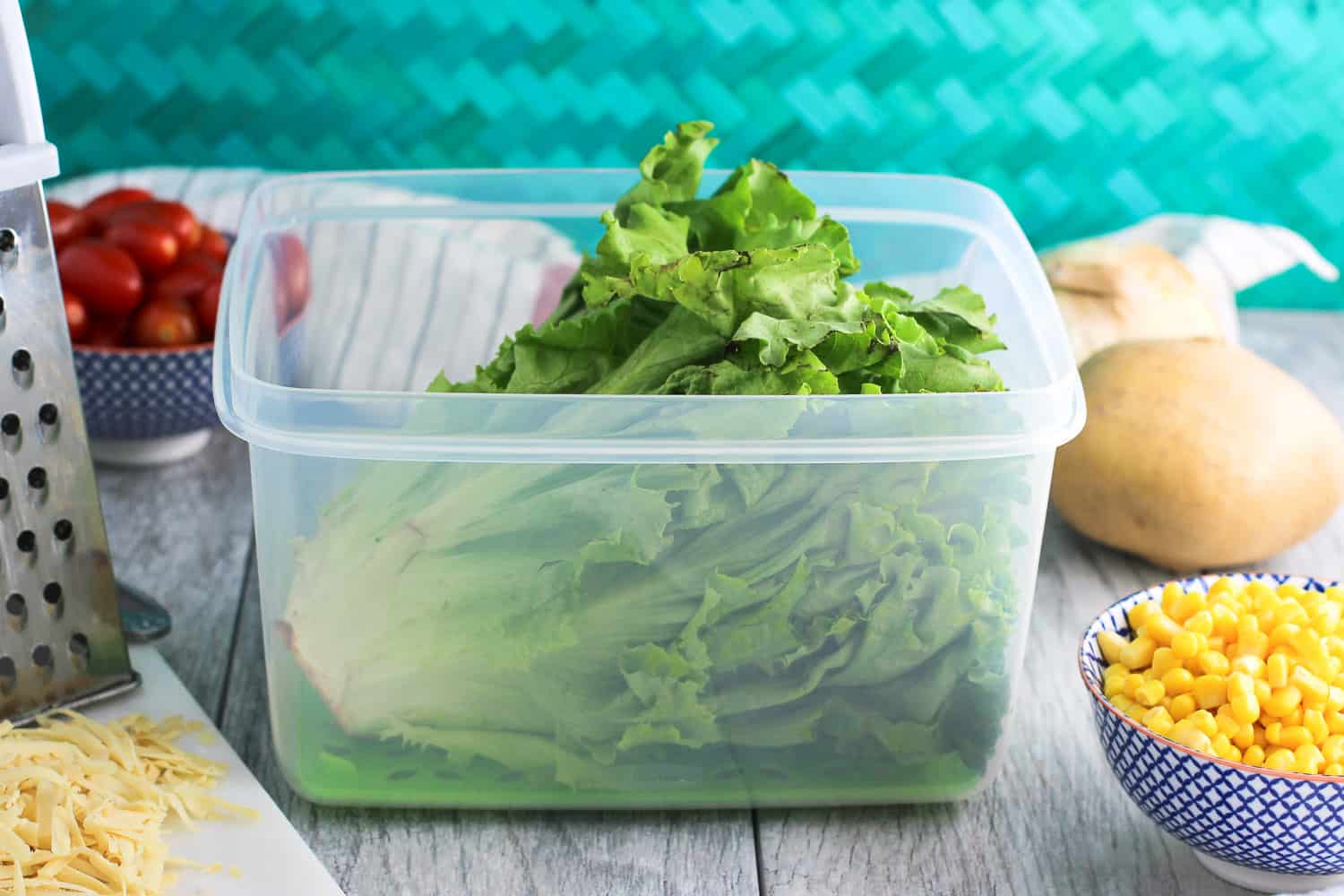 The large FreshWorks™ container fits 17.3 cups, or about the size of one head of lettuce. I placed my lettuce (pre-cut) in the container on top of the Crisp Tray™ and put it in the fridge, curious to see how long it would last. As a household of two, we don't necessarily plow through produce, so I've been burned before by wilted lettuce that has gotten way past its prime before I had a chance to use it all up.
Days and days later, I'm so impressed! We've eaten main dish salads and numerous side salads and the lettuce that remains is still so crisp like the day I bought it. If you're anything like me you feel a pang of guilt inside when you notice your produce has spoiled before getting the chance to eat it, and these FreshWorks™ containers are GAME CHANGERS.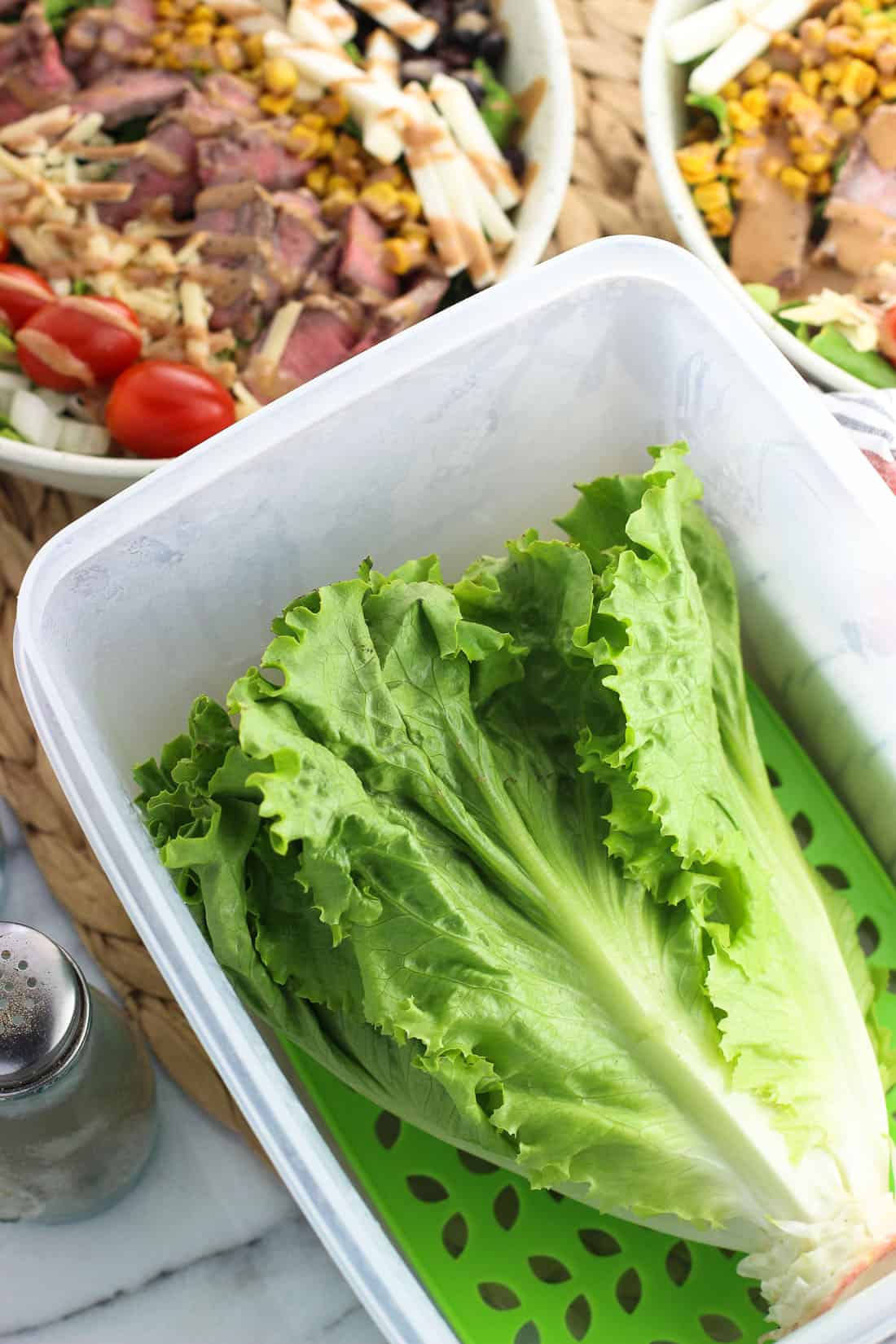 So, to celebrate extra freshness and less waste on the produce front, I made a hearty Southwestern BBQ Steak Salad. This salad definitely has heft, from the steak to the many toppings to the impossibly easy dressing. Of course you can mix and match toppings as you see fit, but the ingredients listed in the recipe card below yielded one mighty fine main dish salad!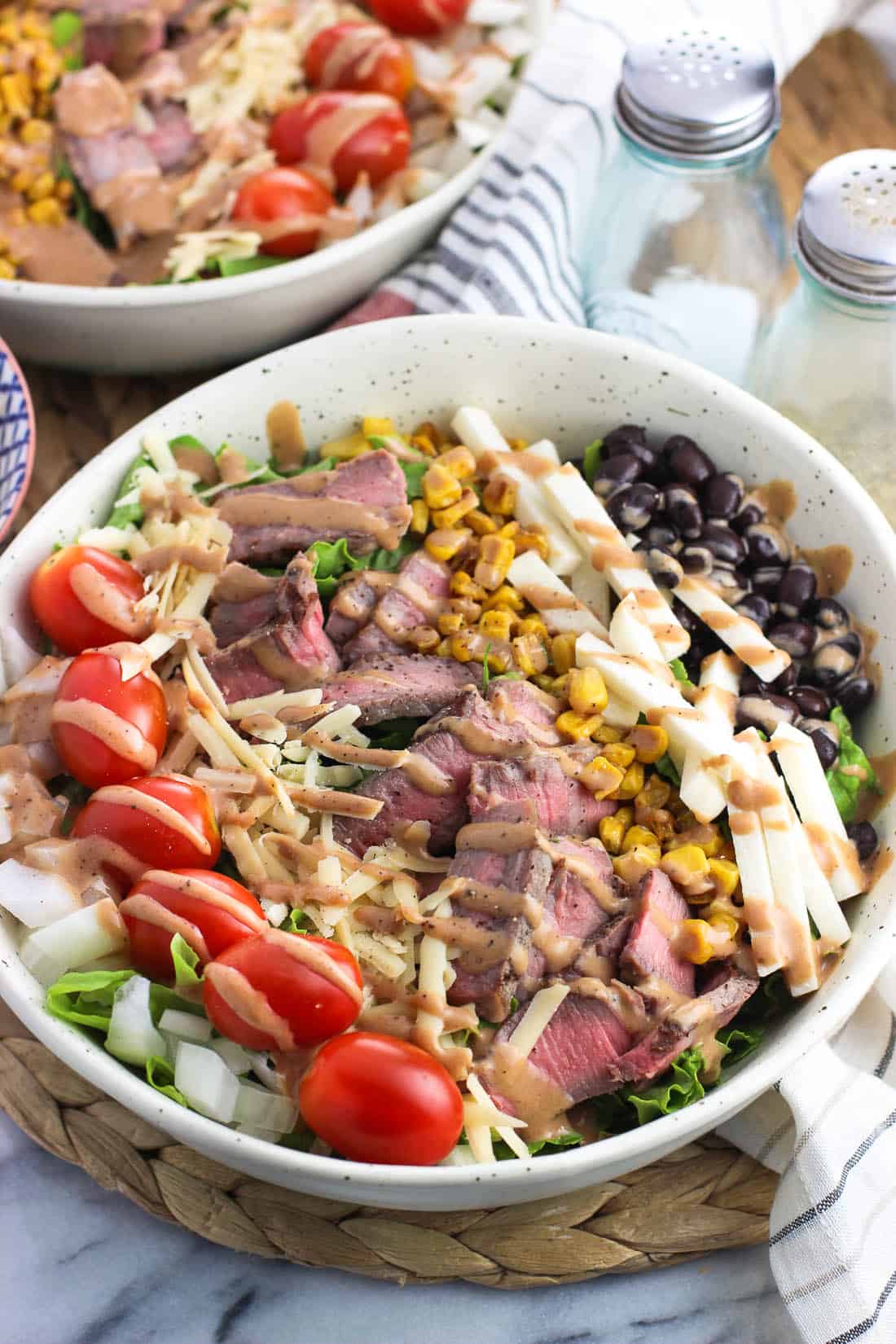 Besides the more traditional salad ingredients like lettuce, tomatoes, and onion, here we have black beans, roasted (!) corn, smoked gouda, jicama, and thinly-sliced steak. Roasting the corn in a skillet with a little bit of oil, salt, and pepper gives it a deeper flavor that works wonderfully with the other strong flavors going on here, like smoked gouda.
If you're not familiar with jicama, it's a super crunchy root vegetable that can be eaten raw with a texture not unlike a crisp apple. Years ago I first encountered jicama in a salad and loved the crunchy burst it gave, so it's been a go-to addition to my salads if I'm looking to switch things up since. To find jicama in your store, check near the potatoes, turnips, or other root vegetables.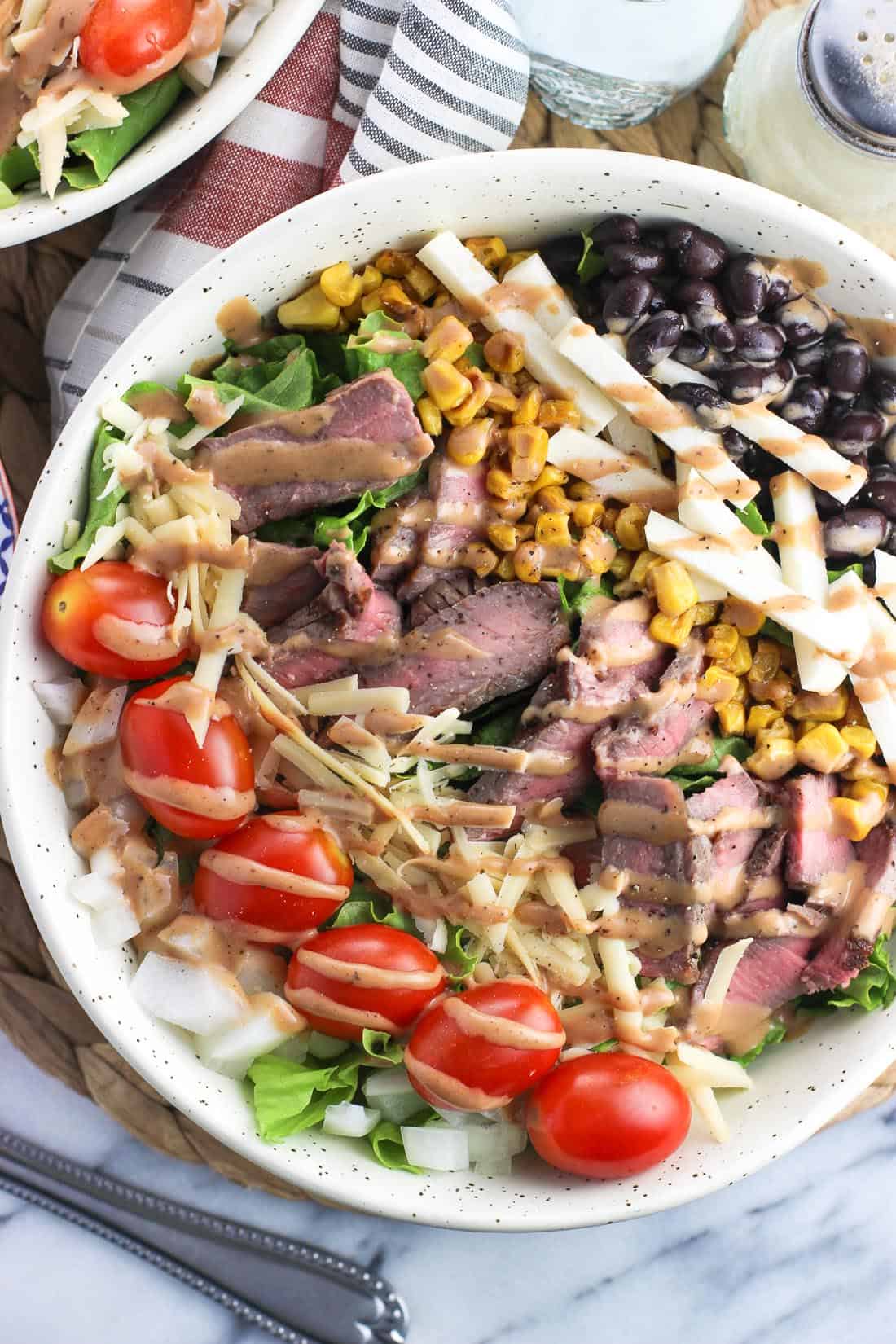 You can find more Rubbermaid® FreshWorks™ recipe inspiration here, and learn a little more about how it works, too. When you head to Kroger, look for the small (for blueberries, blackberries, or raspberries), medium (for strawberries, mushrooms, or brussels sprouts), and large (for lettuce or grapes) FreshWorks™ produce containers in the food storage aisle.
And who doesn't love a coupon? Click here for a coupon for $2 off one FreshWorks™ container (offer valid while supplies last).

Southwestern BBQ Steak Salad
Ingredients
Roasted corn:
1 15-oz can fresh corn kernels
1 tbsp olive oil
1/8 tsp salt
1/8 tsp ground black pepper
Steak:
Approximately 1 lb strip steak, trimmed of excess fat [see note]
Salt
Ground black pepper
BBQ ranch dressing:
2/3 cup ranch dressing
2/3 cup BBQ sauce
Salad:
1 head of green leaf lettuce
Half of 1 medium jicama, cut into matchstick-sized pieces
1 15.25-oz can black beans, rinsed and drained
3/4 cup diced sweet onion (about half of a medium-sized one)
1 10-oz carton grape tomatoes (or cherry)
3 oz smoked gouda, shredded
Instructions
For the corn:
Heat a skillet over medium heat and add the oil. Add corn kernels, season with salt and pepper, and cook for 10 or so minutes, stirring occasionally. The kernels are done once they've browned slightly on all sides. Remove from heat.
For the steak (grilling method):
Remove steak from the refrigerator and let sit at room temperature for 30 minutes. Season both sides to taste with salt and pepper. With about 15 minutes to go, turn grill on high heat to get it nice and hot.
Once heated, lower heat to around 425°F. Place the steak on the grill over direct heat and let cook for 4-5 minutes.
Flip steak over and cook for another 4-5 minutes, or to your preferred doneness. Let steak rest for about 5 minutes before slicing.
For the steak (stovetop method):
Remove steak from the refrigerator and let sit at room temperature for 30 minutes. Season both sides to taste with salt and pepper.
While the steak is sitting out, preheat oven to 425°F. Oil a cast-iron or oven-safe skillet with about 1 tbsp of oil. Place in oven for 10 minutes to heat the skillet.
Remove from oven and place the skillet on the stovetop on a burner set over medium to medium-low heat.
Place steak in skillet and cook for 2 minutes. Flip and cook for another 2 minutes.
Flip steak back again and cook for an additional minute on each side, or until it reaches your preferred doneness. Let steak rest for about 5 minutes before slicing.
For the dressing:
Whisk together ranch dressing and your favorite BBQ sauce in a small bowl.
For serving:
Rinse and cut lettuce and plate it out. Add steak and toppings and drizzle with dressing.
Notes
I purchased two strip steaks approximately half a pound each (so, in total 1 lb). They were fairly thin, about 1 inch or a smidgen less, so the cook times listed above reflect that. If your steak is larger/thicker, your steak may need additional cooking time.

Depending on how you like to make up your salads you may have leftover toppings. Reserve for future salads or repurpose - I like to use leftover roasted corn as an addition to homemade guacamole.

This salad recipe is also great for using up leftover protein, such as grilled chicken, extra pulled pork, etc.