Hi guys! How was your weekend? B and I took a quick, one-night getaway to Catalina Island on a whim. Catalina Island is situated a little over twenty miles off the coast of California in Los Angeles County. And it's insanely gorgeous.
Neither of us knew what to expect, but we had a great time. It was wild to have our toes in the sand on a remote, tropical island after just a car ride and an hour-long ferry trip. At lunch, I had taken a sip of the water on the table and had a momentary panic that I shouldn't be drinking the local water…then I remembered I was still in California. Haha! It really does feel like you're in a different country.
B and I plan to take a few more trips around California in the near future before we hit the road, but now that it's finally June we're buckling down and planning the details of our big road trip/move. Thankfully we've gotten one big thing squared away (got the apartment – woohoo!), but geez are there infinite logistics to think about. Maybe sometimes I feel a bit overwhelmed between pouring over the atlas for road trip routes and compiling piles of things to pack. Coordinating moving pick-ups/drop-offs and taking care of car maintenance before our 2,000+ mile trip. Scouring Craigslist for a washer and dryer because…uh, just remembered we need one on the other end. Eeesh.
So under the disguise of "getting together my cookbooks", my mind took a little siesta from the "boring" logistics of moving companies and car transportation and escaped to do some necessary research on brownies. Super imperative, right? I thought so. B thought so too…once he ate the end result.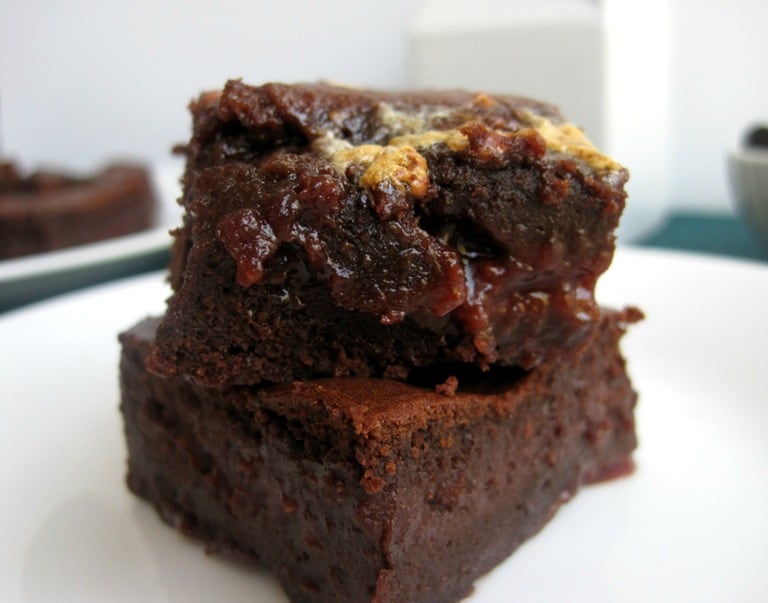 These chocolate raspberry brownies are really moist and fudgy, thanks to the addition of an extra egg and middle layer that's bursting with raspberry jam. I initially wanted the middle layer to be a raspberry/marshmallow combination. Actually, I did that. Don't you see the marshmallows?
….yeah, they all but disappeared mid-bake. Except for a few that bubbled up to the surface and became all toasty delicious. Despite their no-show in the finished product, the marshmallow slivers added to the middle layer melted into the brownie and added sweetness and even more moisture. I guess I can call them my secret ingredient for these fudgy, fudgy brownies.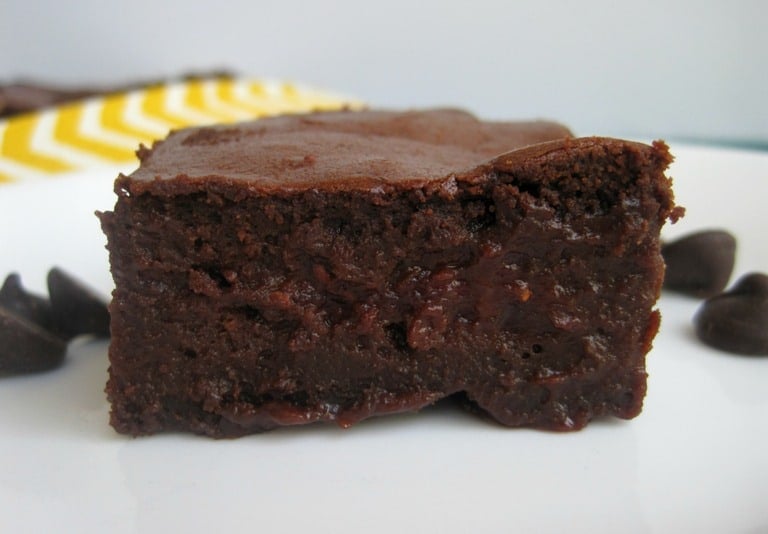 Now that it's June and summer is right around the corner, I made a few swimsuit-conscious modifications without sacrificing taste. I replaced half of the butter the original recipe called for with the equivalent of vanilla yogurt. Plain-flavored will also do. Then I replaced the cup of sugar with a cup of stevia, no problemo. And the raspberry jam? Reduced-sugar! Sure these brownies feature chocolate as a main ingredient (how could they not?), but by the taste alone, you'd never know steps were taken to lighten them up.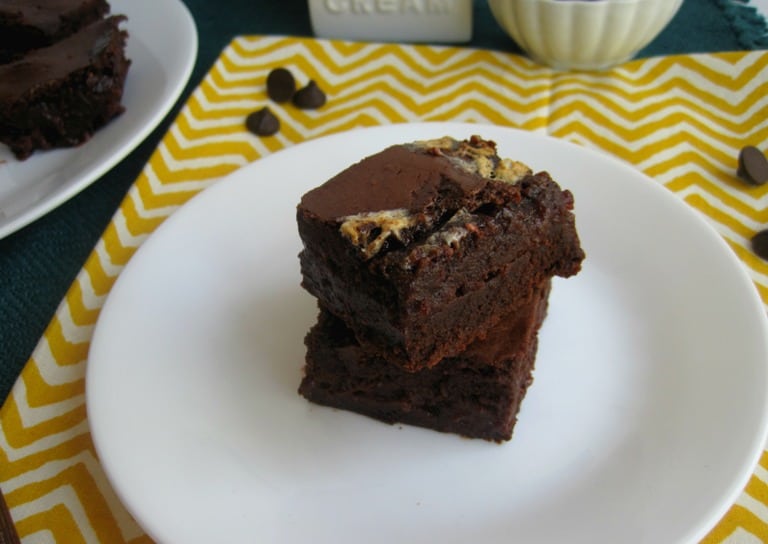 Ingredients
1

cup

semisweet chocolate chips

1/2

cup

bittersweet chocolate chips

1/4

cup

yogurt

plain or vanilla regular/Greek

1/4

cup

unsalted butter

cut into small pieces

1

cup

stevia

3

eggs

2

tsp

vanilla extract

1/2

cup

all-purpose flour

pinch

of salt

1 1/2

tbsp

instant espresso powder

7-8

jumbo marshmallows

cut into 1/4"-thick slices*

1

cup

raspberry jam

I used low-sugar
Instructions
Preheat oven to 350°F. Grease an 8" x 8" pan with cooking spray and set aside.

Place chocolate chips (semisweet and bittersweet) in a microwave-safe bowl and microwave in 20- or 30-second intervals until chips are melted. Be sure to stir after each interval in the microwave.

Once chocolate chips are melted, pour melted chocolate into a medium-sized mixing bowl. Add the yogurt, butter, stevia, eggs, and vanilla extract. Stir with a whisk until all wet ingredients are fully integrated.

To the chocolate mixture, add flour, salt, and espresso powder. Stir until all dry ingredients are just mixed in.

Pour half of the batter into the prepared baking dish. Layer marshmallow slices side-by-side on top of the brownie layer to fully cover it. Spread raspberry jam over top of marshmallows in an even layer. Pour second half of the batter over top of marshmallows/jam and spread evenly.

Bake brownies for 35-40 minutes, or until a toothpick inserted into the tallest part comes out just about clean (a few crumbs are okay). Let pan cool completely on a wire rack.

Once brownies are entirely cool, loosen edges with a knife and cut into 16 squares. Store brownies in an airtight container with pieces of parchment between each layer.
Notes
*You can also use large or mini marshmallows, you will just need to increase the quantity. The end result is that marshmallows are cut into 1/4" slices and placed as closely together as you can in the middle layer.
Recipe adapted from "Classic Fudgy Brownies" in The Art & Soul of Baking by Sur La Table and Cindy Mushet
Nutritional information is provided as an estimate. As it can vary due to many factors (brands used, quantities, etc.), we cannot guarantee its accuracy.