This Five-Ingredient (!) BBQ Beef Tortilla Pie is a savory, satisfying main dish perfect for weeknights. It's ready in 30 minutes and uses simple ingredients. It's super customizable, too.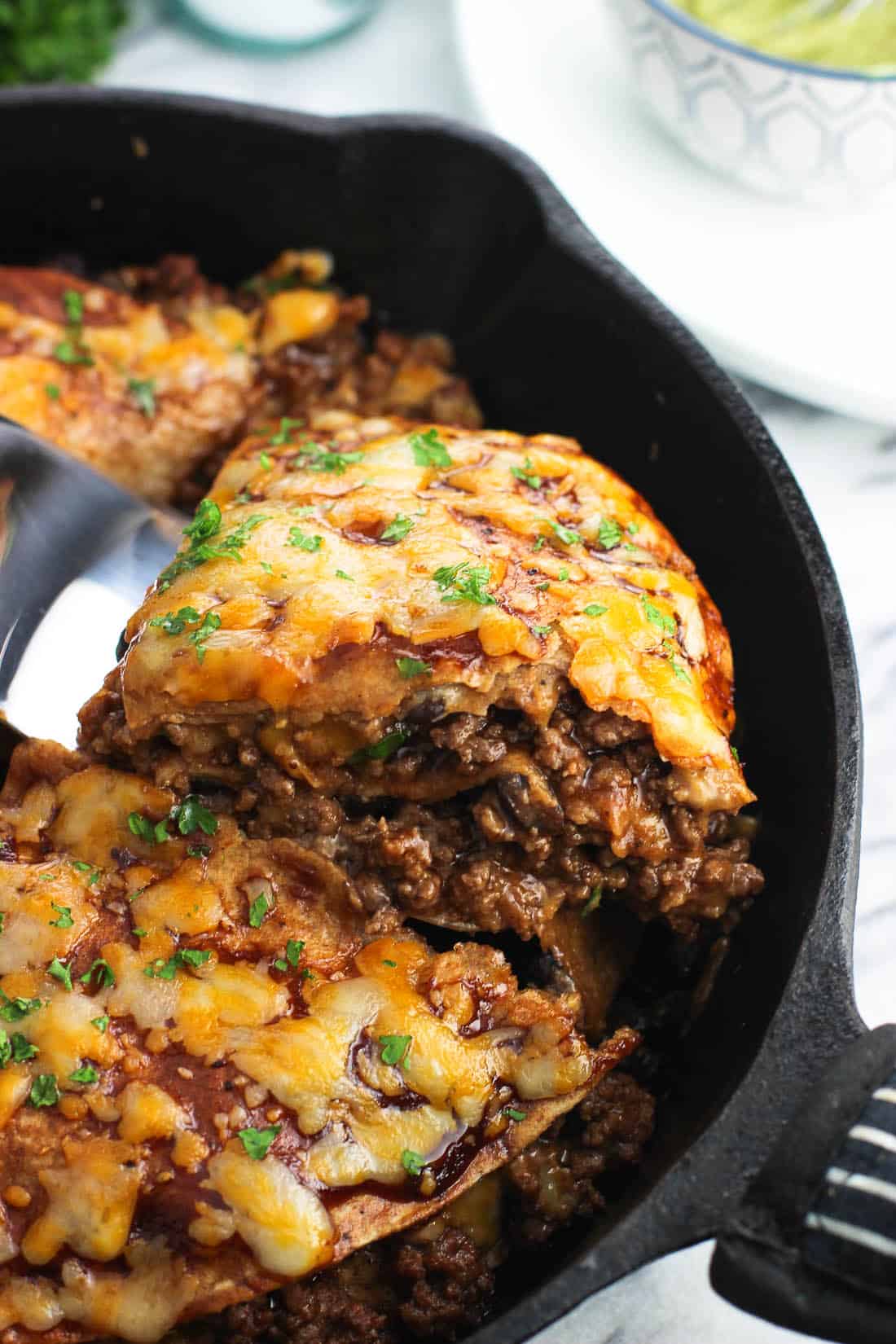 Recently I talked about super quick meals that are clutch for when your brain isn't working, and got to thinking about others I keep in my back pocket.
Tortilla pies (or stacks, or whatever you want to call these…) are another versatile favorite of mine, especially buffalo chicken tortilla pie, which was actually one of my top 10 viewed recipes of 2016. Searching through my recipe archive, I couldn't believe this BBQ beef tortilla pie wasn't up on the blog yet — I could have sworn it was! With how often I make it, the fact that it flew under the radar was strange.
Obviously that needed to change, so in preparing this post, I sort of realized why it had never hit the primetime. It's only five simple ingredients, pretty much all of which you can get a little loosey goosey with the measurements. So is it really worthy of its own blog post?
I'm saying a big Y-E-S, because beef, tortillas, black beans, BBQ sauce, and cheese come together to create a hearty, flavorful dish that tastes like there's more to it going on than just five ingredients. A whole greater than the sum of its parts, if you will.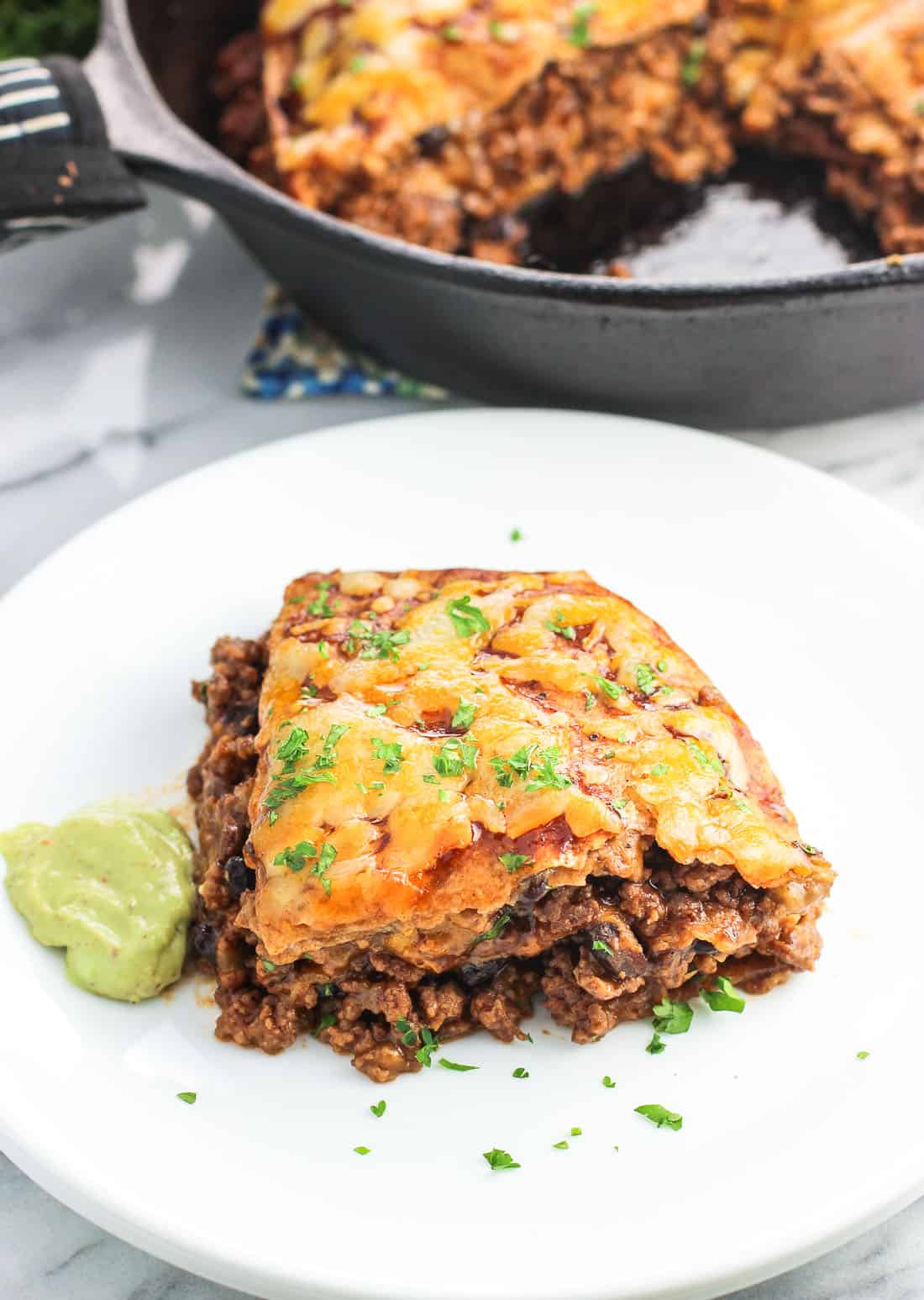 What's to love about this recipe
Tortilla pies are quick and have straight-forward assembly: tortilla, sauce, meat, cheese, and repeat. End on a tortilla, and then cover the top with sauce and cheese. Since the meat is already cooked by the time of assembly, the whole shebang is popped in the oven for 10-15 minutes for the cheese to melt, and you've got dinner on the table. And a seriously good lunch for the following day or two…
The ingredients are also incredibly customizable. Basically whatever combination of meat, sauce, and cheese that sounds good to you would work in this format.
This is also a great recipe for adding a variety of vegetables, or leftover bits of this and that. Leftover sauteed kale, beans, squash, roasted sweet potatoes…it all works.
Simple steps
This basic recipe doesn't require much explanation, but when has that ever stopped a food blogger from writing more vs. less on the Internet? 😉
First start by cooking the ground beef in a skillet. Once cooked, drain the fat off before adding the BBQ sauce so the meat mixture isn't too greasy. Use your favorite BBQ sauce here because it brings a ton of flavor to the beef.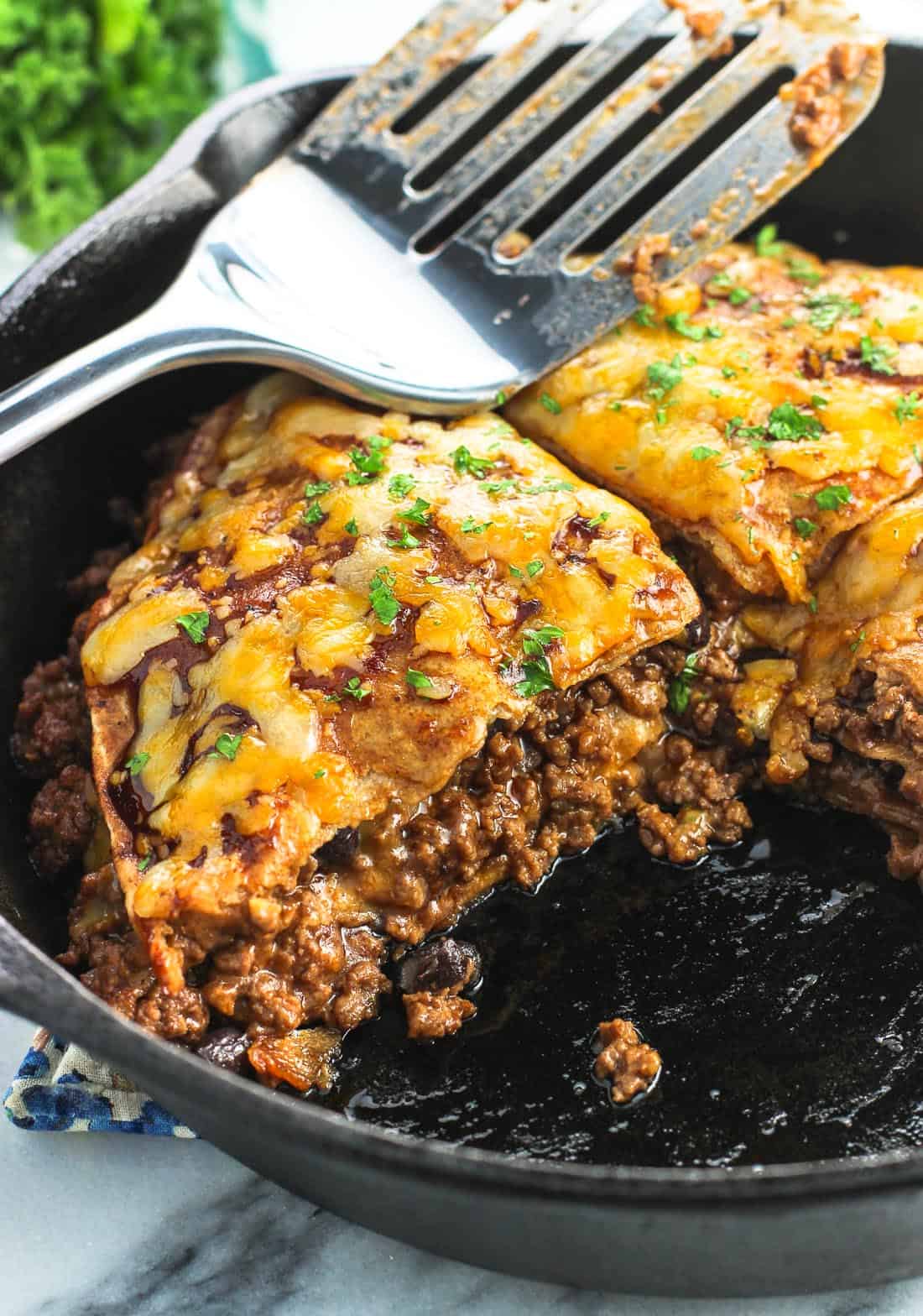 Now you'll need three tortillas. I've used regular tortillas, but the tortillas you see in these photos are actually whole wheat! You really can't taste a difference, so it's an easy way to sneak in some extra nutrition.
Lay one tortilla in a baking dish, then brush BBQ sauce over top. Go right to the edges with the sauce to ensure the perimeter of the tortilla don't dry one when this BBQ beef tortilla pie is baking. Top with half of the beef mixture, then add beans and cheese. Now brush both sides of the next tortilla with BBQ sauce and repeat until all of the ingredients are used.
After a quick spin in the oven to melt the cheese, you're all ready to slice and serve.
Recipe notes
You can certainly bake this tortilla pie on a baking sheet lined with foil, but I like to use a smaller pan with close edges so when slicing the filling doesn't get everywhere. Usually I use an 8-inch round cast iron skillet.
For a vegetarian spin on this recipe,

BBQ tempeh kale tortilla pie

is always a hit, even in my meat-eating household.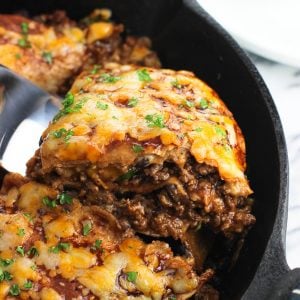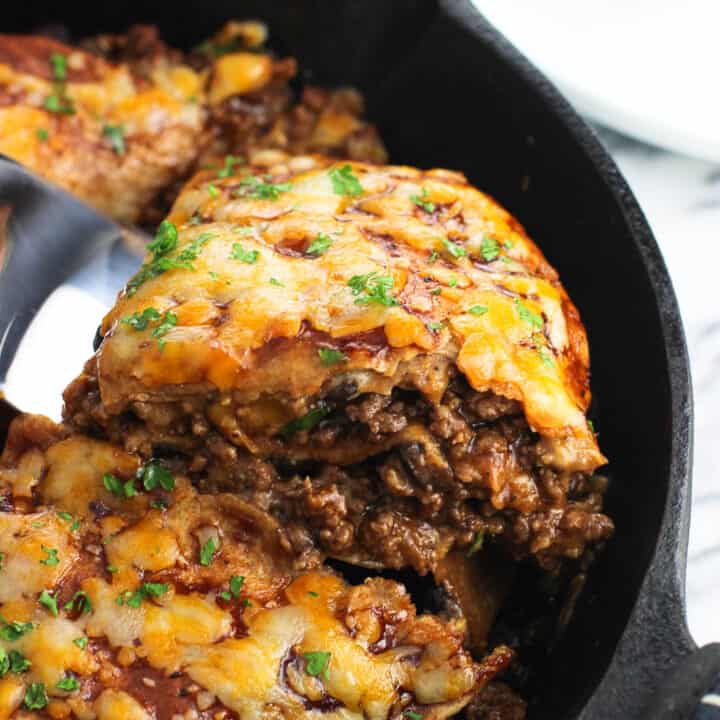 Five-Ingredient BBQ Beef Tortilla Pie
This Five-Ingredient (!) BBQ Beef Tortilla Pie is a savory, satisfying main dish perfect for weeknights. It's ready in 30 minutes and uses simple ingredients. It's super customizable, too.
Print
Pin
Rate
Ingredients
1 - 1.25

lb

ground beef

(anything in this range is fine)

3

8-inch

flour tortillas

3/4

cup

BBQ sauce,

divided

1

cup

canned black beans

divided (rinsed and drained)

1

cup

shredded cheese

divided (cheddar, colby jack, etc.)
Instructions
Preheat oven to 350°F.

Add the ground beef to a skillet set over medium-high heat. Brown the beef, breaking it up into smaller crumbles and moving it around until the meat is no longer pink and fully cooked. Drain the fat, and remove skillet from the heat.

Add 1/2 cup of BBQ sauce to the skillet with the beef and stir so the beef is evenly coated. Pour another 1/4 cup of BBQ sauce in a small bowl.

Place a tortilla into a greased, oven-safe dish that's at least 8"x8" (or a cast iron skillet). Brush the top of the tortilla with some of the reserved BBQ sauce.

Add half of the beef evenly on top of the tortilla until the edges. Evenly scatter 1/2 cup of black beans and press them into the beef. Scatter about 1/3 cup of shredded cheese evenly over top of the beef/beans.

Take another tortilla and brush one side with BBQ sauce. Place BBQ side-down on top of the beef and now brush the other side with BBQ sauce.

Spread the remaining beef evenly on top of the tortilla to the edges. Scatter remaining 1/2 cup of black beans over top, and then another 1/3 cup of shredded cheese.

Brush one side of the remaining tortilla with BBQ sauce and place it sauce-side down on top of the beef. Brush the other side with BBQ sauce, adding a little extra if you like to make it extra saucy. Evenly sprinkle remaining 1/3 cup cheese over top.

Place the dish in the oven and bake for 15 minutes or so, until the cheese is melted. Slice into quarters and serve while warm.
Notes
The ingredient quantities above are definitely customizable. I'd say anywhere between 1 - 1.5 lbs of ground beef will work just fine, along with however much BBQ sauce, beans, and cheese you'd like. Typically I don't measure when I make this dish, but I did this time for the sake of adding measurements to the recipe card. You do you, though!
Nutrition
Calories:
545
kcal
|
Carbohydrates:
46
g
|
Protein:
38
g
|
Fat:
23
g
|
Saturated Fat:
10
g
|
Cholesterol:
104
mg
|
Sodium:
1351
mg
|
Potassium:
659
mg
|
Fiber:
3
g
|
Sugar:
18
g
|
Calcium:
380
mg
|
Iron:
5.9
mg
Nutritional information is provided as an estimate. As it can vary due to many factors (brands used, quantities, etc.), we cannot guarantee its accuracy.
Food Safety and Nutrition Disclaimer