Marsala Parmesan Mashed Potatoes are thick and creamy with the delicious flavors of Marsala wine and Parmesan cheese. Quickly prepped kale boosts the nutrition and blends right into this new take on a favorite side dish.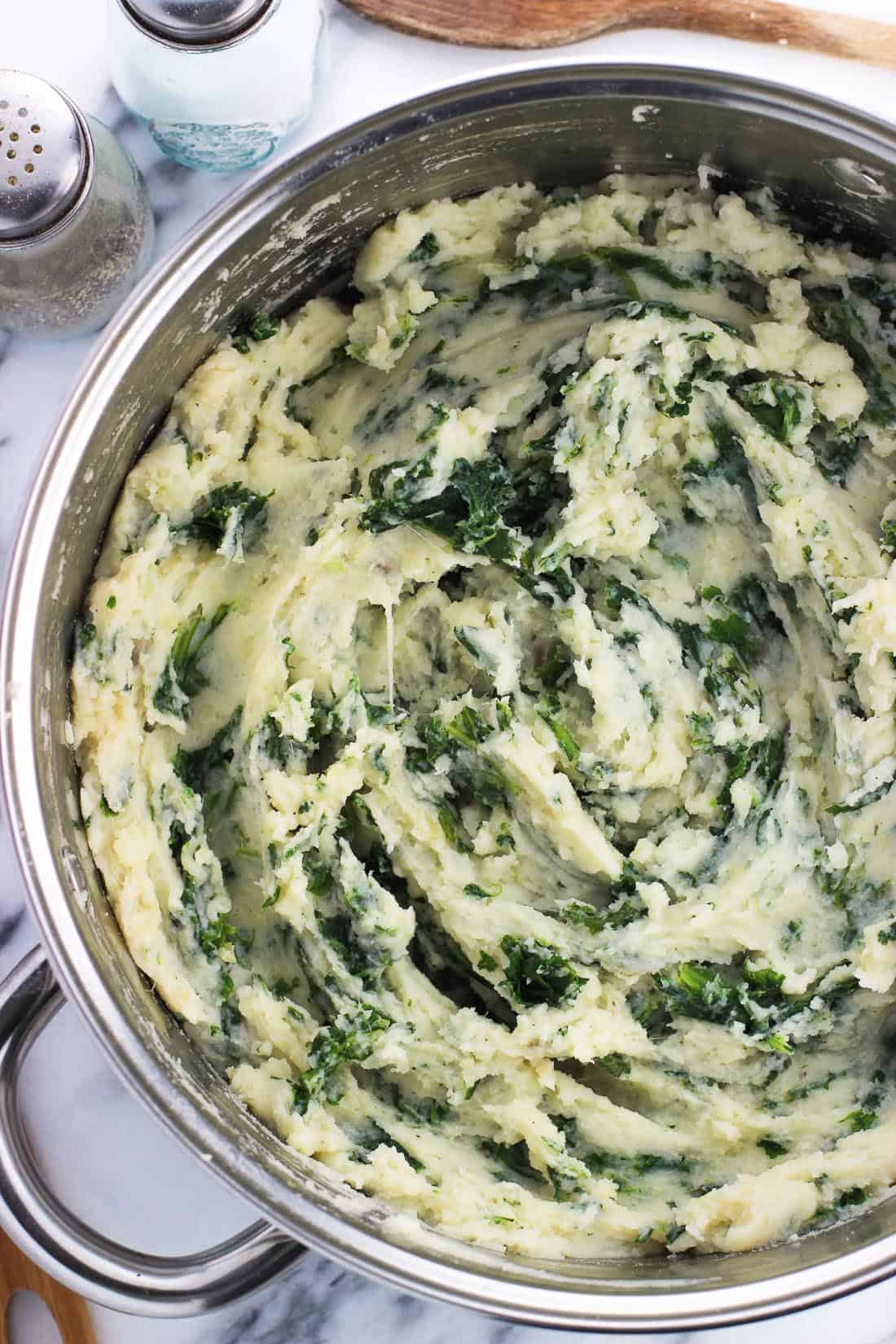 There are times when I get stuck on a flavor in my head and just can't let it go. This is one of those times. Pre-Christmas I shared a recipe for Parmesan Marsala Sauteed Kale that remains my #1 fav way to scarf down a leafy green. And now? Those flavors are getting rolled up into a jazzed up mashed potato recipe. Life is good.
While these Marsala Parmesan Mashed Potatoes with Kale feature several of the same major ingredients (like Parmesan, Marsala, kale…), everything comes together differently to deliver the same OMG flavor in a simplified way.
As the potatoes take some time to boil, I set another pot of water on the stovetop so that the kale could boil for five or so minutes. This made sure that the kale was tender and wouldn't be chewy or tough once it's mixed into the mashed potatoes. If you've ever experienced stringy kale, you won't need to worry about that here.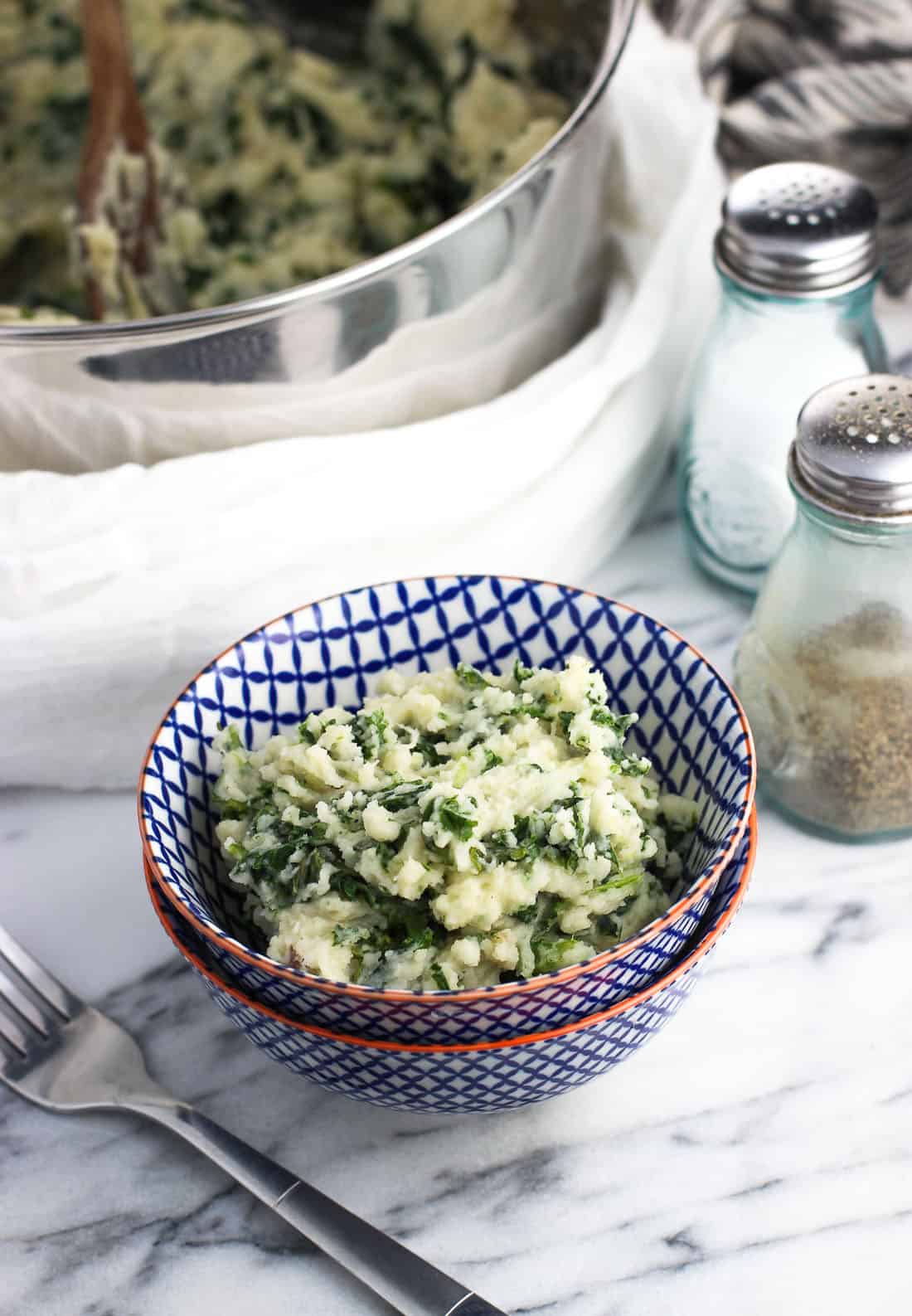 All the mashed potato goodies like butter, cream, and sour cream are here, along with Marsala wine. It adds something special to the flavor, which when combined with the Parmesan cheese, takes mashed potatoes to the next level!
You can, of course, skip the kale altogether and simply prep a mean pot of Marsala Parmesan Mashed Potatoes by themselves, but what better way to sneak kale into your diet than by mixing into comfort food? The kale doesn't give much of a flavor at all (besides the hint of Marsala!) to the final product, so I'm willing to bet that even the kale skeptics among us will enjoy this dish.
Recipe notes: To cut down on prep time, I used bagged kale greens here instead of buying a bunch. Whenever you're cooking something that requires the peeling of multiple potatoes I firmly believe you deserve a prep shortcut or two. Whichever way you go, just make sure to remove any of the larger stem pieces because they won't be so great to chew on once the kale is mixed into the mashed potatoes.

Marsala Parmesan Mashed Potatoes with Kale
Ingredients
10 oz kale greens
3 lbs russet potatoes, peeled and cut into 1" cubes
2 tbsp unsalted butter
1/4 cup heavy cream
1/4 cup plus 2 tbsp sour cream
1/2 cup Marsala wine, plus a little drizzle
2 cloves of garlic, minced
Salt and pepper, to taste
1 cup grated Parmesan cheese
Instructions
Bring a large pot of water to a boil and add potato chunks. Let boil for 20-25 minutes or until potato chunks are tender and mash-able.
Meanwhile, bring another pot of water to a boil. Add kale greens and cover, reducing heat to medium. Let kale boil for 5-7 minutes, or until tender. Drain kale and squeeze out as much residual moisture as you can from the kale. Set aside.
Once the potatoes are done, drain the water and put them back in the pot on the stovetop set over low heat. Mash them using a potato masher or the back of a fork.
Add butter, heavy cream, and sour cream and stir until smooth.
Add 1/2 cup of Marsala, garlic, salt, and pepper to the pot and stir until everything is combined again.
Drizzle a little bit of Marsala over the reserved kale and stir. Add kale to the pot with the mashed potatoes and stir until combined. Serve while warm.
Notes
You can use half-and-half in place of the cream if you like.