Golden and creamy, this pumpkin mac and cheese recipe is seasonal comfort food at its finest. A blend of three cheeses and a variety of herbs and spices make this main dish or side a crowd-pleaser.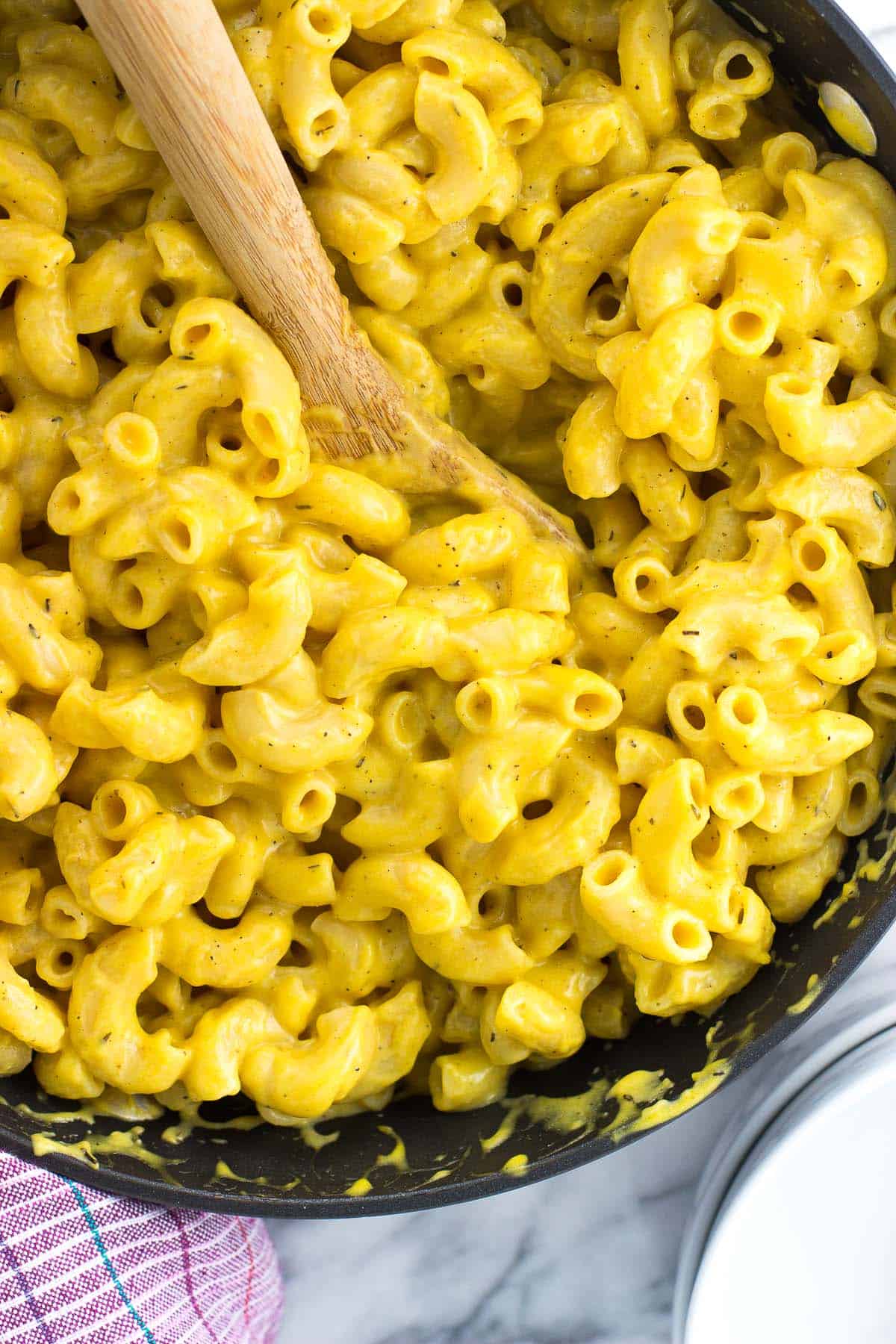 Mac and cheese is a classic for a reason. It's hard to beat creamy, cheesy, carb-y goodness.
And while you might not want to mess with a tried and true recipe, if ever you're feeling like a slight deviation from the original, may I suggest pumpkin mac and cheese?
Pumpkin puree blends perfectly into a roux-based cheese sauce to lend a bit of earthy flavor. It's similar in taste to butternut mac and cheese but requires much less prep work. Instead of breaking down, roasting, and pureeing a butternut squash, all you need to do is pop open a can of pumpkin puree. This whole dinner is on the table in under forty minutes.
Easy (and tasty) works for me.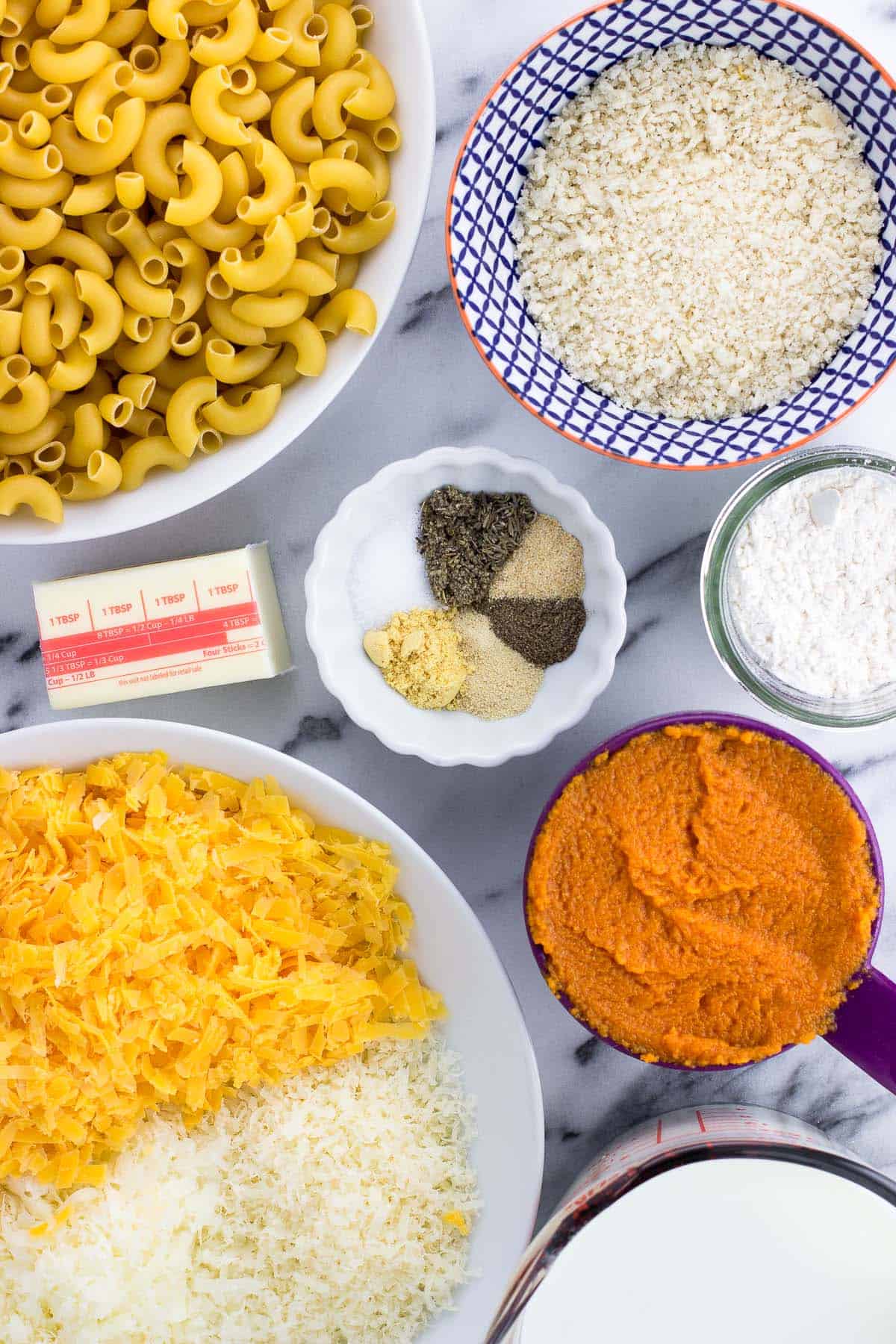 Recipe ingredients
Let's start with the pasta. You'll need one whole pound here, but the recipe can be pretty easily halved if you don't need so many servings.
You can use your favorite macaroni and cheese pasta shape, but I'm partial to elbows or shells. Both of these shapes have pockets and nooks to hold all that creamy cheese sauce.
Speaking of, the sauce begins roux-style by combining butter and flour. Then in go the spices, then the milk. The ingredients portion of the recipe card looks a bit lengthy due to all of the seasonings I used, but there's plenty of room here for you to do your own thing.
Salt, pepper, mustard powder, garlic, and onion are mac and cheese mainstays for me (though you'll find fresh onion in my Instant Pot mac and cheese). Here though I add rubbed sage and dried thyme to play off of the pumpkin. Dried sage can be subbed in, as well as fresh herbs if you prefer.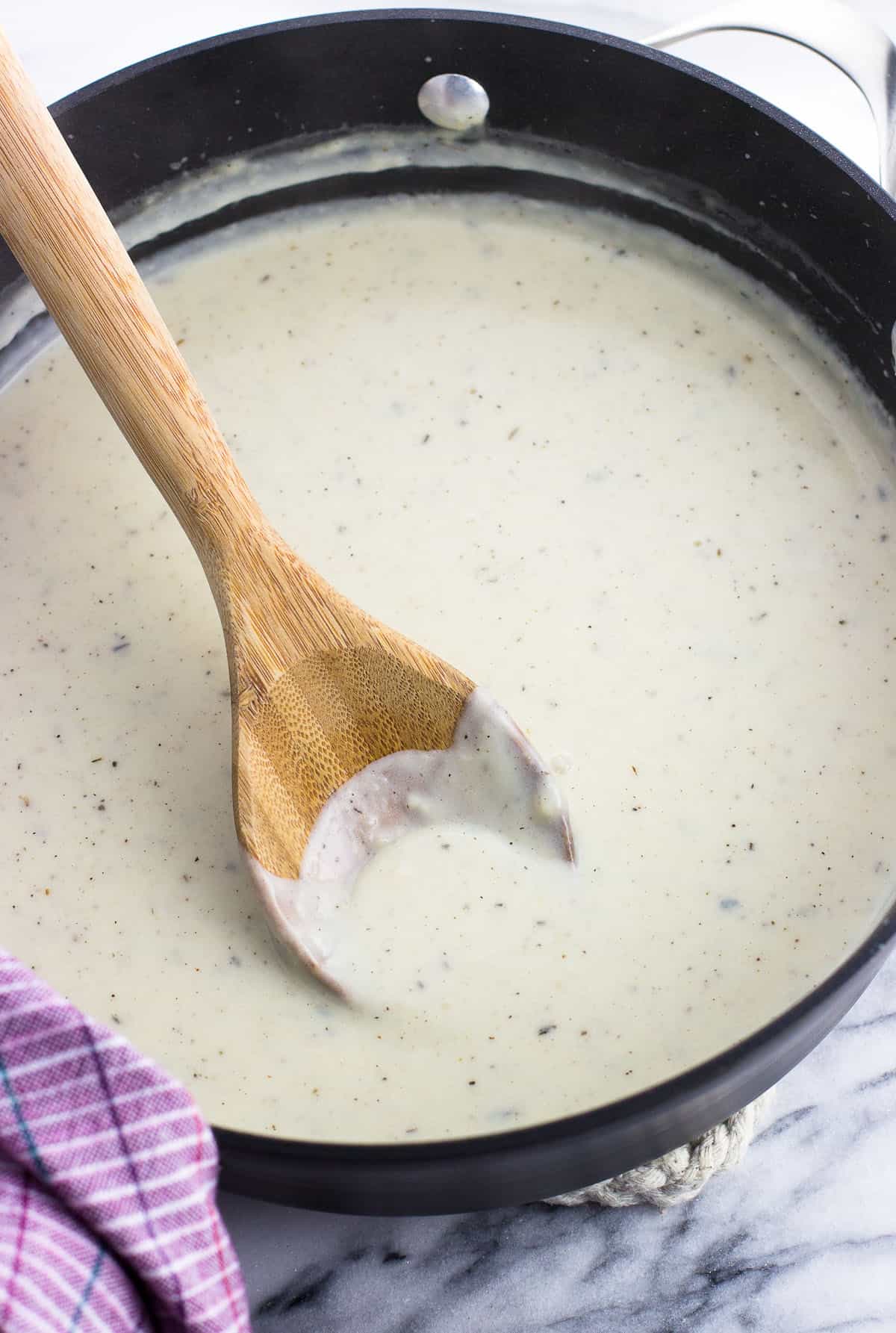 Because of the roux, this mac and cheese sauce gets wonderfully thick and creamy with regular milk – no cream whatsoever. I use 2% milk, though you can use your preferred variety.
When it comes to the pumpkin, be sure that your can says pure pumpkin puree and isn't canned pumpkin pie filling. The two are right next to each other on the store shelves and look just alike! The canned pie filling is pre-sweetened and spiced and would totally not mesh well with savory mac and cheese.
Now when it comes to cheese, you also have options. No component of mac and cheese is a true flavor bomb so you'll want a good portion of your cheese blend to be strong. Extra-sharp cheddar makes up half of this three-cheese blend, with creamy Fontina and grated Parmesan rounding things out.
I'd stick with extra-sharp cheddar, but for the remaining cheese(s) you might like experimenting with:
Gruyere
gouda (the flavor of

smoked gouda dip

over pasta?…YUM)
havarti
mozzarella
even a little bit of cream cheese!
No matter which cheeses you go with, I always recommend shredding your own cheese, if possible, for recipes in which melting is important. Pre-shredded cheeses often have anti-clumping agents adding that can inhibit smooth melting. It's the same principle as chopping up a chocolate bar for melting in place of chocolate chips.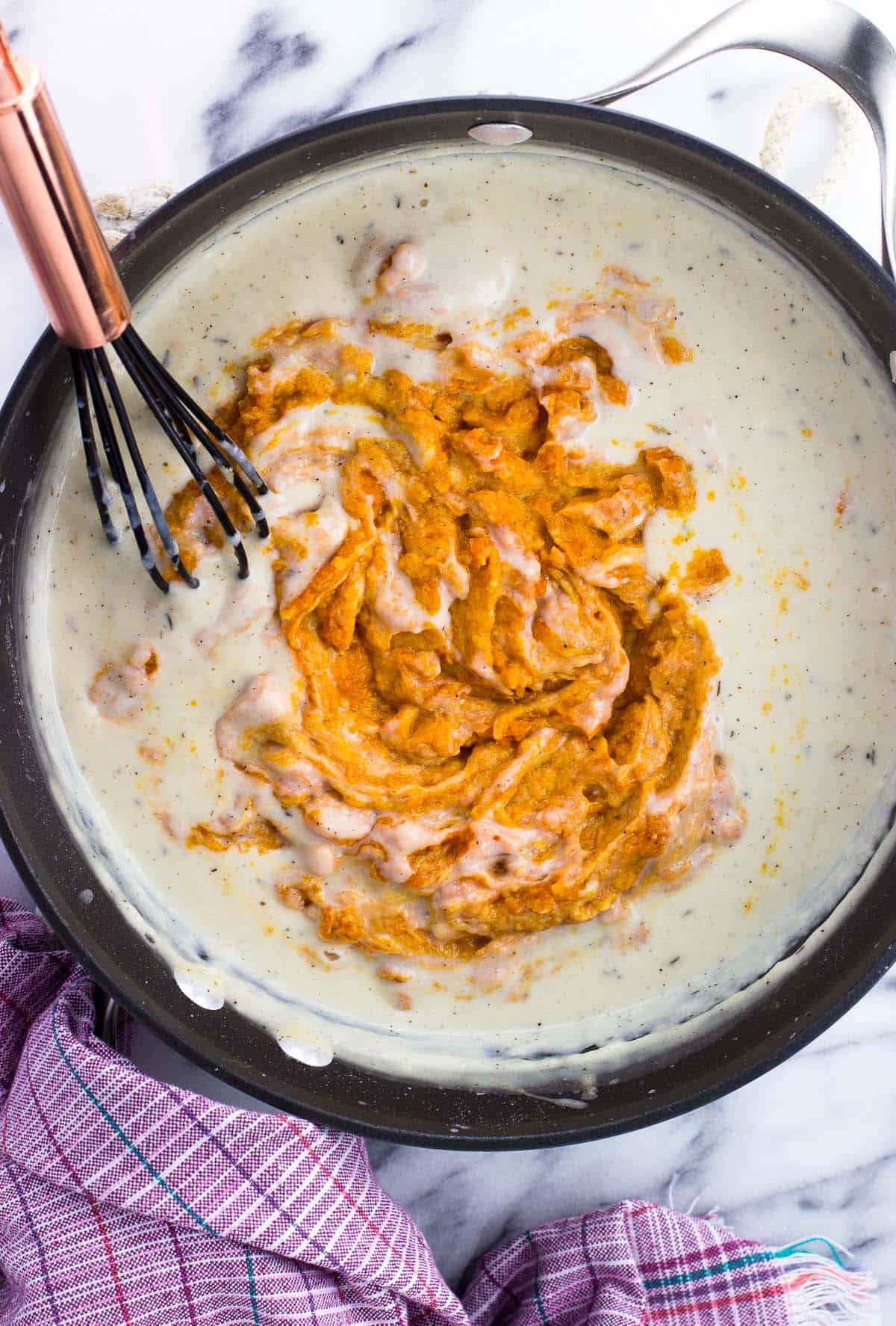 Quick recipe steps
Since some of the roux steps can be time-sensitive, I suggest prepping a few things before turning on the stove. I'll combine all of the dry spices beforehand so they're ready all at once, shred the cheeses, and then set a large pot of water to boil to get ready to cook the pasta.
And if you've never made a roux before, don't be intimidated! You begin by melting butter in a pan, then sprinkling an equal amount of flour over top. Whisk it all together and add the spices. We want to pause and cook this mixture (while whisking) for a few minutes before adding the milk to allow the flour to brown up some, which cooks off the "raw flour" flavor.
Next slowly whisk in the milk. At first it will clump up and look like something has gone wrong, but keep whisking while pouring and soon you'll have a smooth, thin consistency. At this stage you'll want to whisk and cook as the sauce thickens, until it can coat the back of a wooden spoon. This takes somewhere between 6-8 minutes for me.
Resist the urge to crank the heat to make this part go faster, as we don't want this milk-based sauce to starting boiling, which can lead to curdling.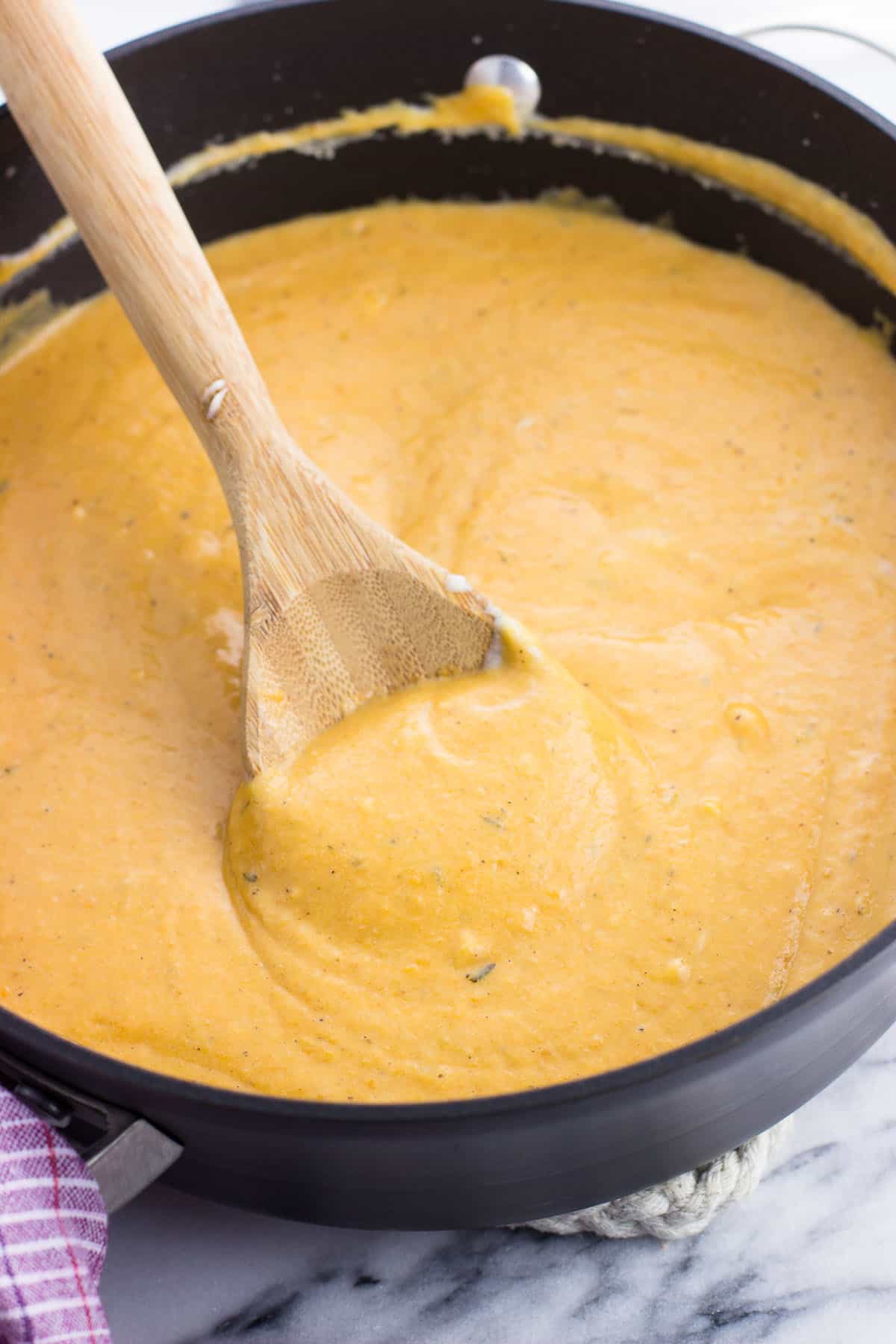 When the sauce reaches the right consistency, remove the pan from the heat and whisk in the pumpkin puree, and then the shredded cheeses. That will land you that creamy, cheesy pumpkin mac and cheese sauce pictured in the photo above.
Once the pasta is cooked according to package directions, drain it, pour it into the pan with the sauce, and stir to coat well.
And there you have it! Serve immediately.
Variation
I tested this recipe with two different methods: all on the stovetop (as it's written here) and finishing it baked in the oven.
Both were delicious, so it really comes down to personal preference. If you like your sauce the creamier the better, then I suggest you serve this mac and cheese right from the pan as it's written here. Buuuut if you don't might losing a bit of creaminess to gain a crisp panko topping, then you might prefer finishing this in the oven.
To do so, lightly spray a large baking dish with cooking spray and pour in the mac and cheese. Combine 1/2 cup panko breadcrumbs in a dish with a tablespoon or so of melted butter or olive oil, then sprinkle over top of the mac and cheese.
Bake at 350°F for 15-20 minutes, or until the top is golden in color. Alternatively you can bake it for less time, switching to broil for the last minute or so to crisp up the panko.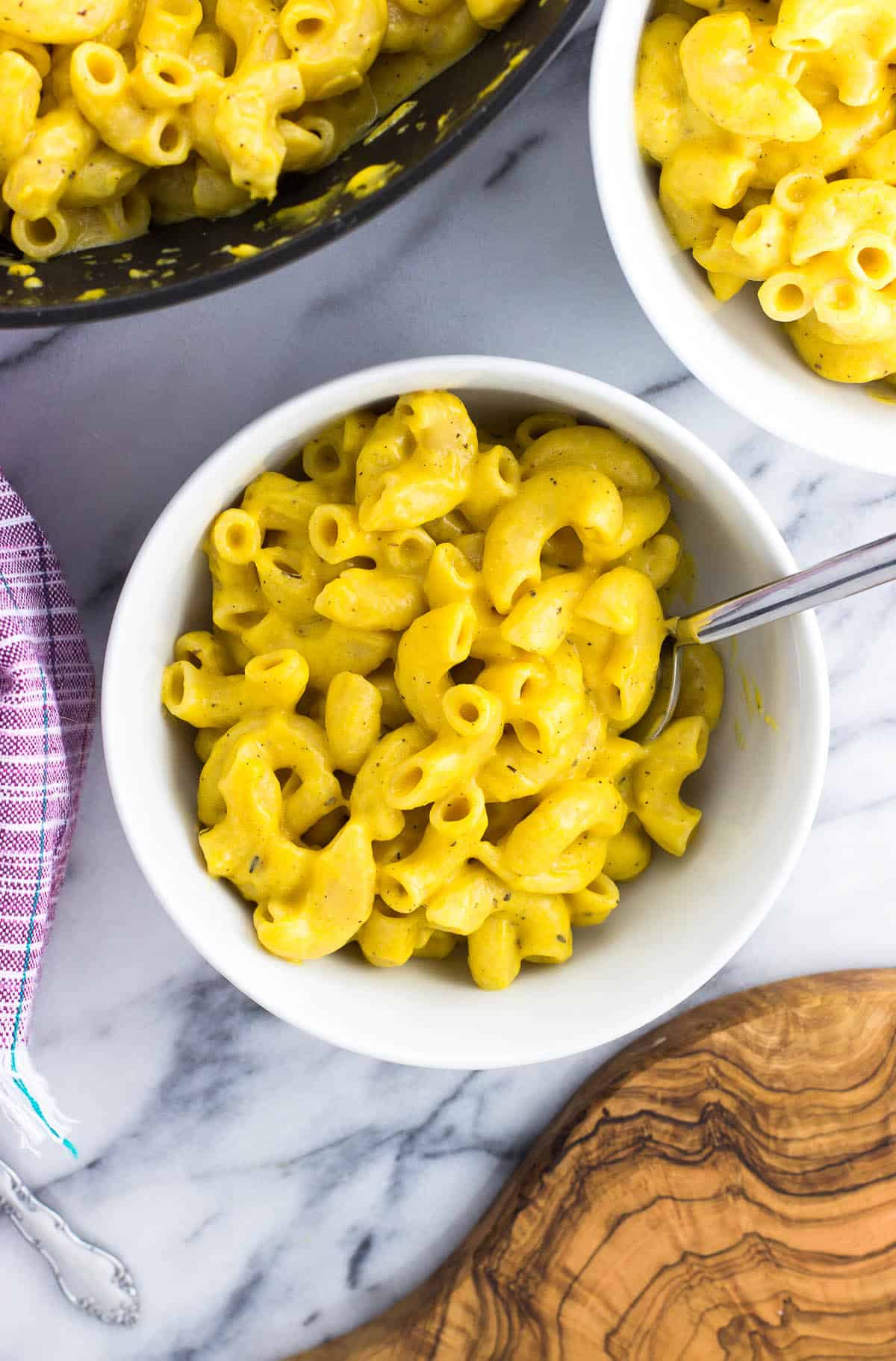 Recipe notes
I suggest sticking with the extra-sharp cheddar, but there's wiggle room for choosing other varieties of cheese in this blend. See notes in the post above regarding suggested alternatives.
Mac and cheese is best (creamiest) served right away. Leftover portions are certainly delicious, but lose a little bit of that freshly-made specialness when reheated.
Pumpkin Mac and Cheese
Golden and creamy, this pumpkin mac and cheese recipe is seasonal comfort food at its finest. A blend of three cheeses and a variety of herbs and spices make this main dish or side a crowd-pleaser.
Print
Pin
Rate
Ingredients
1

tsp

mustard powder

3/4

tsp

salt

3/4

tsp

onion powder

3/4

tsp

garlic powder

3/4

tsp

rubbed sage

1/2

tsp

ground black pepper

1/2

tsp

dried thyme

4

tbsp

unsalted butter

1/4

cup

flour

2 1/2

cups

milk

(I use 2%)

1

lb

elbow macaroni

or your preferred shape

1

cup

pumpkin puree

1 1/4

cup

shredded extra-sharp cheddar cheese

1

cup

shredded Fontina cheese

or Gruyere, mozzarella, etc.

1/4

cup

shredded Parmesan cheese

or Pecorino Romano

Grated nutmeg

for serving (optional)
Instructions
Add mustard powder, salt, onion powder, garlic powder, rubbed sage, black pepper, and thyme to a small bowl and stir to combine. Set aside for now. Doing this ahead of time simplifies things when making the roux.

Set a large pot of water to a boil. Once boiling, add macaroni and cook according to the al dente time listed on the package (usually 1 minute less than the standard listed time -- large elbows take 6 minutes total). Once done, drain and add the macaroni back to the pot. Keep warm if the sauce isn't done yet. Continue on with the recipe steps while the water comes to a boil.

Add butter to a large pan set over medium-low heat. Once the butter has melted, sprinkle in flour while whisking, then whisk in the spices that you combined earlier. Continue to whisk and cook for 2-3 minutes.

Next, whisk while slowly pouring in the milk. In the beginning it will glob up, but the mixture will thin out as additional milk is added. Once all of the milk is whisked in, continue to stir and cook for 6-8 minutes, or until the sauce can thickly coat the back of a wooden spoon.

Once the sauce has thickened, remove the pan from the heat and whisk in the pumpkin puree and the shredded cheeses. If your pan isn't large enough to hold all of the macaroni then pour the sauce into the pot with the macaroni and stir to combine evenly. (If it is large enough you can just add the macaroni to the pan.) Grate nutmeg over top if desired and serve immediately.
Notes
Herbs: Dried sage is more concentrated in flavor than rubbed sage. If using dried, I'd use somewhere between 1/4 and 1/2 teaspoon. If using fresh herbs, I'd start with two teaspoons diced, adding more to taste, if desired, once everything is combined.
Nutrition
Calories:
459
kcal
|
Carbohydrates:
52.2
g
|
Protein:
19.5
g
|
Fat:
18.9
g
|
Saturated Fat:
11.4
g
|
Cholesterol:
57
mg
|
Sodium:
518
mg
|
Potassium:
269
mg
|
Fiber:
2.9
g
|
Sugar:
6.3
g
|
Calcium:
346
mg
|
Iron:
3
mg
Nutritional information is provided as an estimate. As it can vary due to many factors (brands used, quantities, etc.), we cannot guarantee its accuracy.