This is a sponsored conversation written by me on behalf of Cool Foods available at Publix. The opinions and text are mine.
This creamy fish pot pie features warm spices and comes together in a skillet with a biscuit topping for a meal fit for weeknights or weekends alike. The whole family will love this easy pot pie recipe!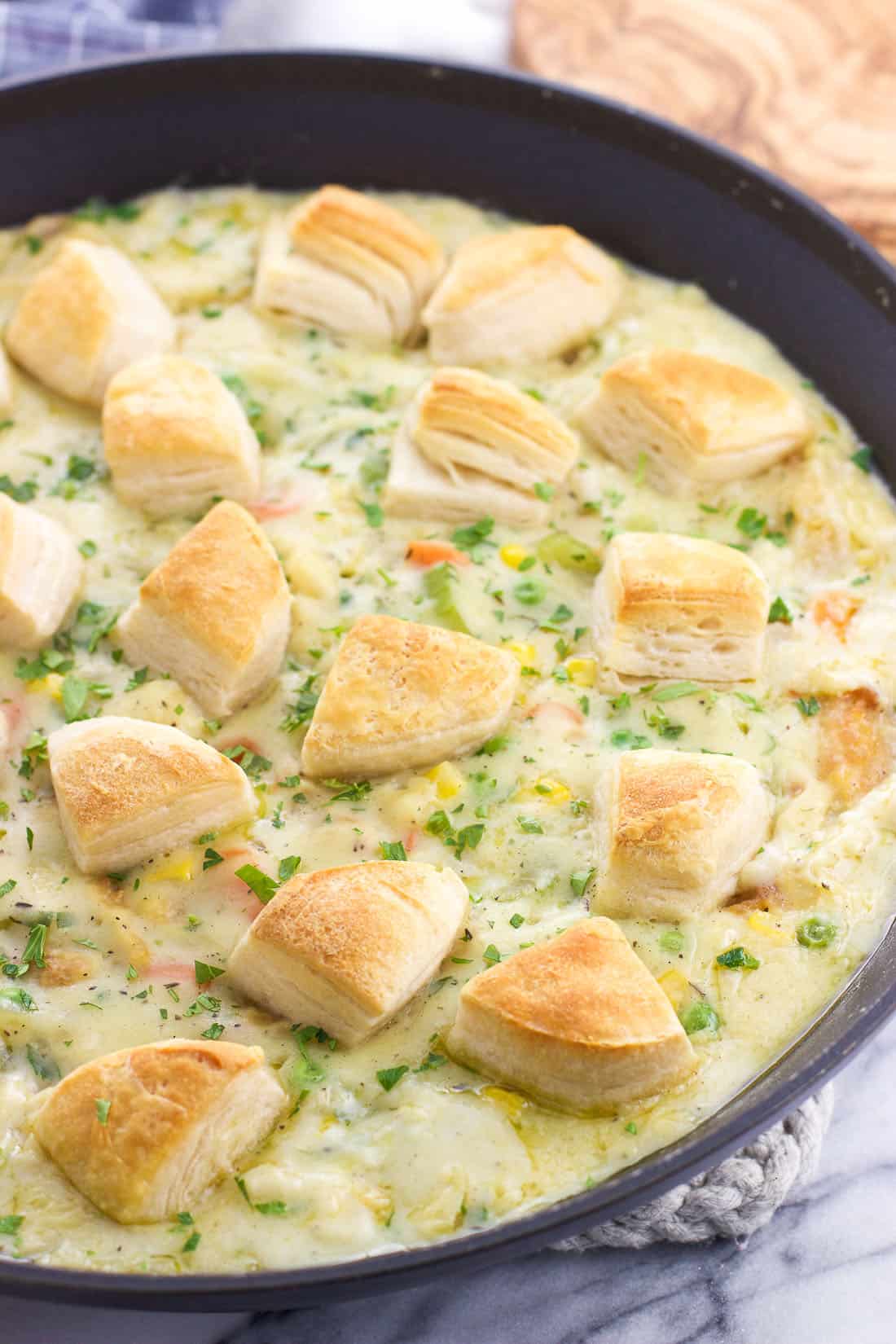 Would you believe that even those of us who think about food 24/7/365 (hi, hello!) still fall into the "I have a kitchen full of food but no idea what to make for dinner" rut?
I'm there surprisingly often, actually. Besides scrolling through the main dish archives for inspiration, I've started having a little fun with dinner indecisiveness. Now I'll open up the freezer and pretend like I'm a contestant on a cooking challenge show, tasked with making dinner with sixty minutes on the clock.
Because, I mean, that's a very 'real life' challenge even if there isn't a film crew around, isn't it?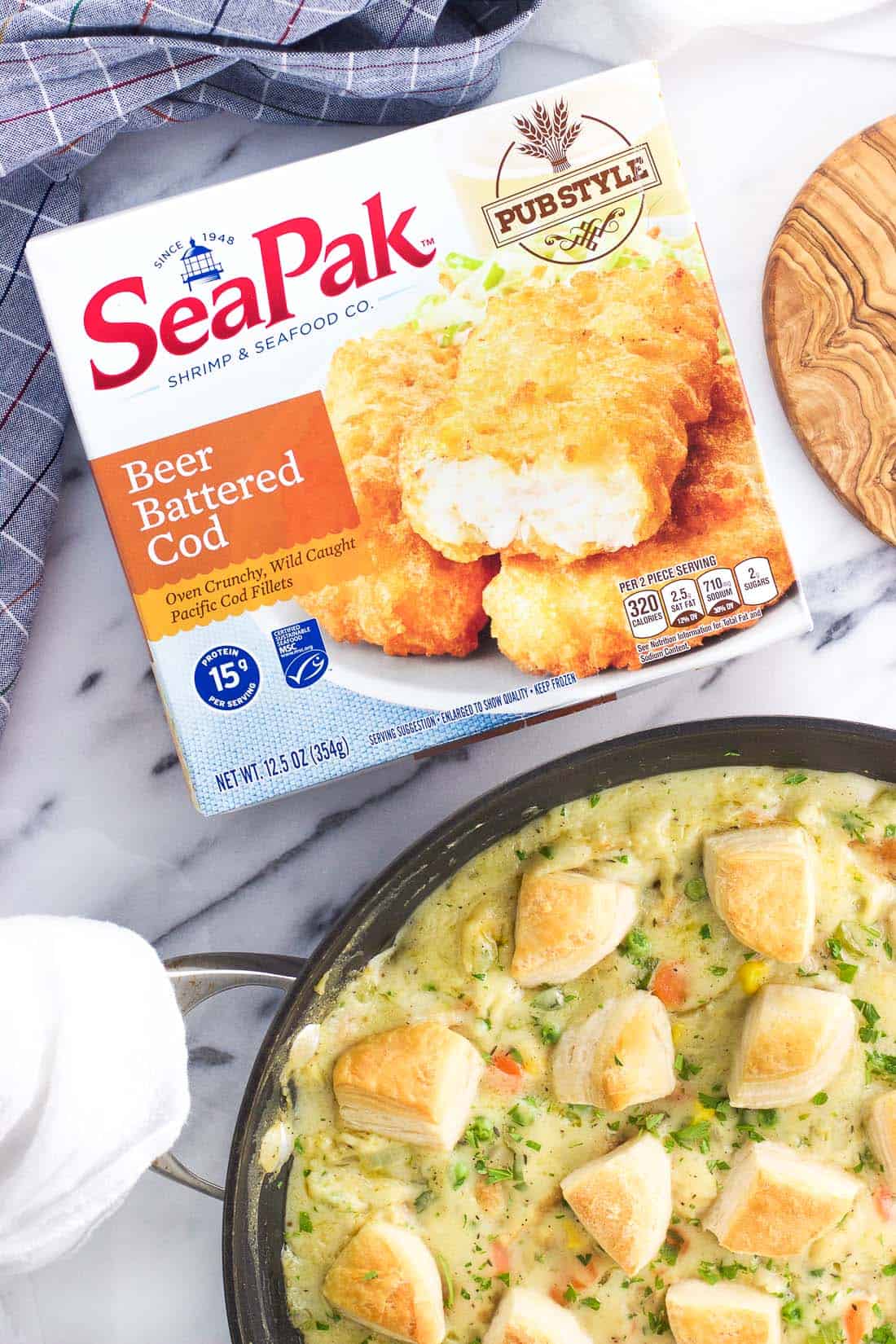 Thankfully shopping at Publix means that my freezer is always well-stocked and ready to go whenever it's mealtime! Publix is having a Cool Foods promotion from March 16th through March 29th when you can take advantage of savings on a variety of products in the frozen and dairy aisles.
It's no secret that I love shopping at Publix. They have an amazing selection available at great prices, and the employees are seriously the nicest. Stopping by Publix even on busy errand days is always a pleasure.
So, couple all that with special savings from the Cool Foods promotion? Count me in. One of the participating Cool Foods items is SeaPak Beer Battered Cod, which inspired me to make this skillet fish pot pie with biscuits recipe. It's on sale for $6.99 during the promotion. Trust me when I say that it's the perfect mix of being both weeknight-friendly and total comfort food.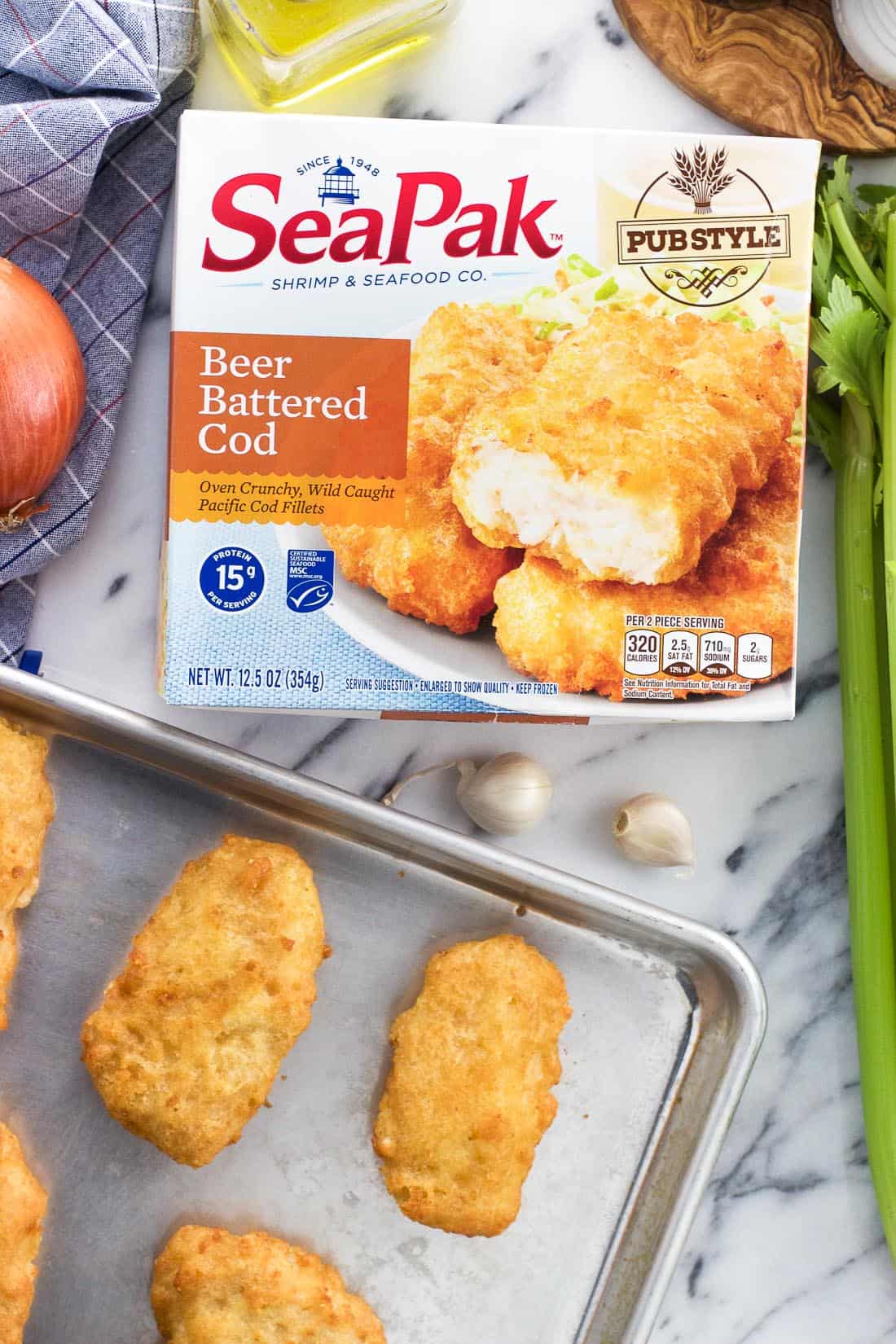 Recipe steps
For starters, this is a cheater pot pie. I don't think anyone will complain, though! The wonderful creamy mix of flavors is all there, just done up in a skillet that goes right from the stovetop to the oven. While there isn't a traditional pie crust, refrigerated biscuit dough provides a delicious and impossibly easy topping.
SeaPak Beer Battered Cod cooks up beautifully in the oven and provides a hearty flavor to this fish pot pie. Once cooked, cut the pieces into bite-sized chunks and set aside while you prep the rest of the dish.
On the stovetop, begin by cooking onion, carrots, celery, and garlic in a mix of olive oil and butter until they're softening and turning golden. Use a large oven-safe skillet for this as the whole dish will come together in here. The one you see in these pictures is 12" diameter. For a time-saving tip, you can start cooking the vegetables while the beer battered cod is baking.
Then comes time for the spices. Beyond the usual salt and pepper, dried thyme, curry powder, and seafood seasoning join the mix here. Not one flavor overpowers the rest, rather they commingle to provide the nicest warming flavor. It might sound a little strange, but the blend totally works alongside the veggies and the beer battered cod.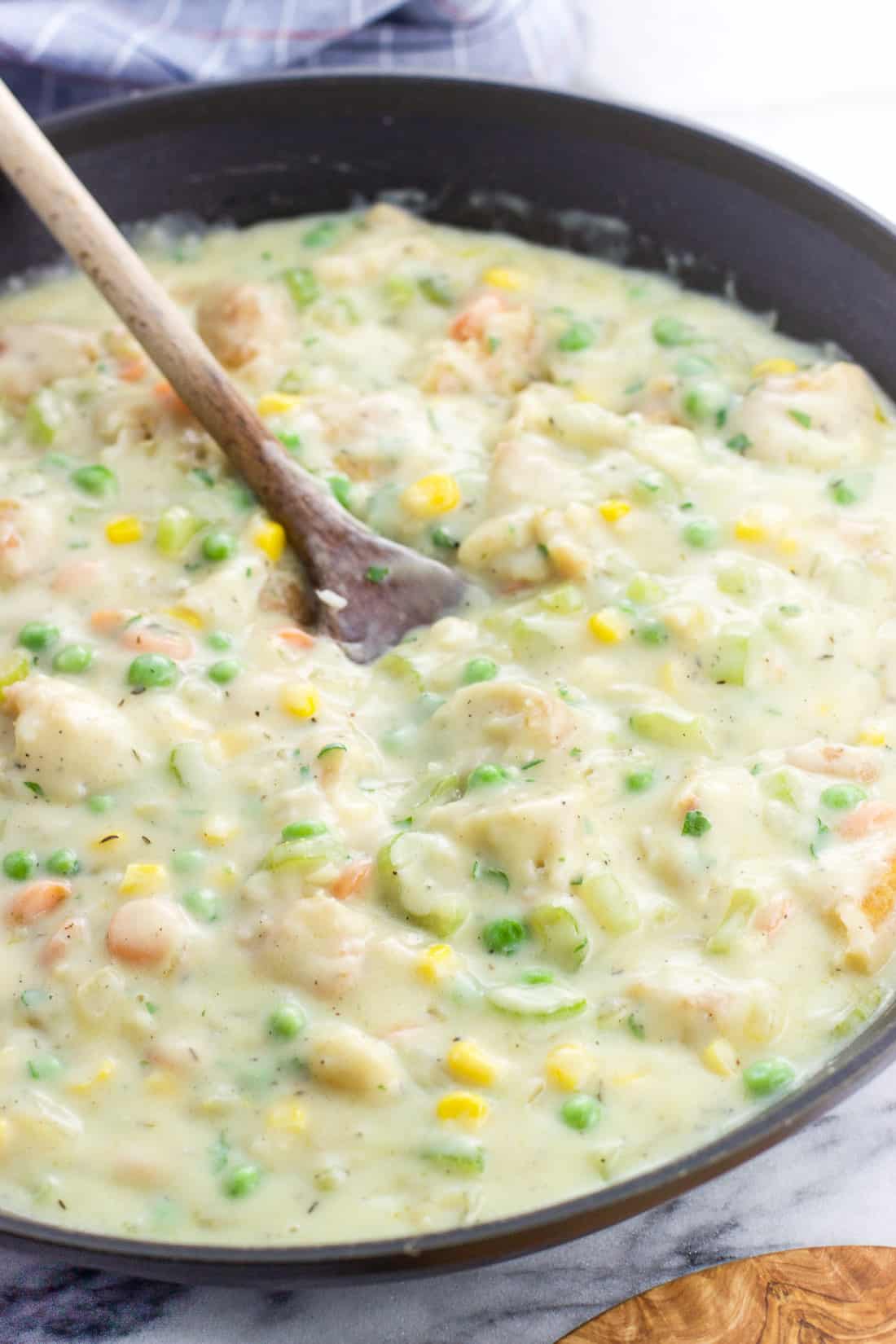 Next comes a sprinkling of flour to help thicken things up. At first, the vegetable mixture will look a little gummy with the flour coating, but let it cook for a few minutes to eliminate the raw flour taste.
After that pour in the stock and milk. Keep stirring after you add the liquid, and in a short amount of time you'll see everything become nice and thick thanks to quick and dirty roux-like effects of the flour and fat.
Add the beer battered cod, peas, corn, and fresh parsley to the skillet and give everything a stir. Remove the skillet from the heat while you scatter the biscuits over the top.
Into the oven it goes until the biscuits are cooked and everything is bubbly hot (hence why it's important to use an oven-safe skillet for this fish pot pie recipe). After it cools for a few minutes, all that's left to do is to scoop and serve.
This dish is already a regular on our dinner menu. It's chock full of veggies in a thick and creamy sauce, with the beer battered cod flavor really shining through. It's total (easy) comfort food!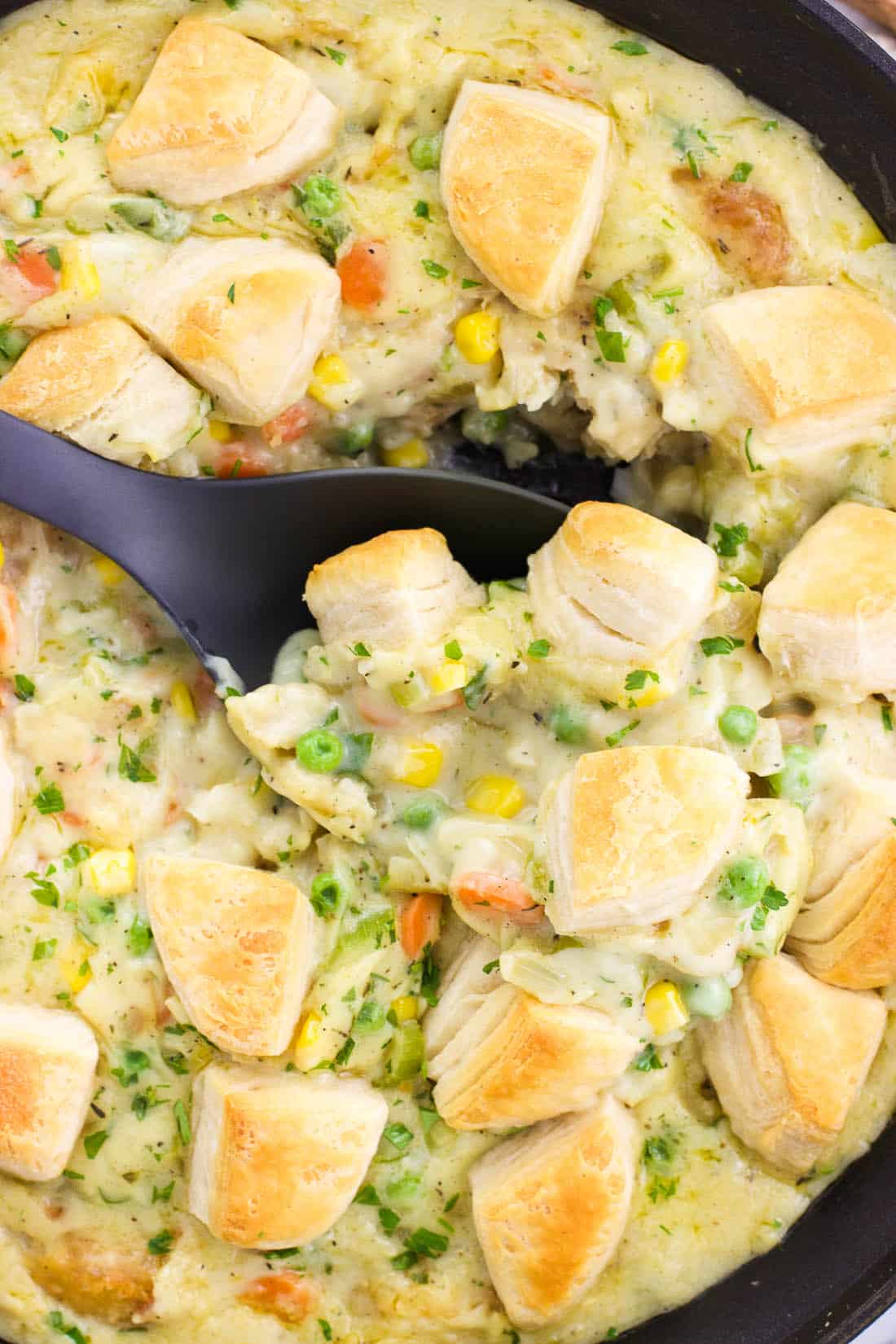 Recipe notes
Take care to use an oven-safe skillet as this dish finishes in the oven.
Seafood stock adds a nice boost to the seafood flavorings here, but isn't a make-or-break ingredient. You can use vegetable or chicken broth/stock in its place if you'd prefer.
I find a 6-oz tube of refrigerated biscuits to be plenty, though you can use a bigger package if you'd prefer a more dense biscuit topping.
Be sure to stock up on a variety of frozen and dairy aisle products during the

Cool Foods promotion

at Publix March 16th through 29th!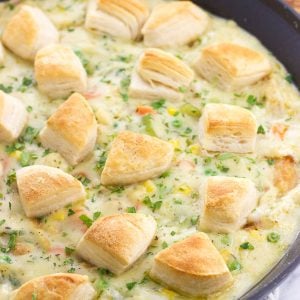 Skillet Fish Pot Pie with Biscuits
This creamy skillet pot pie features fish, warm spices, and a biscuit topping for a meal fit for weeknights or weekends alike. The whole family will love this easy pot pie recipe!
Print
Pin
Rate
Ingredients
1

12.5-oz box

SeaPak Beer Battered Cod

¼

cup

olive oil

3

tablespoon

unsalted butter

1

medium

onion,

chopped (about 1 cup)

1

cup

carrots,

chopped

1

cup

celery,

chopped (about 3 stalks)

2

cloves

garlic,

minced

½

teaspoon

salt

½

teaspoon

ground black pepper

½

teaspoon

dried thyme

¼

teaspoon

curry powder

¼

teaspoon

seafood seasoning

½

cup

all-purpose flour

2

cups

seafood stock

1

cup

2% milk

½

cup

frozen peas

½

cup

corn kernels

2

tablespoon

chopped fresh parsley

1

6-oz tube

refrigerated biscuits
Instructions
First prepare the fish: Heat oven to 425°F and place cod in a single layer on a baking sheet. Bake for 17-18 minutes, flipping the cod over halfway through the cook time, until crisp and the internal temperature registers 165°F. Set aside for now. Lower oven heat to 375°F.

Add olive oil and butter to a large (12" diameter) sauce pan set over medium heat. Once the butter has melted, add onion, carrots, celery, and garlic and stir.

Scatter salt, pepper, dried thyme, curry powder, and seafood seasoning over top of the vegetables and stir everything up. Cook for 6-7 minutes, or until the vegetables are becoming soft and golden.

Sprinkle flour over the vegetables and stir. Cook for 2 minutes as the mixture thickens into a "paste."

Gradually pour in the broth and then the milk and stir to combine. Keep stirring for 4-5 minutes as it thickens.

Once thickened, add pieces of the beer battered cod to the saucepan, along with the peas, corn, and parsley and stir.

Cut each biscuit into four equal sections and scatter over top of the fish pot pie mixture, pressing down on each piece slightly.

Cook in the now 375°F oven for 21-23 minutes, or until the biscuits have turned golden brown and the pot pie is bubbling around the edge. Let cool for 5 minutes or so, then scoop and serve.
Nutrition
Nutritional information is provided as an estimate. As it can vary due to many factors (brands used, quantities, etc.), we cannot guarantee its accuracy.
Food Safety and Nutrition Disclaimer