These Baked Old Bay Curly Fries use a spiralizer for a quick side dish or snack recipe. The fries are baked but crispy, and seasoned with that awesome, slightly spicy Old Bay flavor. These won't last long!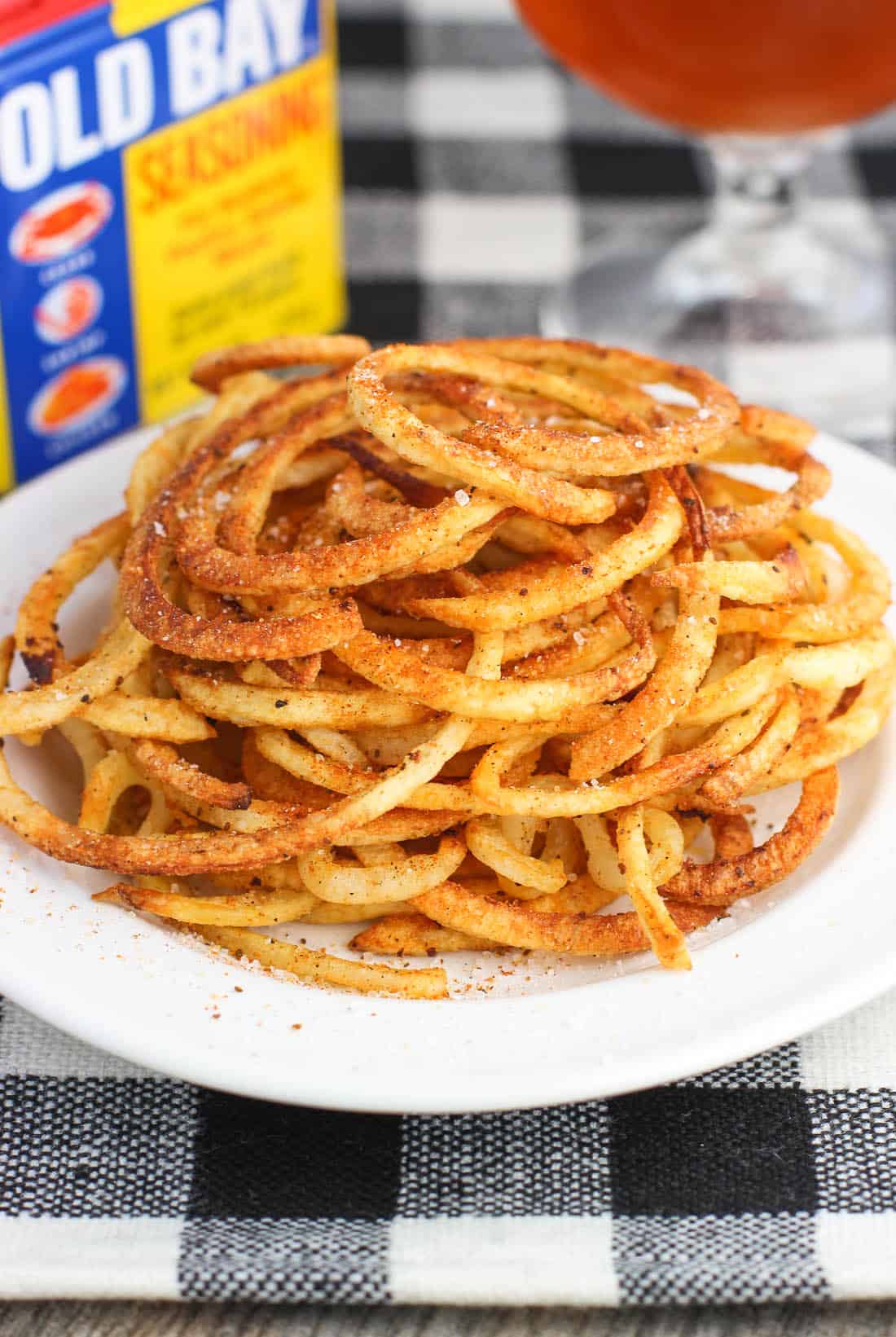 My life post-obtaining-a-spiralizer continues to get better now that curly fries have come into the picture. Curly fries! As if a kind of greasy and salty guilty pleasure needed any help in the crave-inducing department, someone (who I wonder?) decided to shape them into springy, fun spirals. All the better for eating a plate full, my dear. With those A+ credentials, it's a good thing these spiralized baked Old Bay curly fries are healthier and totally crisp, with a salty, slightly spicy flavor.
The number of recipes on my blog that use Old Bay are woefully small in comparison to the number of recipes we eat on the reg that incorporate Old Bay. If you've been reading around here before you probably know the drill. Brian is from Maryland and Old Bay may or may not be coursing through his veins. Hence Old Bay in meals and snacks galore. It's a good thing I've come to love the zingy seasoning in that classic yellow box.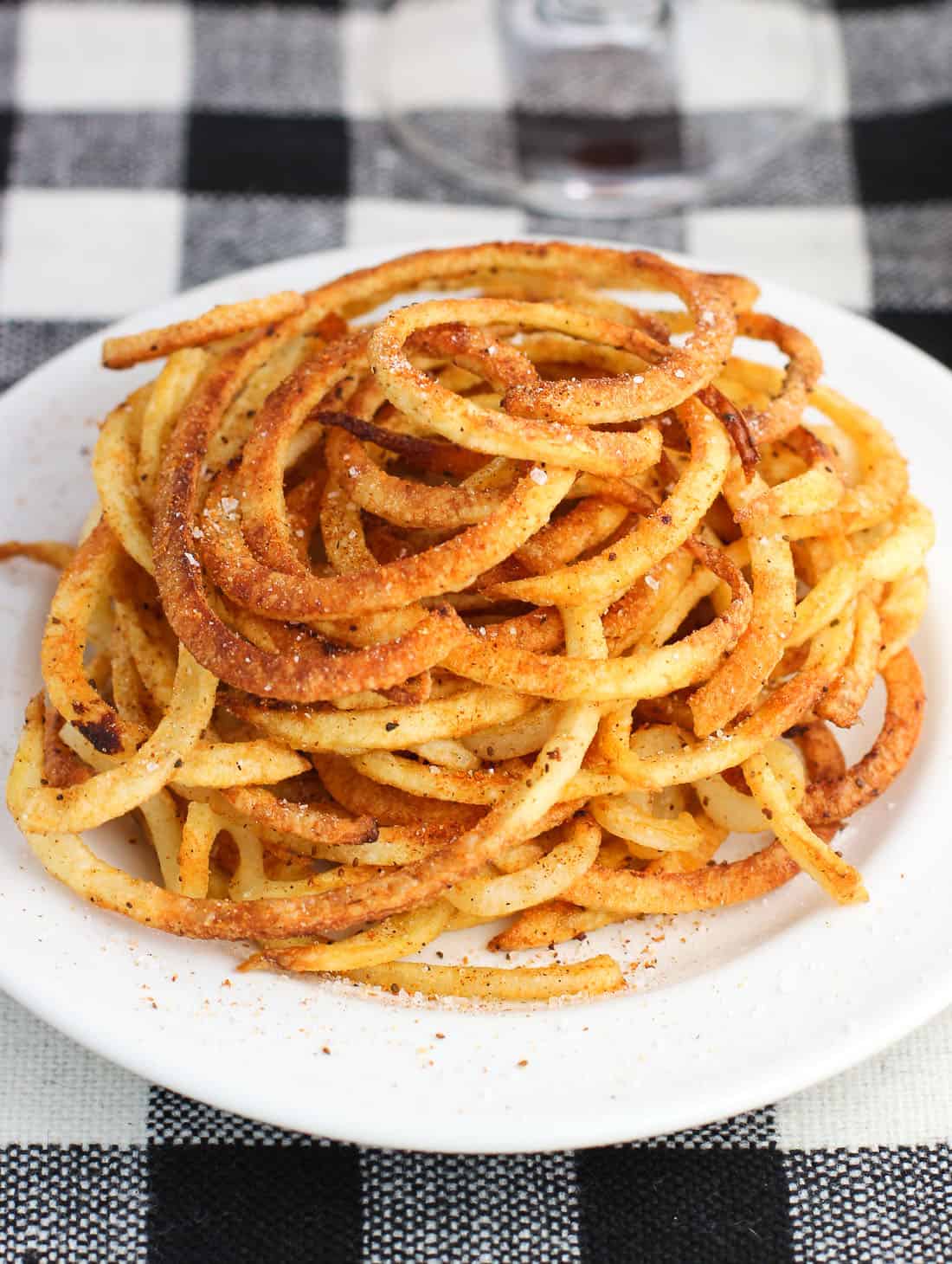 Making curly fries with a spiralizer is easy, especially baked Old Bay curly fries. Too easy maybe, because now I can't look at my potato stash without imagining a gigantic mound of curly fries. I used the medium spiral blade for these fries, leading to the cook time in the recipe below. Keep in mind that using a narrower/thicker spiral blade will likely change the cook time, so adjust accordingly.
Once the potatoes are spiralized, you toss them in a bowl with olive oil, Old Bay (duh), onion powder, salt, and pepper. A little hot sauce too, if you please! Place them on the baking sheet, bake (flipping once), and boom! Top with extra Old Bay and sea salt and dig right in. Because these fries are baked, they use only 1 tablespoon of oil per potato. Hello, healthier indulgences!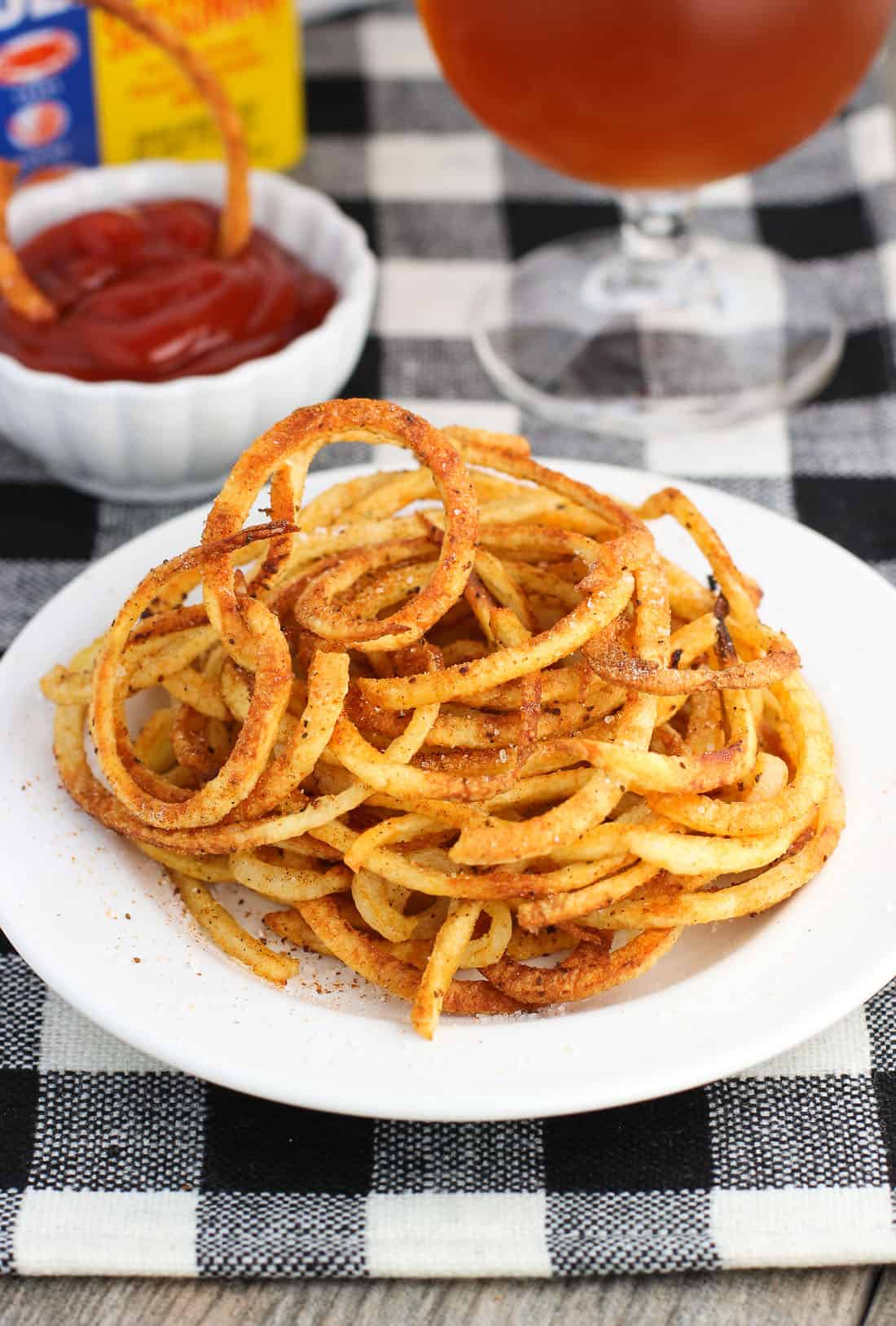 The usual battle that comes with baking fries vs. frying is the please-oh-please-don't-be-soggy-haaaalp-why-aren't-you-crispy-nooooo stream of consciousness that can run through your head (if you're anything like me). In a nutshell, here are a few tips and tricks to get that crisp fry perfection with baking:
Use a relatively high temperature (these fries bake at 425 degrees F).
Place the fries in a single layer, with sufficient room between fries. No touching! Crowding the fries into the pan is more likely to steam them than crisp them up. Steaming = soggy = no bueno.
You want as much surface area of each fry to be directly against the baking sheet. Those parts against the sheet developed the crispest, deeper color you see in these photos.
Now this is curly fry specific and speaks to the point right above, but do your best to stretch out any tight spirals you get. I found those pieces had a lot of the fry off the baking sheet, as well as spirals that were very close together (violating bullet point #2). This led to not-as-crisp fries that needed to be baked for additional time after the rest of the less tightly spiraled fries were done.
Keep a close eye! Baked fries can go from perfectly crisp to burnt in a short amount of time. After you flip the fries, hang around the oven and check the fries frequently to see when the tops are browned. Every oven is different, so the times listed below may not match up exactly with what your oven requires.
Okay, do I have you convinced? If you're whole-heartedly, unabashedly in lurve with your spiralizer, put baked Old Bay curly fries on your menu!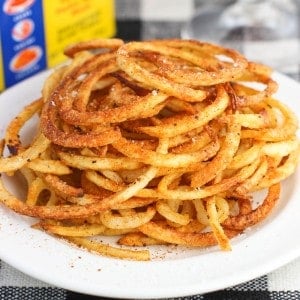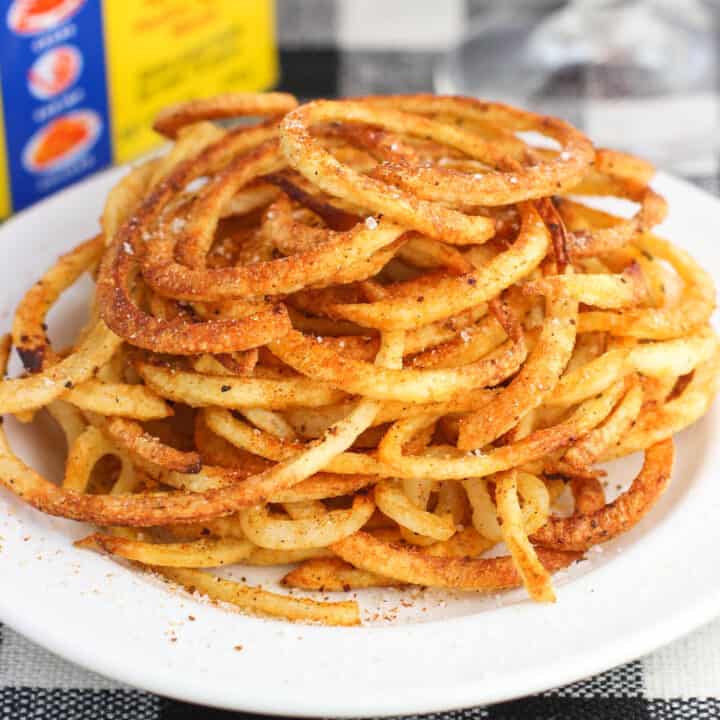 Spiralized + Baked Old Bay Curly Fries
These Baked Old Bay Curly Fries use a spiralizer for a quick side dish or snack recipe. The fries are baked but crispy, and seasoned with that awesome, slightly spicy Old Bay flavor. These won't last long!
Print
Pin
Rate
Ingredients
2

large Russet potatoes,

peeled

2

tablespoon

olive oil

½

teaspoon

hot sauce

(optional, to taste)

1

tablespoon

plus 1 teaspoon Old Bay seasoning,

plus more for serving

1

teaspoon

onion powder

Salt and pepper
Instructions
Preheat oven to 425 degrees F. Spray a large baking sheet with cooking spray.

Spiralize potatoes and place in a bowl. If some of the pieces are very long, break them up to be a more manageable length.

Add olive oil, hot sauce (if using), Old Bay seasoning, onion powder, salt, and pepper to bowl and toss to combine so the fries are evenly coated.

Place fries in a single layer on the baking sheet, leaving space between each one. Bake for 10 or so minutes, and then remove sheet from oven and flip fries over. The bottoms should be browned. Place sheet back in the oven and bake for an additional 5 minutes, or until the tops have browned to your liking. Remove and serve.
Notes
See tips on getting crispy baked fries in the post above!
Recipe can easily be halved for a smaller number of servings.
Nutrition
Calories:
136
kcal
|
Carbohydrates:
17.2
g
|
Protein:
1.9
g
|
Fat:
7.1
g
|
Saturated Fat:
1
g
|
Sodium:
794
mg
|
Potassium:
439
mg
|
Fiber:
2.6
g
|
Sugar:
1.4
g
|
Calcium:
10
mg
|
Iron:
0.5
mg
Nutritional information is provided as an estimate. As it can vary due to many factors (brands used, quantities, etc.), we cannot guarantee its accuracy.
Food Safety and Nutrition Disclaimer
And what could be a post about Old Bay without seafood? These Easy Peel and Eat Old Bay Shrimp are one of my very favorite quick meals/appetizers/small plates/whatever. Healthy, too!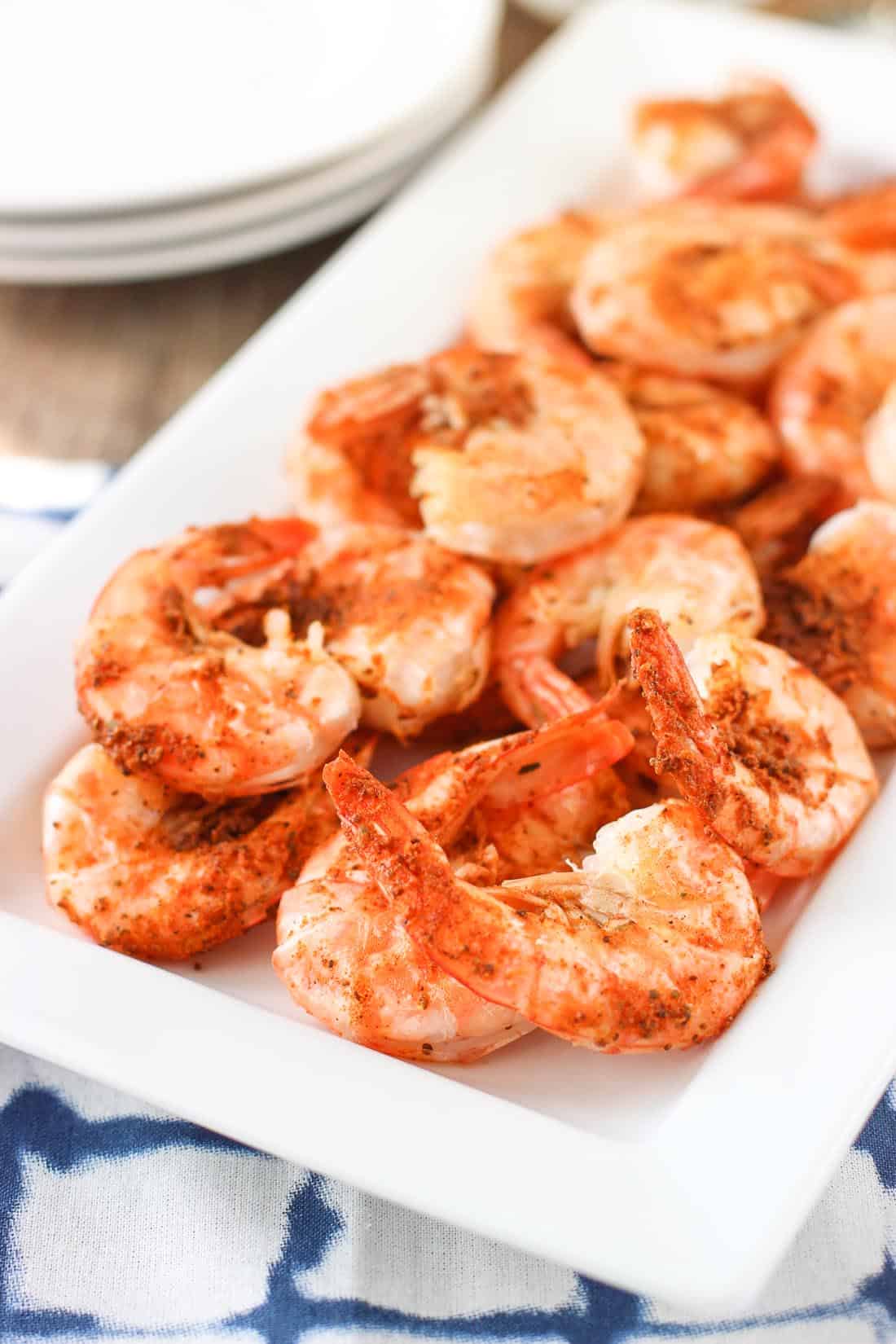 *this post may contain affiliate links