Parmesan almond crusted pork chops are baked and topped with pesto for a relatively quick and easy main dish recipe. This is a great way to use excess parsley!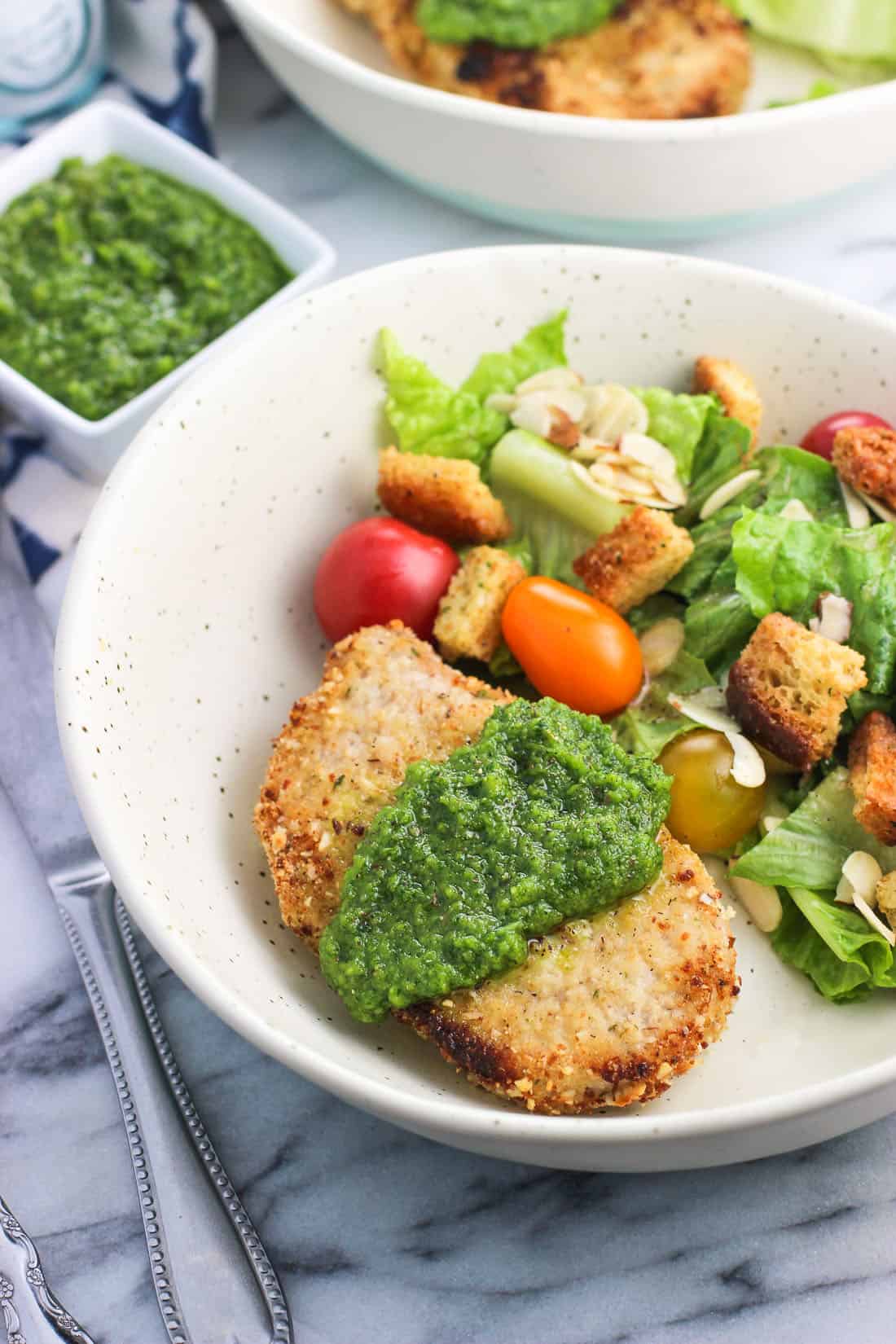 These Parmesan almond crusted pork chops are brought to you courtesy of my fledgling herb garden.
I'm a few months in to being a home gardener and I must report that my dill plant appears to have blown away and my cilantro went from producing perfect cilantro leaves to being entirely flowered in the course of what seems like a few hours.
Oh, and a small creature gnawed on my first two purple heirloom tomatoes juuust before they were ready to be picked. But I guess that's how it goes with a backyard garden. You win some and you lose some.
I've already mentioned one garden winner this spring/summer, and it's mint. I've been using it frequently in mint pesto zucchini noodles and as a delicious addition to batches of sparkling ginger lemonade. My basil, oregano, and rosemary have been going strong, but man oh man - parsley! It was off to a slow start but it has grown a TON. Way more than an occasional garnish could keep up with. So I did what I always do when I have a bunch of herbs to use up - make a pesto.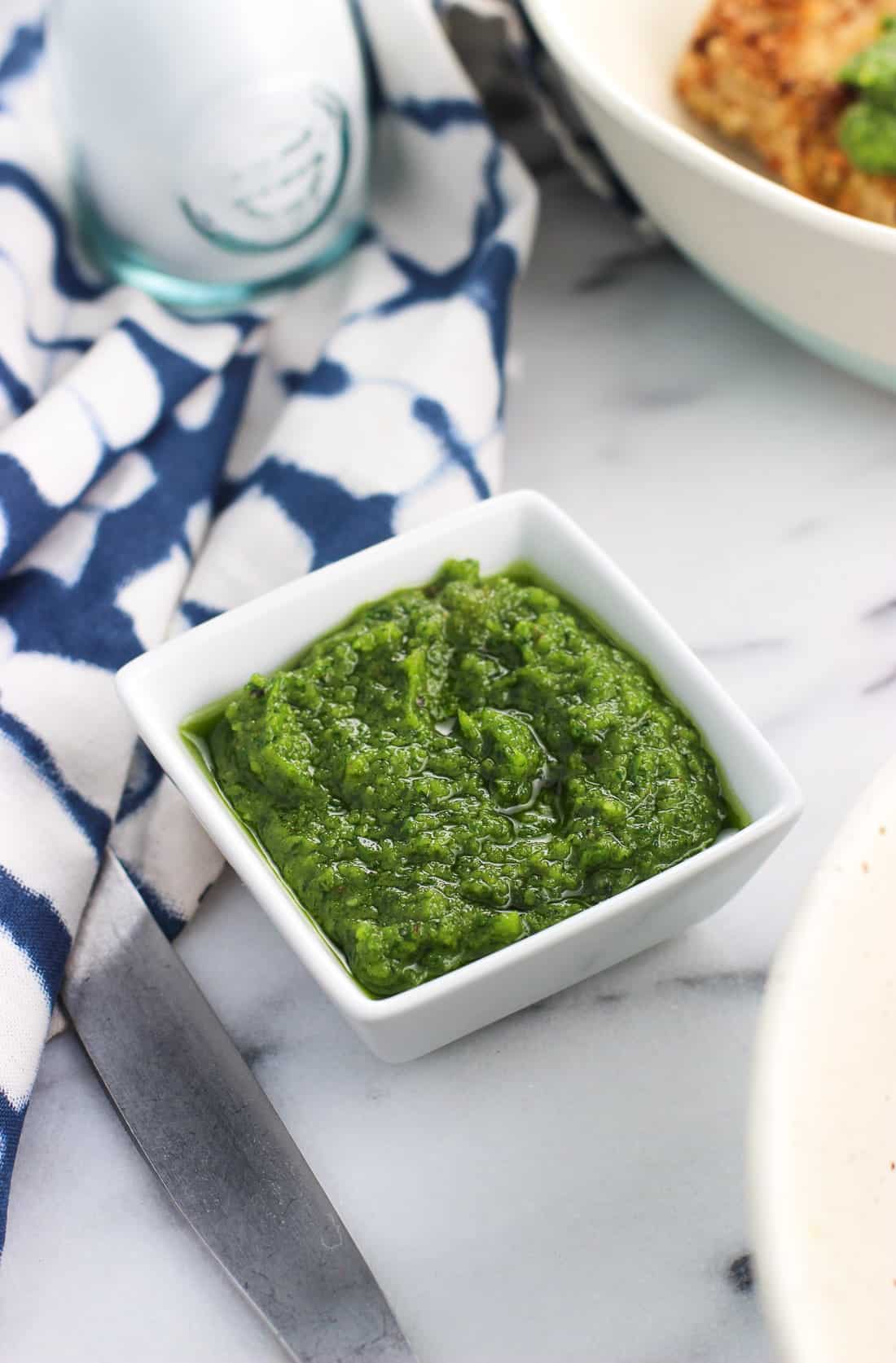 My go-to is to use pesto as a pasta sauce, but we've been a little pasta'd out lately (I know, is there really such a thing?). I used a little less oil here than I typically would for pesto to keep this parsley pesto on the thicker side and perfect as a sauce to top meat. It was a great complement to these simple Parmesan crusted pork chops and played off the all the delicious coating flavors.
Recipe ingredients
Starting with the pesto, I used only parsley here - no basil. You can definitely sub out some of the parsley for basil if you prefer, but I really enjoyed the bold parsley flavor as the recipe is written below.
This pesto recipe uses 1 ½ cups of packed parsley leaves, so one bunch will more than do the trick if you don't have an overgrown backyard plant available.
The other pesto ingredients are fairly standard, including garlic, olive oil, Parmesan, nuts, and salt and pepper. While pine nuts are my pesto #1 with my second choice being walnuts, I went with sliced almonds here to play off the pork chop coating. Really any of those nuts would work just fine.
As for the pork chops, they take a dunk in egg (and a little bit of milk) and then coated in equal portions of Italian breadcrumbs, Parmesan cheese, and ground almonds (almond slices I pulsed in the food processor) for a crisp-ish exterior. Season this dry mixture to taste with salt and pepper and you have a very simple baked pork chop crust.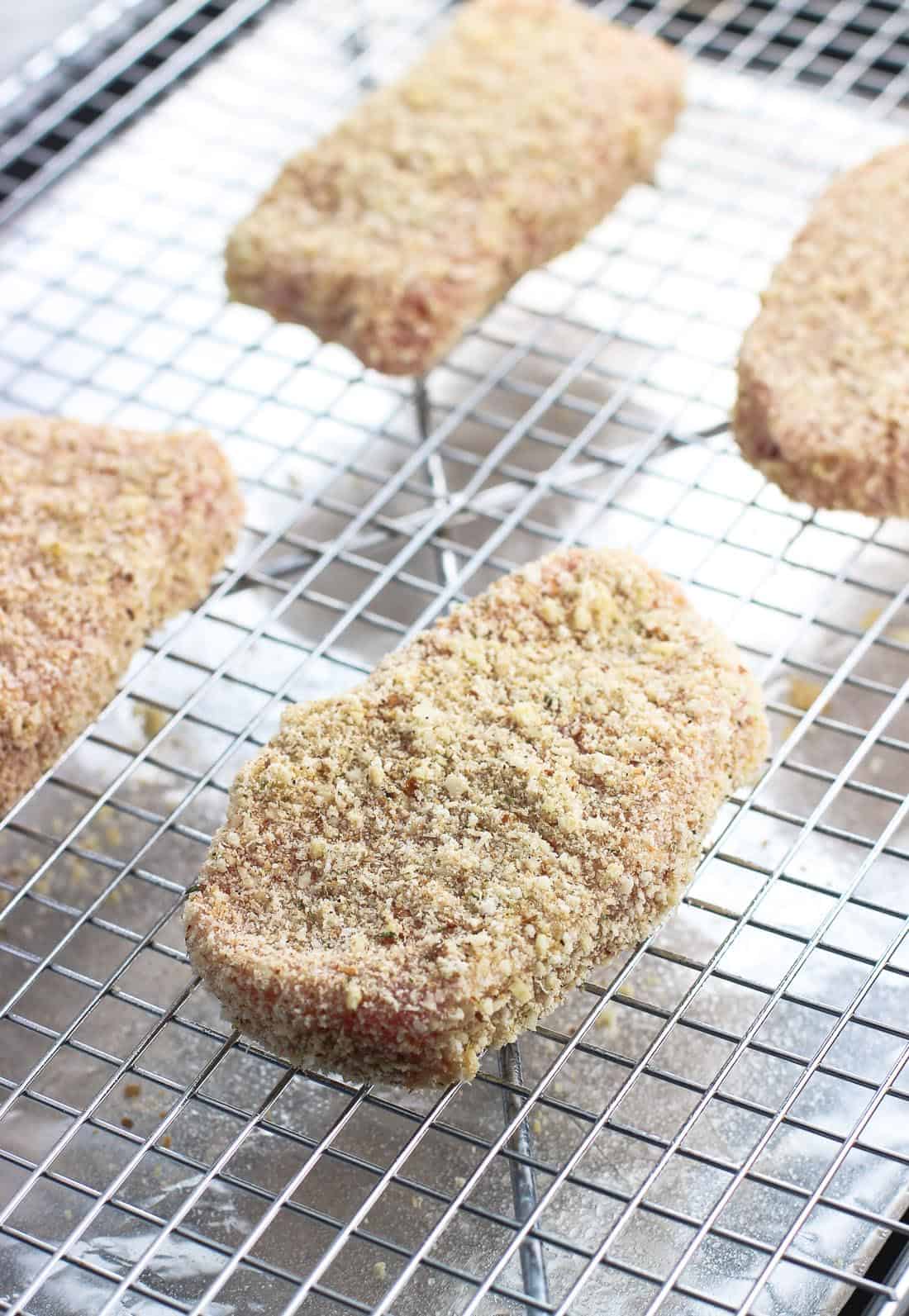 Baking instructions
I opt to bake these crusted pork chops instead of pan frying them for a healthier cooking method, with a quick spin under the broiler to brown up the coating just as they've finished cooking. The broil part is optional, but I thought it added enough to the pork chops that it was worth the extra few minutes!
When it comes to baking things that you'd like to be crisp, my favorite trick is to bake whatever it is on an oven-safe wire rack. It sits right over a baking sheet and elevates the food so the hot oven air can circulate around it and cook/crisp it evenly. Otherwise the side that would rest directly on the baking sheet could become soggier than the rest and never crisp up.
Plus if you use a rack, there's no need to flip the food mid-bake as you would if you weren't using one. Anything that encourages hands-off time in a recipe is a big win in my book.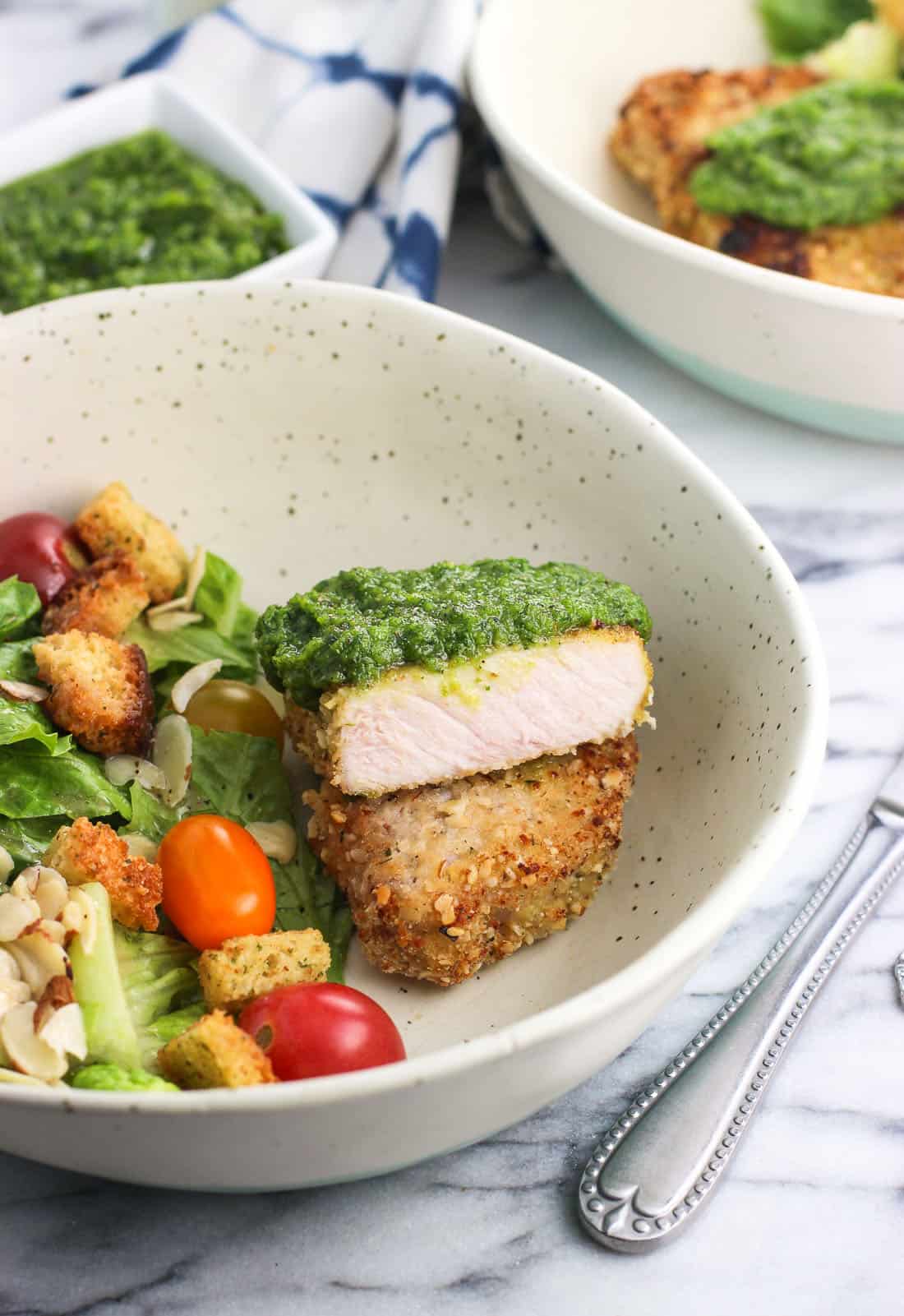 Pork chops - especially boneless ones - get a bad reputation for being tough and super dried out, but these are juicy throughout. Pork chops are done when the center reaches 145°F, which means the cook time varies depending on the thickness of your pork chops (for reference, the pork chops I used here were about one-inch thick).
I highly recommend using an instant-read meat thermometer to have a fool-proof way of knowing when your chops are perfectly done. Mine was on the cheaper side (you don't need a fancy one) and we use it so often with checking our favorite slow cooker pork tenderloin, chicken on the grill, and cooking steak to varying degrees of doneness. It definitely takes the guess-work and potential for over-cooking away!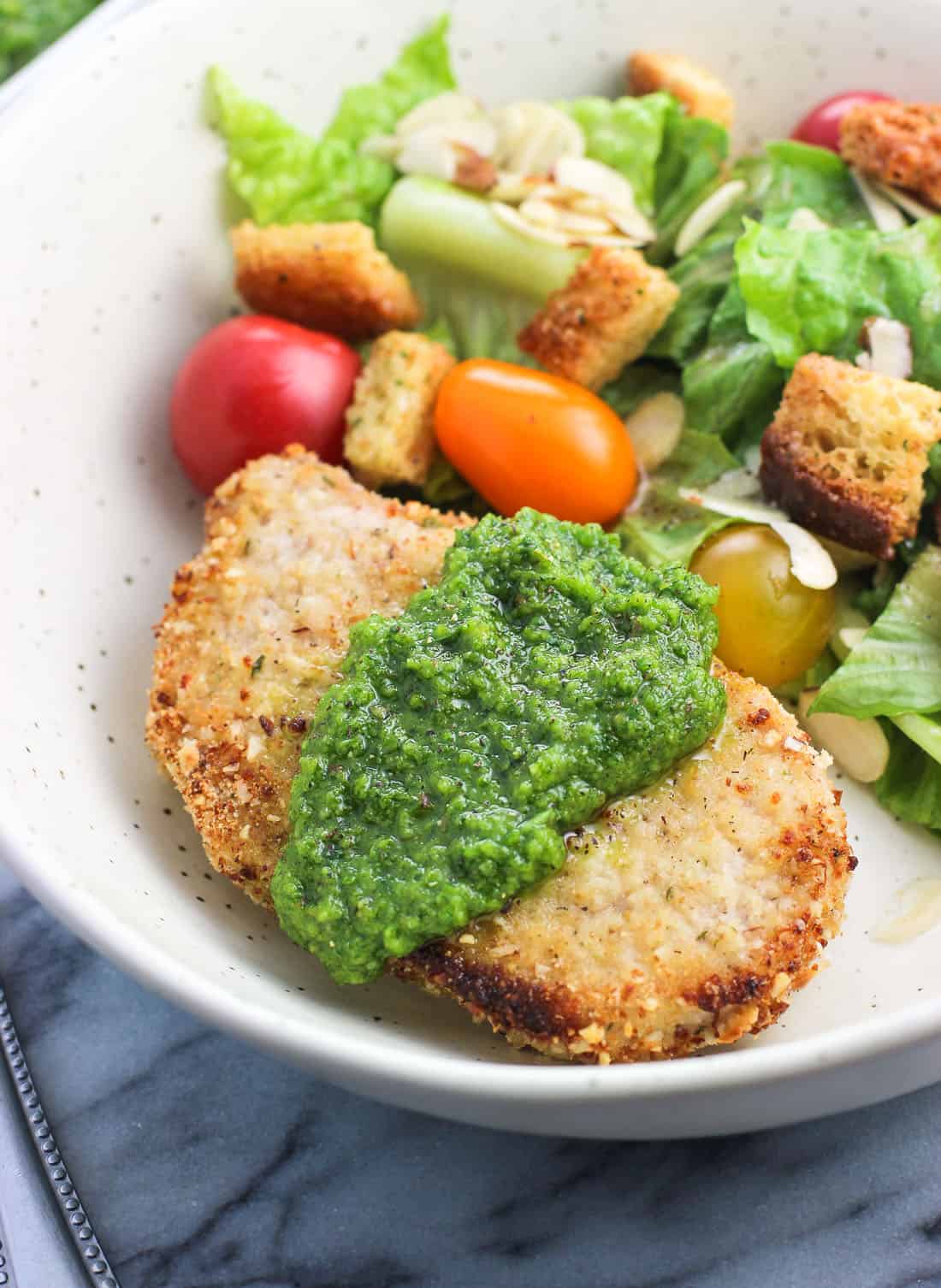 Recipe notes
The least-mess method I've found when it comes to dredging something before cooking is to reserve one hand for dipping in the egg bowl and the other for dipping in the coating. That way your hands don't become coated themselves.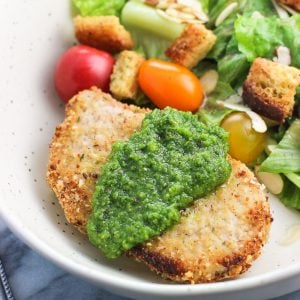 Parmesan Almond Crusted Pork Chops with Parsley Pesto
Parmesan almond crusted pork chops are baked and topped with parsley pesto for a relatively quick and easy main dish recipe.
Print
Pin
Rate
Ingredients
Parmesan Almond Crusted Pork Chops:
1 - 1.25

lb

boneless pork chops

(four chops, trimmed of excess fat)

1

egg

2

tablespoon

milk

(your preferred variety)

⅓

cup

sliced almonds

⅓

cup

Italian-seasoned breadcrumbs

⅓

cup

grated Parmesan cheese

Salt and pepper

to taste
Parsley Pesto:
1 ½

cups

flat-leaf parsley

packed

2

cloves

garlic

chopped

3

tablespoon

sliced almonds

Salt and pepper

to taste

¼

cup plus 1 tbsp

extra-virgin olive oil

3

tablespoon

grated Parmesan cheese
Instructions
Preheat oven to 375°F. Place an oven-safe wire rack over top of a baking sheet and spray with cooking spray. Set aside.

Whisk together egg and milk in a shallow bowl.

Add ⅓ cup sliced almonds to the bowl of a food processor and pulse a few times until almonds are broken up into small pieces.

Add breadcrumbs, Parmesan, processed almonds, and salt and pepper to taste to a separate shallow bowl and stir until evenly combined.

Dip all sides of each pork chop first in the egg mixture, and then in the breadcrumb/Parmesan/almond mixture, pressing the coating onto the pork chop to help it adhere. Place pork chop on the prepared rack over the baking sheet. Repeat for all pork chops.

Bake for 23-26 minutes, or until the center of the thickest pork chop reaches 145°F. I stuck them under the broiler for a minute or two as they were just reaching fully-cooked temperature to crisp the coating up a bit more.

While the pork chops are cooking, add parsley, garlic, almonds, and salt and pepper to the bowl of a food processor. Process until parsley is broken up into small pieces, occasionally scraping down the sides. Add olive oil and Parmesan and process until well-mixed.

Serve a dollop of parsley pesto on top of each pork chop.
Notes
The cook time will vary depending upon the thickness of your pork chops. Mine were around one-inch thick, for reference.
Nutrition
Calories:
534
kcal
|
Carbohydrates:
7.8
g
|
Protein:
36.3
g
|
Fat:
41.2
g
|
Saturated Fat:
11.2
g
|
Cholesterol:
121
mg
|
Sodium:
356
mg
|
Potassium:
562
mg
|
Fiber:
2.5
g
|
Sugar:
1.3
g
|
Calcium:
270
mg
|
Iron:
2.9
mg
Nutritional information is provided as an estimate. As it can vary due to many factors (brands used, quantities, etc.), we cannot guarantee its accuracy.
Food Safety and Nutrition Disclaimer