This post is sponsored by Almond Breeze Almondmilk. As always, all opinions are my own. Thank YOU for supporting the brands that support My Sequined Life!
This nutty vanilla coconut latte features almond and vanilla flavors, is just sweet enough, and vegan! Almond Breeze almondmilk coconutmilk vanilla unsweetened keeps the calorie count low and adds great flavor. It froths beautifully, too!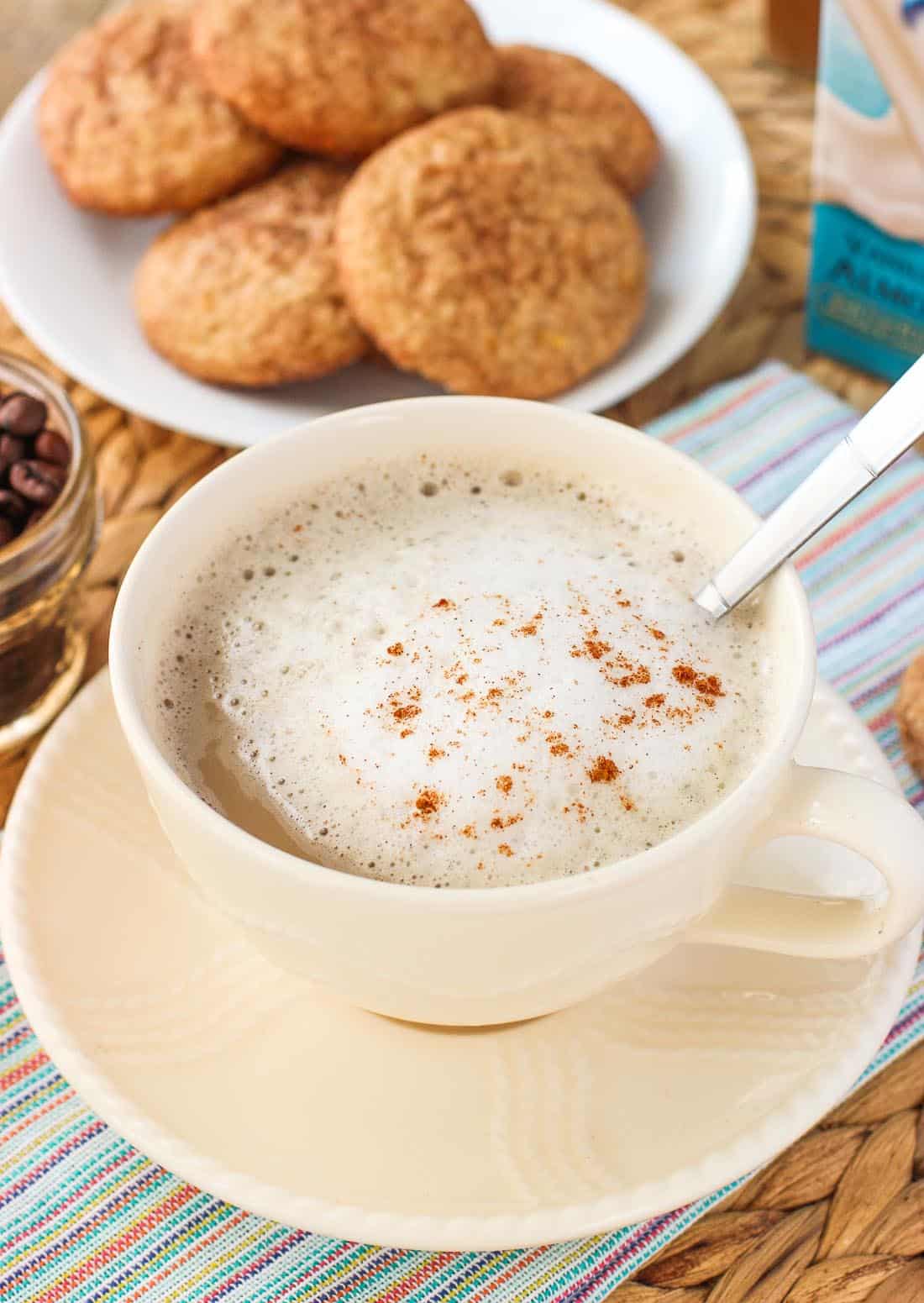 Even when life gets a little crazy, there's always one mainstay in my daily eats and drinks – coffee. It's one of those things that make me all super ritualistic.  I have to have one upon waking and one mid-afternoon, no ifs, ands, or buts about it. My morning coffee is pretty standard, but I like to get a little wild with my afternoon productivity boost. Hot, iced, frothy, sort of sweet…yes, yes, yes, and yes.
One little caveat to a fancy coffee splurge is that I'd prefer not to blow a bunch of calories on something I'm drinking between meals. Enter this nutty vanilla coconut latte! It's just sweet enough, vegan, and caffeinated. What more could you want? 🙂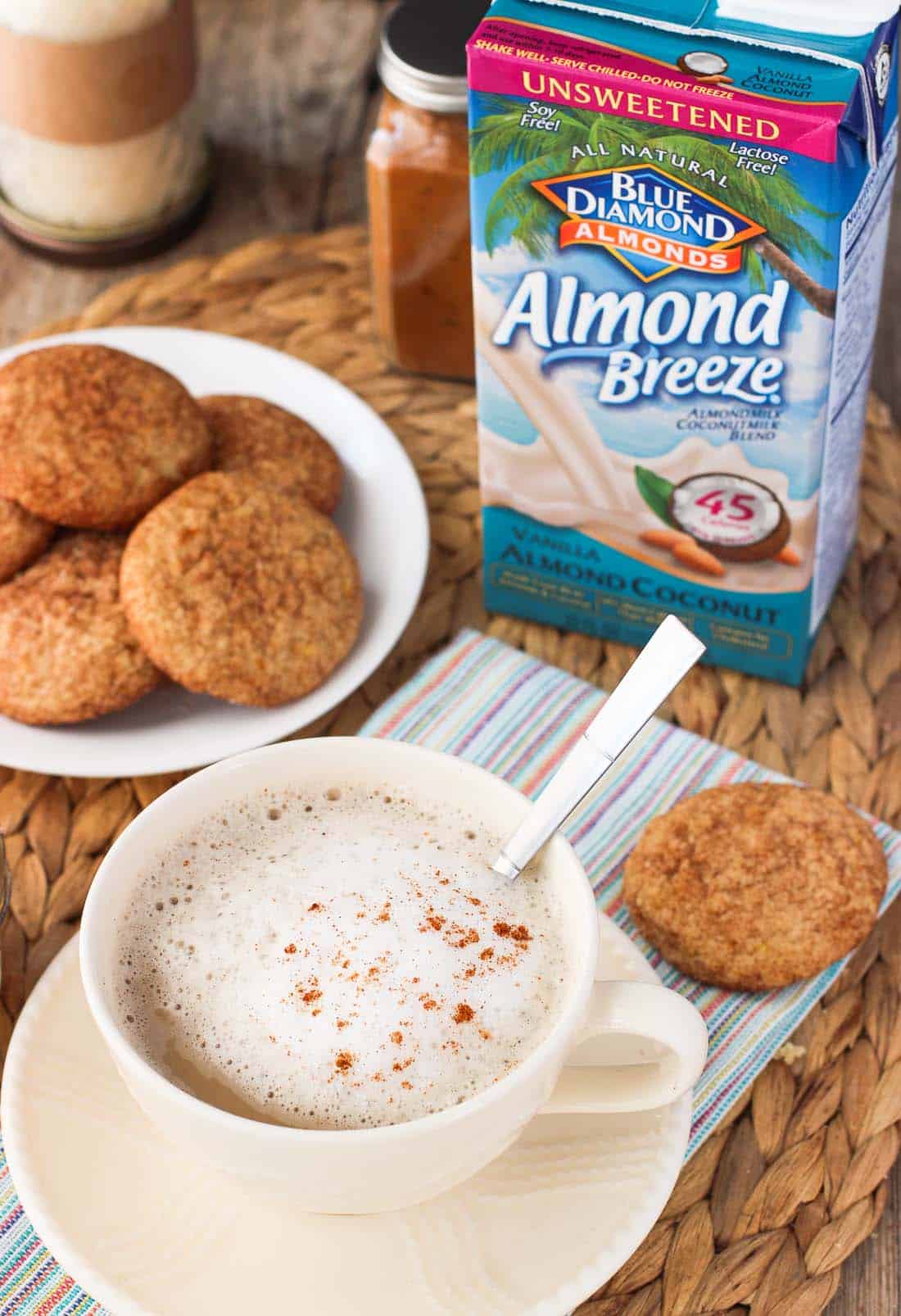 First off, I'm so glad to have gotten the opportunity to try Almondmilk Coconutmilk Vanilla Unsweetened. It's made from both almonds and coconuts, and contains no added sugars. Since I began dabbling in dairy alternatives, Almond Breeze has been my BFF. This variety tastes great and is low in calories (just 45 calories for a cup). Best of all, it froths up perfectly for lattes!
To amp up the almond flavor, I added a few drops of almond extract to the almondmilk coconutmilk before frothing. Have a light hand though, as almond extract is super concentrated and just a little bit too much can be overpowering.
Now I'll admit, I tend to be a coffee shop Goldilocks when it comes to my coffee drinks. A lot of lattes tend to be too sweet for my tastes (all that syrup – yikes!), but I like juuuust enough sweetener to differentiate it from my standard cup of coffee. I added a small bit of agave nectar, but feel free to add your preferred sweetener in your preferred quantity. I like to use agave nectar over granulated sugar for beverages as it melts right into the hot espresso for a smooth sweetness. No grittiness here! I have a feeling this nutty vanilla coconut latte will be helping me get through a whole lot of afternoons to come. 🙂

Nutty Vanilla Coconut Latte
Ingredients
2 oz. brewed espresso
1/2 - 1 tsp agave nectar, to taste
3/4 cup Almond Breeze Almondmilk Coconutmilk Vanilla Unsweetened
3 - 4 drops almond extract, to taste
Ground cinnamon or cocoa powder, for dusting
Instructions
Brew espresso using your preferred method. Pour espresso into your mug. Add agave nectar to espresso and stir so it's mixed in.
Add Almond Breeze almondmilk coconutmilk and 3-4 drops of almond extract to a milk frother (or to a cup if using a frothing wand). Froth. Pour milk into espresso and spoon frothed milk over top. Top with a dusting of cinnamon or cocoa powder.