…or the unabridged title: Mini Maple Shamrock-Shaped Irish Soda Breads with Bourbon-Brown-Sugar-Soaked Raisins.
Full disclosure: I'm 0% Irish, but I will totally get behind any holiday or theme. Maybe it's from my days in a sorority, where weekly theme parties tested the limits of my accountant-in-training (read: not focused on creativity) brain, or who knows what. I'm already thinking about which green shirt I'll wear on the 17th (B and I will be on vacation – woohoo! More on that later…) and I've been practicing my "TOP OF THE MORNING TO YA" in the best brogue I can muster.
It's not pretty.
We always make a customary Irish soda bread loaf for St. Patrick's Day, and it's always…as expected? Nice to snack on the day of, you better toast it the day after, and maybe French-toast worthy the second day.
So this time around, this Italian is breathing new life into our Irish soda bread.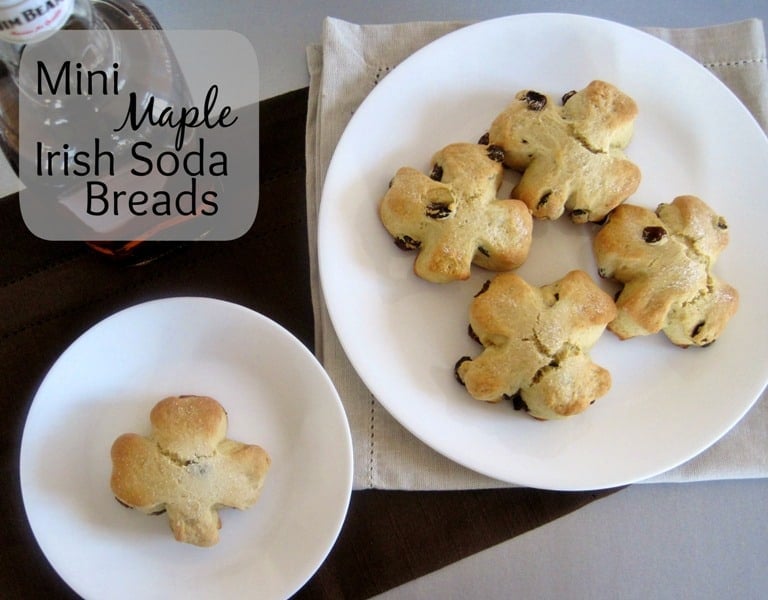 I know I've expressed my love for maple extract before, but I think it's one of my favorite ingredients to bake with. The kind I use is by Frontier, and is all-natural and alcohol-free (I got it for a few dollars at my local natural foods grocer, but it's easily found online). I love that it tastes like…maple. Not like too-sweet, artificial maple flavoring, but robust and warm maple deliciousness. I've contemplated adding a few drops to my coffee. Is that weird?
Anyway, while it may not be a traditional component to Irish soda bread, the maple extract totally breathes new life into our annual loaf. It complements the plump bourbon/brown sugar-soaked raisins so well, and adds an extra layer of flavor that takes it from being kind of ho-hum to "Oh, I think I'll continue making this after March 17th".
I'm a crust girl (as in PLEASE save me the ends of the bread), so for me, mini loaves = more outside/crust area = awesome. The outside is crisp while the inside remains soft and tender. As a (delicious) bonus, the loaves are dotted throughout with raisins so juicy and plump, they just about burst in your mouth when you bite into one.
To make up for the unconventional addition of maple extract, I used a shamrock-shaped cookie cutter to cut out the individual loaves. Told you I can get behind a theme. You can also use any shape cookie cutter (or the rim of a glass), no problem.
I jazzed up the raisins by soaking them in a bourbon and brown sugar mixture to make them super plump and juicy. For simplicity's sake, you can instead soak raisins in hot water to achieve the same texture if you'd prefer not to use bourbon.
Mini Maple Irish Soda Breads
These individually-sized Irish soda bread loaves are kicked up a notch with maple flavoring and raisins soaked in bourbon and brown sugar.
Print
Pin
Rate
Ingredients
For the Dough:
2

cups

unbleached

all-purpose flour + 1/4 cup for rolling out dough

1

tsp

baking powder

1/2

tsp

baking soda

1/2

tsp

salt

1

egg

1/4

cup

granulated sugar + 2 tbsp

divided

2

tbsp

brown sugar

2/3

cup

low-fat buttermilk

5

tbsp

butter

melted and slightly cooled

1/2

tsp

vanilla extract

1

tsp

maple extract
For the Soaked Raisins:
1/2

cup

raisins

1/4

cup

+ 1 tbsp bourbon

1

tbsp

brown sugar
Instructions
In a large cup, add raisins, bourbon, and 1 tbsp brown sugar. Stir to dissolve brown sugar. Let raisins sit while you prepare the dough (about 15 minutes), making sure that all raisins are submerged.

Preheat oven to 350°F. Grease a baking sheet and set aside.

In a medium bowl, mix flour, baking powder, baking soda, and salt.

In a large bowl, whisk together the egg, 1/4 cup granulated sugar, 2 tbsp of brown sugar, buttermilk, butter, vanilla extract, and maple extract.

Add flour mixture to wet ingredients and stir until just combined and dough is essentially in one piece. Drain the liquid from the raisins and stir in.

Turn out dough onto a floured surface, and sprinkle flour over top of dough. Work in flour to ease some of the stickiness. Repeat until dough is fully workable and doesn't stick to your fingers, but stop before it reaches the point of becoming too dried out and cracks begin to form. With floured hands, press dough into a rectangular shape, about 1 1/2" tall.

With a floured cookie cutter, cut shapes and place all onto greased baking sheet about 1 1/2" apart. Rework dough scraps until all is used. Sprinkle remaining 2 tbsp of granulated sugar over top of loaves,and lightly press to adhere.

Bake for 14-16 minutes, or until bottoms and edges are lightly browned and tops are firm to the touch. Transfer to wire rack and let loaves cool completely.
Nutritional information is provided as an estimate. As it can vary due to many factors (brands used, quantities, etc.), we cannot guarantee its accuracy.
Adapted from Allrecipes