Well, looks like you found me! Typing to you from the newly self-hosted My Sequined Life. You see, instead of relaxing over this glorious three-day weekend, I decided it would be a good time to self-host. I think it worked (because you're reading this), but HOLY STRESS. I'm not going to rehash the highs and lows, but talk about running the gamut of feelings. Nervous, confused, stressed, hopeful, confused, stressed, JUBILANT (guys – I messed with CODE! And it worked after 4 hours!). Now I'm feeling a little bit more comfortable. Cautiously comfortable.
I'm still making tweaks here and there, so please bear with me while I navigate the total unknown here. 🙂
Amid the several live chat support sessions and non-stop Googling this weekend (how bad is it when you search for a question, but can't understand one word of the answers? Eeesh.), I found some solace in baking – these bad boys.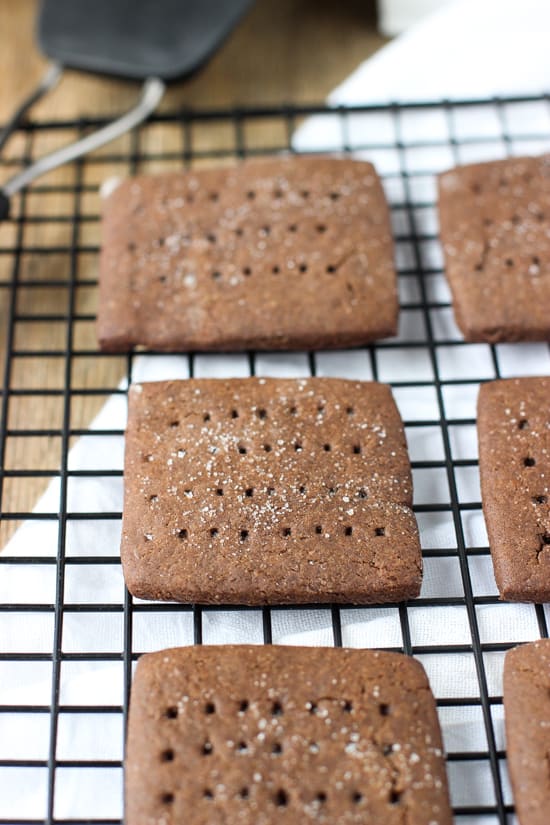 You see, chocolate graham crackers are just another thing that our San Diego supermarket doesn't stock. What's with that? I had a light bulb moment awhile back for a dessert I just had to make, and these chocolate grahams were imperative. So I took matters into my own hands and made my own.
These homemade chocolate graham crackers are crisp to bite into, but are a little softer and thicker. Less crumbs. 🙂 But what's the same is that they have that deep chocolatey flavor you're expecting. And while it does nothing for the taste, I pressed the tines of a fork into their tops to make those quintessential dotted line rows that grahams have. Had to do it. To make slicing the dough a breeze, I used a straight-edge pastry wheel, but I'd imagine a pizza cutter would serve the same purpose. Lastly, these crisp up significantly as they cool, so it's okay if they're not at graham-level hardness when they come out of the oven.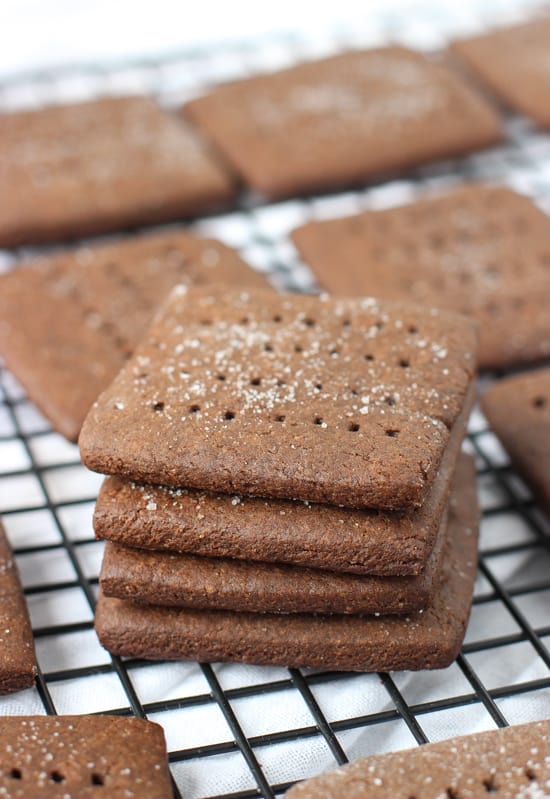 While these grahams are satisfying as a standalone snack (or topped with PB for breakfast…), they're just half of the delish treat of my dreams. A dessert that screams Valentine's Day, btw. So, rather than throw a bunch of recipes at you all at once, I'll be posting the second part in the next day or two. Just enough time for you to make these suckers, taste a few errr..devour the batch, remake them (thankfully they're easy!), and couple them with what comes next. Hint – dust off your candy thermometer! No worries though, it's really easy! Promise.
Update: How do triple chocolate raspberry s'mores sound?! Check out my recipes for raspberry marshmallows and triple chocolate raspberry s'mores that use these chocolate graham crackers.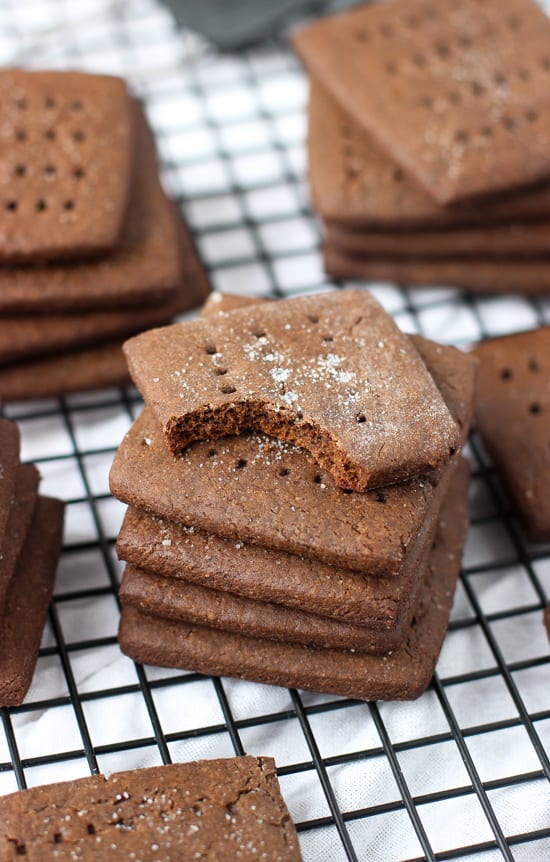 Homemade Chocolate Graham Crackers
This recipe for homemade chocolate graham crackers features a deep chocolate flavor and sugar dusted tops. These are great in fancy s'mores or for snacking on their own!
Servings
30
graham crackers
Ingredients
2 1/2

cups

plus 2 tbsp all-purpose flour

1

tsp

baking soda

1/2

tsp

salt

1/2

cup

unsweetened cocoa powder

7

tbsp

unsalted butter,

cut into small pieces

1

cup

granulated sugar

2

tsp

vanilla extract

6

tbsp

milk

(any will do)

approx. 2 tbsp granulated sugar

for topping
Instructions
Whisk together flour, baking soda, salt, and unsweetened cocoa powder in a large bowl. Mix in butter pieces (there will be lumps).

In a separate bowl, mix 1 cup of sugar, vanilla extract, and milk.

Pour sugar mixture into flour mixture and mix until batter is just about mostly smooth.

Chill dough for a few hours, or overnight.

Once dough is chilled, remove from refrigerator. Preheat oven to 350°F.

Lightly flour work surface and roll dough out, a portion at a time, until dough is approximately 1/8" high. Cut dough into squares, and using the tines of a fork, lightly imprint dotted line rows into tops of the grahams.

Place squares onto parchment-lined baking sheet, and sprinkle remaining granulated sugar over top. Lightly press down sugar with the back of a spoon so it adheres.

Bake for 13-15 minutes, or until centers spring back lightly when pressed. Let grahams cool on wire racks.
Nutrition
Serving:
2
graham crackers
|
Calories:
130
kcal
|
Carbohydrates:
20
g
|
Protein:
1
g
|
Fat:
6
g
|
Saturated Fat:
4
g
|
Cholesterol:
15
mg
|
Sodium:
204
mg
|
Potassium:
55
mg
|
Fiber:
1
g
|
Sugar:
16
g
|
Calcium:
10
mg
|
Iron:
0.5
mg
Nutritional information is provided as an estimate. As it can vary due to many factors (brands used, quantities, etc.), we cannot guarantee its accuracy.
Note: The pictures in this post were updated April 2015. I also made a few tweaks to the original recipe to simplify it – I used one sweetener instead of two (works!) and tested the dough by chilling it overnight instead of for just a few hours (works!). Both the original recipe and the snazzy, new and improved one above turn out wonderfully. It was also an excuse for me to make these chocolate grahams again. 😉