Instant Pot pulled pork is so easy to make and much quicker than traditional versions. The pork features a coffee rub along with a blend of smoky spices, and cooks in a savory BBQ sauce. Use this pork in sandwiches, on salads or tacos, and more.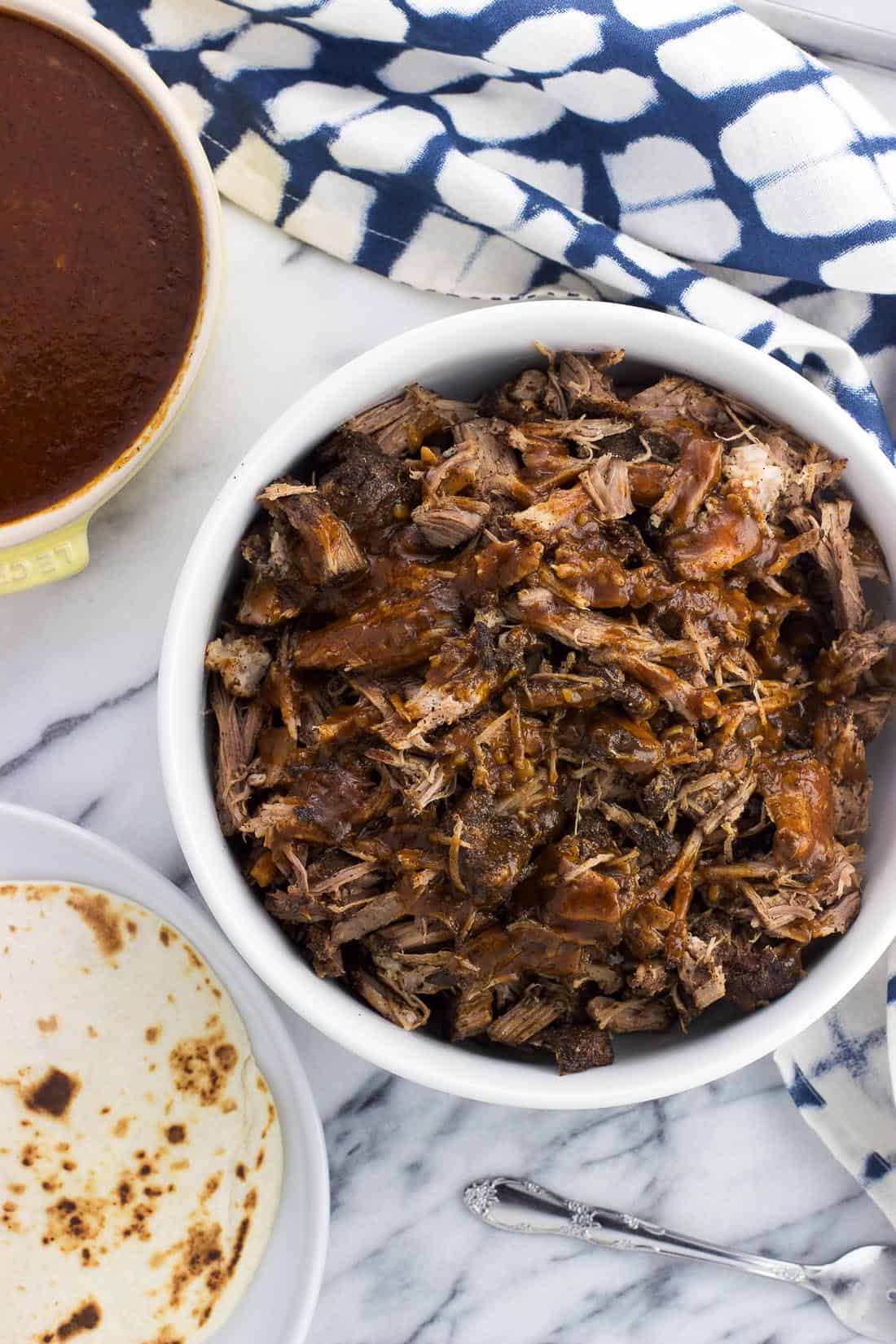 One cooking area in which I struggle is correctly assuming how long something will take to thaw when going from the freezer to the fridge. Despite my freezer/fridge temperatures being normal, I'm always convinced stuff will defrost way quicker than it actually does.
You'd think by now I'd have gotten it together, but no. Please tell me I'm not alone there!
The latest example of this is when the Boston butt pork roast I had been planning to throw in the crock pot on a Sunday to make my slow cooker pulled pork was too frosty to proceed. Given the facts that my Monday morning wasn't shaping up to be ideal for slow cooking and that Boston butt requires some time to become nice and shreddable, helloooooo Instant Pot.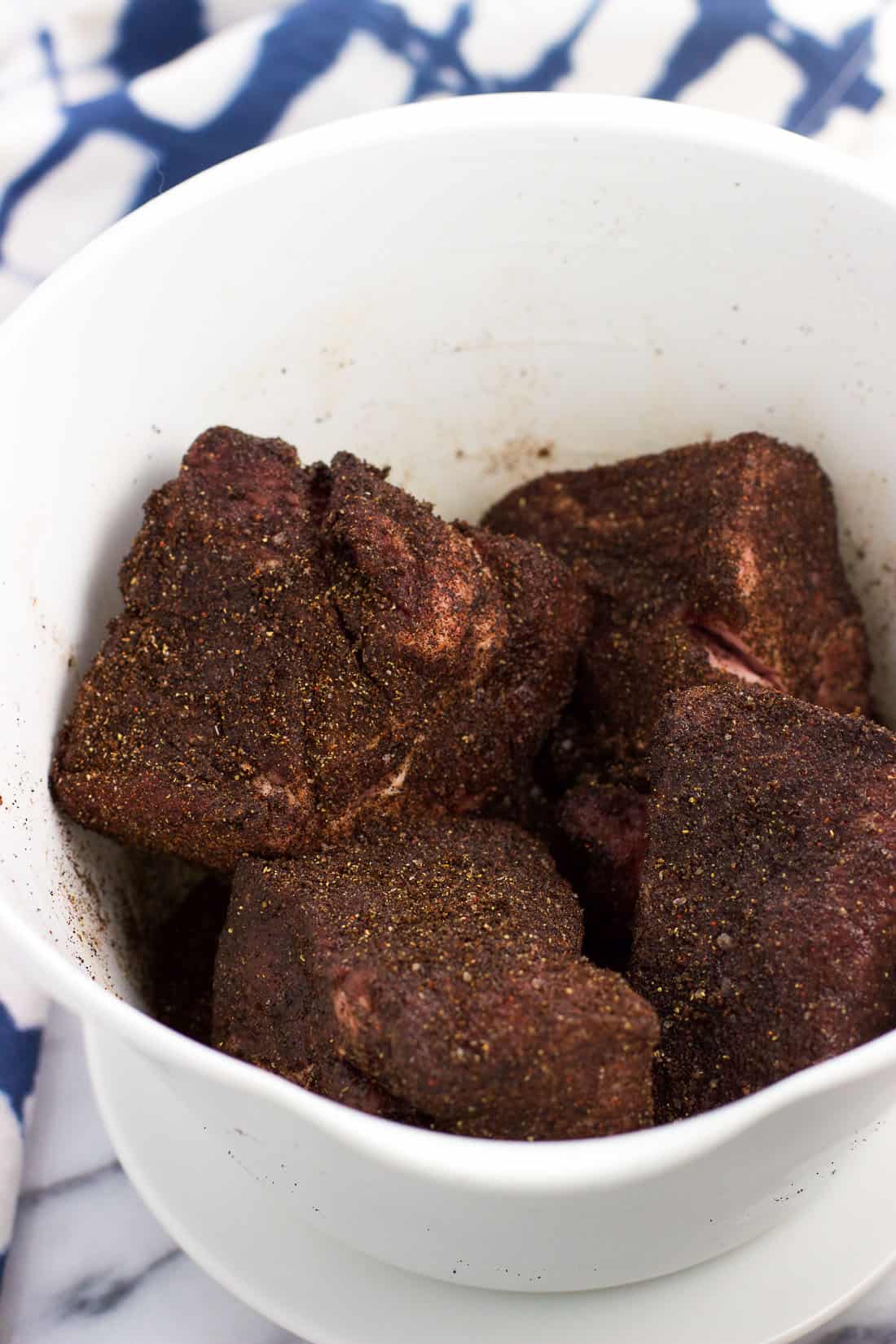 Well. This coffee rubbed Instant Pot pulled pork came out just as I could have hoped for, all in a time frame that didn't require me to start cooking dinner directly after breakfast.
What's to love about this recipe
While this marks just the second Instant Pot recipe I have on the blog so far (the first being Southern Instant Pot collard greens), I find myself reaching for it more and more frequently in my day to day cooking as time goes on. Besides seriously speeding up cook time, the Instant Pot cuts down on the amount of dishes required in a recipe which is a huge plus.
For this coffee rubbed pulled pork, you can brown the pork, saute the onions and garlic, pressure cook everything, and thicken the sauce all in the same cooking vessel.
In addition to the time factor, that's a huge benefit of an Instant Pot over a traditional slow cooker. Not that I'm abandoning my slow cooker. The Instant Pot has a lot of bells and whistles, and sometimes I just want to keep things super simple and dependably low and slow.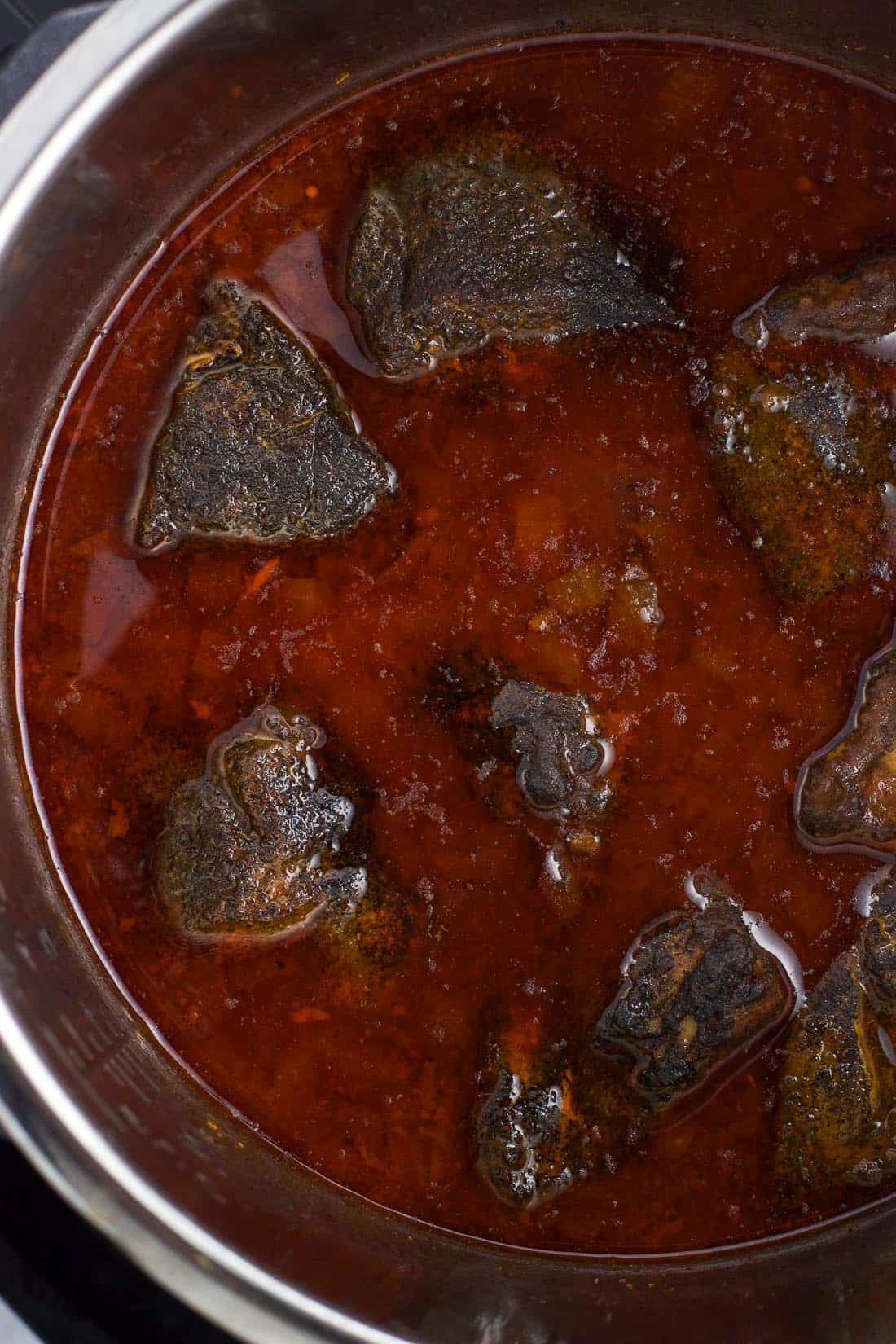 Spice rub ingredients
The spice mixture that's rubbed on the pork features coffee, which may sound strange but works well with the smoky, spiced, and bold flavorings added into this recipe. Using finely ground coffee ensures it won't be gritty or crunchy, rather it would blend right in with the brown sugar, kosher salt, and other ground spices.
I used a finely ground espresso blend of coffee, but if grinding your own, choose the finest ground you can.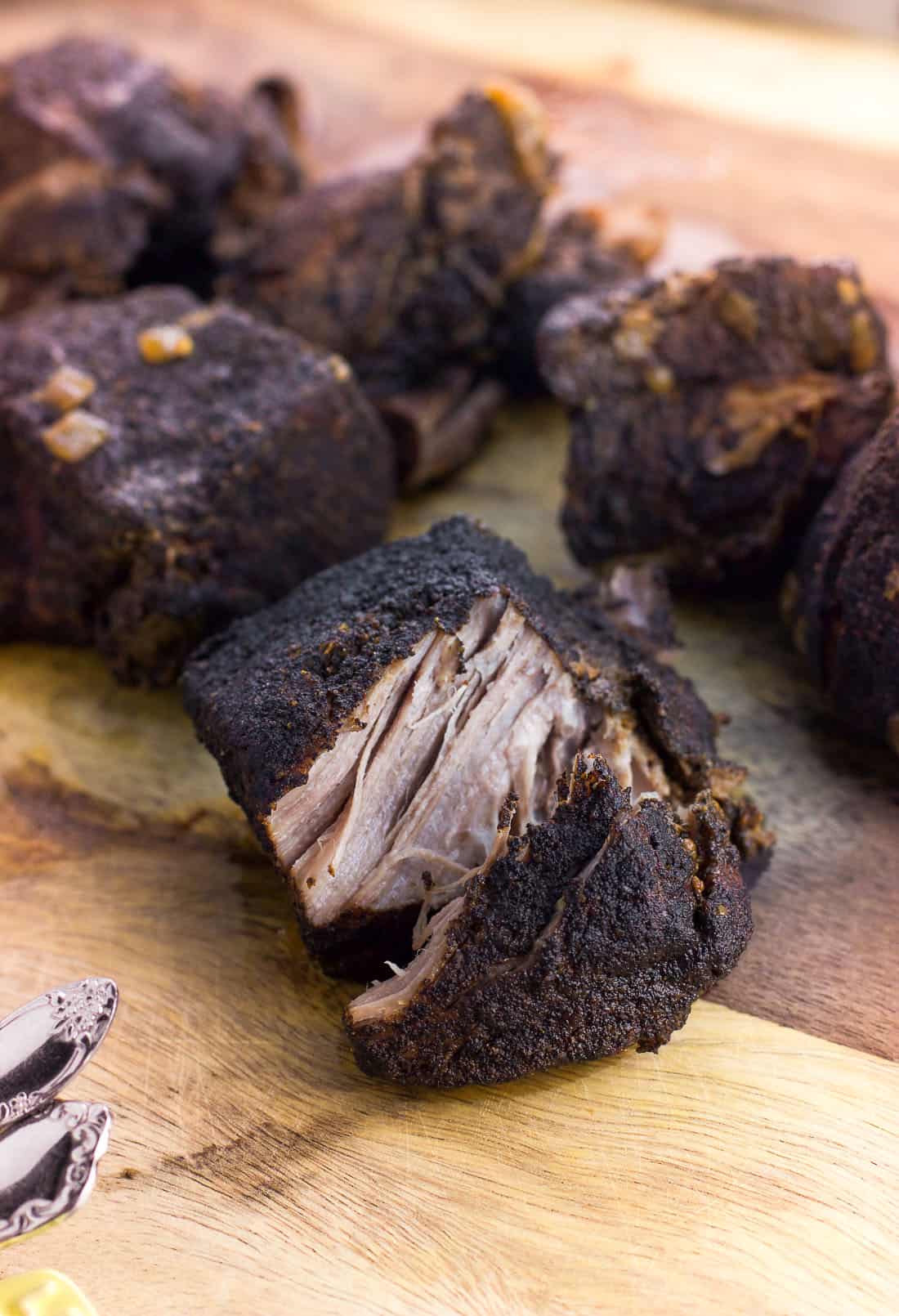 Homemade BBQ sauce ingredients
After sautéing onions and garlic, the seasoned pork will pressure cook in a liquid that's a quick and dirty BBQ sauce of sorts. One cup of broth or water is combined with apple cider vinegar, tomato paste, a little extra brown sugar, and Worcestershire sauce for a tomato-y, tangy liquid.
I like to use broth for a bit of extra flavor, as well as to use up whatever carton of broth I always seem to have hanging around the fridge. Chicken, beef, vegetable…it doesn't matter to me. All good.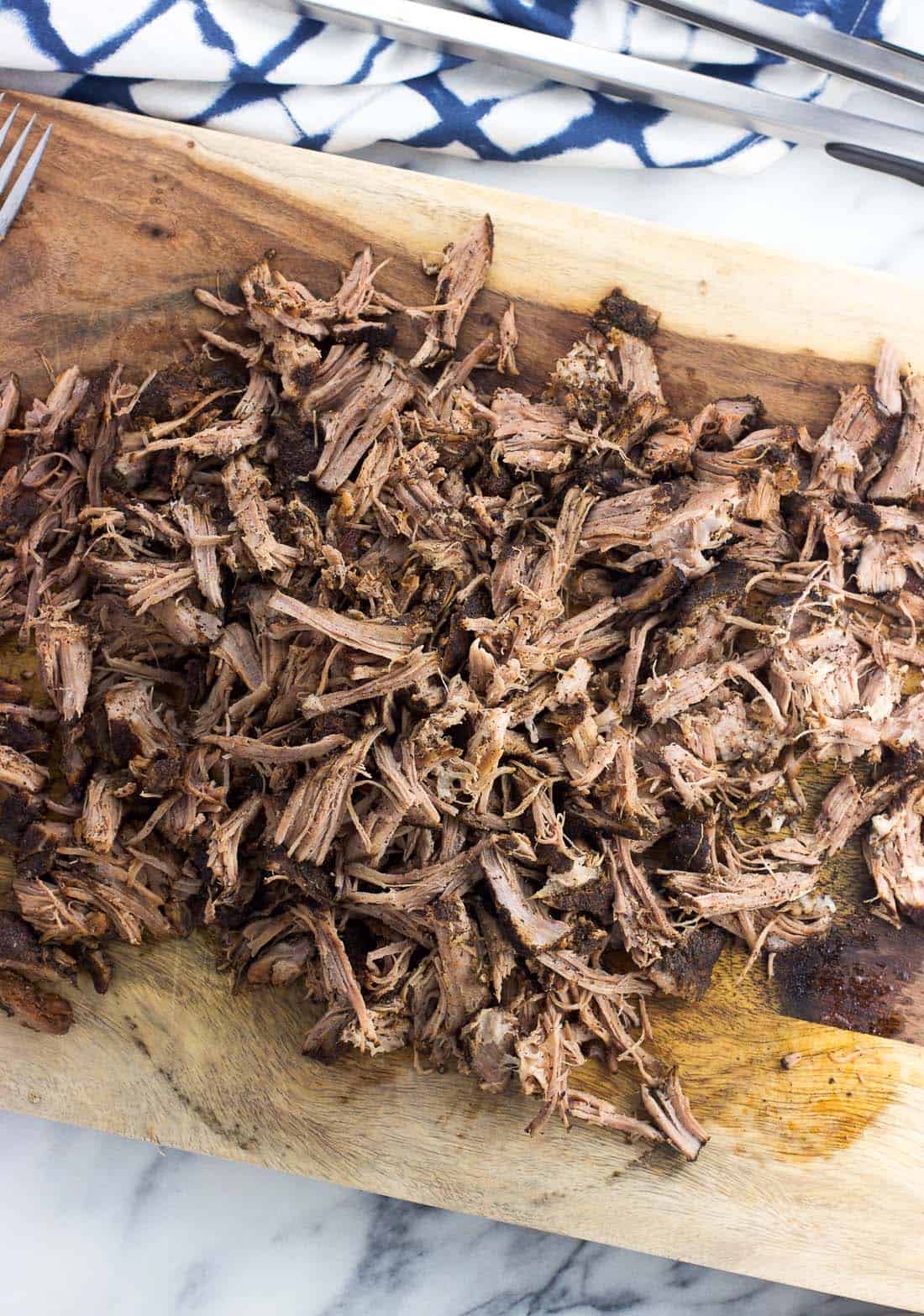 Once the 35 minutes are up, I highly recommend using the natural pressure release and just letting the Instant Pot do its thing until the float valve goes down. This takes about 20 minutes, which I added into the inactive time in the recipe card below. Much like meat prepared other ways 'rests' once it's done cooking, this extra time allows it to become even more tender.
Take the pork roast pieces out and you should have Instant Pot pulled pork in…an instant. 😉 They shredded so easily two forks did the trick, and I didn't even have to pull out my stand mixer for my usual shredding process.
While not a required step, turning the Instant Pot back on to "Saute" and thickening the cooking liquid makes a delicious BBQ sauce to top this coffee rubbed pulled pork. To help speed things along I usually will whisk in about one tablespoon of flour until smooth.
And there you go. We love this coffee rubbed pulled pork on sandwiches and salads, as well as in tacos. The sky's the limit really!
Recipe notes
This recipe was made and tested in a 6-quart Instant Pot.
Deglazing the pan after sautéing the onions and garlic is an important step. You'll want to scrape up all of the burnt bits from the bottom of the pan before pressure cooking. This will help prevent a "burn" error message from displaying on the Instant Pot from contents becoming too hot at the bottom of the pot.
You can use your favorite sauce-thickening technique for the last recipe step. If you'd like to use cornstarch rather than flour, keep in mind you'll want to whisk it with cool water in a small bowl, and then drizzle the mixture back into the Instant Pot while stirring. This will prevent the cornstarch from clumping up.
Related recipes
If you've enjoyed this recipe, I'd love for you to leave a star rating in the recipe card and/or a comment review below!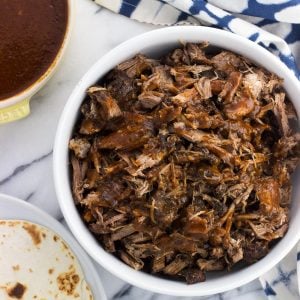 Coffee Rubbed Instant Pot Pulled Pork
Instant Pot pulled pork is so easy to make and much quicker than traditional versions. The pork features a coffee rub along with a blend of smoky spices, and cooks in a savory BBQ sauce. Use this pork in sandwiches, on salads or tacos, and more.
Print
Pin
Rate
Ingredients
Coffee spice rub:
2

tbsp

finely ground coffee

1

tbsp

brown sugar

2

tsp

kosher salt

1

tsp

ground black pepper

1/2

tsp

ground chipotle pepper

1/2

tsp

mustard powder

1/2

tsp

paprika

1/2

tsp

ground coriander

1/2

tsp

onion powder

1/8

tsp

ground cayenne

(optional)
Remaining ingredients:
2-3

lbs

boneless Boston butt pork roast,

cut into 2 1/2″-cubes

2

tbsp

olive oil,

divided

1

small onion,

chopped

4

cloves

garlic,

minced

1

cup

water or broth

1/2

cup

apple cider vinegar

1/4

cup

tomato paste

3

tbsp

brown sugar

1

tbsp

Worcestershire sauce
Instructions
Stir together all coffee spice rub ingredients in a small bowl.

Cube Boston butt and trim excess fat if you desire. Add meat to a mixing bowl, then scatter spice mix over top, rubbing it into all sides of the meat until it's all covered.

Press the "Saute" button on the Instant Pot with the lid off and allow it to heat. Add 1 tbsp of the olive oil. Once oil is heated, add meat to the Instant Pot and brown for 2-3 minutes per side. Remove browned meat to a plate and set aside.

Add remaining 1 tbsp of olive oil to the Instant Pot, and then the chopped onion. Saute for 3-4 minutes, stirring up occasionally, and then add the minced garlic. Saute for another 1-2 minutes.

Pour a small amount of the water or broth into the Instant Pot to deglaze it, scraping up any stuck on bits before proceeding. You don't have to be precise with the amount – about 1/4 to 1/3 of a cup is fine.

Once deglazed, press the "Keep Warm/Cancel" button to shut off the Saute function. Add the remaining amount of water or broth, apple cider vinegar, tomato paste, brown sugar, and Worcestershire sauce and whisk well to combine until fairly smooth.

Add the Boston butt chunks to the Instant Pot.

Close and lock lid, making sure that the pressure release valve is set to "sealing".

Press the "Manual" button (or "Pressure Cook" in newer IP models). Using the up or down button, adjust the cooking time to 35 minutes.

The Instant Pot will take a bit of time (anywhere from 10 to 15 minutes, in my experience) to come up to pressure, during which you may hear a slight hissing noise. During this time the display will read "On". Once pressure is reached, "35" will display and count down as the minutes go by as it's cooking.

Once the cook time is over, let the pressure release naturally. This takes around 20-25 minutes, and allows the meat time to rest. Once the float valve goes down, carefully remove the lid.

Remove the Boston butt from the Instant Pot and place on a cutting board or plate. It should shred easily with two forks.

To thicken the cooking liquid into a BBQ sauce once the meat is removed, press the "Saute" button. Stir/whisk in about 1 tbsp of flour if you like to help thicken the sauce quicker, whisking well to ensure no clumps remain. Continue cooking until sauce is to your liking, then toss with pork for serving.
Notes
The inactive time consists of 10 minutes for the Instant Pot to come to pressure and 20 minutes for natural pressure release, though time may vary slightly for you.
Nutrition
Calories:
463
kcal
|
Carbohydrates:
8.4
g
|
Protein:
38.5
g
|
Fat:
29.8
g
|
Saturated Fat:
9.9
g
|
Cholesterol:
131
mg
|
Sodium:
382
mg
|
Potassium:
152
mg
|
Fiber:
0.7
g
|
Sugar:
6.5
g
|
Calcium:
40
mg
|
Iron:
3.1
mg
Nutritional information is provided as an estimate. As it can vary due to many factors (brands used, quantities, etc.), we cannot guarantee its accuracy.
Food Safety and Nutrition Disclaimer