Orange chocolate cashew butter is made in minutes in the food processor for a creamy and delicious spread with no sugar added. Sub it in for peanut or almond butter in sandwiches, or serve it as a perfect dip for fruit or pretzels!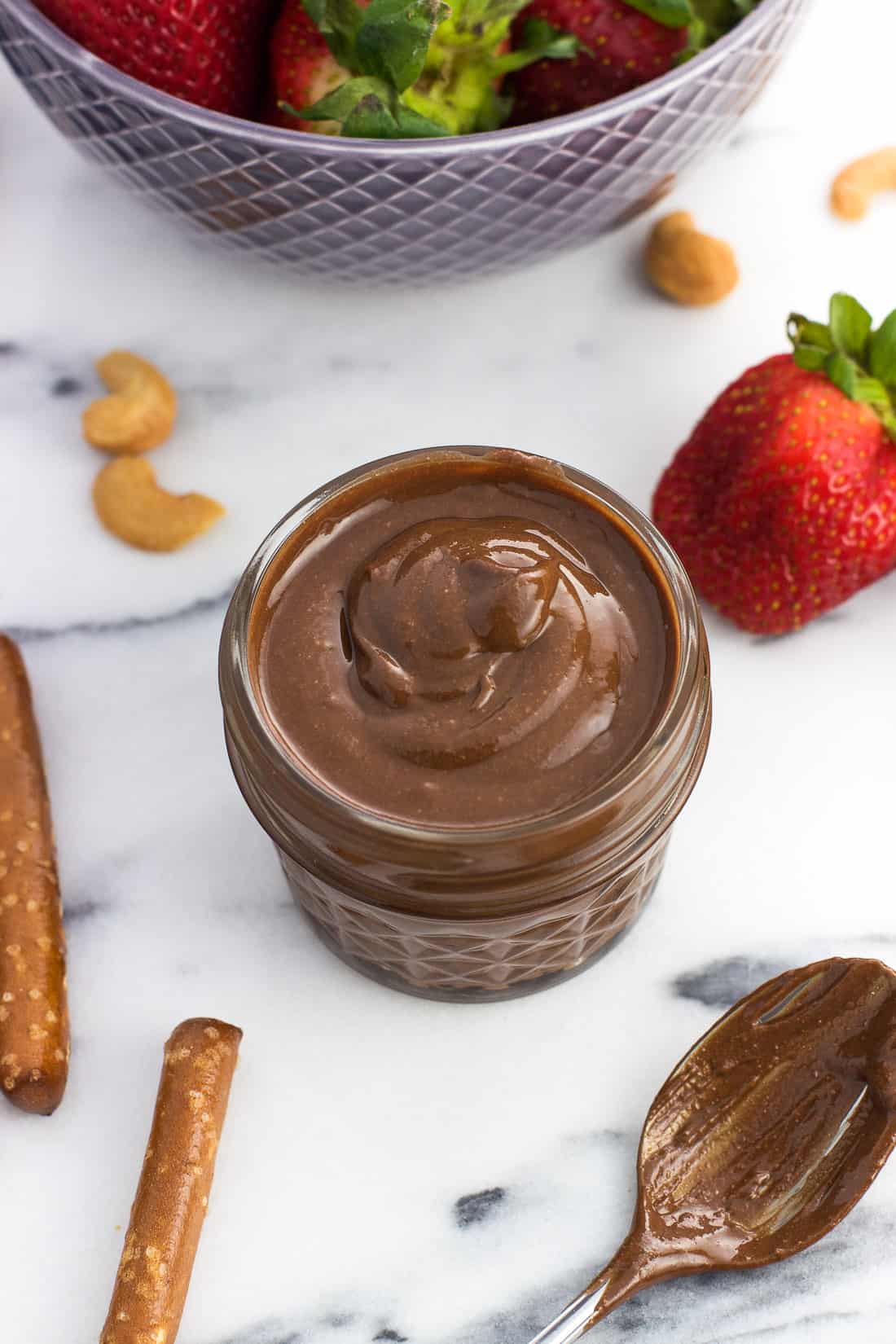 I've had total ants in my pants waiting to share this orange chocolate cashew butter with you. It's a three (or four, or five, more on that later) ingredient, just-a-few-minutes kind of recipe that will revolutionize your toast- and sandwich-eating. It couldn't be easier.
What hasn't been easy? Actually sharing it with you! I don't want to harp on the tech problems I've been having, but the extent to which they've escalated is almost laughable at this point.
Couple that with my seven-year-old laptop deciding now was the time for multiple blue screens of death, and if the universe wasn't cruel enough, I then broke our coffee maker.
Because if there's one thing that makes ALL the computer problems the slightest bit easier to handle, it's caffeine.
I'm happy to report everything has been resolved, so here. it. is. Orange chocolate cashew butter in all its orange-y, chocolate-y, cashew butter-y goodness.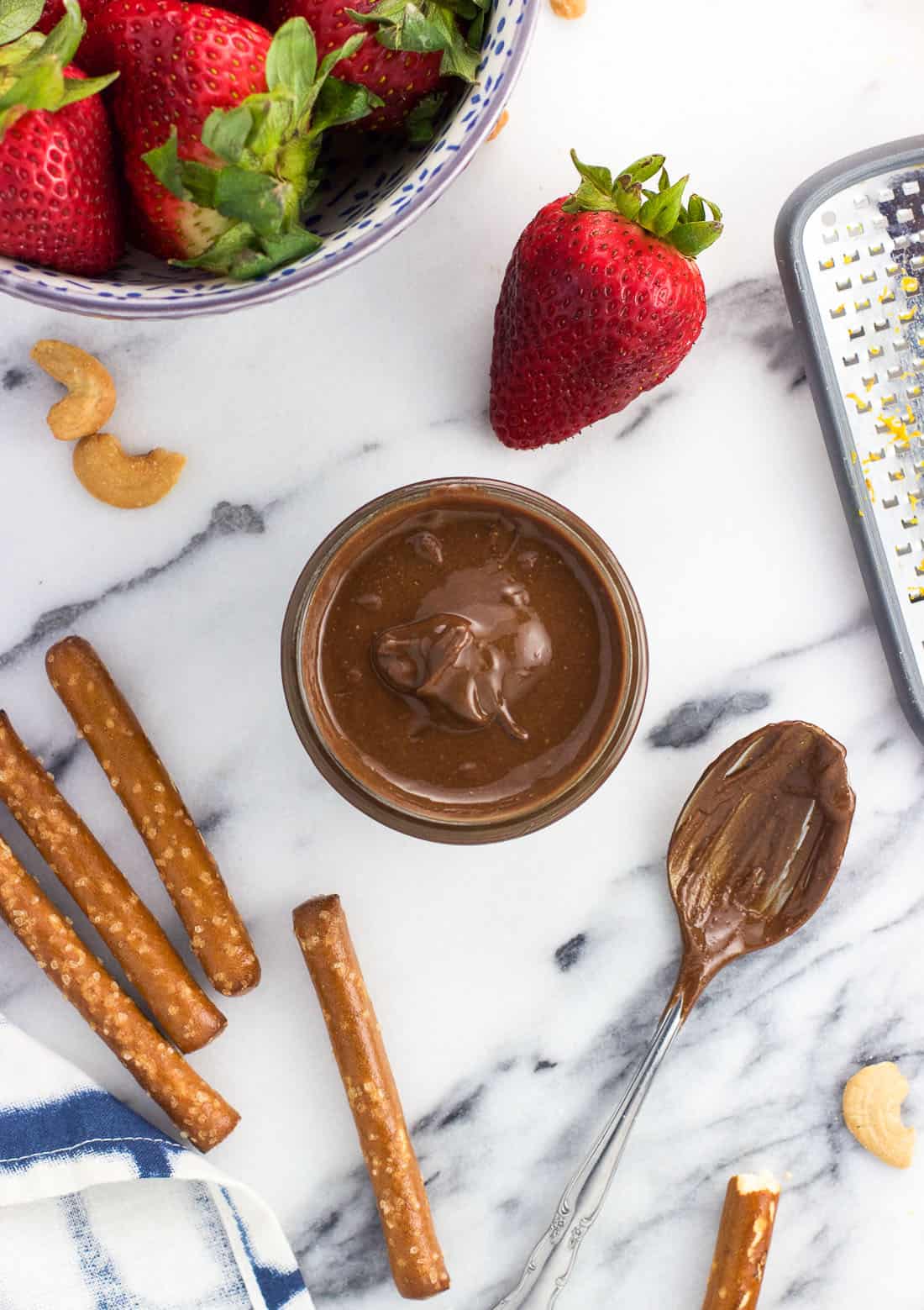 Recipe ingredients
Basic, mostly whole food ingredients are all you need for this chocolate cashew butter recipe.
It starts with a cup of cashews - either salted or unsalted. I prefer salted because it balances well with the other flavors here. Just like the salted honey combination in this pound cake trifle - yum. But if you only have unsalted cashews you can always just add a pinch of salt. No biggie.
The chocolate part comes into play by using unsweetened cocoa powder. Bold chocolate flavor without added sugar.
Next is the orange zest. Orange and chocolate together is one of my favorite, not super popular flavor pairings. Just three-quarters of a teaspoon here will do it, though you can always adjust to fit your tastes.
Our last ingredient is optional, but recommended. Coconut oil does nothing for taste, but adjusts the consistency. Read on for the whats and whys.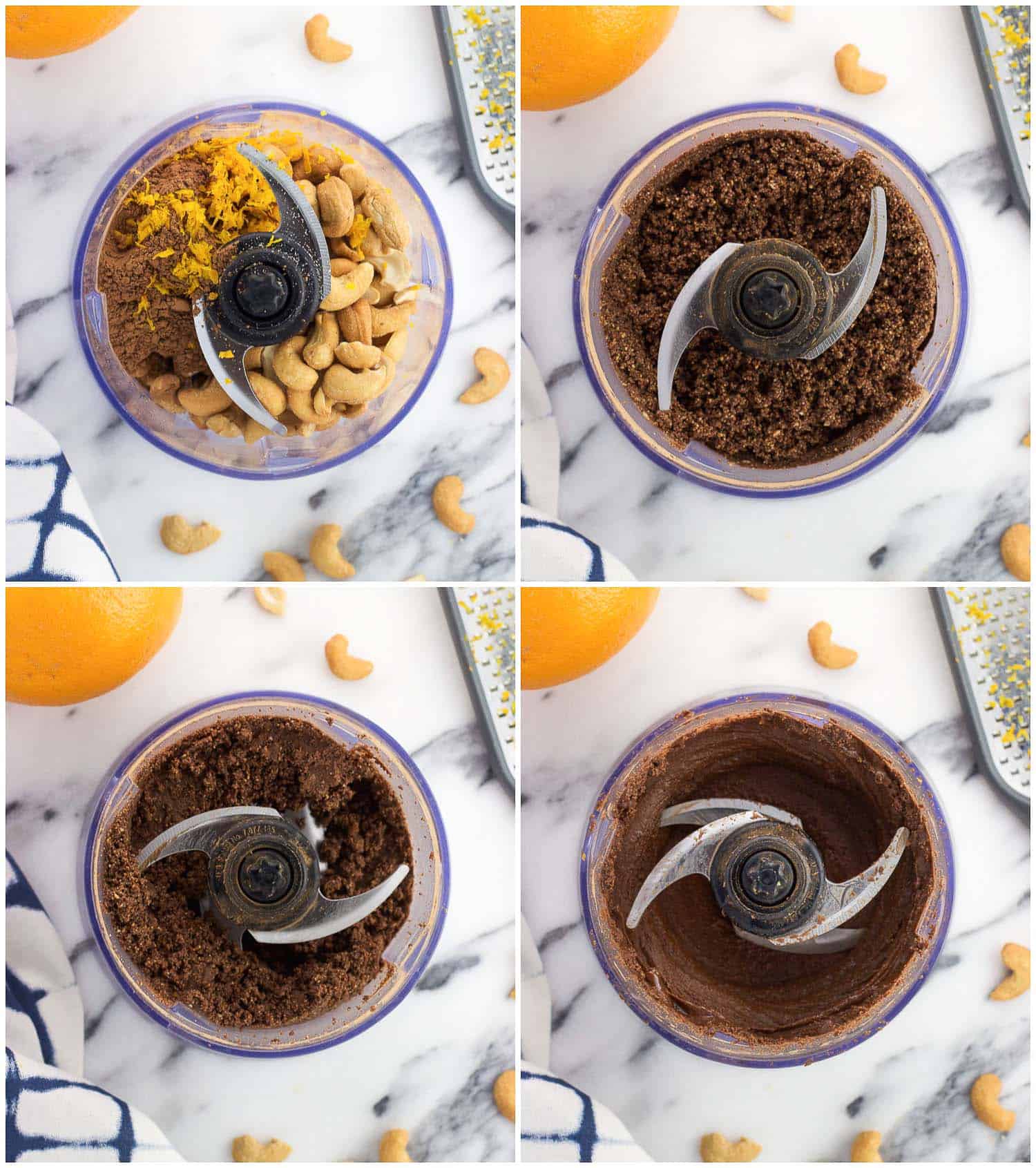 Step-by-step instructions
Well, first it becomes a crumbly mess. But don't give up hope! With a little more processing (and a little more, and a little more...) it becomes less like cashew dust and more like cashew butter.
Since people run the gamut on preferred nut butter consistency, you have a few options to make this cashew butter your own.
I like to start with processing the cashews, cocoa powder, orange zest, and salt (if using) on their own. The cashews will release oil as you go and become creamier, ultimately ending up with a spreadable but fairly firm nut butter. Be sure to stop and scrape down the sides of the food processor as needed to work in all of the ingredients.
Now if you prefer the consistency of natural peanut and almond butters, at this point you can add a few teaspoons of coconut oil to everything and whizz it in. You'll quickly find that runny, smooth texture you like. I usually end up adding between two and three teaspoons of coconut oil at the end to yield the consistency you see here.
While either refined or unrefined coconut oil would work just fine as far as the consistency goes, I like to use refined coconut oil here. Reason being that I find it has a more neutral flavor to blend into many types of recipes. Unrefined brings with it a more coconutty aspect that I wasn't sure would be great along with orange and chocolate. Use your preferred, though!
Serving suggestions
This cashew butter makes a killer OM & OCCB sandwich. That would be an orange marmalade & orange chocolate cashew butter sandwich, and OMG is it good. It's a little bit fancier than your standard PB & J and makes me stare down the clock at work, willing it to hit 12 so I can run and grab it out of the fridge for lunch.
Besides subbing it in for peanut and almond butters, it makes a great dip for fruit, pretzels, etc. If going that route I definitely suggest adding enough coconut oil to help it become perfectly dippable.
It truly tastes like a healthier chocolate-dipped strawberry, with a little orange flavor thrown in for good measure.
If you're into the chocolate orange combination like I am, you might also like these mini chocolate orange lava cakes (SO easy with no special pans) or these rich chocolate orange cookies.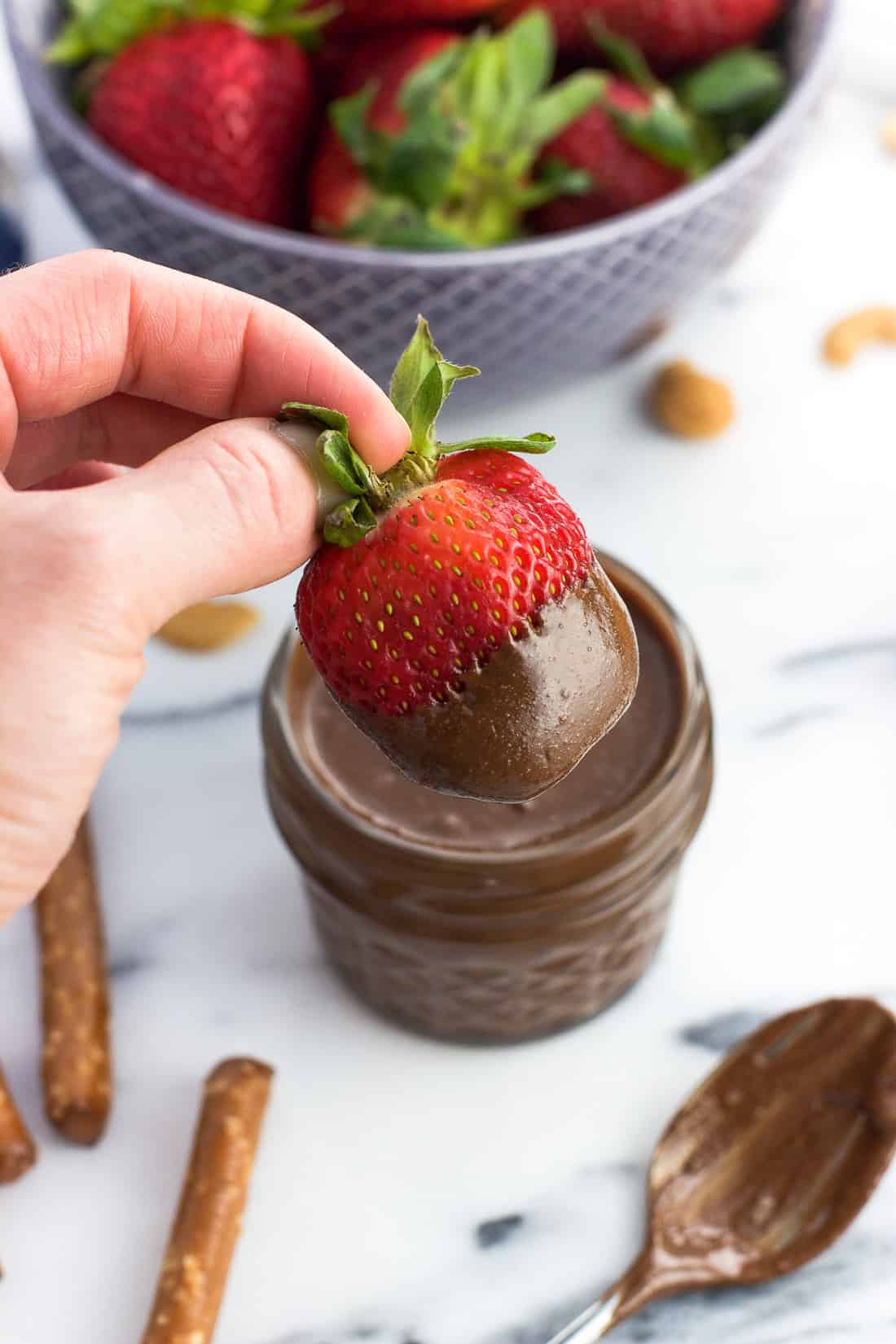 Recipe notes
Both salted and unsalted cashews would work here. I prefer salted for the extra bit of flavor.
Be sure to scrape down the sides of your food processor as needed to ensure all of the ingredients are incorporated smoothly.
Scroll up a bit to the body of the post to read about what coconut oil does for the consistency of this chocolate cashew butter to decide if you'd like to add it.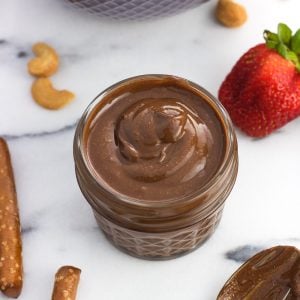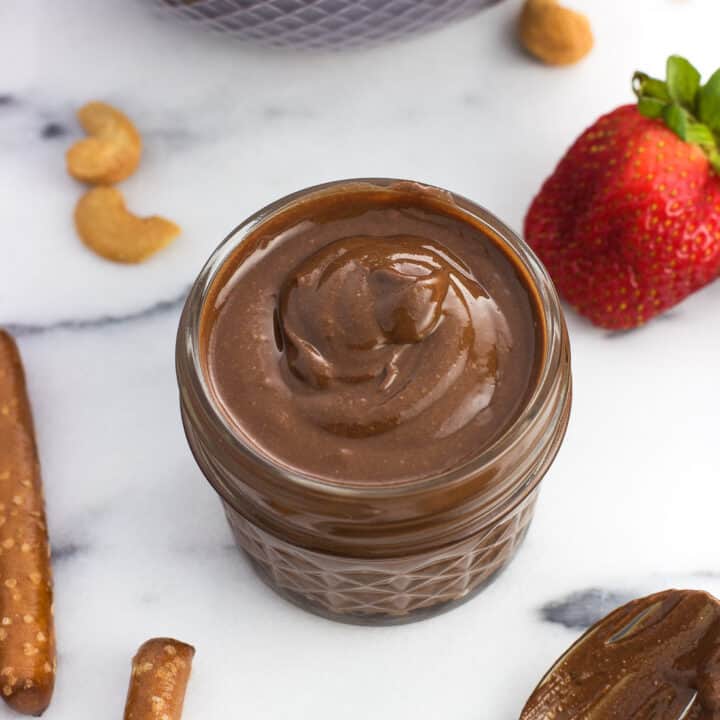 Orange Chocolate Cashew Butter
Orange chocolate cashew butter is made in minutes in the food processor for a creamy and delicious spread with no sugar added. Sub it in for peanut or almond butter in sandwiches, or serve it as a perfect dip for fruit or pretzels!
Print
Pin
Rate
Ingredients
1

cup

cashews,

salted or unsalted

3

tablespoon

unsweetened cocoa powder

¾

teaspoon

orange zest

Pinch of

salt

if using unsalted cashews (optional)

2-3

teaspoon

coconut oil

(optional)
Instructions
Add cashews, cocoa powder, orange zest, and salt (if using) to the bowl of a food processor and process in intervals for several minutes total, or until mixture is smooth and creamy. Stop periodically and scrape down sides with a spatula.

If you like a runnier consistency, add coconut oil a teaspoon at a time and process in until creamy to your liking. Store at room temperature.
Notes
Storing at room temperature prevents the coconut oil from hardening up too much, which it would likely do if refrigerated.
Nutritional info assumes the usage of salted cashews, which affects the sodium level.
Nutrition
Calories:
150
kcal
|
Carbohydrates:
9
g
|
Protein:
4
g
|
Fat:
12.5
g
|
Saturated Fat:
3.6
g
|
Sodium:
147
mg
|
Potassium:
170
mg
|
Fiber:
1.6
g
|
Sugar:
1
g
|
Calcium:
10
mg
|
Iron:
1.8
mg
Nutritional information is provided as an estimate. As it can vary due to many factors (brands used, quantities, etc.), we cannot guarantee its accuracy.
Food Safety and Nutrition Disclaimer
The photos here were updated in May 2018.