Shaved asparagus with bacon vinaigrette is a hearty side dish made with tender, crisp asparagus sections and a warm bacon dressing. It's a different, delicious way to use this spring seasonal vegetable.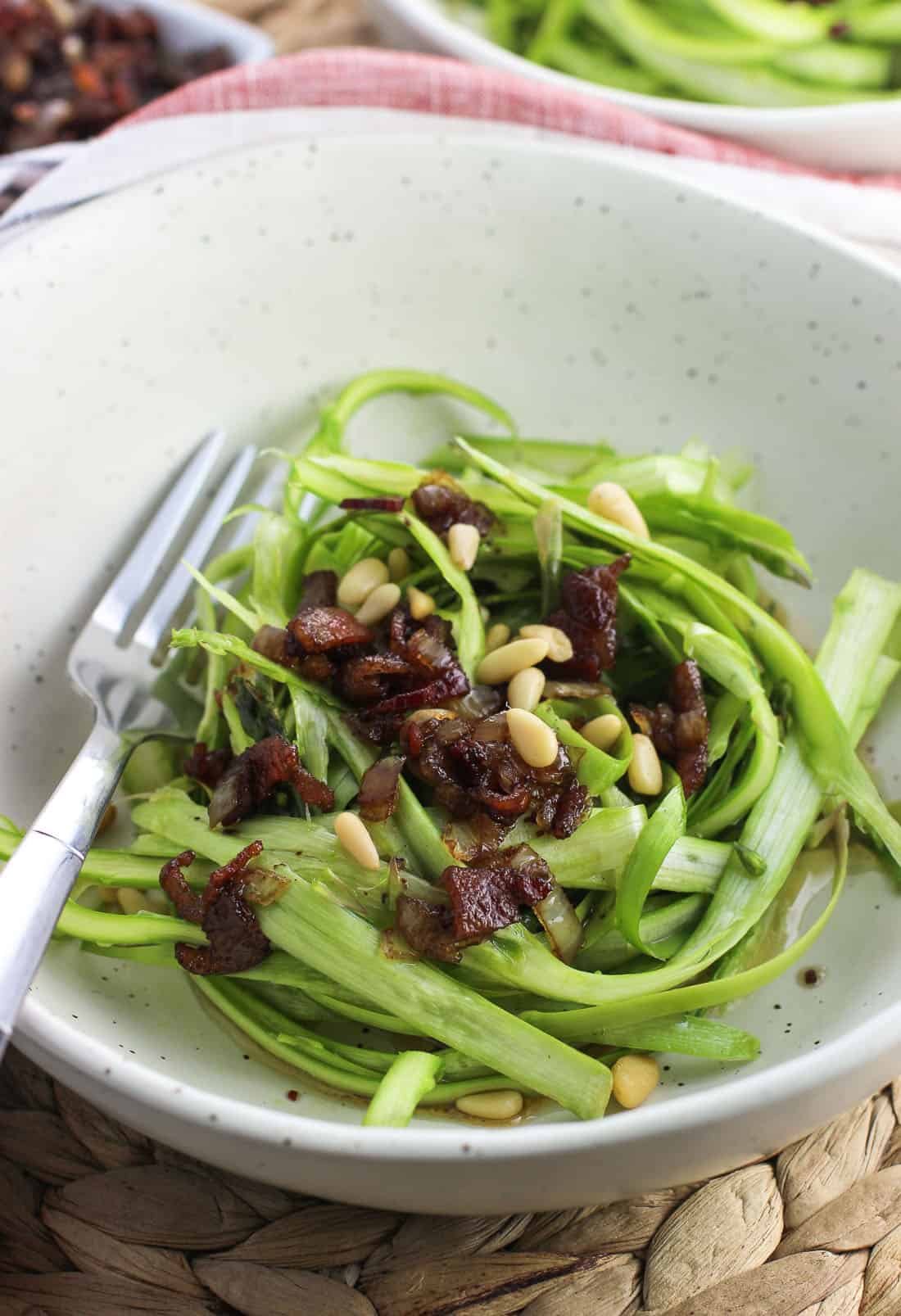 Spring has officially sprung, and I'm using that fact as justification for the upcoming boost in my asparagus consumption.
Not that I need any coaxing to eat asparagus. In fact, far from it! Spicy sauteed asparagus is a household favorite, and prosciutto and asparagus quiche? Yes, please. But after experimenting with serving it raw in this shaved asparagus with bacon vinaigrette recipe, I'm hooked even more on its versatility.
How to shave asparagus
Thinly-shaved (really: peeled using a vegetable peeler) asparagus lets its bright, springy flavor shine through and yields a crispness that isn't stringy or too-chewy at all.
Once you rinse and dry the asparagus spears, place each one lengthwise on the handle of wooden utensil. What kind of utensil isn't important, rather you want a wide enough surface that won't roll around. This extra height makes shaving asparagus even easier as it's lifted up off the cutting board surface. Then go down the length of each spear with a vegetable peeler. Voilà - shaved asparagus. Repeat for the rest of the bunch.
You'll want to buy a bunch of asparagus with the thickest stalks as you can find. This will give you wider "shavings" and cut down on the number of stalks you have to peel. The stalks I managed to get for the batch you see in these pictures weren't very thick (figures), but next time I'll seek out thicker ones.
Bacon vinaigrette
Serving a warm dressing over raw greens may seem a bit unusual, but when bacon, olive oil, balsamic vinegar, and friends are involved, it just works.
I suggest cooking the bacon in a skillet so you can easily get your hands on the drippings, of which a portion are used to cook the onion and garlic and make their way into the vinaigrette. Talk about tasty efficiency.
Technically a vinaigrette consists of a 3:1 ratio of oil to vinegar, so I'm being a little loosey goosey with the term. I've bumped up the ratio to 2:1 oil to vinegar because I wanted the strong flavor of balsamic vinegar to be present.
This bacon vinaigrette totally transforms the idea of eating raw vegetables with a meal and takes it over the top with its rich flavor. The recipe as written below yields about 5 ounces of the vinaigrette, which covered four fairly-large side dish servings. That comes out to about one slice of bacon per serving - not too shabby for this substantial springtime side dish.
Recipe notes
Adding a half-teaspoon of hot sauce more so provides flavor than heat. Add more if you're looking for spiciness.
The toppings you see here are simple: bacon vinaigrette and pine nuts. Feel free to get creative with whatever else you'd like.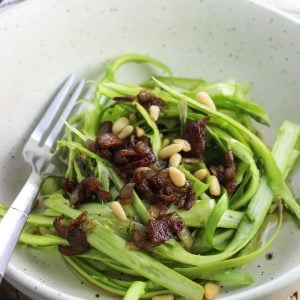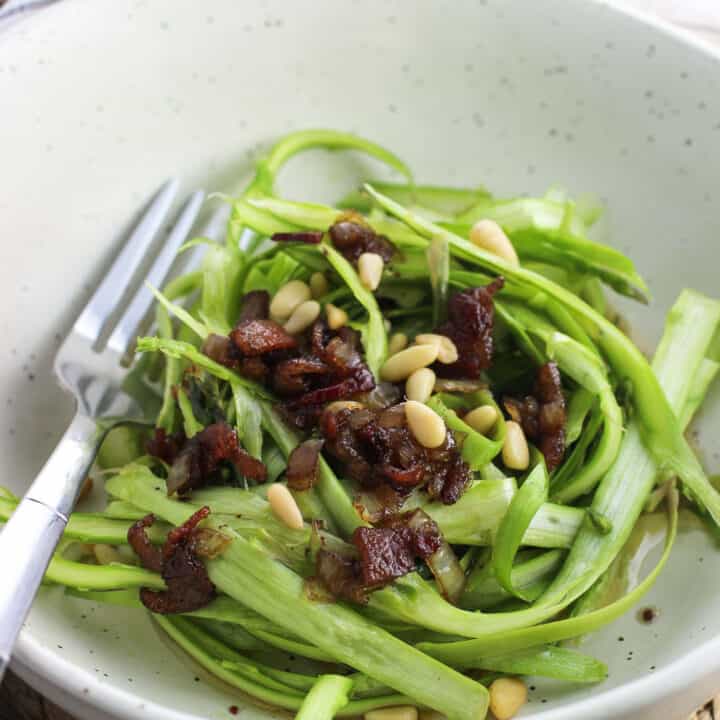 Shaved Asparagus with Bacon Vinaigrette
Shaved asparagus with bacon vinaigrette is a hearty side dish made with tender, crisp asparagus sections and a warm bacon dressing. It's a different, delicious way to use this spring seasonal vegetable.
Ingredients
1

lb

asparagus

4

slices

bacon

2

tablespoon

extra-virgin olive oil

divided

1

small

onion

finely chopped

1

clove

garlic

minced or pressed

2

tablespoon

balsamic vinegar

2

teaspoon

honey

½

teaspoon

hot sauce

more to taste

Salt and pepper

to taste

Pine nuts

for serving (optional)
Instructions
Rinse and shave asparagus using a vegetable peeler. See note below on shaving tips.

Place four strips of bacon next to one another in a skillet, then place skillet on the stovetop set over low heat. Once the edges of the bacon strips begin to curl, flip strips over and cook on the other side for several minutes, or until browned and beginning to crisp.

Remove strips from the skillet and place on a paper towel-lined plate to drain. Pour the drippings into a small bowl. Once the bacon slices have cooled, crumble bacon.

Pour 2 tablespoons of the drippings and 1 tablespoon of the olive oil into the skillet and set it over medium heat. Once heated, add chopped onion and minced garlic. Move onion and garlic around the skillet and cook until onion is golden, 3-4 minutes.

Once golden, remove skillet from heat. Add remaining 1 tablespoon olive oil, balsamic vinegar, honey, and hot sauce and whisk to combine. Add crumbled bacon to the skillet and stir. Season to taste with salt and pepper. Place skillet back on the stovetop over low heat for a few minutes to thicken slightly, or to your liking.

To serve, portion out shaved asparagus and pour warm bacon vinaigrette over top. Sprinkle pine nuts over top, if you like.
Notes
Shaving tip: To make shaving the asparagus easier, you can place each stalk on the handle of a wooden utensil lengthwise so that it's raised up off the cutting board. Then run your vegetable peeler down the length of the stalk and place the shavings in a bowl.
Bacon vinaigrette adapted from MyRecipes