Rosemary and Italian sausage tomato sauce is a thick and slightly spicy homemade tomato sauce with a ton of flavor coming from a few special steps along the way. This recipe yields enough sauce to enjoy now and freeze batches for later!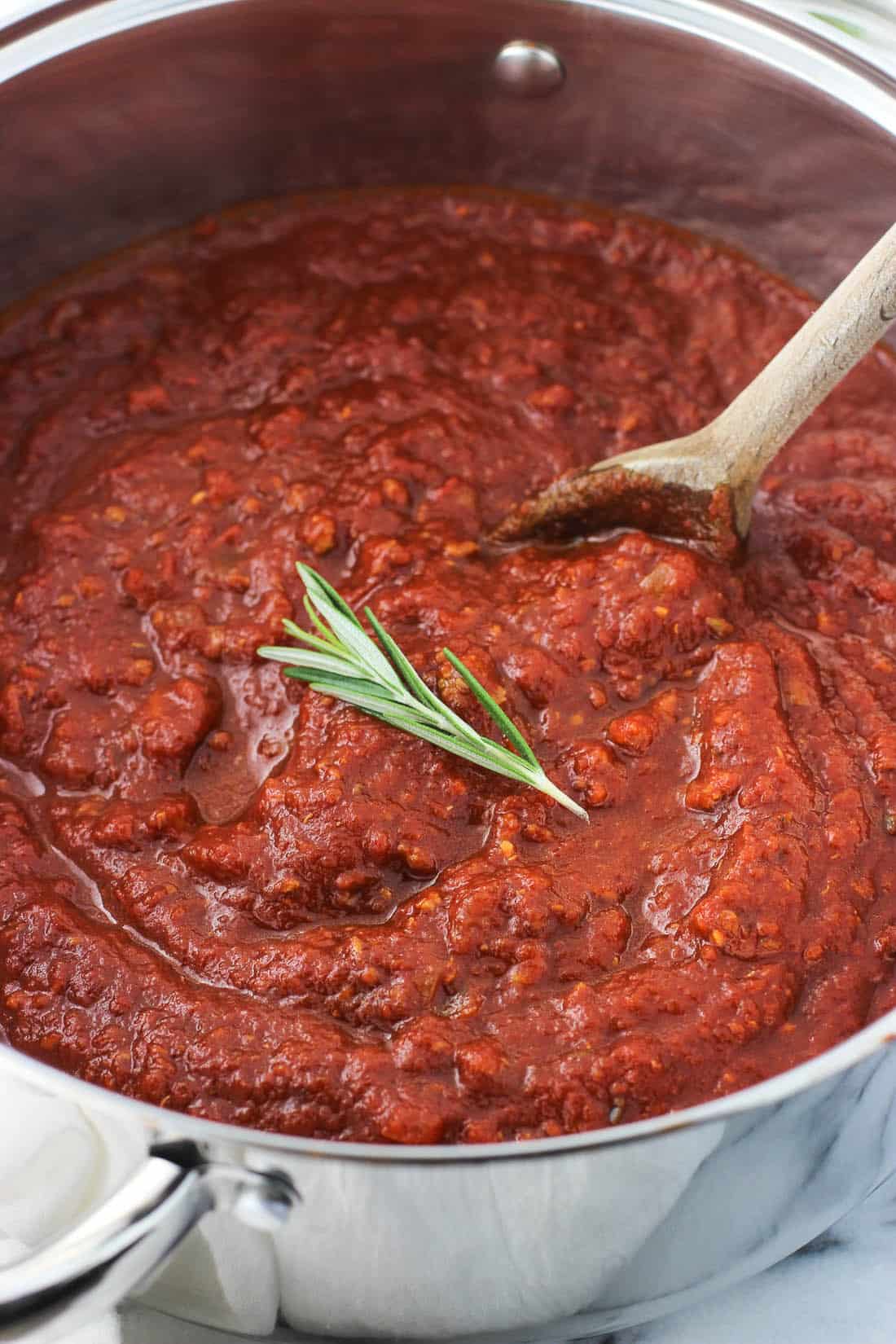 One of my very favorite ways to feel efficient in the kitchen is to cook up a big batch of something and put portions right in the freezer. Homemade tomato sauce works perfectly for this purpose, and this rosemary and Italian sausage tomato sauce is no different.
My go-to sauce recipe is, hands-down, Sunday sauce. The sauce has simple prep, includes both meatballs and Italian sausages, and can feed a crowd. It's not a quick dish by any means, but it's ultra hearty and our beloved family recipe.
Sometimes though...sometimes I like to switch it up. Changing up some ingredients and messing with the technique a bit keeps things interesting, which is exactly what resulted in this Italian sausage tomato sauce. It's a richly flavored, chunky, and satisfying homemade sauce recipe that becomes the shining star of pasta dishes or even in place of pizza sauce!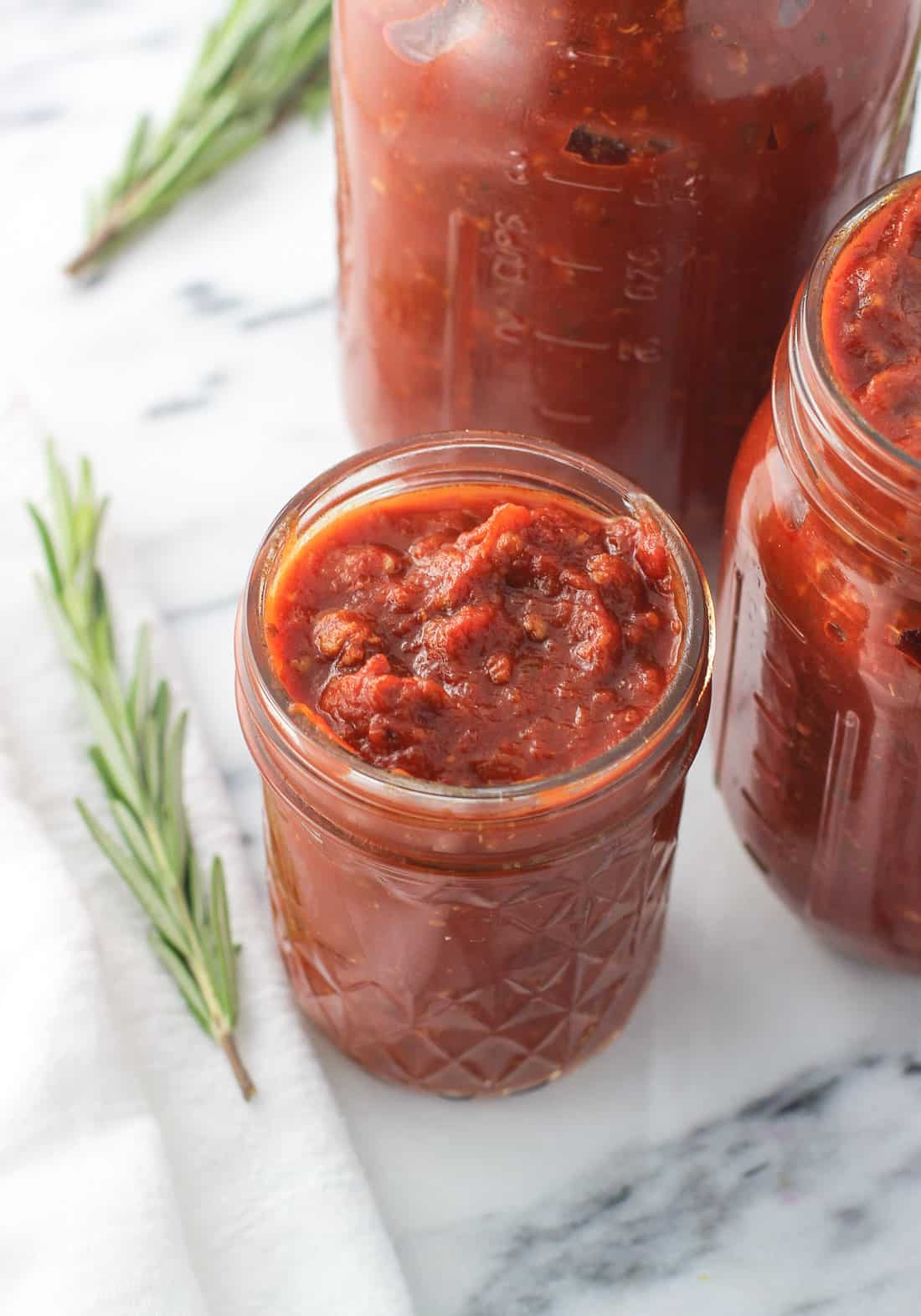 Recipe ingredients
For one thing, this recipe is the first time I've ever not added basil to a pot of homemade sauce. I was going back and forth between adding both rosemary and basil or just rosemary, and decided to stick with fresh rosemary sprigs and WOW!
It adds a wonderful, bright flavor that complements the other sauce flavors so well. I didn't even miss the basil, and that's something I didn't think I'd ever say.
Instead of adding whole meatballs and/or sausage to the otherwise marinara sauce, a full package of sausage is browned, crumbled, and worked into the sauce for a thick consistency with meat in every bite.
Hot Italian sausage is usually my pick here as I love the bit of spice it brings, but of course you can always use sweet (mild) Italian sausage if you're not into much spice. Either a 16- or 20-oz package of sausage will work.
Tips and tricks
This rosemary and Italian sausage tomato sauce begins by cooking the meat and sautéing onion and garlic in olive oil. Then it comes time for the tomato paste.
Add the tomato paste to the pan with the onion/garlic mixture and let it heat for a few minutes before continuing with the recipe. Stir/chop at it with a wooden spoon to break it up and mix it in with the onion and garlic the best you can. This couple of minutes of cook time allows the tomato paste flavor to deepen and the sugars to almost caramelize. It makes a difference in recipes that feature a tomato sauce element, like Italian sausage and peppers.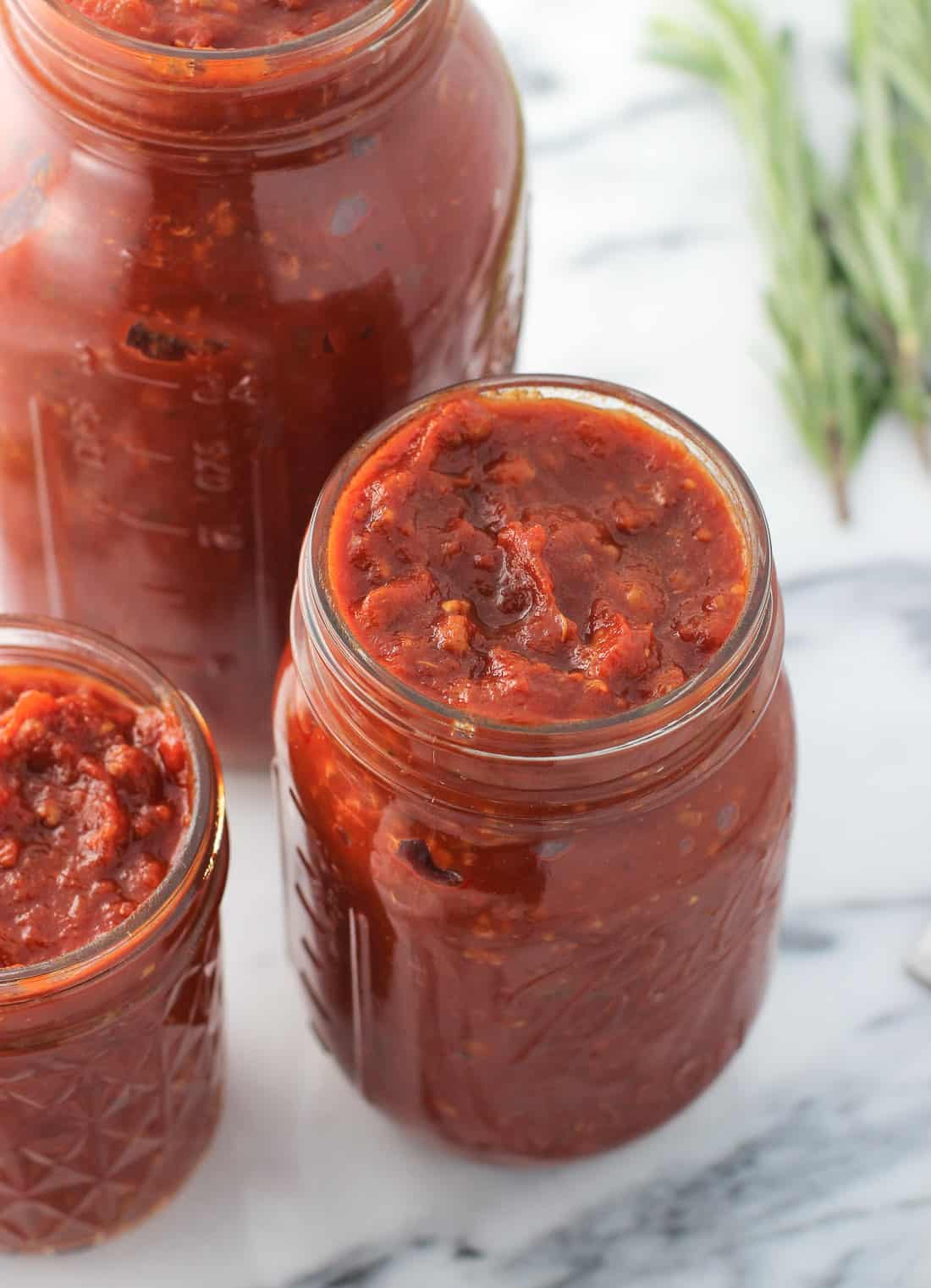 Then we're going to deglaze the pan with red wine, which lifts up any of the browned pieces of onion or garlic that are stuck on the bottom of the pan and makes sure they're incorporated into the sauce. This way you won't miss out on any bits of flavor in the sauce.
Next in go the crushed tomatoes, a pinch of allspice and salt, and the rosemary. All that's left is to simmer, simmer, simmer.
I suggest letting the sauce simmer for at least a half hour before serving, but if you've got the time, you can keep it going for a few hours. For one, the aroma in your house will be phenomenal, and the flavors will have the chance to meld even more. Just be sure to stir it periodically to ensure the sauce on the bottom of the pot doesn't burn.
This tomato sauce coats pasta beautifully and isn't watery at all. Last week I used some as pizza sauce and it took standard homemade pizza to the next level. Next up I already have my eye on a few of my freezer containers for upcoming pasta bakes.
Related recipes
Another step away from my classic sauce recipe is spaghetti squash bolognese. It features bold, hearty meat sauce flavors all served over spaghetti squash to keep things on the lighter side. This post includes both oven and Instant Pot instructions for cooking spaghetti squash.
And to REALLY switch things up (said jokingly, as apparently meat and red sauce is a pillar category on this site!), smoked sausage shakes up a hot and spicy classic in this smoked sausage pasta fra diavolo. Pork, turkey, or chicken sausage all works great here.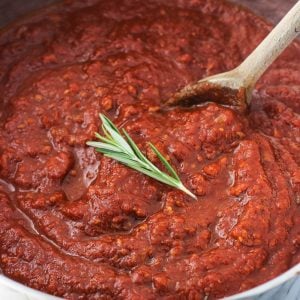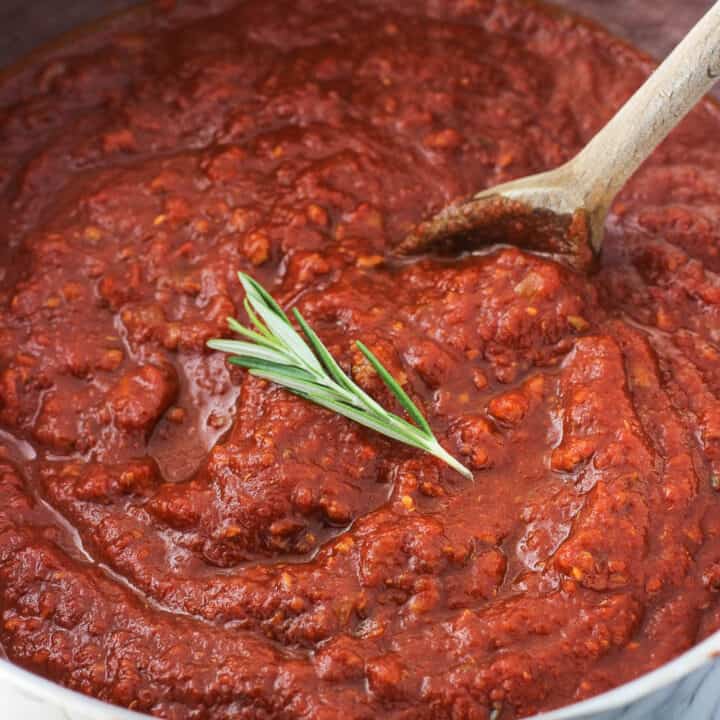 Rosemary and Italian Sausage Tomato Sauce
Rosemary and Italian sausage tomato sauce is a thick and slightly spicy homemade tomato sauce with a ton of flavor coming from a few special steps along the way. This recipe yields enough sauce to enjoy now and freeze batches for later!
Print
Pin
Rate
Ingredients
1

20-oz pkg

Italian sausage

(1.25 lbs) hot or mild

3

tablespoon

olive oil

1

large onion,

diced

3

cloves

garlic,

minced or pressed

1

6-oz can

tomato paste

⅓

cup

red wine

2

28-oz cans

crushed tomatoes

Pinch of

ground allspice

1

teaspoon

chopped fresh rosemary sprigs
Instructions
Set a large saucepan over medium heat. Remove sausages from their casings (if not using ground sausage) and add to the saucepan. Break the meat up into smaller pieces using a wooden spoon or spatula.

Cook until the sausage is in small crumbles and fully browned. As it cooks, it will be easier to break up the pieces into smaller bits.

Once fully cooked, remove sausage crumbles to a plate lined with a paper towel to absorb the fat. Set aside.

Discard fat from the saucepan, and put the pan back on the stove. Add olive oil and heat over medium heat.

Add onion to saucepan and cook until soft and just beginning to brown. Add garlic and continue to cook for another few minutes.

Add tomato paste to the pan with the onion and garlic and stir to break up the paste. Let cook for a few minutes, stirring frequently to prevent any parts from becoming too brown.

Pour wine into the pan and scrape up the pieces of food stuck to the bottom of the pan and continue stirring until everything is combined.

Reduce heat to low and add sausage, crushed tomatoes, allspice, and rosemary and stir everything together. Let sauce simmer for at least a half hour, stirring up from the bottom every now and then so the sauce on the bottom of the pan does not burn. Serve over pasta or use in place of tomato sauce in your favorite recipes.
Notes
Time: Cook time includes a half hour for the sauce to simmer. The sauce can certainly simmer for longer if you like! Sausage varieties: This recipe will work with either pork or turkey sausage. A 16-oz package (one pound) will also work just fine. Yield: This recipe yields approximately 60 oz of sauce in total.
Nutrition
Serving:
4
oz
|
Calories:
149
kcal
|
Carbohydrates:
11.8
g
|
Protein:
5.8
g
|
Fat:
8.8
g
|
Saturated Fat:
2.5
g
|
Cholesterol:
14
mg
|
Sodium:
353
mg
|
Potassium:
181
mg
|
Fiber:
4
g
|
Sugar:
7.7
g
|
Calcium:
50
mg
|
Iron:
2.2
mg
Nutritional information is provided as an estimate. As it can vary due to many factors (brands used, quantities, etc.), we cannot guarantee its accuracy.
Food Safety and Nutrition Disclaimer