Crustless zucchini quiche is a quicker and easier quiche recipe for a satisfying breakfast or anytime meal. This one-bowl quiche uses Bisquick for structure so no pie crust is needed! It's so easy to mix and match veggies, cheese, or leftover meat.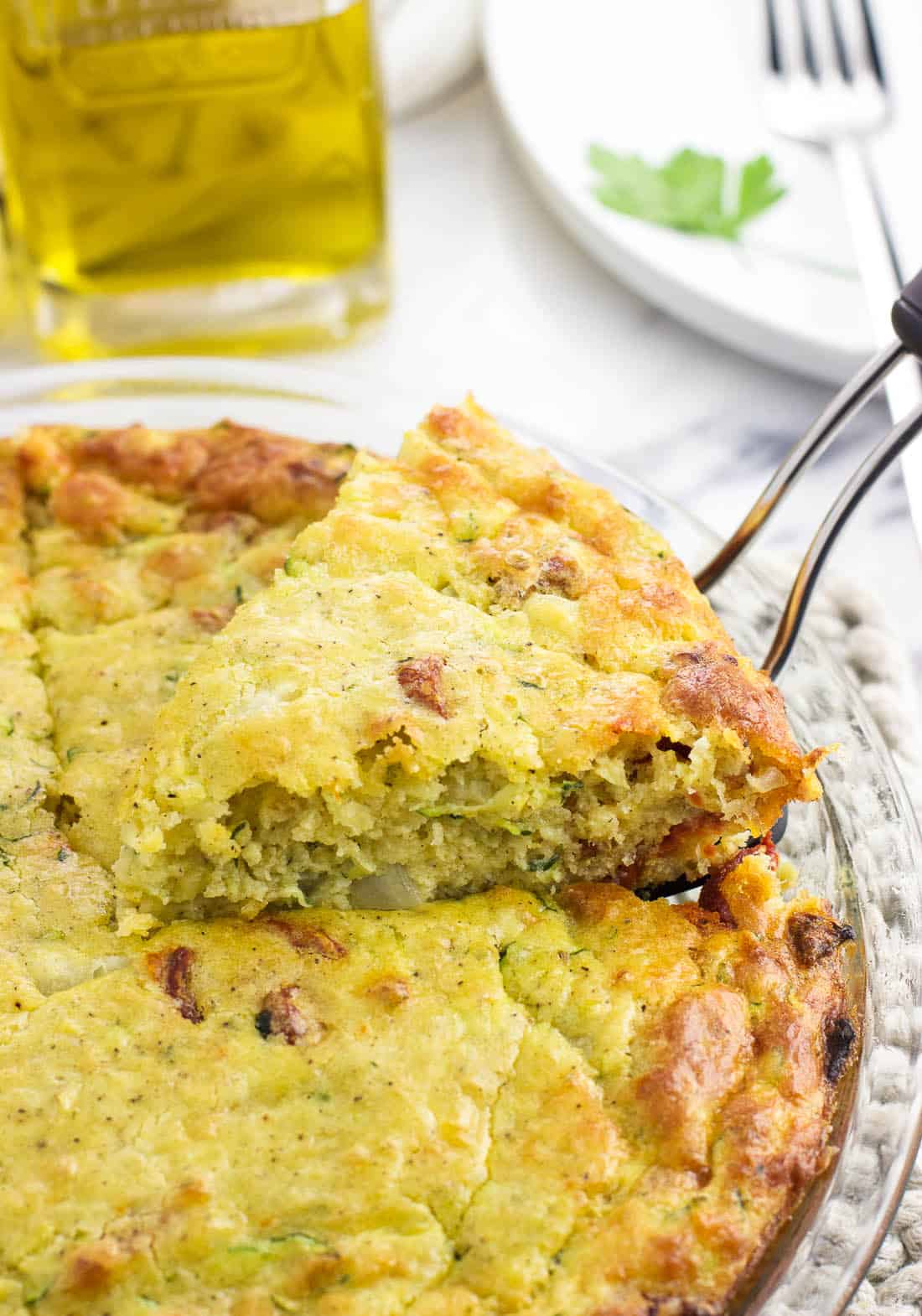 Say hello to what's been my breakfast every day for the past few weeks. Crustless zucchini quiche!
As a savory breakfast lover, eggs of any sort are welcome news in the morning. Especially so when you can easily combine leftover this-and-that ingredients in a one bowl recipe. Bonus points because it's a cook once, eat multiple times kind of dish. That means there's no need to wash out a pan for scrambling eggs every morning.
Yessssssss.
Nine times out of ten when I make a quiche, it's crustless. While I would certainly never turn down quiche with a traditional pie crust when I'm out to eat, it's just easier to make it crustless at home, you know? Bisquick is added in with all of the ingredients to provide the right amount of leavening and structure, allowing this crustless zucchini quiche to be easily sliced and served without a pie crust.
Adding that to the fact that just one mixing bowl is required to mix all of the ingredients, this quiche is a totally delicious time-saver.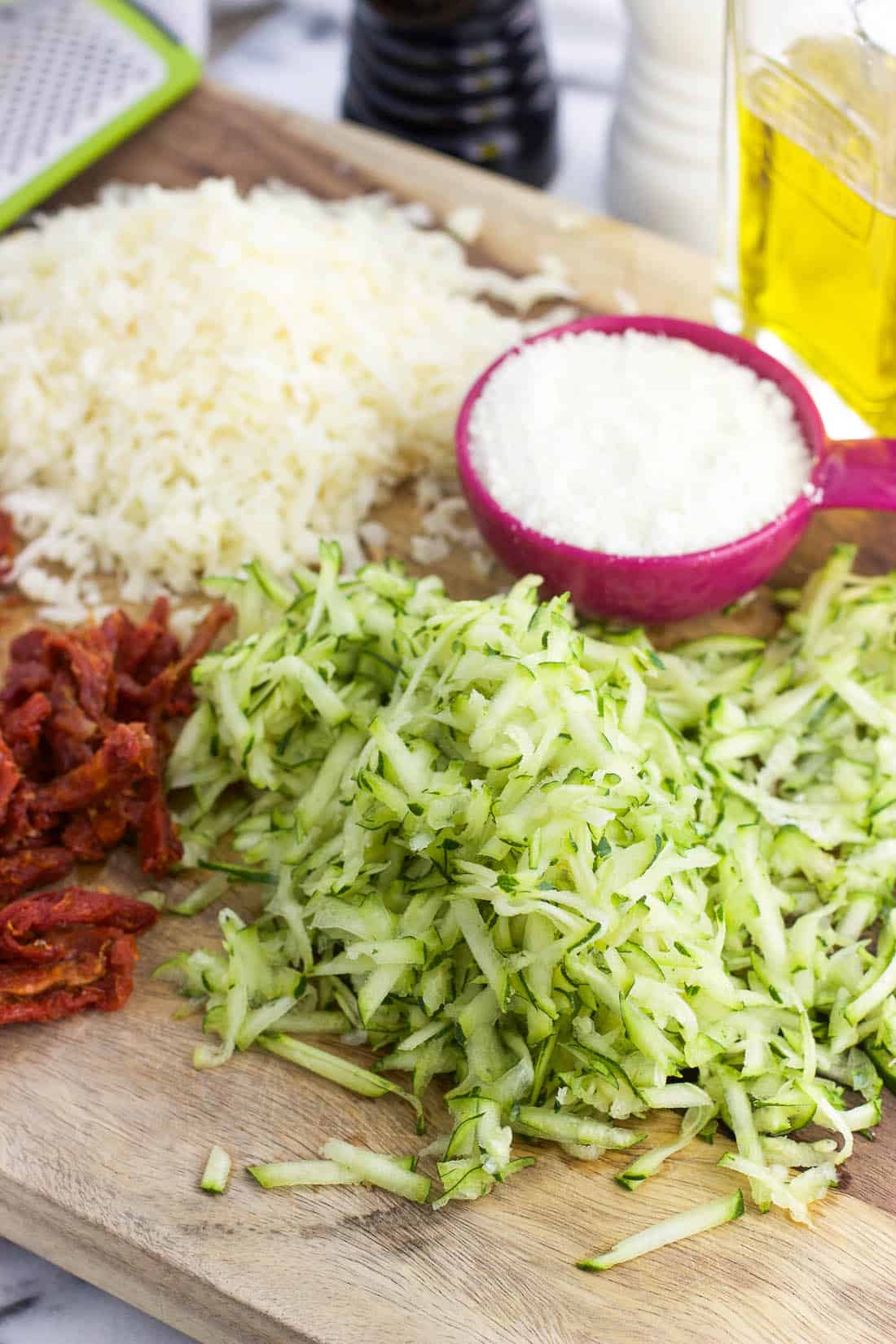 Recipe ingredients
The quiche ingredients here are nothing fancy, including eggs, shredded zucchini, Bisquick, oil, diced onion, and spices at its base.
In the interest of including as much info as possible, I weighed the zucchini I used to make the specific crustless zucchini quiche you see in these pictures. It was eight ounces.
Since sometimes food blogging makes you feel like you live in crazy town with taking food measurements the standard home cook wouldn't, you don't have to weigh your zucchini (I haven't the other times I've made this). Just pick a large one or two small ones and you're good!
Much like how I make balsamic meatloaf with sauteed vegetables, I grate the zucchini to add a TON of moisture. While you definitely see the zucchini shreds, you won't be biting into any huge zucchini chunks, if that's the kind of thing someone in your crowd is concerned about. It goes fairly unnoticeable when all is said and done.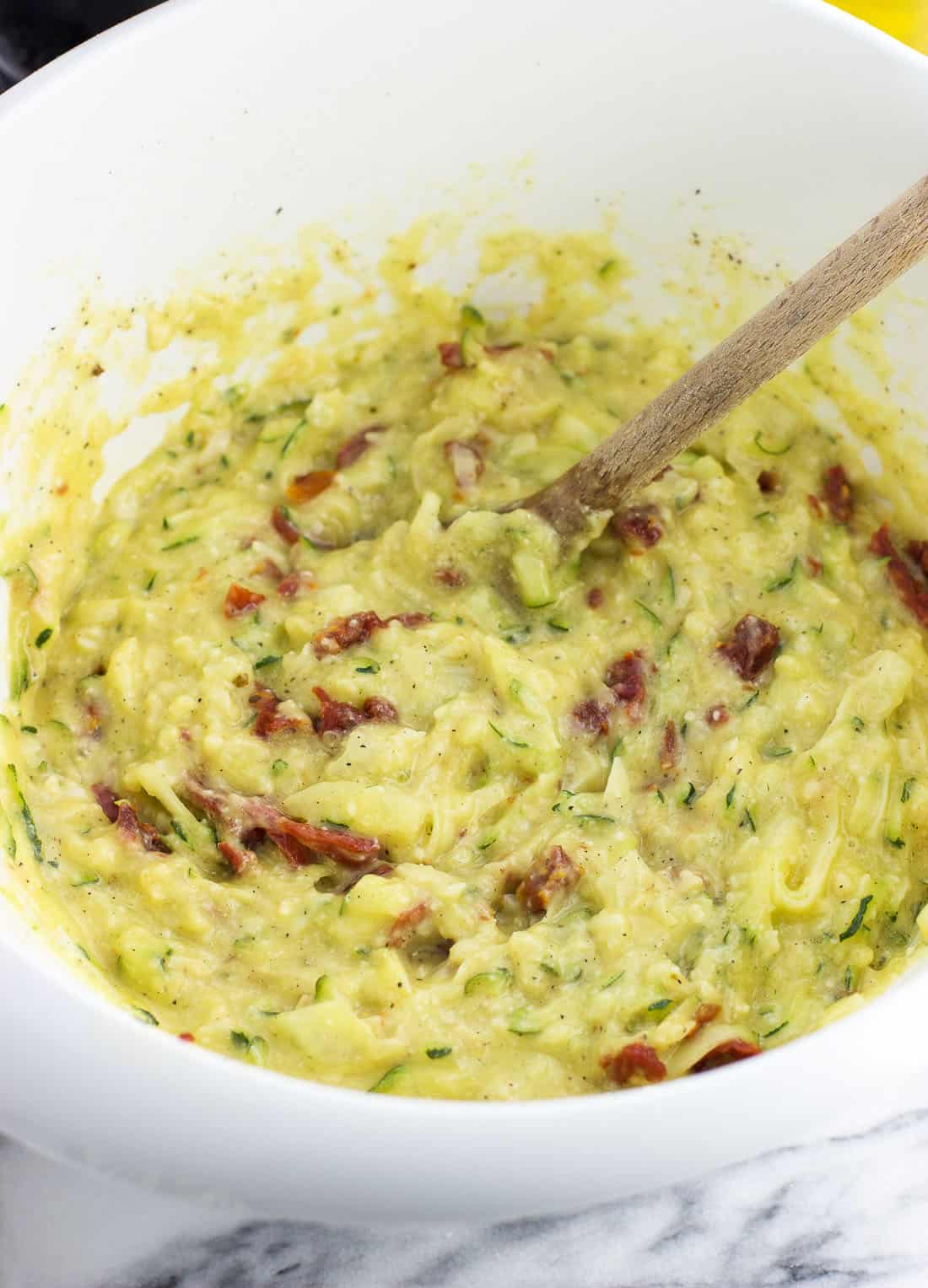 As for the Bisquick, I'm partial to using the Heart Smart variety, but the regular kind will work, too. I personally don't have experience with gluten-free Bisquick, so I can't say for sure how it would work here. I'd expect it would be fine, though, as this quiche isn't a very finicky recipe.
Now it's time for the customizable ingredients. Since eggs and zucchini aren't exactly flavor powerhouses, I wanted to pick bold ingredients to liven up this quiche. Sun-dried tomatoes are a fan favorite in my house, so in they went. I buy sun-dried tomatoes that have been packed in oil and blot them with a paper towel before roughly chopping and throwing them in.
I recommend the oil-packed tomatoes versus the dried ones, but the dry ones can be used as well if that's what you have on hand. Just rehydrate them before using so they aren't dry dry.
That's all to say, you don't have to use sun-dried tomatoes at all if you prefer not to. Fresh sliced cherry or grape tomatoes are also delicious, as are a whole host of vegetables. Below are some suggestions for mixing and matching flavors.
Flavor variations
Sauteed vegetables: asparagus, mushrooms, bell peppers, broccoli florets, leeks
Cheese: smoked mozzarella, gouda, swiss, Gruyere, Asiago, pepper jack, sharp cheddar
Cooked meat: bacon, sausage, prosciutto, diced ham, salami
While I didn't add meat to the quiche photographed in this post, I play fast and loose with this recipe often and have thrown in leftover cooked meat when we have it, usually around half a cup.
I'm a big fan of smoked cheese, with my #1 love holding strong as smoked gouda. Smoked gouda and I have been friends for a long time - check out this smoked gouda dip I devour. On this occasion I impulse bought smoked mozzarella and WOW. It adds a mellow smokiness to this crustless zucchini quiche that plays so well with the other flavors. It's an easy way to make this simple quiche feel more "gourmet".
No matter what type of shredded cheese I add, I always include grated Parmesan or Pecorino Romano. If you're looking to get into fancy cheese experimentation, I've noticed that one of the big chain grocery stores near me has a section in their cheese department of smaller portions of cheese, which is great for using in one or two recipes (and less $$). A smaller wedge would be perfect here.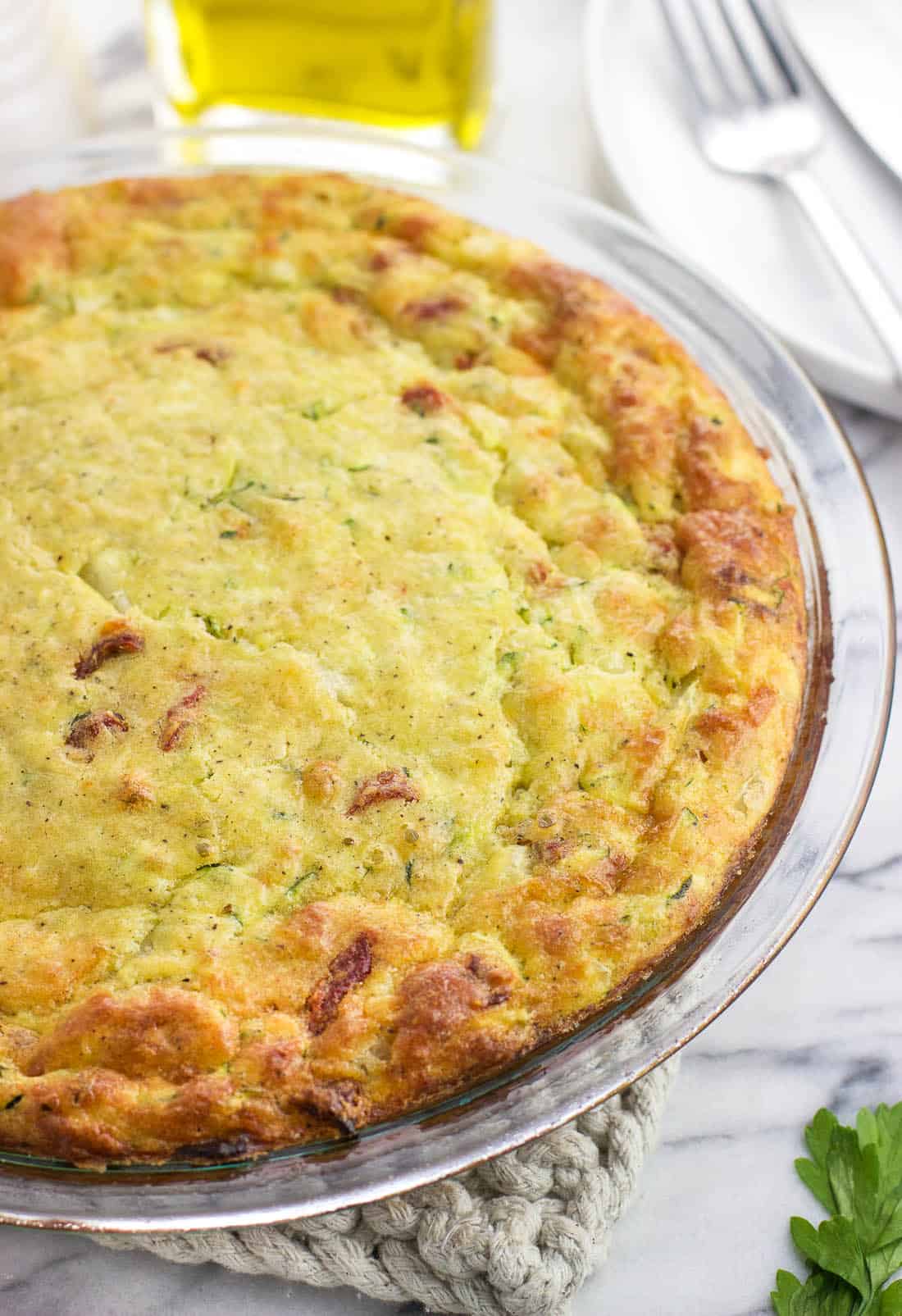 Step-by-step instructions
The most time-intensive part of this recipe (besides the bake time) is prepping your ingredients: shredding the zucchini, dicing the onion, grating the cheese, and prepping your vegetable/meat add-ins.
The rest of the recipe can be boiled down to mixing together the rest of the ingredients and pouring into a pie plate.
While it's not a make-or-break step, I recommend adding the eggs to your mixing bowl first and whisking them before adding the rest of the ingredients. It just makes it easier to make sure they're whisked enough without the other stuff getting in the way.
Once poured into a greased 9" pie plate, bake for 35-40 minutes, or until the top and very center of the quiche is set and the edges are a deep golden. It will puff up some as it bakes, but will come back down as it cools.
For cleaner slices, let the quiche cool slightly in the pie plate before slicing and serving. When it comes to pie or pie-shaped foods like quiche, this flexible pie server (affiliate link) is the best. It can really work its way underneath whatever you're slicing, and the wedge-shaped head doesn't interfere with the neighboring slices. Well worth it (IMO).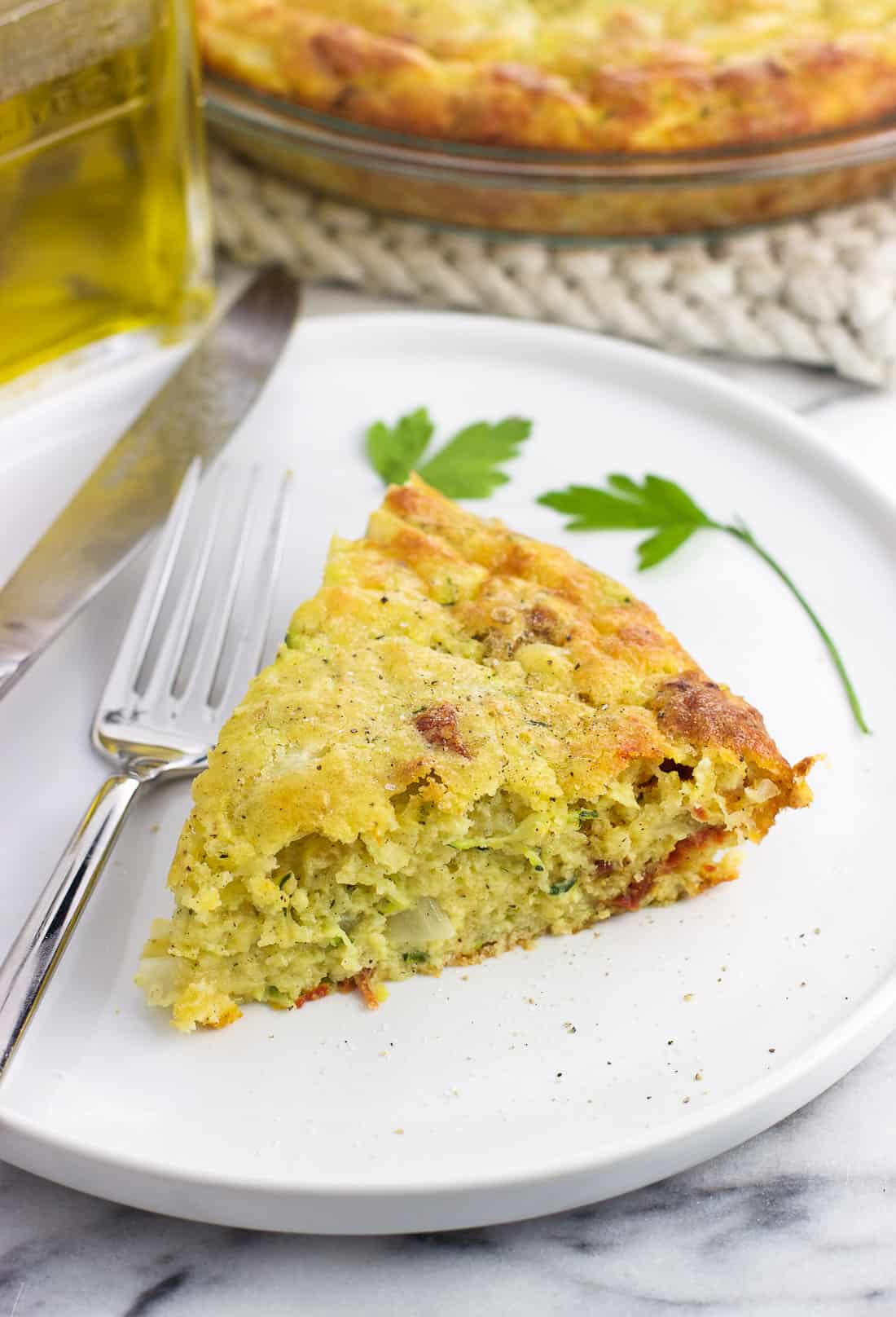 Related recipes
If you're looking for more Bisquick recipes that aren't pancakes/waffles, you might be interested in these Bisquick chocolate chip cookies. They totally hit the spot if you're out of flour or leavening ingredients, or just want a shortcut.
On the occasions when I do make a quiche with a pie crust, I use the recipe here for this prosciutto and asparagus quiche. This 100% butter crust is beautifully flaky.
Recipe notes
Use your preferred Bisquick variety here. I haven't personally tried this quiche with the gluten-free variety, but I would imagine it would work fine.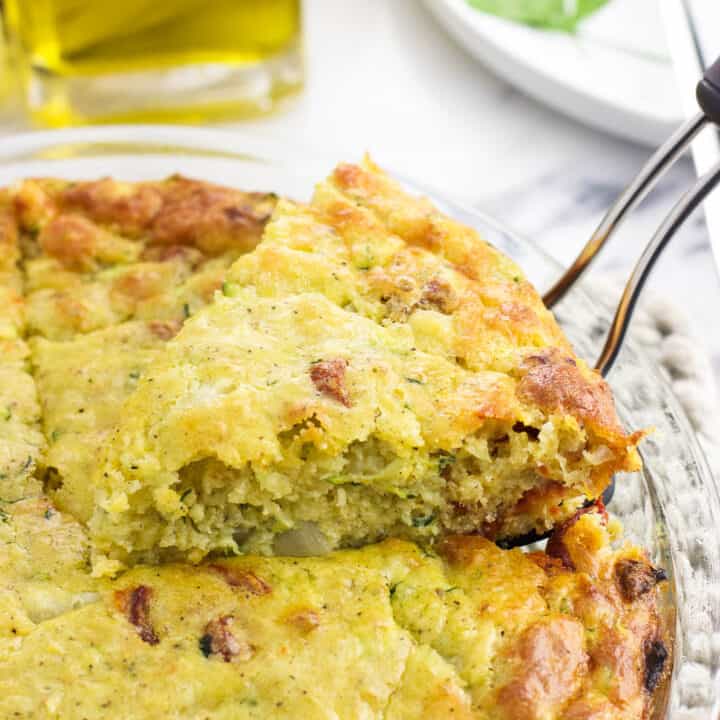 Crustless Zucchini Quiche
Crustless zucchini quiche is a quicker and easier quiche recipe for a satisfying breakfast or anytime meal. This one-bowl quiche uses Bisquick for structure so no pie crust is needed! It's so easy to mix and match veggies, cheese, or leftover meat.
Print
Pin
Rate
Ingredients
5

eggs

1

cup

Bisquick

1

large

zucchini,

grated (8 oz total)

1 ¼

cups

shredded cheese

(about 4 oz) your favorite

⅔

cup

diced onion

½

cup

olive oil

or neutral-tasting oil of your choice

½

cup

grated Parmesan

or Pecorino Romano

1

teaspoon

garlic powder

¾

teaspoon

salt

¾

teaspoon

ground black pepper
Optional Add-ins:
½

cup

sauteed vegetables

such as asparagus, mushrooms, bell peppers

½

cup

cooked meat

such as bacon, sausage, diced ham, salami

¼

cup

sun-dried tomatoes

patted dry (if oil-packed) and roughly chopped
Instructions
Preheat oven to 350°F. Spray a 9" pie plate with cooking spray and set aside.

Add eggs to a large mixing bowl and whisk until creamy. Add Bisquick, shredded zucchini, shredded cheese, onion, oil, Parmesan, garlic powder, salt, and pepper and stir to combine.

If using sun-dried tomatoes, blot well to remove excess oil and give them a rough chop. Add to the bowl along with any other vegetables or cooked meat, if using, and stir to evenly disperse.

Pour out the quiche mixture into the prepared pie plate and bake for 35-40 minutes, or until the top is set and the edges are golden-brown. Let cool in the pie plate slightly before slicing and serving.
Notes
Cheese: While many varieties would work well here, I'm especially partial to smoked mozzarella.
Nutrition
Calories:
336
kcal
|
Carbohydrates:
15
g
|
Protein:
11
g
|
Fat:
26
g
|
Saturated Fat:
7.6
g
|
Cholesterol:
124
mg
|
Sodium:
830
mg
|
Potassium:
172
mg
|
Fiber:
2
g
|
Sugar:
4
g
|
Calcium:
210
mg
|
Iron:
1.6
mg
Nutritional information is provided as an estimate. As it can vary due to many factors (brands used, quantities, etc.), we cannot guarantee its accuracy.
Food Safety and Nutrition Disclaimer
Recipe adapted from Genius Kitchen