Revamp a classic with these cranberry almond matcha macaroons! Traditional coconut macaroons are flavored with matcha (green tea) powder, dried cranberries, and almonds. The flavors mix so well together, and with their red and green coloring they're festive for the holidays, too!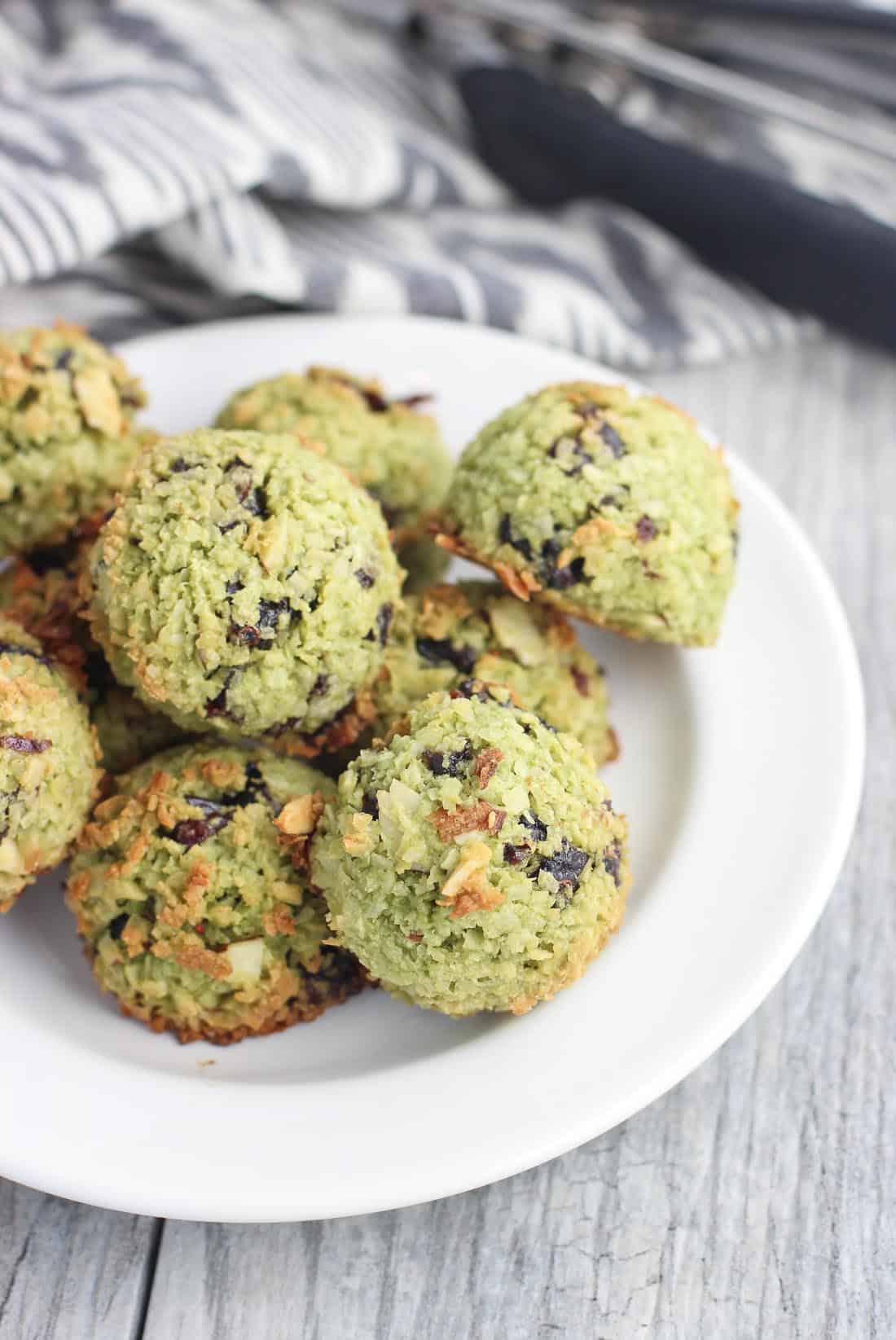 Matcha. Am I the last one on that train? If not, matcha is a finely-ground green tea powder that maybe sort of kills it in matcha lattes and other tea drinks and tea-flavored foods. It's really good!
My 2015 resolution was to cut down on my coffee consumption, which I have to say I did with resounding success. After a few months of sticking to it however, I'll admit that tea started sneaking in. I first replaced my second morning cup of coffee with a big mug of herbal tea, and then branched into other tea blends (a super sale on Yogi will do that to you). After realizing my latest favorite had just about the same amount of caffeine as a cup of coffee, I fully embraced my newfound interest in tea. WITH or without caffeine. Because let's call a spade as spade, right? 90 mg of caffeine is the same boost whether it in coffee or tea form.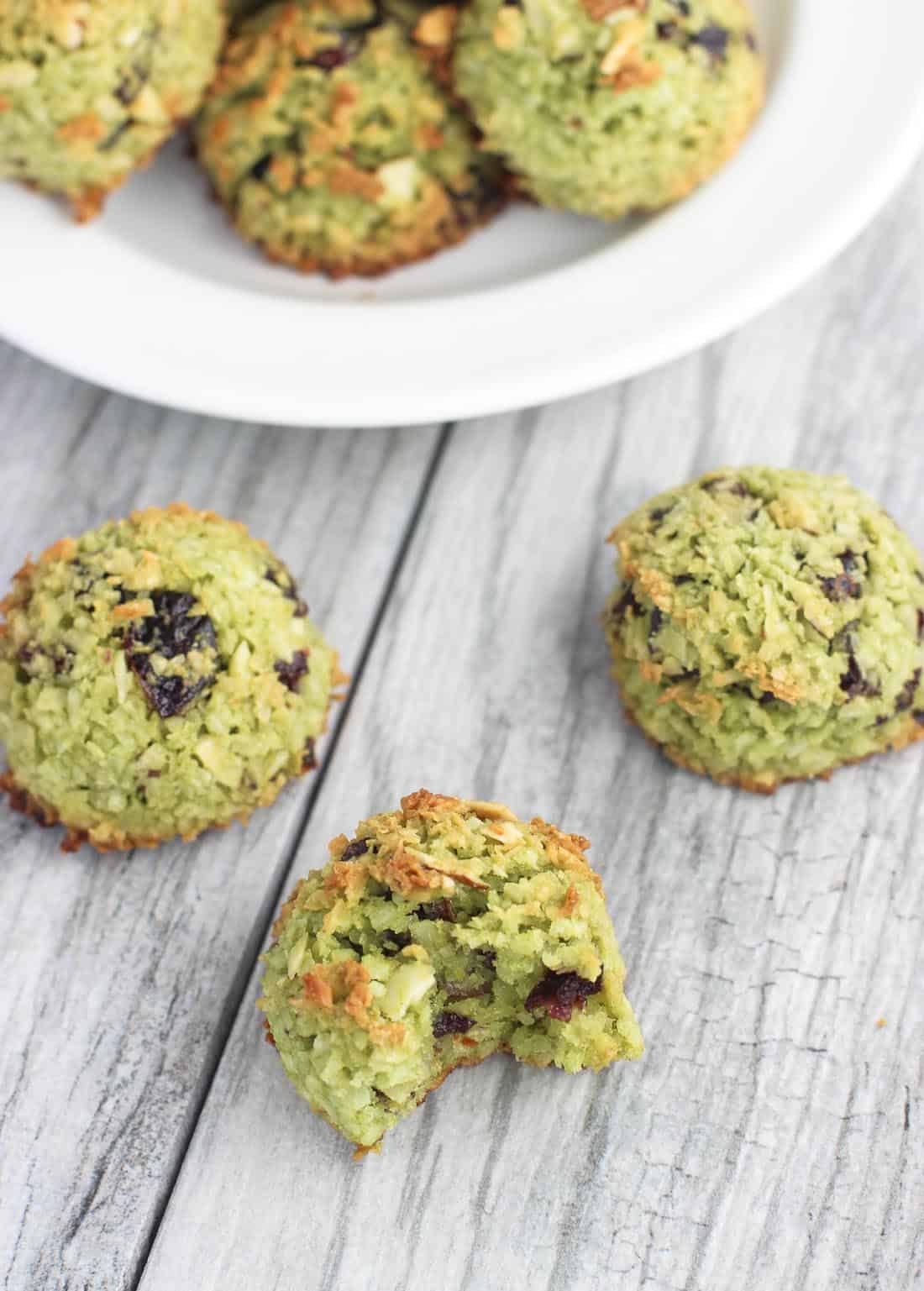 But anyway, I've been nurturing my love for tea in this year of pseudo-reducing my caffeine intake and after hearing about matcha for so long, it was time to take the plunge. I'm a green tea fan in general, so matcha was right up my alley. I'm also a coconut macaroon fan, so combining the two was a no-brainer. As expected, these matcha macaroons certainly did not disappoint.
Matcha is a deep, rich green tea powder that brings depth to desserts in an awesome way. It's on the front line of flavors you taste when you bite into one of these macaroons, but soon the coconut and smidge of almond extract join in. Biting into a piece of dried cranberry brings a tart and sweet flavor and the almond adds some crunch. There are several flavors going on here, but they're balanced enough that they're not competing with one another. Perfect complements!
I think matcha will be an all-year-round treat for me in baked goods, but with the green tint to the macaroons with the red cranberries and white almonds, what better cookie for the holiday season? As if I need another excuse to make a fourth second batch. 😉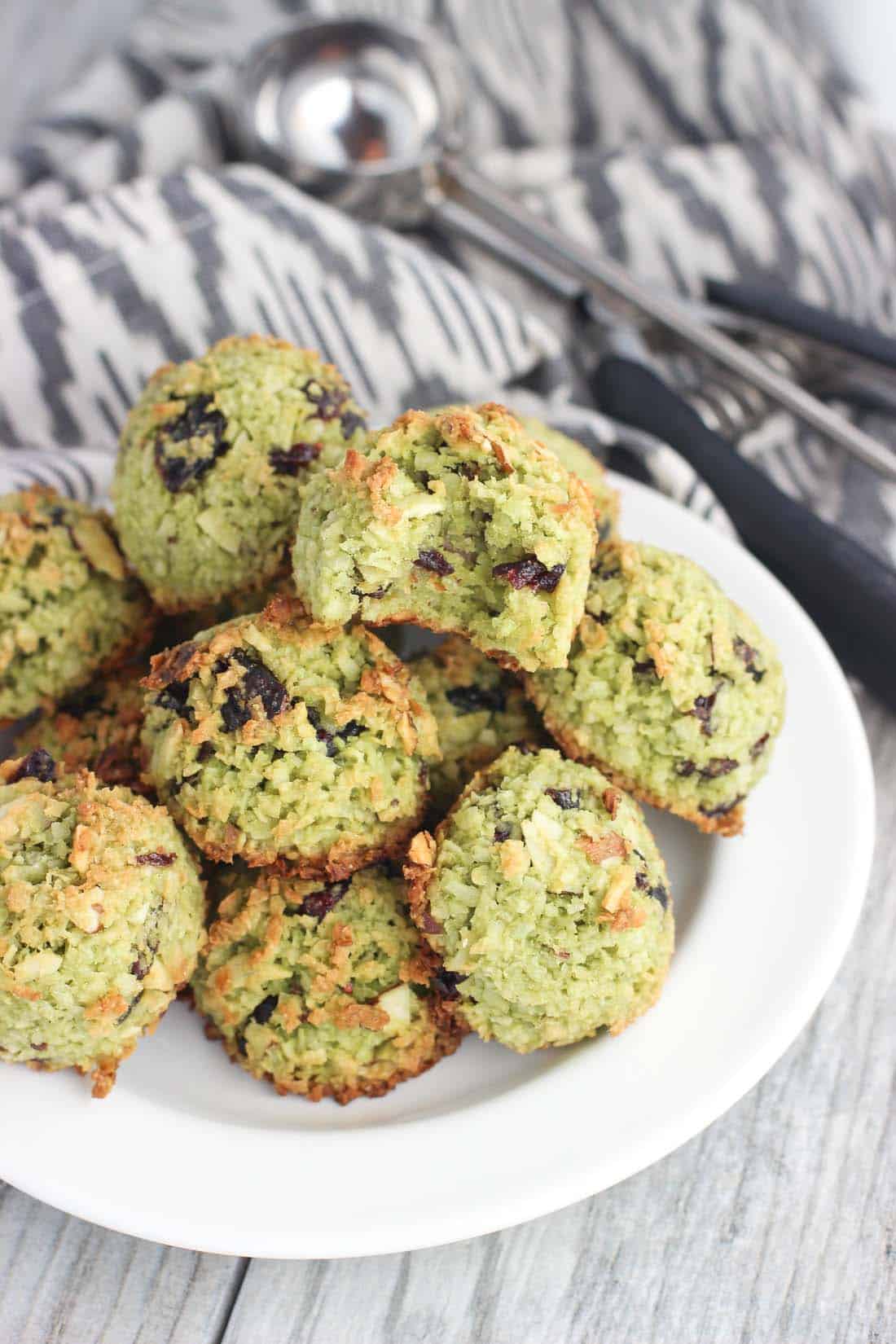 Cranberry Almond Matcha Macaroons
Ingredients
7 oz. shredded sweetened coconut (about 2 1/4 cups)
1/4 cup granulated sugar
2 tsp matcha powder
1/8 tsp salt
2 large egg whites
1/4 tsp almond extract
1/2 cup dried cranberries, chopped
1/4 cup sliced almonds, chopped
Instructions
Preheat oven to 325 degrees F and line a baking sheet with parchment paper.
In the bowl of a food processor, add shredded coconut and pulse until it resembles small, flaky pieces. Add sugar, matcha, and salt and pulse to combine.
Add egg whites and almond extract and pulse until the mixture is about evenly combined. Transfer mixture to a bowl.
Stir in chopped dried cranberries and chopped almonds. Using a 1 1/2" cookie scoop, tightly pack each cookie into the scoop and place about 1 1/2" apart on baking sheet. The macaroons won't spread very much at all.
Bake for 24-30 minutes, or until the bottom edges and tops of macaroons are golden brown. Remove and let cool on the sheet for about ten minutes before transferring to a wire rack to cool completely.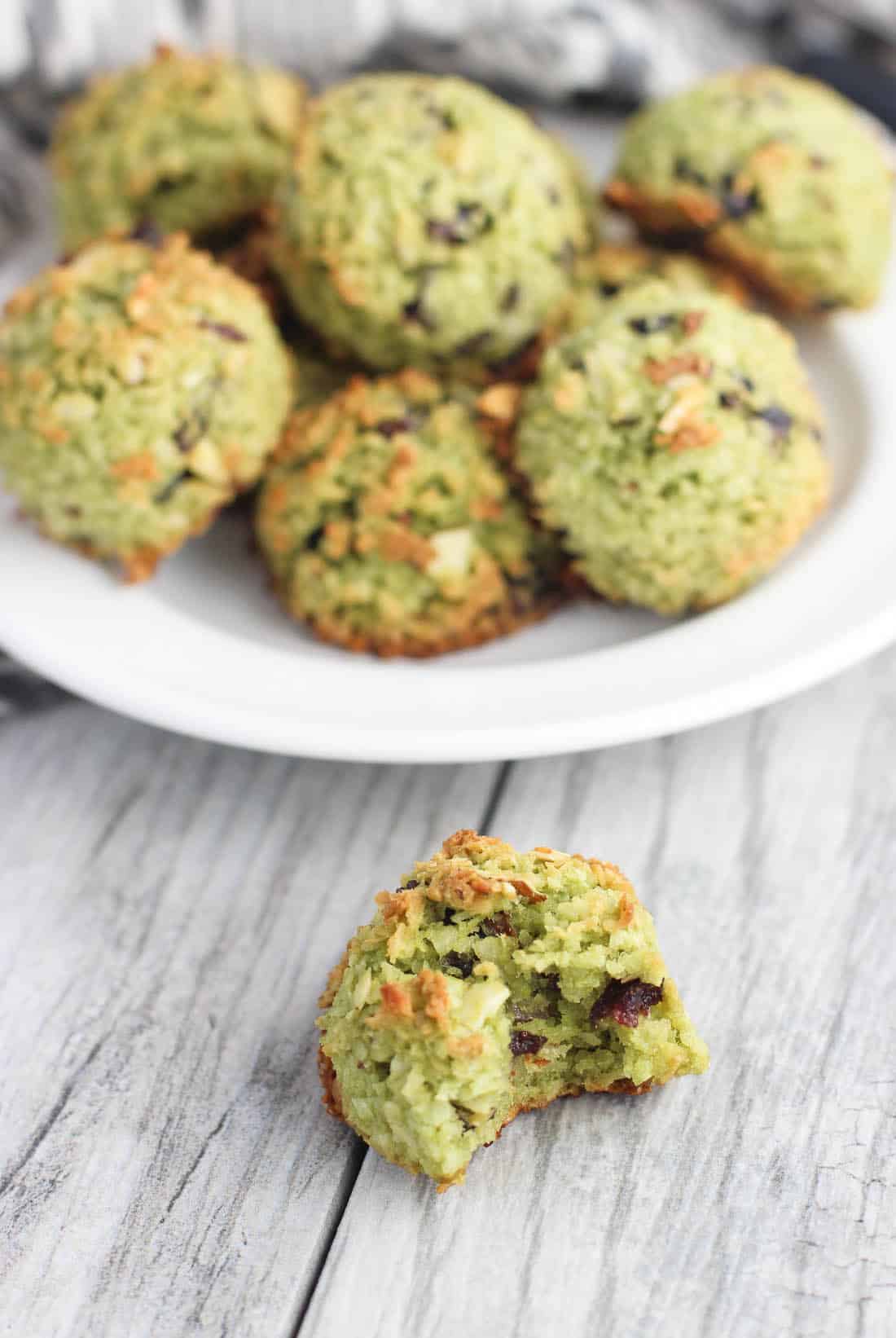 Tools used:
*this post contains affiliate links
Psssst – if you're in the market for holiday cookie recipes, click the image below to check out a round up of Christmas cookie recipes (and a few cookie cakes!):