Save a bunch of time (not to mention money) by making kale chips in the air fryer! These easy steps will have you well on your way to preparing seasoned crispy kale chips in no time.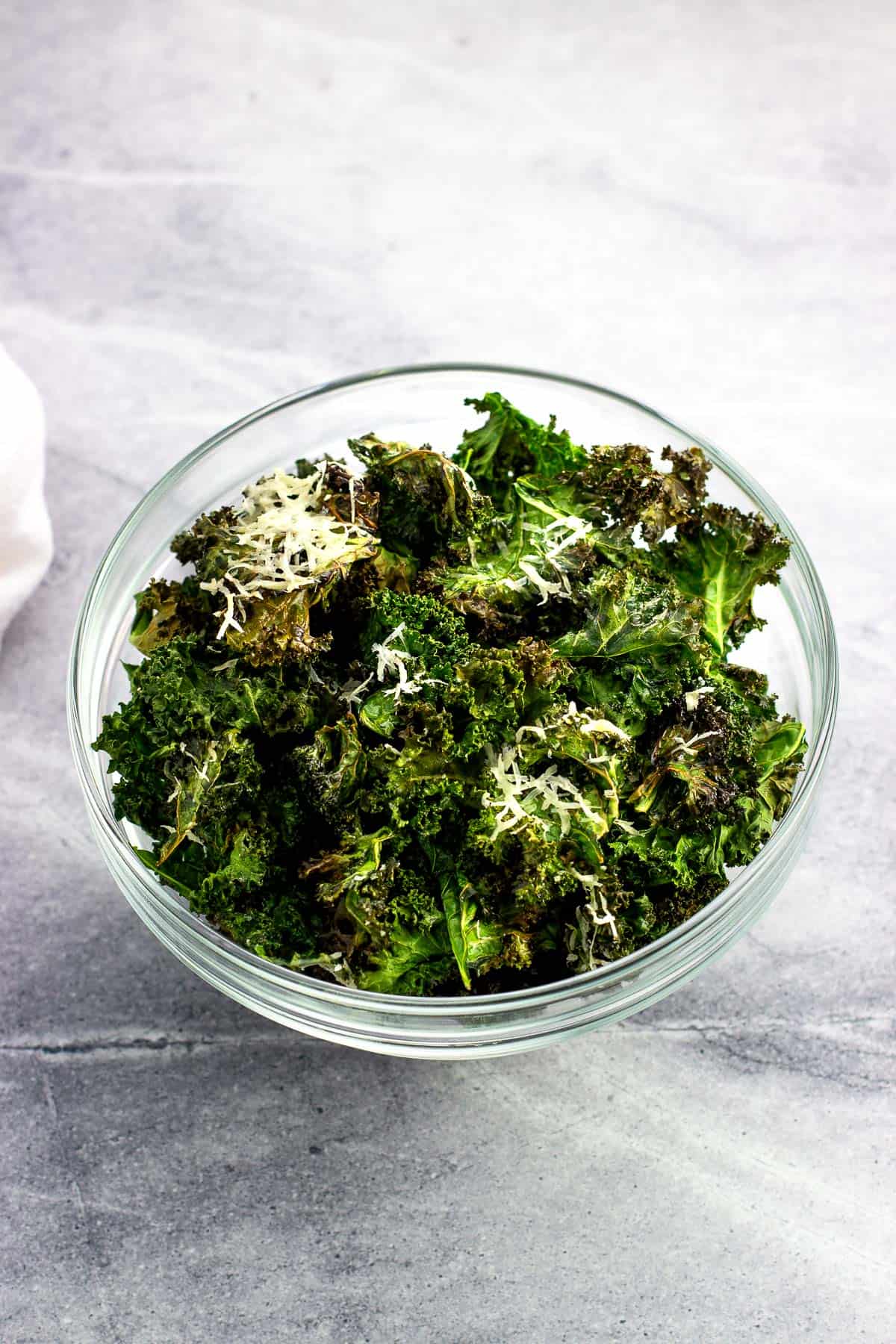 I like kale chips as a snack, but sometimes lack the patience to prep them in the oven. Low and slow is the name of that game.
A few kinds are available at my grocery store, but the speed with which I can tear through one of those smallish bags makes the $4.50 price tag hard to swallow!
Here we have a compromise: air fryer kale chips. While they're not as convenient as popping open a bag, they air fry low and fast for a considerable time savings.
These crisp up so nice and light! I've made them with a bunch of different seasonings and can't really pick a favorite, though the Parmesan batch was a big hit in my house. More seasoning options below.
Reasons to Make Air Fryer Kale Chips
You'll save time. Air fryer kale chips cook in roughly 6 minutes, saving you 20+ minutes than if you'd made them in the oven.
They're cost-effective. A light-as-air single serving bag of kale chips can run you between $4-5! One big bunch of kale is around half the cost and yields multiple servings.
Lots of flavor options. By using different seasonings or adding Parmesan, you can easily season your homemade kale chips to just how you like them.
Recipe Ingredients
Kale: I use curly kale here, but Lacinato (also called dinosaur or Tuscan kale) also works. I recommend not using bagged kale greens as the leaves are often chopped too small and this type includes the tough, thick stem pieces which we don't use.
Olive Oil: Or your preferred type, like avocado oil, etc. This works to crisp the kale up and helps the salt and other seasonings adhere.
Salt & Seasoning: You can just stick with salt, but other dried seasonings can be nice, too. Add to taste.
Easy Step-by-Step Instructions
Wash the Kale - The curly bits can hold onto dirt so it's important to give the kale leaves a good wash before using. Rinse each leave well under cool water, then dry them thoroughly, either by patting with a clean dish towel or using a salad spinner.
Slice - Gather both halves of the leaves to one side and slice away and discard the thick stem. Slice the leaves into larger bite-sized pieces, removing any thicker ribs as you go.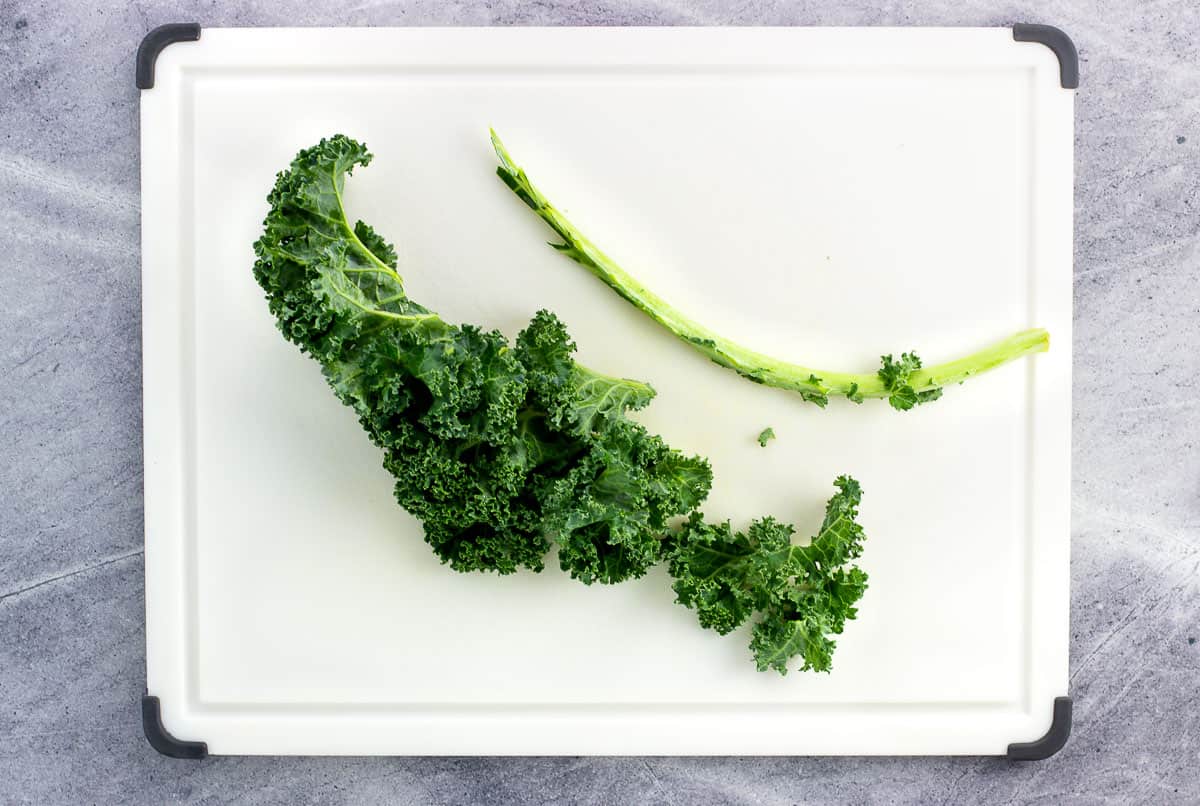 Massage with Oil - Rub the olive oil all over the kale and massage it into each piece so it's all nicely coated. Season with salt and any another dried seasoning you'll be using.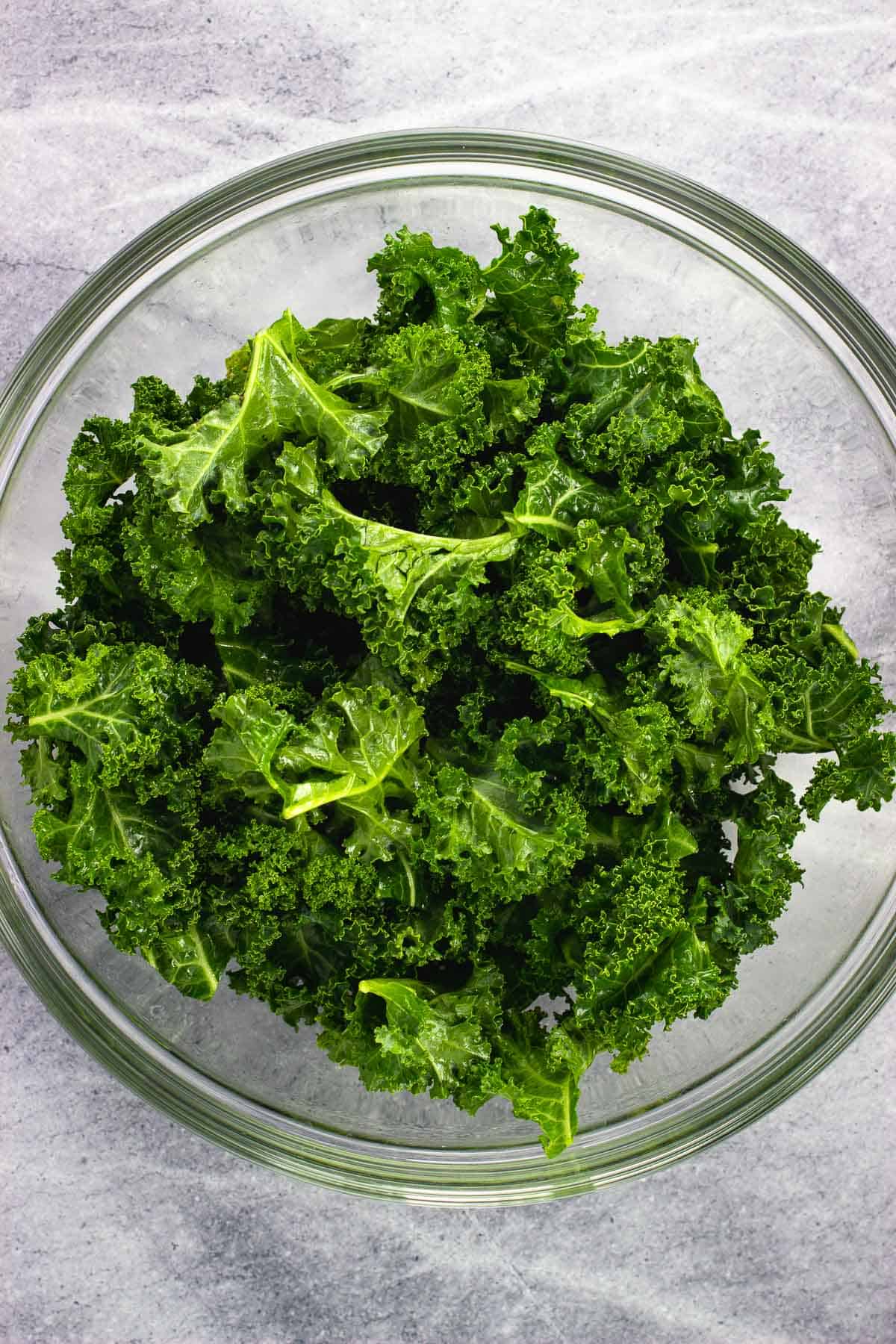 Arrange on Tray - Spray the air fryer tray with non-stick cooking spray, then arrange the kale leaves in a single layer. They can be packed in close to one another, but try not to have any folded or scrunched up as that can hinder crisping.
Place Rack on Top - Spray the bottom of the rack that comes with your air fryer with cooking spray and place this over the kale leaves on the tray. This looks backwards, but it keeps the kale chips in place once the fan in the air fryer starts blowing.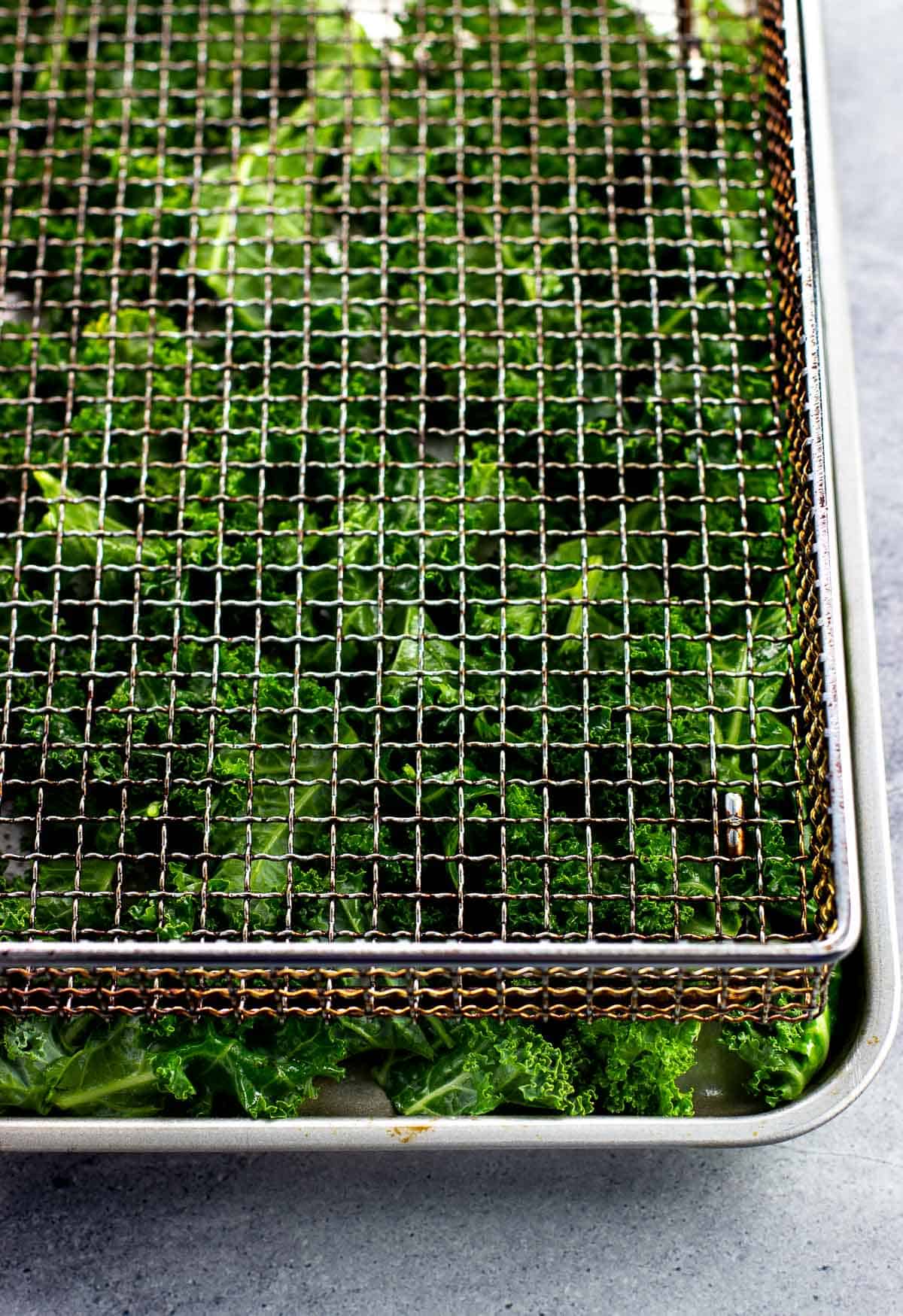 Air Fry - Air fry at 325°F for 6 or so minutes, shaking the kale chips up partway through if needed. Remove them when they're fully crisped (some may take longer than others). Let them cool on a wire rack before enjoying.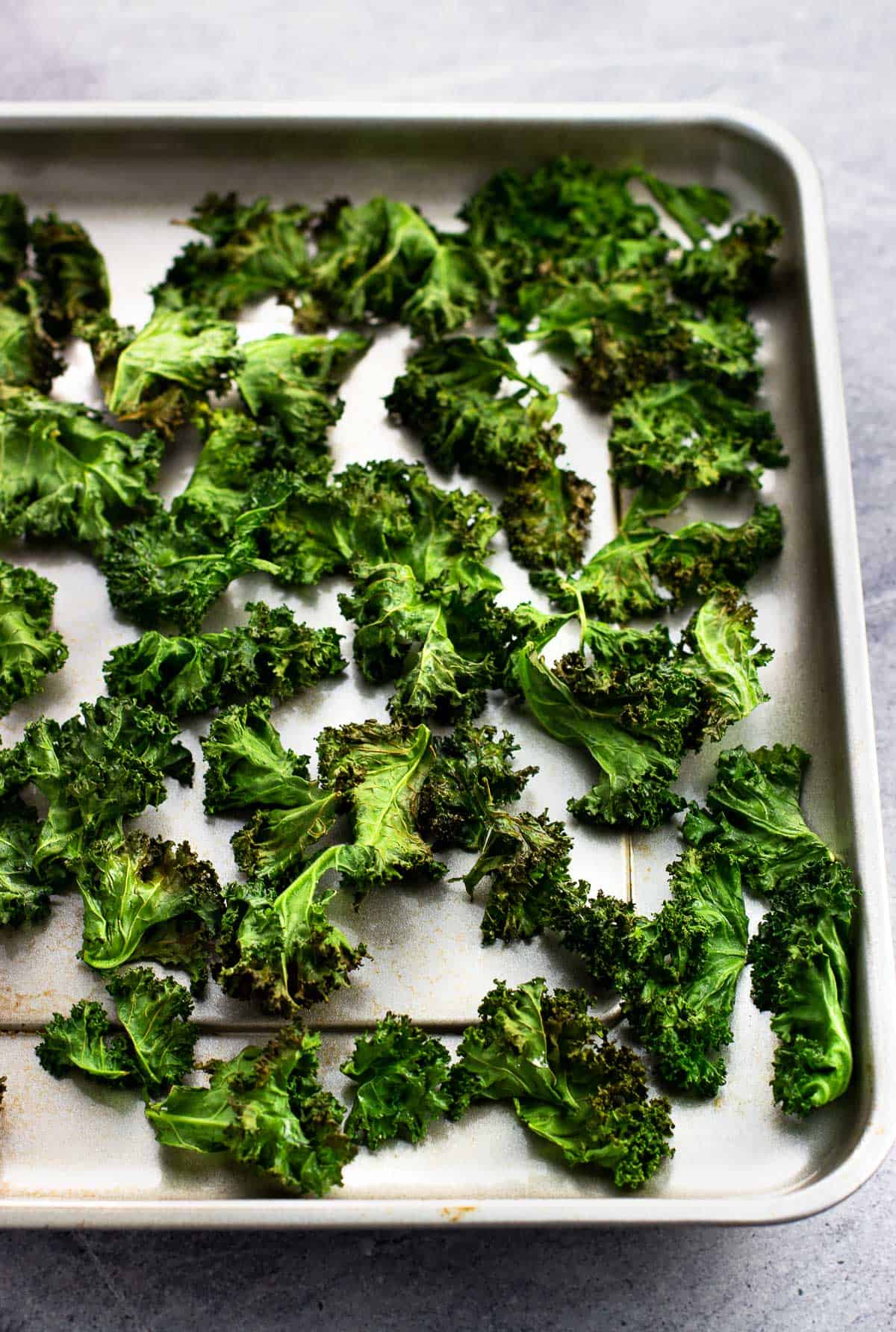 Flavor Variations
You can take these air fryer kale chips in plenty of different flavor directions. If using a dried spice blend, take a look to see if it includes salt, as you may want to reduce or eliminate the separately added salt.
Parmesan: Finely grate Parmesan (or Pecorino) and add it to the kale chips during the last minute or two of air frying. It will burn if it's on the kale the whole time. Keep in mind this adds a salty element, so reduce the added salt.
Ranch: Sprinkle kale leaves with store-bought or homemade ranch seasoning for an herby, tangy twist.
Taco: Spice it up with store-bought or homemade taco seasoning.
Smoky: Add smoked paprika and/or season with a smoked salt variety.
Everything: Everything bagel seasoning!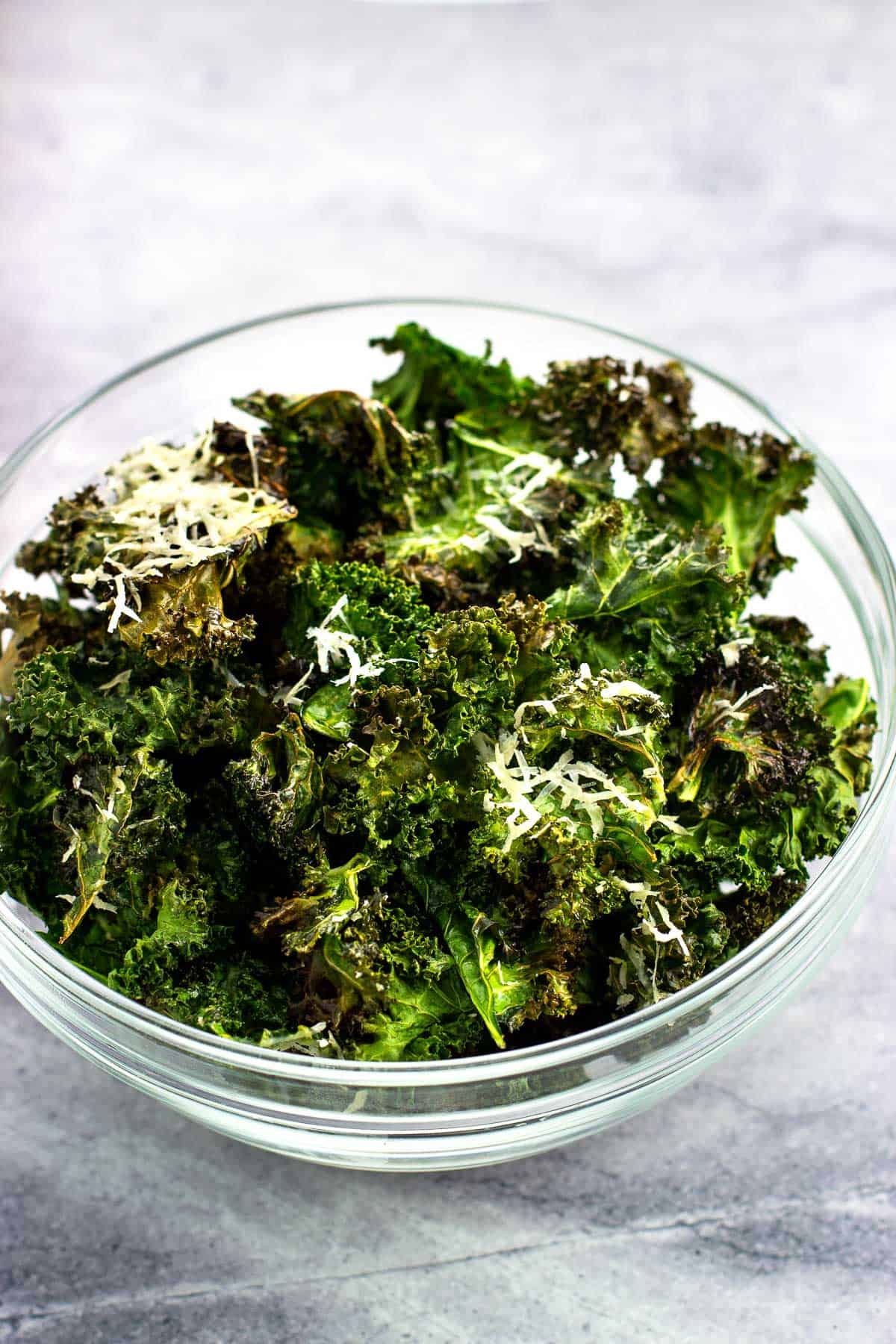 Recipe Tips and Tricks
This recipe timing is without preheating the air fryer. Place the first batch in the cold air fryer, keeping in mind further batches may take less time as it's already heated.
Weighing down the kale with a rack is important! The kale chips become so light, the fan can start blowing them around the air fryer near the end of cook time. This is a fire risk as they can touch the heating element.
Timing can vary depending upon air fryer model, type of kale, etc. Keep cooking until the kale pieces are fully dried and crisp.
If you thought your kale chips were done, but realize after they've cooled that they're still a tiny bit chewy (been there), simply pop them back in for an extra minute or two.
All of your kale chips may not take the same amount of time to cook. Remove smaller or fully crisped pieces and allow the rest to cook until done.
More Kale Recipes
If you've enjoyed this recipe, I'd love for you to leave a star rating in the recipe card and/or a comment review below!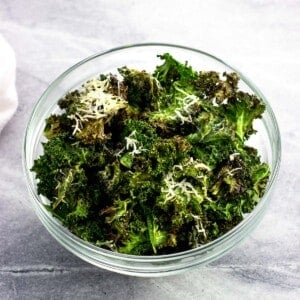 Air Fryer Kale Chips
Save a bunch of time (not to mention money) by making kale chips in the air fryer! These easy steps will have you well on your way to preparing seasoned crispy kale chips in no time.
Print
Pin
Rate
Ingredients
1

large bunch of

kale

curly or Lacinato fine

1

Tablespoon

olive oil

¼

teaspoon

sea salt

or to taste

Dried seasonings

to taste
Instructions
Rinse kale leaves under cool water and pat dry.

Lay each leaf on a cutting board and slice away the thick central stem and any thick ribs. Cut the leaves into large but bite-sized pieces and add them to a bowl.

Pour olive oil over the kale and "massage" with your hands for a minute or two until oil is covering all parts of the kale. Evenly scatter salt and any other dried seasonings over the kale and toss.

Give your air fryer tray a spray of non-stick cooking spray, then add the oiled kale leaves to it. Arrange them so that they're in a single layer but close together (they can be touching). They will shrink considerably as they cook.

Spray the bottom of the basket wire rack that comes with your air fryer with non-stick cooking spray, then place it on the tray over the kale. This traps them in so they don't go flying around the air fryer.

Air fry for at 325°F (or as low as your air fryer goes if above that) for 6 minutes, stopping to shake the basket up, flip the leaves over, or rearrange them midway through if needed. Keep a close eye near the end of the timer as they can burn quickly.

If the kale chips aren't fully crisped at this point, continue to air fry until the kale leaves until they are, keeping a close watch. Let them cool to room temperature completely on a wire rack before storing in an air-tight bag or container.
Notes
It may look backwards placing the kale under the basket, but the kale chips end up so light that the air fryer fan mechanism can cause them to fly around, risking them coming into contact with the heating element.
Some kale chips may need more time than others. Near the end of the cook time, stop and remove the done ones, allowing the larger, still-a-bit-chewy kale chips to continue air frying.
All kale chips may not be done in the same amount of time. Remove any smaller or fully crisped pieces when ready and leave the remaining ones to continue cooking.
Air fryer kale chips can be stored for up to 3 days, though they're best the day they're freshly prepared.
Cook in batches if all of the kale will not fit on the tray.
Flavor Ideas - reduce or omit separately added salt if using a blend that includes it.

Parmesan: Finely grate Parmesan and sprinkle it over the kale chips during the last minute or two of air fry time. Do not add it from the beginning as it can burn.
Seasoning Blends: Taco, ranch, everything bagel, smoky (smoked paprika and/or smoked salt), Mediterranean or all-purpose Italian seasoning, etc.
Nutrition
Calories:
78
kcal
|
Carbohydrates:
10.2
g
|
Protein:
2.9
g
|
Fat:
3.5
g
|
Saturated Fat:
0.5
g
|
Sodium:
159
mg
|
Potassium:
480
mg
|
Fiber:
1.5
g
|
Calcium:
131
mg
|
Iron:
2
mg
Nutritional information is provided as an estimate. As it can vary due to many factors (brands used, quantities, etc.), we cannot guarantee its accuracy.
Food Safety and Nutrition Disclaimer