It's a Life on Wednesdays post! It's been awhile, huh? Last year I made a res-blog-olution to include more real life snippets on MSL and like most resolutions I fell off the wagon a few weeks in. Whoooops. So here's an overdue Life on Wednesdays, "I Never Told You That..." edition.
1. After I made my Christmas tree rainbow cookie cake in early December, I meticulously wrapped it air tight and froze it so I could bring it on our trip north for Christmas. After a 12+ hour drive, I snuggled into bed in Maryland on Christmas Eve with visions of rainbow cookies dancing in my head...and then promptly remembered it was still at home in in the freezer. In Tennessee. UGHHH. The worst!!!!
What isn't the worst though? Getting to snack on this fancy pants rainbow cookie any old day. Self-control...don't fail me now.
2. "B" stands for Brian, my boyfriend. I really don't know why I used his initial instead of his name in the first place. 🙂 Now that he's made his third official blog appearance below in this post (first was in our San Diego to Nashville road trip recap, second was being my hand model for this Italian dip), I figured now was as good a time as any to make the change!
...and last but certainly not least:
3. I'm a dog mama! Meet Tug. The sweetest, smooshiest Boston terrier-boxer mix.
If I could use emojis on WordPress, right now I'd include 3 party confetti horns, the heart-eye smiley, and 10 thumbs up.
This has been a tough one to keep secret. SO TOUGH. We started fostering Tug back in the fall from a local rescue organization, and fell head over heels in love with him over the past few months. Soooo...now he's ours! He's still a work in progress (aren't we all?), but we've been working hard on his training, socialization, and - most importantly - putting some meat on his bones. Looking back at pictures from when we first got him, his ribs and back bone stuck out so prominently (which makes emotional sap me teary just thinking about). Now he's one healthy boy!
We took Mr. Tug on our 12+ hr road trip to Maryland over the holidays and little mister was an angel in the car, snoozing the en-ti-re way, only getting up to wag his tail and smile at people working in drive-thrus and toll booths. Proud mom alert!
Since we currently live in a pretty populated area in Nashville, we were able to let Tug run, run, run and explore in open spaces at Brian's parent's house. Uhhh taking pictures of a playing dog is pretty much the exact opposite of taking pictures of food. Definitely puts food photography in perspective.
He's also been juuust out of shot on most of my blog pictures for the past few months. Now if I can only teach him to hold up my white board reflector...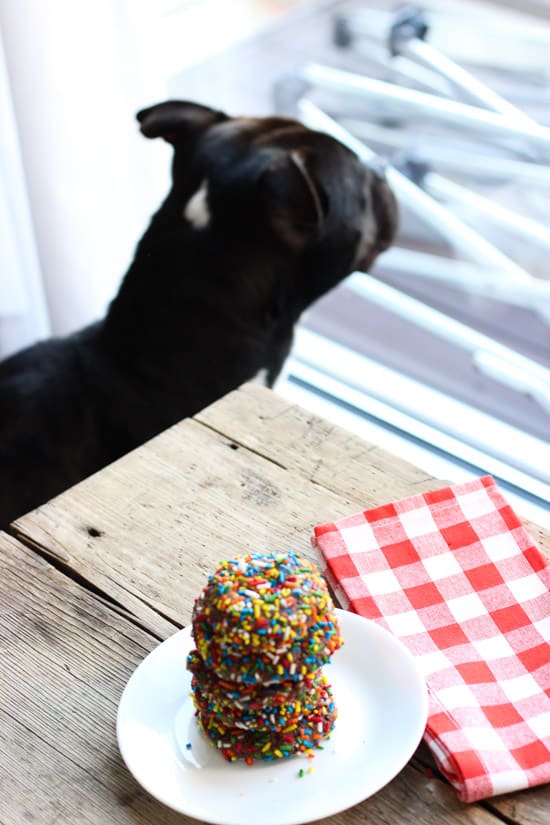 ♥♥♥♥♥
Life on Wednesdays is an all-purpose post for a little glimpse of what's happening outside my blog. Maybe it'll be about what's happening in my life, maybe it'll be some links to other blogs I can't get enough of, and maybe when all else fails it'll be a cute picture of my dog. What I can assure you is that it won't be me spilling my guts into a virtual diary. I'd like to leave the hum-drum of my work life at the office, and while I may personally get jazzed about a sale on pickles at the supermarket, I know that you really couldn't care less. Capiche?