This roasted garlic hummus recipe is so easy to make at home! Kitchen staples along with plenty of easily roasted garlic make this homemade hummus a delicious appetizer or healthy snack.
As much as I daydream about it, I will never be the type of person who makes everything from scratch.
Breads are a great example. Homemade bread is such a treat, but even a recipe done in one-hour like this honey whole wheat bread is a lot more work than ripping into a loaf of store-bought challah. Sometimes (well, a good amount of the time) the latter is just how it is.
That said, the one thing I opt to make homemade most of the time is hummus! Most, if not all of the ingredients are kitchen staples and unlike recipes like homemade bread, the process is as simple as throwing everything into the food processor and letting it work its magic.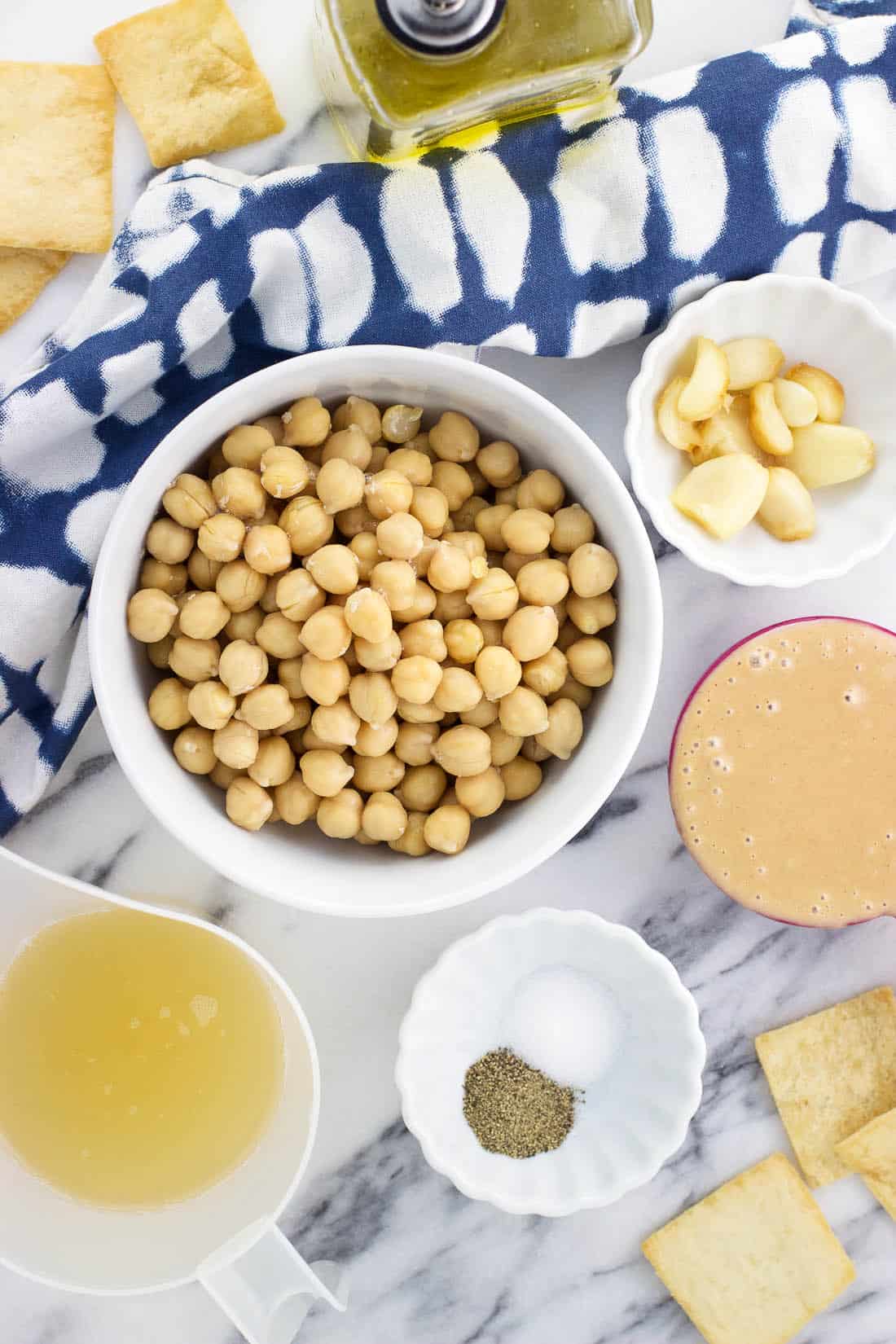 Since roasted garlic is one of my go-to flavors when I spring for store-bought hummus, it was a no-brainer to make at home.
Step-by-step instructions
It all starts with the garlic!
This how to make roasted garlic tutorial features the steps I follow to roast a head of garlic to reliably golden and soft cloves. Roasted garlic adds a wonderfully warm touch to roasted garlic creamed corn (I have a perpetual pin in this for Thanksgiving) and brings buildable flavor for blended dips like hummus.
If you're unfamiliar with roasted garlic and find yourself bewildered peeping down to the recipe card, don't be. Two whole heads (not cloves…heads) sounds like a ton of garlic in one average-sized hummus recipe. And to be fair, it is!
Roasting the garlic SERIOUSLY mellows the flavor and takes away the bite that you get with fresh garlic. Instead you're left with a rich and almost caramelized flavor. Perfect as an addition to many recipes, or even spreading directly on crostini.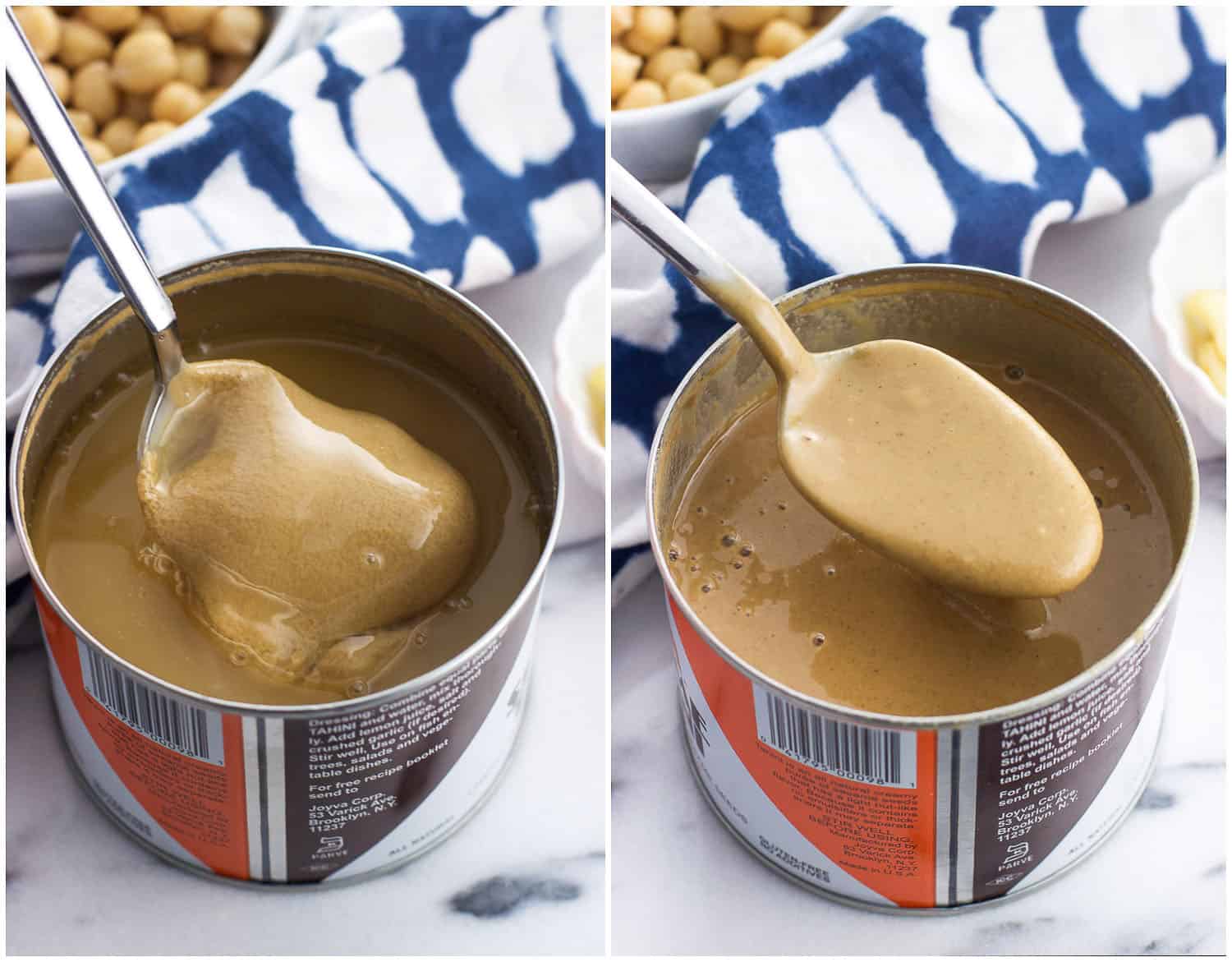 Roasting the garlic can be done up to a few days ahead of time. Just keep the heads refrigerated.
My preference when it comes to homemade hummus is for the tahini to really shine through in the end result, so there's one-half cup feature in this recipe. If you're not familiar with tahini, it's a paste made from toasted sesame seeds. You can usually find it in the 'international foods' aisle of a supermarket.
The thing with tahini is that the oil always separates in the container, so you'll want to stir it up really well before measuring it out for this roasted garlic hummus.
It might take a little elbow grease to get the bottom layer up as it can be surprisingly stuck in there, but the goal is to get it looking from the left picture above (unstirred) to the right (stirred).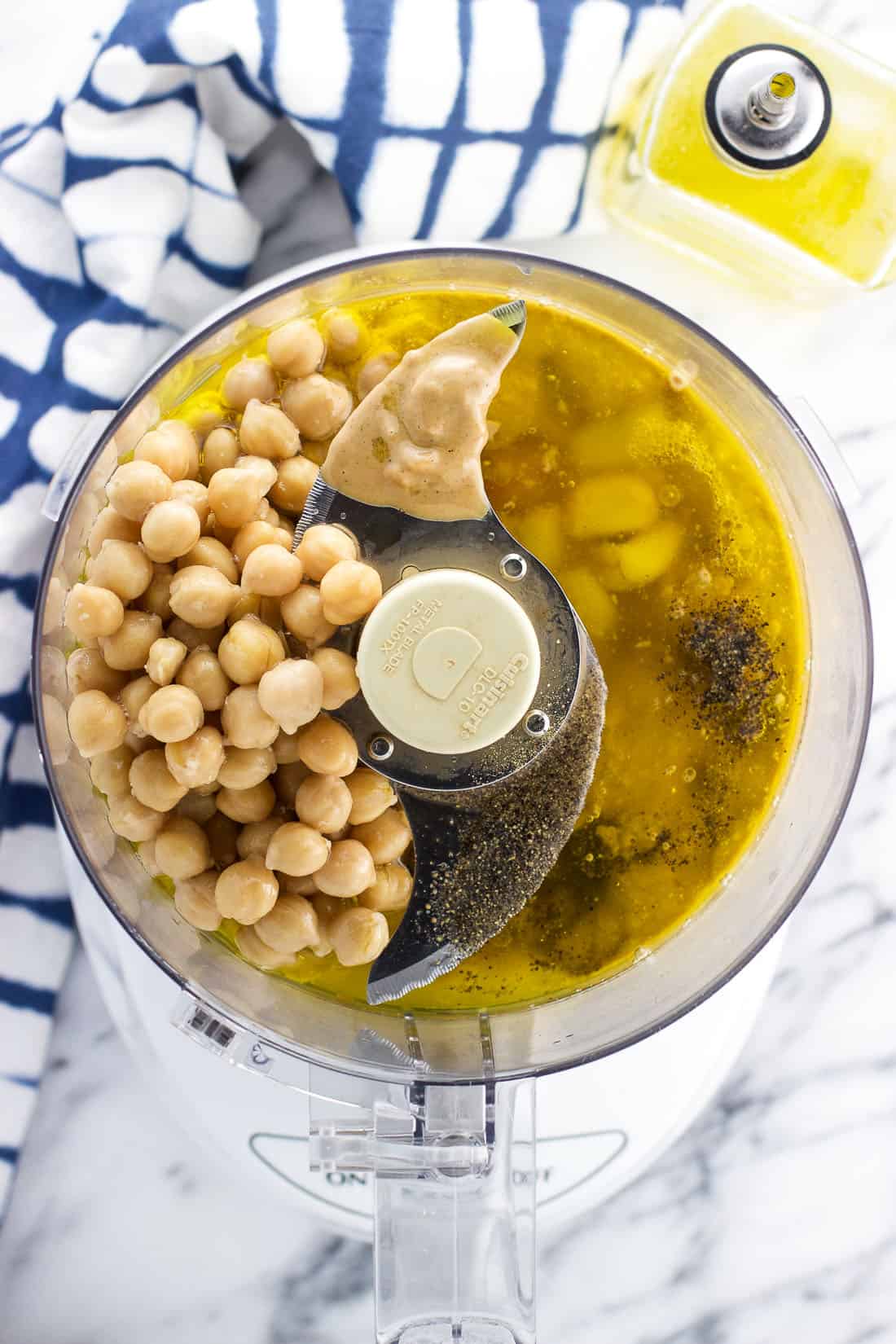 Honestly stirring the tahini might be the toughest part of this roasted garlic hummus recipe.
All that's left is to add everything to the bowl of a food processor and process away. Be sure the scrape down the sides of the bowl as needed in order to fully incorporate all of the ingredients.
I kept the seasonings simple here with salt and pepper, but take a taste and add whatever you like. Crushed red pepper for some spice, fresh herbs, etc. Lots of things mesh well with the flavor of roasted garlic.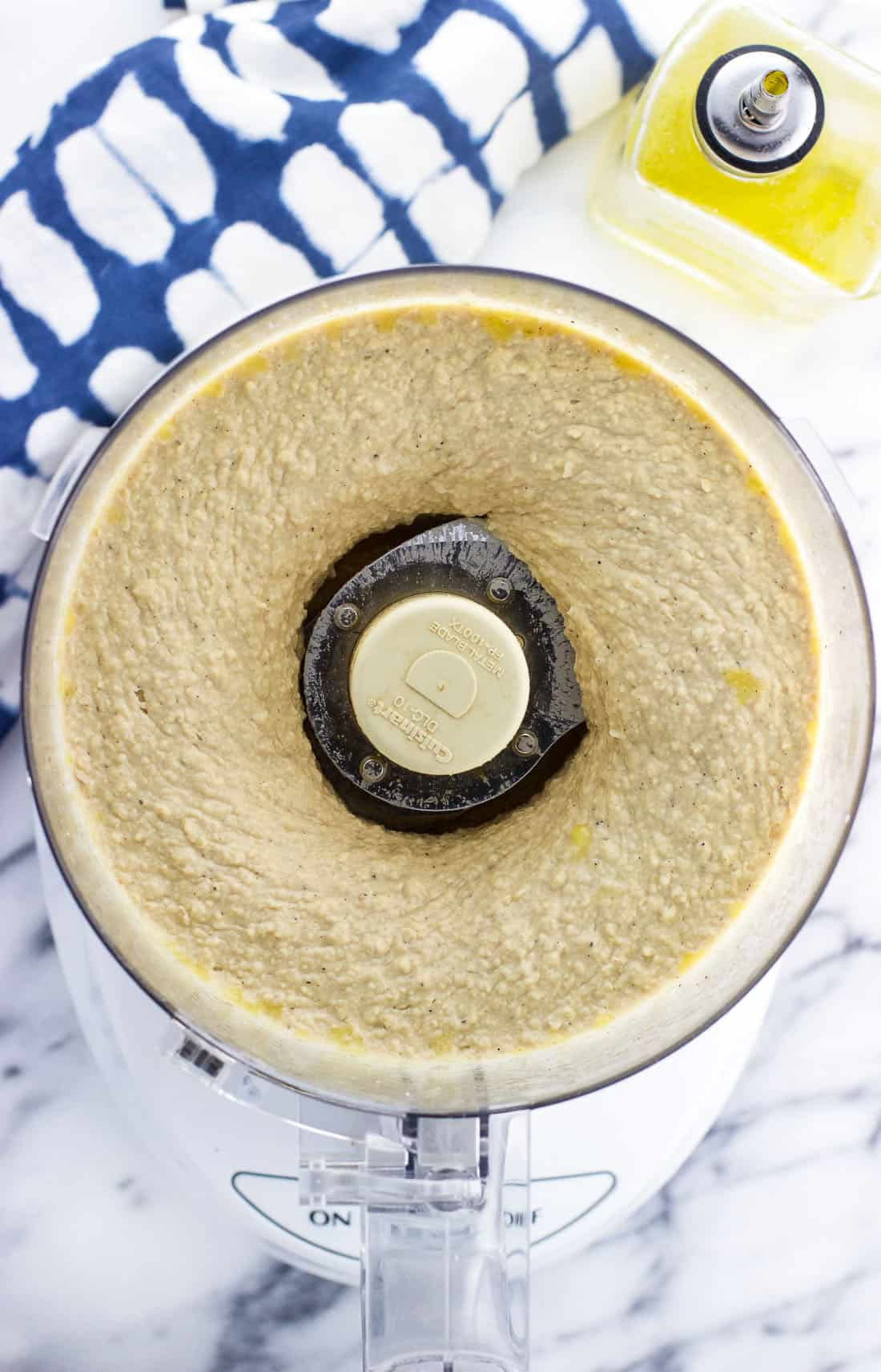 Related recipes
On the topic of spice in hummus, spicy chipotle hummus will be a favorite for capsaicin enthusiasts. Chipotle peppers in adobo is an inexpensive way to bring a deep flavor with an adjustable level of spice.
Kale pesto hummus is an easy copycat of a store-bought flavor that is a wonderful way to sneak in greens! This flavor is so great as a sandwich spread.
Speaking of, hummus as a sandwich spread is an A-plus element in this hummus avocado turkey club sandwich.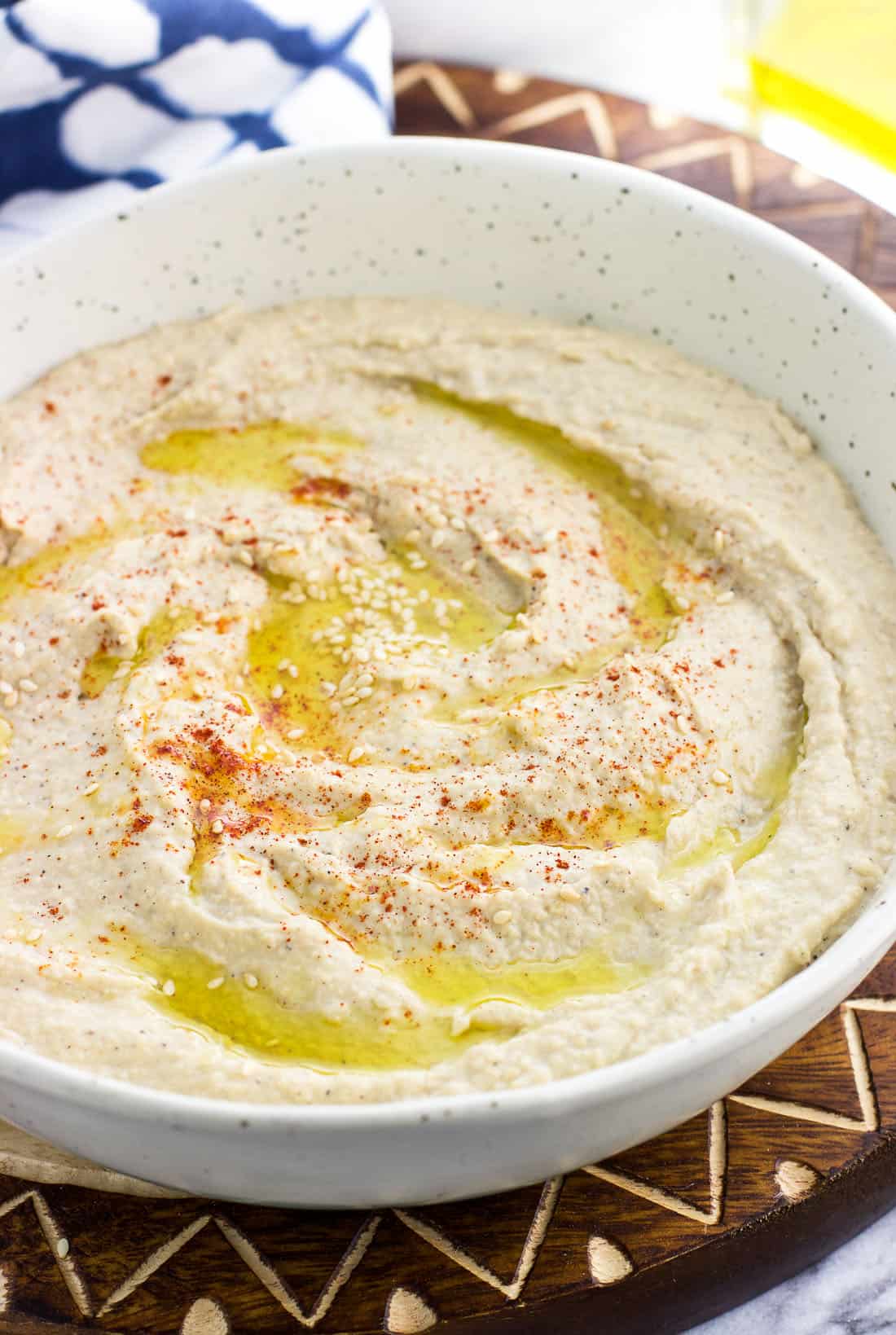 Recipe notes
The garlic can be made several days ahead of time. Refrigerate until use.
Be sure to reserve the liquid from the can of chickpeas, as you'll use six tablespoons of it in this recipe.
If you're having trouble mixing up the tahini in its container, you can transfer everything into a mixing bowl and mix using a hand mixer. For the extra tricky cases you can use a food processor.
Homemade Roasted Garlic Hummus
This roasted garlic hummus recipe is so easy to make at home! Kitchen staples along with plenty of easily roasted garlic make this homemade hummus a delicious appetizer or healthy snack.
Print
Pin
Rate
Ingredients
2

heads

roasted garlic

1

15.5-oz

can chickpeas,

liquid reserved

1/2

cup

tahini,

well-stirred

6

tbsp

reserved chickpea liquid

6

tbsp

olive oil

1

tbsp

lemon juice,

from about half a lemon

1/4

tsp

salt

1/4

tsp

ground black pepper
Instructions
Roast two heads of garlic following the instructions in this post. Once roasted and cooled, remove each clove for use in this hummus.


Add all ingredients to the bowl of a food processor. Process until creamy and combined, scraping down the sides as needed. Adjust the seasonings to your taste. Hummus can be refrigerated for up to a week.
Notes
Make-ahead: You can roast the garlic several days ahead of time before preparing the hummus. Just keep the roasted garlic refrigerated. Garnish: I topped the roasted garlic hummus you see in these pictures with a shake of paprika, a drizzle of olive oil, and toasted sesame seeds for garnish.
Nutrition
Calories:
147
kcal
|
Carbohydrates:
8
g
|
Protein:
3.4
g
|
Fat:
12.3
g
|
Saturated Fat:
1.7
g
|
Sodium:
127
mg
|
Potassium:
124
mg
|
Fiber:
2.3
g
|
Sugar:
0.3
g
|
Calcium:
50
mg
|
Iron:
0.7
mg
Nutritional information is provided as an estimate. As it can vary due to many factors (brands used, quantities, etc.), we cannot guarantee its accuracy.